Working as a flight attendant for Kuwait Airways is more than just a job – it's a chance to explore the world and meet new people. As a member of the cabin crew, you'll be responsible for the safety and comfort of the passengers during their journey. You'll need to be able to think on your feet and remain calm in challenging situations. In addition to being passionate about customer service, you'll need to be physically fit and comfortable working long hours. If you're interested in joining the team, please submit your application today
Also Read: 5 Common Answers to Why Do You Want to Be a Cabin Crew?
The story of Kuwait Airways started in 1954 as the country's national carrier and one of the main providers of aviation services to the Middle East. Through their 65 years of service, their team was able to connect Kuwait across Asia, Europe, and North America. Furthermore, Kuwait Airways' cabin crew has ensured that every flight is a memorable experience for travellers.
Now that they are administering hiring events, your flight attendant story might start from here as well. Kuwait Airways is extending its team to dedicated individuals who have the talent and passion in providing exceptional customer service to passengers.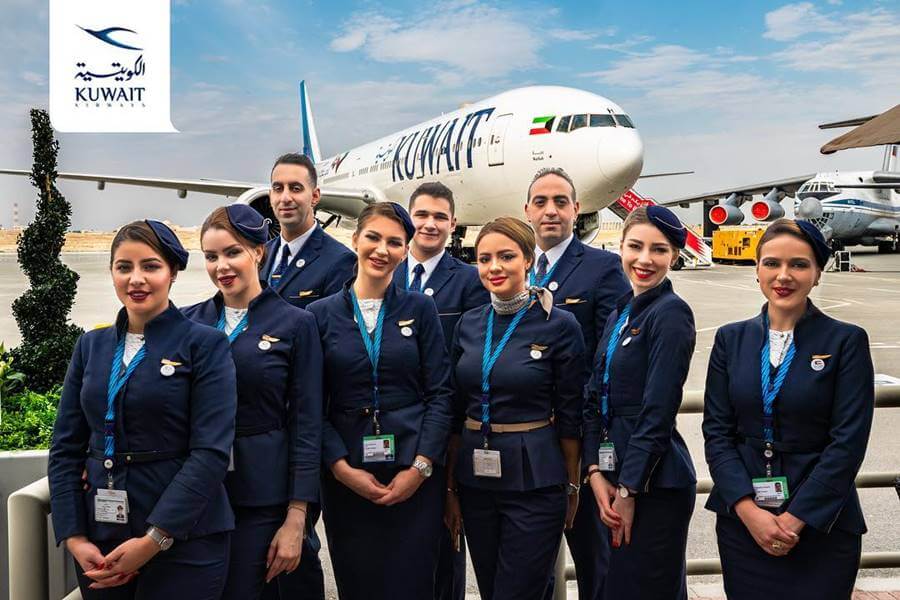 List of Requirements and Qualifications to Become a Kuwait Airways Flight Attendant
Flight Attendants should have the integrity to adhere to all the regulatory requirements of Civil Aviation as well as the policies and protocols implemented by Kuwait Airways. Moreover, they should meet all the qualifications listed below:
At least 21 years
At least 160 cm in females and 167 cm in males
Normal BMI
Impeccable grooming and professional demeanor
Proficient English skills in both written and spoken
Ability to swim up to 20 meters without any flotation device or assistance
Full background knowledge of the civil aviation laws
Good Health in general with no chronic illness
Ability to contribute to the team's goals and accomplishments
Customer service skills that exceed expectations
Ability to assist passengers calmly during emergency
Ability to balance empathy and professionalism
Exemplary interpersonal and communication skills
Optimism and decisiveness
Flexibility to work on irregular schedules, night shifts, and holidays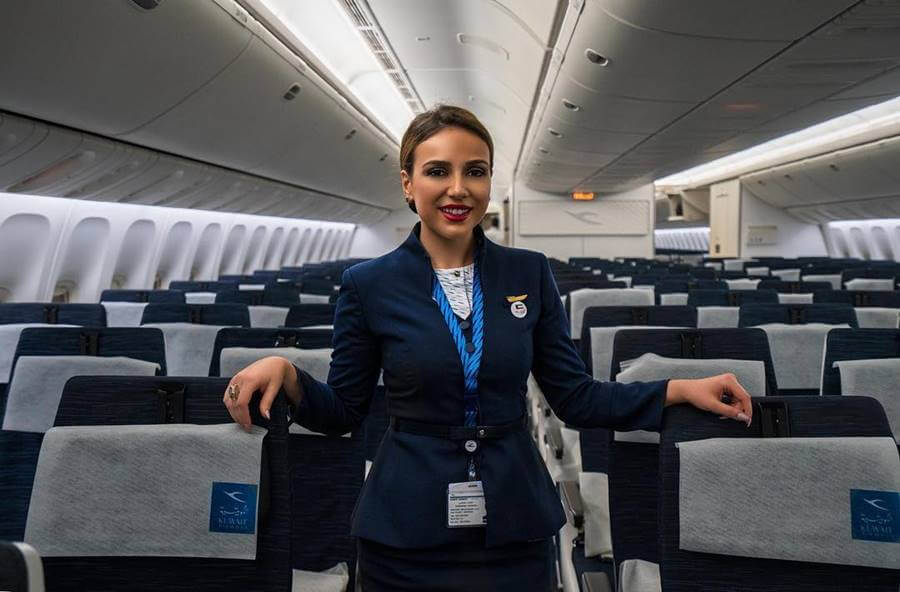 Application Process
Step 1: Prepare all the necessary documents
Here is a list of documents that you need to prepare prior to your application: valid passport and ID, Passport size id picture, Certification from previous work, and your diploma.
Step 2: Submit your application online or onsite.
Online Application: You can submit your application by signing up for an account through their career website on the link here – https://careers.kuwaitairways.com/index.php/main/search_explore/oz/
On-site Application: You can also bring these documents to Kuwait Airways in their old building, and flight service department in the training and follow-up section.
Step 3: Attend the Cabin Crew screening
If your application document was selected, you will proceed with the Kuwait Airways cabin crew screening wherein they will review further your qualifications and skills.
Step 4: Ace the English Oral and Written Test
They have set a certain standard for their employee's proficiency in English. It is best to review the various areas of English such as literature, grammar, and public speaking.
Step 5: Get ready for an Interview
Following the English test, Kuwait Airways will arrange a scheduled interview. Don't forget to dress and act professionally throughout the interview.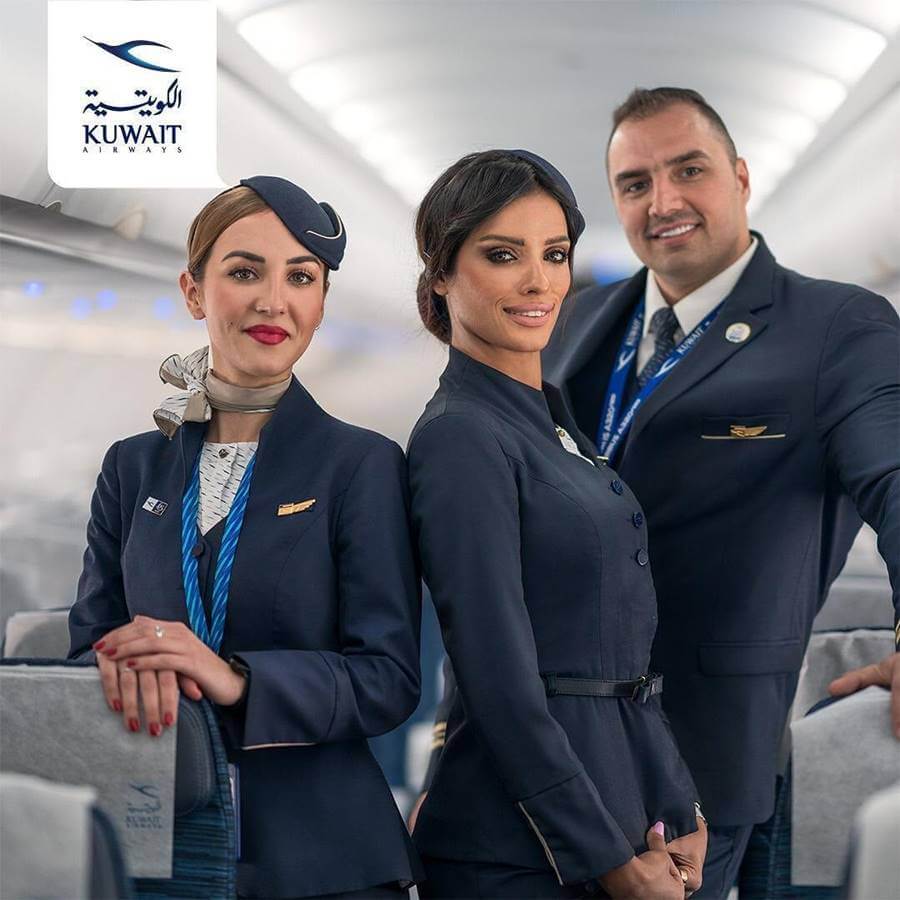 Salary & Benefits
Competitive salary of KWD 7,800 annually
Paid Holidays and vacation leave
Sick leave pay
Travel and flight discounts and packages
Free flights
Life insurance
Disability insurance
Sponsored membership to gyms, fitness, or/and health club
Reimbursement of Training, Education, or certification expenses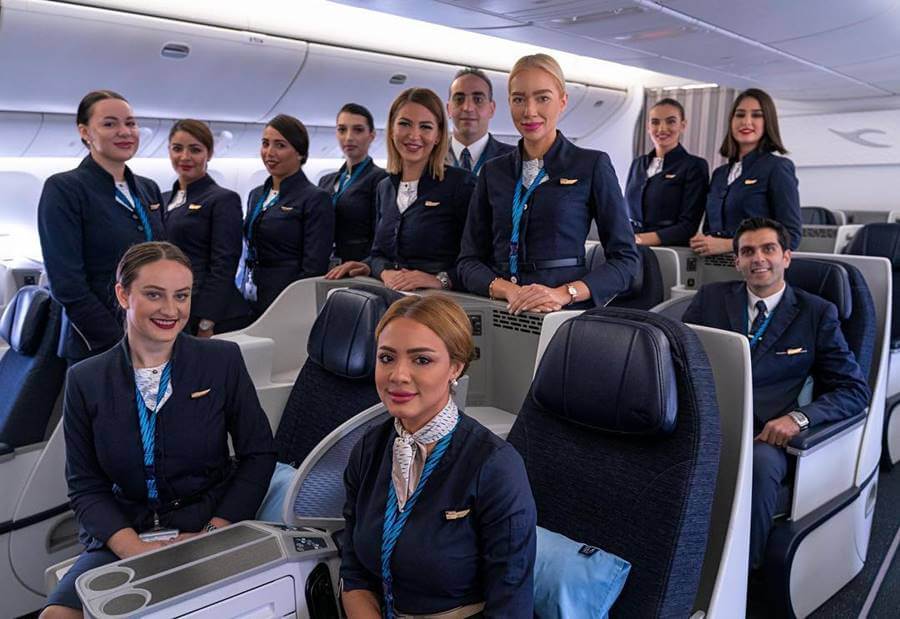 Video: Flight Attendant Interview in Kuwait Airways
Watch this sample of a flight attendant's interview answers as filmed by Dinh Mai Phuong, a former cabin crew:
Dinh Mai Phuong answered confidently, narrating first her two years of work experience as a cabin crew and how this was always her longing dream. As she dived deeper, she also included that being a flight attendant is both a fulfilling and challenging job. However, as she was able to smile and assist the passengers optimistically, she has aced the duties of responsibilities assigned to her. Moreover, she also emphasized how her work experiences as a former cabin crew and customer service hotel management have made her fit for the role of being a flight attendant in Kuwait Airways. She can also speak multiple languages: English, Mandarin, German, and Vietnamese, which is an asset. Lastly, she can work under pressure and calmly assist passengers during emergencies.
Photos: Kuwait Airways Cabin Crew Uniforms
Check out these pictures of Kuwait Airways crew so you can see what they look like in uniforms:
Frequently Asked Questions
Here are some common questions and answers about the job requirements as a cabin crew for Kuwait Airways:
1. What is the minimum height required for flight attendant applicants in Kuwait Airways?
Candidates must be at least 160 cm or almost 5'3 ft for females and 167 cm or almost 5'5 ft for males.
2. What kinds of aviation services does Kuwait Airways offer?
Kuwait Airways provides scheduled flights to passengers from Kuwait to Europe, North America, the Middle East, the  Far East, and the Indian subcontinent with over 51 destinations across 31 countries.
3. What languages should I learn when applying as a flight attendant at Kuwait Airways?
All aspiring flight attendants must be able to speak and write proficiently in English and Arabic. In addition, there will be a standard oral and written exam in English during the recruitment period.
4. Does Kuwait Airways accept applicants with tattoos and piercings?
Piercings and tattoos should not be visible while wearing the flight attendant uniform without any additional clothing.
5. Do they accept applicants without in-flight experience?
Kuwait Airways accept applicants without in-flight work experience as long as they meet all the qualifications. Moreover, former flight attendants or cabin crews have an advantage.
6. Is the flight attendant job application open to all nationalities?
Yes, their job position is open to any qualified individual regardless of their race, ethnicity or cultural background.
7. Does Kuwait Airways accept applicants with criminal records?
No, they only accept applicants with a clean criminal record.
8. How long is the probationary period in Kuwait Airways?
According to the labor code in Kuwait. The maximum probationary period should be at most 100 days. Additionally, the benefits and salary increase also becomes accessible to employees after this.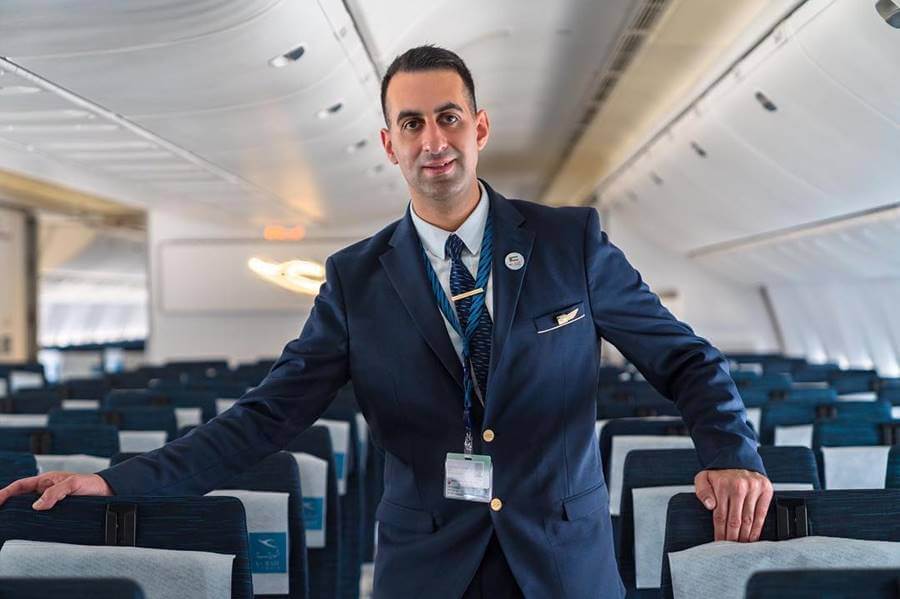 Summary
Before submitting your application, you must first check the availability of the flight attendant position on the career website provided above. You have to be patient during the application process and wisely spend your time preparing. Make sure that you have fully prepared on all the standard tests as well as for the interview. On the other hand, Kuwait Airways offer multiple benefits to its dedicated employees, especially the ones who have served the company for a longer time.