Calafia Airlines is a name many recognize in the world of air travel. In simple terms, this airline operates planes that transport people from one destination to another. This company helps people reach different places, be it for vacations, work, or visiting family.
Also Read: Calafia Airlines Flight Attendant Requirements and Qualifications
Apart from just flying planes, it also ensures that their flights are safe and punctual. This means they are responsible for checking the aircraft regularly, making sure everything's working fine, and sticking to flight schedules. It's all about making sure passengers have a smooth and reliable experience while traveling. Let's learn more about this airline in this article.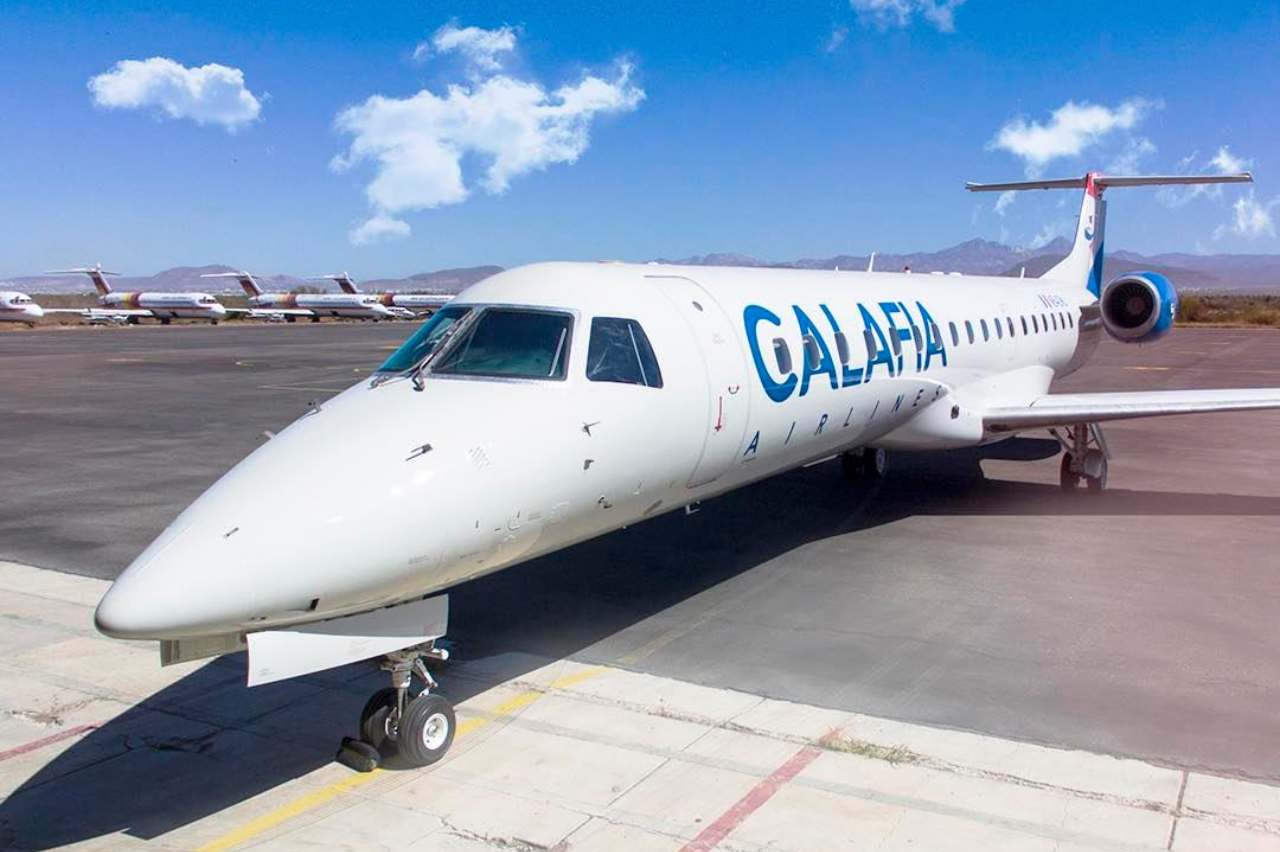 Quick Facts
Airline Name:

Calafia Airlines

Airline IATA Code:

A7

Headquarters: Cabo San Lucas, Mexico
Founded: 1993
Number of Destinations:

12

Fleet Size:

5

Fleet Types: Embraer

EMB 120ER Brasilia, Embraer ERJ 145ER

Location Hubs/Bases:

Cabo San Lucas International Airport (Baja California Sur) 
Brief History Overview
In 1992, the airline began its journey in Cabo San Lucas, located in Baja California Sur. Starting off, they had just two small planes: a Cessna C206 that could carry 5 people and a Cessna Caravan for 12 passengers. These planes were used for a mix of services like air taxis, tourist flights, and chartered flights.
By 1995, they weren't just about flights anymore. They began organizing tours in the Los Cabos area, even becoming the first local airline to arrange special trips to watch grey whales in the Sea of Cortez during winter. They also set up unique tours to places like Copper Canyon and La Paz, setting them apart from other airlines.
With time, it grew significantly. They upgraded their planes to include models like the Embraer EMB 120 and ERJ 145, which can hold 36 and 50 passengers respectively. Moreover, they started flying to more cities across Mexico, connecting places from the Gulf of Mexico to the Pacific Ocean. This was a big leap from their early days as a simple air taxi service in the 90s.
Products and Services
Flights

– These are regular trips that take passengers from one city to another. You buy a ticket, hop on the plane, and reach your chosen destination. It's a straightforward way to travel between places.

Private Flights

– This service lets you book an entire plane just for yourself or your group. It offers more privacy and flexibility than regular flights. Ideal for those who want a more personalized flying experience.

Flight + Hotel

– Not only can you book a flight, but you can also arrange for a hotel stay at the same time. It's a convenient combo that sorts out both your travel and accommodation needs. This two-in-one service simplifies your travel planning.

CalafiaPack –

This is a special package deal that includes various travel services. Think of it like a bundled deal, offering more than just a flight, all in one go. It's designed for travelers looking for an all-inclusive solution.
Work Culture
The work culture here centers around teamwork and commitment. Everyone, from the pilots to the ground staff, collaborates closely to ensure smooth operations and top-notch service for passengers. They believe that by working together, they can overcome challenges and ensure that flights run safely and on time.
Also Read: How to Become a Flight Attendant in Mexico
Additionally, the airline places a strong emphasis on continuous learning and improvement. Employees are encouraged to grow their skills and knowledge, making sure they stay updated with the latest in aviation. This dedication to learning ensures that the airline remains at the forefront of the industry and delivers the best to its customers.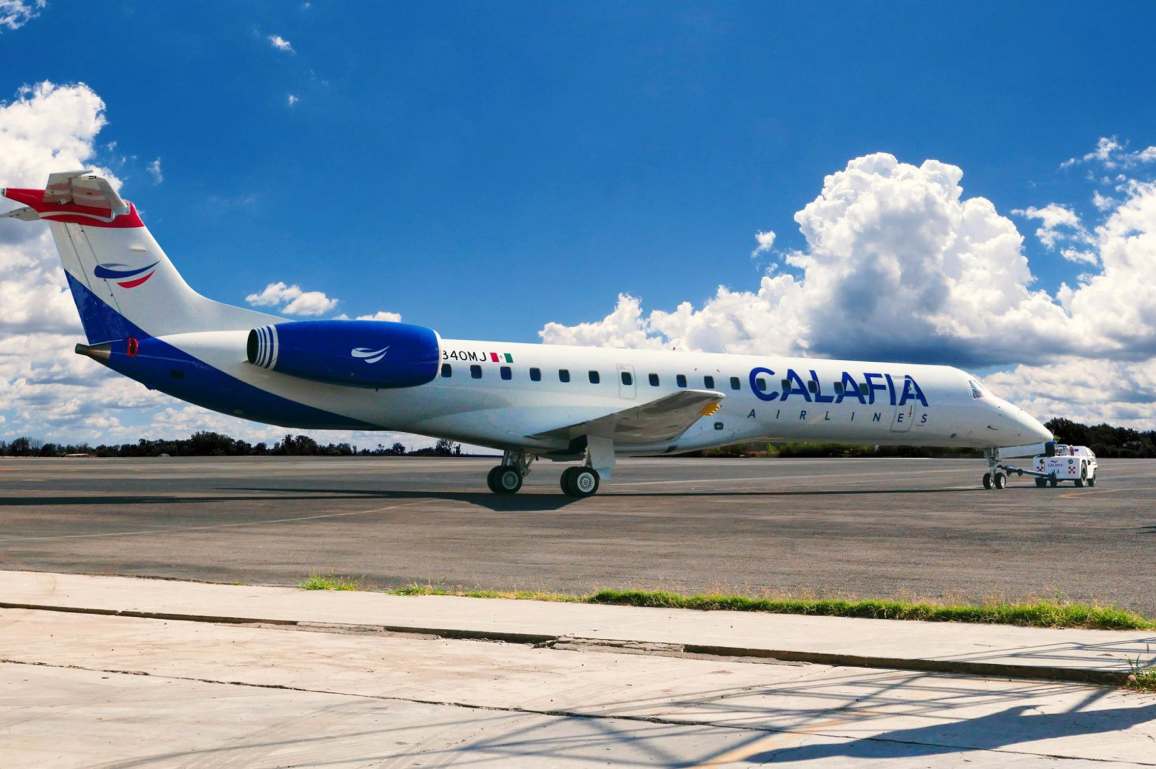 Benefits for Employees
Medical and Dental Coverage

– Employees get health insurance that covers doctor visits and hospital stays. They also receive dental insurance for their teeth check-ups and treatments.

Paid Vacation and Sick Leave

– Employees can take time off and still get paid if they go on vacation or fall ill. This ensures they can rest and recover without financial stress.

Travel Perks

– Working here means getting special advantages when traveling. This could be in the form of better seats, priority boarding, or other travel benefits.

Discounted Tickets and Merchandise

– Employees can buy tickets and other items at lower prices. This makes traveling and shopping more affordable for them.

Opportunity to Meet New Culture

– Working for the airline lets employees interact with people from different places. This helps them learn and appreciate new customs and ways of life.
Also Read: How to Apply Calafia Airlines Flight Attendant Jobs
Video: Onboard Mexico's CRAZY Airline You've Never Heard Of
If you want an honest review of this airline, watch this video. The vlogger documented his experience with Calafia's services, including its IT systems, customer service, security checks, and flights. Remember that every passenger has a different experience but learning from others is a great way to set your expectations. 
Summary
Calafia Airlines is a unique airline with its own set of facts and a distinct work culture. Like every company, it has its pros and cons, but understanding its operations and work environment is key for anyone researching the airline industry. We hope this information provides clarity and helps you find what you're looking for.
Contact Information
Company Name: Calafia Airlines
Address: Lopez Mateos Mza 2 Lot 11, Cabo San Lucas
Telephone No.: (33) 2451 0505
Website: https://www.calafiaairlines.com/
Facebook: https://www.facebook.com/calafiaairlines
Instagram: https://instagram.com/calafiaairlines/
Twitter: https://twitter.com/calafiaairlines