Flynas is a prominent airline known for its services and impact in the aviation world. Founded in Saudi Arabia, it has swiftly become one of the leading low-cost carriers in the Middle East, providing passengers with affordable travel options.
Also Read: Flynas Flight Attendant Requirements and Qualifications
The airline's commitment to efficiency and customer satisfaction has driven its success over the years. With a broad range of destinations and a dedication to on-time performance, it ensures that travelers reach their desired locations with ease and comfort. Let's dive in to know more about the airline.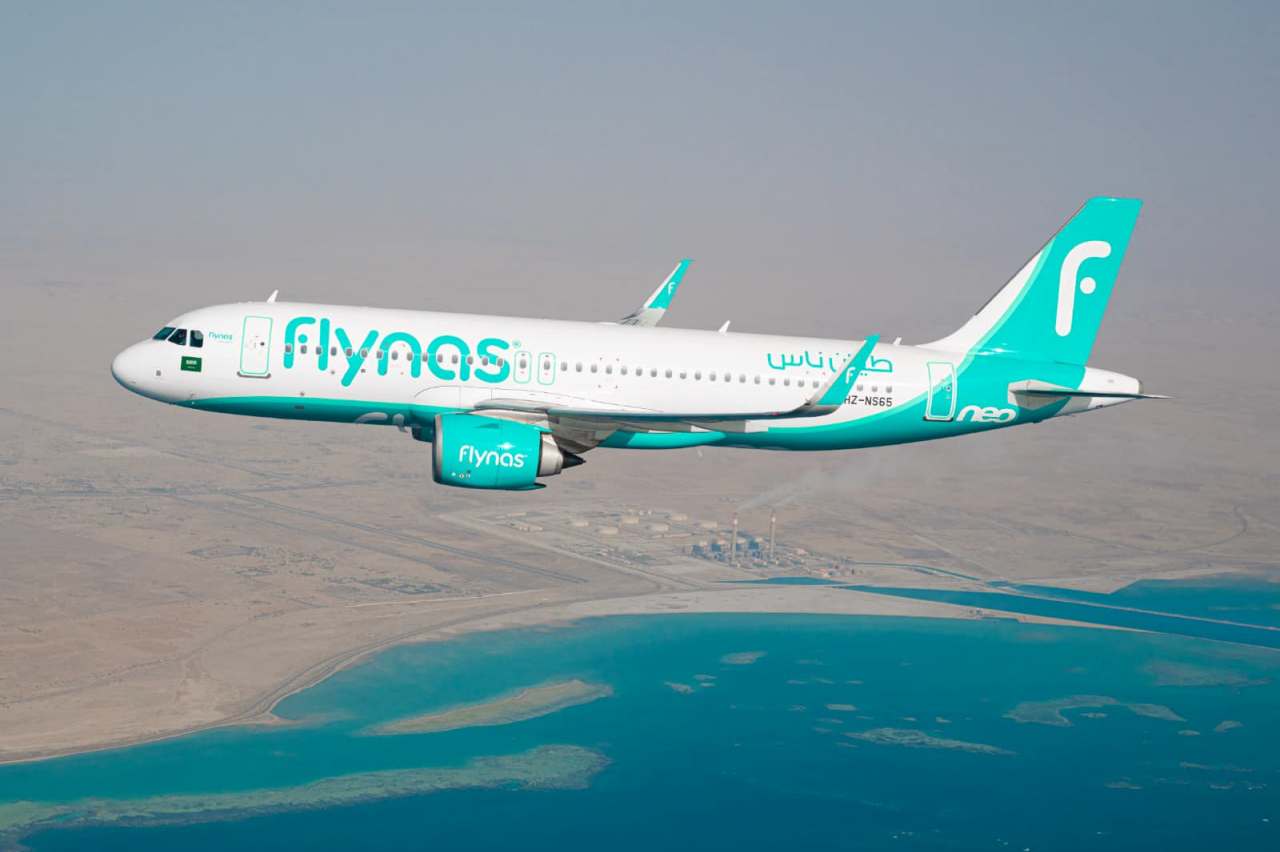 Quick Facts
Airline Name:

Flynas

Airline IATA Code:

XY

Headquarters:

Riyadh, Saudi Arabia

Founded:

2007

Number of Destinations:

88

Fleet Size:

51

Fleet Types:

Airbus A320ceo, Airbus A320neo, Airbus A321XLR, Airbus A330

Location Hubs/Bases:

King Abdulaziz International Airport (KAIA) (Jeddah), King Khalid International Airport (Riyadh), King Fahd International Airport (Dammam), Prince Mohammad bin Abdulaziz International Airport (Medina)
Brief History Overview
Before the emergence of budget airlines in Saudi Arabia, Saudi Arabian Airlines was the sole carrier. However, this changed when Nas Air and Sama Airlines received their government licenses. Nas Air came into existence in 2007 and began its operations on February 25 of that year. By the end of 2007, the airline committed to adding 20 Airbus A320 family aircraft to its fleet.
In 2013, it underwent a rebranding and adopted the name Flynas. A significant development took place in January 2017 when it agreed to purchase 80 Airbus A320neo aircraft, with delivery dates spanning from 2018 to 2026. The first of these planes was received by Flynas in November 2018. By June 2023, it further expanded its Airbus order to a total of 120 A320neo aircraft, including the advanced A321XLRs. An interesting milestone for the airline was in July 2017 when their mobile app, available on iPhone and Android, surpassed one million downloads.
Products and Services
Flights

– The airline offers regular flights to various destinations worldwide. Customers can book tickets online or through agents for their preferred routes.

Nasholidays

– This service allows travelers to book holiday packages that combine several travel essentials. These packages often include accommodations, tours, and sometimes meals.

Flights + Hotel

– Travelers can conveniently book both their flight and hotel accommodation at the same time. This combined service often provides a discount compared to booking them separately.

Travel Insurance

– Before traveling, passengers can secure insurance that covers unforeseen events during their trip. This includes medical emergencies, trip cancellations, or lost baggage.

Lounge Access

– For a more comfortable airport experience, passengers can access exclusive lounges. These lounges offer amenities like comfy seating, snacks, drinks, and free Wi-Fi.

Hotels

– The airline collaborates with numerous hotels to offer passengers a variety of lodging options. Whether looking for luxury or budget stays, travelers can find suitable accommodations through the airline's platform.

Rent a Car

– To make ground travel easier, passengers can reserve rental cars through the airline's service. This helps travelers have a vehicle ready upon their arrival at the destination.
Work Culture
Working at this airline provides employees with a unique opportunity to deepen their understanding of the aviation industry within a positive work environment. The team here is dynamic and collaborative, fostering an atmosphere where ideas are shared freely and the management is notably supportive. This supportive environment further extends to perks like discounted tickets not only with this airline but also with partnering carriers.
However, there are challenges. The airline still operates with outdated technologies and legacy systems, which might not be ideal for those looking for cutting-edge career experiences. The nature of the job sometimes requires hard work with limited resources at hand, and some employees feel the strain of their duties. While the airline boasts a modern expanding fleet and a diverse set of employees, there's a sense among some that changes in processes can be slow, leading to a demotivated workforce at times.
Benefits for Employees
Travel benefits – Airline employees get travel discounted flights.
Health Insurance

– Employees receive health coverage that helps with medical expenses. This ensures they can get the medical care they need without too much financial burden.

Life Insurance

– In the unfortunate event of an employee's passing, the airline provides a life insurance payout. This offers financial support to the employee's family during tough times.

Family Benefits

– The airline cares about the well-being of employees' families. Special benefits, which can include things like educational support or family health coverage, are provided.

Paid Vacation

– Employees get a set number of days off every year where they can relax and enjoy time away from work, and they still receive their regular pay during this time.

Sick Leave

– If an employee falls ill, they're entitled to take time off to recover without losing their pay. The airline understands the importance of health and well-being.
Also Read: How to Apply Flynas Flight Attendant Hiring
Video: The TRUTH About Saudi Arabia's FIRST Low Cost Airline
The video review is all about our recent experience flying with this airline. From the efficient boarding process to stepping inside the aircraft, every moment is captured. The comfort of the seats, the attentive service from the cabin crew, and the variety of in-flight amenities are all highlighted. You'll also get a closer look at the entertainment options and the food served on board. This review gives a comprehensive insight into what it's truly like to fly with Flynas.
Summary
We've delved into the airline's history, services, and what it's like to work there. Like all companies, it has its strengths and challenges. We've tried to provide a balanced view to give you a clearer understanding. Whether you're considering a trip or a job with them, we hope this article has provided the insights you were seeking. Safe travels and informed decisions to all our readers. 
Contact Information
Company Name: Flynas
Address: 8018 Abi Bakr As Siddiq – Ar Rabi AR RIYADH 13316 – 4040
Telephone No.: 920001234
Website: https://www.flynas.com/en
Facebook: https://www.facebook.com/flynas/
Instagram: https://www.instagram.com/flynas/
Twitter: https://twitter.com/flynas/