Kirsten and Jesper Rungholm launched DAT, a Danish airline, in 1989. DAT now flies about one million passengers per year in a fleet of ATR and Airbus A320 aircraft. This airline believes in the power of an enthusiastic team and they are proud to travel with their very hardworking and skilled cabin crews. Not to mention that this airline's flight attendants are well-known for going above guests' expectations.
Also Read: 23 Best Things to Do in Milos Island, Greece – Milos Itinerary Guide
One thing that you might love about this airline is the flexible workday for every cabin crew. Everyone in this fleet knows the importance of customer service and understands how to provide the best service while also engaging with a wide range of customers. DAT is looking for Cabin Attendants who can provide outstanding service for their passengers, maybe it's your turn to showcase your talent.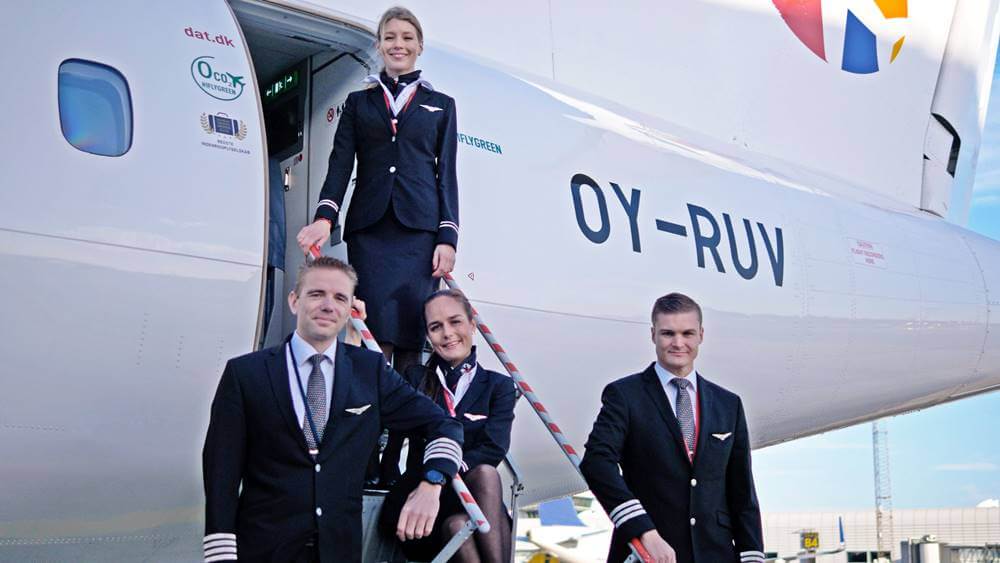 List of Requirements and Qualifications to Become a Danish Air Transport Flight Attendant
For Denmark:
High School diploma
Physically and mentally fit.
Minimum height 165cm, maximum height 190 cm. (Must be proportionate to weight)
Excellent vision
Ability to swim at least 200 meters (with clothes on)
Fluency in at least one Scandinavian language – and the ability to understand the other Scandinavian languages either in writing or verbally
A cheerful and outgoing individual
High spirits, a lot of energy, and, most importantly, perseverance
Flexible
Take the initiative and be an extrovert.
Sincere and loyal
Completeness and a feeling of occasion
Can remain calm and operate successfully under pressure.
Master the capacity to operate well in groups as well as alone.
No undesirable remarks on a criminal record
Working knowledge of the service business
For International:
Physically and mentally fit.
English fluency (Level B1, B2)
Minimum height 165cm, maximum height 190 cm. (Must be proportionate to weight)
Excellent vision
Swim at least 200 meters (with clothes on)
Minimum of a high school diploma
No criminal record and undesirable remarks
Initial Training Certificate or Initial Safety Training Attestation
Medically fit to perform as an aircrew member
Perseverance, high spirits, and a lot of energy
Flexible
Take the initiative and be an extrovert.
Sincere and loyal
Master the capacity to operate well in groups as well as alone.
Experience in the service business – such as a guide, nurse, waitress, or hairdresser – is desired but not required.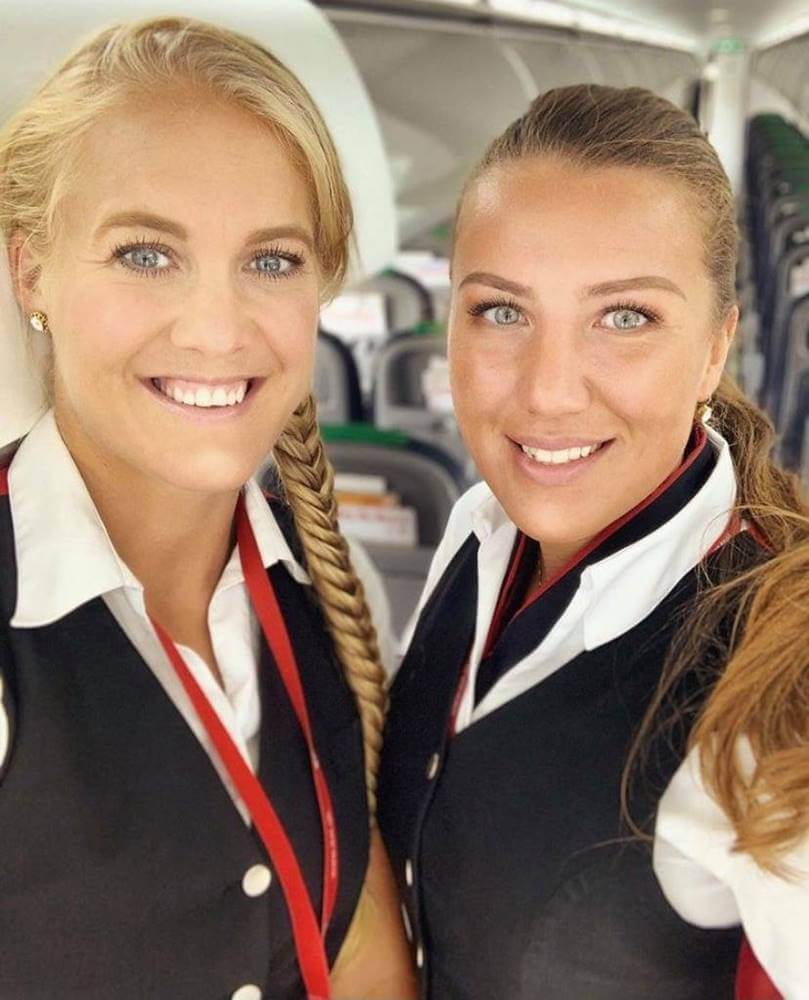 Application Process
Step 1: To apply for a Flight Attendant position at Danish Air Transport, you can go here: https://dat.dk/ or directly to their Career page https://dat-corporate.com/careers/
Step 2: Click on "Careers" and choose "Cabin Attendant" on the pull-down menu bar.
Step 3: From there you can choose which DAT location your want to apply as a Cabin Attendant. Click your chosen location. At the bottom part of this page you will see the question "Would you love to fly with us?" click the button in there to proceed with your application.
Step 4: Fill out the Cabin Attendant Application Form with the necessary information. This will consist of 8 pages where you will ask to provide basic information about yourself, language skills, experiences, etc.
Step 5: Before applying, prepare all the requirements or documentation needed for your application. Do not also forget to complete your online application with all necessary information without errors. Make sure to provide true and correct details about yourself.
Step 6: Once shortlisted, they will notify you through call or email. So, keep your lines up and always check for their message. You need to pass the initial interview so you can proceed to the next phase of the qualification examination.
Training Course
You will undergo a 3-4 week training course from Monday to Friday from 8:00 to 17:00 (subject to change). Practical training in airplanes is part of the program, which is why the course is dependent on when aircraft are available.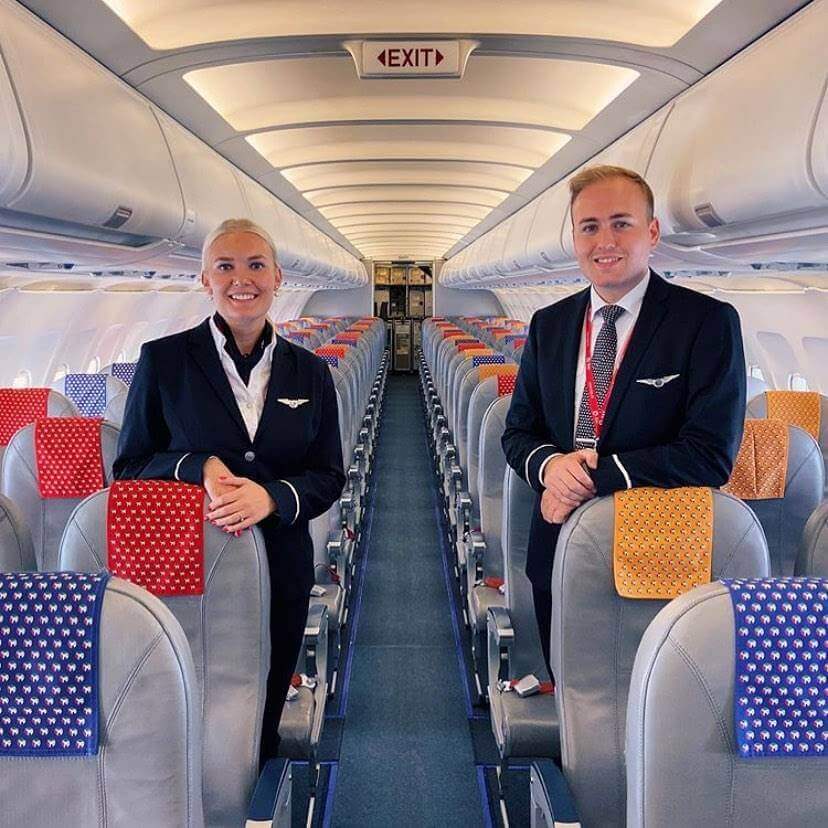 Salary and Benefits
The salary is divided into a base salary and some bonuses:
The starting wage (divided into fixed salary levels)
Block time production surcharge
daily allowance (an amount paid from check-in to check-out)
Subsidy for uniform upkeep
Pension: 8% employer contribution and 4% employee contribution
Video: Safe Travel med DAT
Danish Air Transport (DAT) gives so much importance to health and safety. In fact, during the peak of the pandemic, they run intensive inspections and made all possible efforts to keep each flight clean and risk-free. As their flight attendants said in the video "The health and safety of our customers and personnel is our top priority." During their everyday flights, cleanliness, and hygiene are well observed to maintain safe travel, even if the Covid-19 cases decreased at the west point.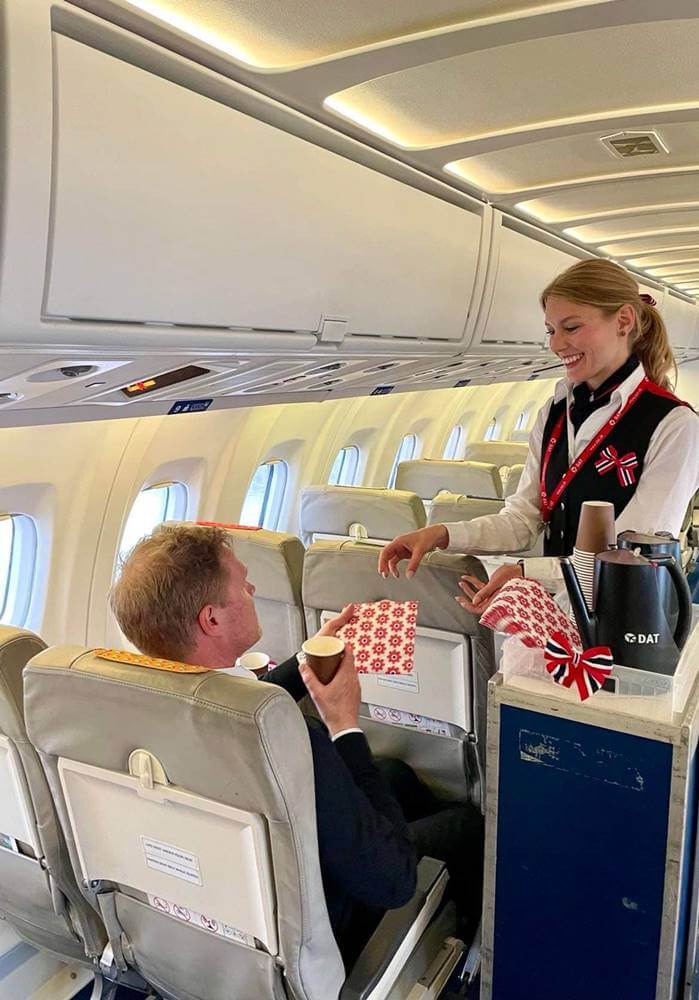 Photos: Danish Air Transport Cabin Crew Uniform
Check out these pictures of Danish Air Transport crews so you can see what they look like in uniforms:
Frequently Asked Questions
Here are some common questions and answers about the job requirements as a cabin crew for Danish Air Transport:
1. Where is Danish Air Transport located?
DAT's headquarters are in Vamdrup Airport, while its primary customer support office is on the island of Bornholm. DAT also has maintenance and service stations at Billund and Copenhagen airports.
2. Do they have a background check to pass?
Yes, a background check will be done throughout the application process. Every airline has this process of checking the real identity of each qualifying applicant.
3. What is the height requirement for cabin crew in DAT?
You must be at least 165cm, while the maximum height is 190cm.
4. What is their career page link?
You can go to their career page using this link https://dat-corporate.com/careers/
5. Are they strict with swimming skills requirements?
Well, you must have the ability to swim at least 200 meters with clothes on – one of their basic requirements.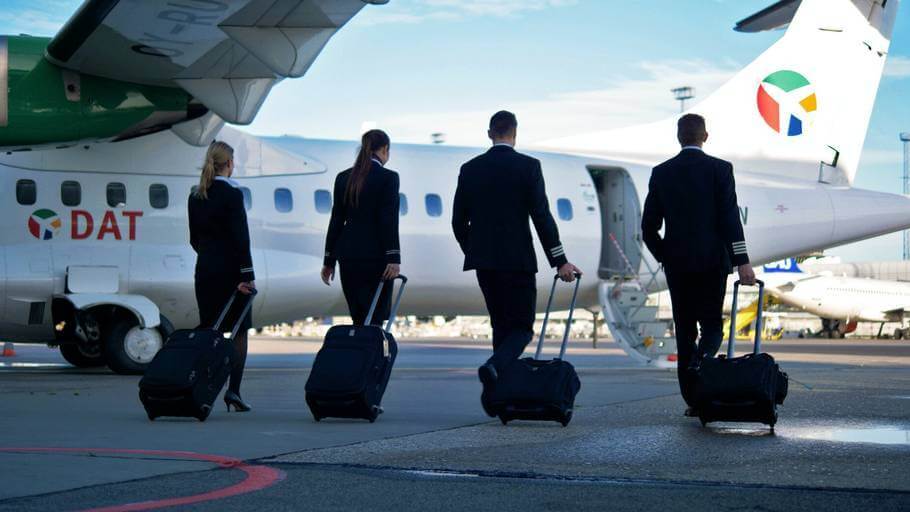 Summary
Working as a Cabin Attendant must be exciting, demanding, and rewarding. For the industry, the level of training and expectations are high, so you need to put in a lot of effort.  As a DAT Cabin Attendant, you will be able to fly on thrilling ad hoc assignments and destinations, and DAT expects flexibility from you. Unlike any other airline, DAT will accommodate you on your preferred days off.
In fact, approximately 95% of all legitimate off-requests were granted. So what are you waiting for? This could be the airline you are searching for. A caring airline to its staff like no other.