If you wish to become a flight attendant for EasyJet, there are a few requirements you'll need to meet. First, you must be at least 18 years of age and have a high school diploma or equivalent. You'll also need to be able to pass a criminal background check and have a valid passport. In addition, you should be comfortable working long hours, including overnight shifts. If you have experience in customer service or the hospitality industry, that will also be beneficial. If you meet all of these requirements and think you would be a good fit for the job, then you can start submitting your application.
Also Read: How to Answer: What are Your Weaknesses?
EasyJet is an airline based in the United Kingdom. The airline operates both domestic and international flights and has a fleet of over 100 aircraft. EasyJet employs around 4,000 staff, including flight attendants. They are one of the largest airlines in the world, with 308 aircraft, operating 927 routes across 34 countries and 153 airports. They aim to seamlessly connect Europe with the warmest welcome in the sky to make travel easy, enjoyable, and affordable, whether it is for leisure or business.
Their flight attendants play a key role to make their vision a reality. They are committed to offering great customer service to their passengers as they try to win their loyalty. Although they aim to stay a low-cost airline, they also invest in efficiency, developing customer solutions that drive operating efficiencies while meeting customers' evolving needs. Hence, EasyJet Airlines' flight attendants are responsible for the safety and comfort of passengers during the flight. They provide excellent customer service and are always willing to help with any requests or questions that passengers may have.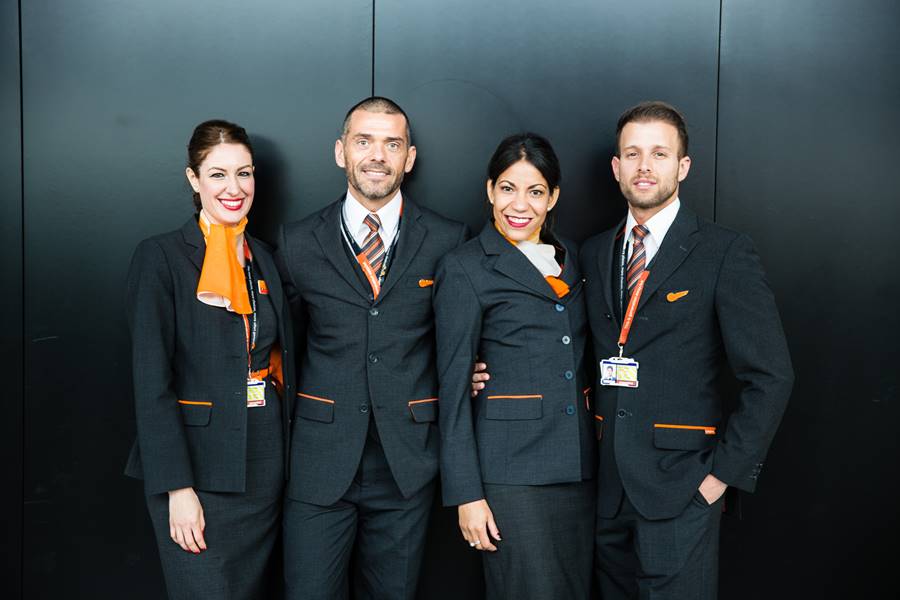 List of Requirements and Qualifications to Become an Easyjet Airline Cabin Crew
To become EasyJet flight attendant, aspiring individuals must first meet the following requirements and qualifications:
Applicants must have the ability to live and work in the United Kingdom.
They must be over 18 years old to qualify and apply for the position.
Applicants must be proficient in speaking and writing using the English language.
Applicants with multiple language capacities are an asset. Bilingual applicants who can speak English and French will be given priority consideration.
They must be a high school graduate.
Preference is also given to candidates with previous charter experience.
They must also be internet savvy.
They must also be able to obtain Transport United Kingdom's security clearance.
They must also be in good mental and physical health and be able to meet medical standards.
Applicants must also have a valid United Kingdom passport.
They must also have no affiliation with other airlines while employed at EasyJet Airlines.
They must also have completed referencing and pre-employment checks to the satisfactory standard and supply the satisfactory UK and international Criminal Record Checks before training starts.
Application Process
Aspiring individuals who want to pursue their cabin crew career must meet first the minimum requirements and qualifications set by the airline before applying for the position. To apply as EasyJet UK Airlines' flight attendant, the applicant must follow this guide.
Step 1: Go to the airline's Careers section on its website. You can use this link – https://careers.easyjet.com/cabin-crew/.
Step 2: Click the "Recruitment Process" section to learn how this works.
Step 3: Follow the guide and start with your online application by clicking the "Apply" button on the top.
Step 4: Fill out the online application and submit it together with your CV.
Step 5: You will need to complete an online test. After completion, you are expected to receive an email within 72 hours to know the results.
Step 6: If your online test was successful, your application will be reviewed, and move forward to the next phase of your application.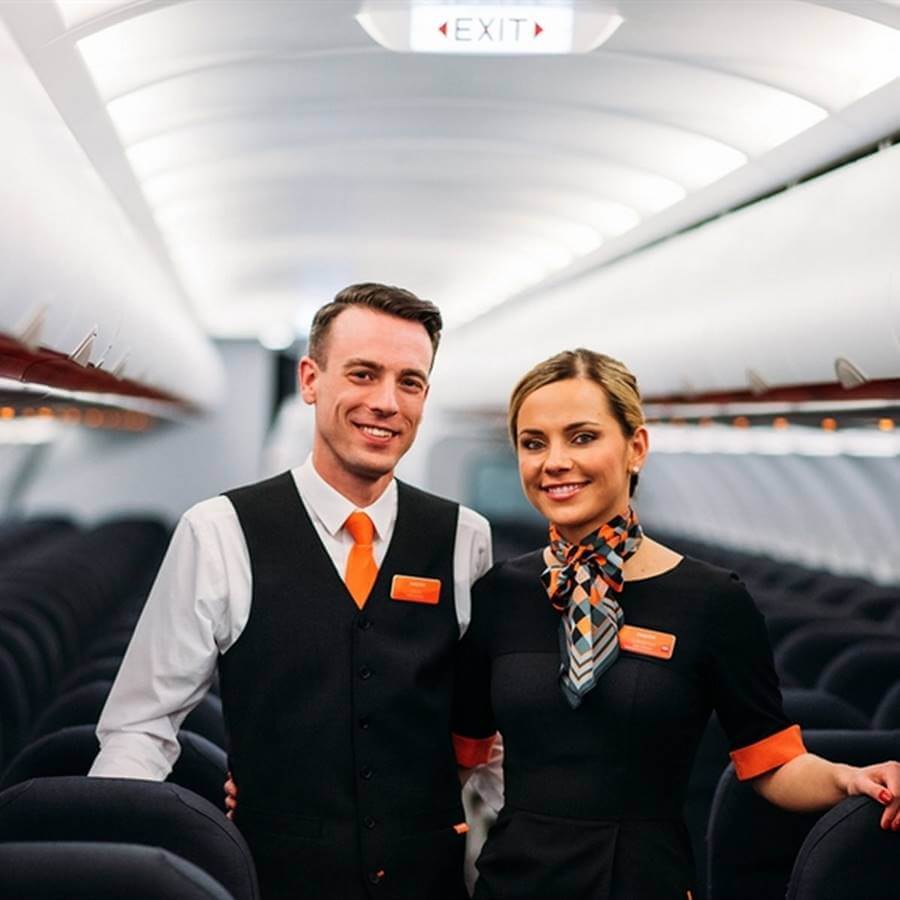 Salary & Benefits
The airline company EasyJet offers many benefits for their UK flight attendants. Some of these benefits include a very competitive salary, opportunities for career growth, and excellent medical and dental coverage. The company also provides its flight attendants with free travel on EasyJet flights, as well as discounts on other airlines and hotels.
EasyJet also values their employees as they provide a training program for the development and improvement of their team Members' skill sets. They also offer a generous pension plan and health insurance for them.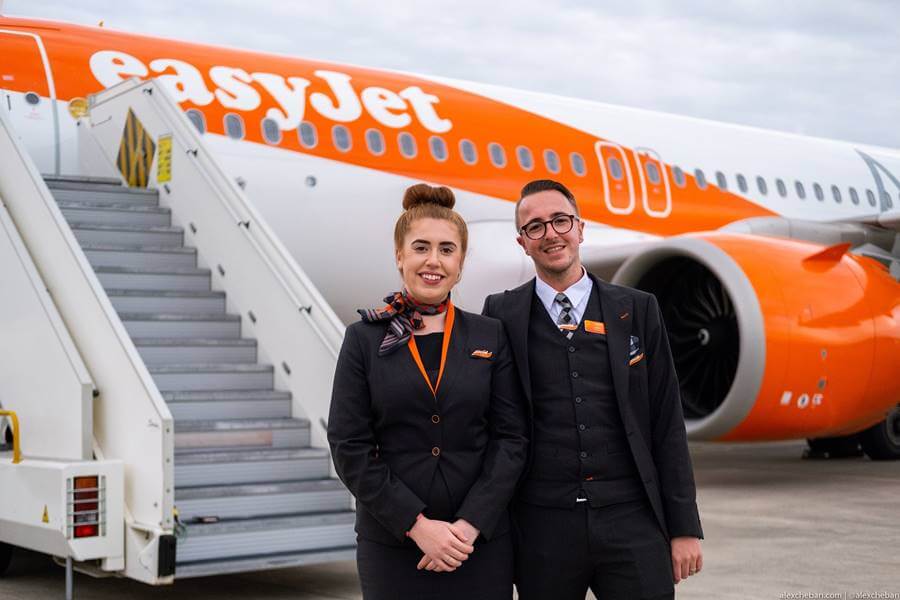 Video: Internal: secret cabin crew code training video
This video will give you a glimpse of how the cabin crew at EasyJet communicates using secret codes such as hand signals. Here, they shared how they perform the hand signals in some common situations during their flight with style and finesse.
This video is an advantage to those individuals who want to start their careers at EasyJet. Hence, you must watch this video to get a glimpse of the training that you are expected to go through when your application moves forward.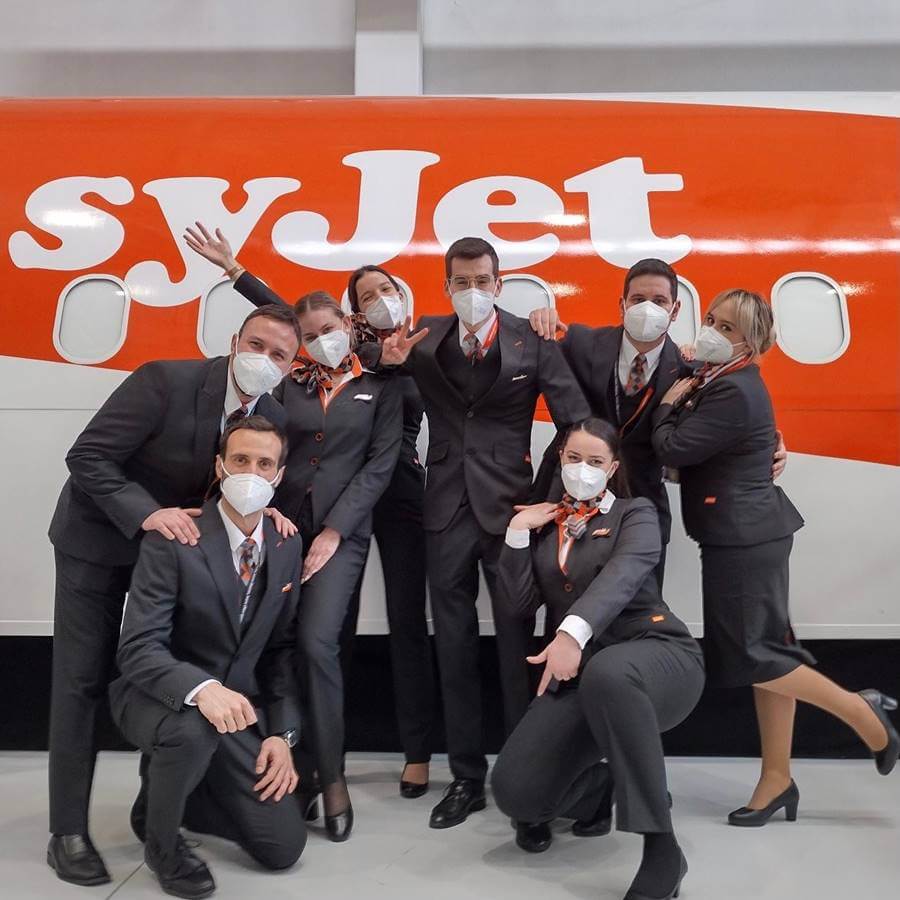 Photos: EasyJet Airlines Cabin Crew Uniforms
Check out these pictures of EasyJet Airlines crew so you can see what they look like in uniforms:
Frequently Asked Questions
The following are some of the common questions asked about EasyJet:
1. How much experience is necessary?
It is not required to have previous experience to qualify but preference is given to those candidates with previous charter experience.
2. How old do you have to be to become an EasyJet Airlines flight attendant?
You must be over 18 years old to qualify and become a flight attendant at EasyJet Airlines.
3. What level of education do you need to be a flight attendant for EasyJet?
You must be at least a high school graduate but high priority consideration will be given to candidates with a college degree.
4. What type of personality is best suited for a career as an EasyJet flight attendant?
You must have a pleasing personality and have good communication skills.
5. Are there any language requirements for EasyJet flight attendants?
You must be proficient in speaking and writing using the English language.
6. Do all EasyJet flight attendants need to be able to speak a second language?
Not really. As long as you are proficient in the English language, you can still apply. However, preference is also given to candidates who can speak another language. Bilingual is an asset to the company.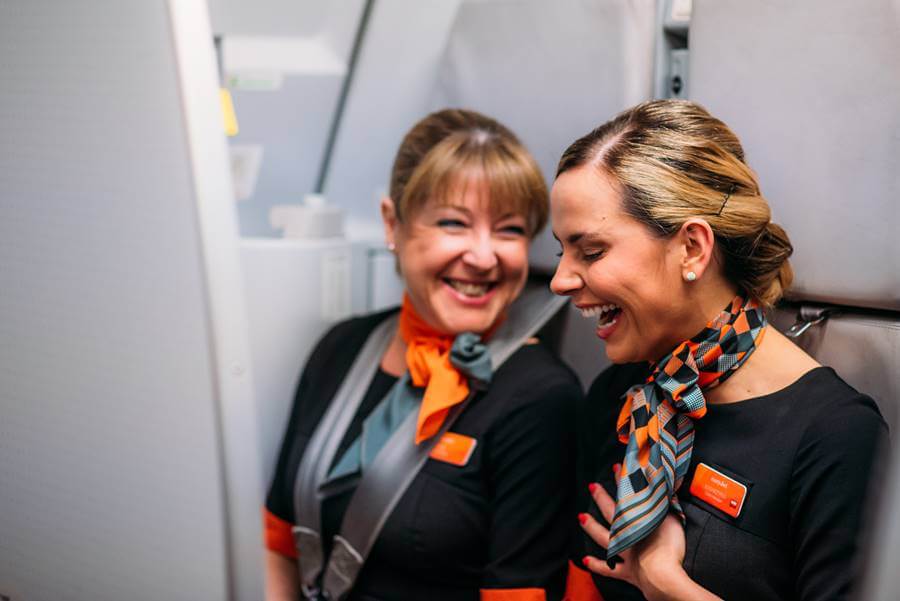 Summary
As a flight attendant for EasyJet, you will be responsible for ensuring the safety and comfort of passengers on board our flights. In addition, you will be expected to provide excellent customer service, assisting passengers with any queries they may have.
Overall, the requirements to become a flight attendant for EasyJet are not too difficult to meet. As long as you have a good head for customer service and are willing to undergo some training, you should be well on your way to becoming a member of the cabin crew.
EasyJet is a great airline to work for if you meet the requirements and qualifications. The job is fast-paced and can be demanding at times, but it is also very rewarding. You get to travel the world and meet new people, all while getting paid. If you think you have the flight attendant qualities and what it takes to be a cabin crew for EasyJet, then we encourage you to apply. Good luck!