Flight attendants at Endeavor Air wear a uniform that consists of a navy blue blazer, a white blouse, and black pants or a skirt. The blazer is adorned with the Endeavor Air logo on the front pocket and the flight attendant's name tag. This uniform makes them easily recognizable by passengers on board and among the crowd.
Also read: Endeavor Air Flight Attendant Salary and Benefits
Other sets of their uniform allow female flight attendants to wear slacks or pants, which is a convenient option for comfort and flexibility during long flights. The black pants provide a sleek and polished look, complementing the blazer and blouse perfectly. This alternative to the skirt option also allows for easy movement and ensures that the flight attendants can perform their duties efficiently.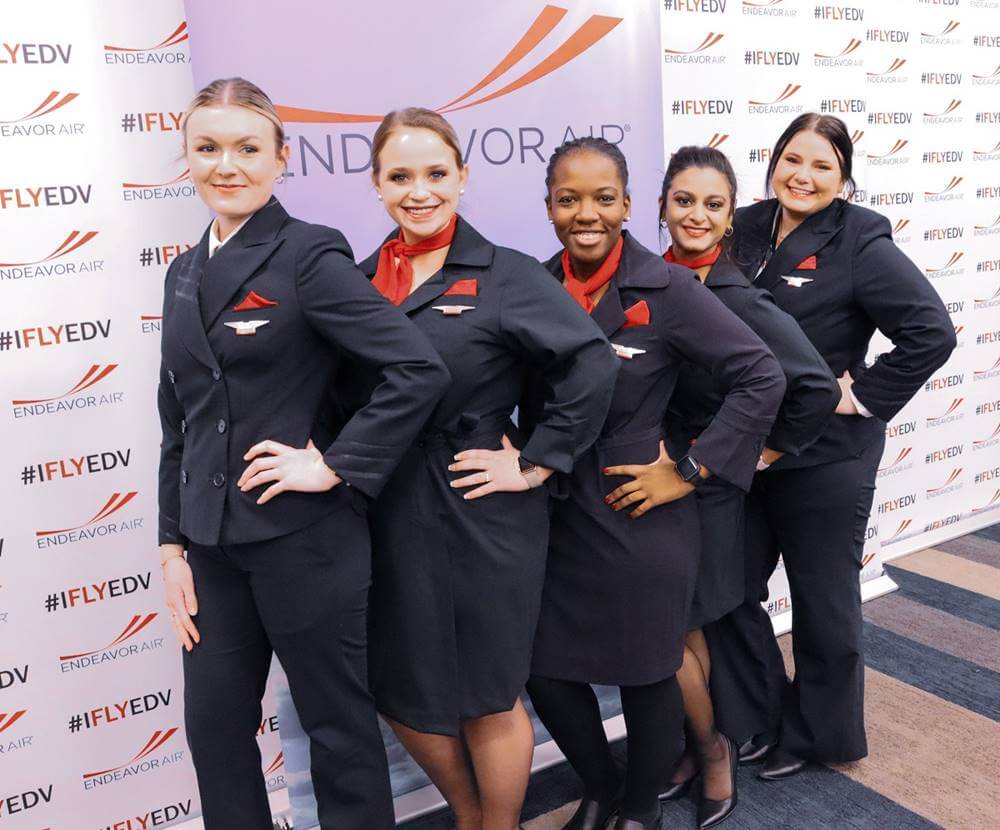 Features of Its Uniform
A plum red neck scarf for female flight attendants and a red necktie for men
A long-sleeve dress for females
A female blazer jacket with six buttons on the front of the formal jacket is paired with slack pants.
A formal semi-tuxedo blazer jacket paired with slack pants for male flight attendants of Endeavor Air.
Black heel shoes for female footwear.
Female Endeavor Air Cabin Crew Uniform
The face of the airline company is represented by the flight attendants of Endeavor Air. Hence, they are expected to abide by the policies and guidelines for them, including the proper wearing of the complete uniform. By adhering to these standards, flight attendants contribute to the positive image and reputation of the airline.
Here are only some of the pieces of clothing that make up their flight attendant uniform.
Semi-long sleeve dress
Neck scarf
Blazer
Long sleeve blouse
Slack pants
Hosiery
Heel shoe
Vest
Skirt
Luggage
Gloves
Weather garment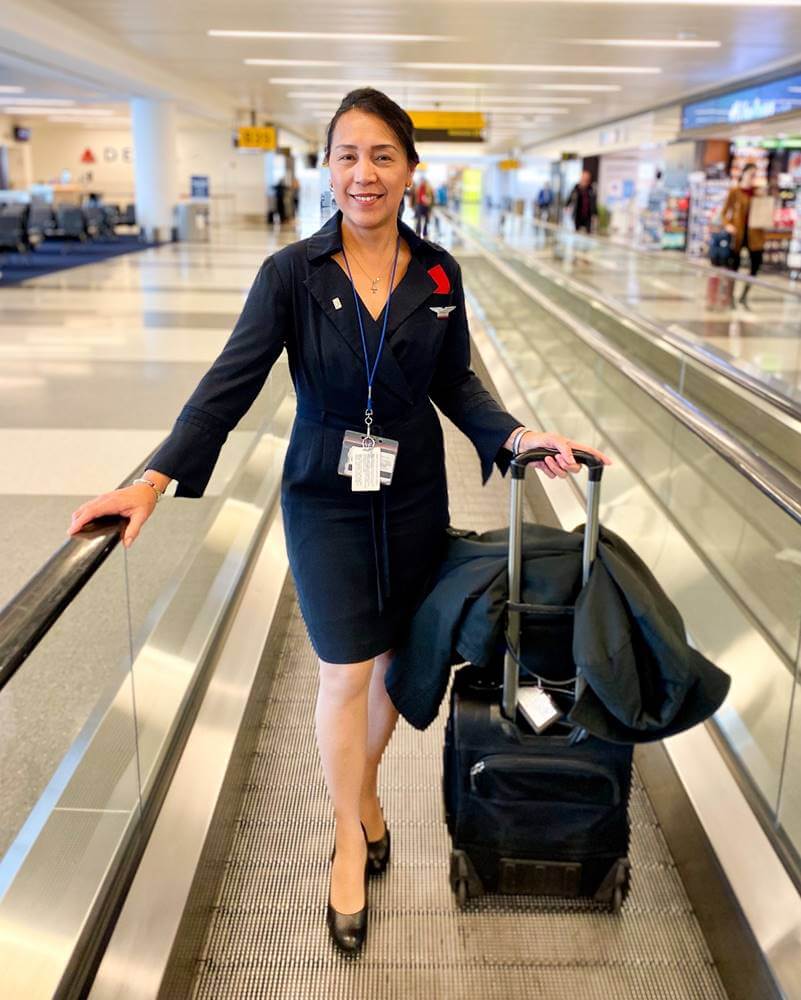 Male Endeavor Air Cabin Crew Uniform
Male flight attendants also have the same duty to adhere to the flight attendant uniform policies and guidelines of Endeavor Air. This ensures that all flight attendants, regardless of gender, maintain a professional and cohesive appearance. The airline believes in equality and does not discriminate based on gender when it comes to uniform regulations.
By enforcing these policies, the airline ensures that all flight attendants are easily identifiable and can provide the highest level of service to passengers.
The list of male flight attendant uniforms is provided below.
Slack Pants
Necktie
Blazer
Vest
Long sleeve
Wristwatch
Shoes
Socks
Belt Luggage
Gloves
Weather garment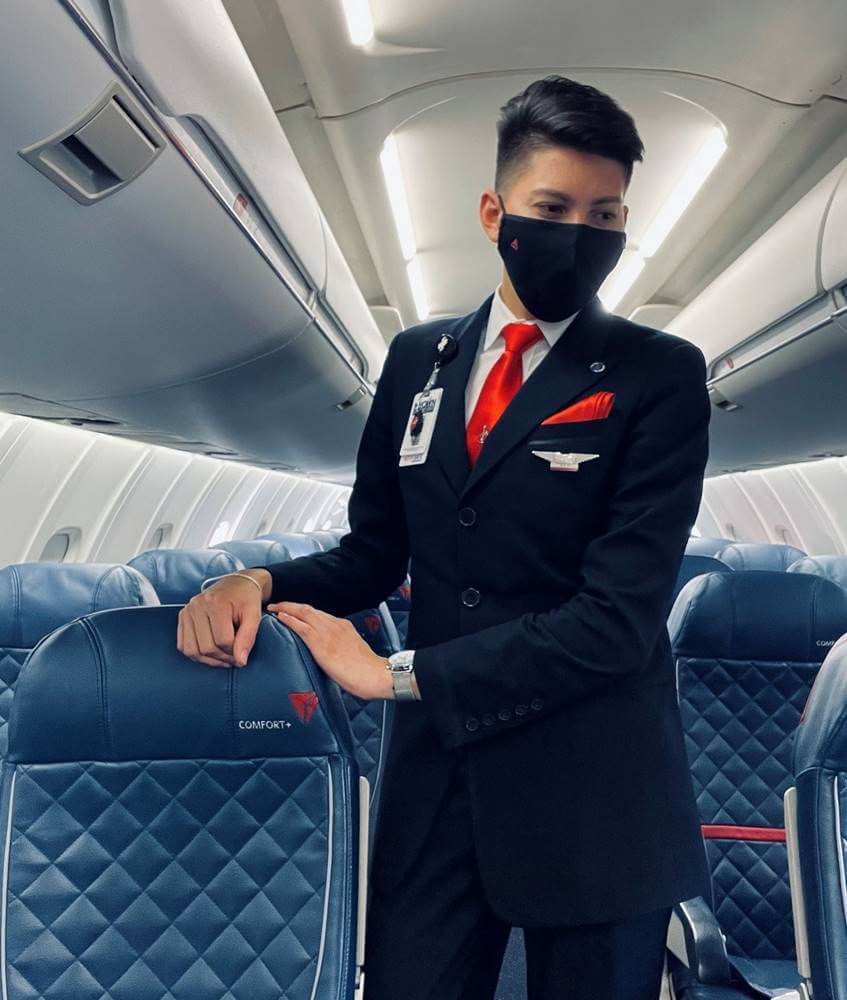 Uniform Accessories (Male/Female)
Supplementary items, including personal accessories, may be added to the basic company uniform, but flight attendants must be mindful of the size, style, design, and color of such accessories. It is encouraged that the sizes, designs, and styles of the said accessories be simple yet elegant.
Here is a list of accessory items that can be added to the uniform.
Earrings
Wristwatch
Necklace
Rings (e.g., wedding ring)
Presentation and Grooming Policy
A formal and competent image could encourage passengers to trust the airline company even more. That is why wearing the flight attendant uniform with pride and confidence could help to maintain the set appearance standards. The following policies aim to help flight attendants maintain their grooming and appearance standards while on duty.
Flight Attendant Uniform
Flight attendants who are present in the aircraft aisle should maintain a good and neat appearance to adhere to the appearance standards of the flight attendant. They should wear their complete uniform that is in good condition, well-pressed, and clean. It is also important that their uniform be a proper fit.
Hairstyle
The hair of both male and female flight attendants should be combed properly. Hairs that have an extreme and contrasting color are also prohibited, whereas natural hair color should be visible. For male flight attendants, a proper haircut should be done without any haircut design or hair art. For female flight attendants, their hair must be tied, and applying hair wax or gels is recommended to attain neat-looking hair.
Accessories
Accessories style, length, and design should be minimal. For the necklace, it should be a single-strand necklace, and the size must not be too large, including the earrings and the bracelet. It is highly encouraged that the FAs only wear simple accessories that complement their uniform.
Fingernails
The hands of the flight attendants should always be clean, including their fingernails. They must maintain regular handwashing to maintain the cleanliness of their hands. Fingernails should be neatly trimmed, and the polish color should also align with the color and design of the uniform. Striking colors are not allowed.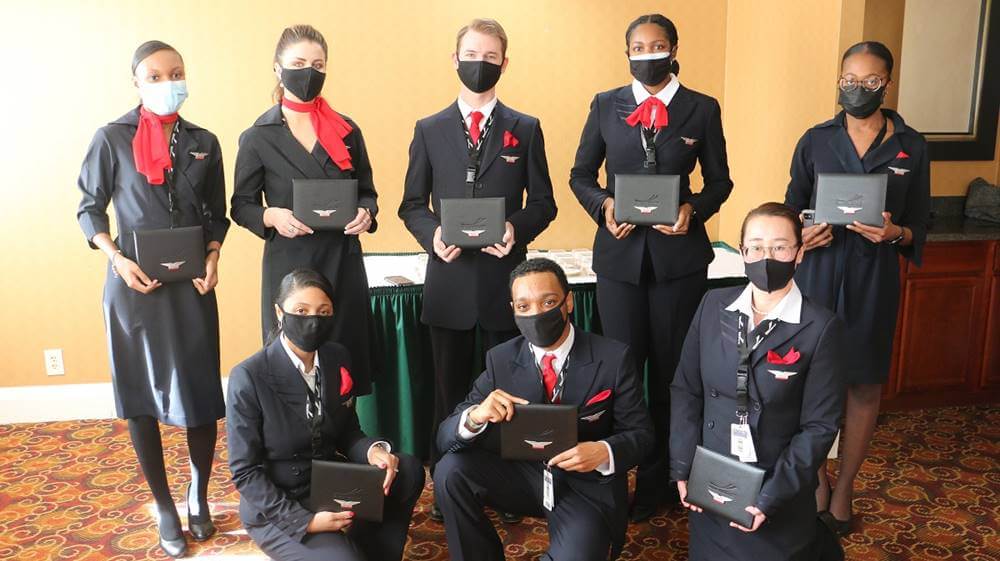 Important Notes to Remember
If the flight attendant loses or damages his or her insignia while he or she is on duty, the company will replace his or her insignia upon the recommendation of the flight attendant head that it is not due to the flight attendant's negligence.
Pregnant flight attendants may loan a maternity uniform and may opt to return it to the company before the maternity leave. Failure to return it may automatically charge to the uniform allowance of the flight attendant.
If the flight attendant has a history of allergies to the material used in making such a uniform, he or she may raise his or her concern with the airline company so that they can provide an alternative uniform for the FAs.
It is the responsibility of the flight attendant to maintain a formal and clean appearance and must comply with uniform policies and appearance standards.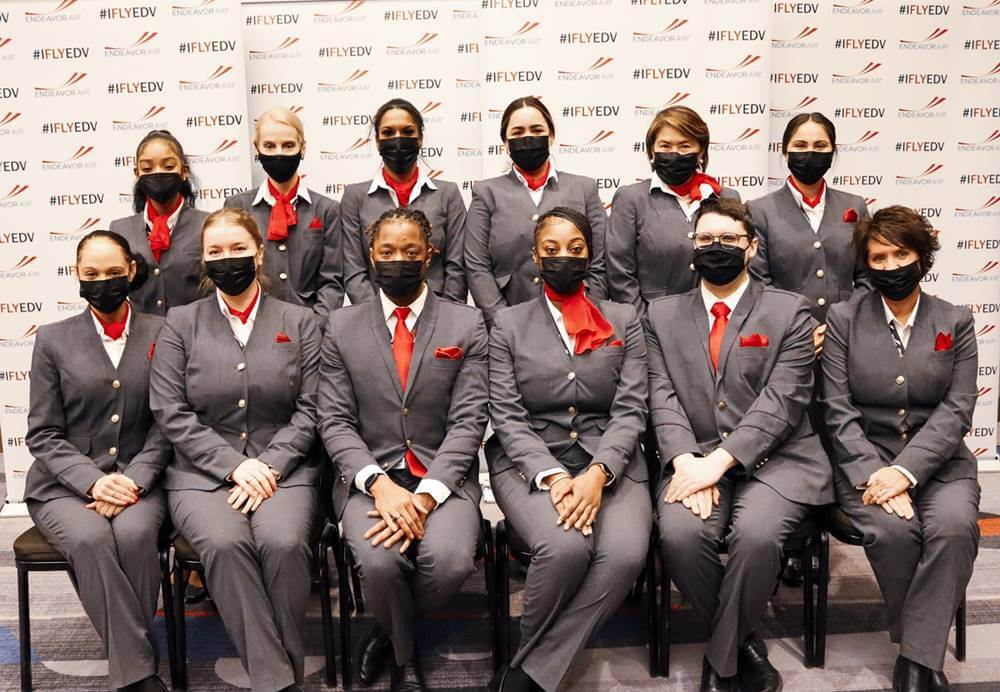 Video: Want to be a Flight Attendant? 7 Things to Know Before Applying at Endeavor Air
The video highlights the importance of aspiring flight attendants at Endeavor Air, emphasizing the lifestyle they adopt and the factual ideas they need to consider before applying for the job. Flight attendants wearing complete uniforms provide seven important things to consider.
Summary
In brief, Endeavor Air flight attendants wear a navy blue blazer, white blouse, and black pants or skirt. The blazer features the airline's logo and name tag, making it easily recognizable. Unlike any other airline, female flight attendants at Endeavor Air can wear slacks or pants for comfort during long flights which also allows for easy movement and efficient performance.