The Republic Airways flight attendant uniform color scheme incorporates a combination of deep navy blue and crisp white, which enhances the overall polished look. The style also includes a fitted blazer that is complemented by a coordinating skirt or trousers and is completed with a white blouse or shirt. The blazer is tailored with a notched collar, while the skirts or trousers are designed to be comfortable and allow freedom of movement while maintaining a professional appearance.
Also Read: Republic Airways Flight Attendant Salary and Benefits
The flight attendant uniform is also accessorized with a scarf, which provides warmth and style. Other accessories include jewelry and a name badge. These accessories not only enhance the appearance of the flight attendants but also serve practical purposes, reflecting the proficiency and easy identification for passengers and fellow crew members.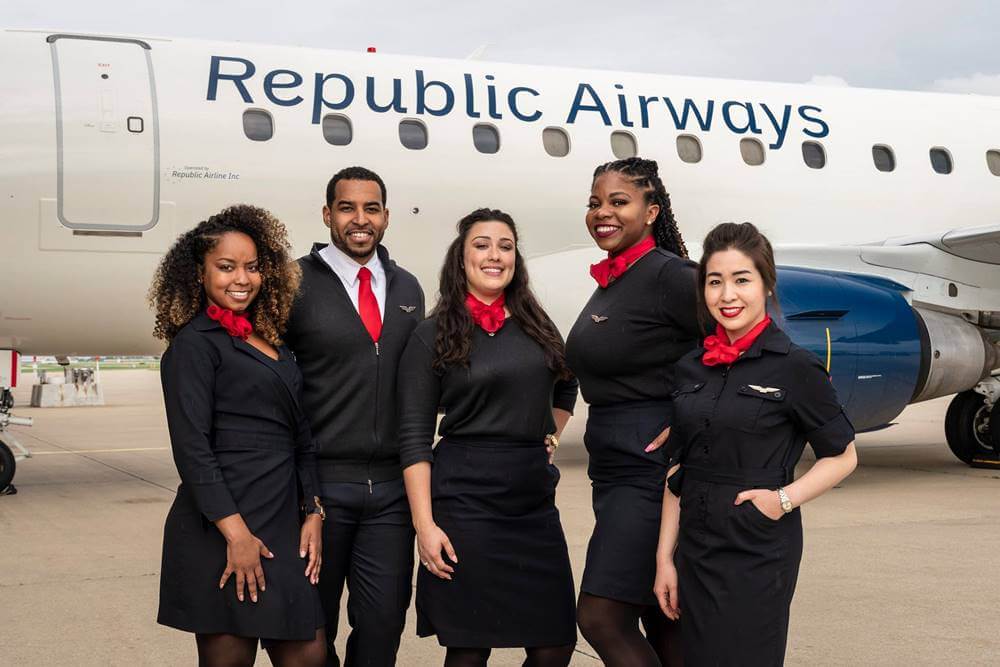 Features of Its Uniform
A black blazer dress, paired with a black skirt
A red elegant neck scarf for female FAs
For lower uniform, black formal slack pants for males and a skirt for females.
Milky white polo blouse with a formal button or collar blouse
Insignia or wing badge
Red tie
A black heel shoe with black hosiery
Black closed formal shoes paired with a full black sock
A white blouse, a dark blue vest, and black slack pants (another set of uniforms)
Female Republic Airways Cabin Crew Uniform
Maintaining the appearance standards anchored in the Republic Airways flight attendant manual and policies are just a few of the various tasks and responsibilities that need to be strictly followed by the cabin crew members. Maintaining their formal appearance standards includes the proper wearing of the complete uniform set while they are on duty.
The complete set of the female flight attendant uniform includes the following.
Skirt
Dress
Blazer jacket
Button blouse
Neck Scarf
Wristwatch
Inner garments
Insignia or wing badge
Black heel shoe
Black hosiery
Necklace
Earrings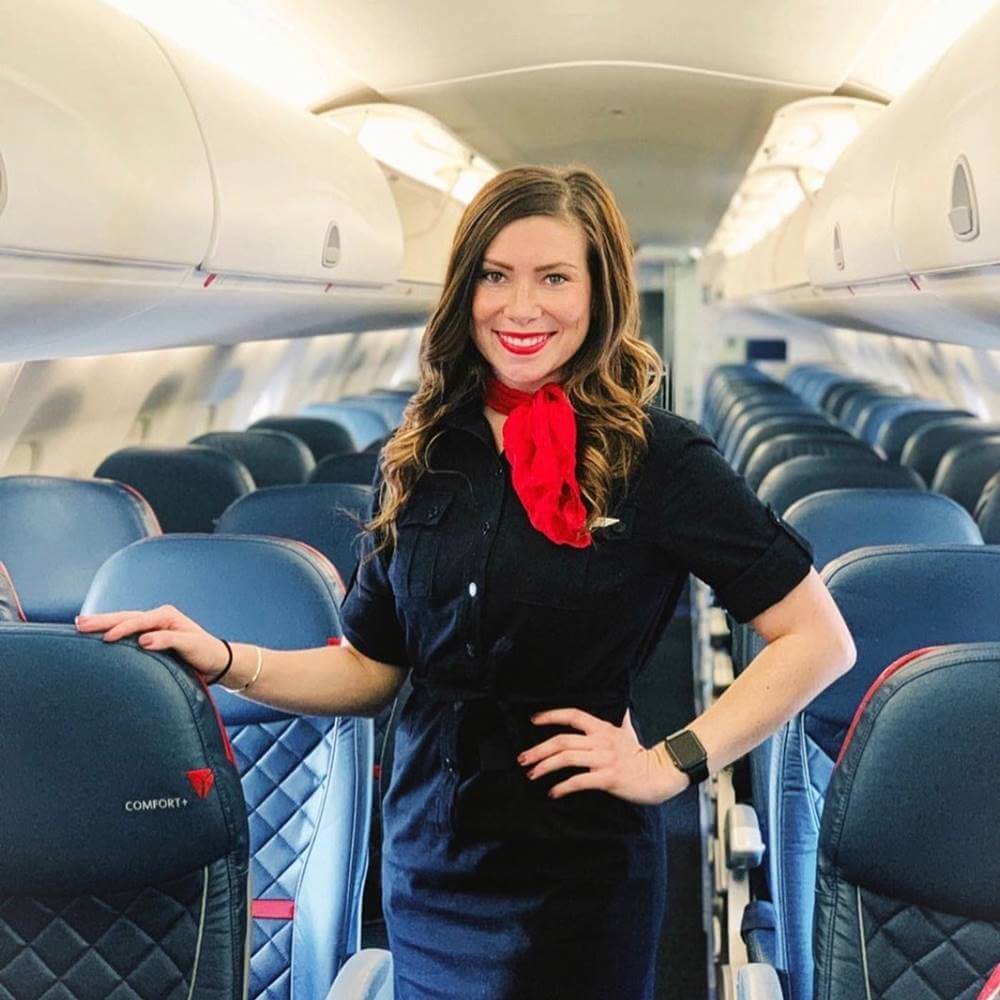 Male Republic Airways Cabin Crew Uniform
Male aircrew members on both commercial and international flights must follow the company protocols when it comes to appearance standards and uniform policy. This ensures a consistent image for the airline and helps passengers recognize and trust the crew members. The uniforms are typically designed to be comfortable and practical for the demands of the job while also reflecting the airline's brand and image.
Here is the complete list of their uniforms.
Vest
Long sleeve
Button collar blouse
Red and dark blue necktie
Close formal shoe
Fully black socks
Slack Pants
Blazer jacket
Insignia or wing badge
Wristwatch
Uniform Accessories (Male/Female)
Minimal sophisticated accessories serve as a spice to the piece of clothing and working uniform of the cabin crew member. However, they also need to consider the minimal sizes, designs, and accessories styles that won't affect the services and FA's confidence while they are working.
Wristwatch (both male and female)
Earrings (for female FAs only)
Necklace
Luggage
Tote
Hair tie
Hair clip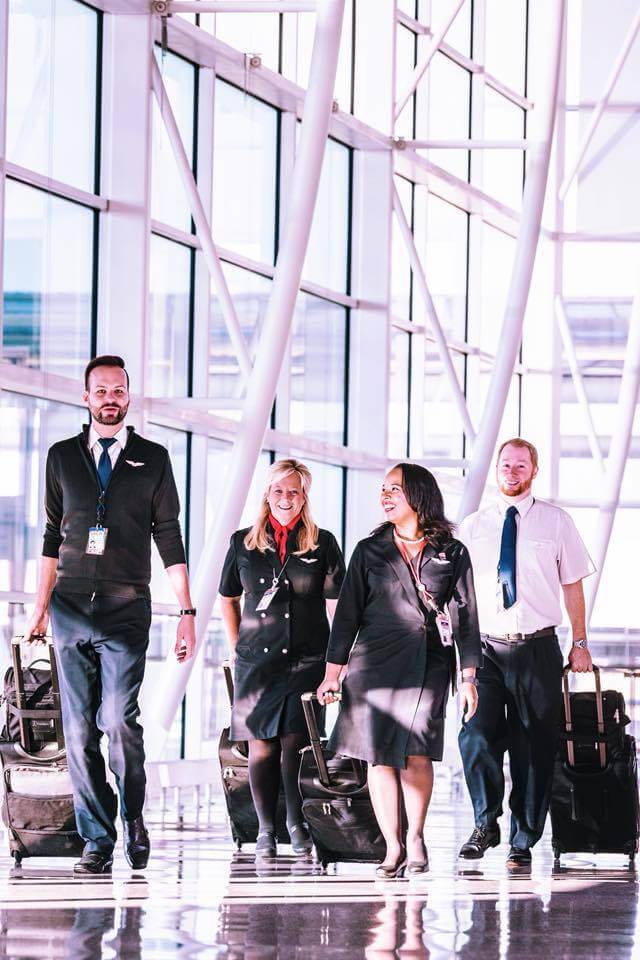 Presentation and Grooming Policy
Flight attendants and all aircrew members must consider a well-mannered and presentable appearance while they are presenting themselves to the passengers. Likewise, they must have a presentable look while wearing their uniform. Below are only some of the guidelines on how they should present themselves while on duty.
Appearance Standards
Flight attendants must present themselves with confidence while dealing with customers and providing them with the things and comfort they need. For instance, a presentable and formal look may leave a long-lasting impression, not just on the passengers but also on those around you. A neat and well-presentable look can attract a positive image for the company you are working with and a positive attitude from the people with whom you are dealing.
Personal Hygiene
As a flight attendant, you must maintain regular and proper hygiene, especially if you will be doing so before heading to work, to avoid making a negative impression on passengers. FAs must maintain not just good looks but also proper personal hygiene. This includes maintaining clean and neatly groomed hair, ensuring fresh breath, and wearing clean, wrinkle-free uniforms. Flight attendants should regularly wash their hands and use hand sanitizer to prevent the spread of germs and promote a safe and comfortable travel experience.
Hairstyle
Your hairstyle must also be neat and nice-looking. It must be suited to your look. For female FAs, it is appropriate if they tie their hair and put on some hair wax or hair gel. Male FAs must have a proper haircut that is formal and presentably neat.
Hands and Fingernails
Hands must be neat and clean. Proper hand washing must be observed. Fingernails must be well-trimmed and manicured. The appropriate polish color must be suited to the uniform color and design. More importantly, contrasting colors are strictly prohibited.
Uniform and Its Accessories
The uniforms of all aircrew members must be clean and well-pressed, which is expected for FAs to be presentable and neat-looking. Extreme designs for uniforms are highly discouraged unless they are according to the company uniform design. The insignia of the airline company must be appropriately pinned.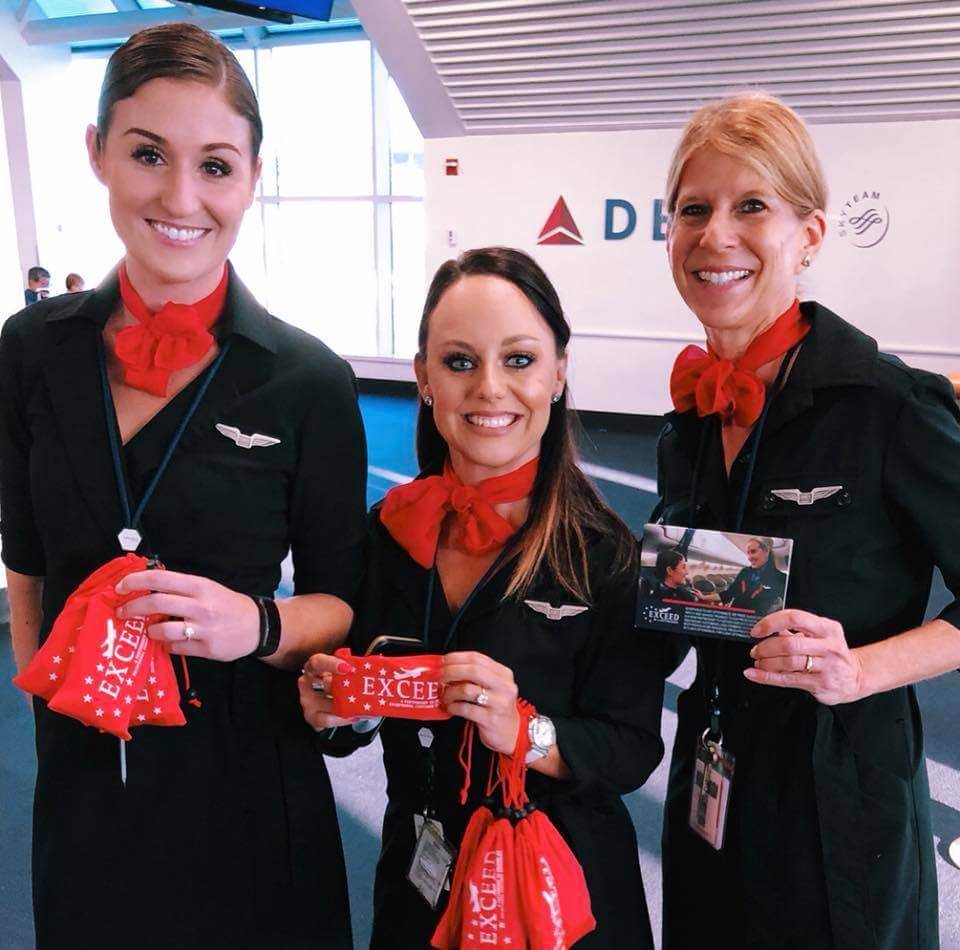 Important Notes to Remember
Tattoos and other body art must not be visible outside when wearing the company uniform.
Both male and female FAs must wear their latest company uniform.
Uniforms and other garments must be in good condition.
Athletic shoes and socks are highly discouraged
Extreme hair color is discouraged.
Other personal undergarments must be appropriate to the uniform color.
Body piercing must not be visible when wearing a flight attendant uniform.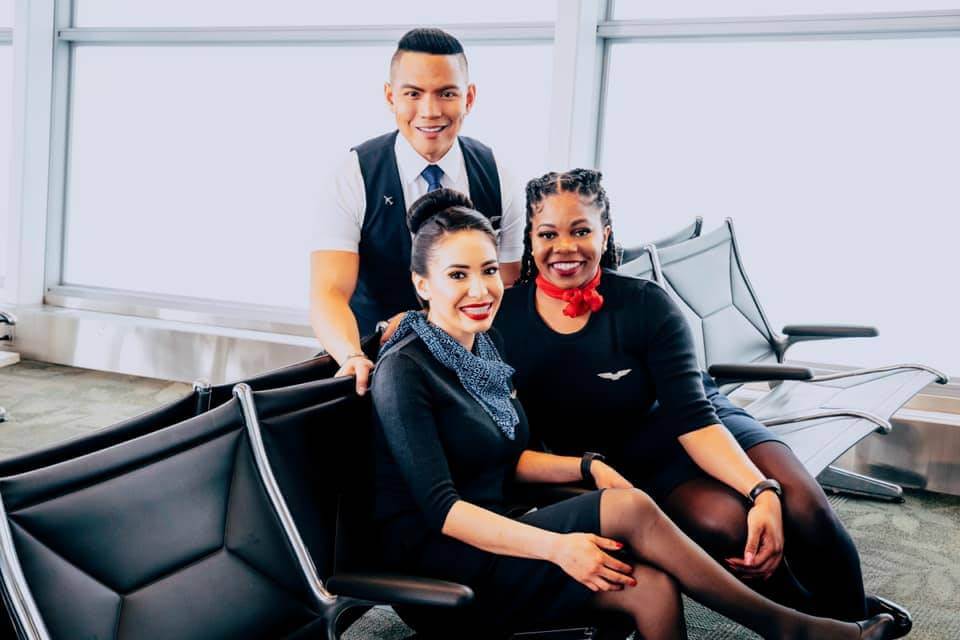 Video: A Day as a Republic Airways Flight Attendant
This testimonial video showcases the roles and benefits of flight attendants at Republic Airways, providing basic information and highlighting their essential roles.
Summary
In summary, the Republic Airways flight attendant uniform is in the shades of deep blue and white color scheme that projects a neat and clean appearance. From their impeccable grooming to their friendly demeanor, they truly embody competence and dedication in their essential roles. Hence, looking at their best at all times is a huge source of comfort for passengers, knowing that they are in capable hands.