Republic Airways has carved its name as one of the leading regional airlines in the f. Since its inception, the airline has soared to new heights, connecting millions of passengers to their destinations with unmatched efficiency and safety. It operates service as American Eagle, Delta Connection, and United Express using a fleet of Embraer 170 and Embraer 175 regional jets. 
Also Read: How to Apply Republic Airways Airline Cabin Crew Hiring
As one of the leading regional airlines in the United States, Republic Airways has carved out a niche for itself by connecting communities and enabling seamless air travel experiences. With a history spanning several decades, this airline has weathered challenges and soared to new heights, becoming a significant force in regional flights.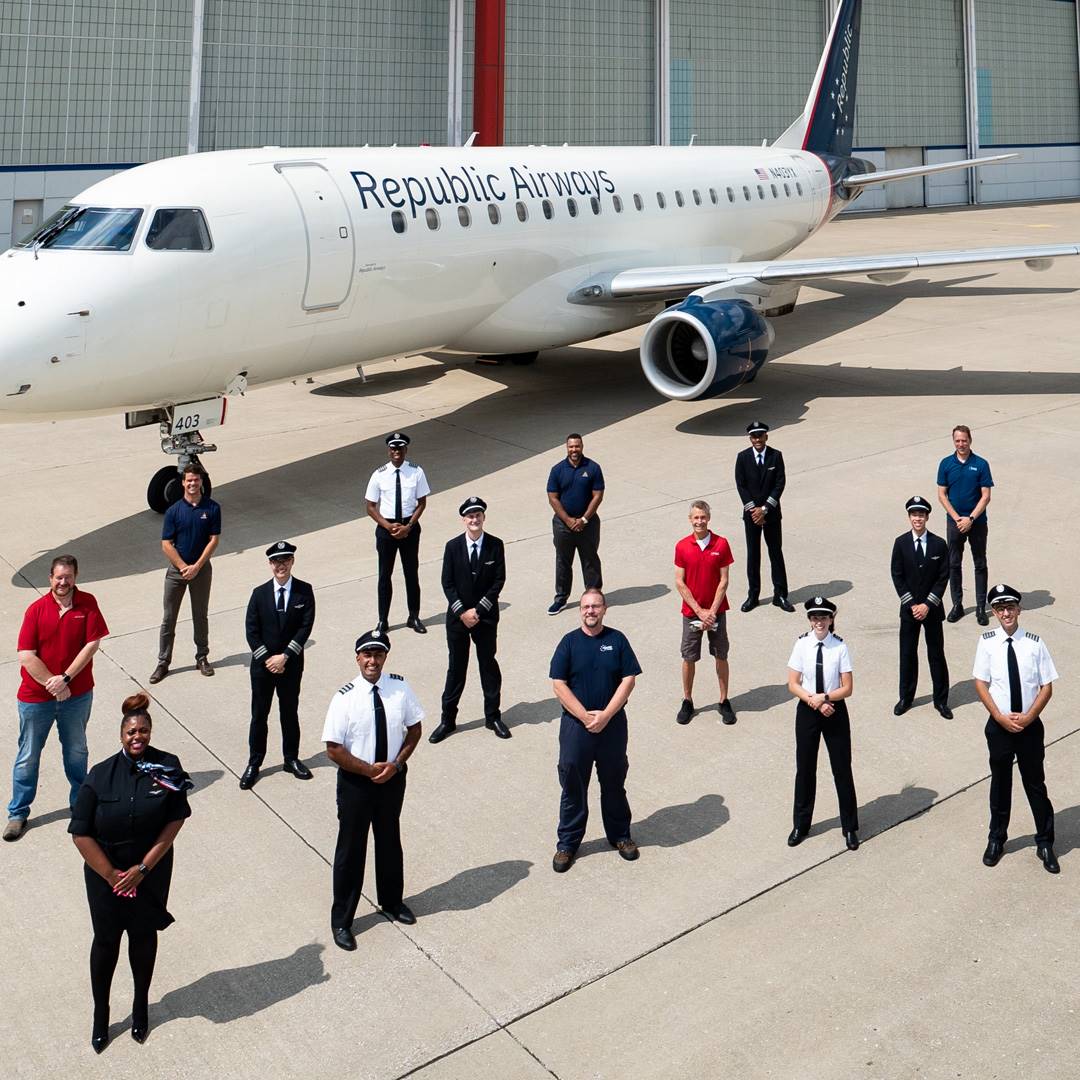 Quick Facts
Airline Name:

Republic Airways

Airline IATA Code:

YX

Headquarters:

Indianapolis, Indiana

Founded:

1998

Number of Destinations:

68

Fleet Size:

230

Fleet Types:

Embraer 170 and Embraer 175

Location Hubs/Bases:

Chicago O'Hare International Airport (Illinois), Indianapolis International Airport (Indiana), Louisville International Airport (Kentucky), Boston Logan International Airport (Massachusetts), Newark Liberty International Airport (New Jersey), John F. Kennedy International Airport (New York), LaGuardia Airport (New York), Charlotte Douglas International Airport (North Carolina), John Glenn Columbus International Airport (Ohio), Philadelphia International Airport (Pennsylvania), Pittsburgh International Airport (Pennsylvania), Ronald Reagan National Airport (Virginia)
Products and Services
Regional Airline Services: Republic Airways operates regional flights for major carriers such as American Airlines, Delta Air Lines, and United Airlines. They serve as a feeder airline, operating flights to smaller airports and connecting passengers to major hubs, allowing travelers to access a broader network of destinations. The company operates a fleet of regional aircraft, including Embraer E-Jets and Bombardier CRJ series aircraft, to offer a variety of passenger flights. These flights cater to many travelers, from business commuters to leisure passengers.
Charter Services:

This company offers charter flight services for various purposes, such as corporate travel, sports teams, government agencies, and group travel. These charter flights are tailored to the specific needs and preferences of the clients, offering flexibility and convenience.

Cargo Services:

While primarily a passenger airline, Republic Airways may also offer limited cargo services on specific routes, transporting freight and packages on their flights. With a fleet of modern and versatile aircraft equipped to handle varying-sized cargo loads, the airline caters to the diverse needs of businesses, organizations, and individuals alike. Whether it's time-sensitive shipments or bulk cargo, Republic Airways' cargo services prioritize safety, security, and on-time deliveries. 

Maintenance, Repair, and Overhaul Service:

The airline operates a state-of-the-art MRO facility to service and maintain its fleet and provide maintenance services to other airlines. Their MRO services encompass aircraft maintenance, repairs, inspections, and component overhaul, ensuring the safety and reliability of their aircraft.
Work Culture
Collaboration and communication form the cornerstone of the company's work environment. Every team member, whether a pilot, flight attendant, mechanic, or administrative staff, plays a vital role in the airline's success. Open lines of communication ensure that ideas, feedback, and concerns are readily shared and addressed, creating an atmosphere of mutual respect and transparency.
Safety is also paramount in Republic Airways' work culture. The airline emphasizes adhering to industry regulations, training its staff to the highest standards, and prioritizing the well-being of employees and passengers. This safety-first approach creates a sense of confidence and trust among team members and instills a collective sense of responsibility for each other's welfare.
Additionally, the work culture at Republic Airways is characterized by a strong sense of camaraderie and pride. The airline's employees share a common passion for aviation and a deep responsibility towards their passengers. This collective sense of purpose fosters a positive and engaging atmosphere where individuals feel valued and motivated to contribute to the airline's success.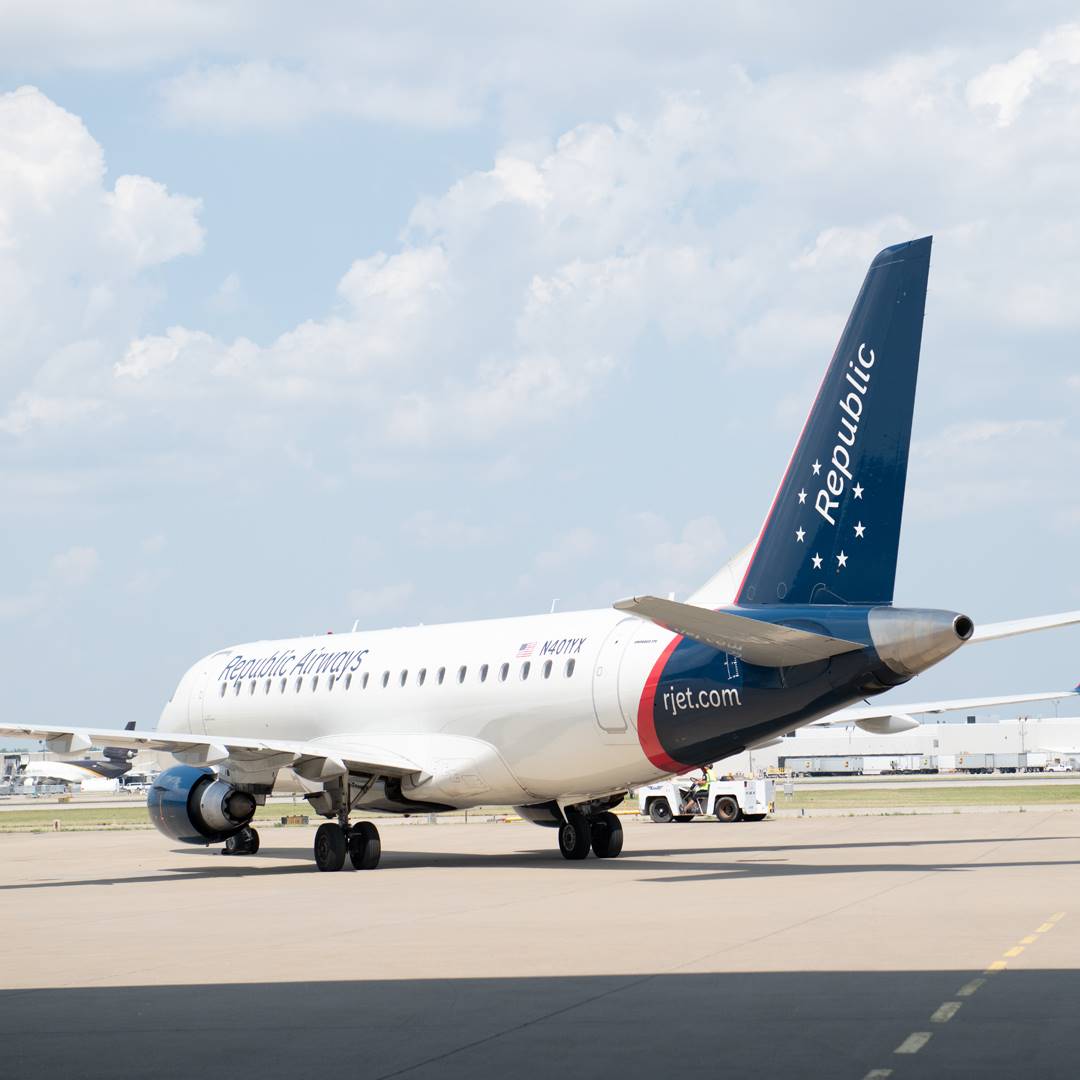 Benefits for Employees
Competitive Compensation:

 Republic Airways provides competitive pay rates for its employees, ensuring that they are fairly rewarded for their skills, experience, and dedication.

Health, Wellness, and Insurance Benefits:

The airline offers a range of health benefits, including medical, dental, and vision insurance, to support the physical well-being of its employees and their families. In addition to health insurance, the airline offer life and disability insurance. 

Basic Life Insurance:

Full-time employees at this company are eligible for group term life insurance, which is paid for by the firm. After 90 days of continuous full-time employment, the employee becomes eligible. Associates receive coverage equal to twice their annual wage. Spouses are also covered, to the amount of $5,000. Dependent children can get coverage from $1,000 all the way up to $2,500, depending on their age.

Travel Benefits:

Republic Airways employees and their eligible family members have discounted or free flights on its own fleet as well as partner airlines, facilitating the exploration of new destinations.

Training and Career Development:

The airline invests in training and career development programs, providing employees with opportunities to enhance their skills and advance their careers within the organization.

Employee Events and Activities:

The airline fosters a sense of community by organizing employee events and activities, such as team-building exercises, social gatherings, and charitable initiatives.

401K Retirement:

Full-time employees can join a very competitive 401(K) plan. Associates can put up to 90% of their pay into the fund before taxes are taken out. The company offers a faster company match based on how long you've worked there. There are 18 different funds that associates can choose from. All employees who are 21 or older can join as soon as they are hired.
Video: A Quick Overview of Republic Airways
This short video provides fast facts about Republic Airways. It discusses its headquarters, fleet types, major hubs, and codeshare partners. With over four decades in service, the airlines remain safe and reliable for their codeshare partners, Delta Airlines, American Airlines, and United Airlines.
Summary
Operating as a feeder airline for major carriers like American Airlines, Delta Air Lines, and United Airlines, Republic Airways connects smaller communities to major hubs, offering its passengers a wide range of travel options. With a fleet of modern Embraer E-Jets and Bombardier CRJ series aircraft, the airline ensures safe and efficient journeys for business and leisure travelers. Beyond passenger flights, Republic Airways also offers charter services, crew services, and comprehensive maintenance and repair solutions through its MRO facility. 
Contact Information
Company Name: Republic Airways Holdings, Inc.
Address: 8909 Purdue Road, Suite 300, Indianapolis, IN 46268
Telephone No.: 317-484-6000
Website: https://rjet.com/passengers/
Facebook: https://www.facebook.com/RepublicAirways/
Instagram: https://www.instagram.com/republicairways/?hl=en
Twitter: https://twitter.com/republicairways?lang=en