Ethiopian Airlines is the country's flag carrier of the country Ethiopia. The said airline has become one of the continent's premier flight carriers over the last seventy years, commenced in Africa for efficiency and operational performance. Ethiopian, which operates at the cutting edge of technology, has also become one of Ethiopia's biggest companies and an active institution in Africa.
It controls the majority of the pan-African network, including the daily and twice-daily east-west flights throughout the continent. Ethiopian presently operates the newest and youngest fleet, serving 127 international and 22 domestic destinations.
Also Read: New York Layover Guide: Best Things to Do in 24 Hours
Ethiopian gives so much opportunity to their aspiring Cabin Crews. Almost 57 years ago when they started Ethiopian Cabin Crew Training Center which is known for constantly providing the best industry standard for their cabin crew members. Ethiopian Airlines provide ECAA-approved basic and recurring programs that combine classroom and practical trainings delivered by devoted and knowledgeable educators. The trainings are designed to fulfill the most stringent safety standards while also offering memorable and exceptional customer service. If you want to pursue an aviation career at Ethiopia, here are the things you need.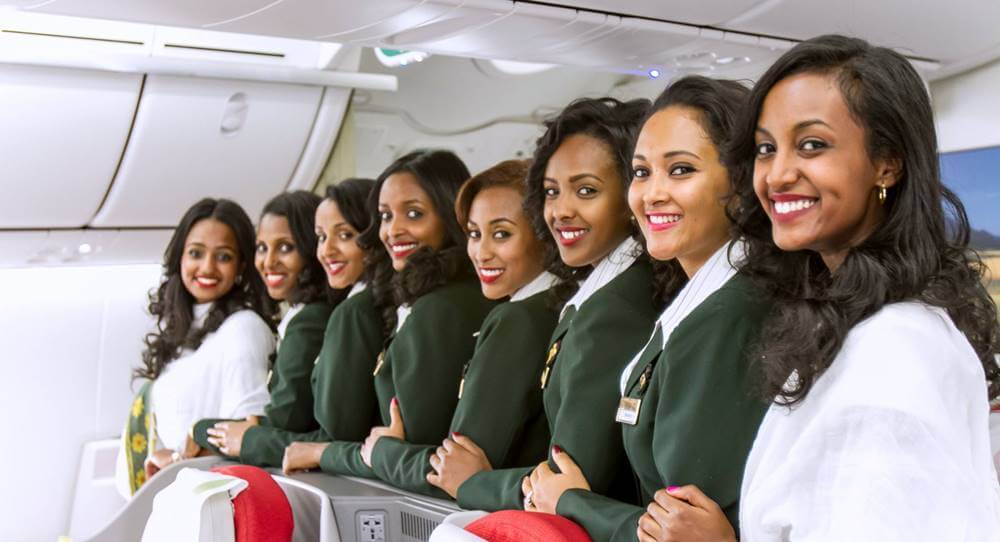 List of Requirements and Qualifications to Become an Ethiopian Airlines Cabin Crew
Must have a High School Diploma or equivalent.
Must be at least 1.58 M in height.
You must be able to meet all basic Physical Screening requirement.
Your body weight must be proportionate to your height & age (using BMI).
No visible scar, markings, and tattoo.
Must have Level 3 English language proficiency. (You must knoe the level of your english proficiency before arriving for the assessment.)
You must attend English Language Proficiency Training Program if you will not be able to achieve their basic english requirement, thus will be at your own cost.
You must be physically and mentally fit, since aviation doctors will examine you and provide medical certificate to continue with your application.
Duties:
Be well-prepared and physically fit for the flight.
Welcome passengers and assist them to their seats.
Make announcements.
Inform passengers about the emergency and safety protocols.
Ensure the passengers' comfort and safety.
Provide First Aid
Serve food and Drinks
Offer in-flight services
Make reports after every flight.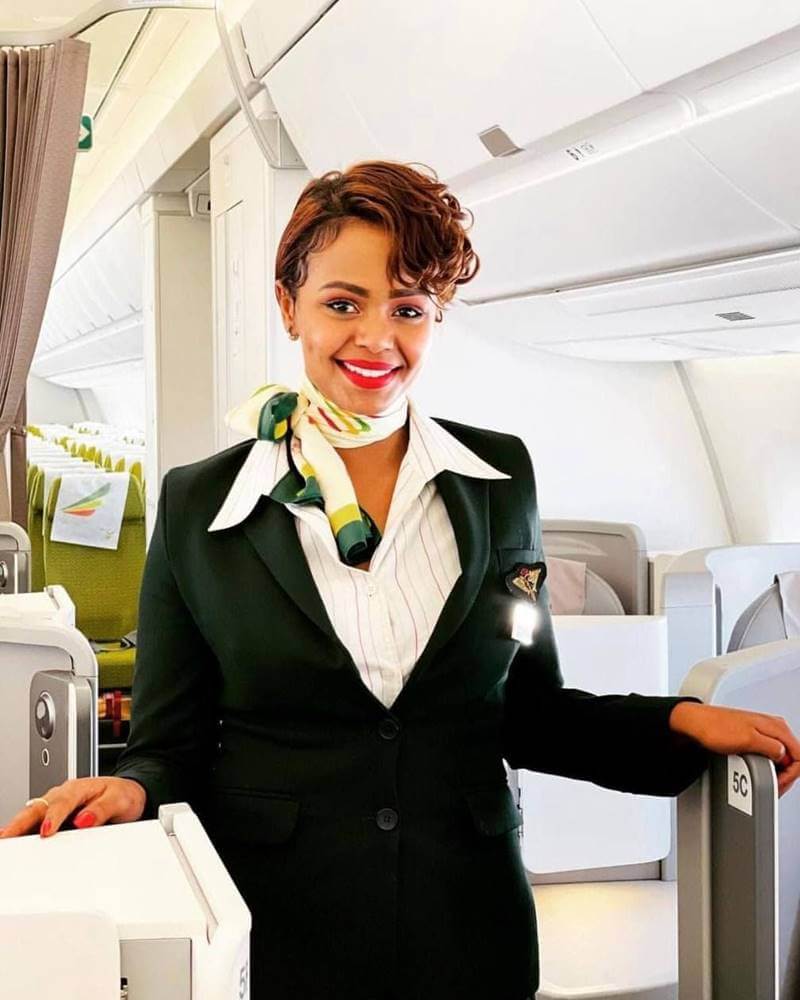 Application Process
Step 1: Go to Ethiopian Airlines official Career page https://corporate.ethiopianairlines.com/aboutethiopian/careers#xd_co_f=MmQ5NjkyM2YtNjA3Ny00NzMyLWJlNzYtNzcxNDE1ZmQ3OWMx~
Step 2: Choose "Vacancies" and look for Cabin Crew positions posted.
Step 3: Click on the Cabin Crew job vacancy to see details and instructions.
Step 4: Send your application to this designated link for Cabin Crew applicants.
https://corporate.ethiopianairlines.com/eaa/programs-and-applications
Step 5: After submitting your online application, wait for the airline's invitation for an interview. Just be patient because this will take some time since a lot of applications are being reviewed by the recruitment team.
Training Process
Cabin Crew training in Ethiopian Airlines is not free, you need to pay for it at $5,700 USD. Don't worry because you can give an initial payment to start your training which is merely 50% of the total training package you availed of.
There will be a contract agreement that will be sent to you. You can sign this up or your sponsor will the the signing. An invoice will be sent to you after transferring the payment. You need to keep your proof of payment for future references.
Ethiopian is known for providing high standards training for its cabin crews, with that being said the money you paid them will be worth it.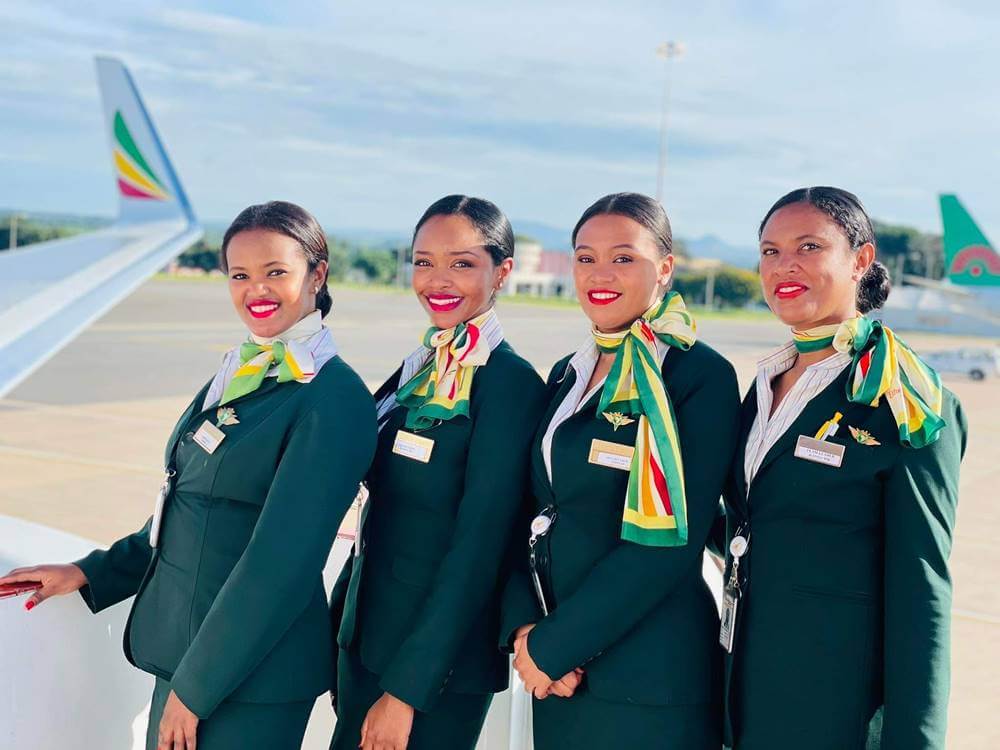 Salary and Benefits
In Ethiopia, a Flight Attendant can expect to make roughly 6,130 ETB per month. Salaries range between 2,820 and 9,740 ETB. This is the average monthly pay, which includes housing, transportation, and other perks. Flight attendant pay varies greatly depending on experience, skills, gender, and region.
Video: Ethiopian Airlines Onboard Experience: ET627 Bangkok to Addis Ababa
This Ethiopian Airlines flight experience provides an in-depth look at the onboard service of Ethiopian Airlines, Africa's largest airline. Cabin Crew duties and responsibilities are also highlighted in this video. This was filmed on a Boeing 767-300ER flight from Bangkok to Addis Ababa, closely documents the service experience in both Cloud Nine (Business) Class and Economy Class. You will see in the video how Ethiopian Airlines cabin crew perform one of their main duties which is meal services.
Photos: Ethiopian Airlines Cabin Crew Uniforms
Check out these pictures of Ethiopian Airlines crews so you can see what they look like in uniforms:
Frequently Asked Questions
Here are some common questions and answers about the job requirements as a cabin crew for Ethiopian Airlines:
1. How long will the training last?
Ethiopian Airlines Cabin Crew training will last for 4 months. This is a combination of virtual and practical assessment.
2. Do I need to pay for the training?
Unfortunately, yes. The training fee costs USD 5700. As a qualified candidate, you need to settle 50% of the total training fee (of package selected) before the training starts. The remaining 50% will be paid after a months of commencement training.
3. Why do I need to pay for the training?
You are not just paying for the training but for the materials they will be giving to you. This is one of the policy for aspiring cabin crews of Ethiopian Airlines, so it must be followed. The training package includes the following:
Training Materials
Diploma and Transcript after completion
One set uniform
Meal service for the whole duration of the training
Medical & Accident Insurance
Accommodation (Shared boarding)
4. I'm not good at English can I still apply?
You must have a level 3 English proficiency before applying, if not, you will undergo training at your own cost.
5. What is the minimum height requirement?
You must be at least 1.58 M in height.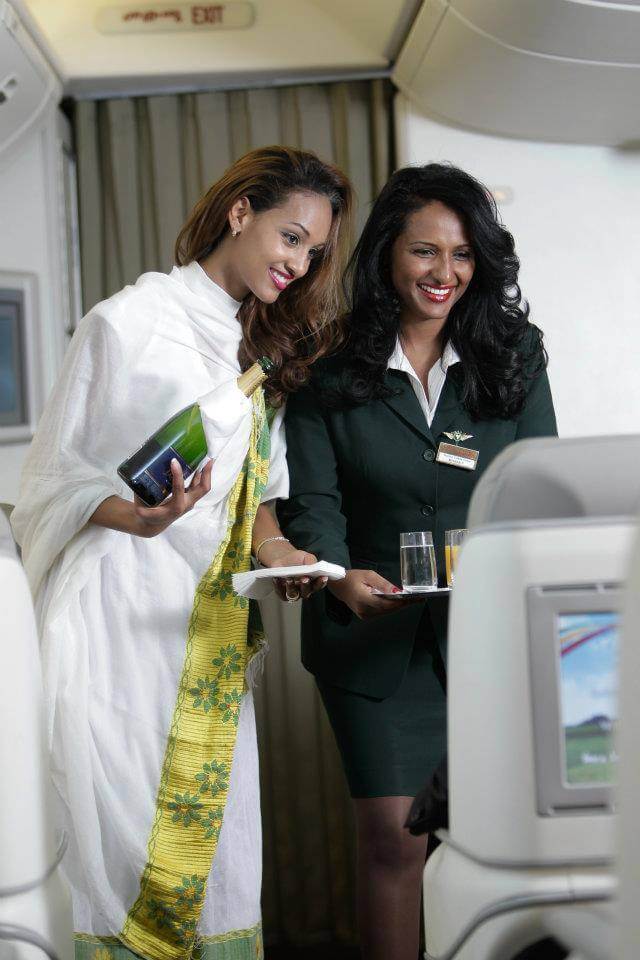 Summary
Ethiopian Airlines is committed with a mission to recruit motivated and aspiring people from all cultures, with an emphasis on providing a high-quality experience for both employees and customers.
By 2025, Ethiopian wants to be Africa's most competitive and leading aviation group, providing safe, market-driven, and customer-focused passenger and cargo transportation, aviation training, flight catering, MRO, and ground services. What are you waiting for? This might be the one your are looking for.