FlySafair, founded in 1965, is one of Africa's leading professional aviation firms, providing a variety of specialist airlift services. The said airline operates a distinctive sort of aircraft called the Lockheed Hercules C130. These incredible planes enable FlySafair to transport heavy and bulky cargo, such as tiny fire engines, and land in remote locations, such as short dirt runways in Africa.
They also have other lines of business such as leasing and cargo transportation. The airline mostly operates Boeing aircraft on behalf of other airlines. If you've been a semi-regular flyer in South Africa since the 1980s, there's a good chance you've flown on a FlySafair aircraft. The airline flew its first flight for Kulula and has worked with Air Namibia, South African Airways, and Ryanair, to mention a few.
Also Read: A Seychelles Wedding for Flight Attendants, Pilots, and Expats
In order to be a part of this airline, the first thing you need to keep in mind is their tagline – For the love of flying. FlySafair mentioned some specific characteristics they need from aspiring Flight Attendants along with a few basic qualifications. To know more about these continue reading.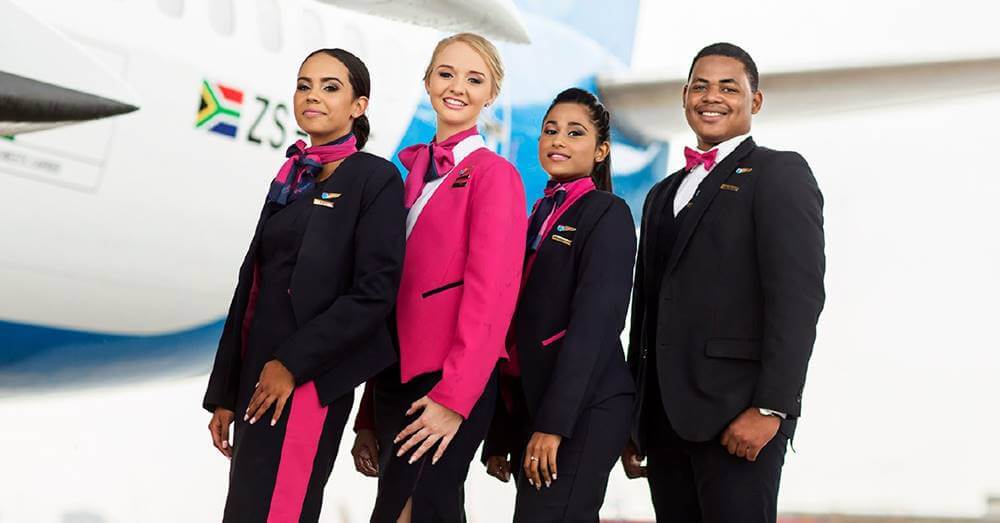 List of Requirements and Qualifications to Become a FlySafair Flight Attendant
Must be able to communicate well in English language.
English competence at the fourth level
At least Grade 12 diploma holder
SACAA Cabin Crew Certification
Medical Certificate Avmed DD50
Certificate of Dangerous Goods
Certificate in Fire Fighting
Valid South African driver's license and ownership of a motor vehicle (non-negotiable)
Medically fit and capable of swimming
Ability to work shifts, weekends, and public holidays. This covers early morning and late evening signs-in.
Attentive and caring, with strong communication and interpersonal skills
Customer-focused, with remarkable diplomacy and unwavering integrity
High commitment to safety and ability to work under pressure
Professionalism in both behavior and conduct
Excellent grooming and appearance (100% adherence to business uniform and grooming requirements)
There are no visible tattoos.
Characteristics they look for:
Employees who can constantly strive to be the best and disrupt the status quo.
Employees who can persevere in order to have the fortitude and courage to be pioneers and adventurers.
You must be able to make more with less.
You must have a heart of Love
You must be able to provide happiness by anticipating and exceeding the customers' demands.
Always do what is right.
Behave for the greater good rather than for ourselves.
Stay modest, thankful, and hungry.
You need to be pleasant, polite, patient, compassionate, not easily irritated, generous, and helpful.
Do as you would like to be done.
Excellent Attitude
Don't take yourselves too seriously and enjoy yourselves – have fun!
Create a positive team and a family spirit.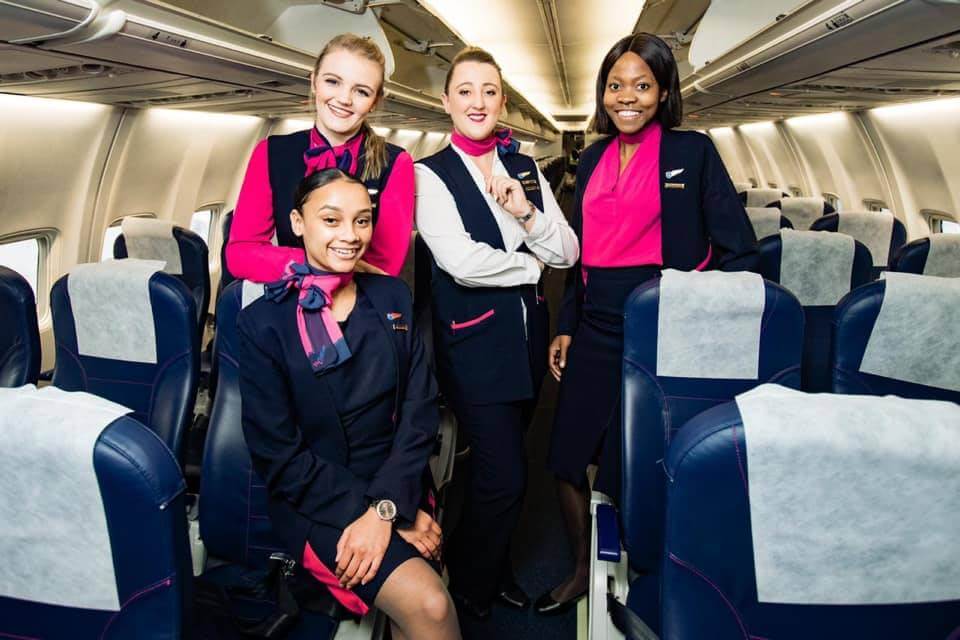 Application Process
Step 1: Go to the FlySafair career page. You can go here:https://www.flysafair.co.za/about-us/careers
Step 2: To apply, click the link. You will be redirected to a page where lots of job postings are available. Search for a Cabin Crew or Flight Attendant vacancy at the designated search bar.
Step 3: If there is a vacancy for that position click on the apply button and an online application will show up. If there is no vacancy for a flight attendant position, you can go to the bottom part of the job postings and "Register" your CV.
Step 4: The online application form will ask you to provide some personal information about yourself, as well as details regarding your past employment. Before submitting the application make sure to attach your CV, the file should be in MSWord or PDF format.
Step 5: Wait for their response through email or call, make sure your lines are always open and active. You will then be scheduled for an interview.
Note:
Please apply through their official website if you are an external applicant. www.FlySafair.co.za is the website.
There will be no consideration for external email applications.
Salary and Benefits
In South Africa, a Flight Attendant normally earns 23,000 ZAR per month. Salaries range from 10,600 ZAR (the lowest) to 36,500 ZAR (the highest).
This is the average monthly payment, which includes housing, transportation, and other perks. Flight attendant pay varies greatly depending on experience, skills, gender, and region. Below is a detailed breakdown based on a variety of parameters.
Video: FlySafair | For The Love Of Flying
This video shows the top advertisement of FlySafair wherein they use real stories scenario of before, during, and after the flight. The airline wants to show South Africa what FlySafair enjoys every day. As their tagline says "For the love of flying."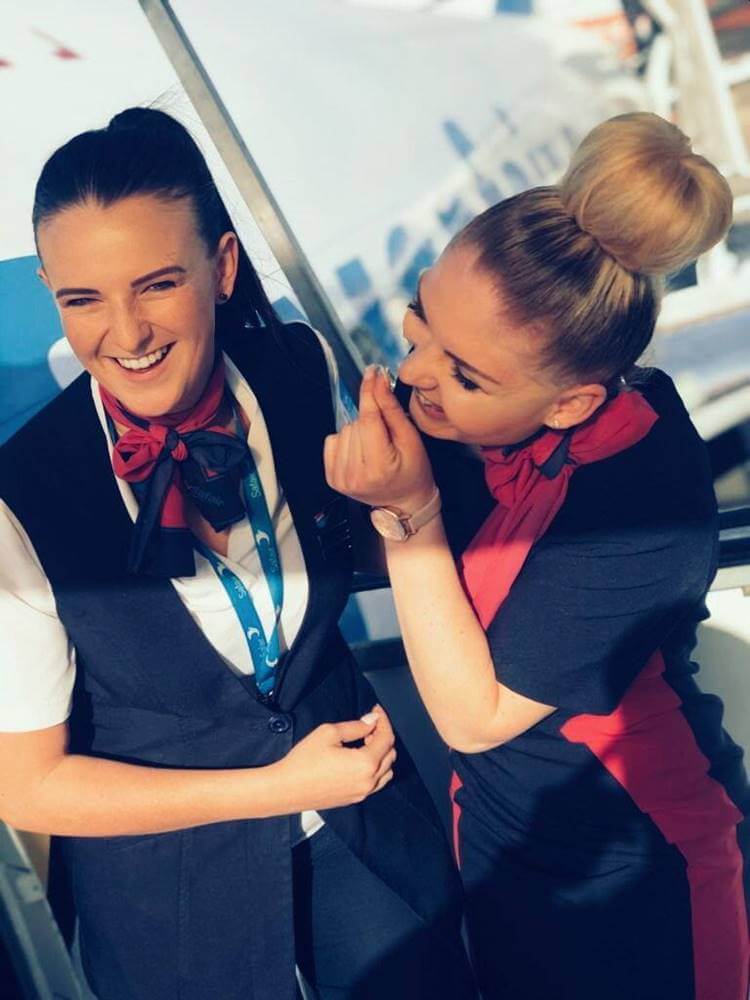 Photos: FlySafair Cabin Crew Uniforms
Check out these pictures of FlySafair crews so you can see what they look like in uniforms:
Frequently Asked Questions
Here are some common questions and answers about the job requirements as a cabin crew for FlySafair:
1. Do I need an English Language certification to get qualified?
A fourth-level English Competence is one of the basic requirements.
2. What is the exact location of FlySafair?
FlySafair is based in Johannesburg, South Africa.
3. How much are the minimum and maximum salary ranges for Flight Attendants in South Africa?
Salaries range from 10,600 ZAR (the lowest) to 36,500 ZAR (the highest).
4. What specific subject is commonly asked during an interview?
Flight Attendant interviews mostly talk about your personal information, employment background, as well as the things you can do for the company.
5. Does FlySafair have a good working environment?
Yes, the company is known for promoting love for the job and teamwork.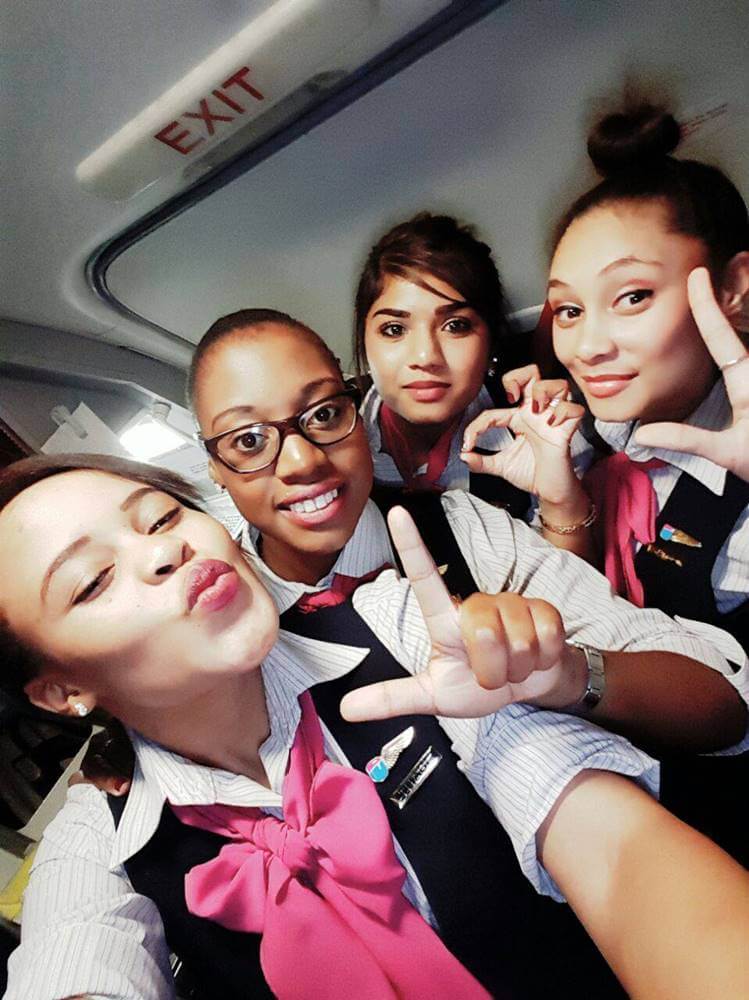 Summary
FlySafair is an equal opportunity employer that welcomes all qualified Aspirants. In fact, on their career page, all the good characteristics that a FlySafair must have are being emphasized.
For this airline, being an employee or a flight attendant is not just doing the job to the best of your knowledge, but doing work with heart.