Established in 1995, Airlink connects South Africa to various African countries, expanding a network of 60 small airports and mainline routes. This regional airline has been providing aviation service to under-served towns, anchored with their work principle of giving job opportunities to the locals.
Also Read: Best Things about the Job as a Flight Attendant | Cabin Crew Job Perks
Currently, Airlink prides itself on its team of South African nationals, serving earnestly to help the African communities through air travel. If you would want to uphold the same vision, you can apply for the role of a flight attendant and fulfill its obligations.
List of Requirements and Qualifications to Become an AirLink Flight Attendant
Airlink assigns a heavy responsibility to their flight attendants to ensure the safety, comfort and a pleasant flight experience for the passengers. To make sure that every flight attendant candidate can fulfil this role, provided below are the qualifications that they need to meet:
At least a Grade 12 graduate or equivalent certification

Proficiency in English with at least a Standard Grade C or Higher-Grade D

Professional demeanor and impeccable grooming

At least 155 cm and at most 173 cm tall without shoes on

Proximity to the airport or willingness to relocate 

Ability to obtain identity documents as a South African National

Ability to complete the 6-week intensive training course for flight attendants 

Normal BMI

Ability to pass a psychological psychometric and medical examination, including security and background check before the training program

Excellent communication skills

Customer Service skills

Good Swimming skills

A valid license as a CAA flight attendant is an asset

Leadership skills and a team-player

Willingness to attend all training programs as mandated by Airlink throughout their career service in the airline

Flexibility to work on various schedules, holidays and overnight shifts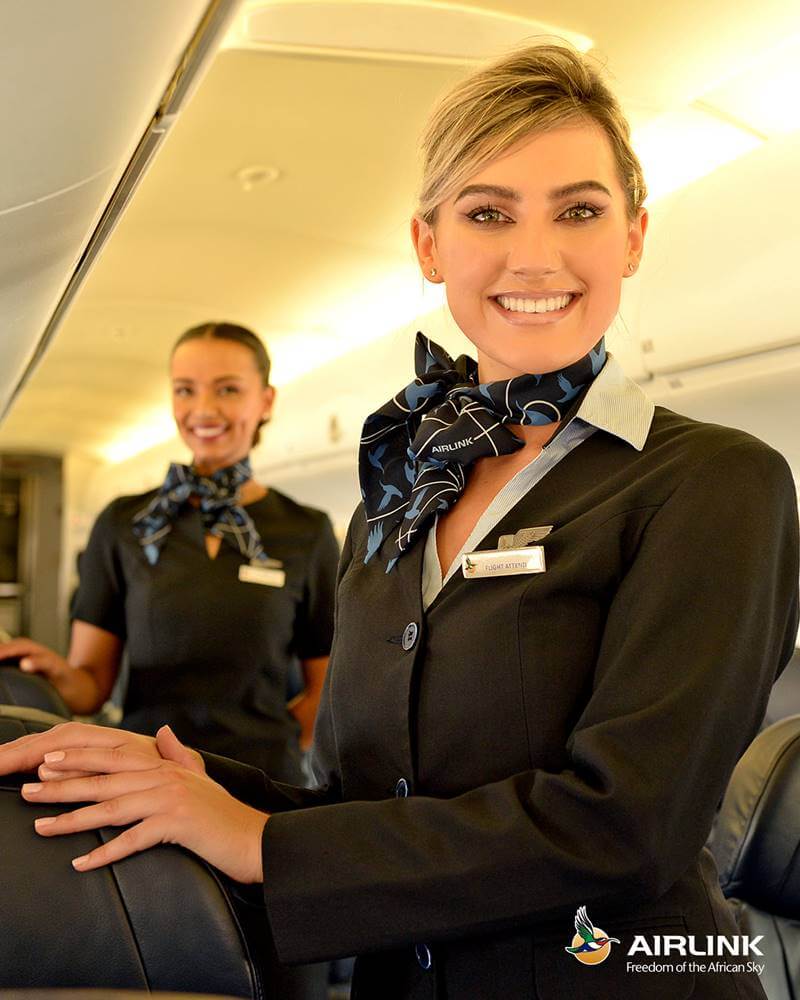 Application Process
Step 1: Prepare a copy of all the necessary documents
Prepare a digital and physical copy of all the following documents prior to your application. Don't forget to carefully prepare your professional portfolio: Resume or CV, all certifications and achievements including a diploma, cover letter, valid passport, and a valid CCA flight attendant license
Step 2: Submit your online application
You can apply on their career website at the link provided below:
https://www.flyairlink.com/en/za/careers
Click on the "apply now" under the flight attendant option. You will be redirected to the webpage where you can sign up for an account and submit all your information details.
Step 3: Ace all the examinations and interviews
Before moving forward to the training, you have to first comply with their medical, psychometric and psychological examinations and assessments so they evaluate not only your career competencies but also your personal qualities. You will be scheduled for a virtual and physical interview afterwards.
Step 4: Complete the Airlink Flight Attendant Course Training 
The final step to becoming a flight attendant in Airlink is to complete the 6-week rigorous training course. This will cover all theoretical and practical courses to equip the candidates to the duties and responsibilities of flight attendants.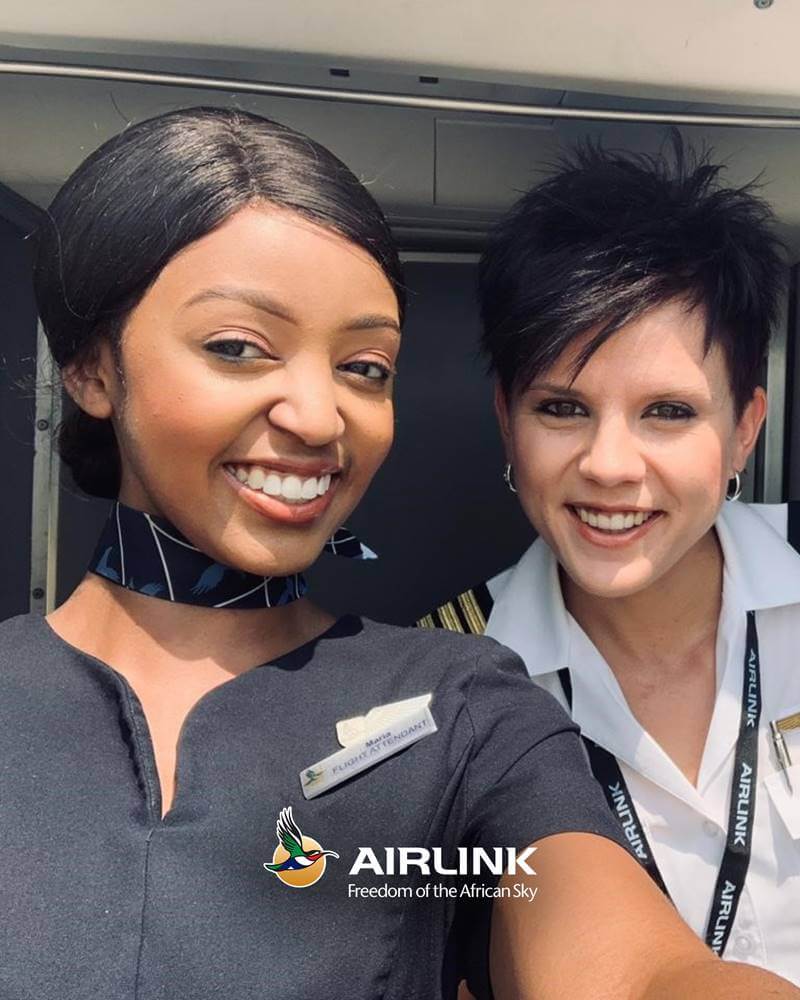 Salary & Benefits
Average annual salary of ZAR 149,429
Travel packages and perks
Discounts on stores, accommodations and car rentals
Medical insurance
Free travel and discounts to the employee and eligible family members
Equal Payment
Video: Aviation Career Guide By Airlink
Gain more insights about aviation careers in this video by Airlink, featuring their employees as well as the head staff and CEO:
In this video, the senior employees explain their main tasks as assigned by Airlink regarding their work field. The airline company reminds them that regardless of their job position, their main objective is to comply with the rules and regulations of the aviation industry.
One of the female pilots exclaimed that the most interesting part of this industry is it "never gets boring". New opportunities and exciting challenges arise to also help the employees develop their skills and careers.
Photos: Airlink Cabin Crew Uniforms
Check out these pictures of Airlink crews so you can see what they look like in uniforms:
Frequently Asked Questions
Here are some common questions and answers about the job requirements as a cabin crew for Airlink:
1. Does Airlink accept flight attendants with tattoos and piercings?
As long as the tattoos and piercings are not visible while wearing the flight attendant uniform, it should not interfere with the professional appearance of the candidate.
2. Does Airlink accept other nationals as applicants?
No, they only accept applications from South African Nationals, given that they can also obtain identity documents as evidence.
3. What is the minimum and maximum height required for flight attendants in Airlink?
The height requirement for flight attendants is at least 155 cm and at most 173 cm without shoes on.
4. What are the aviation services provided by Airlink?
Airlink provides scheduled domestic and international flights within South Africa and to 13 African countries which include Zimbabwe, Botswana, and Namibia.
5. What kind of employer is Airlink?
Airlink assures that once they are hired as a flight attendant, many personal and career opportunities will come at hand. Moreover, they strictly implement a healthy work environment that allows no room for discrimination or any forms of prejudice. Airlink also guarantees an equal pay system.
6. What are the duties and responsibilities of flight attendants in Airlink?
Answer all the questions and inquiries of passengers
Assist passengers, prioritizing the ones with special needs such as the elderly, PWD, and pregnant women
Demonstrate safety protocols and other procedures
Comply with all written reports after flight duties
Serve beverages and meals from the menu
Check all the safety equipment
7. What languages should I learn when applying as a flight attendant at Airlink?
All aspiring flight attendants in Airlink must be fluent in spoken and written English. Applicants should be at least a Standard Grade C or Higher-Grade D.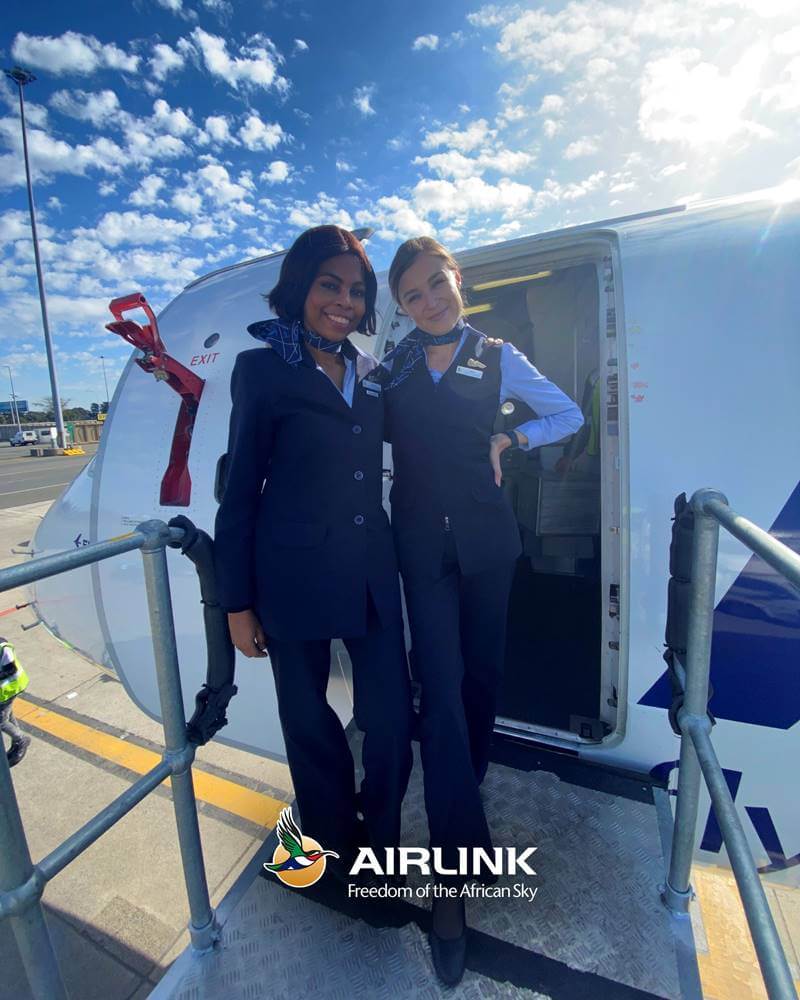 Summary
A flight attendant's job in Airlink always has their focus on the customer's safety, comfort, and satisfaction. Airlink, specifically looks for individuals who match their standard. They are seeking South African candidates who are proficient in English and have the ability to have an effective discourse with other employees, especially with the passengers.
They should also be able to pass the different medical, psychological, and psychometric examinations. If the aspiring candidates meet all the qualifications, they can visit Airlink's career website and submit an application.