For more than 20 years, Go2Sky has served the aviation industry with the utmost professionalism and standards. Go2Sky, which was founded in 2012, has an Air Operator Certificate (AOC) and Part 145 (line maintenance) certification from the Transport Authority of the Slovak Republic. Since 2015, The said airline is also an IOSA (IATA Operational Safety Audit) certified. It is a wet-lease (ACMI) expert available 24 hours a day, 7 days a week. Their B737 NG aircraft can handle both long-term operations and ad hoc charters.
Also Read: 5-Day Trip to Italy: Milan, Lake Como, and Venice
This European leisure carrier is based in Slovakia. Flying and working with an IOSA-certified aviation company is really pleasurable and safe. Try your luck with this airline. Here are the requirements and qualifications you need to get qualified as their next Flight Attendant.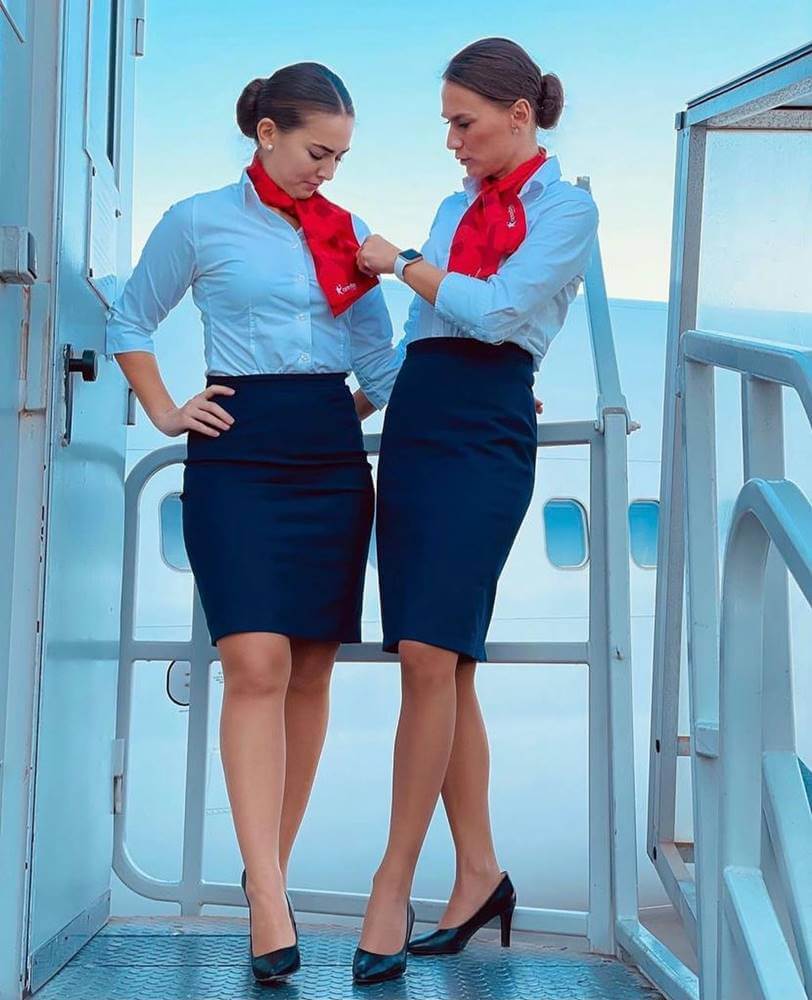 List of Requirements and Qualifications to Become a Go2Sky Flight Attendant
Have a valid cabin crew attestation issued in accordance with EASA requirements.
Medical report
Must be fluent in the English language
Certificate of No Criminal Record
A valid passport with no restrictions on travel
There must be no visible tattoos when wearing the uniform.
Be physically and mentally fit.
Has completed an initial training course in accordance with Commission Regulation (EU) No. 1178/2011 as amended, Appendix V and Appendix 1 to Part-CC
Cabin Crew Attestation
Open to a work culture in that airlines operate 24 hours a day, 365 days a year.
Outstanding overall attitude and behavior.
Excellent communication and presentation abilities.
A desire to work in tourism and a dedication to personal growth.
Extremely efficient, able to prioritize while consistently delivering customer service.
Willingness to adapt to constant business change and new technology.
The ability to act on others' initiative and at the same time, make your own decisions.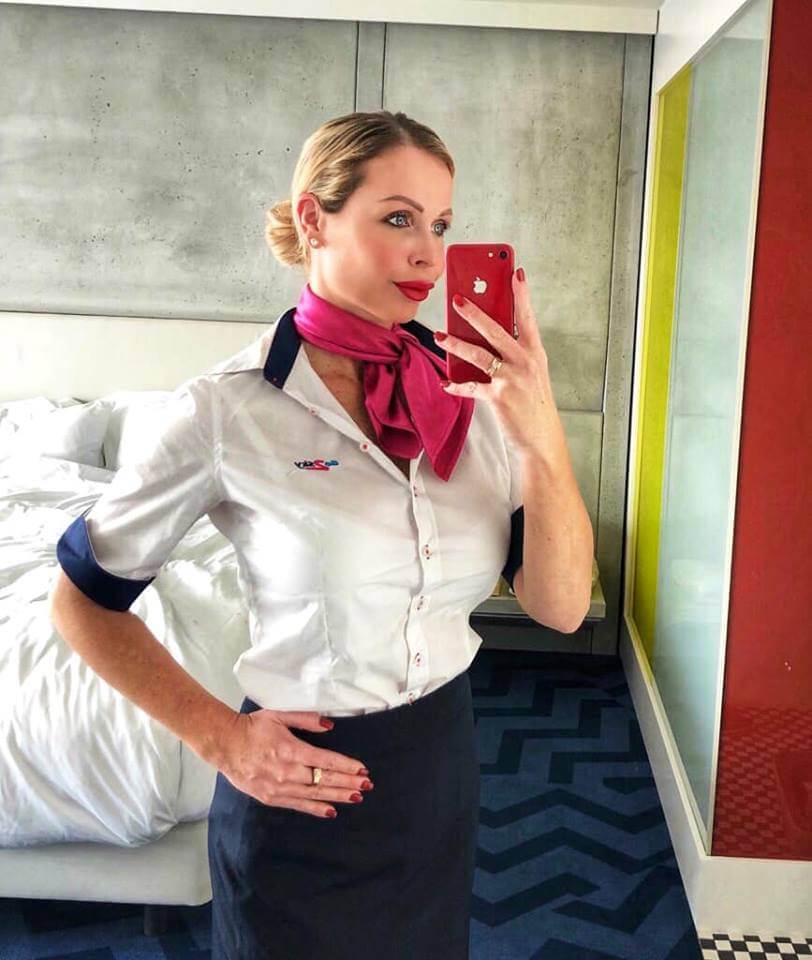 Application Process
Step 1: Go to Go2Sky's official website https://go2sky.aero/ or go directly to their Facebook page here https://web.facebook.com/Go2Sky.aero
Step 2: If there are no active job posts on their career page you can go directly to their Facebook page where active vacancies are posted. Send your application to hr@go2sky.aero
Step 3: Submit your comprehensive CV and cover letter (if applicable).
Step 4: Make sure to follow every detail of the application process. Possible documents they might ask such as a CV, Diploma, Copy of Passport, or Certifications must be prepared.
Step 5: After submitting your application, wait for their recruitment team to contact you or send a notification through email or call. The hiring process may take some time. Go2Sky will not give you a turnaround time for reviewing your application, so you need to be patient.
What to expect during Flight Attendant Training?
Theoretical Training.
This should be the first phase of the training, you will learn CPR and first aid, flight theory and plane aerodynamics, air traffic control concepts, airplane evacuation procedures, FAA emergency protocols, in-flight announcements, assisting disabled passengers, and many other topics covered in daily twelve-hour lessons.
Evacuation Training.
How to escape from an airplane during an emergency using all available exits is known as Emergency Evacuation. The maximum evacuation time is set at 90 seconds to avoid further accidents.
Medical Emergencies Training
When an in-flight medical emergency arises, cabin crews must be prepared to help. Cabin crews are trained to provide first aid and limited medical help, though they are not equipped to handle all emergencies.
Final preparation.
The final part of training is known as simulator training, where they test a flight attendant's potential. It is essentially a training program that incorporates an unexpected circumstance in a cabin simulator with several other flight attendants and actors simulating passengers. These training exercises are designed to put your problem-solving and group interaction skills to the test while also providing an idea of how to approach a real-life situation.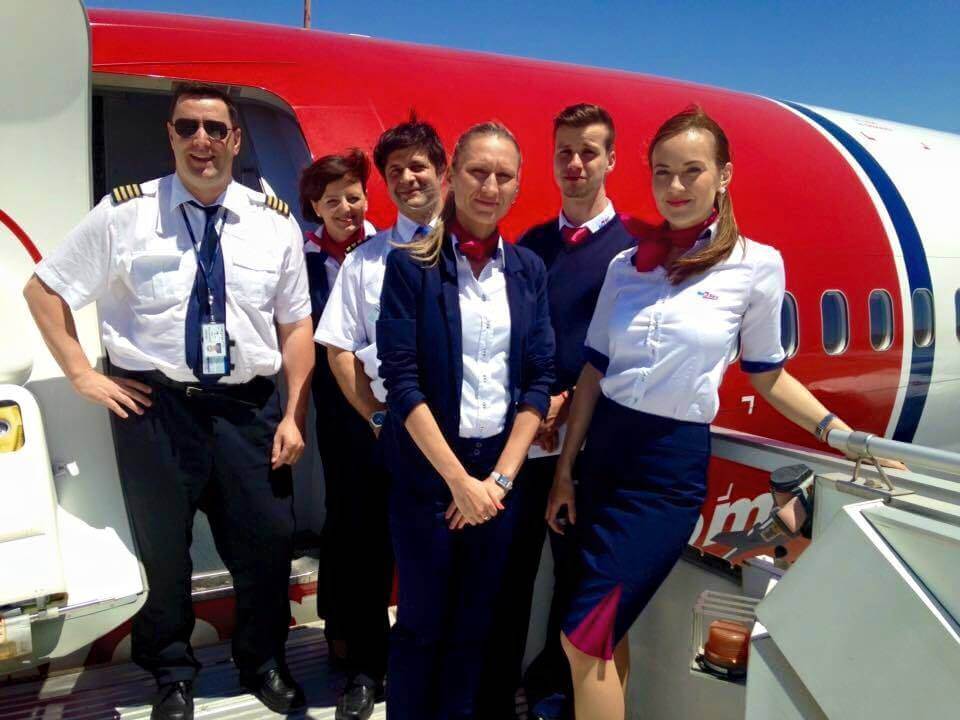 Salary and Benefits
In Slovakia, a Flight Attendant can expect to make roughly 1,460 EUR per month. Salaries range from 720 EUR to 2,280 EUR. This is the average monthly payment, which includes housing, transportation, and other perks. Flight attendant pay varies greatly depending on experience, skills, gender, and region.
A competitive base salary
Rotation Schedule
Hotel Accommodation
Flight tickets are provided from Bucharest International Airport (or any other European home base city) to the base.
Free Uniform
Video: Go2Sky: ACMI & CHARTER FLIGHTS 24/7
What happens before, during, and after the flight? This video will give you a glimpse of who is behind every function of an airline and what a real flight looks like for flight attendants. There is no single task for every job, just like FAs. They do inspections, serve food and drinks, and guide passengers throughout the flight while making sure they are comfortable and safe.
Photos: Go2Sky Cabin Crew Uniforms
Check out these pictures of Go2Sky crews so you can see what they look like in uniforms:
Frequently Asked Questions
Here are some common questions and answers about the job requirements as a cabin crew for Go2Sky:
1. Where is Go2Skay located?
Go2Sky is located in Bratislava and is based at Bratislava Airport.
2. Can I still get disqualified while in the training phase?
Unfortunately, yes. Some trainees are terminated during the first week because of the following reasons:
Failure of Testing
Examinee cheating
Being late to class
Ineffective interpersonal skills/intolerant of others. I have all the basic requirements, but I don't think they will choose me over college graduates.
Yes, college graduates might be favorable in some airlines, but your skills, knowledge, and appearance will speak for you.
3. Can I wear jewelry and teeth accessories?
Some types of jewelry are allowed. For teeth accessories, you need to remove them during the flight.
4. I have a tattoo on my wrist, can I cover it with a watch or concealer?
Most airlines will only consider those applicants whose tattoos are hidden and can be covered by the uniform.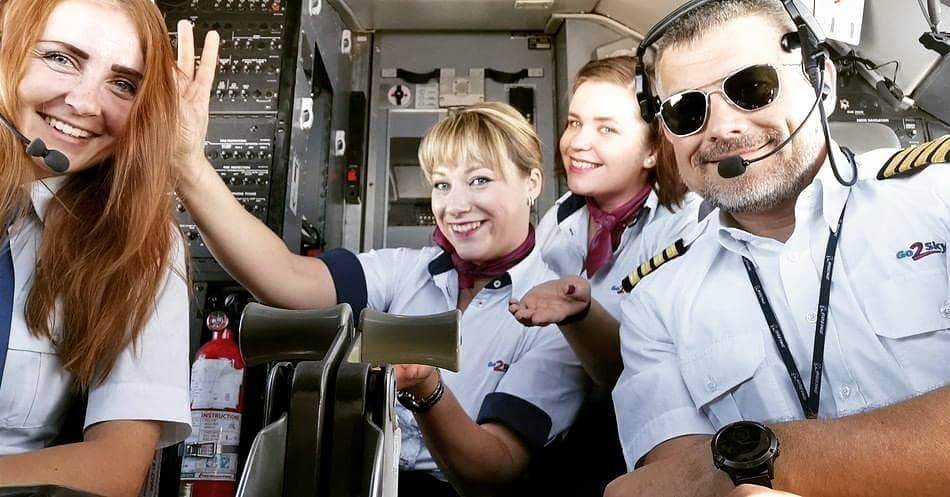 Summary
Go2Sky is the first IOSA-certified carrier in Slovakia's history. They offer full charter packages with localized execution for tour operators (AOC, local crew, tailored on-board services).
The said airlines don't have many requirements and qualifications for aspiring flight attendants, both newbies, and experienced applicants are welcome to apply.