Frontier Airlines flight attendants wear a distinct uniform compared to any other airline. The uniform consists of gray vests and light blue ties. The vests are tailored to be form-fitting and are adorned with the Frontier Airlines logo. The light blue ties feature a subtle pattern of the airline's signature mountain range logo.
In addition to the vests and ties, flight attendants also wear white shirts and black slacks or skirts, completing the stylish and proficient look. This uniform not only reflects the airline's brand identity but also ensures that Frontier Airlines crew stand out and are easily recognizable to passengers.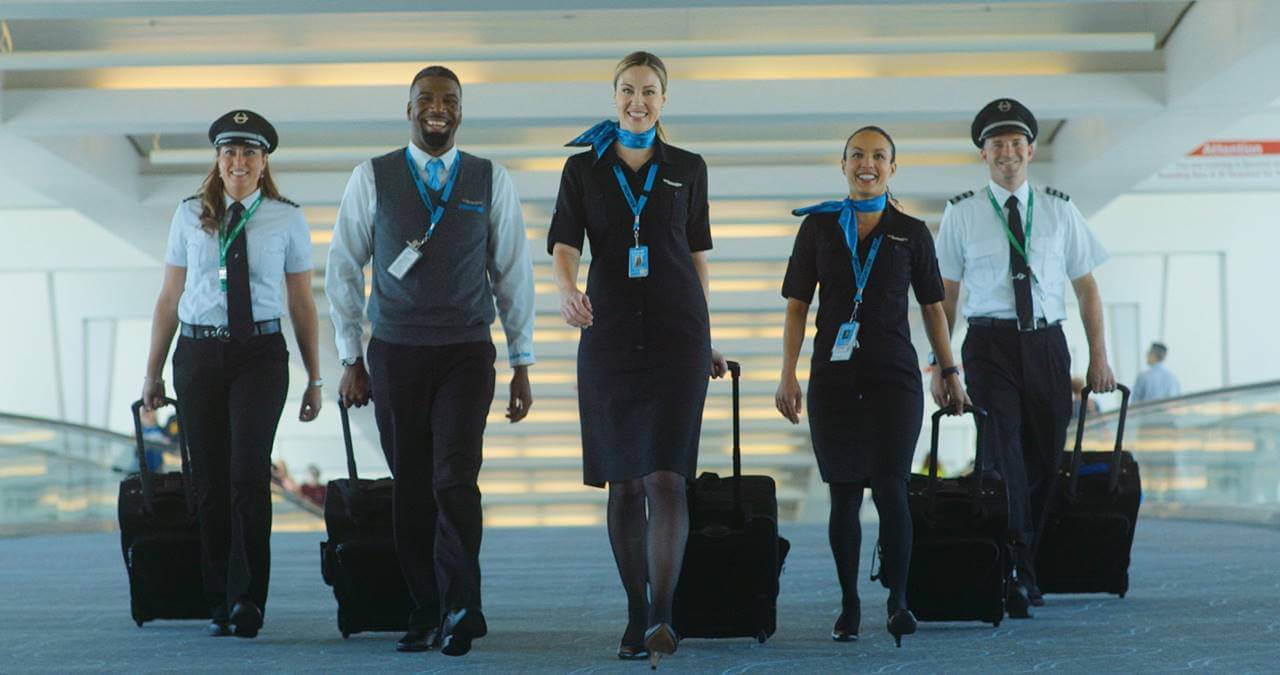 Features of Its Uniform
Black dress, with its badge pinned at the right corner of the chest.
A light blue scarf for a female
Black or brown formal shoes for male flight attendants
Black-heeled shoes for female flight attendants
Black hosiery
An ID imprinted with its company name on its blue lanyard.
Gray vest, black slacks, white polo shirt with Frontier name imprint, blue tie, and ID for identification for men
Female Airlines Cabin Crew Uniform
The Frontier female flight attendant uniform consists of a tailored blazer, white blouse, and knee-length skirt or pants in a neutral color palette. One promising aspect of their uniform is the knee-length skirt or pants, which allow for ease of movement, ensuring the flight attendant can perform her duties comfortably. Hence, this elegant outfit reflects the airline's commitment to providing exceptional service and creating a sense of trust and reliability among passengers.
Here is a complete list of its female flight attendant uniforms.
Black dress
Scarf
ID
Wing Badge
Black Hosiery
Black Heel Shoe
Luggage
Earrings
Necklace
Wristwatch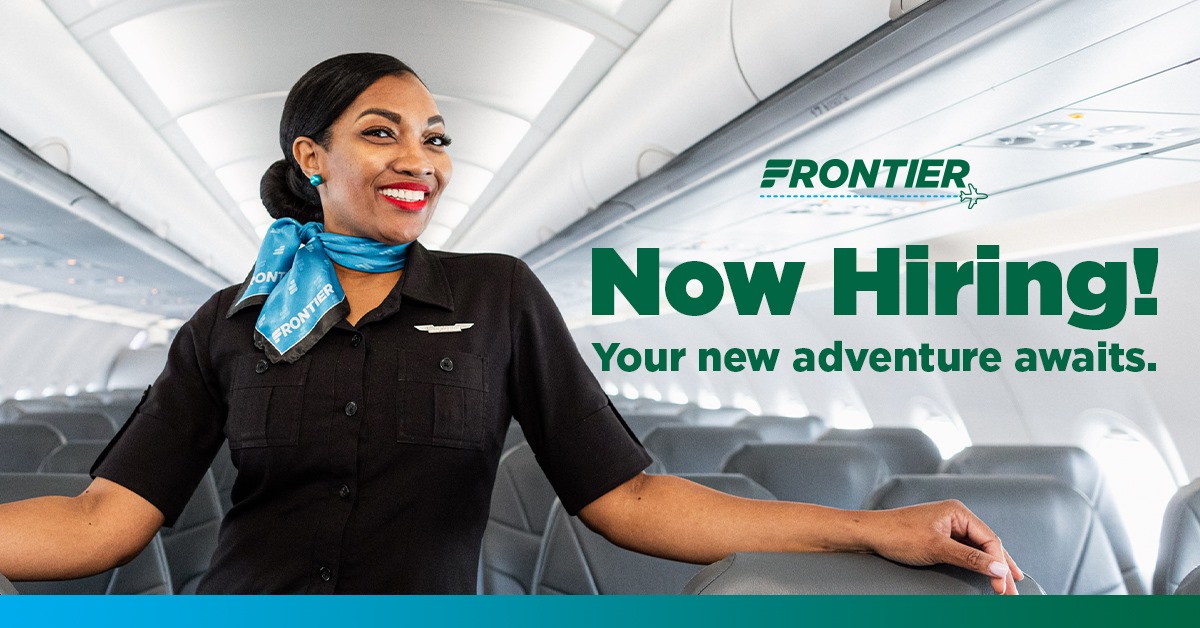 Male Frontier Airlines Cabin Crew Uniform
The male Frontier Airlines uniform typically consists of a gray vest and light blue tie, paired with black pants and shoes. The vest is adorned with the Frontier Airlines logo, further emphasizing the employee's affiliation with the airline. Meanwhile, the light blue tie adds a touch of color and complements the overall aesthetic of the uniform.
Below is a complete list of male flight attendant uniforms at Frontier.
Vest
Tie
Polo shirt
Slacks
Belt
Shoes
ID
Wing badge
Socks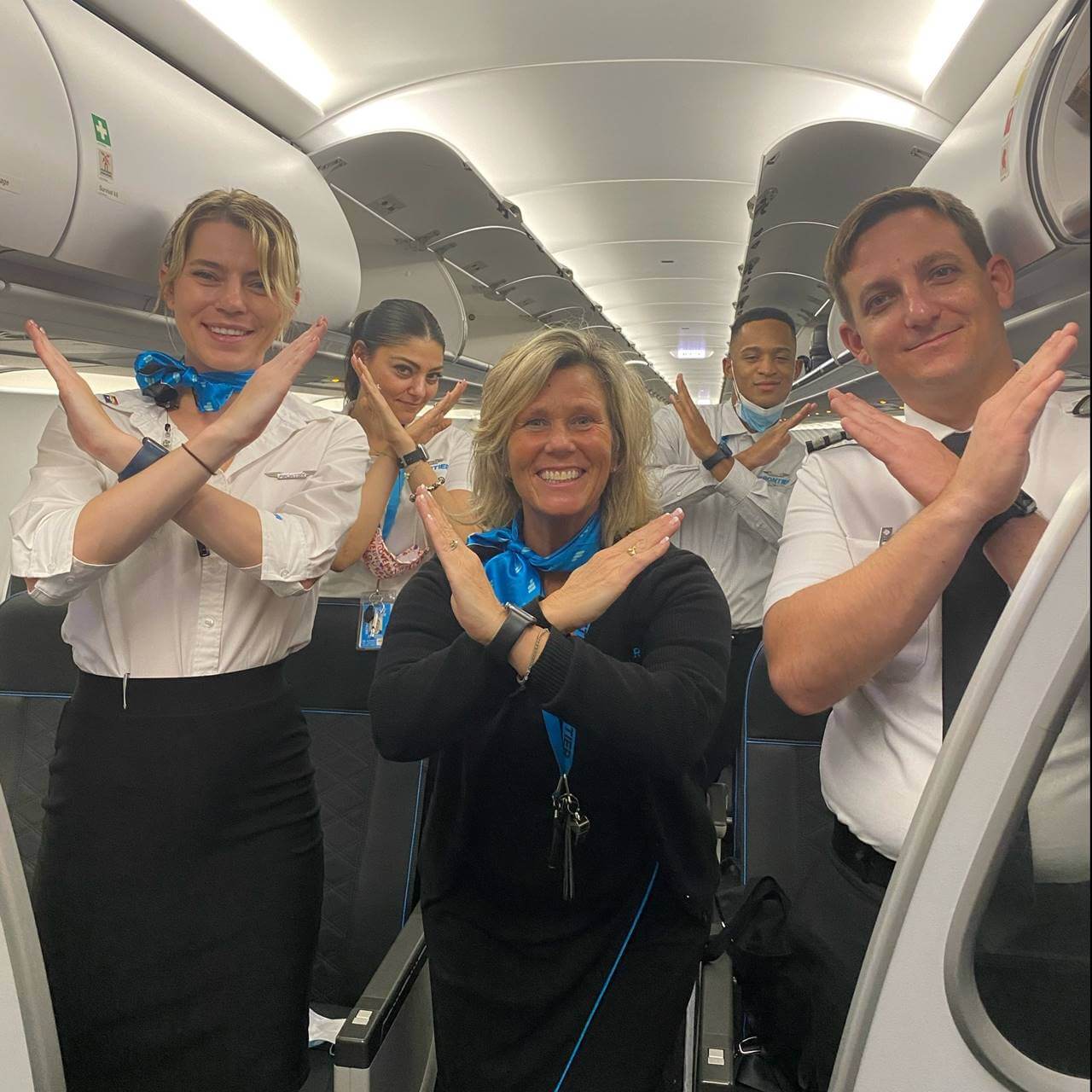 Presentation and Grooming Policy
The flight attendants are required to maintain a neat and polished appearance, with their uniforms impeccably pressed and their hair styled well. This not only projects a sense of competence but also instills confidence in passengers that they are in capable hands. Besides, the flight attendants' appearance reflects the company's commitment to providing a premium and luxurious travel experience, further enhancing the brand's reputation.
Cosmetics and Makeup
This ensures that the flight attendants maintain a professional appearance and do not distract the passengers with overly dramatic makeup. The aim is to enhance their features subtly and maintain a polished and well-groomed appearance throughout their shift.
Accessories
Flight attendants should opt for small, subtle accessories that complement their uniforms without drawing attention away from their duties. Simple studs or small hoop earrings are acceptable choices, while large dangling earrings or flashy bracelets should be avoided. Similarly, necklaces should be kept minimal, and avoid excessive length or eye-catching pendants.
Hairstyle
Clean and neat hairstyles for both men and women are highly encouraged while on duty, as they are anchored to the appearance standards and guidelines policies set for them. Male flight attendants should have a proper haircut along with the application of an exact amount of hair wax and well-combed hair, while female flight attendants should have a proper hair comb and a hair tie if possible. These measures help ensure that flight attendants look qualified and presentable at all times.
Body Tattoo or Body Piercing
Body art is allowed, provided that it is not visible while flight attendants are wearing their respective uniforms. Minimal tattoos or body piercings could be possible, but make sure that they will not go beyond the company uniform and should not be visible while on duty. While individuality and self-expression are valued, it is important to prioritize the overall appearance and brand identity of the company.
Fingernails
Hands should be clean all the time. Proper hand wash is highly encouraged and must be obtained with clean fingernails that are well-trimmed and contain an appropriate polish color that complements the uniform style, color, and design. Extreme polish design and long fingernails, especially for female flight attendants, are discouraged.
Uniform
The uniform should be clean and neat all the time. It must be properly fit for the body shape of the flight attendant. Not too loose and not too tight. Flight attendants must be comfortable in their uniforms and can freely do the tasks that they need to do while at work. Wearing their uniform with confidence and pride is highly important.
Personal Hygiene
All cabin crew members must maintain their regular personal hygiene. The most confident way to present themselves capably is to be comfortable with themselves. This means regularly showering, brushing their teeth, and wearing clean and neatly pressed uniforms.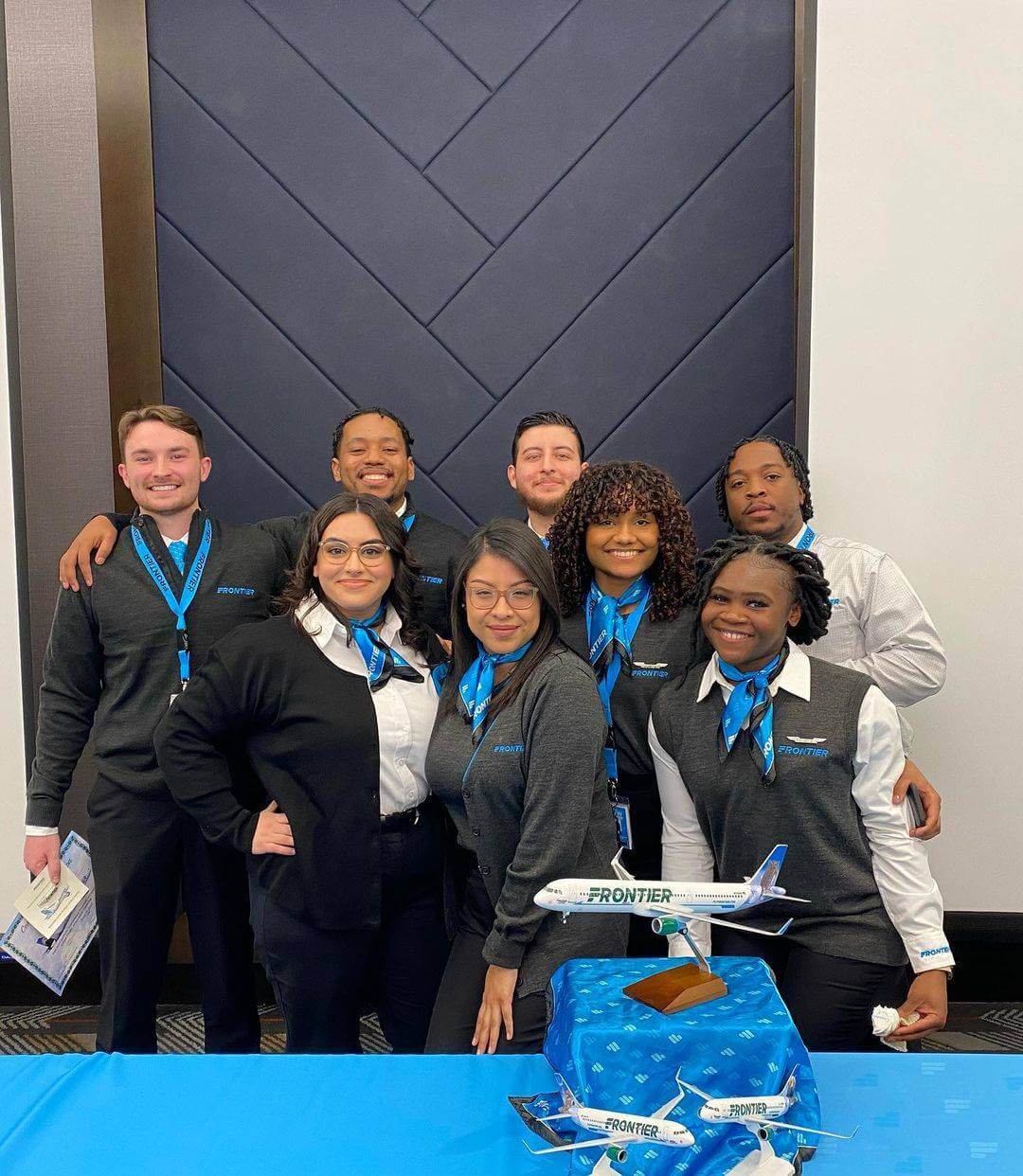 Important Notes to Remember
There are maternity uniforms available at Frontier, and pregnant flight attendants are only allowed to borrow the said uniform if they have formally notified the airline company about their pregnancy. However, they must return the maternity uniform in good condition, well-pressed, and clean.
The flight attendant will shoulder the remaining balance to his or her uniform if he or she is terminated from his or her work.
There are incentives and rewards given to those flight attendants that give value to the importance of their dress code.
Frontier Airlines expects that their flight attendants follow their uniform guidelines and standards. Failure to follow the said agreement may lead to disciplinary action.
Video: Frontier Flight Attendant Training, Uniforms –What to Pack?
This video discusses the preparation requirements for flight attendants at Frontier Airlines. It also covers essential details such as preparing uniforms and responsibilities during training, including the proper way to conduct themselves while on duty.
Summary
In summary, Frontier Airlines flight attendants wear a unique uniform consisting of gray vests and light blue ties, adorned with the airline's logo. They also wear white shirts and black slacks or skirts. This uniform reflects the airline's brand identity and its commitment to providing a luxurious travel experience further enhances its reputation.