If you plan to apply as a flight attendant for Iberia Express, there are certain requirements that you must meet. First, you must be at least 18 years of age and have a high school diploma or equivalent. Additionally, you must be able to speak Spanish and English fluently, as well as have a valid passport. In terms of physical requirements, you must be able to pass a physical examination and have vision that is correctable to 20/20. If you meet all of these requirements, then you can begin the application process.
Also Read: Venice Layover Guide: Best Things to Do in 24 Hours
Iberia Express is a low-cost airline that is a part of the larger Iberia Group. Its operations center is located at the Adolfo Suarez Madrid Barajas airport. It operates short- and medium-haul flights that also supply passengers to the Group's long-haul network. It started its operations in March 2012 and since then they have managed to position itself among the top four airlines in Barajas. Aside from that, the airline seeks to offer very competitive rates, as well as a differential service and experience on board. The airline operates to more than 40 destinations in Spain and Europe, with a fleet of Airbus A320 and Airbus A321 aircraft.
Iberia Express has a highly recognized and valued human, corporate, technical, and cabin crew team that strives every day to make each flight a rewarding experience and in line with the expectations of our passengers. They are responsible to create a comfortable and wonderful flying experience through the best customer service they can provide.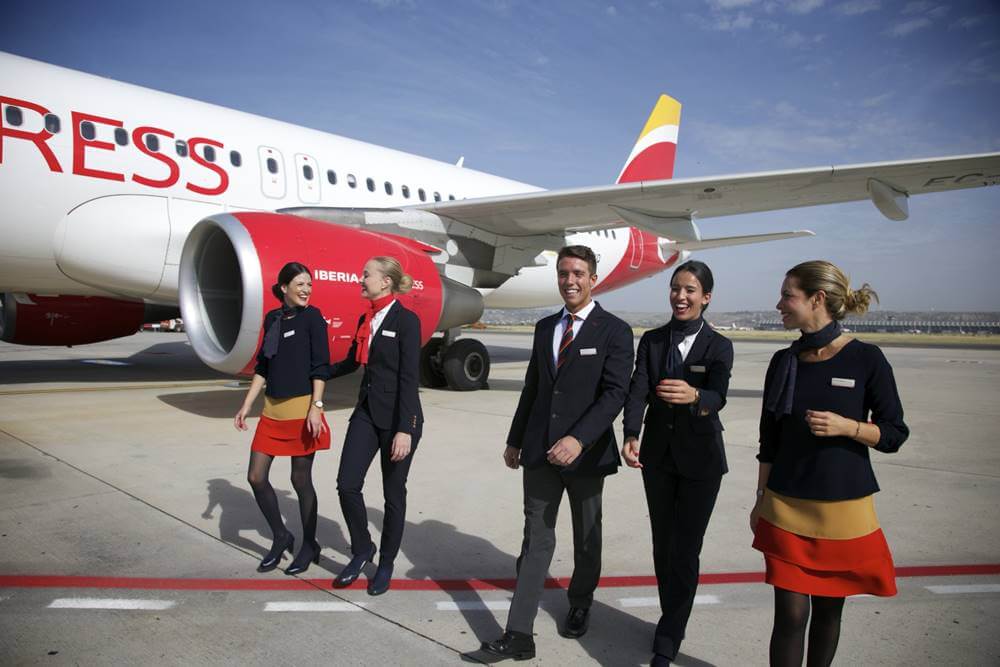 List of Requirements and Qualifications to Become an Iberia Express Flight Attendant
Flight attendants play a crucial role in an aviation company. They are also known to be the airline's brand ambassadors. They are responsible for ensuring the safety, security, and comfort of airline passengers. They provide customer service while creating a welcoming environment for passengers before, during, and after each flight. Hence, the airline is looking for individuals who are capable to carry on the demanding job of a flight attendant.
Below are the criteria that candidates must meet during the round one selection process.
Candidates must be over 18 years old.
Must meet the minimum height requirement of at least 1.65cm.
They must have a high level of proficiency and fluency in Spanish and English (candidates who can speak other languages ​​are valued).
They must have a Bachelor's degree or equivalent.
They must have good physical condition and the ability to swim (100m in 2 min. and 30 sec.).
Candidates must have an excellent attitude towards the public and customer service.
Must have a valid DNI/NIE and PASSPORT. (Work permit)
Have geographical mobility.
Have a minimum experience of 4 months as TCP.
Lastly, candidates must have not attended any call for Iberia Express in the last 12 months.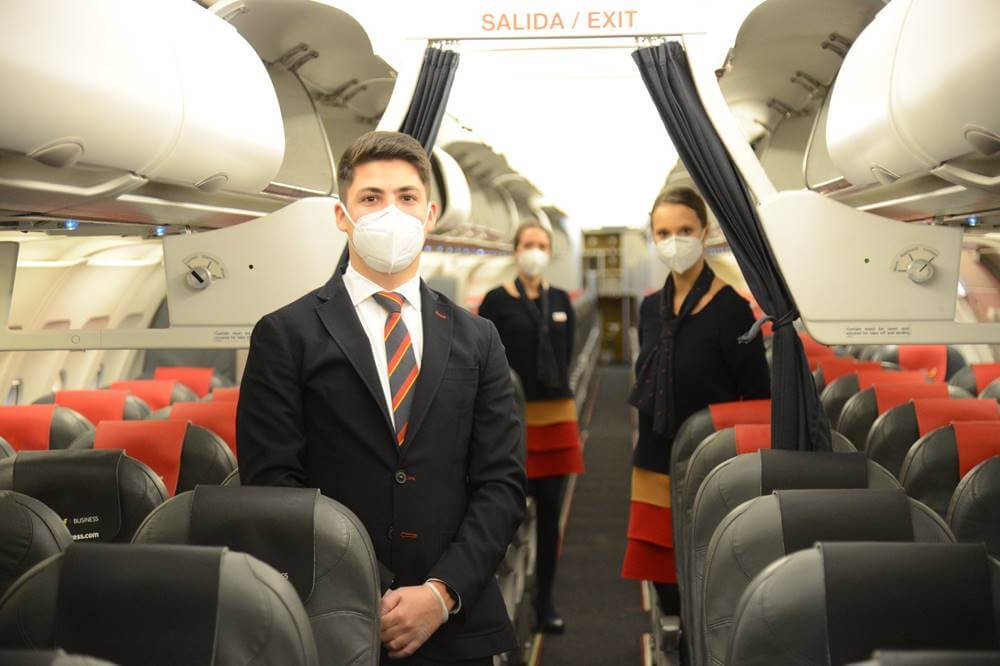 Application Process
Here is a step-by-step guide to help you with your application.
Step 1: Visit the company's official website here – https://www.iberiaexpress.com/.
Step 2: Scroll down and click "Employment" under the About Iberia Express section.
Step 3: Read thoroughly the information presented under the Cabin Crew section and then click "Sign Up" to create an account if you have met the minimum requirements for the cabin crew position.
Step 4: Complete the registration process and apply for the position.
Step 5: Wait for a response from the hiring team and prepare yourself for a background check, exam, and series of tests before commencing work.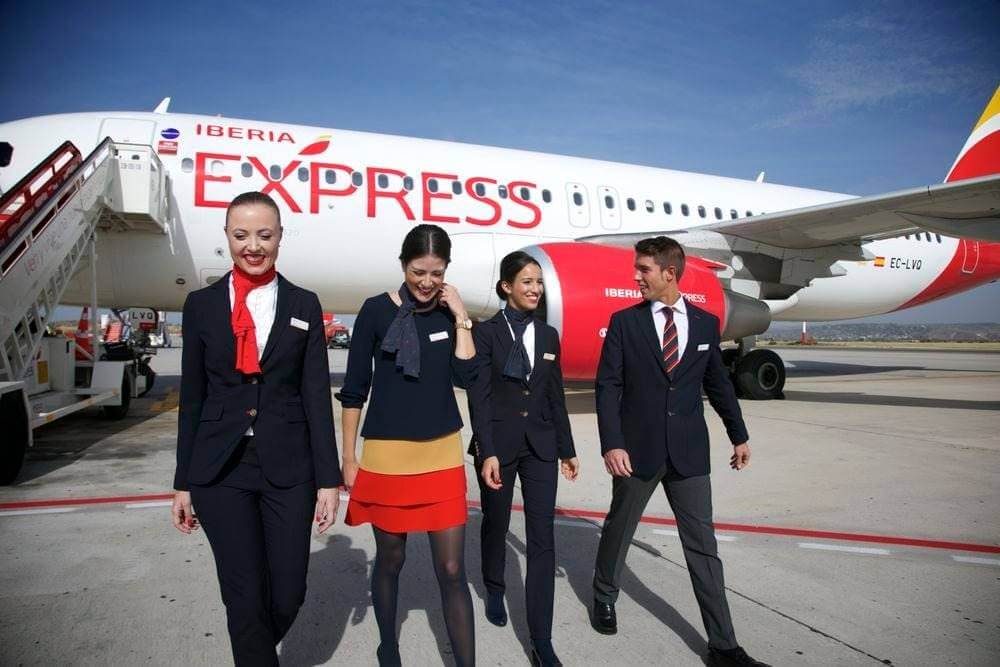 Salary & Benefits
Iberia Express offers a very competitive salary to its employees, including its flight attendants. Aside from that, they receive a lot of benefits packages. This includes travel discounts, medical and health insurance, access to discounted hotel accommodations, and free travel to different destinations while working. Aside from that, the airline values its cabin crew team because they know that they are one of the key assets toward the company's success and growth. Hence, they ensure to provide what's best for them.
Video: Flying Iberia Express Madrid to Tenerife Airbus A321 Neo (What It's Like?)
This video is quite helpful to anyone who hasn't heard about Iberia Express. Through this video, you will take away one or two about the company, especially its environment, culture, and services.
It also shows the inside of the airport and the salient features inside the aircraft such as the cabin seats. If you want to know more about the company, you can check out its official website here – https://www.iberiaexpress.com/.
Video: Iberia Express Open Day Event
Check out this vlog about an open day experience for this airline. We hope you find some useful information based on the applicant's experience:
Photos: Iberia Express Air Cabin Crew Uniforms
Check out these pictures of Iberia Express airline crew so you can see what they look like in uniforms:
Frequently Asked Questions
Here are some common questions about the requirements for Iberia Express airlines flight attendants.
1. What is the minimum age requirement?
Applicants must be over 18 years old.
2. Is there a minimum height requirement?
The minimum height requirement is at least 1.65cm tall.
3. What language(s) must I speak?
You must fluent and proficient in English and Spanish. If you can speak another language aside from these two, it is an advantage.
4. Do they require previous experience?
The airline requires a minimum experience of 4 months as TCP.
5. What is the educational requirement at Iberia Express?
Applicants must have a Bachelor's degree or equivalent.
6. What are some of the duties and responsibilities of a flight attendant?
Some of the duties and responsibilities of a flight attendant include providing instruction on safety/emergency procedures; demonstrating the proper use of seat belts, oxygen masks, and flotation devices, answer passenger questions about flight information (time, service, aircraft details, weather, delays, etc.), respond to any in-flight emergencies by providing necessary assistance to passengers including administering emergency first aid and completing reports on any injuries or incidents and others.
7. Can I still apply even if I have tattoos?
Just like in any other airline, Iberia Express does not allow visible tattoos while wearing a cabin crew uniform.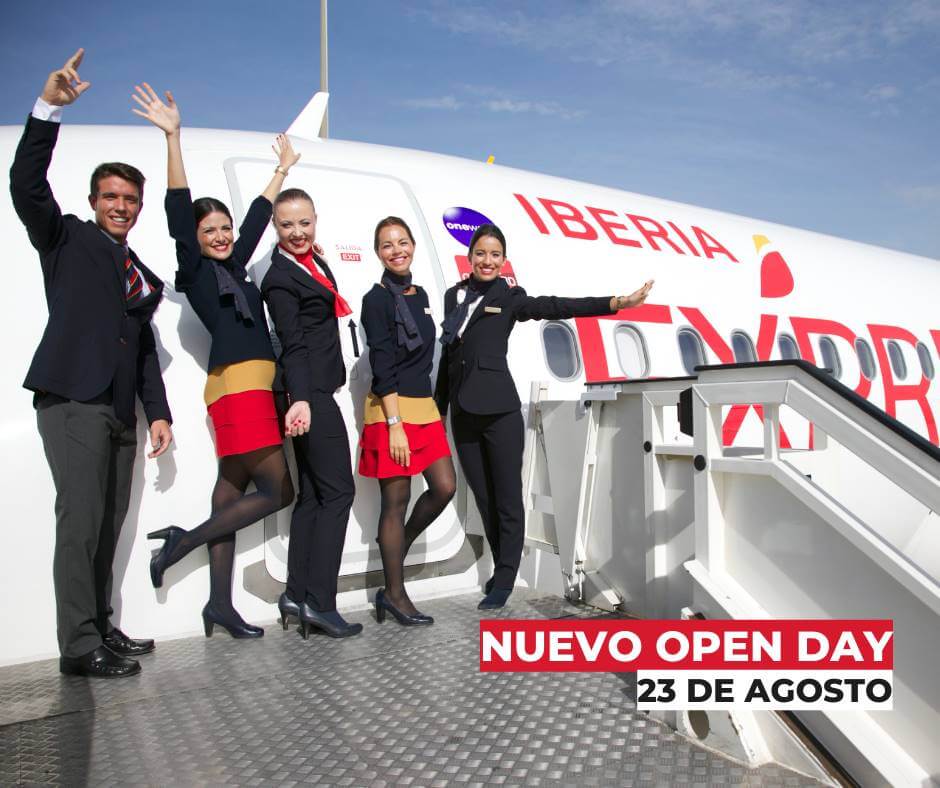 Summary
In conclusion, the requirements and qualifications for a flight attendant position at Iberia Express are very specific and detailed. Hence, it is an advantage because you could assess yourself more appropriately if you could meet the criteria they set for the position. To become eligible for the cabin crew position, you must be fluent and proficient in Spanish and English. If you could speak another language aside from these two, it will be to your advantage. You must also meet the age, height, and education requirements to be considered for the position. Aside from that, you must meet the minimum experience required and have a valid passport. If you could meet all of these requirements, you will do well with your application.
The airline also offers competitive salary and benefits packages and their flight attendants enjoy traveling to different countries and destinations while working. Hence, if you could meet all the given minimum requirements above, do not hesitate to apply because this may be the chance that you are looking for to start with your cabin crew dream.