A flight attendant's job is to provide excellent customer service to passengers while ensuring their safety and comfort. They are responsible for a variety of tasks, including greeting passengers, helping them with their luggage, providing them with information about the flight and destination, and serving them food and drinks. In addition, flight attendants must be able to handle emergency situations should they arise.
Also Read: Venice Layover Guide: Best Things to Do in 24 Hours
To be a cabin crew in a huge airline like Leeward Islands Air Transport (LIAT) is a great opportunity to make your dreams come true. You'll work for passenger assistance while seeing beautiful places like Antigua, Anguilla, Dominica, Guadalupe, Grenada, San Juan, Puerto Rico, and more. Below is all the information necessary in applying to the duties for this job application. But the real question is, do you have what it takes to be a part of Leeward Islands Air Transport?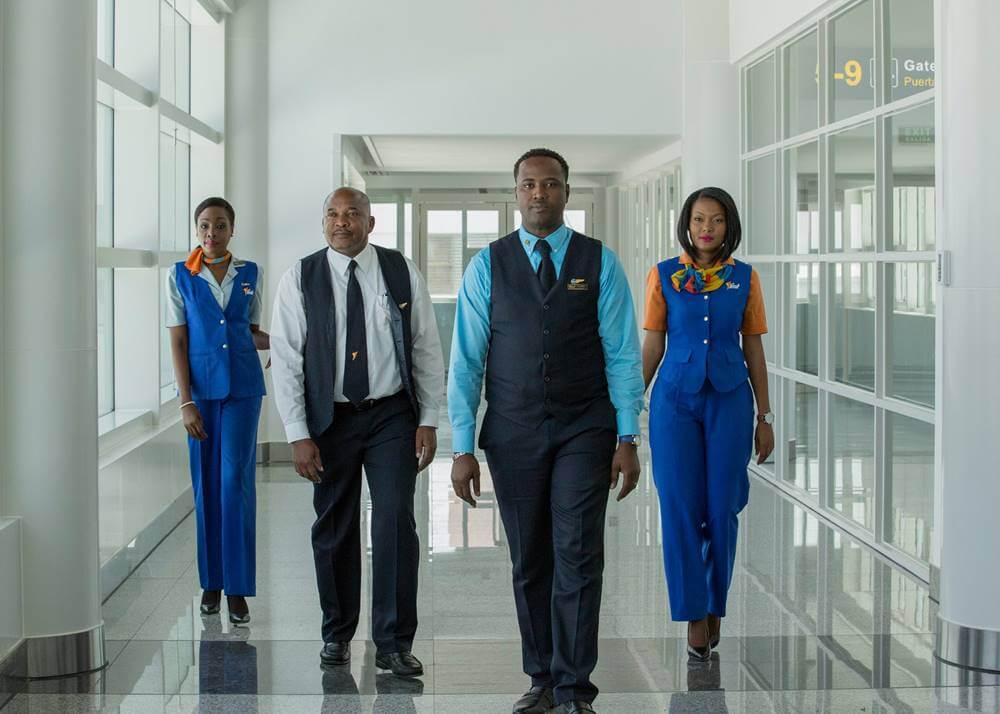 Overview of LIAT Airlines
 A small airline with its base in Antigua and Barbuda, LIAT also was branded as Leeward Islands Air Transport Services and went by the name LIAT when it operated. The airport provides high-frequency cross-scheduled flights to 15 different locations in the Caribbean.
 On October 20, 1956, the Airlines, Leeward Islands Air Transport Services was established in Montserrat by Frank Delisle. The company first took to the skies with a solitary Piper Apache, transporting passengers among Antigua and Montserrat.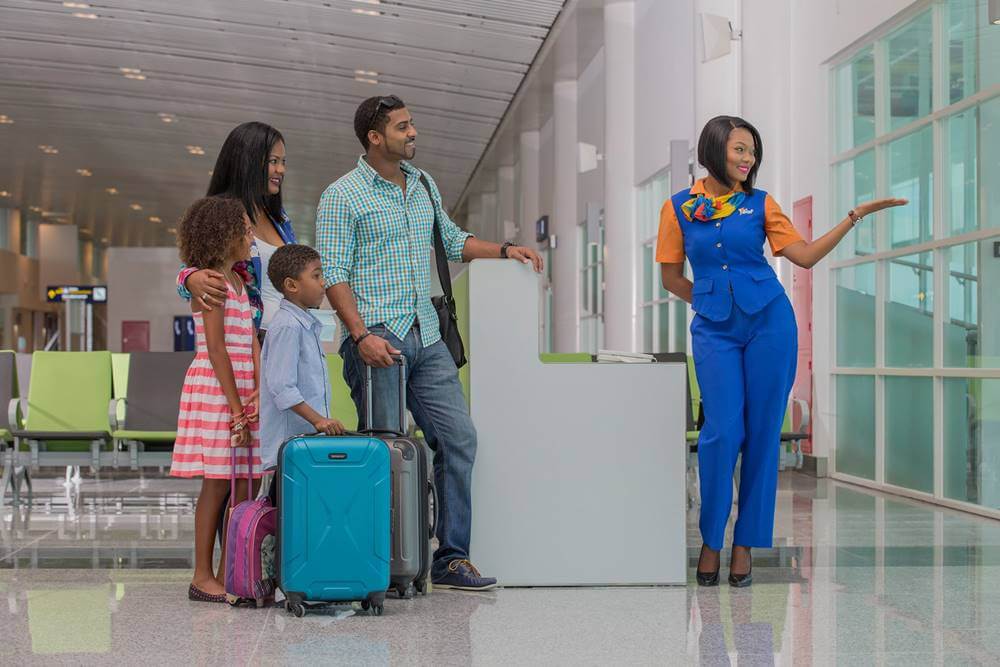 Responsibilities
 As Leeward Islands Air Transport functions in a way that the biggest Airlines do, it is sensical that the duties and responsibilities of flight attendants will be similar to other areas. That's because the same ethical principles and moral responsibilities are applied to ensure the quality of service. Specifically, the responsibilities of LIAT Airline flight attendants are listed below:
To greet warmly – As a LIAT Airline cabin crew, you are expected to welcome every passenger on board with a warm greeting. This signifies the hospitality and ensures the comfortability of every passenger. As such, it is also an assurance that the flight will go well.
To assist kindly – Cabin crews in LIAT are trained to offer the best guidance and assistance to every passenger who needs help. This includes helping individuals get necessities, giving directions, and everything else that matters while on flight.
To ensure safety – Safety is among the top priority of every LIAT flight attendant. Aside from guiding, you are in charge of giving instructions regarding the safety protocols and standard procedures. You have to ensure that each passenger knows how to be safe in an inevitable accident.
To prepare, then serve – Cabin crews from LIAT need to make sure that every passenger is comfortable in a way that you have all the things needed. That includes the meals and drinks on every flight. Essentially, you have to make sure to take every order and deliver them afterward.
To secure – All cabin crews from LIAT are trained to monitor and assist passengers in ensuring the security throughout the flight. The excellent security service allows every passenger to feel at home while on board.
To improve – As the saying goes, improvement is a lifetime course. There's always something to learn. That means that you are are not expected to be perfect but are expected to learn and improve along the way.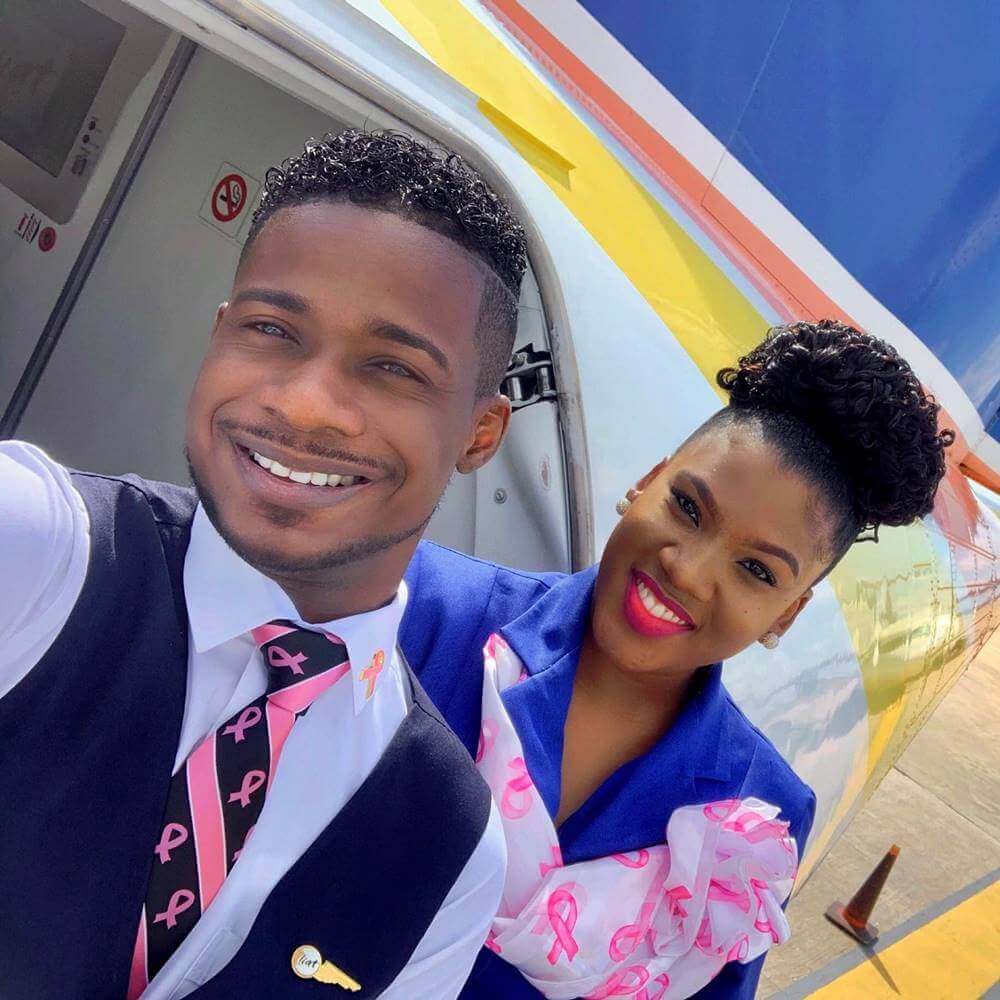 Qualifications
 In order to be a candidate for LIAT Airline's cabin crew hiring, there are specific necessary requirements that need to be met. Firstly, unlike the typical belief, Airlines do not require the candidates to have a certain degree in Tourism. There's no need for flight attendant-related courses as well. Leeward Islands Air Transport focuses on the secondary education of every candidate instead with a moderate to excellent grade in Math and English.
 If you're interested in being a cabin crew in LIAT, you can check the specified qualifications needed for the job below.
Age: LIAT Airlines prefers every job applicant for cabin crew to be at least 20 to 26 years of age. In some cases, 18-19 years old candidates are also considerable.
Education: For clarification, candidates are not required to be a degree holder in hospitality management, travel, languages, and tourism. But having one will naturally make the candidate excel. Still, all that's required is to be a complete secondary level education and a passing grade in Math and English.
Physical Attributes: LIAT Airlines requires you as a flight attendant candidate to be at least 160cm. As per the protocol, the Airline doesn't allow you to have visible marks and tattoos on their skin whenever they are on duty.
Personality: To go well with the responsibilities, you should have a pleasing personality that will make the passenger feel calm and comfortable at all times. They should also have optimistic attributes while on a flight.
Others: Leeward Islands Air Transport believes that the candidate suitable for the job should be fit physically and medically. Hence, papers that will prove health will be needed. Those with experience in flights will have an advantage over those without experience. Most importantly, the candidate must be willing to grow and be diligent in the workplace.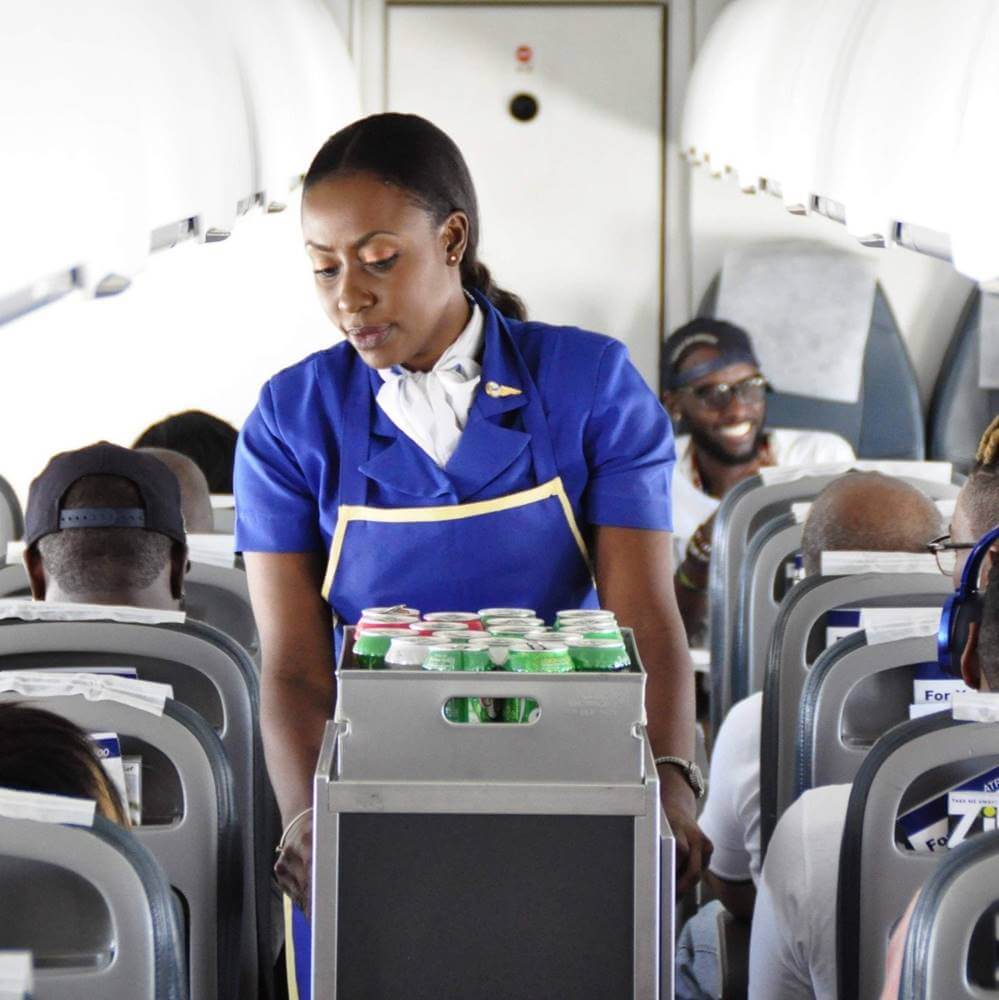 Document Requirements Needed to Prepare
 Like other job applications, LIAT Airlines only considers candidates with complete requirements to go further in the application. In case you are unsure about the documents needed, we listed the resources below.
Resume or CV – The resume to be submitted should be updated. It should not be plainly about your personal details as well. You will need to list all your relevant experiences and credentials that will be useful to prove your skills in application. Curriculum Vitae is considerable but keeps the details short.
Full-size and Passport-size Pictures – Again, the pictures should be your latest photographs to apply for this professional job. You also need to wear formal attire while having the photograph taken.
Declaration Form of Cabin Crew – All the required documents should be submitted along with the filled-out official declaration form of cabin crew for LIAT. You can get a soft copy of this document on the main website of the Airlines.
Where to Apply for Cabin Crew in Leeward Islands Air Transport
 Note that there are currently two available methods to apply as cabin crew in LIAT. The first one is an online application, and the second is on-site.
For Online Application
You have the option of submitting your online application, even if you live a significant distance away from the actual site application area. Check out the Leeward Islands Air Transport (LIAT) Cabin Crew Careers page to learn more about this opportunity.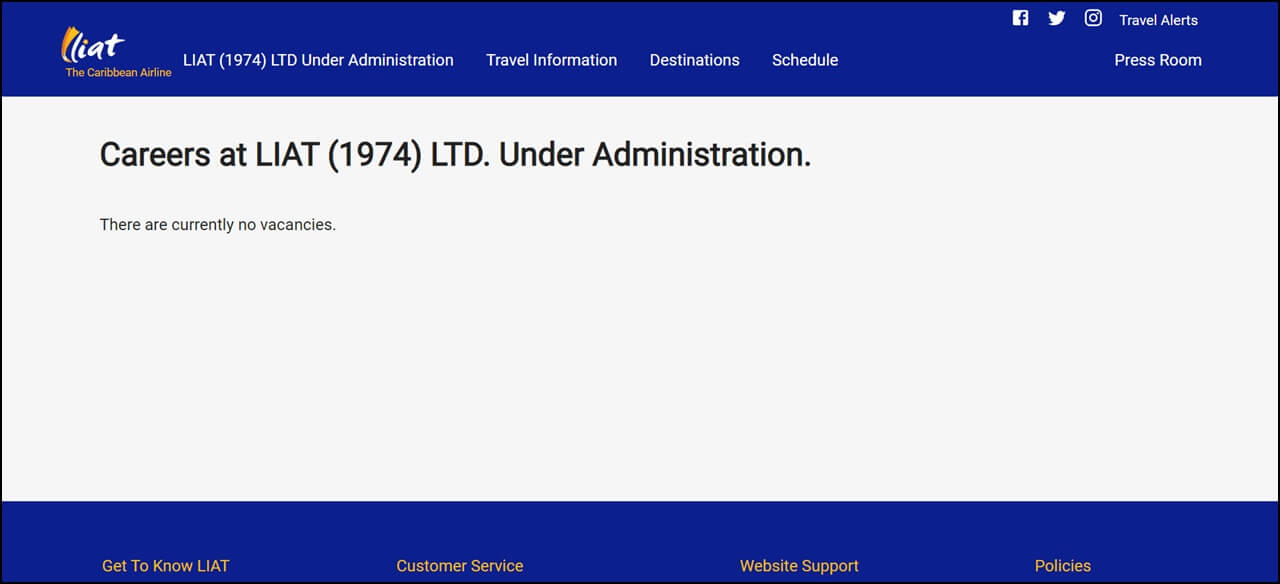 For On-site Application
To personally submit your application, please visit the designated building of the LIAT Administration Building. It is advised that you utilize public transit or be picked off from the location, as parking is reserved for LIAT workers only. Additionally, bear in mind that the company only accepts female candidates to be admitted and considered.
How to Become a Cabin Crew for LIAT
When you are pursuing a career as a member of LIAT's flight attendants, the preceding are the stages you can participate in but serve as just a simple guide to further know the processes described in the section that came before this one.
1. Create a checklist that includes all of the standards that LIAT has for their Cabin Crew.
2. Finish your paperwork. Be sure to include your most recent updated cv or resume, together with a completed Cabin Crew Disclosure Form and recent pictures of yourself dressed formally and taken against a white background.
3. Deliver your message in person to the designated Building or submit it via e-mail.
4. If you believe you have passed your initial review, wait for a verification call or email.
5. Get yourself ready for the interview. If you are interested in learning the types of questions that are typically asked of candidates for the position of the cabin crew member, you can look up sample written questions. Keep in mind that the templates that can be found online can only serve to provide you with a general notion of the sort of topics that the recruiter or HR person might ask you.
6. Please wait for a communication from LIAT.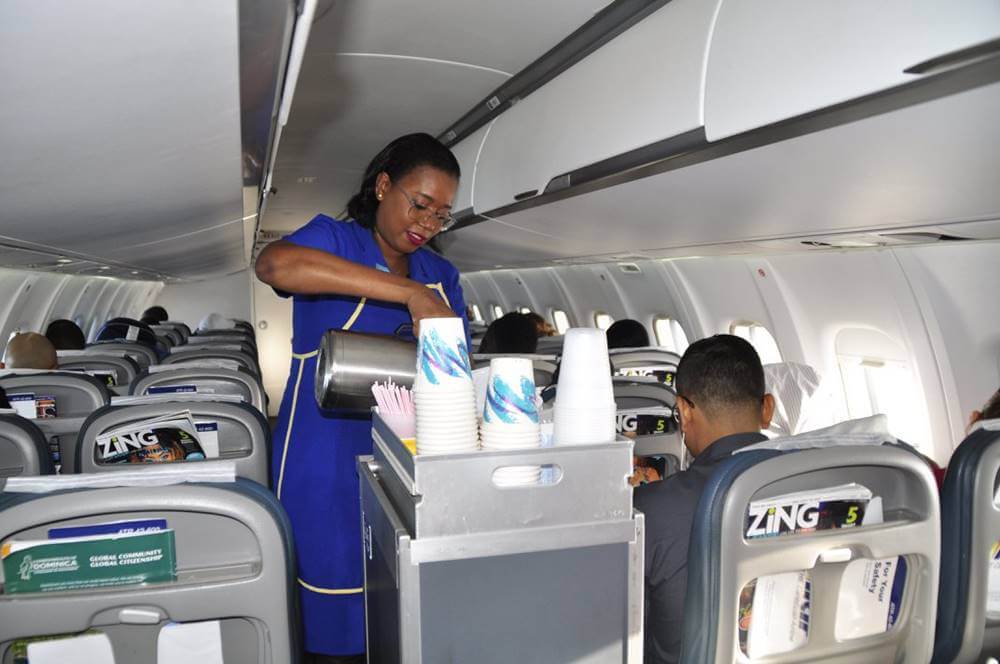 Expected Gross Income for Cabin Crew in LIAT Airlines
 It's not a secret that information regarding the salary for every company is a private matter. It is not laid simply down if the individual asking is not part of the company. However, it is also understandable for an aspiring staff or, to be precise, a cabin crew to want some details regarding the salary they can expect when aiming for the job.
According to a jobs employment center in the Caribbean, the expected gross salary for flight attendants is around $110,000. In some cases, there is also an average bonus of $3,000. More details will be provided to the candidates upon on-site or online interviews.
Video: 6 Countries in 6 Hours with LIAT
If you're wondering about the services and activities in Leewards Islands Air Transport, you can check this video. You can see in the video how flight attendants from LIAT Airlines handle their responsibilities to ensure that every passenger is comfortable.
Disclaimer: This video was taken by a passenger that happened to feature his trip in different featured places. LAIT Airlines is among the Youtuber's favorite trips. This is not an official video from the Airlines and serves as a reference for view only.
Photos: LIAT Flight Attendant Photos
Below are some photos of LIAT flight attendants in their uniform. As you can see, the uniform is designed to be stylish and functional at the same time. The flight attendants have to look professional while being comfortable performing their safety and service related tasks.
Frequently Asked Questions
Below are some of the most commonly asked questions applicants have when processing their application for LIAT. Read through to find out if you also meet some of the basic standards the airline has for their flight attendants.
1. What are the benefits of being a LIAT Cabin Crew?
Yes, Medical, health and injury insurances are available to cabin crew. In addition, bonuses depend on your success and the firm's annual profit.
2. Are there travel benefits if you're a flight attendant?
Yes, a yearly economy seats pass is one of the perks of being a member of the flight attendants. However, this will depend on your performance on the job.
3. Are candidates without a college degree accepted for the job?
Yes. you must possess a secondary education degree or its equivalent.
4. Do I have to learn to speak English to communicate?
Yes, as a flight attendant you are required to have a basic command of the English language in order to react to passenger inquiries and convey information on the pilot's behalf.
5. Are the personnel of the cabin crew eligible for paid vacation time?
Yes, employees are entitled to thirty (30) days of paid time off each year.
6. Does a potential flight attendant's height matter?
Yes. There is a height requirement of 160 centimeters in order to access the overhead bins.
7. Is LIAT a reputable company?
Yes, the LIAT airline was established in 1956, and shortly thereafter began operating flights between Montserrat and Antigua. As a result of the airline gaining additional shareholders during the course of the coming decade, it was able to increase the number of aircraft types it flew on its routes throughout the Caribbean that's why you will be proud to be one of their Crew members.
8. I was wondering if LIAT had a frequent flyer program. Do they have any?
The LIAT does not have a frequent flyer program.
9. Is there a section in LIAT dedicated to animals and service pets?
Yes, Only animals and pets that fit in a carrier's checked luggage compartment can be transported.
10. Are there any particular health requirements that need to be met to work at LIAT?
Yes, as an applicant, you are in charge of making sure you meet all security standards imposed by the government, including making sure you have the required immunizations and proof of those immunizations. You should get advice from your doctor.
Contact Information
LEEWARD ISLANDS AIR TRANSPORT (LIAT)
Website: https://www.liat.com/about-us 
Alternative website: https://www.alternativeairlines.com/liat 
Facebook: https://www.facebook.com/AlternativeAirlines/  
Instagram: https://www.instagram.com/alternative.airlines/?hl=en