The flight attendant uniform of JetBlue Airlines is known for its modern and stylish design. Unlike many other airline companies, JetBlue's crew uniform incorporates bold pops of color, such as lively blues and oranges, which reflect the airline's brand identity. This unique approach to uniforms sets them apart and creates a visually striking and memorable impression for passengers. More importantly, the uniforms are designed with comfort in mind, featuring breathable fabrics and functional details that allow flight attendants to perform their duties with ease.
Also Read: JetBlue Airlines Flight Attendant Salary and Benefits
While many airlines require flight attendants to wear traditional suits or dresses, JetBlue allows their employees to express their style through their uniform choices – men can wear women's uniform and vice versa – to promote inclusivity of all genders at work. In recent news shared by the Wall Street Journal, Tyler Curry, who joined JetBlue in 2022, was astonished to learn about this policy. He was also intrigued by the female flight attendant uniform so he ordered it and everyone complimented him on the outfit he wore to work.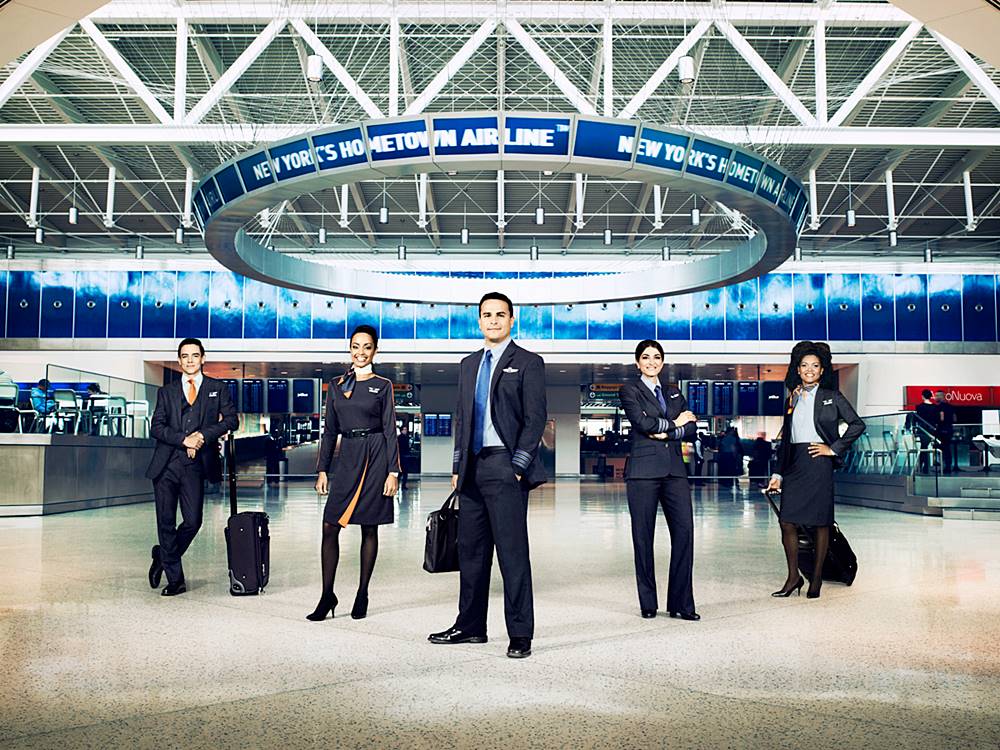 Features of Its Uniform
A combination of blues and orange vibrant hues creates a striking visual impact.
A scarf in the same combination of colors.
A casual dark blue dress with a light blue lining in the other dress' part.
A pair of black heels and hosiery.
A shade of dark blue pants and light blue polo shirts (appropriately tucked in).
A pair of black formal-heeled shoes for female flight attendants paired with black socks or black hosiery.
Formal close shoes for male flight attendants paired with black socks.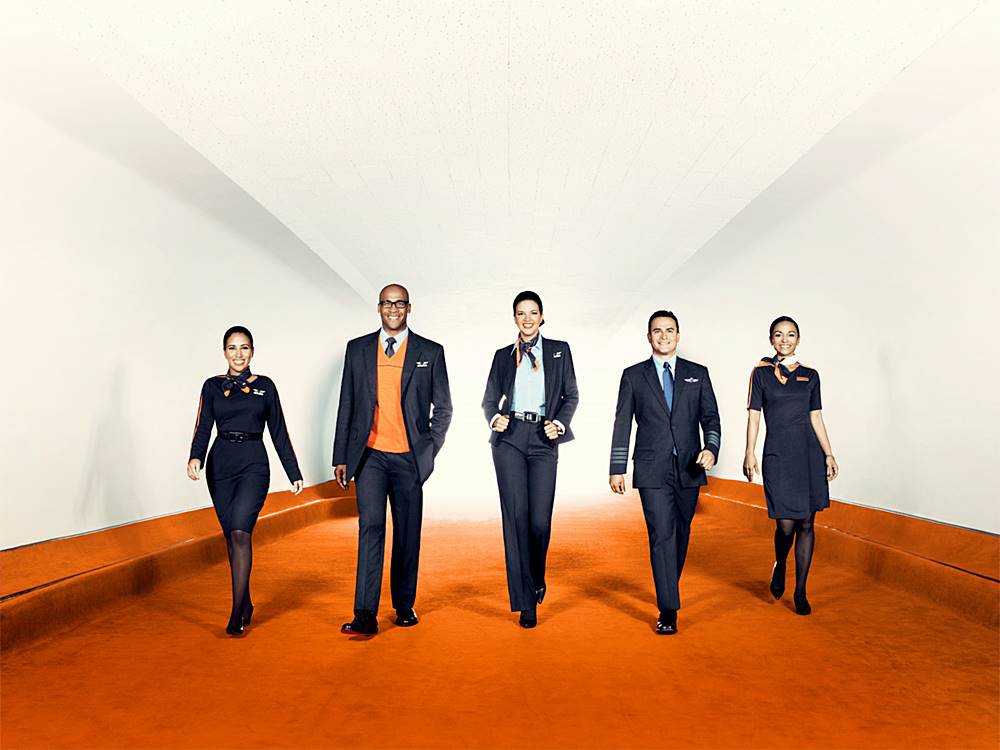 Female JetBlue Airlines Cabin Crew Uniform
The female cabin crew uniform features a classy color and polished style, and the bright smile of the flight attendants creates a friendly and positive impression on passengers that adds to the total pleasant experience of flying.
Below is the list of JetBlue's flight attendant uniforms including the accessories for the female flight attendants.
Shirts
Sweater and shell seat
Skirts and dresses
Pants
Belts
Scarves
Winter coats and jackets
Shoes
Hosiery
Socks
Earrings
Rings
Necklace
Bracelet
Watch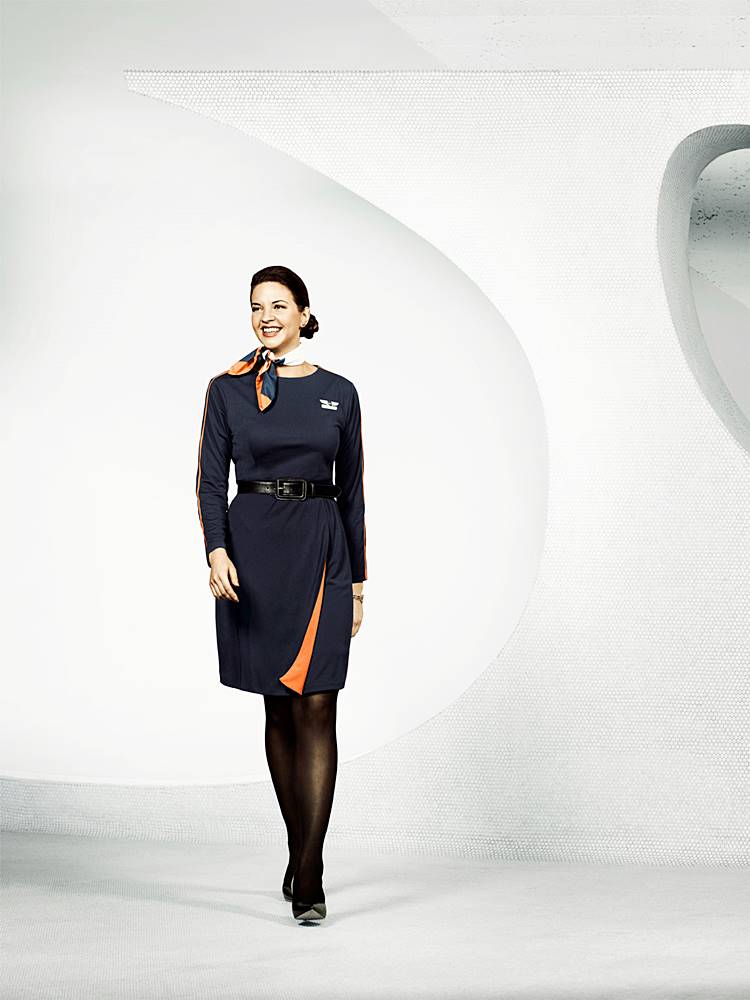 Male JetBlue Airlines Cabin Crew Uniform
JetBlue features visually pleasing male inflight and airport uniforms that reflect their charisma and charming vibe, enhancing the general experience for passengers. in line with this, the inclusion of subtle detailing and modish accessories, like a well-fitted tie or a smart lapel pin, further enhances the competent appeal of the airline's male staff.
Here is the complete list of male flight attendant uniforms.
Shirts
Cardigan and sweater vest
Pants
Belts
Ties
Winter coats and jackets
Socks
Shoes
Uniform Accessories (Male/Female)
The cabin crew's proficient appearance is chic, featuring well-designed accessories that complement the design, color, and overall look of the flight attendant uniform. The cabin crew's distinctive company uniform includes these accessories.
Watch
Earrings
Necklace
Bracelet
Pins
Sunglasses
Winter gloves
Winter hats
Winter scarves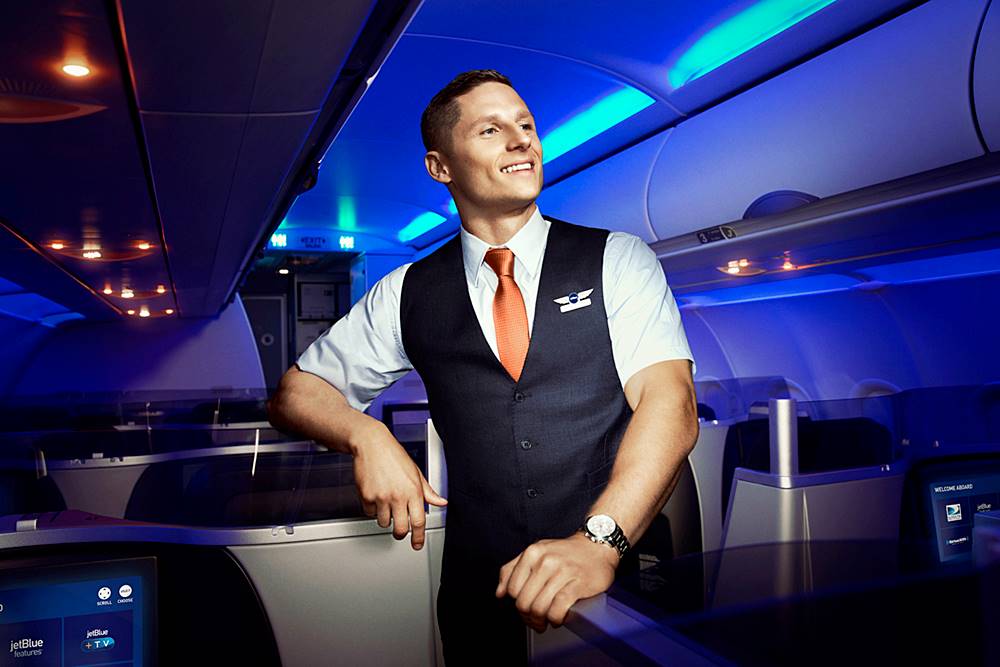 Presentation and Grooming Policy
Both male and female flight attendants must present themselves in a qualified and courteous manner, especially when wearing their company uniforms. This is because they represent the company, and their reputation depends on how they conduct themselves while providing high-quality service.
Hairstyle
Both male and female FAs must maintain their neat hairstyle while on duty. A well-combed hair with hair wax is highly observed. Male crew must be in a formal cut of their hair applied with a certain amount of hair gel while female cabin crew must appropriately tie their hair. For those female flight attendants that have long hair, they must tie their hair up in a bun.
Cosmetics/ Makeup
All female attendant is required to maintain a presentable look that will be covered with a natural shadow of any facial cosmetics or makeup complement to the natural color of the skin. Extreme makeup application should not be considered as applicable; it should be in a natural look.
Accessories
The size, length, and designs of the accessories worn by a flight attendant must be properly considered. This is to ensure the safety of each cabin crew while they are at work. The necklace should be on a single strand with a simple design and maximum width. The watch is mandatory to wear with its proper size. Earrings must be in a stud, hoop, or in 'huggie' style. Facial tattoos or piercings are not allowed.
Fingernails
Neat hands and well-manicured fingernails are being observed. Polish color for female cabin crew must complement the uniform style. Fingernails must be trimmed and cleaned.
Beard or Mustaches
This policy is usually implemented for the male cabin crew that is required to shave their beard or mustaches which might affect the safety standards.
Personal Hygiene
Both male and female flight attendant must maintain their hygiene for them to be comfortable and for the welfare of the passengers especially if the FAs serving them.
Important Notes to Remember
Luggage must be in a full black in color.
Personal design and other extreme designs are prohibited.
If the cabin crew fails to follow the said standard, disciplinary action will be taken.
The cabin crew must be in a complete uniform while on duty.
Other uniform design/s that are not included in the issued uniform design are strictly observed.
Name tags and other badges must be visually seen.
Chewing gum and other gummies is strictly prohibited while on duty.
The female attendant must be mindful of the length of their skirt. They should be avoided wearing mini skirts.
Video: Behind-the-Scene at our New Uniform Photo Shoot
The video showcases a photo shoot of the Jet Blue cabin crew, featuring both male and female members gracefully displaying their sophisticated poise in a professional outfit, showcasing their pride and elegance in their new uniform.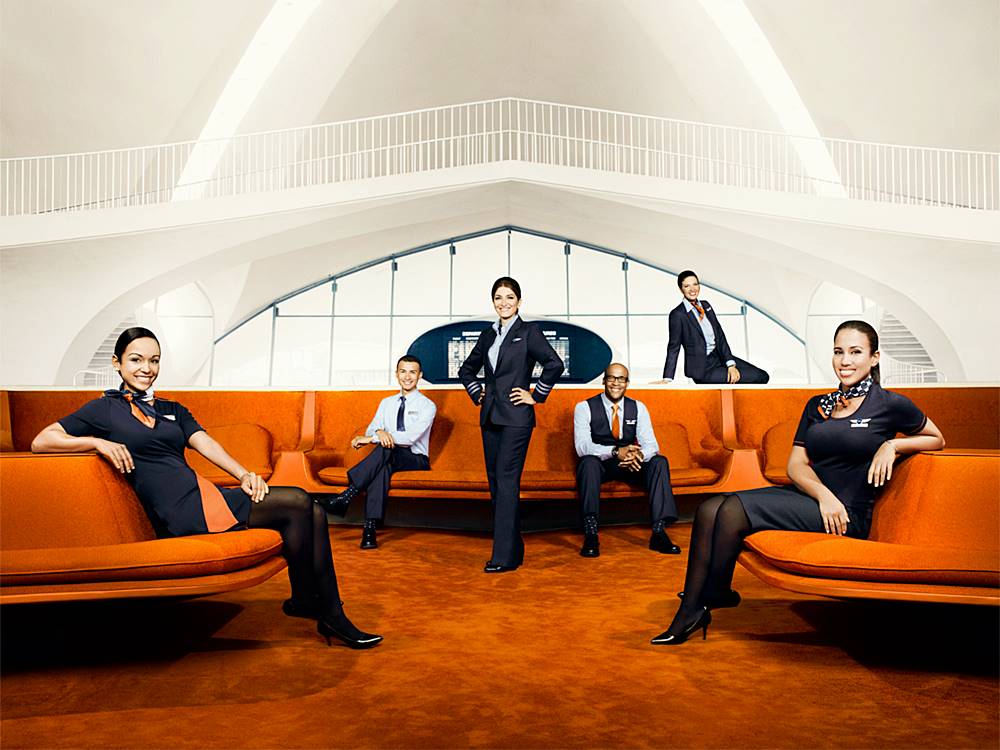 Summary
In summary, JetBlue's uniforms are vibrant and eye-catching, reflecting the airline's youthful and fun brand image. The airline also recently made headlines by introducing a new uniform policy that embraces gender neutrality, allowing its crew members to choose between pants or skirts as part of their uniform. This progressive move sets JetBlue apart from other airlines, demonstrating its commitment to inclusivity and equality in the workplace.