If you're one of the aspiring candidates for a cabin crew role at Lufthansa, then it is crucial to be familiar with the airline's hiring requirements, as well as the entire process before you can land the job. Lufthansa prioritizes hiring an applicant who is closest to their qualifications in terms of skills, education, characteristics, and of course, knowledge about the role.
Lufthansa Airlines is an awesome company to work with. Aside from the good working environment and culture that they have, the salary and benefits offered by the aviation company are a great offer that is hard to refuse. Furthermore, once you're hired, you will be offered a good 18-24 months contract which also may be extended.
At the moment, Lufthansa is actively looking for new crew members to fly with their passengers. If you have missed the open day event, don't worry because they do have more opportunities for everyone in the future! For now, you can do some preparations first and try to sharpen up your skills for you to have a better edge than everyone else.
This article will guide you on how to start your application, including the requirements you need to meet. We will also discuss the entire hiring process and the basic pay and other perks of becoming a cabin crew at Lufthansa Airlines.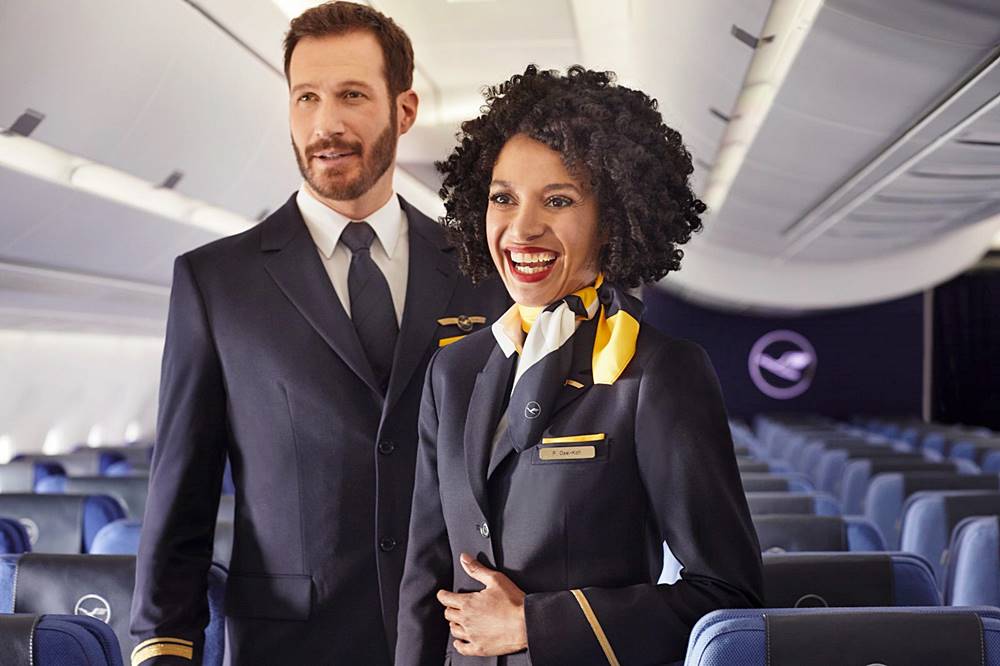 Overview
Lufthansa Airlines is recognized as one of the largest airlines in Germany. It is a subsidiary of the well-known Deutsche Lufthansa AG Corporation. The airline always sticks to its values of giving all passengers the best service and securing their safety while onboard.
Now, Lufthansa Airlines has 300 airplanes flying with more than 200 target destinations worldwide. The company is constantly acquiring and merging some small airlines into it. After adding many airplanes from its other partner airlines, Lufthansa is now expecting to have 700 airplanes in its fleet, delivering its finest service to thousands and thousands of passengers.
Responsibilities
Greet and welcome all passengers on board and guide them to their designated seats
Prepare and serve the food, snacks, and drinks of all passengers
Demonstrate excellent customer service skills to provide the best service and care to all passengers
Attentive all the time to the needs and requests of the passengers
Educate and inform all passengers to always observe safety measures while flying
Provide help and service during any emergency or on the off chance, a passenger is sick while onboard
Take immediate responsibility to solve any issues, either small or big.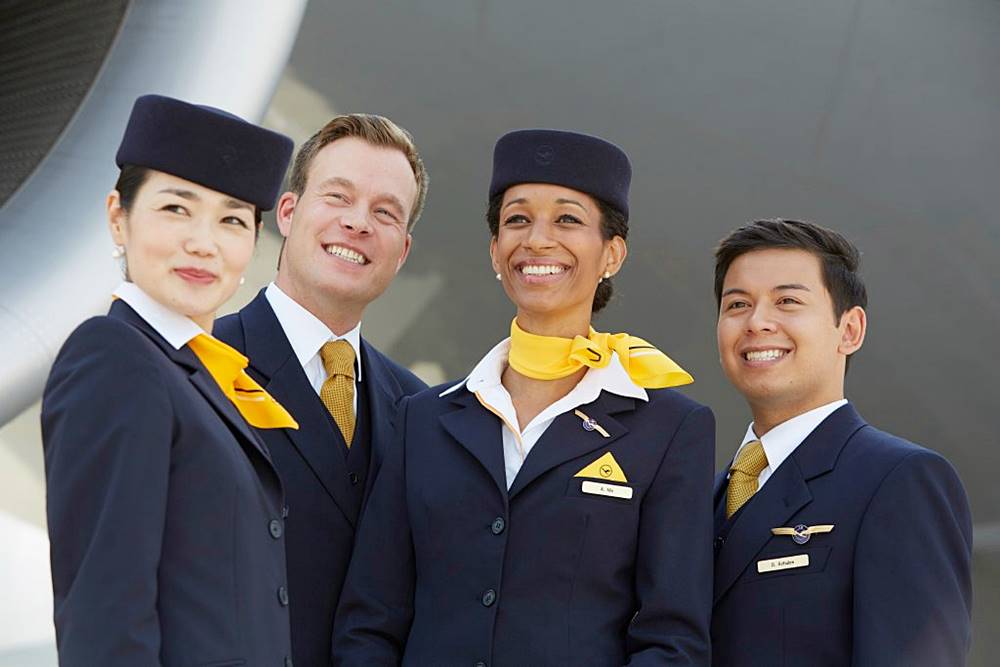 Qualifications
Lufthansa Airlines is one of the largest airlines in Germany and is operating in many different countries across the globe. They always ensure to observe and practice their set values in providing the best care and service to all passengers. That being said, they also have strict qualifications in hiring a cabin crew role who will provide the service to their clients while flying. Here are these qualifications:
Aspiring applicants must be aged 18 years old.
Aspiring applicants must complete his or her school education
Aspiring applicants must be fluent in both German and English language
Aspiring applicants must have a minimum height of 1.60m
Aspiring applicants weight should be proportionate to his or her height
Aspiring applicants must have a valid passport for minimum validity of 1 year
Aspiring applicants must have a visual acuity between +/- 5 diopter
Aspiring applicants should not have visible tattoos or not wear piercings
Aspiring applications must be good in swimming
Aspiring applicants must be flexible and willing to do a shift at the allocated schedule and to work abroad
Aspiring applicants must be sociable, friendly, and possess strong communication skills
Aspiring applicants must be team-capable and can work under pressure
Aspiring applicants must possess a high level of service orientation
Aspiring applicants must be proactive, independent, and committed to their role as a cabin core
Document Requirements to Prepare
Here are the documents required to apply for a cabin crew position for Lufthansa Airlines:
Updated CV
Valid Passport for at least 1 year minimum validity
School education certificate or diploma
Additional documents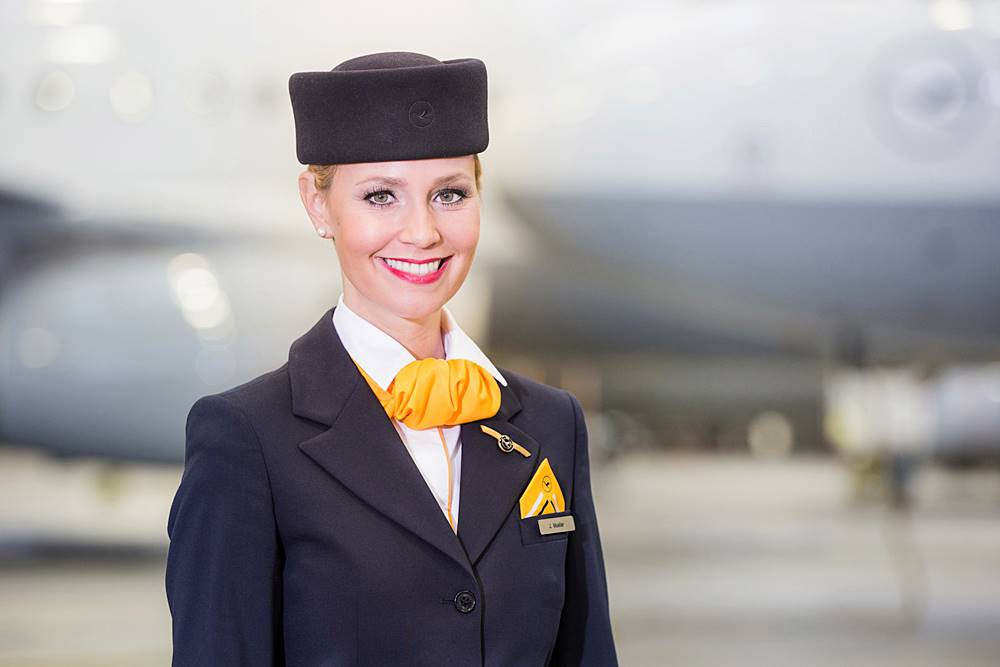 Lufthansa Careers Page
If you're an aspiring cabin crew to work at Lufthansa airlines, you should check for any available hirings at their official career website. Simply click this link to direct you to their official career lead page: Lufthansa Group Careers.
Below is the screenshot of the career portal of this airline: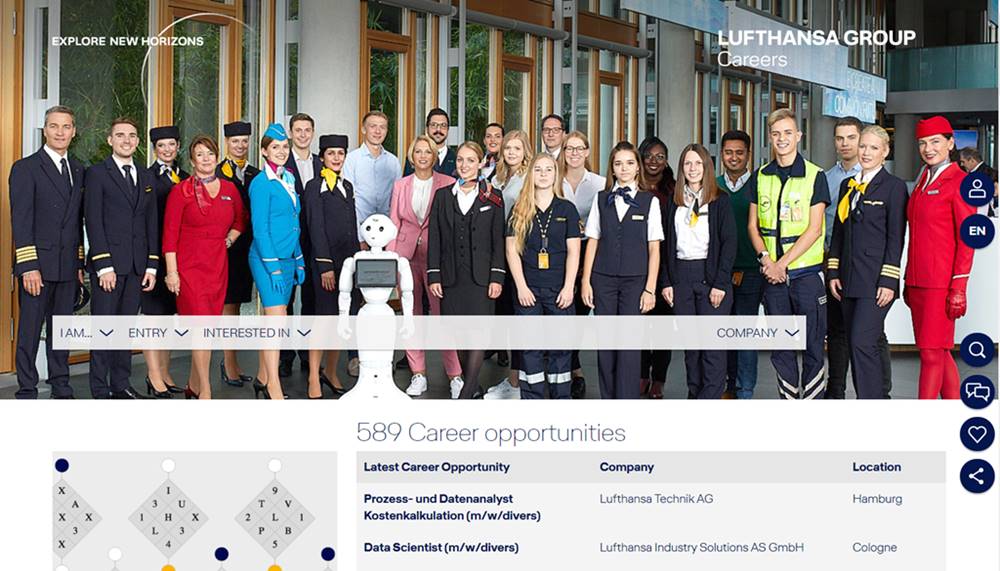 How to Become a Cabin Crew for Lufthansa
In addition, here is the detailed hiring process at Lufthansa Airlines to give you an idea of how everything is being done. Don't skip any steps to be equipped with the hiring steps.
Step 1: Fill out the Application Form
Once you arrive at Lufthansa airline's career website, read all of the posted job descriptions and take note of the listed requirements and qualifications of becoming a cabin crew at their airlines.
After you are done with registration on the Lufthansa jobs portal, you will be asked to fill out the application form asking for personal details. You also need to take an English language test for them to assess your fluency in the language.
Then, simply click the submit button for your application to be received by their team. Also, upload your most recent or updated CV in the portal for them to have a quick assessment of your skills and experience in the role.
Just wait for the email from the recruiting team whether you pass the initial assessment or not. On the off chance you pass, an email with further instructions for the next step is also sent to you.
Step 2: Prepare for the Assessment Day
Congratulations, you're in the second step of your application. This assessment is typically held at Lufthansa's base in Frankfurt. So, you should prepare for this day.
Just a little note that it may take some time before you will receive an email from the recruitment. This is because of the huge number of applicants. So, don't lose hope and give up easily. Instead, check your inbox or spam messages for any updates.
The assessment day organized by Lufthansa is actually conducted as a group interview, so calm down yourself and don't be too anxious. You can do some research, watch informative videos on Youtube, or read the Cabin Crew Assessment Day ebook to equip yourself with the knowledge before the assessment day takes place.
All the instructions regarding assessment day will be sent via email. Just heads up, this assessment day usually lasts up to 8 hours.
Here is what usually happens during the assessment day:
Registration
Check and assess your height and tattoo, if there's any
A group activity that consists of different games and exercises
Interactive test, which sometimes a psychometric ability assessment takes place
Open hours for applicants to address their concerns or any queries
Step 3: BIG DAY –  Final Interview
If you're one of the applicants that passed the Assessment day, then expect the final interview. The recruiting team will be sending you an email regarding the schedule and location of the final interview.
Remember that this is the most crucial part of your application as the recruiters will literally assess you if you are really fit to be a cabin crew in their airlines. Since it takes around 30 to 40 minutes, make sure to do your best and prove to your recruiter that you deserve the position they offer.
Also, during the final interview, you are asked to bring all your documents. The recruiter will send the list of their requirements so you don't need to worry about which one to bring. After the final interview, the result will be provided as soon as possible.
However, the airline conducts a final check such as checking if you have any criminal record, financial history, previous work experiences, and following your references. Once everything is done and you are qualified, Lufthansa Airlines will not take you onboard and prepare for the Cabin Crew training.
Step 4: 3 Months Training
Once the airlines offer you an employment contract, a 3-month training will come next. It will last up to 3 months and is held in either Munich or Frankfurt. This covers all of the important knowledge and information you must acquire to perform the cabin crew role well.
In addition, you will also be trained on how to handle emergencies whilst on duty and how to provide excellent customer service to all the passengers. To complete your Lufthansa training and start with your new role as cabin crew, you will be required to pass several written and practical tests.
Monthly Salary Of a Lufthansa Airlines Cabin Crew
Before you can finally start working as a cabin crew at Lufthansa airline, there are numerous assessments and challenging training that you are required to pass. But these are all worthy once you're on board, and begin receiving a basic salary of $35,000 in 12 months, which rises to $40,000 per year after some time.
Benefits
Granted a permanent contract
Receive commissions on onboard sales
Guaranteed to get discounts on hotels and travels
Medical and dental insurance
Guaranteed to have retirement plans
Life insurance coverage
Paid off annual vacation days
Free uniforms and granted access to employee's assistance program
Video: Flight Attendant Interview Tips
In this video, the flight attendant talked about the tips on how to become a good flight attendant.
Here's what she told in the video:
Be calm and confident during the initial and final interview. Plus, as a cabin crew, you should be calm and composed in emergency situations.
Do research, watch tips on Youtube, and search for a flight attendant group on Facebook
Be presentable and observe good grooming and hygiene
Disclaimer: This is a video uploaded by a flight attendant vlogger who shared her experience being a cabin crew member in general. Take note that every crew has a different experience, but this will help give you an idea of what to expect when you work for Lufthansa Airlines.
Photos: Lufthansa Cabin Crew in Uniform
Check out these beautiful pictures of Lufthansa flight attendants in uniform. If you wish to imagine yourself being part of this company, check out these photos to give you a glimpse of working for this airline:
Frequently Asked Questions
Here are some common questions and answers about the hiring process in Lufthansa:
1. Do I have to prove my language skills with any documents or certificates?
No, you don't need any proof to showcase your language skills. However, you are expected to be fluent in speaking German and English.
2. Is it required for me to know how to swim before I can apply as a cabin crew?
Yes, it is one of the requirements of Lufthansa Airlines to all of the aspiring cabin crew applicants. They believe that as a flight attendant, you are held responsible for the safety of all passengers on board. And the ability to swim is a prerequisite before you can take the role.
3. What are the requirements of a cabin crew at Lufthansa Airlines?
Make sure to prepare the necessary documents when you are applying. The requirements include:
Updated CV
Valid Passport for at least 1 year minimum validity
School education certificate or diploma
Additional documents
4. What are the necessary documents?
All necessary documents are found above. These are the same requirements if you are applying for a cabin crew at Lufthansa.
5. Is it required to have German citizenship before I can apply as a cabin crew at Lufthansa Airlines?
The answer is no. But you must hold a passport that is included in the list of all accepted passports before you can apply as a cabin crew at Lufthansa airlines.
6. What is the age requirement?
Lufthansa airlines are strictly accepting cabin crew applicants aged 18 years old and above.
7. Are height requirements strictly qualifications for a cabin crew applicant at Lufthansa airlines?
Yes, due to safety regulations, Lufthansa airlines are strictly accepting cabin crew applicants with at least 1.60 meters in height.
8. How much is the basic salary of a cabin crew at Lufthansa airlines?
A newly hired cabin crew is expected to receive a basic salary of $35,000 in 12 months, which will increase to $40,000 per year after some time.
9. What are the responsibilities of a cabin crew at Lufthansa airlines?
All of the responsibilities are mentioned above.
10. How long does cabin crew training last at Lufthansa airlines?
The cabin crew training for newly hired applicants lasts up to 3 months. This is to ensure they are equipped with the necessary skills and knowledge about their role.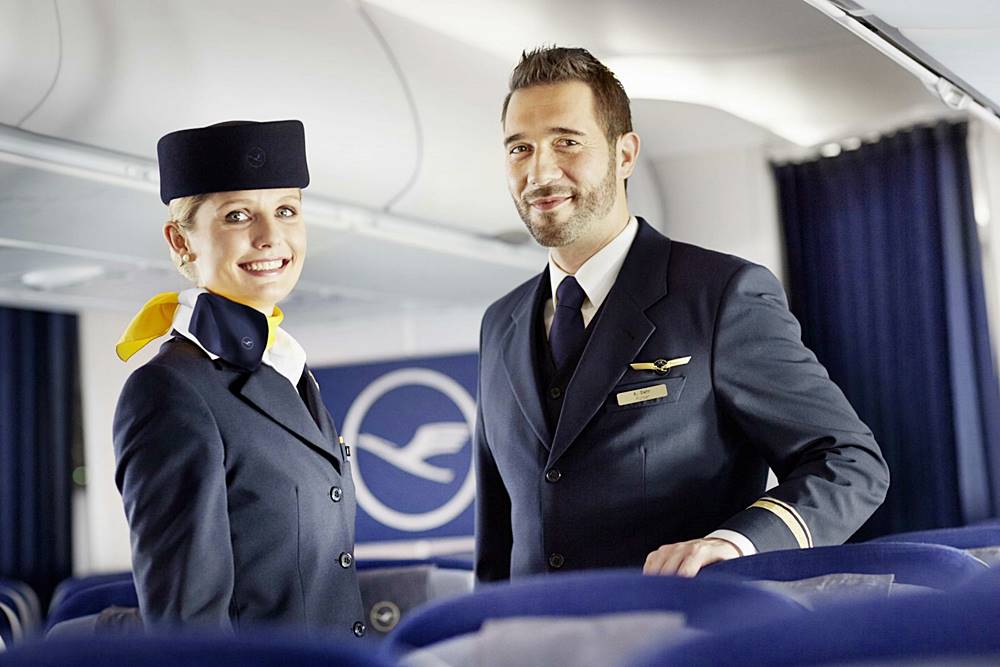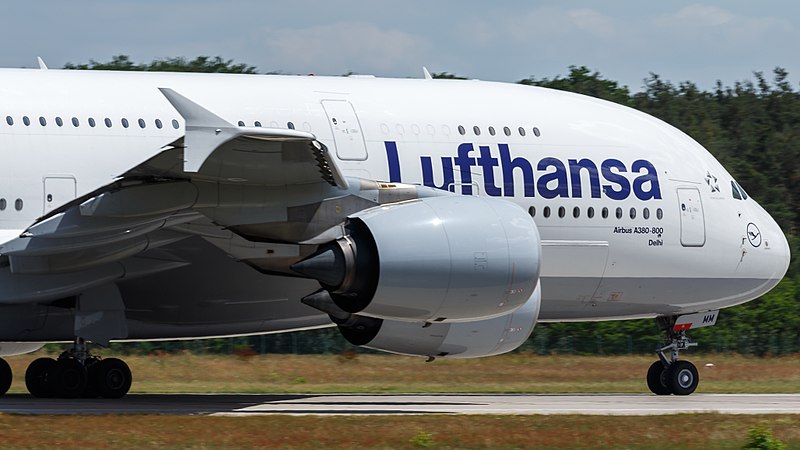 Summary
Lufthansa Airlines is one of the dream airlines of most aspiring cabin crews. They offer good basic pay with numerous benefits for someone who fits the role. It is one of the largest airlines based in Germany and has numerous international flights.
If you are interested in taking a spot as a cabin crew at Lufthansa airlines, you should never miss sending your application now. This guide will really help you with your journey to becoming a cabin crew in the future.
The tip here is to practice everything before the day comes. Sure, generating ideas on the spot is impressive, but if mental block suddenly hits you, what you have practiced will definitely be your savior.
Good luck! We wish that the information we've provided you will be useful for your employment!
Contact Information
Lufthansa
Address: Cologne, Germany
Telephone Number: 26263760
Website: www.be-lufthansa.com
Facebook: https://www.facebook.com/Lufthansa/
Instagram: https://www.instagram.com/lufthansa/
Twitter: https://twitter.com/lufthansa?lang=en