Warning to all passengers: please watch out for your belongings even with your handcarry baggage when you're riding a plane. An incident involving thieves rummaging through passenger bags has been known to be a syndicate and these gangsters normally fly in groups.
Just recently, Faiz Mokhtar, posted his overwhelming experience online on Malaysia Airlines' Facebook group. Mokhtar thought that it was going to be a nice and quiet trip along with his business partners from Ho Chi Minh City, Vietnam to Kuala Lumpur, Malaysia. However, a few moments later, an unexpected occurrence happened.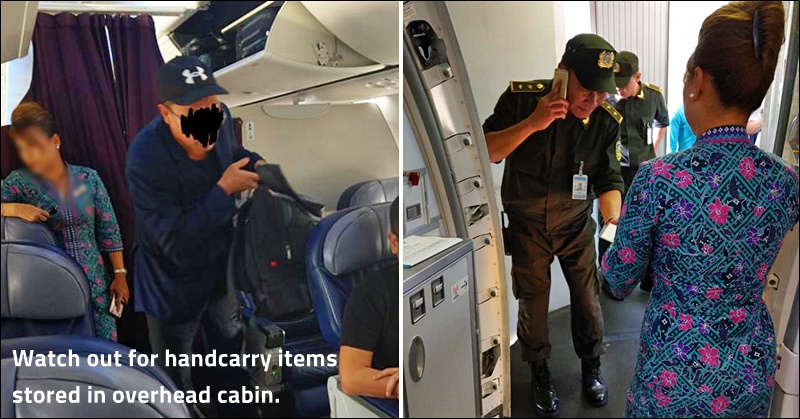 Watch Out for Thieves Taking Bags from Overhead Cabin
"I was on the short flight MH0751 from Ho Chi Minh City flying back to KL on 15/8/18, a working trip with my four business partners.
After putting in my laptop bag in my designated overhead cabin, I settled in my seat on the 2nd row, minding my own business. One of my partners who sat behind me noticed a fellow passenger taking my bag which he brought to his seat on the 4th row. My partner alerted me to check on my bag and true enough it was gone."
It was a good thing that one of his partners was alert and immediately told Mokhtar about the situation.
"I went to the man's seat and caught him off guard going through my bag and his left hand holding some of my foreign notes currency (EURO and USD, which I am 100% sure are mine), looking like he was about to keep them in his pocket. I confronted him with the rest of my partners surrounding us. I did a thorough checking of my bag, because MY BIGGEST CONCERNS were my travelling documents (passport etc.) and whether he had implanted any illegal items, in an attempt to use me as his transporter (read: drug mule syndicate)."
Check out the video below:
Mokhtar immediately took action and asked a flight attendant for assistance. After the situation has been handled by the authorities, the cabin crew informed him that the same modus operandi has been going on in some of the Asian flights. The syndicate would do their work during the boarding period given the fact that passengers are busy settling themselves down.
"We then alerted the stewardess who was quick to take the necessary actions. Fortunately the man didn't become aggressive and this all happened before takeoff (during the busy period of passengers boarding the flight). Security and police were called in, report was made, the pilot and crews declared the flight was not safe to take off until the man is taken off the flight.
He was then forced to depart off. Apparently, the crew informed us, there is a syndicate that has been conducting this modus operandi on China, Hong Kong and Vietnam flights. That guy was from Hong Kong and he is flying to KL with no return ticket, probably his route depends on his "loot"."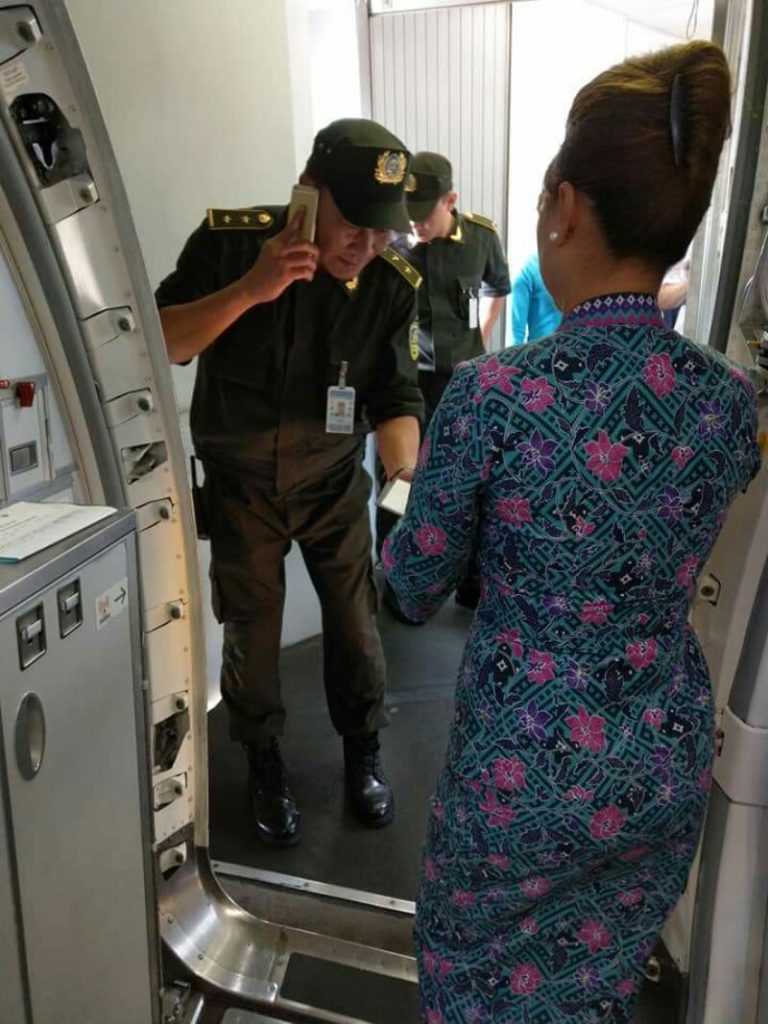 Mokhtar couldn't believe what happened, but he was amazed by how the cabin crew named Mazlinda handled everything professionally, even though it was her first time to witness such occurrence. As a matter of fact, the crew even went the extra mile and stayed in Vietnam to help to make the police report.
"It was quite dramatic as so many things could have happened and gone wrong. Yet, the cabin crew handled it professionally, even though it was her first time experiencing it first hand (cabin crew are well aware of this type of crime). My biggest gratitude and respect to the Lead Stewardess, Ms Mazlinda of Malaysia Airlines for her unwavering calmness and diligent work in ensuring the man being handled accordingly. To the extent she offered herself to remain in Vietnam to make the police report on behalf of me. Luckily, all paperwork matters can be done in-flight and Alhamdulillah we took off safely after an hour delay. The crew managed to calm the other passengers well despite suspecting some of the other syndicate team-members are still there hiding in between them."
Furthermore, he pointed out the syndicate planned out everything. Considering that if no one had noticed the incident, the thief would've easily gotten away with it as there wasn't a CCTV on-board, plus there will be some conflict about the laws.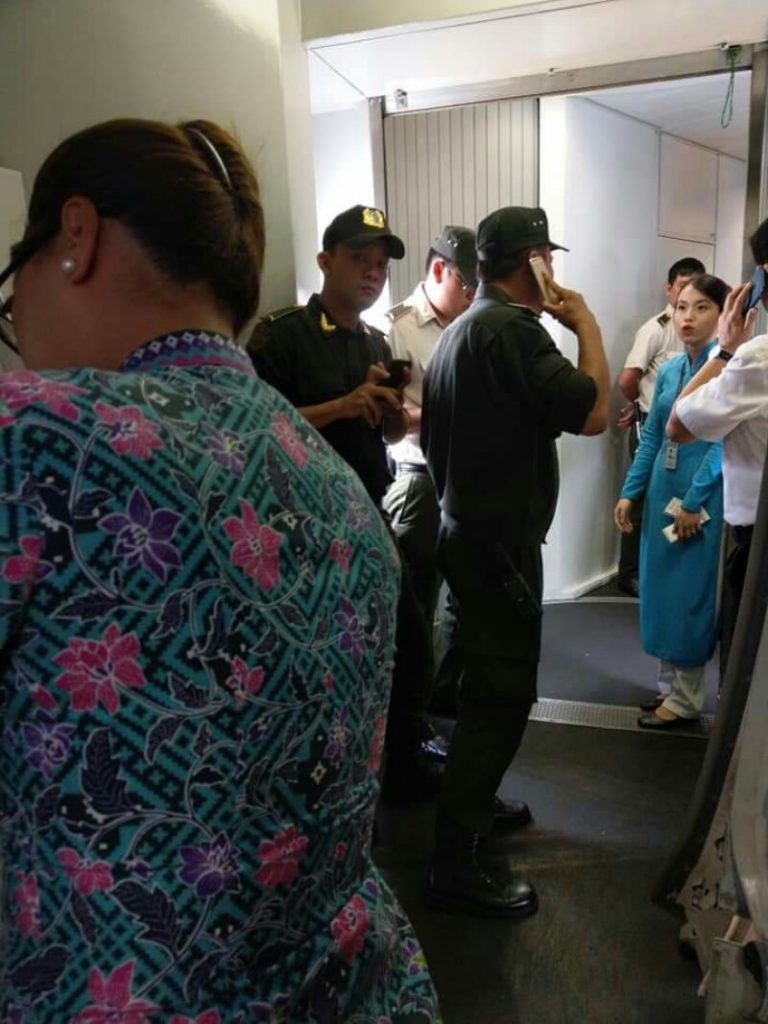 "This syndicate is quite bold because once in-flight, there is no cctv footage as proof, and the conflict of which laws of the land should be applied as they're considered to be in international zone. I might be wrong on this as I myself am unsure what actions have been taken to-date. Oh, the syndicate will even play language barrier act to get away with this."
Even though Mokhtar was grateful to the crew about what happened, he still warned his fellow passengers and reminded them to be responsible with their personal valuables.
"So everyone, please be careful of your belongings, and use extra safety tool i.e. bag lock, and do travel in groups when possible. Criminals are indeed everywhere even on air and they sure can afford business class! MH304920873"
Check the full post below:
A cabin crew's job may appear somewhat boring to those who don't really understand the profession, as they might assume that a flight attendant's responsibility is to tend to the passengers' needs. Although there is some truth to it, their job is so much more than that.
Before every flight starts, cabin crews are called for a pre-flight briefing to get to know their fellow crews and to review the standard and emergency operating procedures of the airline. They do it to be able to prepare them in case a particular incident happens inside the aircraft and there's no other professional to handle it.
The crews' number one priority is to ensure their passengers' safety. For that reason, flight attendants have undergone physical training before they are allowed to fly, for them to be able to have proper knowledge and survival skills during certain emergencies such as airplane crash, medical emergencies and more.
Incidents rarely happen, but when it does, cabin crews are always ready to save the day. As a proof, see how this Malaysia Airlines cabin crew showed braveness at high professionalism in dealing with a theft inside the aircraft!
Sure enough, you could see the cabin crew's braveness in dealing with the incident. She handled the situation gracefully, even though there's a risk of getting hurt. It only goes to show how much the cabin crews and airlines value their passenger's safety.
Salute to our cabin crews!