Perimeter Aviation is a key player in Canada's aviation scene, particularly known for its role in connecting different parts of the region together. Originating in Manitoba, this airline exists to bridge the gap between communities and urban centers to ensure that residents and tourists have regular access to essential services and opportunities. 
Also Read: Perimeter Aviation Flight Attendant Salary and Benefits
Over the years, it has been offering scheduled passenger services, airline operations, and freight services. The airline is diverse in its functions. Its dedication to serving the community and prioritizing safety and reliability has earned it respect and recognition in the Canadian aviation sector.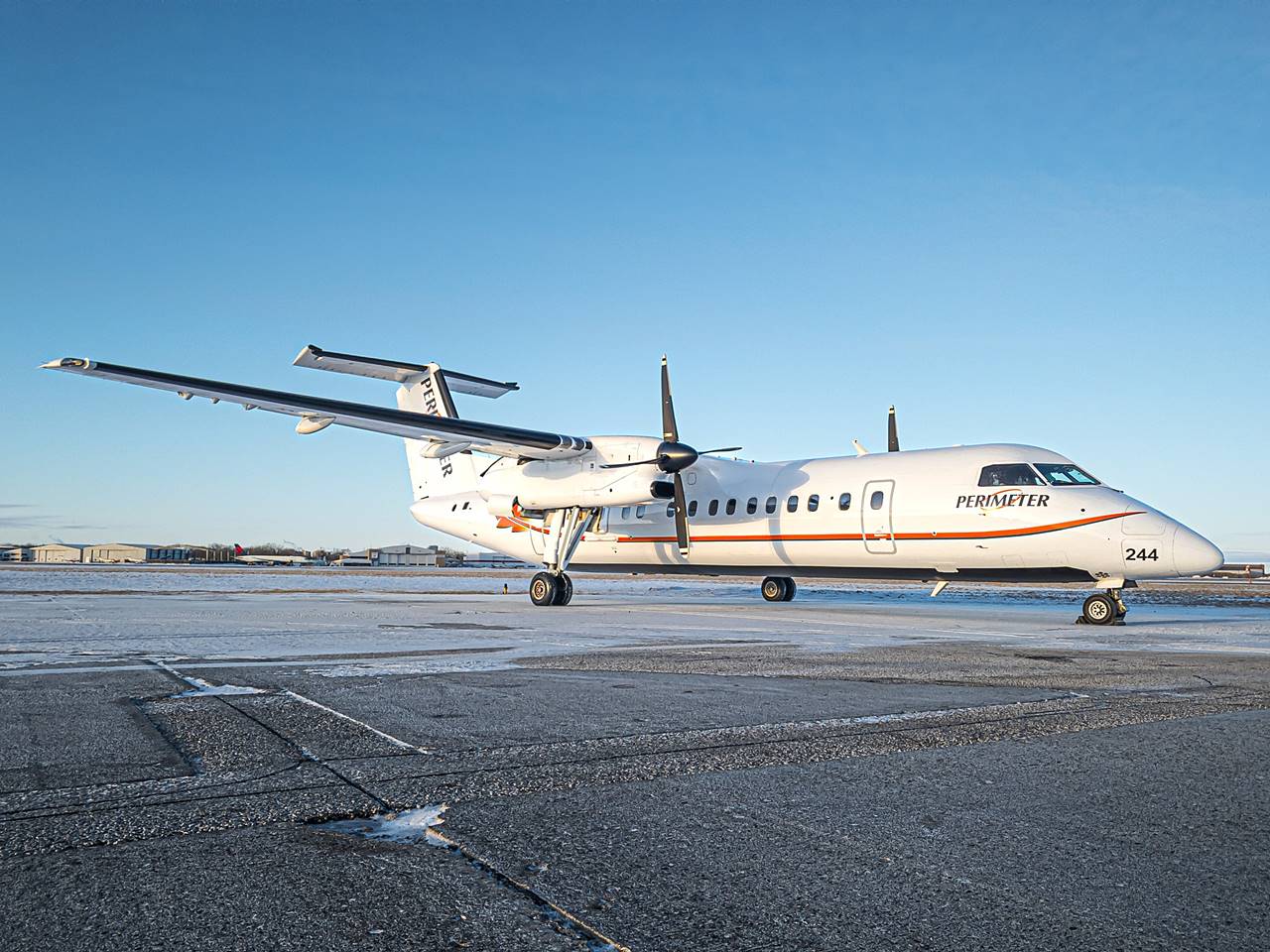 Quick Facts
Airline Name:

Perimeter Aviation 

Airline IATA Code:

JV

Headquarters:

Manitoba, Canada

Founded:

1960

Number of Destinations:

23

Fleet Size:

44

Fleet Types:

De Havilland Canada Dash 8, Fairchild Metro III, Swearingen Metro II, Swearingen Merlin

Location Hubs/Bases:

Winnipeg James Armstrong Richardson International Airport (Manitoba, Canada), Thompson Municipal Airport (Manitoba, Canada), Sioux Lookout Airport (Ontario, Canada)
Brief History Overview
Perimeter Aviation kicked off in 1960, founded by William (Bill) J. Wehrle, marking its beginning as Canada's inaugural private school for Instrument Flight Ratings (IFR).
By 1964, the company made significant milestones. They bought a hangar at Winnipeg International Airport to venture into aircraft servicing and added a Beech 18 to their fleet for charter services. By 1967, it had grown its wings further, boasting a flight school, charter flight services, and a full-fledged aircraft maintenance unit. Fast forward to 1976, the company was on the move again. When Transair approached them to buy their flight routes in the northern interior along with two Twin Otter planes, it took the leap. This move led to rapid expansion, with their staff size shooting up from 25 to 100 in a short span.
Products and Services
Flights

– The airline offers scheduled flights to various destinations. Whether you're traveling for business or pleasure, they ensure a comfortable and timely journey to your chosen location.

Charters

– If you need a personalized flying experience, it provides charter services tailored to your needs, ensuring you get to your destination with flexibility and convenience.

Cargo

– Alongside passenger flights, the company plays a crucial role in transporting goods. Their cargo services ensure that packages, big or small, reach their destinations safely and promptly.

Travel agents

– To make travel planning easier, the airline works closely with travel agents. These professionals assist passengers in booking and scheduling their trips, ensuring a hassle-free travel experience.

Winnipeg Parking

: If you're flying out of Winnipeg, it offers convenient parking options. Leave your vehicle in their safe and secure lot, ensuring it's waiting for you upon your return.

Special services

– Recognizing that every passenger has unique needs, aviation provides special services. Whether it's assistance for those with mobility challenges or special in-flight requests, they strive to cater to everyone's specific requirements.
Work Culture
Here, employees often highlight the strong sense of community and camaraderie among their colleagues. Many describe the environment as feeling like a close-knit family, where they can count on one another to get the job done efficiently and on time. The hands-on experience offered here is unparalleled, making it a fantastic learning ground, especially for pilots who are eager to hone their skills and excel in their roles.
However, there are some concerns related to compensation and growth. A recurring concern among the staff is the pay scale, which many feel doesn't match the level of dedication and expertise they bring to their roles. Additionally, some feel that there are limited avenues for career progression within the company.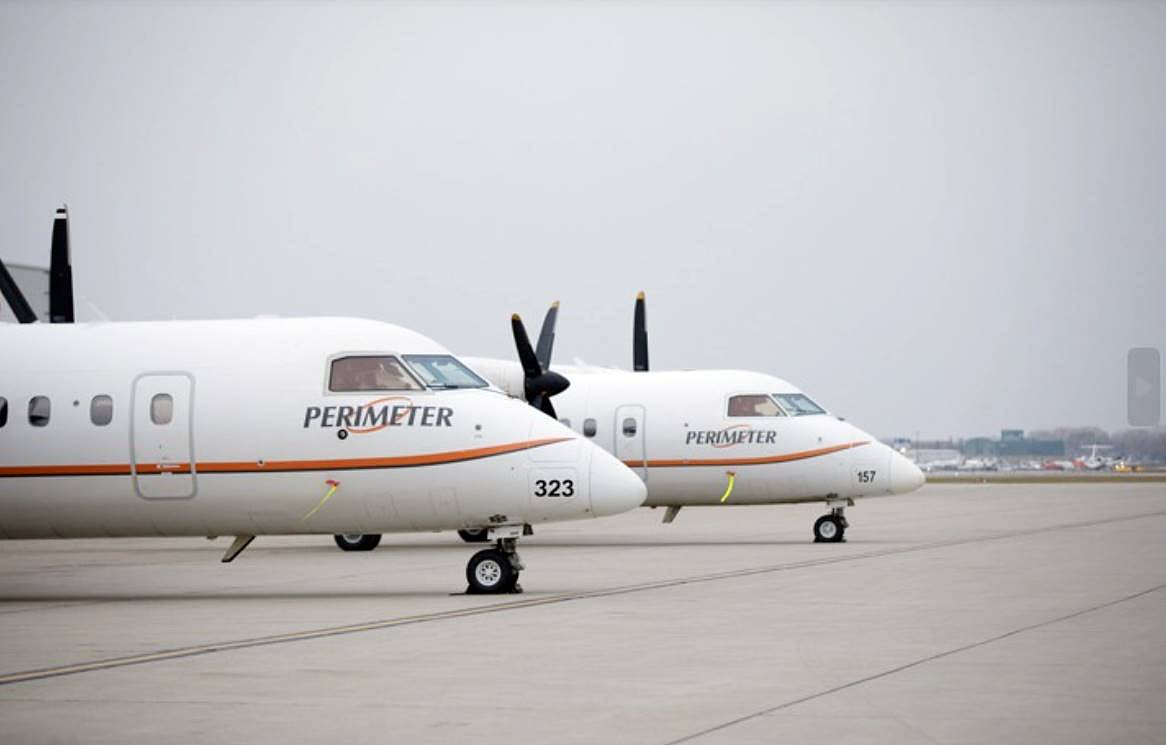 Benefits for Employees
Health and dental

– Perimeter Aviation takes care of its employees by offering health and dental plans. This means that if employees get sick or need a dentist, the company helps cover the costs, ensuring their well-being is a priority.

Vision care

– Good eyesight is essential, especially in the aviation industry. The company offers vision care benefits to help employees get glasses or contact lenses, and even eye check-ups, making sure their vision is always clear.

Disability

: Sometimes, unexpected events can lead to injuries or illnesses that prevent employees from working. In such cases, the disability benefit ensures that they still receive some income, helping them to get through tough times.

Life insurance

– Life is unpredictable, and the airline wants to make sure employees' families are protected. Through their life insurance plan, if something happens to an employee, their family gets financial support.

Group RRSP with DPSP Match

– Planning for the future is crucial. The company offers a Group RRSP (Retirement Savings Plan) where they match contributions made into a Deferred Profit Sharing Plan (DPSP). This means when employees save for retirement, the company adds extra, helping their savings grow faster.

Employee Share Purchase Program (ESPP)

– This unique program allows employees to buy shares in the company. Not only do they become partial owners, but they also benefit when the company does well.

Variety of Programs Geared Towards Expanding Skills and Knowledge

– This airline believes in continuous learning. They offer various training and educational programs to help employees grow in their careers, ensuring they always have opportunities to learn and excel.
Video: Perimeter Aviation: We Believe
In this video, you will learn more about the airline's dedication to its services. Founded in 1960, Perimeter Aviation, along with its eastern division, Bearskin Airlines, stands as the leading independent passenger airline in Manitoba and northwestern Ontario, Canada. Operating primarily from hubs in Winnipeg, Thompson, MB, Sioux Lookout, and Thunder Bay, ON, and with more than 20 other locations, its main goal is to serve northern passengers with regular flights, cargo, and emergency medical services. 
Summary
This airline is truly a symbol of dedication to connecting communities and ensuring essential services reach those in need. While there might be challenges faced by the employees, the spirit of teamwork and the goal of providing top-notch services remains strong. The company continues to make its mark in Canada, showing how passion and hard work come together.
Contact Information
Company Name: Perimeter Aviation
Address: 626 Ferry Rd, Winnipeg, MB.
Telephone No.: 1-800-665-8986
Website: https://perimeter.ca/
Facebook: https://www.facebook.com/PerimeterAviation
Instagram: https://www.instagram.com/perimeter_aviation/
Twitter: https://twitter.com/BearskinAirline