Air Asia airlines is the world's low-cost airline based in Malaysia. If you wish to become a flight attendant for this company, you may check our the detailed guide we've outlined below. These include the application process, requirements, qualifications and other important information in your cabin crew journey.
Being named as the Best Low-Cost Airline worldwide, AirAsia continues to offer low-cost airfares for their flights within Aisa for those travelers who are budget-conscious. This month, they are inviting male and female Malaysians to join them as cabin crew or flight attendants to serve their numerous flight destinations.
Many people aspire to become a flight attendant or essentially become part of a cabin crew because it's one of the few careers that allow you to travel across the globe. While working, you get the luxury of going to destinations you've never been to before and exploring different countries. On top of that, you also get compensated fairly well.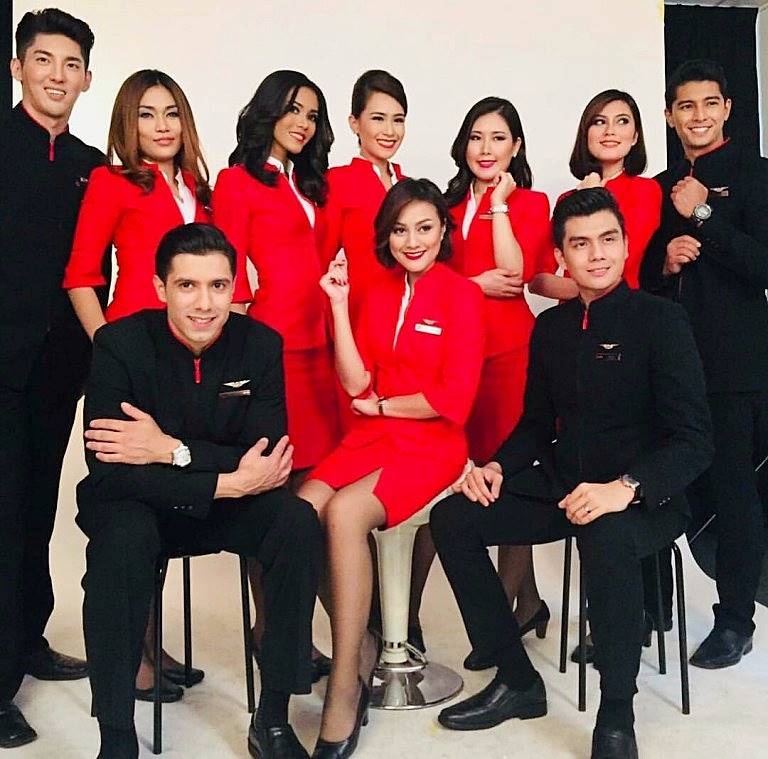 Overview
Air Asia is a low-cost Malaysian airline with flights and subsidiaries in Asia. Being among the leading airlines in South East Asia, it services over 165 destinations with flights to the Middle East, West Asia, and a notable few within Europe. It has been at the frontlines of innovation for decades now, with the prime goal of making flying affordable for everyone while prioritizing convenience and customer satisfaction.
Not only that, but Air Asia also aims to make frictionless digital travel a reality by utilizing ambient technology to maximize performance and resources.
For all these reasons, there's no doubt about how people want to become part of Air Asia's cabin crew. Its prestige and reputation as an airline can provide extensive opportunities for job-seekers, especially those who wish to pursue a career in this line of work.
Responsibilities
Being an Air Asia flight attendant comes with many responsibilities. More than the great perks and advantages the job has to offer, you also need to do well in your responsibilities as a cabin crew because you'll be dealing with passengers by prioritizing their safety and convenience throughout the flight. Some of your responsibilities include:
Reporting safety irregularities to the commander
Carrying out the commander's instructions and assisting him in the aircraft's safe operation
Educating passengers on the safety procedures of the aircraft
Carrying out pre-flight duties such as ensuring the cleanliness of the aircraft's interior, checking safety equipment on board, and more.
Attending to passengers' concerns and inquiries
Performing sales on merchandise, duty-free goods, beverages, and food
Reassuring passengers and ensuring that they follow safety procedures in the event of an emergency
Making sure that passengers leave safely at the end of the flight.
Qualifications
Becoming part of the Air Asia Cabin Crew can be quite a strict process. Early on, recruiters establish a set of standards to make sure that only the best-fitting candidates will land the roles. This helps them hire individuals who are in line with the company's goals and will carry out their responsibilities and duties with utmost competence.
To become an Air Asia Cabin Crew, you must:
Minimum 18 years old
At least be 168 cm tall for males, and 157 cm for females
SPM with credit in English
Fluent both in written or spoken English
Good communication skills
Well-rounded and outgoing personality
Dynamic Personality
Clear complexion – the airline would prefer if you don't have any visible marks on visible parts of your body. If you have one, it's okay as long as you can cover them with makeup without making it too obvious.
Those who are graduates of any discipline are also encouraged to apply in this opening.
Moreover, having exemplary aptitude in dealing with people across cultures, working with a team environment, and work experience is also leverage in landing the cabin crew job.
Having a charming and catchy smile is also a plus for recruiters. If you have braces, you can negotiate with them by telling them you will take them off when training officially starts. Good eyesight will be an advantage as well because it can be helpful to the nature of your job.
For those with poor eyesight, a clear contact lens is more recommended compared to eyeglasses. Colored hair is also okay as long as it's only one or two shades lighter or darker than your natural color.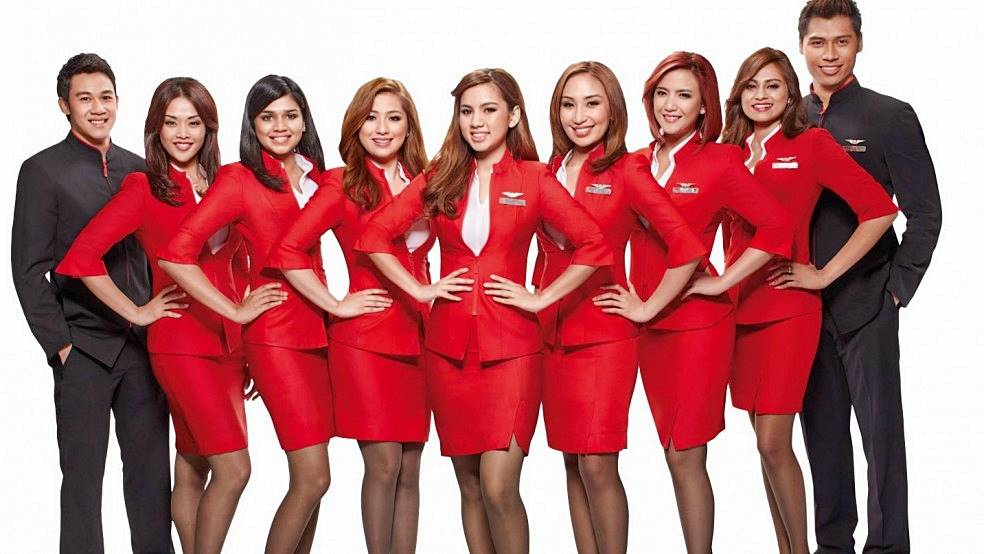 Document Requirements to Prepare
To help you answer the question regarding how to apply for Air Asia Crew Hiring, this article will walk you through some of the necessary things you need to consider before you accomplish the recruitment process. Most importantly, here are the documents that you should never forget when applying for the job.
Completed application form – You can apply for a cabin crew job in Air Asia on their official careers website at careers.airasia.com. Choose "Apply Now" and follow the instructions you will see there. Also, make sure that all your contact details, especially your contact number and email, are active and working. These will be where they will contact you if you land a slot.
Updated resume and CV.
Original and copies of Higher Education certificates or its equivalent
Original and copy of SPM with credits in English, or any substitute credentials
Original and copies of NRIC
Where to Apply for a Job for Air Asia Online?
You can apply for Air Asia Cabin Crew hiring online through their official page. There, you will have to fill up your application form online and then submit it. If you don't want to apply online, you can also wait for official announcements on their website or any of their social media pages in case they have Open-Day hiring.
Here is the Careers Page from the website: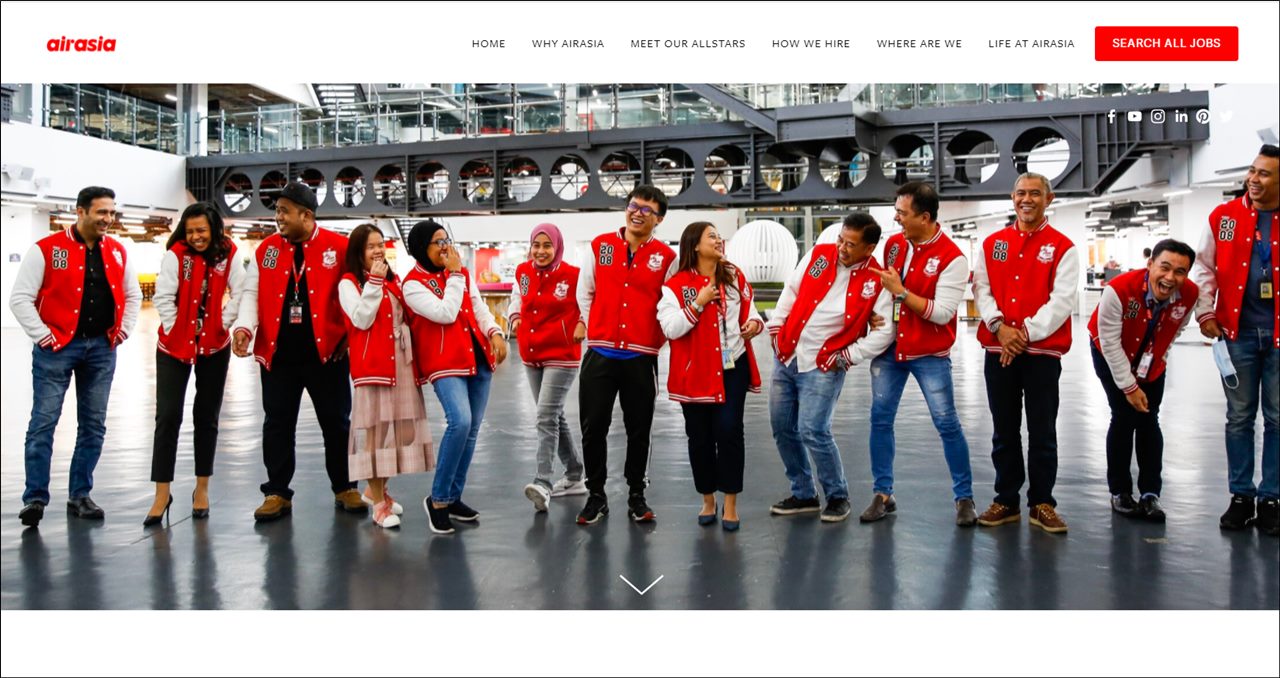 They also have a career page where they have various open jobs where you can apply for. All you have to do is upload your resume, and then the company will recommend a couple of available jobs that are open for hire. Then, you will have to choose among those on the list that perfectly matches your skillset and preferences as well.
How to Become a Cabin Crew for Air Asia
The interview is almost always vital in determining whether or not you get the job. However, before you get to that part, here is the step-by-step process you will have to go through before getting to the final interview.
Step 1. Update your resume and upload your application to their official website.
Upload all the necessary requirements to their career page like your updated resume, CV, and more.
Step 2. Wait until they reply. They will give you a schedule for screening and interview if you're qualified.
If your application gets chosen, only then will you be invited for an interview. Generally, they will schedule you for screening and interview if your profile perfectly matches the application.
Step 3. Proceed to the venue.
When going to the interview, dress appropriately by wearing business attire, preferably one with a knee-length skirt, sleeveless blouse and full make-up for ladies. No stockings are preferred, and you can also wear blazers if you want. On the other hand, a corporate attire is recommended for men alongside a short-sleeve polo and pants with blazers. This helps you establish a good first impression for the recruiters and look presentable and neat in front of them.
Step 4. Document and Physical check
The first thing that usually happens is a series of checks during the assessment day. Doing this helps eliminate airline candidates who are already unfit according to the airline's established criteria before completing the day.
Here, you will be undergoing a height check to ensure that you meet the height requirement of at least 168 cm for males and 157 for females. Your weight should also be proportionate to your height. If you do not reach this standard, you will immediately be turned away and won't be able to land a chance for an interview.
Other than that, Air Asia will also verify your documents. For this reason, it's necessary that you take all of the required documents with you, such as education certifications, a 1x passport-sized photo and 1x full body photo, a copy of your CV, and a copy of your IC as well. After checking, you will then be provided a number and will be asked to wait for a moment.
Step 5. Self-introductions
Once you've passed the document and height check, you will have to do at least a 10-second catwalk as part of the recruitment process. Such will involve you walking up and down in front of the recruiters while evaluating how professional and elegant your walk is.
Then, they will check whether or not your skin has any tattoos or scars visible on your legs, neck, hands, or face. In Air Asia, it's necessary that you don't have any of these marks visible while you're wearing their designated uniform.
After this, you will be asked to provide a simple introduction all about yourself. If you're multilingual, consider this an advantage because such a skill is essential to this line of work. At this point, confidence, positive body language, and preparedness are key for success. They will also tell you if you've successfully passed this stage, which, at this moment, will then move you towards the next step.
Step 6: English Test
To test your English fluency and comprehension of the language, some situations will need you to accomplish a 15-minute English test. Here, you will answer different questions that will examine your competence in grammar, syntax, and overall understanding of the English language. Once you pass, the recruiters will give you a job application form that you will need to complete.
Step 7: Group Activities
Those who have passed the English test will then be divided into groups, and each will be provided with an activity to accomplish as a team. Normally, performance is often asked of each group. This part of the hiring process will enable recruiters to see how well you work and cooperate with a team.
For this reason, you will have to make sure that you allow every member of your group to contribute their own part, show initiative while not being overpowering. Remember, your success in this round depends on your performance as a team player and not as a sole individual.
Step 8: Final interview
In the final interview, you will be facing two interviewers who will ask you a chain of questions. These questions typically include your CV, skills, experience, and the reason behind why you want to become an Air Asia Cabin Crew. Because of this, it is vital that you have done some prior research about the airline because candidates who are well-informed about Air Asia and its goals and values are more likely to stand out than the rest.
Moreover, remember to establish rapport and be as inclusive as possible when answering the questions. Ensure that you embody confidence, enthusiasm, professionalism, and personality throughout this process.
They will usually tell you that it takes about two to three weeks for them to reach you via email if you got the job or not.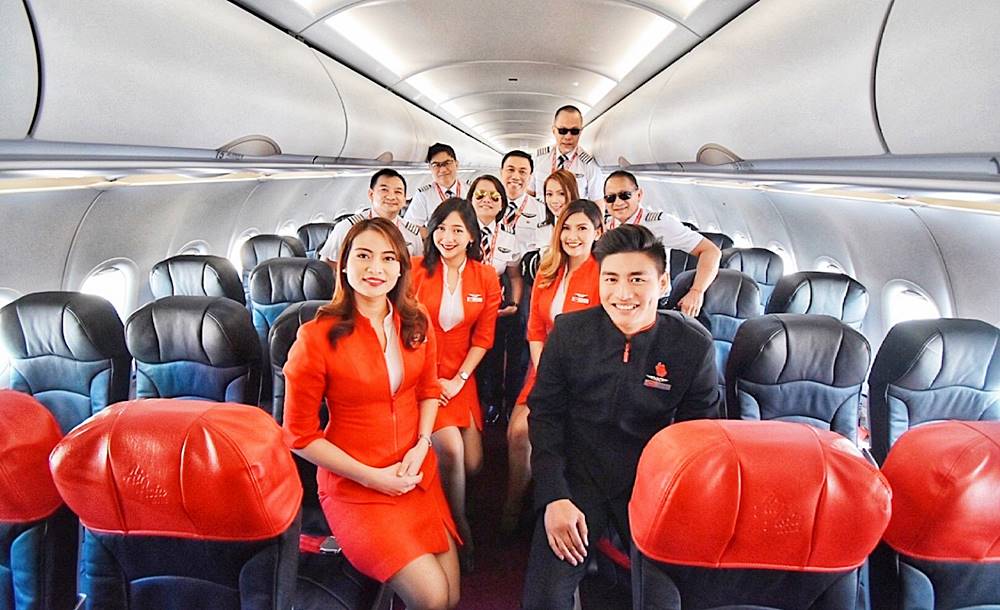 Monthly Salary of an Air Asia Flight Attendant
For Air Asia Cabin Crew salary, the basic pay compensation for the new scheme is about MYR 1000, (USD 238) with a MYR 10 (USD 2.5) for flying per hour. There are also sector allowances where you get MYR 20 (USD 5) and incentives of about MYR 10 for each hour.
For example, if you fly four sectors and clock six hours for a working day, then you will receive MYR 80 for your sector allowance, MYR60 for flying hours and an extra MYR60 if the performance incentive is achieved for a MYR 200 (USD 48) total each day.
Depending on seniority, average earnings can range from USD 600 to USD 1200.
Not only that, but Air Asia cabin crew also gets certain perks and benefits such as:
Free transport
Health insurance
Job training
Free food
Sales commission from merchandise, duty-free, beverages and food
International relocation
Team outings
Video: A Day in the Life of an Air Asia Crew
In this short yet informative and fun video, you will see how a typical day goes for an Air Asia cabin crew.
Here, you will know that being a cabin crew requires you to spend your day earlier than usual. It mostly begins with cross-checking documents, an important part of any cabin crew's day.
After getting ready, you will now have to proceed to the airline to get your day started. You will also have to check the notice board for any latest updates upon arriving, and meet with your fellow cabin crew for any necessary discussions or meetings.
Then, you reach the boarding gate to reach your second home as a cabin crew, starting your day in this field of work.
Photos: Air Asia Cabin Crew in Uniform
Check out these beautiful pictures of Air Asia flight attendants in uniform. If you wish to imagine yourself being part of this company, check out these photos to give you a glimpse of working for this airline:
Frequently Asked Questions
Here are some common questions and answers about the hiring process in AirAsia:
1. What happens when I'm below the minimum height requirement? Can I still pass?
There's a high probability that you may not be able to pass the first stage even though you are charming and have all the documents with you. Still, you may opt to give it a try.
2. What if I have freckles, pimples, or moles?
If you have pimples, we suggest that you proceed with the interview on days where you don't have a breakout. As for the other concerns, you're good to go as long as these can be concealed by makeup.
3. What should I do if I have braces on?
There are situations where those who have braces don't pass the first step of the recruitment process. Despite this, it's never wrong to still give it a try. You can tell them that you can take it out right before you begin your training?
4. Do I need to be a college graduate to apply?
Not necessarily. You only need to be a Senior High School graduate to be qualified for the position.
5. Where can I apply?
You can apply online, or simply wait for when Air Asia has its "Open Day Hiring."
6. What language should I speak?
It's better if you speak English or Filipino/Malaysia if you have domestic flights. Being fluent in English is a bonus especially if you have international ones. Moreover, are there times where an English test may be required of you before getting into the final interview?
7. Are exams during the training necessary?
Of course. Failing the exams may decrease your chances of becoming a cabin crew.
8. What do I need to learn in the training?
You need to learn plenty of things. These range from make-up, public speaking, first-aid, alongside a couple other important subjects.
9. How do I know that I can become a cabin crew?
After you're finished with training and were able to complete them all successfully, you are then offered a job. From here, you can now be considered an "All-Star."
10. How much is an Air Asia Cabin crew's salary?
Most of it depends on your allowances and flight hours. For more detail regarding this, the information is listed in the section mentioned above.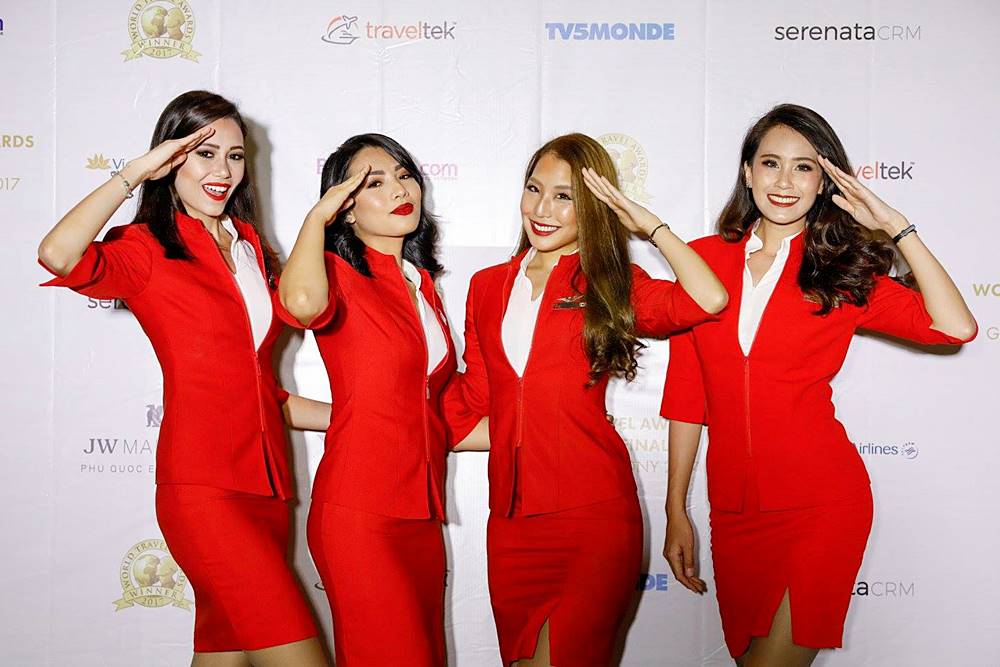 Summary
Before becoming a cabin crew in Air Asia, it's essential that you research what the company requires of its candidates so you can come to the interview prepared. This helps elevate your chances to secure the job and eventually proceed with training. Make sure that you exude confidence and give it your best throughout every step of the recruitment process, and that you have all the required documents ready beforehand.
If you are highly motivated and if you are someone who is passionate to provide excellent customer service to the millions of travelers that AirAsia is servicing, you could be the best candidate for this position. Do check out the different venues available in your area for a walk-in interview as a Cabin Crew.
Contact Information
AIR ASIA
Address: Jalan Pekeliling 5, Lapangan Terbang Antarabangsa Kuala Lumpur, 64000 KLIA, Selangor, Malaysia (main headquarters)
Telephone Number: +63286727886 (Philippines)
Website: https://airasia.com/
Facebook: https://www.facebook.com/airasiasuperapp
Instagram: https://www.instagram.com/airasiasuperapp/
Twitter: https://twitter.com/airasia