In working as a flight attendant, there are several things that you need to be aware of in order to provide excellent customer service. First and foremost, you must ensure the safety of the passengers. Secondly, you need to be attentive to their needs and be able to provide them with proper assistance. Thirdly, you should also know how to properly manage your time so that you can provide the best service possible.
Also Read: How to Become a Female Flight Attendant
If you've been thinking about pursuing your cabin crew dreams, we have a summary of Air Caraibes for you. Here, we'll be discussing Air Caraibes, one of the airlines in France. We'll be opening up on qualifications, responsibilities, documents, online applications, and more. Read more of the details below if you are interested in applying for the cabin crew position as this might help you a lot in your preparation.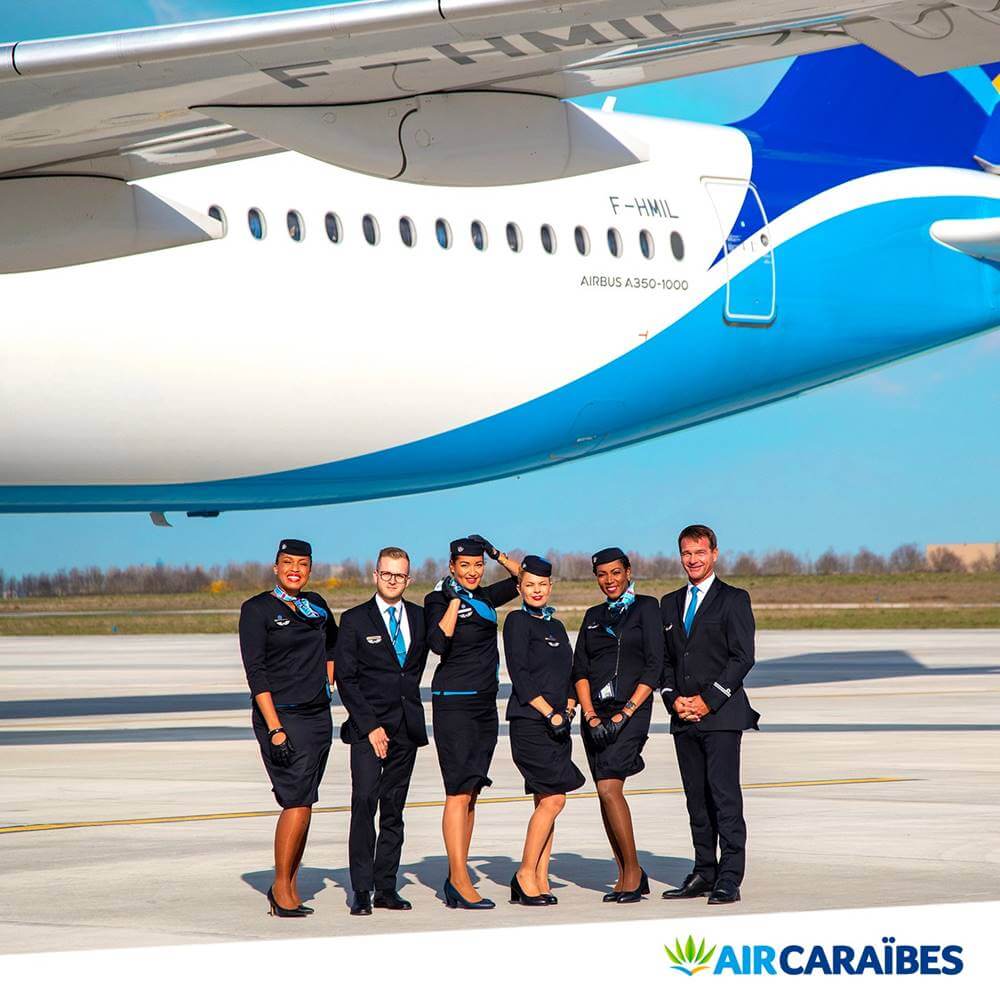 Overview of Air Caraibes
With its main office in Les Abymes, Guadeloupe, Air Caraibes is a French air carrier in the French West Indies. With a target city at Martinique Aimé Césaire Airport Terminal, close to Fort-de-France in Martinique, the airline's primary main base is at Pointe-à-Pitre Airport Terminal in Guadeloupe. It runs international flights from Paris Orly Airport in Metropolitan France as well as scheduled air services throughout the West Indies.
The airline opened the business in September 1994 under the name Société Caribéenne de Transports Aériens. The current Air Caraibes was formed in July 2000 through the acquisition of numerous local air carriers, Air Martinique, Air Guadeloupe, Air Saint Martin, and Air Saint Barthélémy, and was formed in reply to the air transportation necessities of the French Caribbean regions.
In 2000, Air Guadeloupe was procured by Groupe Dubreuil, which had firmly developed Air Vendée even before the carrier was obtained by Air France, revamping it as Regional Airlines. The airline carried 445,000 customers and made €68 million in 2002.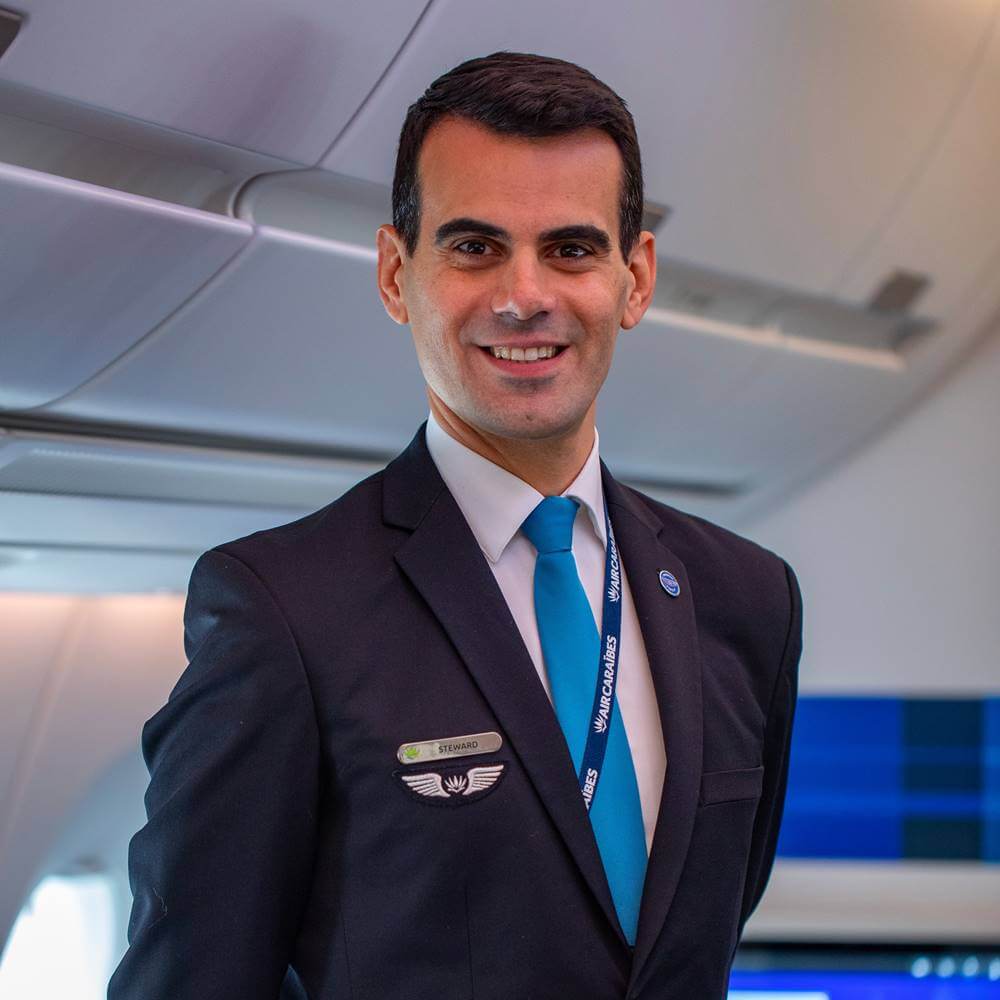 Responsibilities
Being a flight attendant isn't an easy job. Just because your clients are done with their flight doesn't necessarily mean you are done with your shift for the day. Flight attendants are responsible for many things before, during, and after the flight.
If you're ever considering applying, you must first understand what you'll be doing should you become a flight attendant for Air Caraibes.
You have to adore teamwork
Have a relationship of service and contact
Possess a high degree of adaptability
An understanding of your duty
Be sympathetic
Exercise politeness.
Must be patient
Give a detailed report of the flight
Check and make sure the passengers are well taken care of
Be on time for any work-related occasion.
Possess strong physical and mental stamina
Being able to maintain composure in any workplace circumstances
Having the ability to communicate clearly and politely
Accommodate those who need special help, such as children and elderly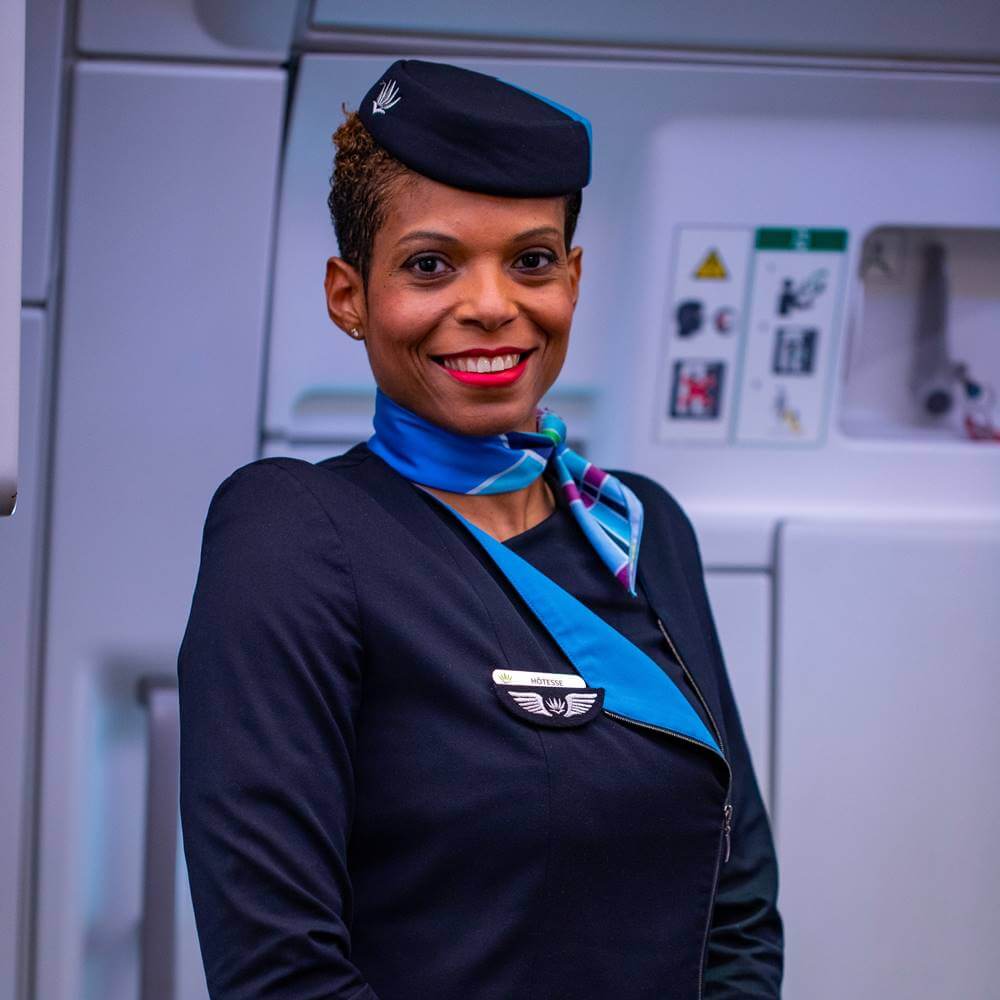 Qualifications
Before moving forward with the application process, it's essential to know whether or not you're qualified for the position. Failing to check before you submit it can result in wasted time for both you and the hiring company. That being said, here are some of the things Air Caraibes requires its employees to have.
You are required to be at least 18 years old at the time of your application.
You have to be a high school graduate at least and can present your diploma or something equivalent to this.
You must have a valid Canadian passport without any restrictions.
You must have no affiliation with other airlines while an employee at Air Caraibes.
You must possess a CCA, with the practical component completed or in the course of being acquired, or a European equivalent.
You must have a medical aptitude certificate (Type 2 or CEMPN) that has been granted for at least two years.
You're required to have past cabin crew experience.
English: B2 or minimum TOEIC 750
You must present yourself with grace at all times.
Possess a high degree of autonomy
Effective awareness of your availability
Speaking Spanish is a plus
Document Requirements to Prepare
Now that you've gotten a sense of what you'll be doing and needing, it's time to expound further on the qualifications for this position. Of course, in any application, you'll be required to submit some papers. That being said, if you're applying for this position, what documents do you actually need to prepare? Well, here's a list we compiled to make your application process as smooth as possible.
Birth certificate
Valid EU passport
Updated criminal and dental record
High school diploma
Updated CV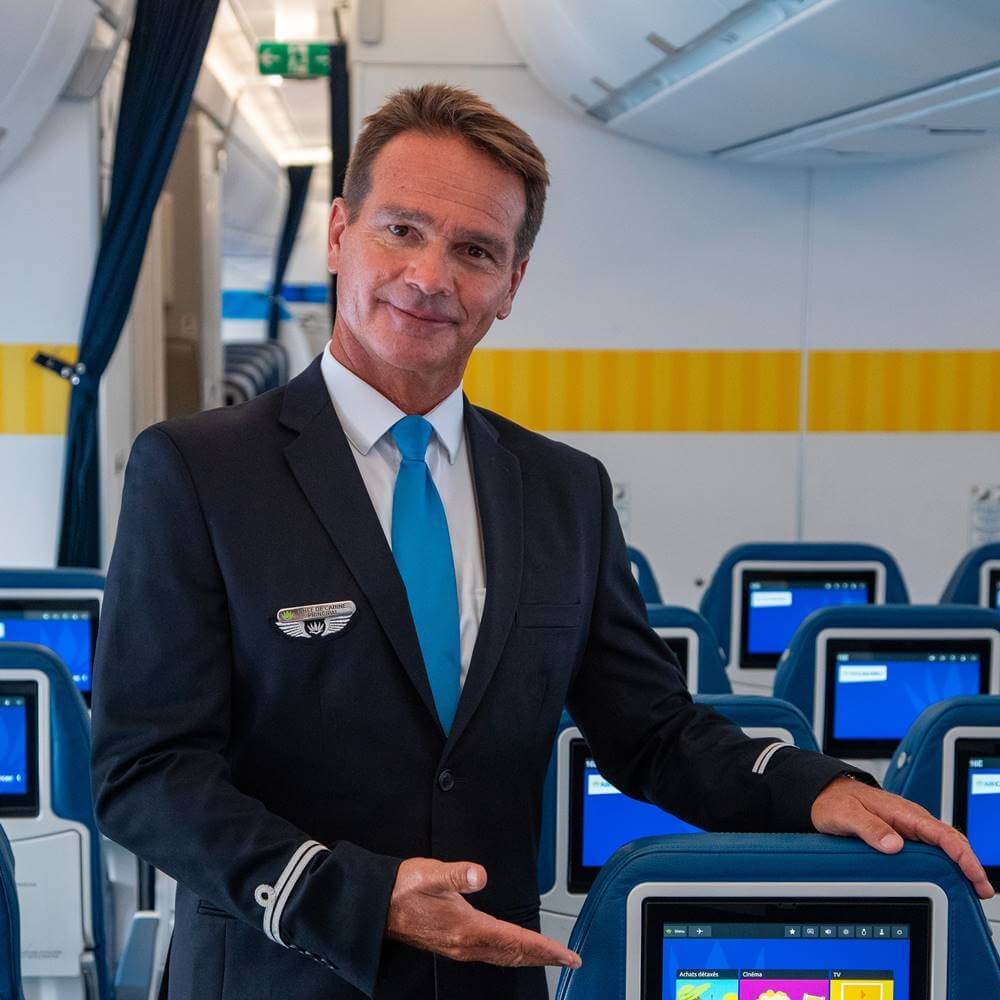 Where to Apply for a Job for Air Caraibes Online
If you're interested in learning more about the company and its requirements for its applicants, you can always take a peek at their careers page. In there, you can gain more access to everything Air Caraibes-related. It can also help you prepare in advance for any updates or changes regarding your application.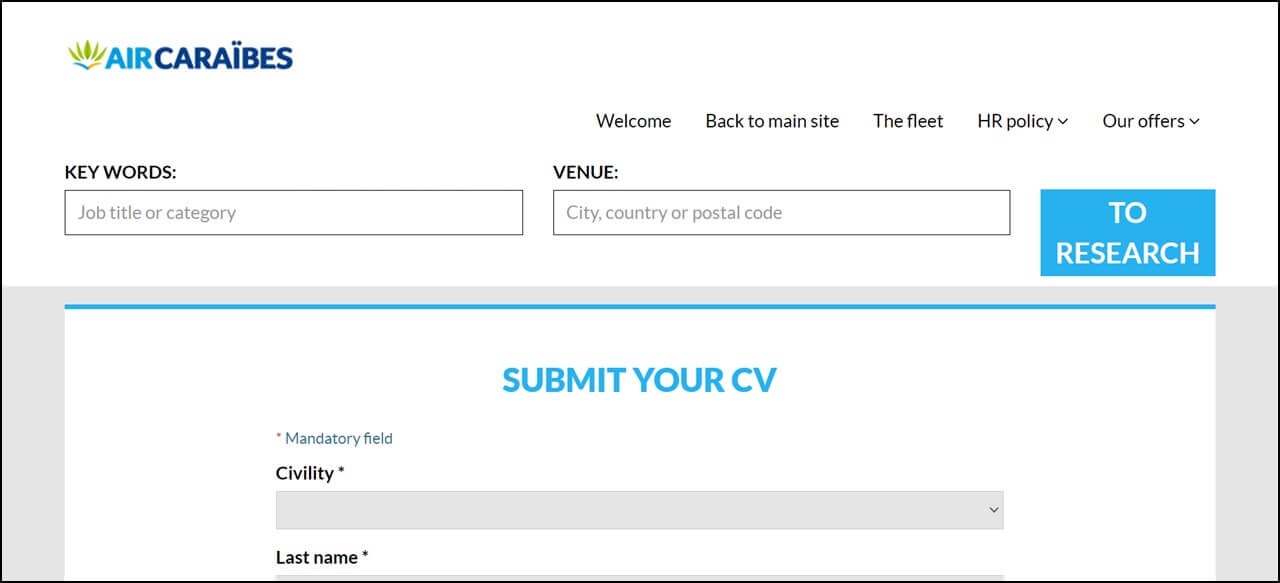 Please click HERE to access Air Caraibes' Careers Page and to enter your application.
How to Become a Cabin Crew for Air Caraibes
Below are easy-to-follow guidelines on how to become a flight attendant for Air Caraibes.
Step 1: Prepare your documents.
If you're still confused about what to prepare for your application, you may refer to the document requirements to prepare in the section before this.
Step 2: Go to their website.
Once you're on their website, go and make sure there's an opening spot for the position you wish to apply for. If the position is available, then you can start preparing your documents. Make sure they're all complete since they will be submitted together.
Step 3: Submit the documents
Once you've fixed all the documents needed, you can now submit your application. Once again, always double-check and ensure that all the information you're submitting is correct. After submission, you'll have to wait for any updates regarding your application. If accepted, they'll inform you about what you'll have to do for the next interview phase.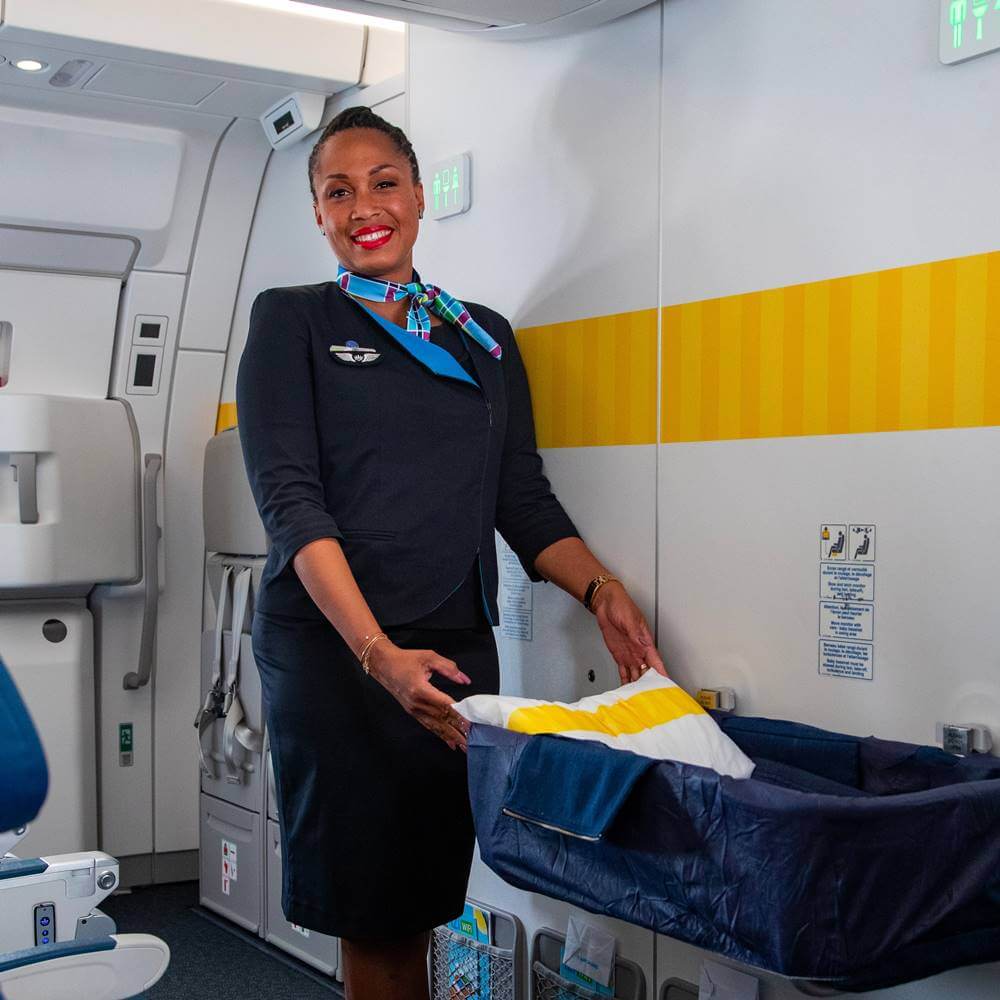 Monthly Salary of an Air Caraibes Flight Attendant
Before taking the job, it's always important to always discuss salary. You have to ensure that the company is able to supply your monthly needs. This is one of the essential parts before applying. Similar to the qualifications, the monthly salary can be the deal breaker on whether or not you'll apply for the job.
That being said, should you work as an Air Caraibes flight attendant, you'll get a monthly salary of $1960. This is the most basic pay, meaning that it can increase if you count paid leaves and such. They also give their employees benefits, such as travel perks, health and dental insurance, the opportunity to travel, and much more.
Video: Air Caraibes' First A350 XWB
Are you interested in learning more about the company? How about learning more about one of their planes? Specifically, the company's first A350 XWB. If this seems to catch your attention, then you can check the video down below for more information.
In this video, you can see how the plane was put together, how the team worked on it, and how it all came together in the end ready for passengers. This video is a great example of teamwork and how everyone can contribute to a project, no matter what their role is.
Photos: Air Caraibes Flight Attendant Photos
Below are some photos of Air Caraibes flight attendants in uniform. These can help you get an idea of what they wear, how they look, and their general aesthetic. Their uniform is designed to help them look professional as well as be comfortable in performing safety and emergency-related duties.
Frequently Asked Questions
The top most commonly asked questions are listed below to help you find out if you meet the some of the basic requirements in working for Air Caraibes as a flight attendant.
1. What is the minimum height required to be able to apply to Air Caraibes?
You should be at least 5 feet 2 inches.
2. Does the company allow you to have tattoos?
The company does allow its employees to have tattoos as long as they can be covered by the cabin crew uniform.
3. Are you required to know how to swim?
You must know how to swim at least 25 meters without any help.
4. What is the minimum educational attainment for Air Caraibes applicants?
The company requires you to at least be a high school graduate or something equivalent to this. They will also be asking for your diploma as proof.
5. Does the company allow the employees to have piercings?
The company does allow the employees to have piercings as long as they are not in any visible places and can easily be covered.
6. much can an Air Caraibes flight attendant earn?
Air Caraibes employees have a monthly salary of $1960. This does not include any benefits yet and is the most basic pay.
7. Does the company allow first-timers to apply?
Sadly, the company does not allow first-timers to apply and requires the applicants to at least have some experience.
8. What language does Air Caraibes require its employees to be proficient in?
The company requires you to be proficient in writing and speaking in English or French. They consider it a plus if you know other languages.
9. What is the minimum age allowed to apply for Air Caraibes?
You are required to be at least 18 years of age at the time of application.
10. Can your salary increase?
Your salary can increase with promotions, paid leaves, and much more.
Summary
Whatever your dream is, you're bound to encounter struggles along the way. And while this is unavoidable, you can overcome it as long as you never give up. The same can be said for those of you aiming for a cabin crew position.
That being said, we hope you were able to gain loads of information from this article and are able to use it for your future application to Air Caraibes. We wish you all the best and hope you get the position you're aiming for.
Contact Information
AIR CARAIBES
Address: 4 Rue Croix Nivert. 75015 Paris. France
Telephone Number: 0-820-000-470
Website: https://en.aircaraibes.com/en
Facebook: https://www.facebook.com/aircaraibes/ 
Instagram: https://www.instagram.com/aircaraibes/?hl=en
Twitter: https://twitter.com/aircaraibes
LinkedIn: https://gp.linkedin.com/company/air-caraibes