Are you interested in becoming a part of Air Tahiti Nui's cabin crew but don't quite know where to start? This guide discusses the hiring process for the airline's flight attendants and cabin crew, with essential information about the requirements, qualifications, and process of application.
Also Read: Flight Attendant Travel Blogger – Blog about My Travel Experiences
Air Tahiti Nui is an airline company that has been crowned as a Five-star major airline in 2019 because of its excellent services and amenities. Until now, Air Tahiti Nui strives to connect people to different parts of the world, all in the name of Tahitian hospitality and comfort.
Read on as you discover all about this airline company, how to apply, and what you should keep in mind during your application journey to becoming a flight attendant.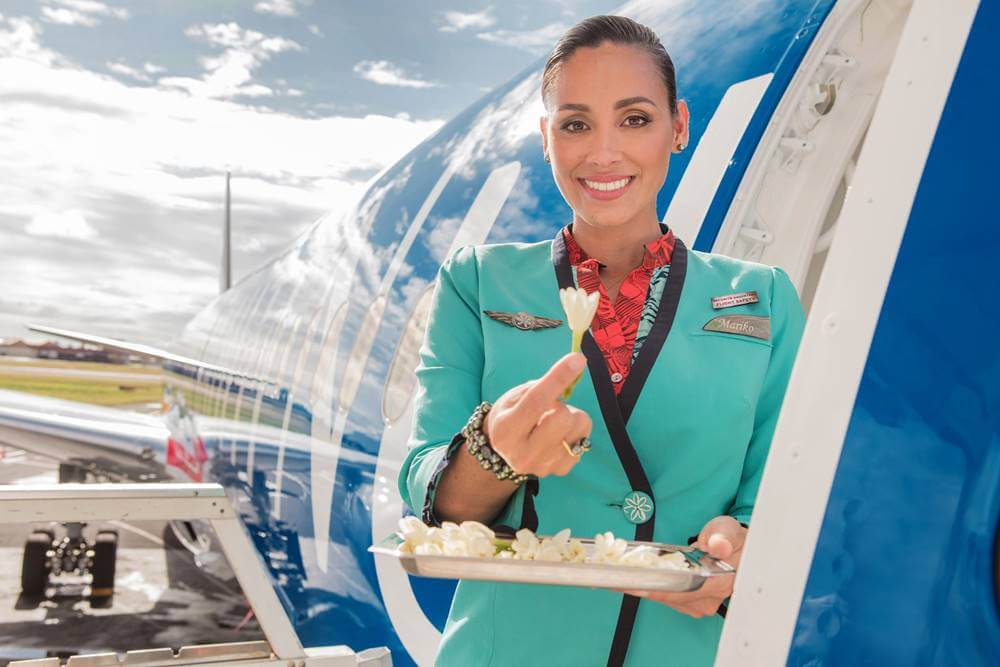 Overview of Air Tahiti Nui
Air Tahiti Nui was founded in 1996 to connect the world to the beautiful islands of Tahiti. The airline is the flag carrier of French Polynesia, with its main headquarters located in Papeete and everyday operations held in Faaa, Tahiti. Currently, Air Tahiti Nui schedules long-haul flights from the Faa'a International Airport with the Boeing 787 Dreamliners fleet.
Air Tahiti Nui takes great care to exemplify the beauty and hospitality of the Tahitian people in every way they can. The cabin crew makes sure to render quality and attentive service to passengers to ensure maximum comfort and satisfaction during their flight.
The airline also takes pride in following the Corporate Social Responsibility Approach in its operations, prioritizing sustainable development in the company's mission and goals. As a reputable five-star airline, it's no surprise how Air Tahiti Nui has also bagged several recognitions and awards, such as the Regional Passenger Choice Award or World's Best Airlines, due to its relentless efforts to make the in-flight experience better and accessible for everyone.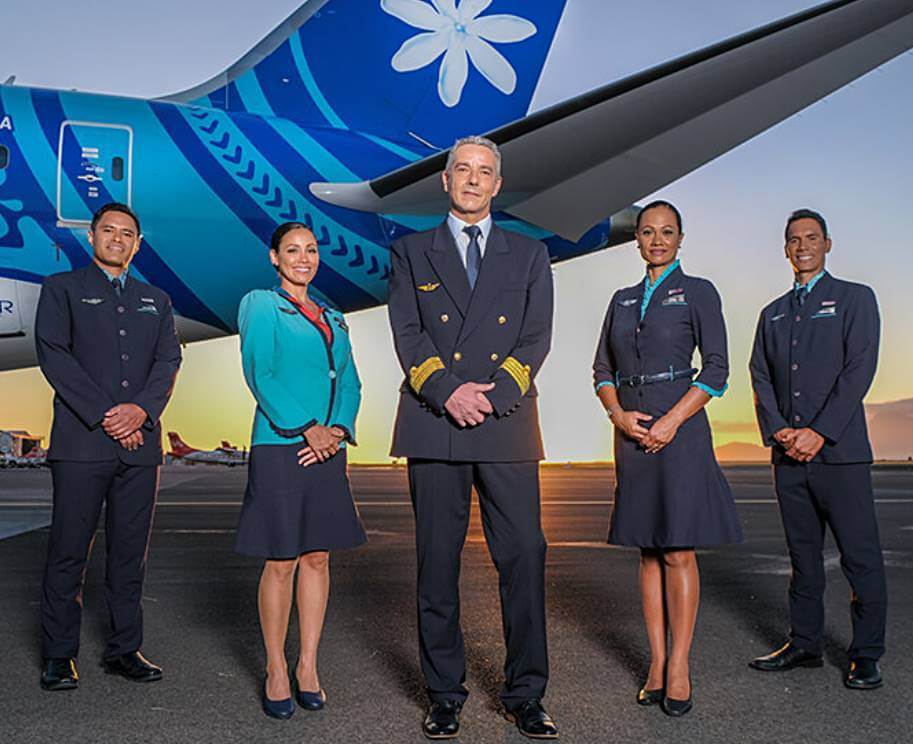 Responsibilities
It's vital to know the responsibilities you'll be shouldering before immediately applying for a certain job position. This is especially true if being a flight attendant is your dream career since you have to deal with many tasks and duties during the course of a single flight. As a flight attendant, you carry the face and reputation of the company, which is why your behavior needs to reflect the airline's ideals and mission. Moreover, knowing your responsibilities helps you gauge whether or not this is a job worth pursuing and if your skills perfectly fit the responsibilities required of you once you apply for this position.
If you want to be a flight attendant, you must first and foremost be more than prepared to take on the following duties:
Ensure passenger security and safety during flights
Delivering meals and beverages
Tending to customer's concerns and queries
Extending assistance to those who need it, particularly the elderly and the disabled
Greeting and welcoming passengers onto the flight
Efficient handling of communication or emergency equipment
Manage uncomfortable and emergency situations professionally
Write in-flight reports when necessary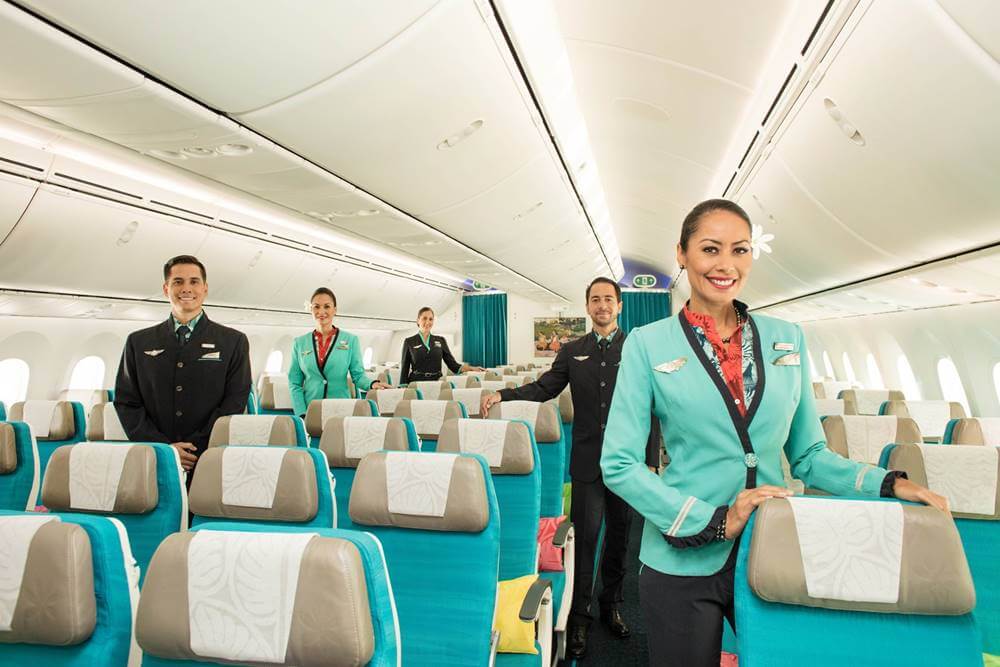 Qualifications
Air Tahiti Nui stays true to its mission by constantly striving to deliver its best in terms of customer service and satisfaction. With long-standing projects underway, the airlines put great importance on selecting the right candidates that will make it into their team. As a flight attendant, your main responsibility is to interact with passengers, which is why it's necessary for the airlines to make sure that the position is given to someone who has the appropriate skills and determination to do their job right and efficiently.
The recruiters mainly base on a specific set of criteria to know whether a job candidate has the potential to offer something valuable to the company; it's also the initial screening phase where you're assessed regarding your capabilities. Here are the qualifications you need to meet before applying.
Must be at least 18 years old to apply
Fluent in written and spoken English
High school diploma or equivalent
Work experience is an advantage
Can work under pressure
Can manage time efficiently and work well within groups
Detail-oriented skills
Flexible and adaptable in terms of working shifts, even on holidays or weekends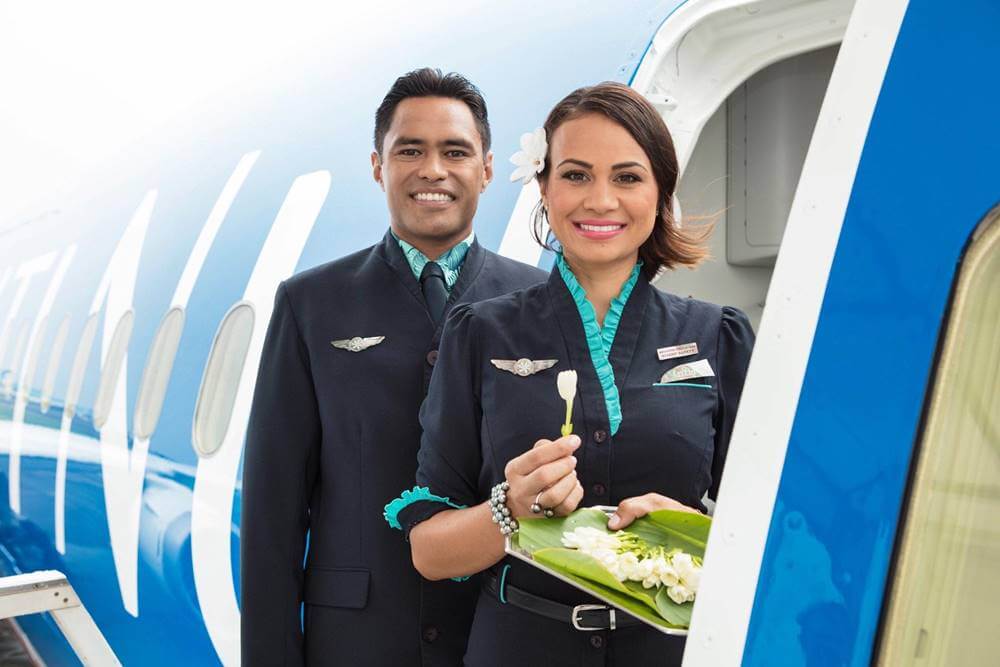 Document Requirements to Prepare
Apart from the responsibilities and qualifications of being a flight attendant, you also would need to prepare certain documents that can serve as proof of your experience and skills. These documents are evaluated and gauged, allowing hiring officials to know a bit more about you based on your achievements and work experiences. It's also best if you try and prepare your documents beforehand so you won't be met with inconveniences along the way.
Updated CV/resume
Valid passport
High school diploma
Clean criminal record
Where to Apply for a Job for Air Tahiti Nui Online
You can apply for a flight attendant position at Air Tahiti Nui online through its Careers site, where you will be redirected to a page full of job listings which you can apply for. You can also try following Air Tahiti Nui's social media channels so you can keep posted about upcoming announcements and information about the job application or hiring process.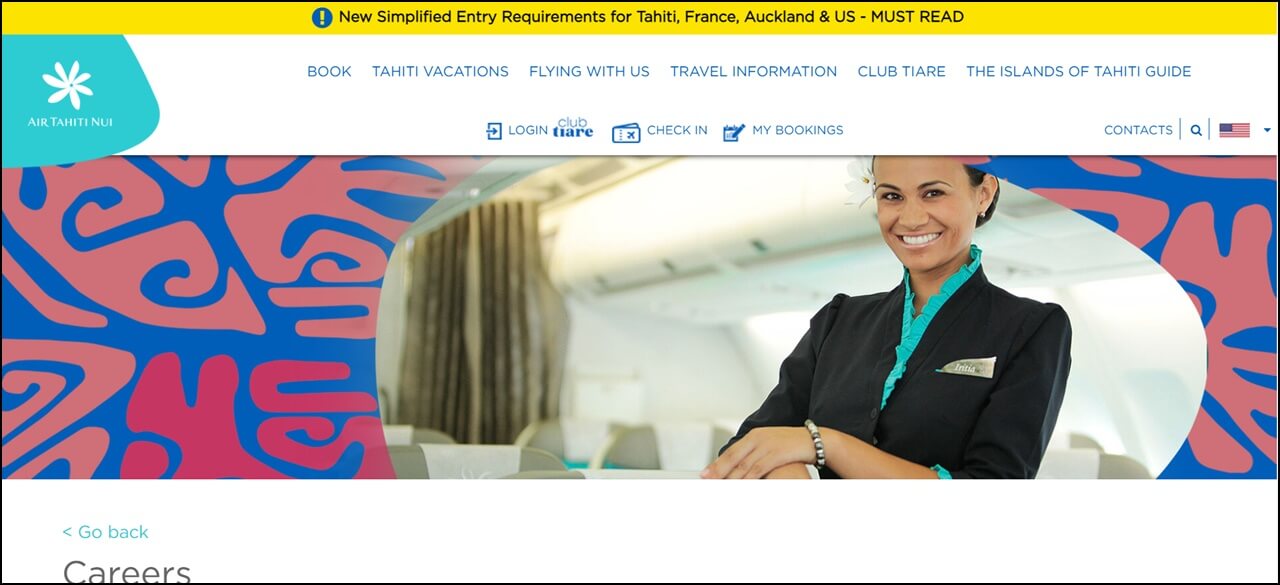 How to Become a Cabin Crew for Air Tahiti Nui
Follow the simple instructions below on your way to becoming a flight attendant for Air Tahiti Nui.
Step 1: Visit the Careers page.
One of the most convenient ways to apply for a vacant flight attendant job at Air Tahiti Nui is through online. To do this, you'll first have to visit Air Tahiti Nui's official website, then click on Careers. This will redirect you into an entirely new page filled with job vacancies and listings.
Step: 2 Select preferred job.
Once you already have the list of job vacancies or positions on your screen, you'll need to choose the job you want to apply for, which is cabin crew or flight attendant. It usually shows specific details about the nature of the job, including the requirements, qualifications, and steps you need to follow during the application. Read every single tidbit of information carefully and thoroughly in case you miss something important.
Step 3. Finish and submit the application form.
Accomplish the application form and fill in what's needed truthfully. Your application will serve as a basis for how they may reach out to you if you're successful in proceeding to the next steps. Don't forget to upload or attach the necessary documents as well. Click submit once you're all done.
Otherwise, you can also submit your resume at HR.US@airtahitinui.com.
Step 4. Wait for them to reach out.
Now that you've submitted your application form, all you have to do now is wait patiently until you receive a call or an email. You will be notified whether or not you passed the initial screening, and they will give you instructions about how to move forward from there.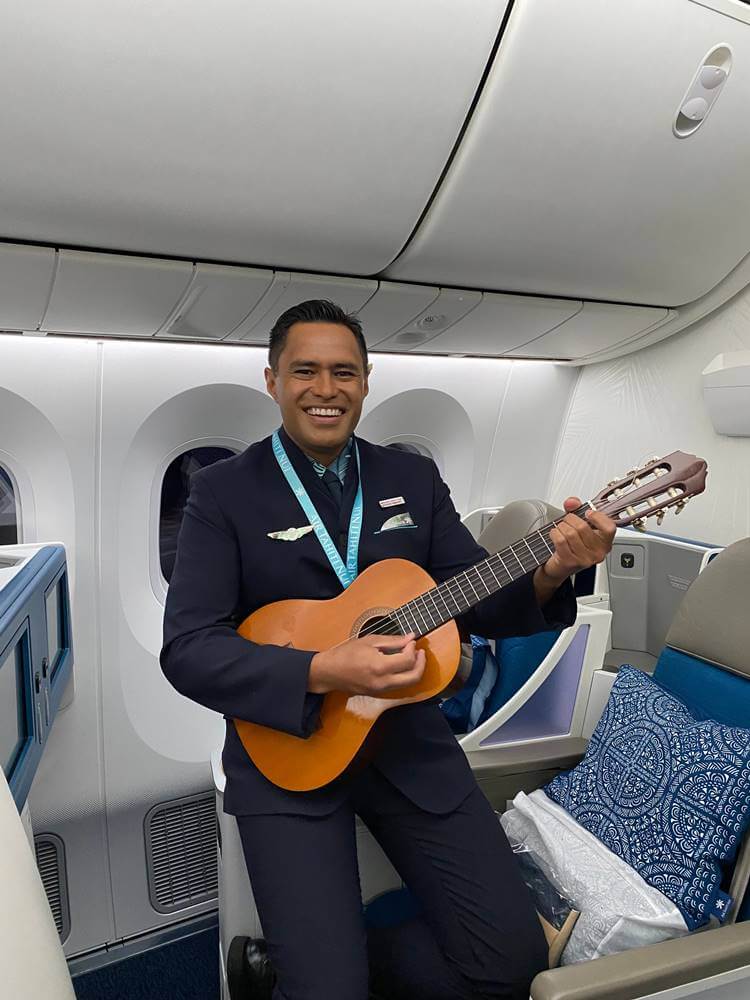 Monthly Salary of an Air Tahiti Nui
A flight attendant of Air Tahiti Nui can expect to earn around €1,651 per month. This already includes various work benefits or perks such as discounts and insurance as well.
Video: Air Tahiti Nui Safety Video
The video below is a safety video of Air Tahiti Nui. Watch it carefully to get an idea of what you need to do as a flight attendant in case of emergency.
The video is being narrated by Air Tahiti Nui flight attendants. It goes through the different safety procedures in detail, such as how to use the seatbelt, where the emergency exits are located, and what to do during turbulence. After watching this video, you should have a clear understanding of what is expected of you as a flight attendant.
Photos: Air Tahiti Nui Flight Attendants Photos
Below are some photos of Air Tahiti flight attendants in uniform. The uniform is meant to look stylish and professional in order to uphold the positive image of the airline. They are also meant to be comfortable for flight attendants to wear as they go about performing their duties in service and safety aspects.
Frequently Asked Questions
Some common questions applicants ask when applying for the cabin crew position for Air Tahiti Nui are listed below. Find out if you are qualified for the role by reading the section below.
1. What age should I be to apply?
You must at least be 18 years of age in order to be eligible for applying.
2. Is Air Tahiti Nui a good airline?
Yes. Air Tahiti bagged the Major Airline 2021 category by winning five stars among 600 other airlines.
3. Is there a height requirement?
There isn't necessarily any height requirement for application, though most airlines tend to set a minimum height requirement of at least 5'2" to 6'3."
4. Where is Air Tahiti Nui's headquarters located?
The airline's headquarters are located in Papeete, French Polynesia.
5. What are the skills needed to become an Air Tahiti Nui flight attendant?
Some skills you need to have as a flight attendant in Air Tahiti Nui are fluency in oral and written English, capability to handle emergency situations, flexibility in working shifts, and being able to work under pressure.
6. How much do Air Tahiti Nui flight attendants earn?
On average, they earn around €1,651 monthly.
7. Is a college degree required?
A college degree isn't really required before applying since a high school diploma would often suffice. However, having a college degree is an advantage.
8. How can I apply for Air Tahiti Nui?
You can apply as a cabin crew for the Air Tahiti Nui airlines by directly applying on their official site or by sending your resume to their email at HR.US@airtahitinui.com.
9. Is there training for flight attendants?
Yes, there usually are training for flight attendants to hone their skills and confidence when facing real-life situations and emergencies during flights.
10. What are my responsibilities as an Air Tahiti Nui cabin crew?
As an Air Tahiti Nui cabin crew, you are mainly responsible for assisting customers, ensuring their safety and security, making routine flight checks, delivering refreshments or meals, and writing in-flight reports when necessary.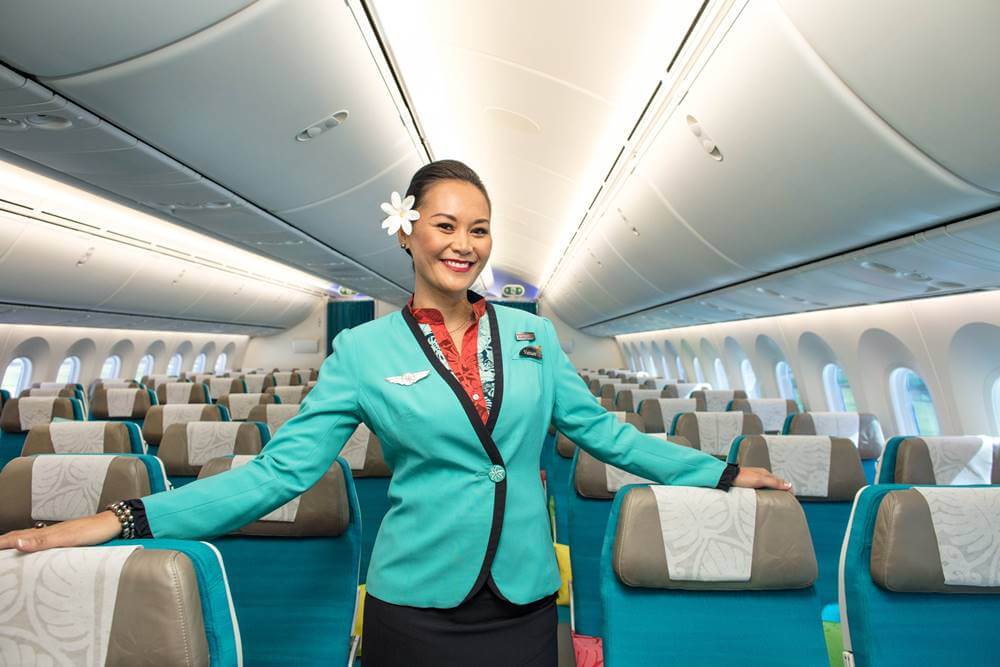 Summary
Being a flight attendant is a great career since it exposes you to many opportunities, people, and places you've never been to before. However, the job can also be extremely tough since it involves being in motion a lot, not to mention that you also have to ensure the security of your passengers at all times. Nonetheless, it's a fulfilling job, especially when you love what you're doing. By following the information listed in this guide, you can expect to secure a position as a flight attendant on Air Tahiti Nui.
Contact Information
AIR TAHITI NUI
Address: (of main headquarters): Papeete, French Polynesia
Telephone Number: 1 (877) 824-4846
Website: https://www.airtahitinui.com/
Facebook: https://www.facebook.com/AirTahitiNui/ 
Instagram: https://www.instagram.com/airtahitinui/?hl=en
Twitter: https://twitter.com/AirTahitiNui