If you are looking for a job as a flight attendant for Gulf Air, please follow the instructions below to submit your resume and application. We have outlined the steps, requirements, tips, and guidelines on how you can become a cabin crew for this airline.
Gulf Air is looking for candidates who are enthusiastic and customer-oriented. Gulf Air is a premium regional airline. It is also the state-owned airline and the flag carrier of the Kingdom of Bahrain. If you wish to join Gulf Air, you need to be based in Bahrain and must have at least two years of relevant experience.
When looking for the perfect job, there are times that you find yourself looking for an overseas job that can sustain your needs. But what if you have been dreaming of hopping from country to country while you do what you love?
Speaking of working in different countries, being a flight attendant is just the perfect position. Whether you are a graduate of a tourism degree or not, you can always try your luck if you think you are qualified for the position you are applying for. If you are looking to get a job at Gulf Air, here's a comprehensive guide to becoming a cabin crew for Gulf Air.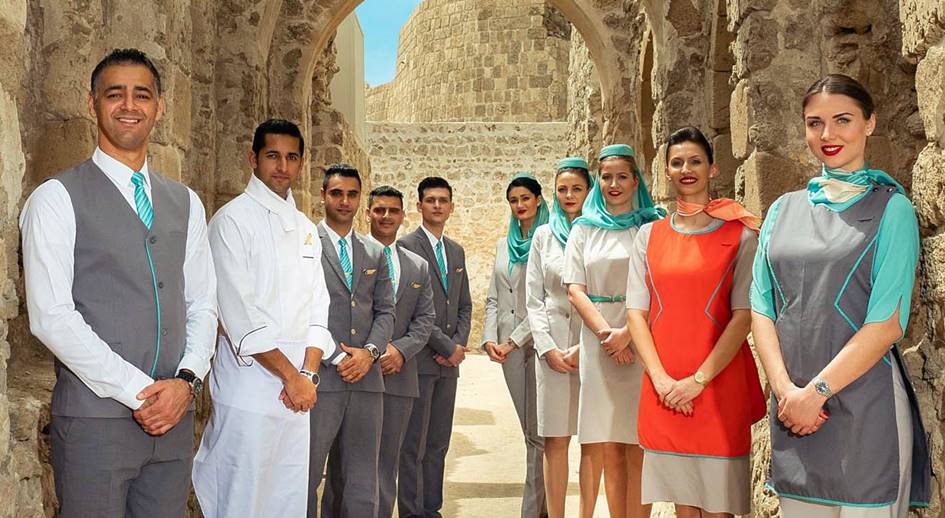 Overview
Gulf Air is an airline located in Bahrain. Located specifically in Muharraq, it started its operations in 1950 and is the first-ever commercial airline in the Middle East. Currently, Gulf Air operates in 49 cities found in 27 different countries. This airline also does double day-to-day flights or more to select regional cities.
Furthermore, Gulf Air is reputed for its "Arabian Hospitality." This is evident in its products that are friendly for both family and business guests. And to date, they have 33 aircraft connecting Bahrain to the rest of the world.
Besides, becoming a flight attendant is one of the best jobs out there. After all, you can travel the world and enjoy the many perks that your job has to offer. So, if you have a pleasing personality, great customer service skills, and have what it takes to become a cabin crew member, continue reading this article to find out the requirements and skills you need for the job.
And in this article, we will guide you through everything you need to know when applying as Gulf Air's cabin crew member.
Responsibilities
Gulf Air cabin crew members should guarantee their passengers' safety, satisfaction, and comfort. This is whether they're still on the ground or during mid-flight. A total of 2000 male and female cabin crew members from all walks of life work together to commit to Gulf Air's mission and vision as a dedicated airline.
Here is the list of responsibilities a Gulf Air cabin crew down below:
Should exceed customer and Gulf Air's service expectations
Must represent the airline properly to gain loyal customers and continued support for the airline
Must professionally and considerately adhere to safety and emergency requirements
Must be well-versed with the contents found in the airline's cabin crew manuals
Must be presentable at all times by adhering to the airline's grooming standards
Has the ability to perform under pressure even under limited periods
Guarantees that all the passengers' needs are met through enthusiastic and professional means and by being aware of cultural differences and special needs
Has the ability to resolve conflicts calmly and confidently
Must have the initiative to make the necessary actions and decisions when needed
Can analyze problems and make sound judgments with the applicable information
Must use understandable means of communication
Display and convey an awareness of organizational problems
Retains proper work behavior even amidst problems
Must be fully aware of the airline's quality standards and service
Other flight attendants may also have to do additional duties depending on their service. For instance, Gulf Air boasts about being the first-ever airline to introduce their Sky Nanny Services. Sky Nannies are flight attendants in charge of taking care of children up to twelve years of age for longer flights.
These Sky Nannies are chosen female cabin crew members who undergo a particular training program that provides these members with much-needed knowledge to care for children.
Furthermore, there are two uniforms to distinguish the flight attendants in this airline. The blue uniforms are for the general flight attendants, while the orange ones are designated for the Sky Nannies.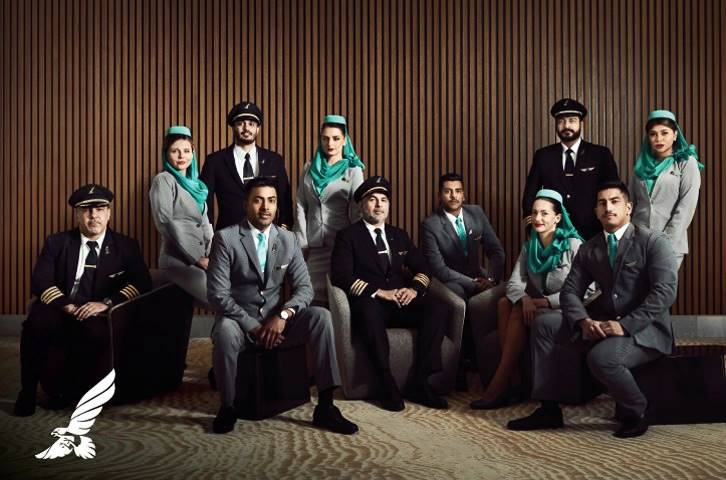 Qualifications
Of course, a flight attendant needs to meet the requirements indicated by the airline. Therefore, before you apply for the job, make sure to review all the qualifications to ensure that you meet all of them before you proceed with your application.
Depending on the airline, there might be varying requirements and stricter ones implemented in place. To become a Gulf Air flight attendant, you must meet the following requirements listed below:
Age: 21- 30 years old
Height: Must be at least 160 cm or 5'2″
Weight: Must be in proportion to your height
Education: Secondary Level
Can work calmly even if under pressure
Must have a pleasant personality and manner
Must not have visible scars or tattoos
Can swim without aid in a minimum of 50 meters of water
Knows how to deal with people and organizations of various cultures
Has a good standard in speaking, reading, and writing English
Must be customer service orientated
Besides meeting the following qualifications stated above, applicants with experience in the service industry also hold an advantage for this job position.
Document Requirements to Prepare
Although the application process is done online, shortlisted applicants for the interview process must submit the necessary documents for their interview. So, when you decide to apply as Gulf Air's cabin crew and get invited for the interview stage, you must prepare the following documents with you below:
Passport with a validity of at least six months
Two colored passport size photos
One colored full-length photo
Your Curriculum Vitae (CV)
Your high school and other educational certificates
References (if you have any)
Invitation to interview
Where to Apply for a Job for Gulf Air Online?
To date, Gulf Air only accepts applications via their online application process found on their official website. If you want to apply for a job for this airline, you can visit their Job Search Page on their website through this link: http://jobs.gulfair.com/vacancy_details.aspx
From there, you can scroll through their list of job vacancies. If you are applying to become a flight attendant for this airline, you can click on the job title, which states "Flight Attendant" job position.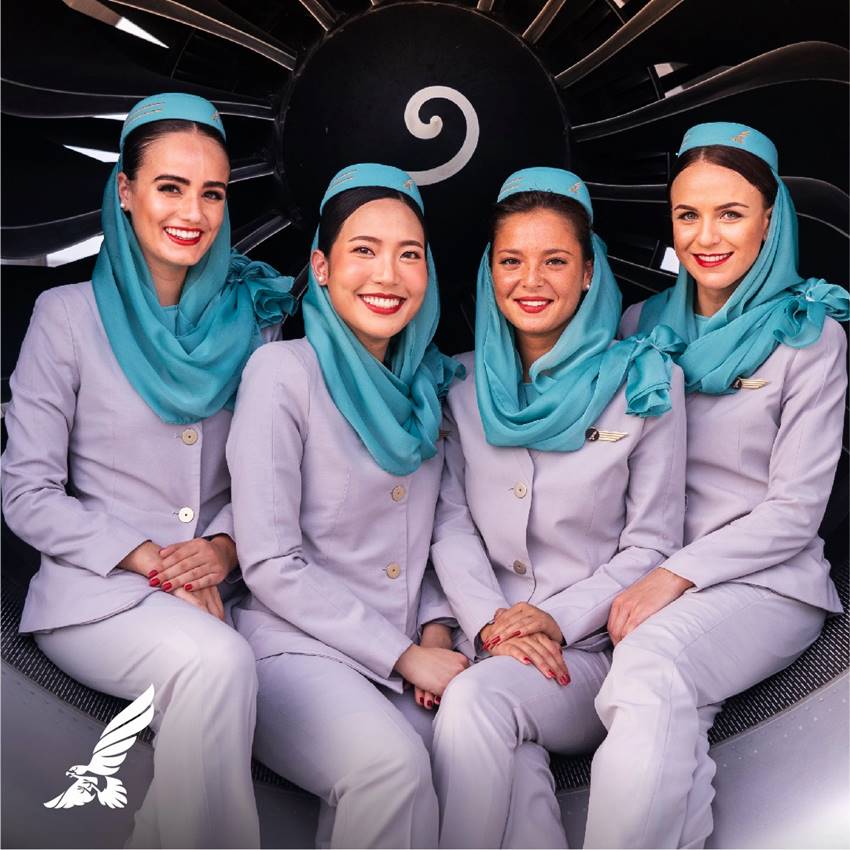 How to Become a Cabin Crew for Gulf Air
You can apply through Gulf Air's online website in their Job Search page to become a cabin crew for Gulf Air. Here's a helpful step-by-step guide that you can follow for their online application process down below.
Step 1: Visit Gulf Air's website. Scroll down their website and click on "Careers" under the "About Gulf Air" section.
Step 2: From the top of the Careers Page, click on the "Job Search." The Job Search page requires you to answer a simple addition equation. If you get it wrong after three attempts, the website will automatically close.
Step 3: Next, select the division of the job you are applying for in the Division dropdown menu. You may also enter the reference number of the job you want to apply for if you happen to know it.
Step 4: To narrow down your searches further, you may select your preferred working location through the Location dropdown menu. Finally, click on the Search button.
Step 5: Afterward, select the job title that says "Flight Attendant."
Step 6: Once you finish reading the list of responsibilities and qualifications, click on the "Apply for the vacancy" button.
Step 7: Fill out the form as instructed by the site and attach your updated CV. Ensure that your CV does not exceed 100 KB in size and is in a .docx or .pdf format. Lastly, make sure that its file name does not contain any special characters as well.
Step 8: Finally, click on the Submit button once you are done filling out your form.
Step 9: Wait for an email or a call from the recruitment team to know if you got shortlisted for the position. After getting contacted, they will provide you with the location, time, and date for your interview. In addition, they will also inform you what to expect during the day of your interview. Lastly, make sure to bring the required documents to your interview.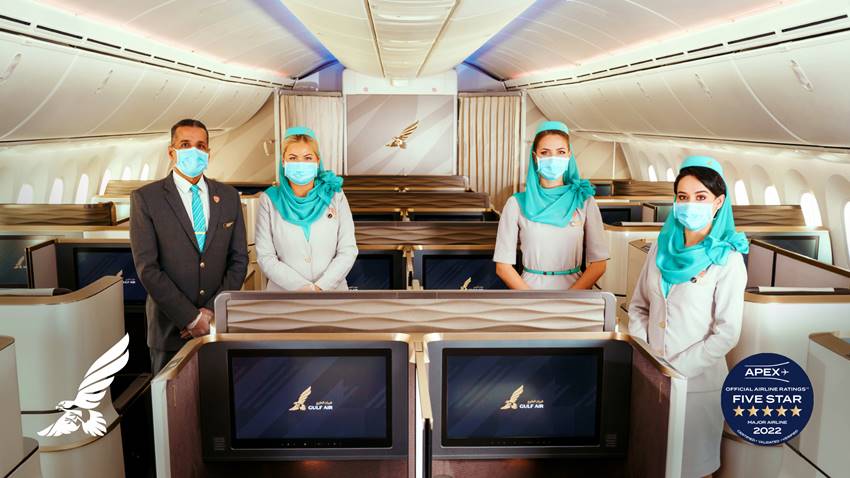 Training Process for Gulf Air Cabin Crew Members
When you pass Gulf Air's interview, you will now undergo their intensive training period. Their training takes place in their school located in Bahrain and lasts for a total of eight weeks. Cabin crew members undergo such training to live up to this airline's mission of providing Arabian Hospitality for all their guests.
During the eight-week training program, cabin crew trainees will learn the following topics and skills:
Tackle first aid training
Learn about customer service
Train for various safety and emergency procedures
Study about cultural awareness
Undergo assertiveness training
Know about proper grooming standards
Trainees will learn all of the above lessons through lectures, role playing, and doing on-the-job training. After the training period, if you have successfully met all the requirements, you will get your "Wings," signifying your Gulf Air cabin crew membership.
Monthly Salary of Gulf Air Flight Attendant
To get to know the monthly salary of a Gulf Air flight attendant, we recommend you to watch a documentary vlog where the salary of those who are working for this airline is explained.
At the Salary portion of the video, at the 2:55 mark, the video states that the basic salary of a Gulf Air flight attendant ranges from $1000 to $1200. Every month, cabin crew members take on 100 to 150 hours of duty. The number of hours for duty greatly depends on the season.
Disclaimer: The documentary vlog was uploaded by a flight attendant channel who shared experiences about salaries at Gulf Air. Take note that the amount might change without prior, but this will help give you an idea what to expect when you work for Gulf Air.
Furthermore, cabin crew members also get productivity allowances every hour from the moment they sign in until they sign off. Overall, the monthly salary you can get from working as a cabin crew member in Gulf air can amount to $2380 on average, based on the information taken from the video.
In addition, other than the monthly salary, cabin crew members are also provided with laundry allowances for washing their uniforms, as stated in the video.
Benefits
Also taken from the same video included above, here are the following benefits you can get as one of this airline's cabin crew.
Medical insurance provided by the company (Gulf Air also includes their very own medical chamber in Bahrain)
24-hour emergency medical assistance program (accessible worldwide)
Concessional airline tickets for workers and their families
Extra annual leave ticket
End-of-service benefits for resigning cabin crew (benefits are based on a cabin crew)
Paid sick leaves
Annual leave entitlement of 36 days
Video: Gulf Air Interview Tips
Here is another helpful video tutorial that discusses in detail about the requirements and cabin crew interview tips for Gulf Airlines:
The vlogger walks aspiring Gulf Air cabin crew members through the airline's recruitment process in this video. She also mentions helpful information in the video.
Gulf Air only hires females from other parts of the world. As for male candidates, they only hire applicants from Bahrain.
A part of the interview process includes swimming, so you must know how to swim.
Applicants must be at least 21 years old to apply for a visa.
The second part of the video was created by the same vlogger above. In this vlog, she walks through aspiring applicants towards the interview process and provides viewers with the things they need to do to prepare for their upcoming interview.
In the video, the vlogger talks about the interview process, which comprises three rounds. Here's what each round contains below:
First Round
During the first round, applicants will stand in a queue and pick a chip that contains a topic they will discuss. Then, you have thirty seconds to showcase your spontaneity through your answers.
Tip: The answers do not have to be grand. As long as you can show off your spontaneity, you will be fine.
Second round
During the second phase of the interview, you will be inspected for visible scars, tattoos, and piercings. Considering that, you have to take extra care of your skin to avoid scarring and ensure that your tattoos are not visible as you wear your work uniform.
In addition, you will also have to take the IELTS (International English Language Testing System) as part of the interview process. Finally, you will participate in a group discussion where you discuss and present a topic given to you.
Third Round
The third round is the last part of the interview process, which includes a swimming test. For the swimming test, you must swim in 50 meters of water without any aid at all.
Disclaimer: This is a video uploaded by a flight attendant vlogger who shared her experience being a cabin crew member of Gulf Air. Take note that every crew has a different experience, but this will help give you an idea what to expect when you work for Gulf Air.
Photos: Gulf Air Cabin Crew in Uniform
Check out these pictures of Gulf Air flight attendants in uniform so you can get an idea of what it's like to work for this company if you apply for a position here:
Frequently Asked Questions
Now, here are some common questions and their corresponding answers regarding the job and the application process:
1. What is the height requirement for Gulf Air cabin crew members?
To become a cabin crew of Gulf Air, you must be at least 5'2″ (160 cm) in height.
2. Do I need to finish college in order to apply?
No. As previously stated above, even those who have finished a secondary level of education can apply. And as long as you meet the other requirements stated, you will be eligible to apply. However, it is still ideal to finish a degree, especially when completing a degree program related to your desired job position. After all, it can give you a significant advantage over other applicants.
3. Do I need to know how to swim to apply for Gulf Air?
Yes, applicants must know to swim unaided in a minimum of 50 meters of water. Additionally, the swimming test is also part of the interview process. The recruitment team will inform you of this test beforehand.
4. Do I need to know how to speak English?
Gulf Air requires its cabin crew to have a good standard for speaking, writing, and reading English. In addition, since you'll be dealing with customers of different nationalities, you must communicate well in English.
5. Which nationalities can apply for Gulf Air's cabin crew?
Aspiring female flight attendants of any nationality can apply to be a part of Gulf Air's cabin crew team. However, only male applicants from Bahrain can become flight attendants for this airline, stated explicitly in one of the videos linked in this guide.
6. What should I wear for my interview?
Shortlisted candidates scheduled for an interview must show up wearing formal business attire. Female candidates can wear a suit with a knee-length skirt to their interview.
7. How long will I wait before I can receive a response from the recruitment team?
Once you submit your application, you can wait for a response from one of the airline's recruitment team members. If you get accepted, you will get an email or call, including all the details regarding your upcoming interview. On the other hand, you will receive a regret letter from the recruitment team instead if you get rejected.
8. I got rejected by Gulf Air. Can I still apply there for a job position next time?
It is stated on Gulf Air's website that they keep all their applicants' CVs in their database for up to six months. So, depending on the vacancies, you can still get hired if your experience and qualifications meet the requirements of the said job. Additionally, you can still apply for other job vacancies in the company no matter what period it is.
9. Where will the training take place for successful applicants? Is it paid?
The training program will take place at Gulf Air's training school in Bahrain. During the training, trainees get meal allowances.
10. How hard is the training in Gulf Air?
The training in Gulf Air is difficult because you have to do weeks of training to absorb everything you need to know as one of their flight attendants. Trainees will have to commit up to eight weeks of intensive training that includes several discussions, roleplay activities, and doing OJT's.
Besides, after all that necessary training, you will get the expertise and professionalism you need to thrive in this industry.
11. Do I need to pay for the flight attendant uniforms?
The company provides flight attendant uniforms. Furthermore, you also get laundry allowances to get your uniforms washed and ready to use.
12. Can I become a Gulf Air Sky Nanny?
Other than Gulf Air's reputed flight attendants, they also have another job position that distinguishes them from different airlines: their Sky Nanny. Sky Nannies are in charge of taking care of children up to twelve years old, making things much more manageable for parents who are flying with their kids.
These Sky Nannies undergo unique training to become knowledgeable about taking care of children, and only qualified cabin crew members can become certified Sky Nannies for the airline.
Summary
If you wish to apply and become part of Gulf Air's cabin crew team, you can follow all the guides listed above for your reference. After all, flight attendants are essential members of an airline, so you must do what it takes to become a skilled and professional flight attendant.
This marks the end of our guide on how to apply as Gulf Air's cabin crew. We hope this has immensely helped you out as you go after your dream of becoming a part of this airline's cabin crew team.
Contact Information
Gulf Air
Address: Gulf Air P.O. Box 138, Manama Kingdom of Bahrain
Contact Number: +973 17373737
Website: https://www.gulfair.com/
Facebook: https://www.facebook.com/gulfair
Instagram: @gulfair
Twitter: @GulfAir
YouTube: https://www.youtube.com/gulfair