Hawaiian Airlines is known for being one of the sweeping operators of air passenger service from the U.S. State of Hawaii. Are you planning on becoming one of their flight attendants? Here is a complete guide on achieving your dreams and being a part of the growing Hawaiian Airlines cabin crew. In this article, you'll be able to know the requirements needed and how the recruitment process will go when you apply to Hawaiian Airlines.
Also Read: Hawaiian Airlines Flight Attendant Requirements
Hawaiian Airlines is the state's flag carrier and the largest airline in Hawaii. It is based in Honolulu, Hawaii, and it is the tenth-largest commercial airline in the United States.
The company's main base of operations is Dan K. Inouye International Airport on O'ahu and its second home is Kahului Airport on Maui. If you want to become a cabin crew for this airlines, please check out the detailed guide to the qualifications, requirements, step-by-step process on how to apply, and additional tips below.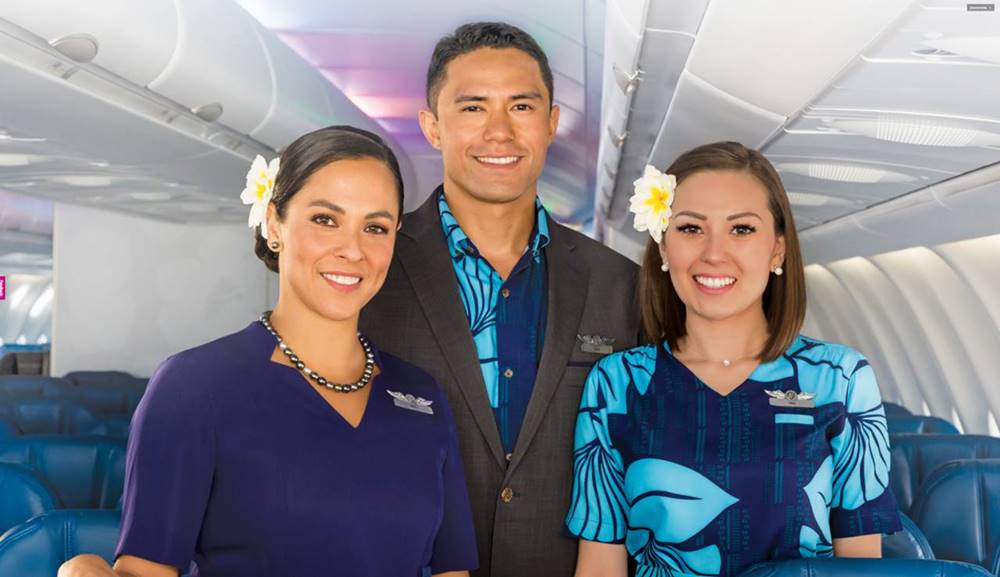 Overview
Hawaiian Airlines is one of the finest and biggest commercial airline operators that is based in Hawaii. They were also ranked as the tenth-largest commercial aircraft in the United States, mainly in Honolulu, Hawaii.
They now serve various Asia-Pacific destinations and already have six international destinations. Precisely, they are maneuvering flights to different countries in Asia and the United States. They also operate aviation to American Samoa, Australia, Hawaii, French Polynesia, and New Zealand.
They were one of the long-established airlines in the United States, Hawaiian Airlines. They maintained a good distinction and recognition to their customers by recording no fatal accidents, infrequent flight cancellations, and other airline issues.
Responsibilities
A flight attendant's responsibilities can vary from time to time. Here are some of their duty and task that needed to perform onboard:
Ensuring the well-being and safety of the guests while traveling through the Hawaiian Airlines
To give a demonstration on how to use the safety types of equipment in case of emergency properly
Reassure the travelers amid an airplane turbulence
In times of crisis, you must know how to conduct first aid and medical care
Provide commands and instructions such as emergency evacuation process to the passengers
Help the passengers with different issues, especially when someone is being unruly.
Hawaiian Airlines flight attendants are trained to cater to the needs of the passengers before taking off and onboarding, especially in case of emergencies. Flight attendants must have the presence of mind to stay calm in times of predicaments.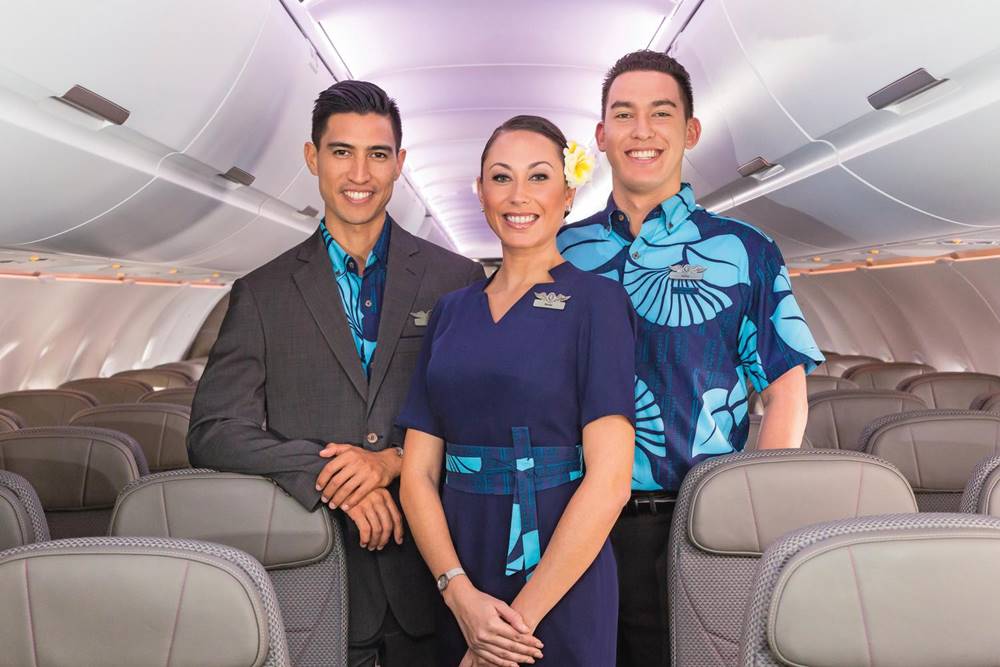 Qualifications
Now that you have a grasp of the idea of the various responsibilities of a flight attendant let's see if you have what it takes to become one of the Hawaiian Airlines Cabin Crew.
Please be guided by the following qualifications:
Must be twenty-one (21) years old upon the time you are applying
A High School diploma or can be a GED equivalent; College Degree is preferred.
Establish a professional appearance. Should not have any conspicuous body arts and modifications such as tattoos, facial, multiple or upper ear piercings, gauge piercings, or flashy and excessive hair colors and style.
Capable of traveling within the state of Hawaii or the mainland United States
A height of 82 inches or 6.83 feet
To fully qualify for the position, you might need to learn some or all the languages used by the airlines.
English
Japanese
Korean
French
Samoan
Those who qualified in these languages may receive additional pay and the opportunity to travel to their second language spoken countries.
Document Requirements to Prepare
Now that you think you are qualified for being a Hawaiian Airlines Flight attendants, here are the documents you need to prepare and must pass when applying. Please be advised that the following documents must be all original.
Certified Birth Certificate
Social Security Card
State Identification Card
Passport
Green Card (only if applicable)
During your interview, you must present yourself professionally, wear business attire. It is recommended to wear a blouse, blazer, and a skirt (below-the-knee).
Where to Apply for a Job for Hawaiian Airlines Online
Due to the protocols and restraints given by the COVID-19 pandemic, some job applications can be processed online. For more jobs available in Hawaii Airlines, you may visit their website and go to their Careers page or the Join Us page. You can see the list of the current openings available.
Most of the time, you will be able to apply online through the website's official career page.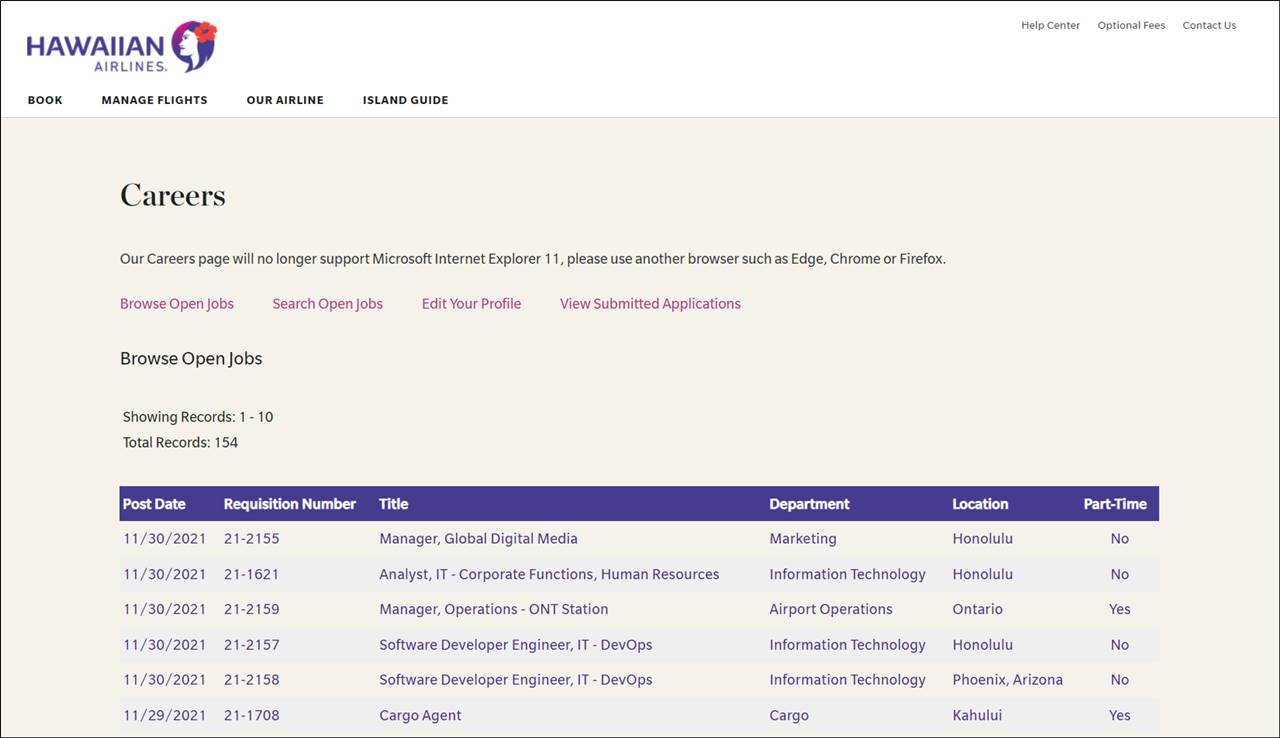 Step by Step Process Application to Become a Cabin Crew for Hawaiian Airlines
To ensure that you are doing the right hiring process, you may follow this step-by-step guide:
Step 1: Go to the website of Hawaiian Airlines and click either "Careers" or "Join Us"
Step 2: Click the "View current openings" tab.
Step 3: Click your preferred job and read all its details from the position overview to its required qualifications. Note that it is essential that you read throughout the job details to know all the responsibilities of the job and if you are the perfect fit for it.
Step 4: Click the "Apply Online" below
Step 5: You need to register an account to be eligible to apply (you will be asked to provide a softcopy of your resume and other personal information. Note: Only give your personal information to the official website of Hawaiian Airlines.
Step 6: Submit your application and wait for the Hawaiian Airlines team to process and contact you.
Hawaiian Airlines Mass Hiring
There might be a time when Hawaiian Airlines may open up a day to cater to walk-in applicants. In that case, you might want to follow and check all the social media and websites to be up to date with the upcoming or ongoing mass hiring.
Step 1: Follow all the Hawaiian Airlines social media accounts and pages
Step 2: Prepare your updated resume and essential documents for the day of mass hiring
Step 3: Professionally present yourself. Wear business attire if possible
Step 4: Submit your application on the day of mass hiring and get ready for a face-to-face interview
Step 5: After passing the interview, there will also be an evaluation and many processes.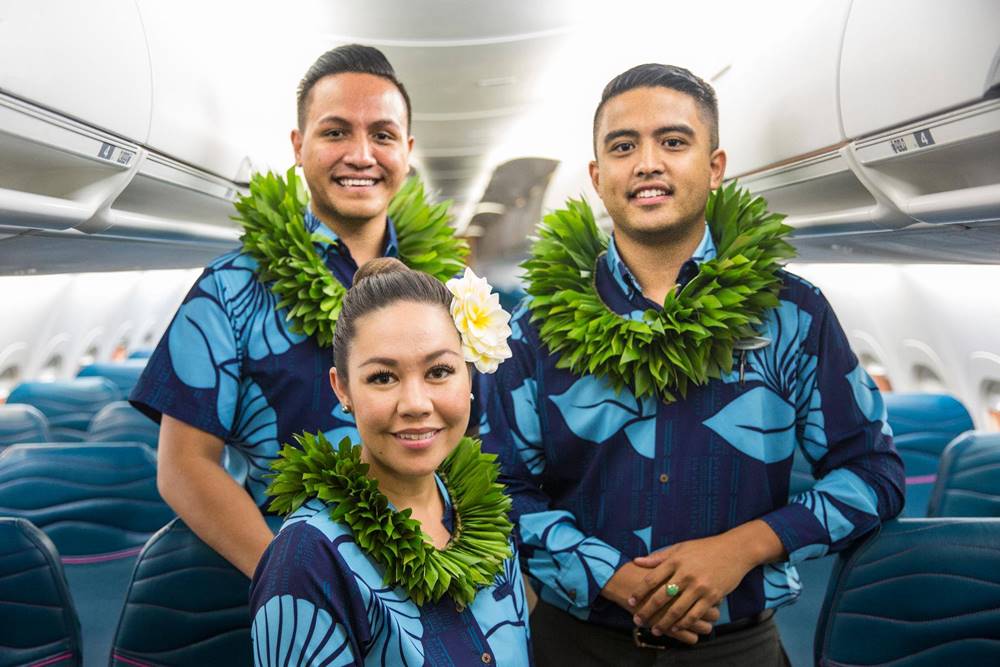 Monthly Salary of Hawaiian Airlines Flight Attendant
Hawaiian Airlines flight attendant wages range from $15 to $40 per hour and the airline's estimated hourly wage is 28 USD. This estimate is based on the Hawaiian Airlines cabin crew submitted salary reports.
There can also be bonuses and other forms of compensation that a flight attendant is expected to receive. Their salary can range from $50,000 annually.
Benefits and Privileges of being a Hawaiian Airlines Cabin Crew
If you think that you'll be working without incentives and other benefits, well, you are wrong. Hawaiian Airlines are offering a lot of help and privileges for its employees.
Travel Privileges
Medical Plans
Dental Coverage
The budget allocated for health care and dependent care
Retirement Plan
Life and accidental death and dismemberment insurance
Long-term disability
Employee assistance program
Video: Hawaiian Airlines Cabin Crew Training
Check out this video compiled by a flight attendant for Hawaiian Airlines wherein she gives a glimpse into the initial training sessions to become a cabin crew for this airline. This will hopefully give you an idea of what to expect during the training program.
Video: Hawaiian Airlines Uniforms in Fashion
Here's a fun video of this airlines and their uniform on the runway so you can get an idea:
Photos: Hawaiian Airlines Cabin Crew Uniforms
Check out these pictures of Hawaiian Airlines flight attendants in uniform so you can get an idea of what it's like to work for this company if you apply for a position here:
Video: Things to Know about Salary of Flight Attendants for International Airlines
Suppose you have other questions about the roles and salary of an international flight attendant. In that case, you may check this informational video. The salary information for the international cabin crews is at the 4:20 minute mark.
The vlogger was discussing the breakdown of their allowances and salaries on every flight. In which she said that they have the following:
Basic Salary
Hourly Flight Pay
Hotel Allowances
Transportation Allowances
The vlogger mainly focused on the salary of an entry-level flight attendant. Upon signing a contract, you will be receiving 550 US dollars which they called a "sign-in" bonus.
Frequently Asked Questions
Now, here are the frequently asked questions about Hawaiian Airlines and the application process for the company's flight attendants:
1. How to apply as a Hawaiian Airlines Flight Attendant Cabin Crew?
As mentioned, above are the complete guide in applying as Hawaiian Airlines Flight Attendant. You can apply online or through the open day or mass hiring events conducted by the airline company.
2. Do you need to have a degree in tourism?
It is not necessary to have a tourism degree, as long as your GED is qualified or you have a college degree.
3. How long does the application process take?
The process will still depend on the airline itself. The average processing time of applications is 2-4 weeks. You may ask the personnel processing the application for a more accurate application processing time.
4. Do I need to undergo different cabin crew training?
Flight attendants are required to undergo different training even if they are employed by the Airline. After the application, you will have to spend more time on the training. There's also an assessment that you need to pass.
5. What are the paper documents needed?
The documents needed are mentioned above. Commonly, proof of identification and education are the most important requirements.
6. Do I need to be fluent in all required languages?
You don't need to be fluent in different languages. However, those who can speak and understand the language qualifications can get incentives.
7. What is the required height for a flight attendant?
In Hawaiian Airlines, the required height is 82 inches or 6.83 feet.
8. What if I am afraid of heights
Through the training, you may be asked to conquer your fears and be calm during times of emergencies.
9. Do I need to know basic first aid?
Yes, you will be asked if you can perform basic first aid like doing CPR in emergencies or fatalities.
10. What are the questions asked in the interview?
You may be asked if you have any experience with doing the job and commit to the duties and responsibilities of a flight attendant. You may also prepare some important information about yourself to answer questions related to introducing yourself.
Summary
Being a flight attendant is one of the best jobs to do. You will be able to travel to different countries while being paid. If you are interested in applying for this job, please follow all the guidelines above to avoid conflicts throughout your application process.
That's it! If you have done all the said steps above, then you are good to go! We hope that this article helps you in applying for your dream job. Good luck with your future endeavors as a cabin crew flight attendant.
Contact Information
Hawaiian Airlines
Address: Hawaiian Airlines, Inc. 3375 Koapaka St Honolulu, HI Airline Companies
Telephone Number: 1-800-367-5320
Website: https://www.hawaiianairlines.com/
Facebook: https://www.facebook.com/HawaiianAirlines/
Instagram: https://www.instagram.com/hawaiianairlines/?hl=en
Twitter: https://twitter.com/HawaiianAir