If you're one of the people who aim to be a part of Jazeera Airways, then you're in the right place. In this article, we will walk you through everything that you need to know in order to apply to the company successfully. This includes the responsibilities, qualifications, requirements, salary, and an in-depth, step-by-step guide on how to do the process.
Also Read: Do I Need to Have Perfect Teeth to Become a Cabin Crew?
Jazeera Airways is one of the biggest operating airlines in Kuwait. This fact is probably enough to pique the interest of many aspiring flight attendants both in and outside of the said country. Read more overview of the company below.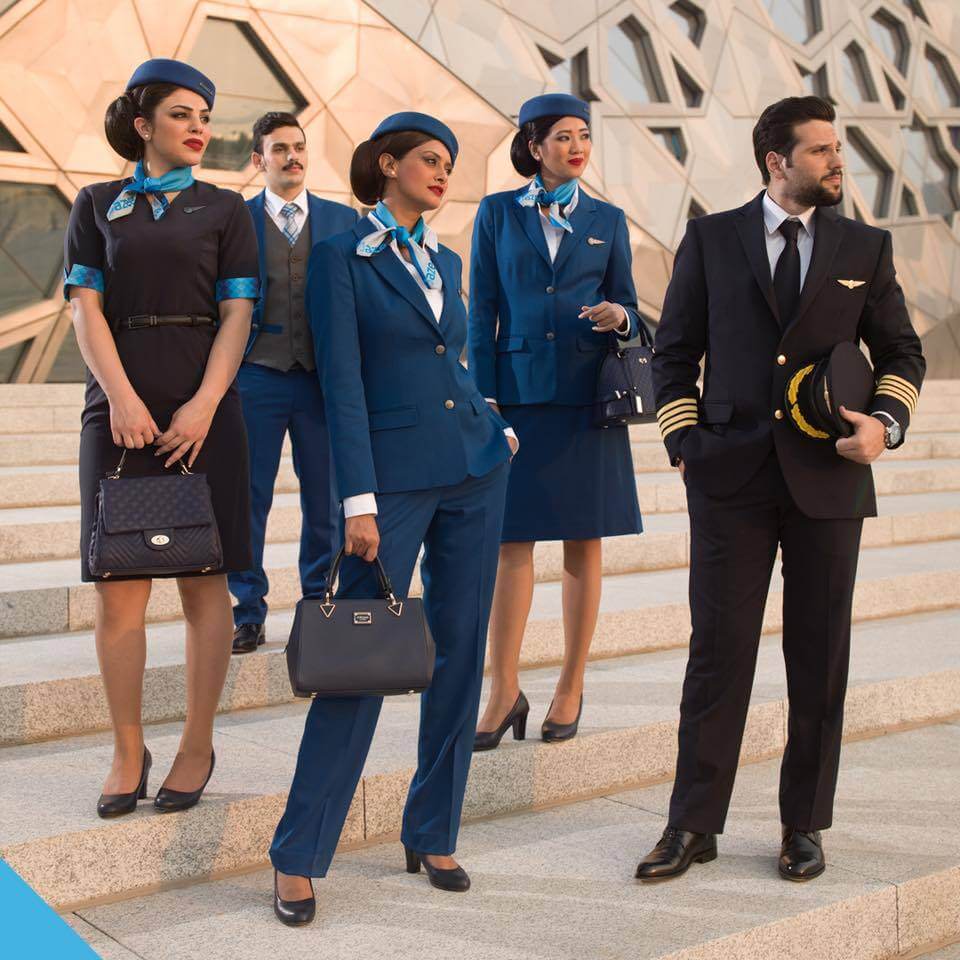 Overview of the Jazeera Airways
Jazeera Airways has been around since 2004. It's the first airline in Kuwait that was not founded and owned by the government. Despite being comparatively new in the field, it did not take long for them to climb the top ranks in the country's aviation field.
As of the present, the airline is headed by Rohit Ramchandran, the CEO. They offer their services to about 30 destinations, some of which are Bahrain, Cairo, Delhi, Dubai, Jeddah, and Osh.
The fleet and reputation of Jazeera Airways in the flight field are also worth noting. They are one of the few airlines with Airbus A320 on their line.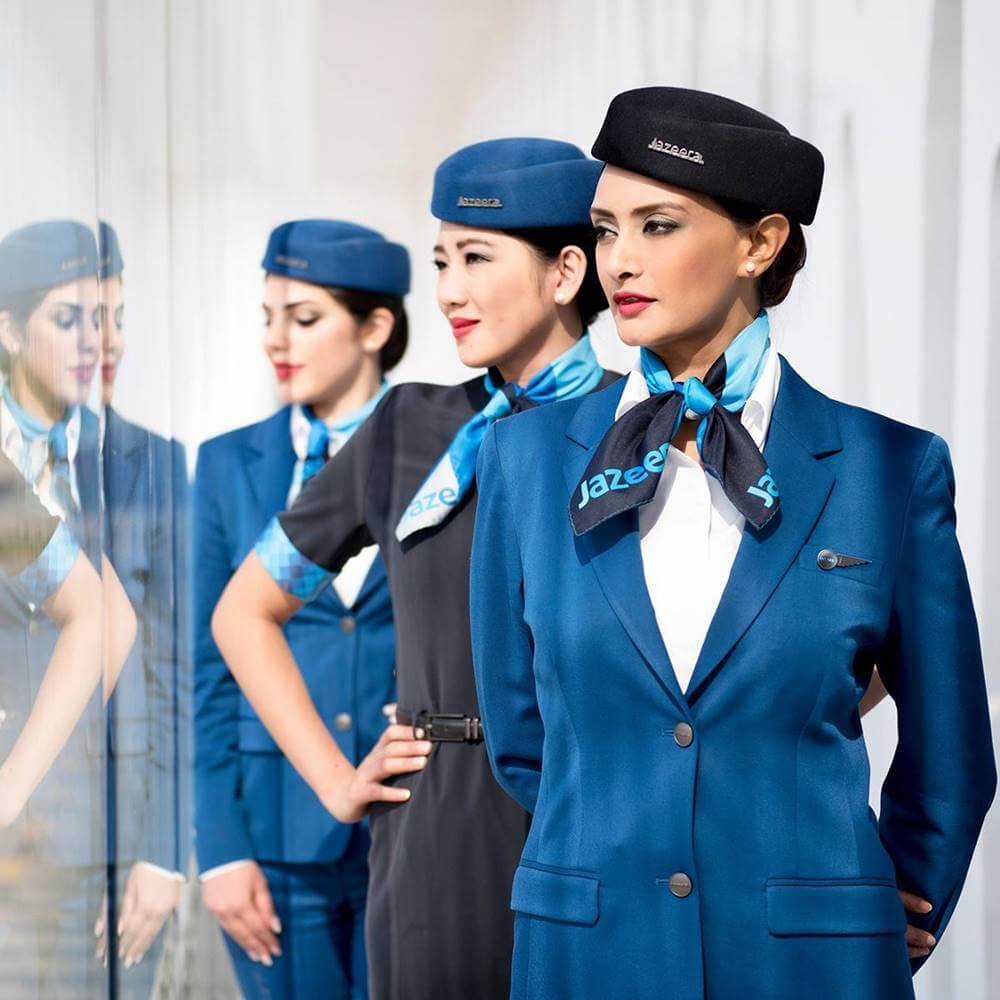 Responsibilities
Here are the responsibilities of a Jazeera Airways flight attendant:
Ensure the safety of passengers throughout the flight
Demonstrate safety procedures to passengers before a flight
Assist flight passengers with all their needs
Acquaint passengers with the necessary laws
Report flight progress to the ground crew
Monitor plane's conditions throughout the flight
Respond to emergencies immediately, even under extreme pressure
Keep a close look to flight passengers with special needs (children, elderly, people with disability)
Ensure availability of in-flight stocks (food, drinks, medicines)
Perform necessary preparatory procedures before flight take-off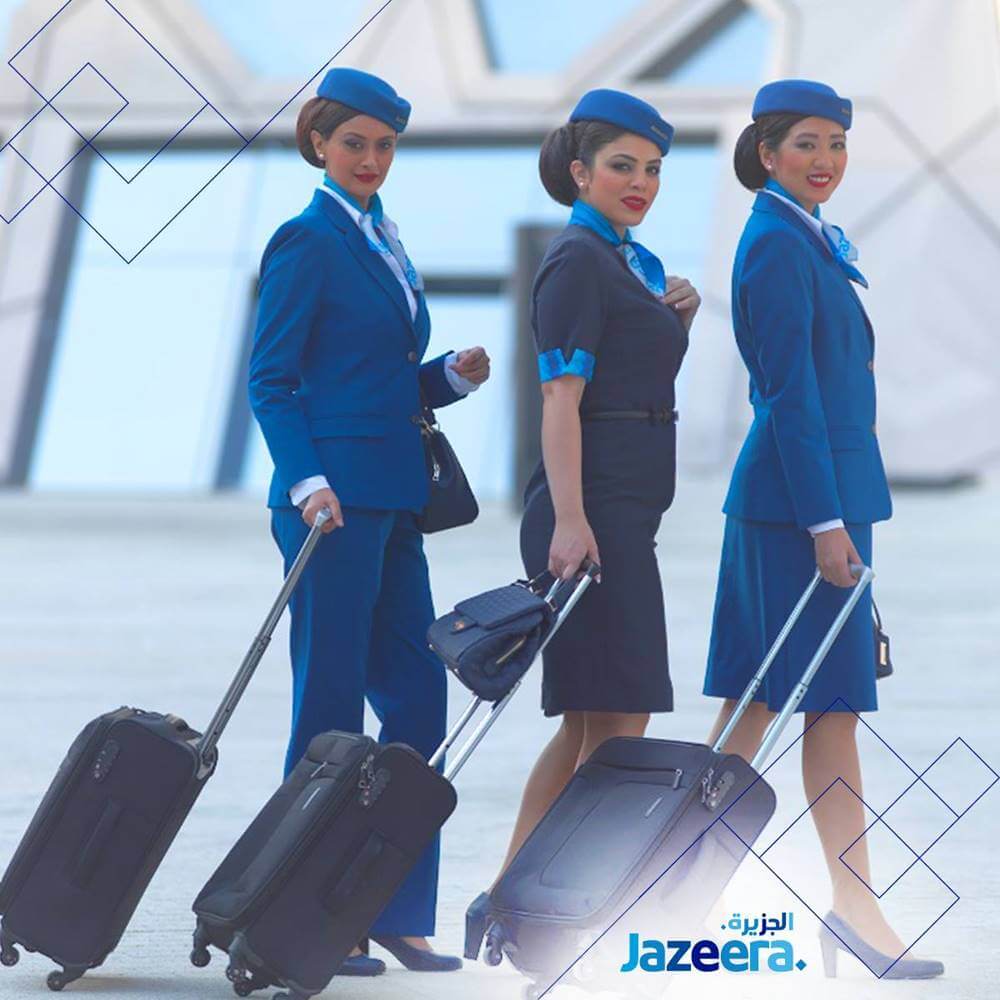 Qualifications to Become a Jazeera Airways Cabin Crew
For qualifications, here is a list that you can refer to:
Must be fluent in writing and speaking English
Should have at least 12 years worth of educational background (At least a high school graduate)
Should be at least 21 to 25 years old
Must pass the airline's physical and medical standards
Height should be at least 160cm
Weight should be proportionate to the applicant's height
Must be able to swim 50m even without assistance
Applicant must be based in Kuwait
Should have no visible tattoos or piercings
Must have effective leadership skills at all times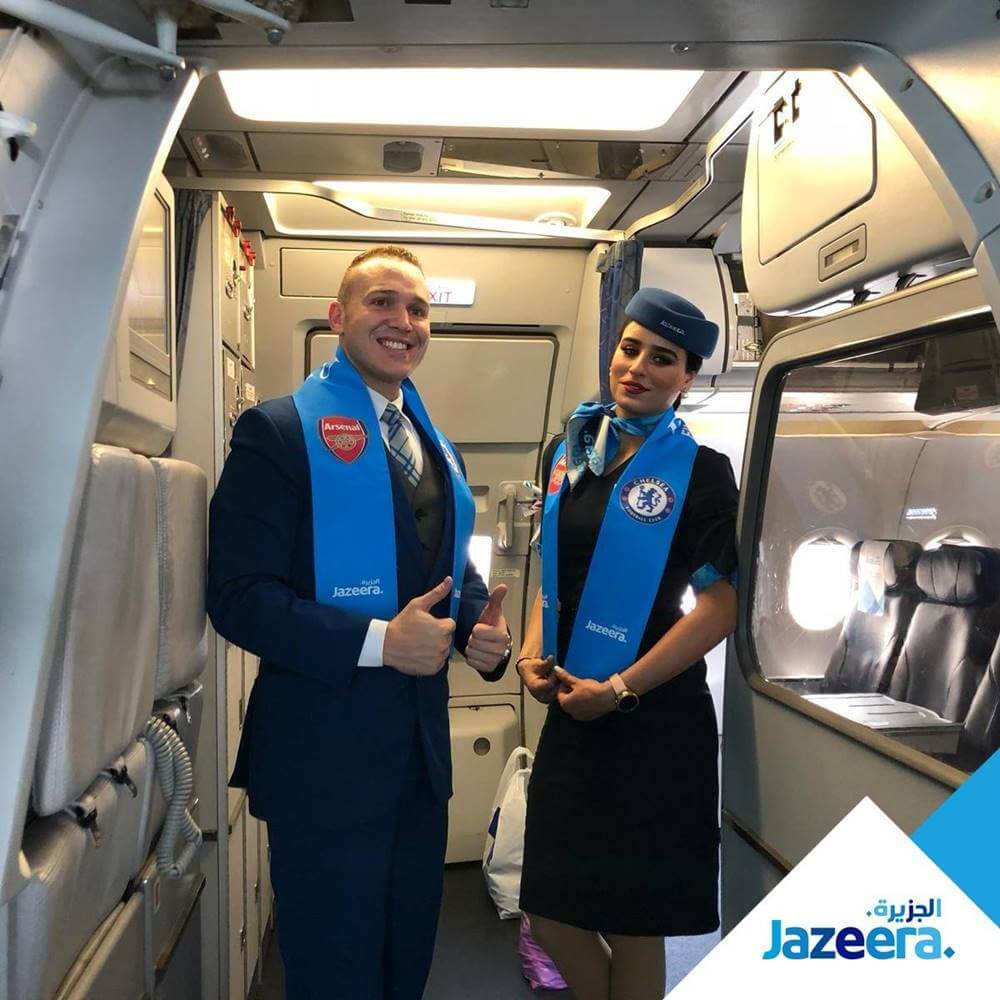 Document Requirements to Prepare
Upon application, you only need to submit three documents. These are:
Updated Curriculum Vitae
Full-Length Photo
Fully-Accomplished Application Form (This will be provided upon the initial application stage in the website.)
Where to Apply for a Job for Jazeera Airways Online
You can apply for a job for Jazeera Airways online through their careers page.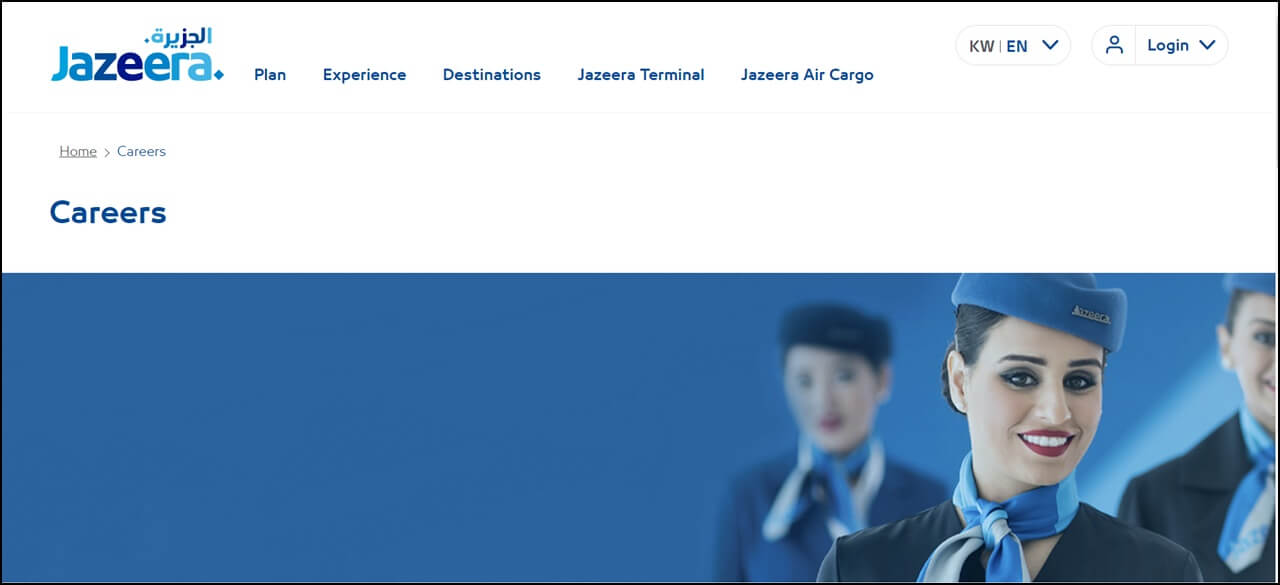 All of the currently available positions and their details can be accessed through the careers page of Jazeera Airways. This is also the same page where you can directly apply for the position that you want. To add, each available position is also listed as either permanent or part-time for better monitoring.
How to Become a Cabin Crew for Jazeera Airways
Now, the whole application is actually simple as long as you have either a phone or a desktop. Here is a step-by-step reference for a clearer overview:
Step 1: Head on to the careers page of Jazeera Airways. Make sure you are on the right website to successfully submit your application.
Step 2: Find "Cabin Crew" from the positions listed on the page, then click the "Apply" button beside the position. This will redirect you to another page containing the details that you need to know.
Step 3: Once decided, click the blue "Apply" button below the current page. Again, this will redirect you to another page containing the necessary application form.
Step 4: Fill in all the information that is required from the form.
Step 5: Attach your updated CV and full-length photo on the required spaces.
Step 6: Add your digital signature, and then click "Submit." You can also click "Preview PDF" first if you want to be sure that everything is filled out.
After submitting the application form, make sure to keep a close eye on your email and phone number since that is usually where the airline will reach out to you regarding the results.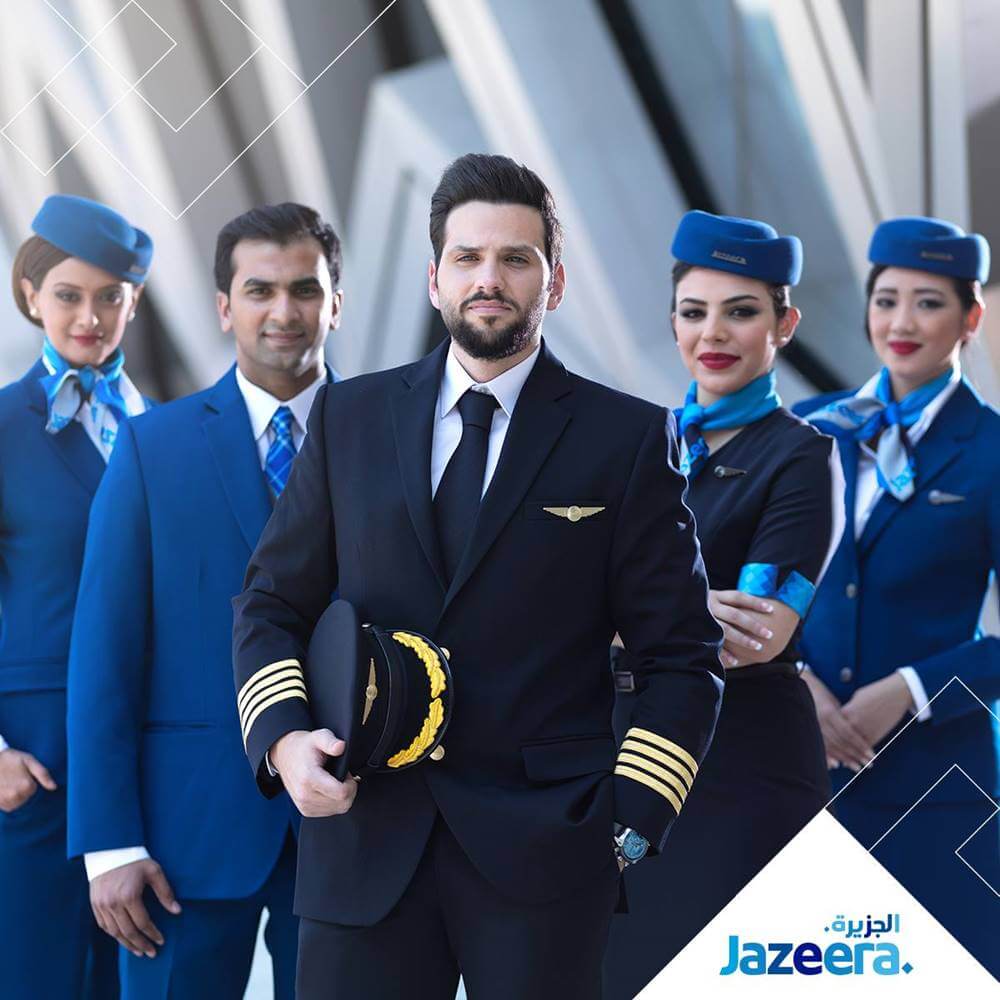 Monthly Salary of a Jazeera Airways Flight Attendant
On average, a flight attendant in Jazeera Airways makes at least 450 KWD a month. This converts to around $1,400 in the US.
The salary already includes the transportation and accommodation allowance that the cabin crew members will receive throughout the whole flight period. You can increase it more by earning sales incentives for the month.
Apart from the pay, note that you will also get benefits like a 42-day annual leave and unlimited plane travel for the attendant and their family.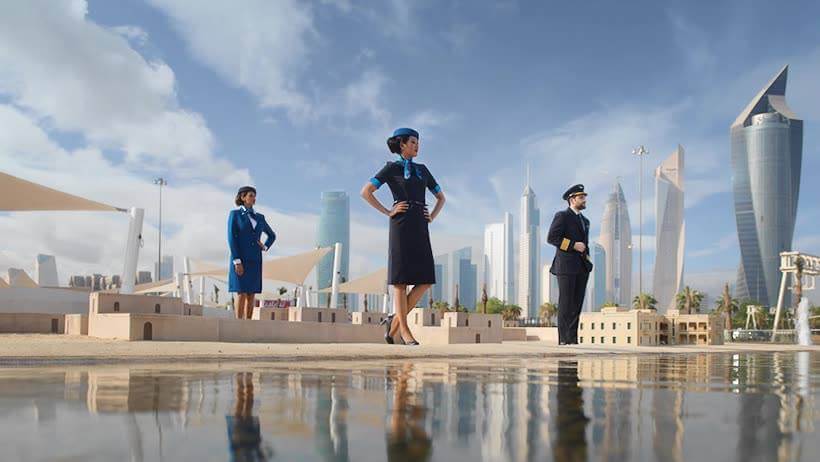 Video: Jazeera Airways Cabin Crew Hiring by Twinkle Anand
In this video by Twinkle Anand, she gave a more in-depth discussion about how to apply for a cabin crew position in Jazeera Airways. After watching, you should also expect to understand the following topics:
The necessary skills to be a good flight attendant in Jazeera Airways
Tips on how to make your flight attendant application stand out
The steps that you need to go through once approved for application
How interviews are done in Jazeera Airways
How to make your full-length photo and curriculum vitae outstanding for a cabin crew position
Disclaimer: This is a video uploaded by a flight attendant vlogger who shared her experience being a cabin crew member. Take note that every crew has a different experience, but this will help give you an idea what to expect when you work for Jazeera.
Photos: Jazeera Airways Flight Attendant Photos
Check out these beautiful pictures of Jazeera Airways Flight Attendants in uniform. If you wish to picture yourself being a part of this company, check out these photos to give you an idea about working for this airline:
Frequently Asked Questions
Here are some of the frequently asked questions from other applicants that may help you with your goal of being a flight attendant:
1. How long do I need to study to become a flight attendant in Jazeera Airways?
Jazeera Airways specifies that applicants must have studied for a minimum of 12 years to be qualified for the flight attendant position. This means that you need to be at least a high school graduate to apply. On the good side, you won't need to spend additional money and time having to study a certain degree to be considered.
2. What classes should I take to be accepted as a cabin crew member in Jazeera Airways?
You don't have to take certain educational classes to be accepted as a cabin crew member in Jazeera Airways. However, if you're looking for recommendations to amp up your credentials, you should highly consider taking classes for language, geography, and first aid. Again, this won't be necessary, but they will definitely give a nice touch on your curriculum vitae.
3. Can a Jazeera Airways flight attendant wear jewelry?
Flight attendants in Jazeera Airways can wear jewelry. However, flight companies usually have a uniform-related rule that limits attendants to wear only one pair of earrings. This means that if you have existing additional piercings on your ear and face, you may have to remove them if it's your turn to handle a flight. This is the same with necklaces if they are not permitted.
If you want to be sure, you can always ask the company during the interview or the application process. They are also readily available through phone, email, and social media sites.
4. Does the color of my skin matter when applying as a Jazeera Airways flight attendant?
Your complexion doesn't matter when applying as a flight attendant in Jazeera Airways. Feel free to apply no matter what race and skin color you have.
5. What are the requirements to be a cabin crew member in Jazeera Airways?
Some of the most important requirements to be a cabin crew member in Jazeera Airways include being based in Kuwait, fluency in English, and having notable skills in communication and customer service. You also need to be physically fit in terms of swimming and responding to emergencies. You also need to be at least 160cm in height.
6. What civil status should I have to be accepted as a flight attendant in Jazeera Airways?
Any civil status is accepted when applying as a Jazeera Airways flight attendant. You can be single, married, divorced, or a widow and still be considered qualified as long as you meet the airline's requirements.
7. Is there a weight requirement to apply at Jazeera Airways?
There is no weight requirement to apply at Jazeera Airways. The only thing that the airline requires weight-wise is for it to be proportionate to your height. This means taking your bodily conditions and body mass index (BMI) into account.
8. Does Jazeera Airways provide free accommodations to flight attendants during trips?
Jazeera Airways provide free hotel accommodations to flight attendants. This involves in-hotel meals and complimentary services. Note, though, that that airline will be the one to choose the specific hotel. More often than not, cabin crew members won't be asked about which place they want to stay in.
However, if you're specifically asking about living accommodations, then the flight company won't be responsible for it. You need to find your own residence in Kuwait to be qualified.
9. Do flight attendants in Jazeera Airways make good money?
A flight attendant in Jazeera Airways earns around 450 KWD to 470 KWD a month. The exact amount will depend on your expertise and superiority in the job. This is roughly equivalent to around $1,400 to $1,500, which is already good money for starting flight attendants.
The amount may seem low, though. This is most especially if you're expecting US-based rates since $1,600 is comparatively lower than $3,000, the average monthly salary ($3,000) of cabin crew members in the US.
10. Are Jazeera Airways cabin crew members paid weekly?
Cabin crew members in Jazeera Airways get paid monthly rather than weekly.
11. Do I need to pay for uniforms if I pass the application process in Jazeera Airways?
You will be required to pay for uniforms once you pass the application process and get accepted as a flight attendant in Jazeera Airways. Replacements, however, are usually already free and shouldered by the company.
12. How many hours does a flight attendant in Jazeera Airways work?
The specific number of hours that a flight attendant in Jazeera Airways will work for will still be up to discussion once all the necessary stages of application are processed. Nevertheless, expect a minimum of 12 hours. The company may also occasionally ask you for additional shifts as you progress through your career.
13. What languages do I need to speak to be a cabin crew member in Jazeera Airways?
You need to be fluent in both English and Arabic to be a cabin crew member in Jazeera Airways. If you have mastery over more than these two languages, then expect a higher rate of approval for your application.
14. What is the maximum age limit to apply as a flight attendant in Jazeera Airways?
The maximum age to apply as a flight attendant in Jazeera Airways is 25 years old. You can probably take your chance in applying if you're one to two years older, but don't expect too much if so.
15. What training programs will I go through before I become a flight attendant in Jazeera Airways?
You will need to go through three training programs before fully becoming a flight attendant in Jazeera Airways. These are designed to help applicants understand the ins and outs of handling an airplane and its passengers throughout the whole flight.
For an overview, you will go through 17 learning courses, all related to aviation and customer service, five practical exams, and one general examination to wrap up. You need to pass all three of these training programs to proceed with your application.
Note that the whole training session isn't free. You need to avail of it on a first-come, first-serve basis. Costs will be discussed with the airline itself.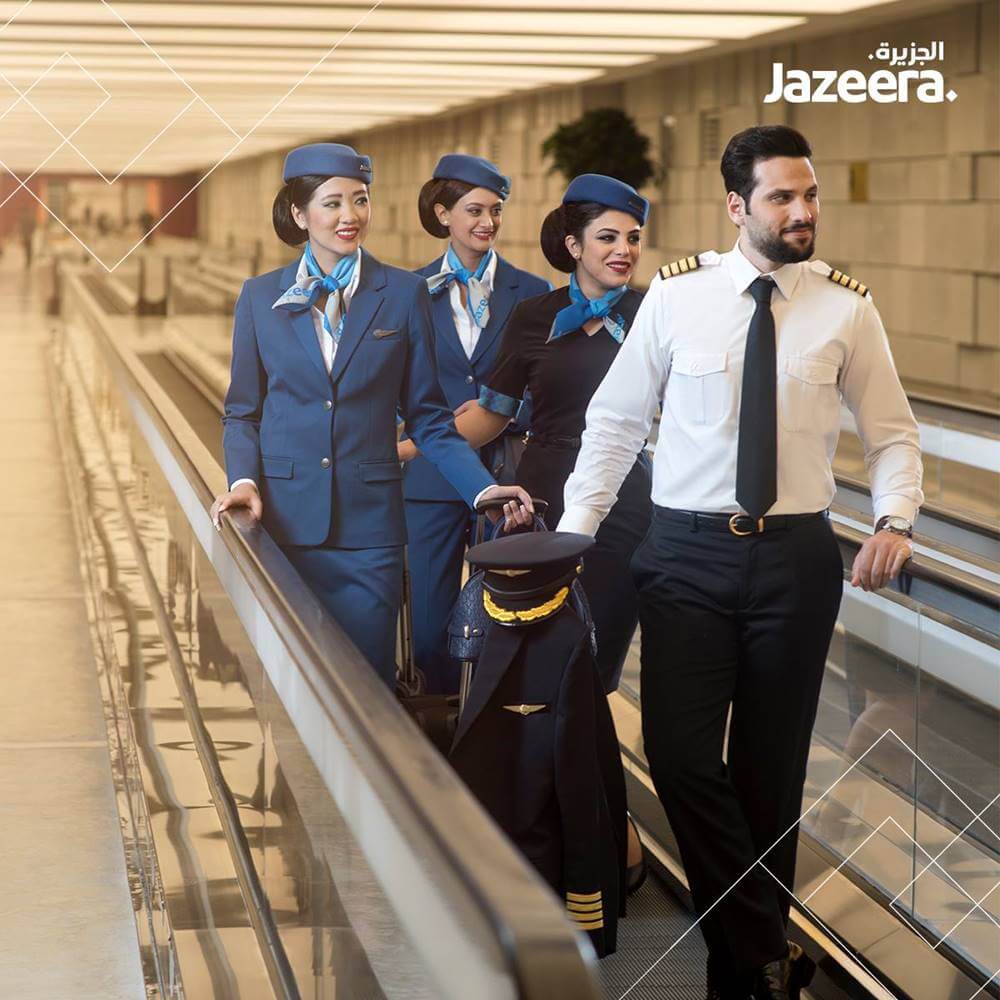 Summary
To wrap it up, we're going to go over some of the most important takeaways in our discussion.
Applying as a flight attendant for Jazeera Airways is usually done online unless there are other announcements. You will need to prepare your updated curriculum vitae, a full-length photo, and employment records. Submitting your application will only take seconds, and that's when the waiting game starts.
The good thing about applying for the airline at hand is they aren't that strict with requirements. There is no specified limit for age, working experience, and educational background.
Since Jazeera Airways is considered one of the best in Kuwait rather than "just another airline," expect that the competition among the company's aspiring cabin crew attendants is fierce. You need to put a lot of time and effort into ensuring that your applicant profile stands out from the rest. Note, though, that this is easier said than done. Each company works with its own set of standards, morals, and preferences, so you may want to learn their needs and wants first before proceeding with your task.
Contact Information
Jazeera Airways
Address: Jazeera Airways KSC, 55, Airport Road, Safat, State of Kuwait, Kuwait, 13153
Telephone Number: +965 2224 8670
Website: https://www.jazeeraairways.com/en-kw
Facebook: https://www.facebook.com/Jazeera.Airways/
Instagram: https://www.instagram.com/jazeeraairways/
Twitter: https://twitter.com/JazeeraAirways