If you're looking into applying as a cabin crew member in Middle East Airlines, then you're at the right place. This article has everything that you need to know, from the company background, responsibilities, qualifications, the detailed step-by-step process, up to the specific places where you can contact them.
Also Read: 7 Important Job Qualifications to become a Flight Attendant
Considering that Middle East Airlines is one of the top airways, both in Lebanon and the whole Middle East, do you want to know what it takes to successfully climb up the success in the flight field? Find out in the following sections and increase your chances even before you apply.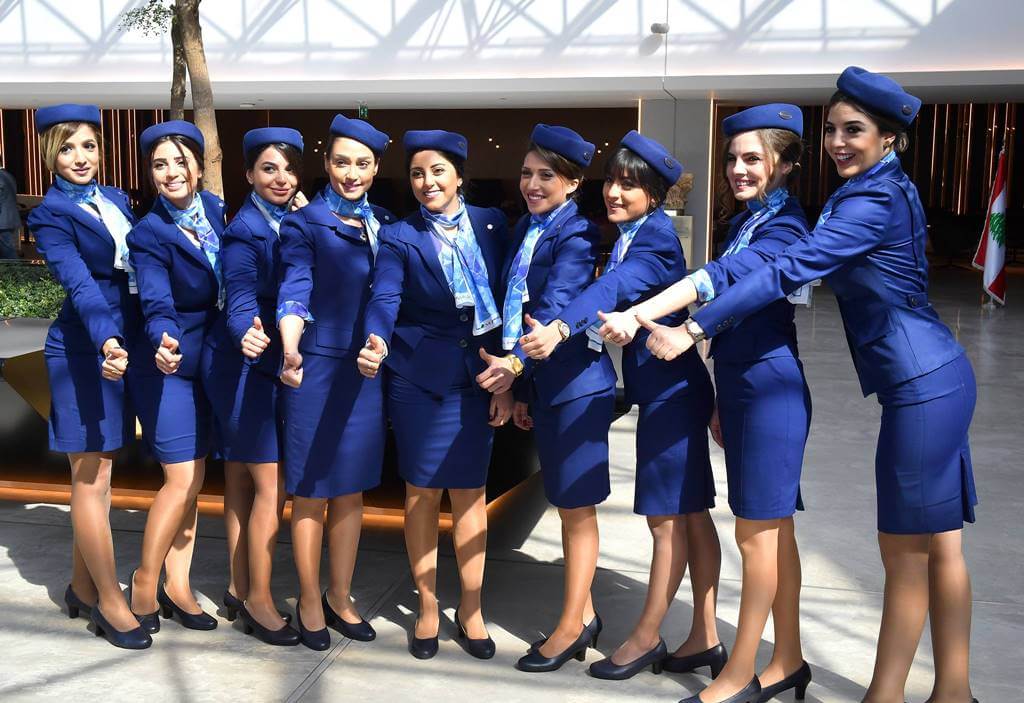 Overview of the Middle East Airlines
Middle East Airlines, or simply MEA, was founded in 1945 by Saeb Salam in Beirut, Lebanon. This is the national airline of Lebanon because of several factors like its fleet size, workforce, and overall airline services.
MEA's destinations include nearby Middle Eastern countries like Saudi Arabia, Egypt, Cyprus, Syria, and more. To add, the airline's fleet also provides services to some parts of Asia, Europe, and Africa.
It's also worth noting that the airline at hand is in alliance with SkyTeam. This allows MEA to work with more than 15,000 flights on a daily basis. It also paved the way for better flight service and fleet since the partnership.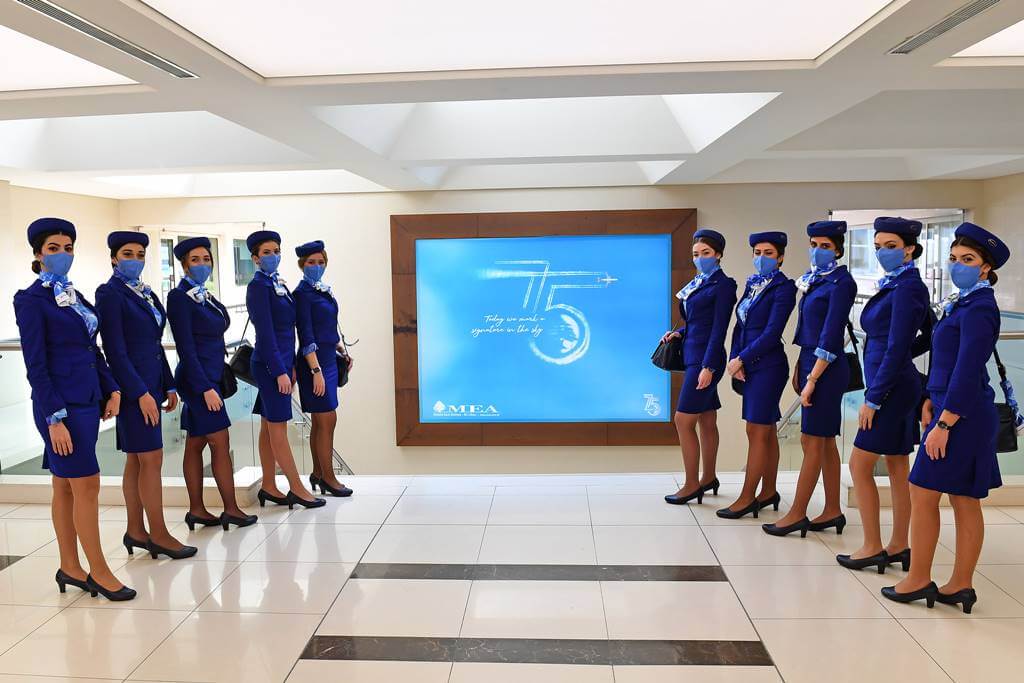 Responsibilities
Here are the responsibilities that a Middle East Airlines flight attendant will shoulder during flights:
Catering to the needs and wants of flight passengers
Demonstrating safety procedures before a flight
Responding to emergencies in-flight
Ensuring high-quality customer service to flight passengers
Maintaining comfort and security of guests
Qualifications
For qualifications, below is a list of the standards that you have to meet:
Should be female; For some reason, MEA only accepts female applicants
Must be at least 18 years old and 26 years at most
Should be a Lebanese National
Should be fluent in English, Arabic, and French
Should have a height of not less than 160 cm or 5'2"
Applicant's weight should be proportionate to height
Must have a pleasing personality and appearance
Clear skin and complexion is a must
Should have no visible piercings or tattoos
Must pass the health assessment test provided by the company
Should know how to swim; specific distance isn't provided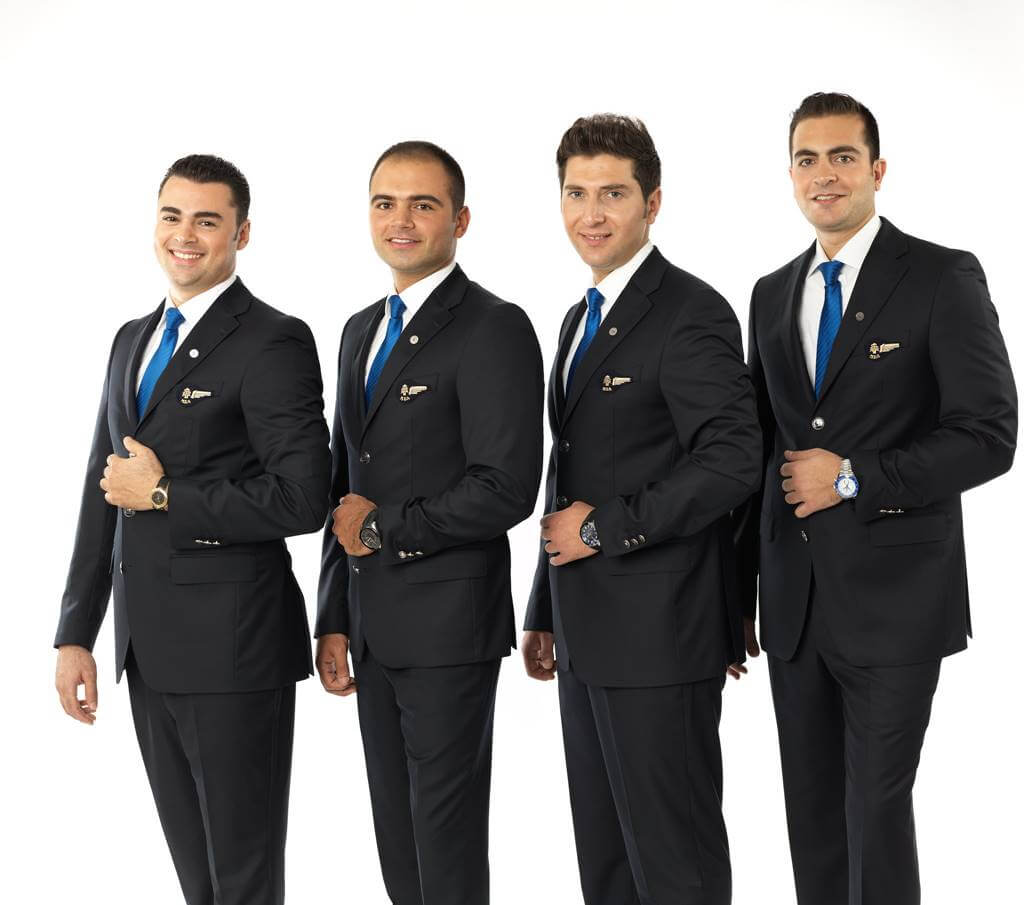 Document Requirements to Prepare
In addition to the qualifications, it's also a must that you prepare and submit the following documents upon initial application:
Resume/Curriculum Vitae
Cover Letter
Accomplished Application Form
Keep in mind that you may be asked for more documents aside from the ones on the list if you go through the interview process. The interviewers will walk you through it during screening so take note of it during your turn.
Where to Apply for a Job for Middle East Airlines Online?
You can apply for a job for Middle East Airlines through their careers page.
On the said careers page, you will be able to see the vacant positions that you can apply for, their respective responsibilities, qualifications, and requirements. This is also where you can create an account for your job application. This step is a must since that is what the company will use to track your pending applications.
Below is the screenshot of the Careers Page of Middle East Airlines: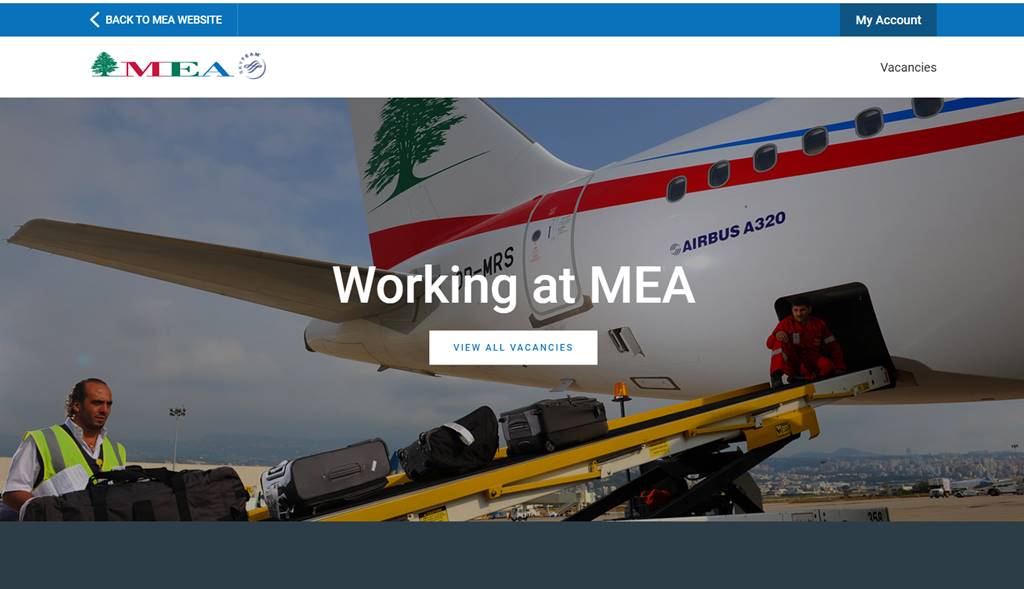 How to Become a Cabin Crew for Middle East Airlines
For a better reference, here is the step-by-step application process that you can follow to successfully become a cabin crew member for Middle East Airlines:
Step 1: Screening Process after you submit your application online.
Once you're welcomed by a vacancy for either a cabin crew member or flight attendant, whichever you're aiming for, on MEA's careers page, you should now head on to create an account on the same website. This will lead you to the application form needed for the required position. In this step, you will also be asked to submit your resume and cover letter.
After being done with these tasks, your application will go through the company's screening process. This is a significant determining factor as to whether you will be deemed qualified or not.
Step 2: Interview when you pass the initial screening
If you pass the screening process, expect that you will be invited either virtually or physically for an interview. Here, you will need to make preparations in answering interview questions. Expect the basics like:
Why do you want to work for Middle East Airlines?
What value can you bring to MEA?
Why should MEA hire you?
What makes you different from the other flight attendant applicants?
How much salary do you expect to get from Middle East Airlines?
Basic information will also be asked, but don't expect too much from this topic since these are already assessed from the initial screening. Additional documents may also be required.
Step 3: Final Selection Process after the interview process
If you pass the interview, then you can already celebrate since you will be a part of the final selection process. Depending on the company's needs, you may either be directly hired or go through additional selection tasks. The latter will involve being tested through various cabin crew-related tasks and running on a point-based system.
Either way, expect that if you get accepted as a Middle Eastern Airlines, you will be subjected to preliminary training before fully being submerged in the working environment. So far, the airline doesn't disclose any kind of necessary fees for training.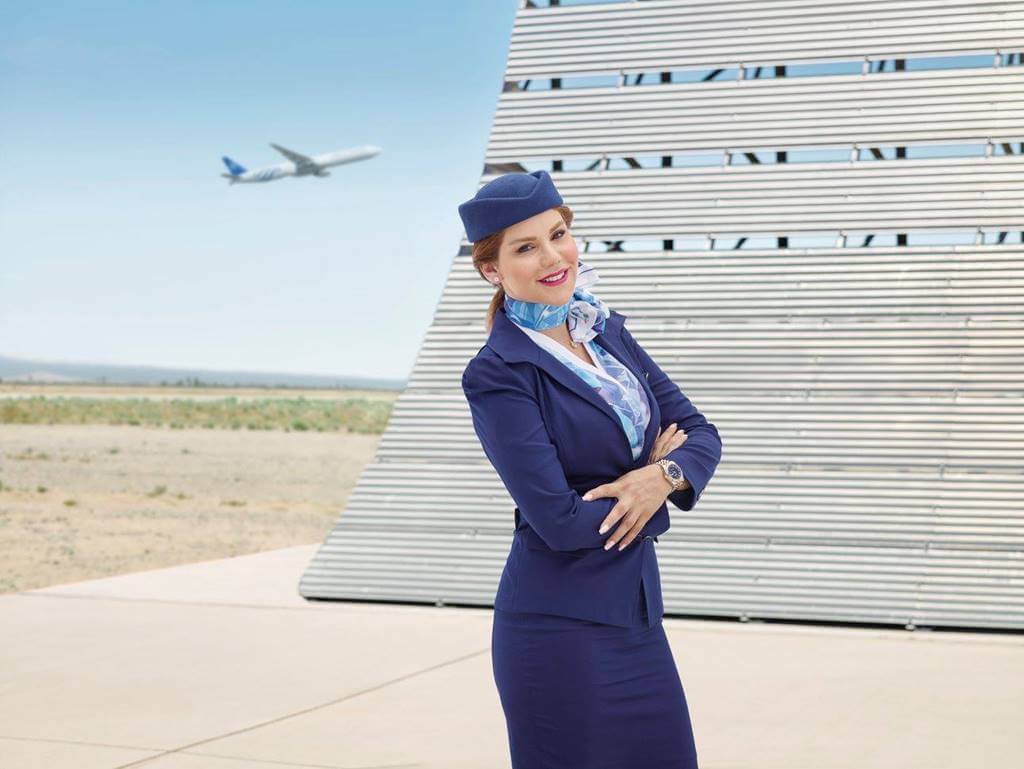 Monthly Salary of a Flight Attendant for Middle East Airlines
The reported average monthly salary that a Middle East Airlines flight attendant makes is around LBP 1,800,000 or $1,200. To add, the salary comes with benefits like:
Travel Allowance
Discounted Flight Tickets
Career Development Opportunities
Free Accommodation
Free Transportation Services
Health Insurance and Other Medical Benefits
Retirement Plans
Rates may increase depending on your superiority, but the said range is what you should expect as a starting MEA FA. Nevertheless, the benefits stay the same as long as accepted as a regular flight attendant.
Video: Applying for a Job in an Airline in the Middle East
This video by Alexander George talks about the requirements, both qualifications and documents, that you need to meet to work for airlines in the Middle East.
Although this doesn't necessarily talk about MEA, this is a good place to start if you're applying to the said airline because things like Middle Eastern culture and work ethics were discussed in this video.
For reference, here are some points that you can make from the vlog:
The importance of being fluent in English
Required customer experience for most Middle Eastern airlines
The level of fitness that you have to achieve in order to be qualified as a cabin crew member
The concept of multiculturalism and its significance in being a flight attendant in Middle Eastern airlines
Middle Eastern airline's rule for tattoos and piercings
Disclaimer: This is a video uploaded by a flight attendant vlogger who shared his experience being a cabin crew member. Take note that every crew has a different experience, but this will help give you an idea what to expect when you work for Middle East Airlines.
Photos: MEA Airlines Air Liban Cabin Crew in Uniform
Check out these beautiful pictures of MEA Airlines Air Liban airlines flight attendants in uniform. If you wish to imagine yourself being part of this company, check out these photos to give you an idea about working for this airline:
Frequently Asked Questions
Here are some frequently asked questions from other aspiring Middle East Airlines flight attendants that may give you a better view of what to expect from the position:
1. How much is the salary of a flight attendant in Middle East Airlines?
The starting monthly salary for flight attendants in Middle East Airlines comes up to around LBP 1,800,000. This is equivalent to roughly $1,200, which is comparatively lower than the average salary of flight attendants in the US. The amount, however, is still in an ideal range considering Lebanon's economic growth in tourism.
2. Can I be a flight attendant in Middle East Airlines even if I'm not from the country?
Unfortunately, one of Middle East Airlines' requirements for their flight attendants is to be a Lebanese national. If you're a foreigner who's really determined on being a part of the airline's flight team, then you should start processing your residence in the said country to apply.
3. What is the height and weight requirement to apply as a Middle East Airlines flight attendant?
For the height requirement, you should be at least 160 cm or 5'2". There's no specific weight requirement, but it must be proportionate to your height. Your body mass index (BMI) will also be taken into account.
4. What can disqualify me from being a cabin crew member in Middle East Airlines?
Simply not being in line with the qualifications set by Middle East Airlines can already disqualify you from the selection process. A bad or crime-stained background, however, has the most significant effect. This is most especially when we talk about felonies, violent acts, and any other crime that concerns the safety of other people.
5. What age do I need to be to apply to Middle East Airlines?
You need to be around 18 to 26 years old to be able to apply to Middle East Airlines as a cabin crew member. You can always try your luck if you're a little over 26 years old, but you should expect a slim to zero chance of being approved if this is the case.
6. What language do I need to speak to be qualified as a Middle East Airlines flight attendant?
Middle East Airlines requires applicants to be fluent in Arabic, English, and French. If you're not well-versed in these languages, then it's recommended that you take classes until you reach the needed comprehension level.
7. Is it hard to get a flight attendant job at Middle East Airlines?
The application itself is easy since submissions are made online, but actually acquiring the flight attendant job can be difficult because of the strict requirements set by the airline.
8. What are the challenges of being a cabin crew member in Middle East Airlines?
If you're a beginning flight attendant, some of the challenges that you may face include a pressuring environment, varying management styles, and heavy working hours. You may also have trouble adapting to Lebanese culture, both in terms of living and working ethics.
9. Do I need a degree to apply as a flight attendant in Middle East Airlines?
You don't necessarily need a college degree to apply as a flight attendant in Middle East Airlines. Still, the airline requires applicants to have a minimum educational attainment of Lebanese Bacc II. This means that if you're a newly settled foreigner, you may have to complete the said level first before you can be eligible for the position.
10. What benefits can I get by working as a Middle East Airlines flight attendant?
Some benefits offered by Middle East Airlines to their flight attendants include free accommodation, free transportation service, travel allowance, flight ticket discounts, medical assistance, and a tax-free salary. Many of the existing MEA flight attendants have also praised the career development opportunities that the airline can present.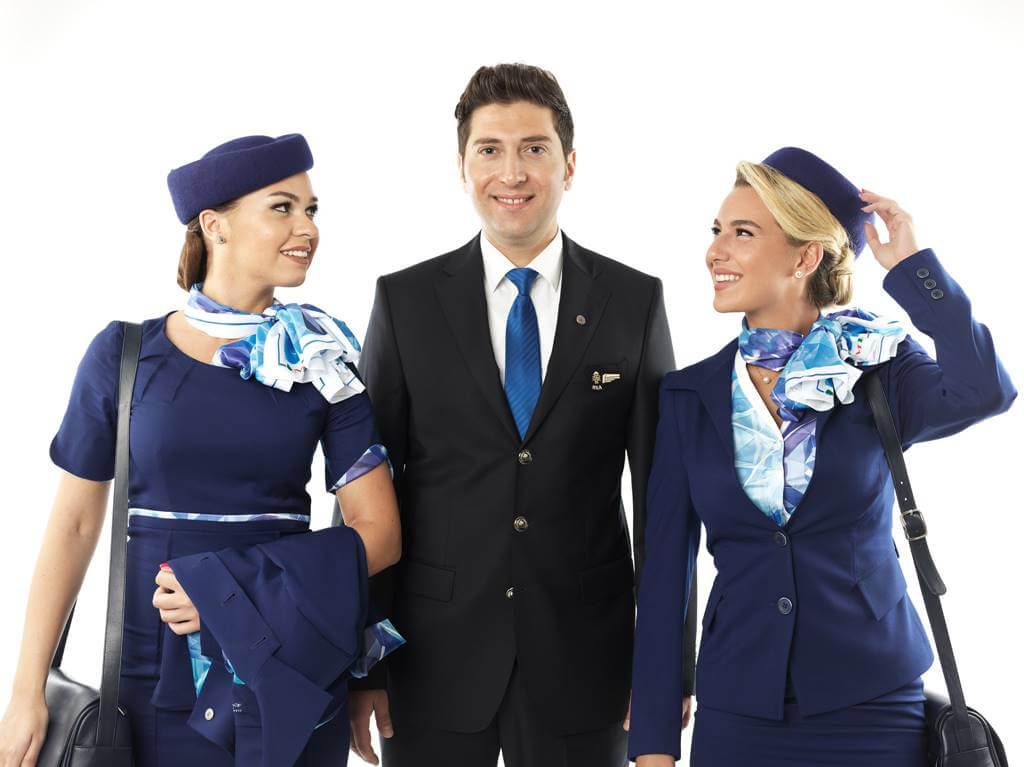 Summary
So, this wraps up our discussion about how you can apply as a flight attendant in Middle East Airlines. As you can see, being in a flight team is not a piece of cake. This applies no matter if we're talking about Middle East Airlines or any other airway.
First of all, you have to be aware of the responsibilities expected from you as a flight attendant. This is easy to look up online, but note that airlines have specific tasks exclusive to their team. Similarly, you also have to be keen on the requirements. Make sure that you can prepare everything before applying, so you won't waste both your and the airline's time. This is the same with qualifications.
It's also important to note that cabin crew applications for Middle East Airlines are made online unless otherwise stated. Preliminary screenings are made through the careers page. This means that you have to keep a close look at your email and phone numbers while waiting for progress and announcements.
Contact Information
Middle East Airlines
Address: Middle East Airlines AirLiban S.A., Beirut International Airport, Beirut, Lebanon
Telephone Number: 00961 1 629999
Website: https://www.mea.com.lb/
Facebook: https://www.facebook.com/MiddleEastAirlines.AirLiban
Instagram: https://instagram.com/mea_airliban
Twitter: https://twitter.com/MEAAIRLIBAN
Youtube: https://www.youtube.com/user/MEA1945