In this article, we're going to talk about several things about being a cabin crew for Norwegian Air. Firstly, you will know the brief history of the airline. Then, we summarized the qualifications, requirements, steps when applying, and some questions that you might have.
Also Read Customer Service Jobs You can Use as a Stepping Stone to become a Cabin Crew
Globally, airplanes are the most used forms of transportation for cross-state and cross-country travels. Long-distance flights have become a one-of-a-kind experience, with many people enjoying the onboarding and inflight happenings. A crucial part of the experience is the cabin crew, who dedicate themselves to the service of passengers. Many flight attendants want to join airlines to reach their career goals and see sights worldwide.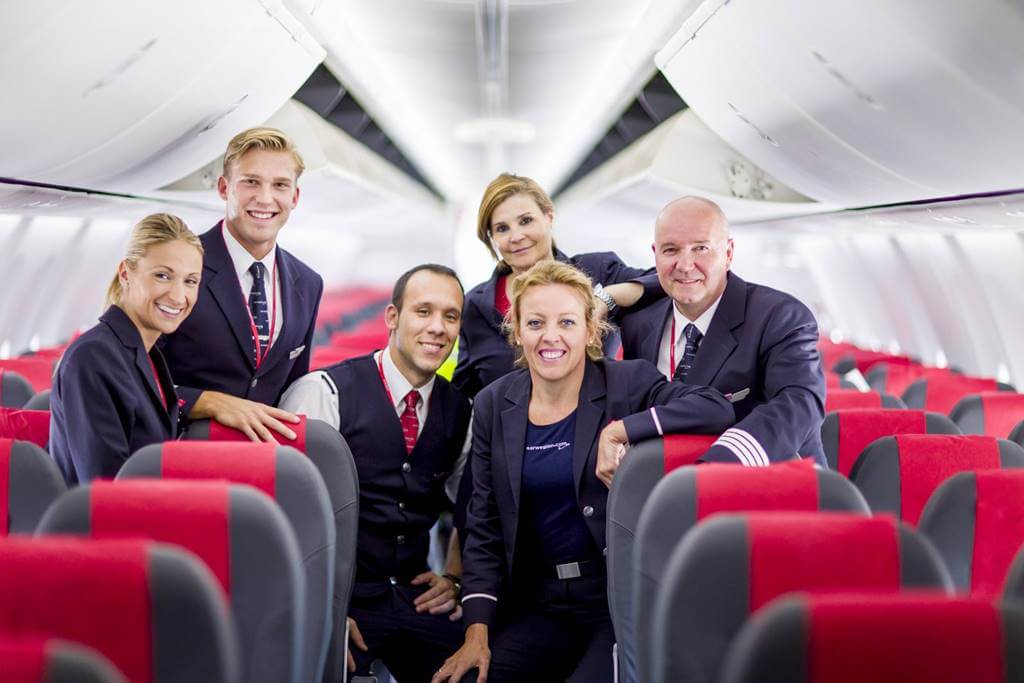 Overview of Norwegian Air
Norwegian Air Shuttle is one of the most well-known airlines in Europe. It operates out of the Oslo Gardermoen Airport in Norway. The airline is part of the larger Norwegian Airlines Group. The company is multinational, with offices in Sweden, Finland, Italy, Denmark, and Thailand. It also has operations in the United States, Argentina, and the United Kingdom.
With over 40 countries as part of its coverage, Norwegian Air has established itself as a leading low-cost airline. It has expanded to include Norwegian Air International, Norwegian Long Haul, and Norwegian Air Argentina.
Primarily, the airline is known for its flights across Europe and North Africa. They covered 104 different cities in 2021, although some destinations closed down due to the pandemic. Nonetheless, they continue to provide quality flights for their customers.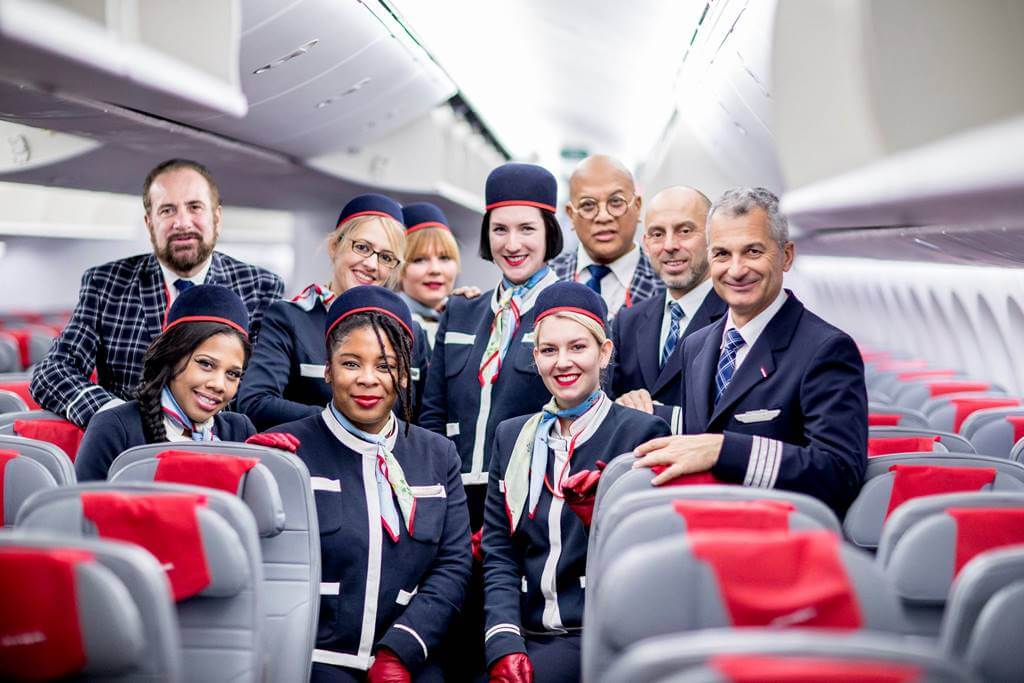 Responsibilities
As a cabin crew member, Norwegian Air flight attendants must have high awareness and a continuous desire for service. Life in the skies can be taxing, and some things should always be at the top of a crew member's priority list.
A Norwegian Air flight attendant has the following responsibilities:
Information campaigns. Flight attendants have to inform passengers about the protocols aboard the plane. These are regulations in place for everyone's safety and must be followed at all times.
Safety monitoring. Flight attendants should have the capacity to adhere to all rules stated in the company's safety manual. These safety rules and regulations must be routinely checked to prevent any accidents.
Risk assessment. They are also tasked with maintaining the order of passengers' seats and belongings. The airline is careful about preventing any losses or harmful occurrences involving airline paraphernalia.
First aid to passengers. Flight attendants undergo training to become skilled first aiders. This knowledge allows them to support injured passengers and co-crew members, if necessary.
Maintenance and inventory. Flight attendants must check if cabins are sanitized. All paths to the washroom must be obstruction-free. For example, attendants must check the overhead bins and emergency exits.
Inclusive inflight care. Norwegian Air flights must be inclusive, and passengers with special needs must be comfortable. An approachable and warm demeanor must be displayed at all times.
Promotional duties. Cabin crew members should be prepared to announce promotional offers whenever necessary. These may happen depending on seasonal changes.
Food distribution and selling. Inflight distribution of meals and snacks is under the jurisdiction of flight attendants. Proper sanitation of utensils, trays, and other related tools must be upheld.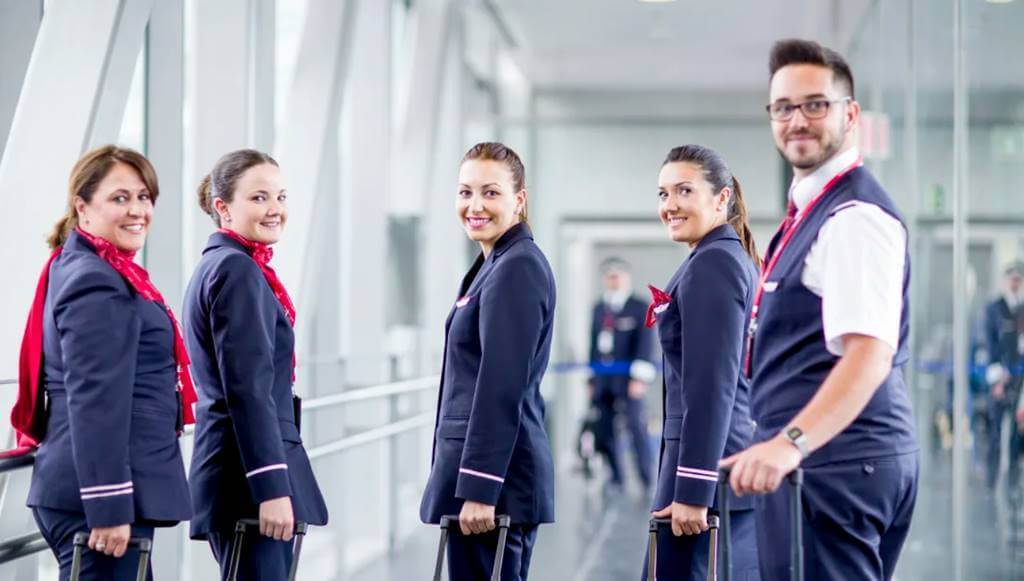 Qualifications
Norwegian Air considers its cabin crew members the faces of the company. They are tasked with maintaining the safety of passengers and keeping them satisfied onboard flights. Being friendly, approachable, and attentive are all traits that a Norwegian Air flight attendant must possess.
But beyond the passion for giving high-quality services, Norwegian Air also looks for specific criteria when filling its ranks. After all, crew members are part of an international team that covers several countries worldwide.
Applicants must at least be 20 years of age.
All candidates must at least be 160cm or 5'3″ in height. This criterion applies to both male and female candidates.
Depending on the location, applicants may need to have a valid working permit for the country of application.
They must possess an unrestricted passport used for visa-free travel to specific countries. It will also be used to apply for a visa in selected territories.
Candidates must have the ability to swim.
They should have a clear criminal record, free of all civil offenses.
Attendants should adhere to the tattoo policy, which means all tattoos must be covered while in uniform.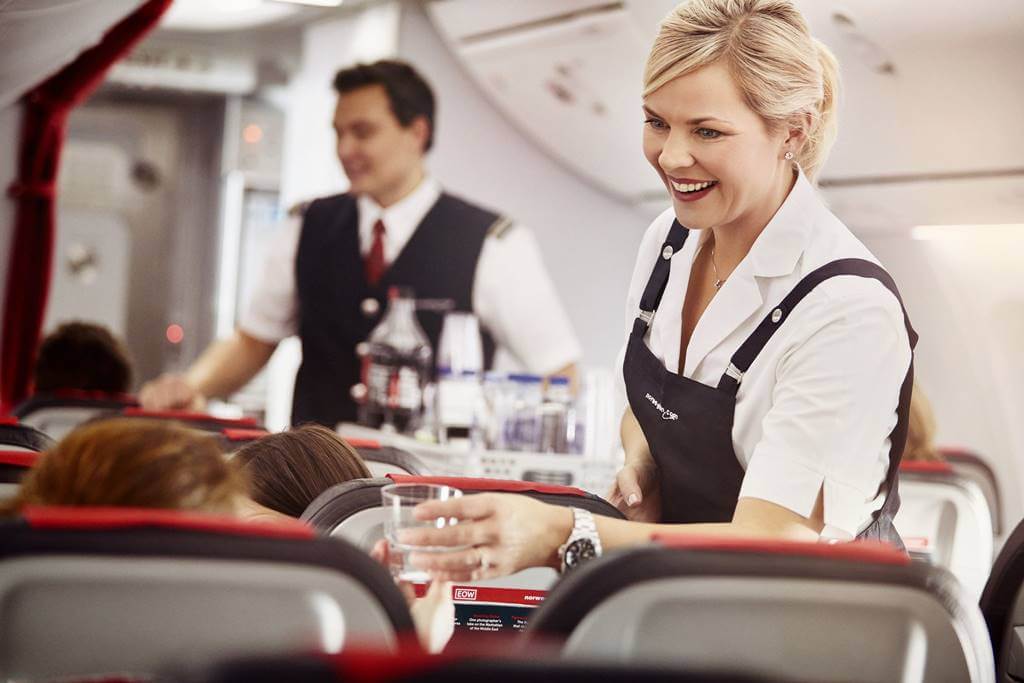 Document Requirements to Prepare
Candidates must prepare the following:
Curriculum vitae
Passport
Medical clearance
The hiring personnel may ask for other requirements during the interview process.
Where to Apply for a Job for Norwegian Air Online?
Norwegian Air publicly posts its job vacancies. These happen as the company needs to fill spots in its crew and may happen suddenly. It is helpful to keep watch of their Careers page, including the necessary information for applications.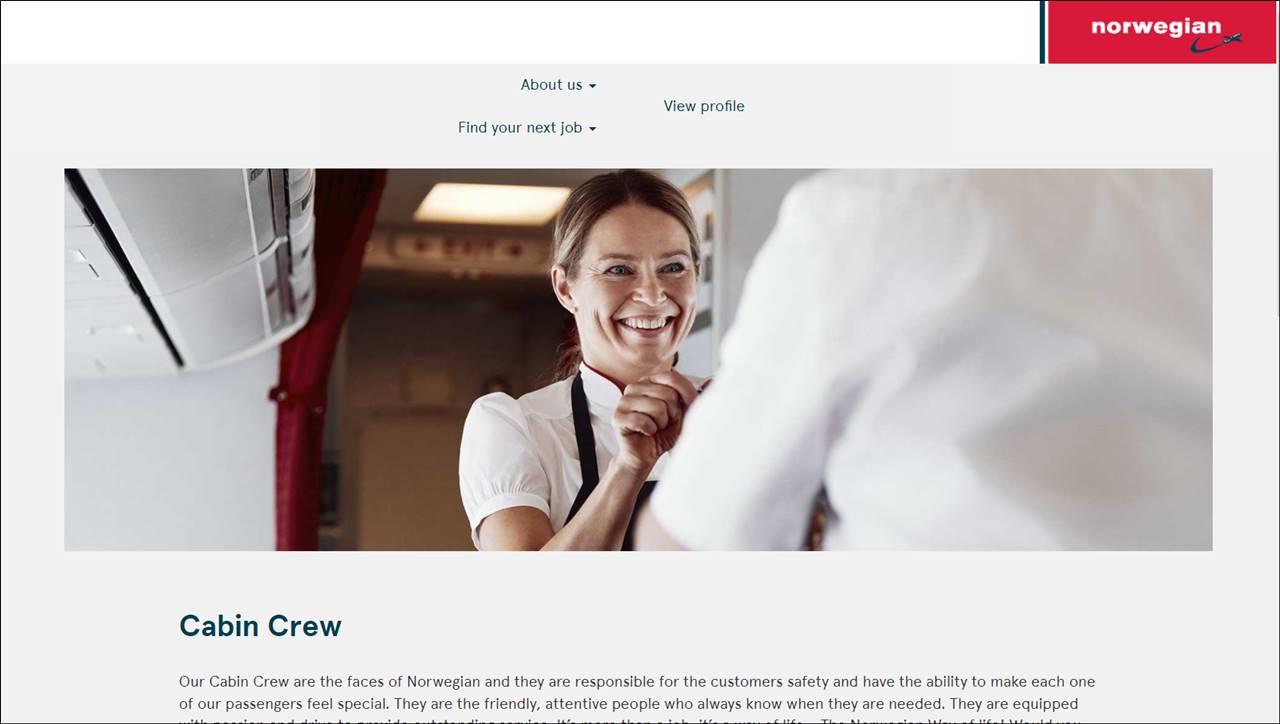 How to Become a Cabin Crew for Norwegian Air
To become a cabin crew member for Norwegian Air, you must adhere to a strict step-by-step process.
Step 1: The first thing an applicant must do is apply via their Careers page.
If you see a vacancy for a cabin crew member, submit an application. You must attach your curriculum vitae, passport, and photo.
Step 2: Expect to hear from Norwegian Air if you meet the requirements.
They will facilitate an online test, which involves a few categories. These include Behavioral Personality, Numerical Ability, and Verbal Reasoning.
Step 3: If you have a satisfactory score on all the tests, you will receive an invitation for the assessment day.
On the scheduled date, you will go through a set of interviews where the personnel ask you several questions.
Step 4: The assessment begins with a presentation from the company, where they also ask applicants to complete a few assignments.
Group activities will also happen to build rapport and a uniform fitting.
Step 5: Assessment ends with the final interview, which will revolve around the candidate's personal life.
Be prepared to answer questions about your previous experiences, as well as your job capabilities.
Step 6: Once you secure a slot, you will begin training.
The training sessions will happen over several months. It covers all aspects of the job, such as first aid, emergency protocols, and customer service.
Step 7: The last part of the training is a set of practical and written examinations, all designed to measure your knowledge and capabilities.
Passing these exams will allow you to proceed as a member of the Cabin Crew.
Video: Preparing your Life as a Crew
Joining a cabin crew is a goal that many people have. However, parts of the job are not always known to the general public. If you want to pursue your dreams of becoming a flight attendant, you must prepare for changes in your daily life.
Some of the things you might encounter include:
Strict protocols that involve time and dress code
Fluctuating sleep schedules due to flights
Passengers of various cultural and social upbringing
Flight cancellations due to weather and other reasons
Unexpected changes in flights
Disclaimer: This is a video uploaded by a flight attendant vlogger who shared her experience being a cabin crew member. Take note that every crew has a different experience, but this will help give you an idea what to expect when you work for Norwegian Air.
Photos: Norwegian Air Cabin Crew in Uniform
Check out these beautiful pictures of Norwegian Air airlines flight attendants in uniform. If you wish to imagine yourself being part of this company, check out these photos to give you an idea about working for this airline:
Frequently Asked Questions
Here are some common questions and answers about the hiring process in Norwegian Air airways:
1. Does Norwegian Air travel within Europe only?
No. Norwegian Air has destinations worldwide, particularly in areas of North Africa. Due to the pandemic, flights to the Americas and Asia have halted.
2. Are flight attendants required to meet a certain height?
Yes. All candidates must be at least 160cm or 5'3″ to proceed with the application.
3. Can people with tattoos apply?
Yes. However, tattoos must not be visible during flights. The uniform must cover all tattoos.
4. Does Norwegian Air have job openings frequently?
Job openings happen as necessary. It helps to keep track of the company's vacancies on their website.
5. Can people with piercings apply?
Yes. However, piercings must not be visible. In addition, tongue jewellery, earlobe expansions, and skin implants are prohibited.
6. Will attendants receive emergency training?
Yes. All candidates will undergo training: these cover first aid, emergency protocols, and customer service.
7. Can candidates apply for more than one position?
No. Candidates can only apply for their preferred roles at their chosen base of operations. Should there be an application for multiple bases, the withdrawal will occur for non-prioritized locations.
8. Will travel expenses for assessment days be covered?
No. Norwegian Air will not reimburse any travel expenses incurred on assessment days. They are not included or counted as part of your workdays, as they happen before formal employment.
9. Can unsuccessful applicants apply again?
Unsuccessful applicants can try again, but only after an entire year has passed since they received the rejection notice.
10. Do the pieces of training cost anything?
No. Norwegian Air will entirely cover the training program. You will not have to pay for anything. Introductory salary rates will also apply during this time.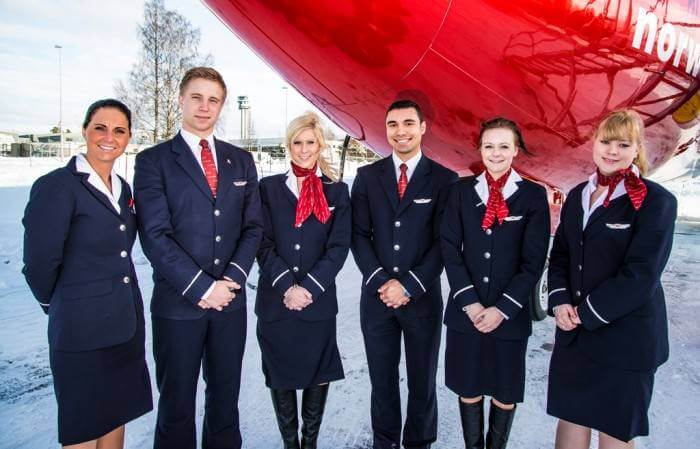 Summary
Overall, Norwegian Air is an airline that has a solid reputation. It is one of the most popular low-cost airlines globally, and its flight attendants are skilled in multiple aspects. To apply for a post as a cabin crew, you must ensure that you have the correct documents. Qualifications mean a lot to the company, and all applicants will be routinely tested.
Contact Information
Norwegian Air
Address: Postboks 115, NO-1330 Fornebu, Norway
Email: cabinrecruitment@norwegian.com
Website: https://www.norwegian.com/
Facebook: https://www.facebook.com/flynorwegiannow/
Twitter: https://twitter.com/Fly_Norwegian
Instagram: https://www.instagram.com/flynorwegian/
YouTube: https://www.youtube.com/user/norwegian