In case you plan to work for Royal Jordanian as a flight attendant, the qualifications and requirements, how you can apply, where you can apply, and some frequently asked questions that you might have in mind. By the end of this article, you will be able to know the proper hiring guidelines so that you can ace your application.
Also Read: 7 Important Job Qualifications to become a Flight Attendant
Exploring the world sounds like a delight, and it is precisely the job for those working as flight attendants. If you have been thinking of becoming a cabin crew member, then you are in luck because, in this article, we will be giving you the requirements, qualifications, and more about the things you would need to take note of as you apply to be an employee of Royal Jordanian.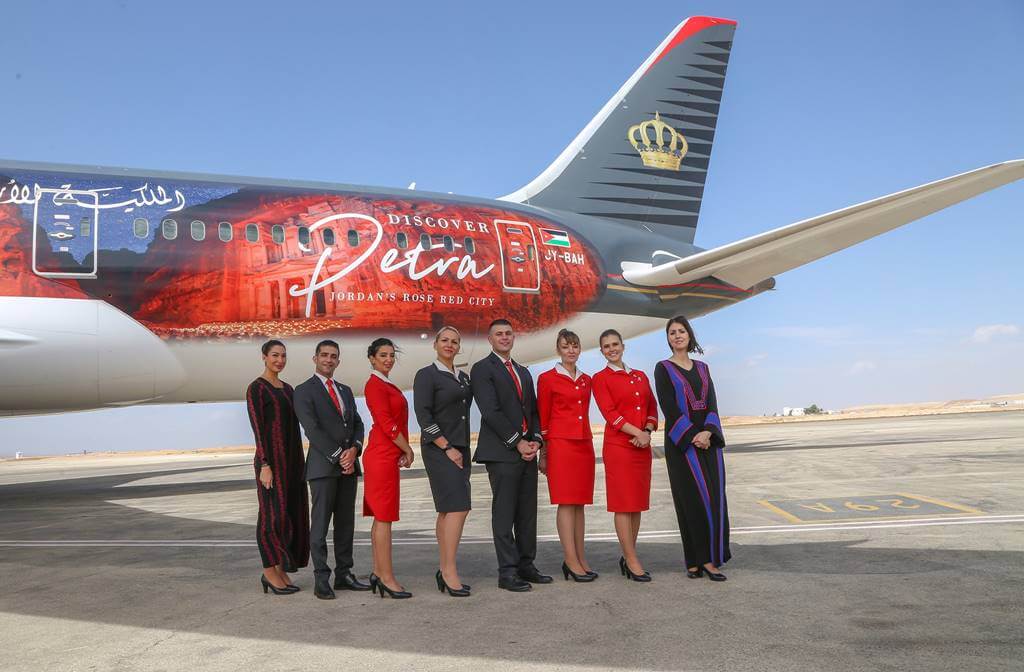 Overview
The company was created as the Hashemite Kingdom of Jordan's official airline on Dec. 15, 1963, by Royal Decree signed by Majesty King Hussein. After being commercialized, Royal Jordanian stocks began trading on the Amman Stock Exchange around December 2007. Jordanians control the reins of the stock, and the airline continues to serve as Jordan's national carrier.
Royal Jordanian has been a vital catalyst for economic growth from its inception, bringing in hard dollars and playing a crucial role in luring travelers from all around the world. It accounts for 3% of the nation's GDP. Royal Jordanian has made steady growth over the past 52 years, upgrading its aircraft, developing its transport network, training talented employees for more orderly work, and modernizing its IT facilities. Its 26 planes fly to more than 45 direct destinations. Their dream is "To be the Airline of Choice Connecting Jordan and the Levant with the World,"
Its main base is in Amman's center, and its trips are conducted through Queen Alia International Airport, which has a substantially enhanced framework and cutting-edge services. Royal Jordanian entered a Oneworld airline partnership in 2007 due to its reputation and global level of competition. The alliance's 13 foreign RJ affiliates allow Royal Jordanian passengers to travel to over 1,000 destinations in 150 states from or to Amman with just one stop.
Royal Jordanian is focusing on developing innovative, cutting-edge network services widely used in the aviation sector to keep up with international airlines. The company is continually adding new features to make flying smoother for its guests, who totaled three million in 2015 and flew on 36,000 flights.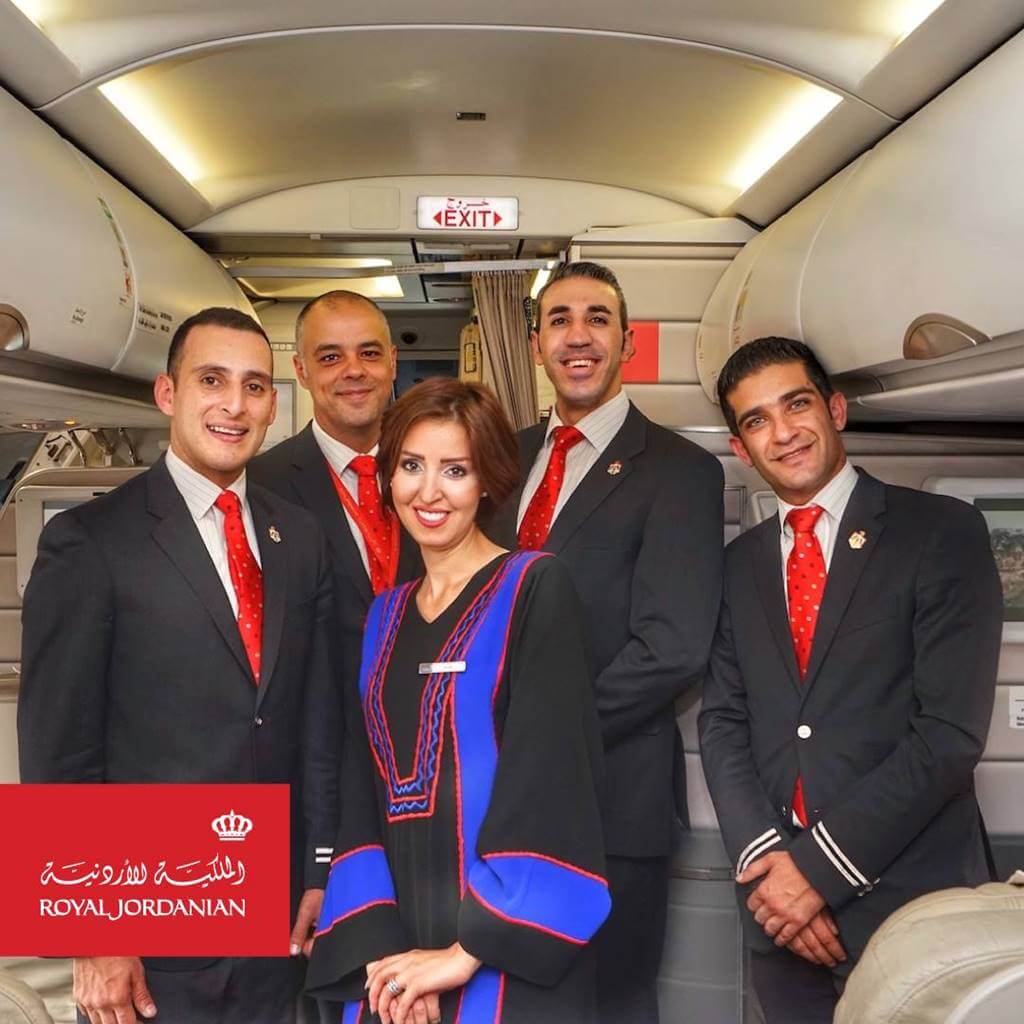 Responsibilities
While flying the world seems like the only thing you have to do as a flight attendant, this is actually false. Being a flight attendant would also entail some responsibilities like any other job. As a flight attendant, it is always your duty to make sure that your clients would have a safe and smooth flight. This means eliminating problems that come up before, during, and after each flight.
Before applying for the said job, it is important to make sure that you can give them things that the Royal Jordanian crew is looking for. So, saying this, here are some of the responsibilities that an RJ flight attendant would have to always take note of.
Greeting passengers, guiding them to their chairs and assisting with carry-on luggage and any seating issues.
Making announcements and informing the travelers of any delays, etc.
Being present and seen in the cabin at all times during the flight to be able to respond to any passenger requests.
Managing passengers in an emergency and administering first aid to passengers who need them.
Before taking off, you must check all the passenger safety belts, check galleys, and secure everything.
You will also be in charge of serving meals and refreshments to the passengers in accordance with the company's rules and regulations.
Before each flight, you will also conduct a professional presentation of the safety protocols and gear given to all the passengers.
You are also in charge of pre-flight duties, which include inspecting safety gear, guaranteeing that the aircraft is nice and orderly, ensuring that all the food is on board (especially the special dietary requests), loading relevant landing cards, and inspecting first-aid equipment.
Assuring that passengers safely disembark at the end of a trip and that no baggage is left in overhead compartments, restrooms, or galley areas.
Completing all flight-related paperwork, like stock management, logging problems or issues during the flight, and so on, as well as communicating with ground personnel.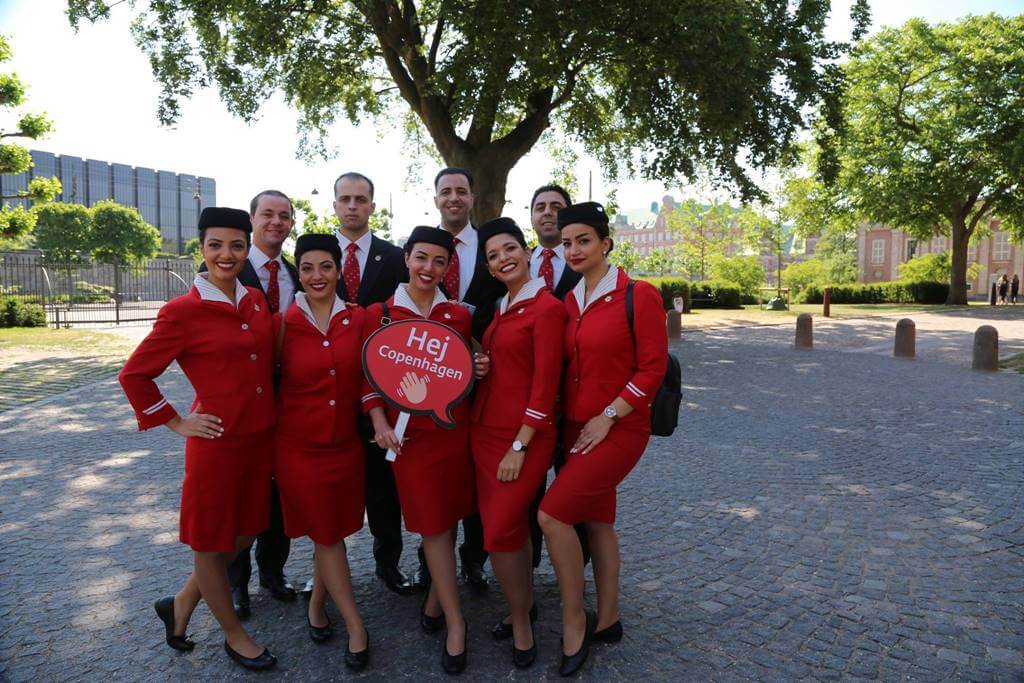 Qualifications
While you now have an idea of the things that you will be doing as a flight attendant of their company, it is also important to know whether or not you are qualified enough to be able to do those said requirements. Their qualifications would include all kinds of aspects, from your educational attainment down to your physical appearance.
It is essential to know whether or not you are qualified to join their company and be a part of their community as this is your entrance ticket and their first impression of you. If you lack some of the qualifications that they have stated here, then there is a chance that your application will be denied.
With that said, before applying, here are some of the qualifications that you should take a look at to see if this airline is the best fit for you.
At the time of you applying, it is important that you are at least 20 years old to qualify.
For the maximum age to apply, you should be no older than 30 years old.
You must be of Jordanian nationality.
When standing on your tiptoes, you should be at least 158 cm tall (5 feet and 1 inch) with a 212 cm (6 foot and 9 inches) arms reach.
It is important to make sure that your weight is proportional to your height.
For your educational attainment, it is required that you must at least have a high school diploma or an equivalent if it.
A mastery of the English language, both written and spoken, is also required.
While you are wearing your Royal Jordanian Cabin Crew attire, no tattoos should be visible.
Coverings using bandages and cosmetics to hide your tattoos are not allowed.
You must be physically fit to meet their cabin crew requirements and work as a member of the Royal Jordanian Cabin Crew.
Moreover, these are some of the qualities that the hiring committee also looks for in-cabin crew members.
Empathy for others and a positive attitude
Cultural sensitivity, as well as the capacity to adjust to new situations and individuals, are essential.
The ability to manage a rigid work schedule with flexibility and motivation
You must be empathetic, professional, visionary, progressive, and have cosmopolitan qualities as these are required to live up to Royal Jordanian's purpose and ideals.
Aside from English, a good command of other languages would also give you an advantage.
You must have good time management.
Be conscious of security and safety.
You should be presentable, in good health, and able to communicate effectively.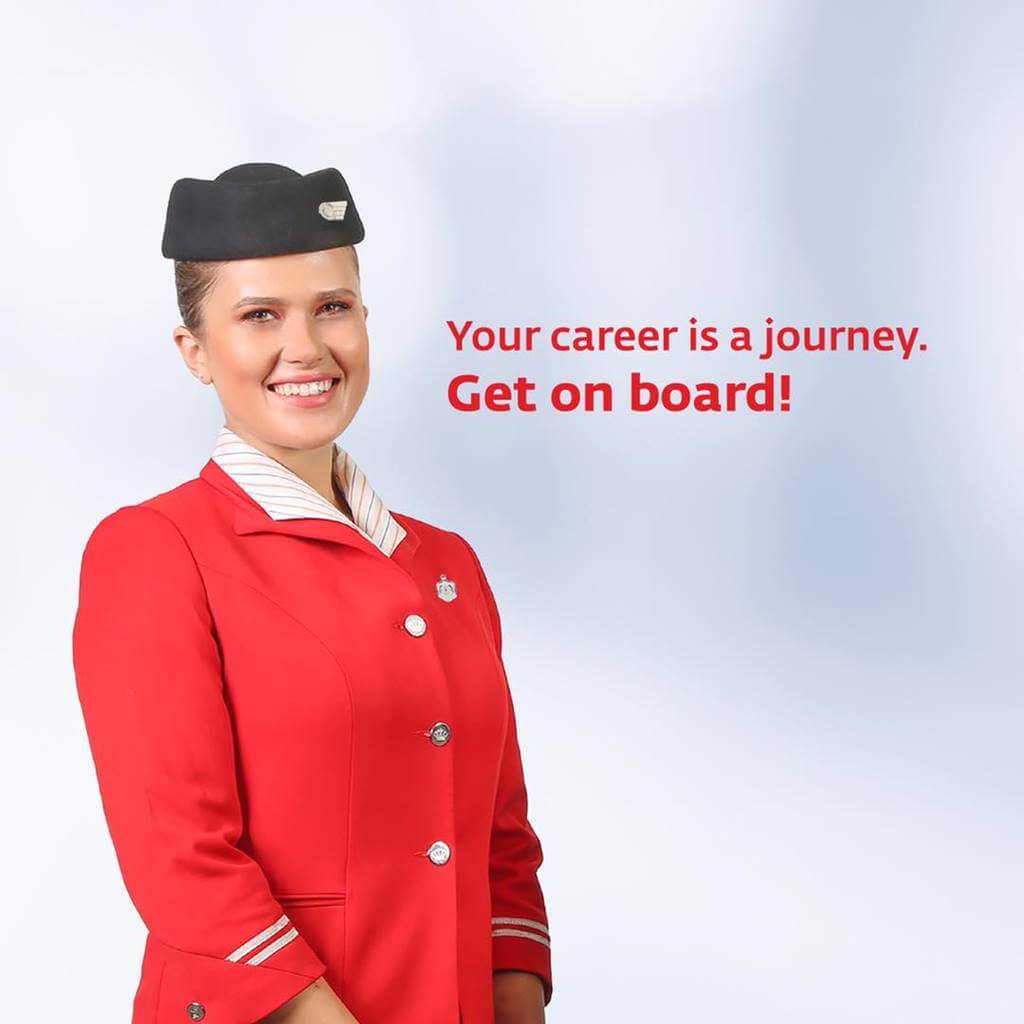 Document Requirements to Prepare
Along with the Royal Jordanian's qualifications, of course, you would also have to submit physical proof, documents, and such that you have everything that they are looking for in terms of physical appearance and educational attainment.
It is important that you can give them all the documents they are asking for, as the lack of files that you submit will significantly affect the chances of you qualifying. There are instances that the lack of proof can lead to rejected applications and or prolonged processing of your application form.
To ensure that these things would be avoided, here are the documentation requirements that you must prepare to have a smooth, free process.
Your updated CV
Full-length photograph
Birth certificate
Medical and dental records
Criminal records
High school diploma or educational attainment similar to this
Valid passport with no restrictions to travel to any destination
For the full-length photograph that they require, here are some things that you have to take note of to show off your best side to the recruiters.
Make sure that the photo is taken with a white background
Ensure that you are smiling in the photo
You must keep your hands at your sides
Always take note of your posture, make sure that you are standing properly
You should have a clean appearance in the photo
Make sure that your hair is also fixed properly
Your pose must also be natural and not too stiff.
Where to Apply for a Job for Royal Jordanian Online?
If you are interested in applying for the job, make sure that you have met all of the requirements. With that said, if you are ready to submit everything, you will have to send all these files to their email or on the careers page of their website or email: recruitment@rj.com
Below is a screenshot of the Careers page of Royal Jordanian: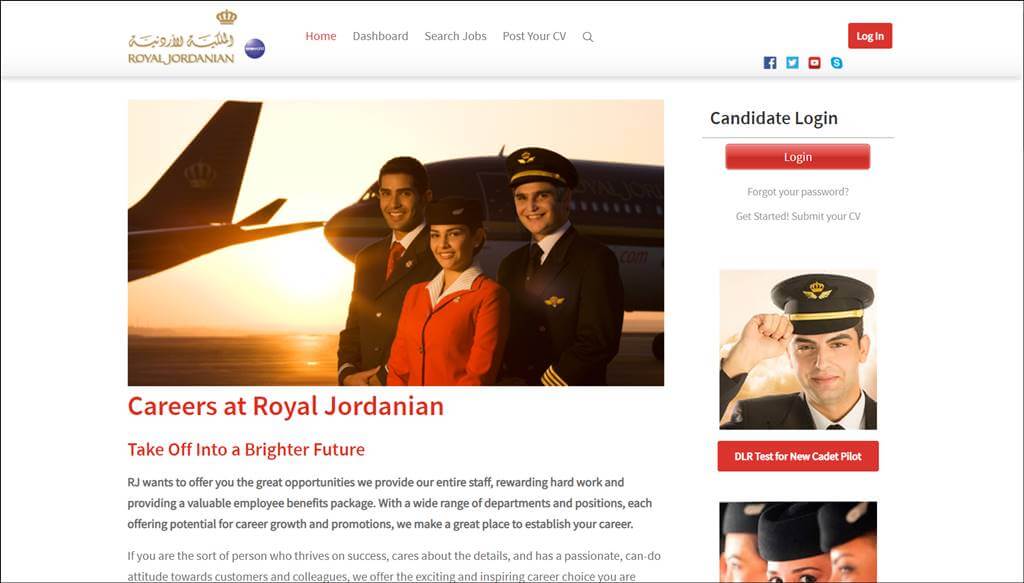 How to Become a Cabin Crew for Royal Jordanian
Here's a step by step guide in order to send your application for this airlines. Please check out the procedure below:
Step 1: Go to their website's "Search Jobs" tab
In this area, anyone can view the jobs that are available. This way, you can get a full and more detailed view of all the job vacancies, their job requirements, and the like. This is the part where you can choose specifically what cabin crew job you would be a part of.
Step 2: Create an account on their website
Before submitting anything, the company would require you to create an account on their website. This step is very important as your account is where you would get more updates of everything relating to job vacancies, your application's progress, and a lot more.
Step 3: Submit your updated CV
If you have completed all the requirements they are asking for; you can start submitting your application. The company asks for your updated CV so that they get to have a full view of all your educational attainments and the like.
Once you have submitted your updated Curriculum Vitae, you are now able to track how your application is going. Here, you would be able to wait for the news regarding your application, if there are any and if there are any other things that you would have to submit. It is crucial always to view your profile as everything regarding your application status would revolve around your account.
Monthly Salary of a Royal Jordanian Flight Attendant
Knowing what you can offer to the company and what you will be doing when you get there is important. But of course, it is always important to remember that the job should also benefit you. This means knowing what exactly you could gain from working in their airline.
Aside from the privilege of seeing the world up high, the company also offers a basic pay of $1000 – $1500 and a whole bunch of employee benefits. While they want you to put their customer's concerns as your main priority, the company has not forgotten about you. With that said, here are some of the benefits that you could get a hold of once you join their cabin crew.
Health insurance
Vacation and Paid time off
Sick days
Bonuses
Free tickets
Extra salaries
Provident fund
Profit-Sharing
Video: Royal Jordanian Crew Benefits and Work
In the video, Royal Jordanian shows you everything that you could get working for the company. They present multiple facts about the airline, their flight destinations, and all the key information you should know, working as a cabin crew member in Royal Jordanian.
The video talked about things such as:
Benefits you would get as a crew member (job security, free tickets, and high income)
The experiences of fellow cabin crew members
The positives of joining their airline
If you want to take a look at their youtube channel and watch more of their videos, you can do so by clicking this link. This video is uploaded on the official website of Royal Jordanian.
Photos: Royal Jordanian Airlines Cabin Crew in Uniform
Check out these beautiful pictures of Royal Jordanian Airlines flight attendants in uniform. If you wish to imagine yourself being part of this company, check out these photos to give you an idea about working for this airline:
Frequently Asked Questions
Here are some common questions and answers about the hiring process in Royal Jordanian Air airways:
1. How can I apply for a job with Royal Jordanian Airlines?
You can apply for a job by visiting their website, careers.rj.com, create your profile where you will be posting your updated Curriculum Vitae (CV) and a recent full body photo.
2. What is the minimum height requirement when you apply to Royal Jordanian?
You must be at least 158 cm tall (5 feet and 1 inch) with a 212 cm (6 foot and 9 inches) arms reach.
3. What are some of the things you have to submit when you apply for a job in Royal Jordanian?
The first thing that you would have to submit when applying would be your updated CV as well as a recent full body photo of yourself.
4. Does Royal Jordanian give benefits to its cabin crew members?
The company does give multiple benefits to its cabin crew members, such as free tickets, health insurance, bonuses, and a lot more.
5. What is the minimum age allowed for you to be a part of the Royal Jordanian cabin crew?
You must be at least 20 years old to be able to apply to their cabin crew.
6. What is the maximum age allowed to be a part of the Royal Jordanian cabin crew?
You should be no older than 30 years old for you to be a cabin crew employee.
7. Can my salary increase as I continue to work in Royal Jordanian?
The basic pay for flight attendants would be $1000 – $1500, but it can increase as time goes on through promotions and such.
8. Does Royal Jordanian accept applicants of all nationalities?
Unfortunately, they don't. You have to be of Jordanian nationality to apply. Not meeting this would result in immediate disqualification of your application.
9. Does Royal Jordanian accept both males and females?
For their cabin crew members, Royal Jordanian only accepts females.
10. Does Royal Jordanian require you to know other languages aside from English?
Knowing other languages is considered a plus; however, they do not require you to use other languages aside from English, but you must be able to speak and write in English well.
11. Can you work part-time in Royal Jordanian?
Unfortunately, the airline is only looking for those who can work full-time in the company.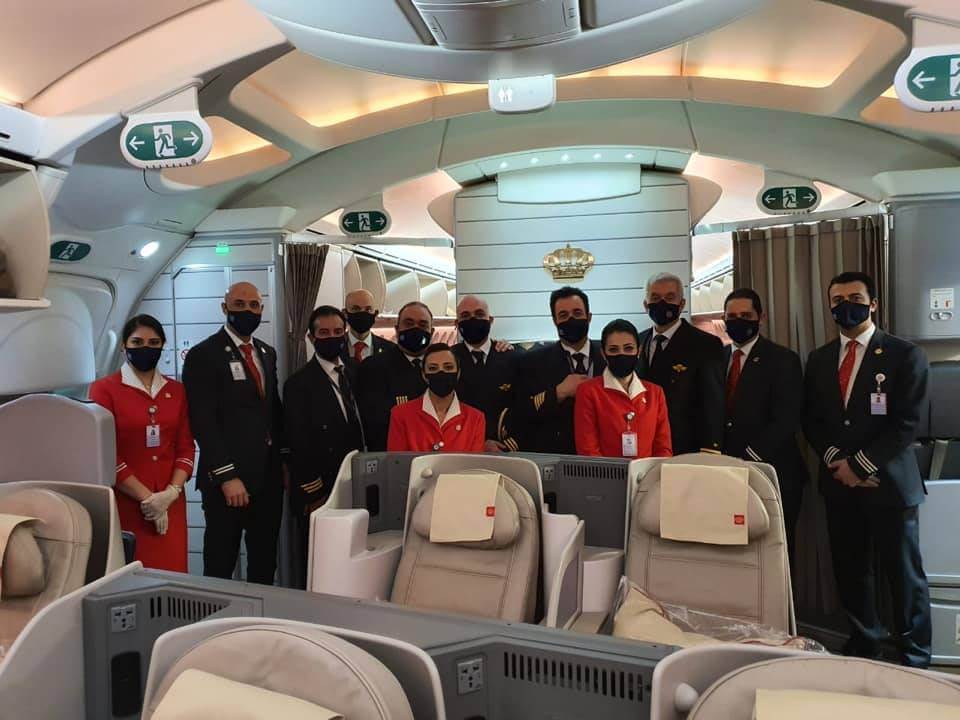 Summary
Reaching your dream, whatever it may be, would always take a lot of work. This includes a job as a flight attendant, a profession that could fulfill your traveling dream, and looking at the world above.
While this may be difficult, you can always achieve it with enough patience, hard work, and perseverance. Of course, there are times when you may not get your dream job. However, one important mindset that you should always have would be never to give up no matter how things are going.
Saying this, we do hope to see you reaching your sky-high dreams and pursuing a career in the flight attendant industry. With all that addressed, we wish you luck as you try your best to be a proud member of one of the most extraordinary and unforgettable jobs in the world.
Contact Information
ROYAL JORDANIAN
Address: Royal Jordanian, P.O.Box 302, Amman 11118 Jordan
Telephone Number: +962.6.5100000
Website: https://rj.com/
Facebook: https://www.facebook.com/RoyalJordanian/
Instagram: https://www.instagram.com/royaljordanian/?hl=en
Twitter: https://twitter.com/RoyalJordanian
LinkedIn: https://www.linkedin.com/company/royal-jordanian
Youtube: https://www.youtube.com/channel/UC4UEqB_uHJ-fecG_1TeGgeA