Riyadh International Airlines (RIA) is an emerging airline in Saudi Arabia, established to diversify the nation's economy and boost its tourism industry. With ambitious goals and plans for global connectivity, RIA is poised to become a significant player in the aviation sector, offering exceptional service and state-of-the-art aircraft.
As RIA expands its operations and network, the airline will require skilled and dedicated professionals to join its team, including cabin crew members who play a crucial role in ensuring passenger safety and satisfaction.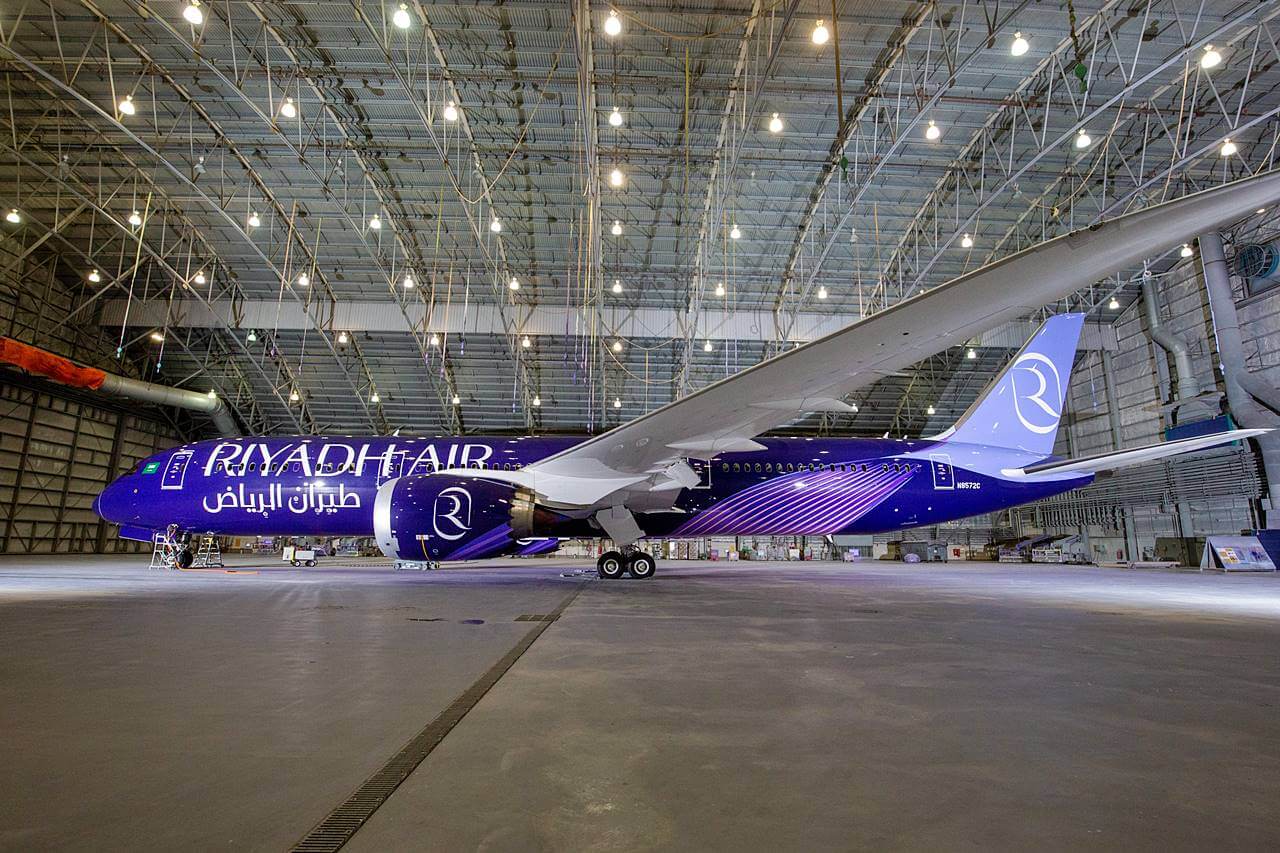 Overview of Riyadh Air
The airline began with a vision to establish a national carrier connecting Saudi Arabia to the world and showcasing the country's rich culture and hospitality. In March of 2023, Riyadh Air became a newly founded national airline in Saudi Arabia. Riyadh Air, which has its headquarters in the city serving as Saudi Arabia's capital, is at the forefront of digital aviation.
Riyadh Air has embraced innovation to enhance its services and cater to the evolving needs of travelers. The airline has invested in advanced technologies, including online booking platforms, self-service kiosks, and in-flight entertainment systems, to provide passengers with greater convenience and a personalized experience.
Responsibilities of a Riyadh Air Flight Attendant
Intending to connect Riyadh to more than a hundred destinations worldwide, Riyadh Air has opened cabin crew opportunities to those who want to experience the perks of being a cabin crew and enjoy a people-eccentric workplace. As a global talent of the airline company, you are responsible for doing the following to ensure the highest level of guest hospitality.
Attend to the safety and security concerns of all passengers on board
Handle emergencies, including providing instructions for evacuations, operating safety equipment, and administering first aid
Conduct pre-flight safety briefings
Provide a warm and welcoming atmosphere
Assist with boarding and seating arrangements
Address any passenger concerns or requests during the flight
Ensure that the food and beverage options are delivered efficiently and meet passengers' dietary requirements and preferences
Conduct safety checks, ensure the cleanliness and tidiness of the cabin, and verify the availability and functionality of emergency equipment
Exhibit cultural sensitivity, respect, and professionalism in their interactions with passengers
Qualifications to Become a Riyadh Air Cabin Crew
Qualifying as a Riyadh Air cabin crew member requires a combination of personal qualities and specific skills and meets certain eligibility criteria that can contribute to the airline's growth.
Possess at least one year of experience in retail, hospitality, or customer service roles
Hold a high school diploma (Grade 12) or an equivalent qualification
Be fluent in written and spoken English; proficiency in another language is considered an advantage
Have a minimum height of 150 cm and the ability to reach 200 cm to access emergency equipment
Comply with KSA visa requirements as Riyadh Air crew members will be based in Riyadh
Based on the Kingdom of Saudi Arabia
Has the ability to remain calm and composed under pressure and to work effectively in a multicultural environment
Strong interpersonal and communication skills
Can work in a team-oriented environment
Has the ability to remain calm and effectively manage severe turbulence, medical emergencies, or unruly passenger behavior
Can collaborate with other cabin crew members and the flight deck crew to coordinate tasks, share information, and respond to any operational changes
Documents to Prepare
Since you are applying for a job that needs to communicate with different nationalities and cross-border traveling, Riyadh Air should ensure that you have valid documents proving your knowledge and eligibility to travel abroad.
Obtain a Grade 12 diploma or equivalent qualification
Certification from over one year of experience in a hospitality or customer service role
Certification from training attended
Valid Passport that can comply with the visa requirements of KSA
Updated Resume
Cover Letter
Where to Apply for a Job for Riyadh Air Online?
Applicants can check the job opportunities available on Riyadh Air at https://www.riyadhair.com/pages/careers/.
You may also check the status of your application on this page, update your details, and view the interview schedules of the recruitment team.
Step-by-Step Process Application to Become a Flight Attendant for Riyadh Air
The selection process for cabin crew positions in Riyadh Air involves several stages, including an application screening, initial interviews, group activities, and a final interview.
Step 1: Prepare and Familiarize Yourself With Riyadh Air
Visit the career page of Riyadh Air to see available job postings and to understand the requirements, qualifications, and application deadlines. The career page also shows why you should apply with the company and the benefits you may receive once you get accepted as a cabin crew.
Step 2: Prepare an Updated Resume
Make an updated resume that shows your relevant skills, experience, academic achievement, and any certifications or training related to customer service, hospitality, or aviation. Make a cover letter that shows how passionate you are about the aviation business and how well you can work in a team.
Step 3: Make an Online Application
You can find the online application form on Riyadh Air or the career portal. Fill out the application form correctly and include all the information requested, such as your personal information, education, work experience, language skills, and any other applicable details.
After submitting your application, it will be reviewed by the airline's recruitment team. Based on the provided information, they will assess your qualifications, experience, and suitability for the cabin crew role. You can also track the progress of your application, view scheduled interviews, and update your personal information on this page.
Step 4: Wait for The Response of Riyadh Air
Like any airline, Riyadh Air may conduct further assessments and interviews to evaluate your suitability for the cabin crew position. The assessment day can include group activities, language proficiency tests, aptitude tests, and individual interviews. During these assessments, it is your chance to showcase your customer service skills, teamwork abilities, communication skills, and problem-solving capabilities.
If you successfully pass the initial assessments, you may be invited for a final interview, usually conducted by a panel of recruitment managers or senior cabin crew members.
Step 5: Attend The Training Program
If you are offered a cabin crew position with Riyadh Air and pass all the necessary checks, you will be invited to attend the airline's training program. There will be a wide range of topics covered in the training program, from basic safety to emergency procedures to customer service to aviation rules and regulations to cultural sensitivity. Completion of the training program with flying colors is required for certification as a cabin crew.
Monthly Salary of a Riyadh Air Flight Attendant
The benefits and pay of Riyadh Air are among the best in the industry. The airline company is devoted to praising and commending employees for their hard work. They also provide training and development programs for continuous career growth. Successful applicants can have a wealth of knowledge not only in aviation and the customer service industry.
Entry-level cabin crew members often start with a competitive salary, which can increase with experience and seniority within the airline.
Riyadh Air offers comprehensive health insurance coverage to cabin crew members, ensuring access to medical services and coverage for certain healthcare expenses. Cabin crew members may receive allowances to cover expenses incurred during travel and support cabin crew members while on duty.
RIA aims to attract 100 million visitors annually by 2030, connecting passengers to over 100 destinations worldwide from its hub in Riyadh. By providing seamless travel experiences and fostering international connectivity, the airline supports Saudi Arabia's broader economic and developmental objectives.
Benefits and Perks of Working as a Cabin Crew Member at Riyadh Air
Competitive salary and allowances – RIA offers competitive salaries and allowances for its cabin crew members, reflecting the value they bring to the airline and the demands of their role.
Travel benefits and discounts – As a cabin crew member at RIA, employees can enjoy travel benefits and discounts, including reduced fares for personal travel and access to special promotions and offers.
Health insurance and retirement plans – RIA provides comprehensive health insurance coverage and retirement plans for its cabin crew members, ensuring their well-being and financial security.
Career growth and advancement opportunities – RIA supports the career growth of its cabin crew members, offering opportunities for advancement within the airline and access to resources for professional development.
Training and Development for Riyadh Air Cabin Crew
Initial training program – Newly hired cabin crew members at RIA will undergo an intensive initial training program, covering topics such as safety procedures, customer service, aircraft familiarization, and company policies. This training ensures that all cabin crew are equipped with the knowledge and skills necessary to perform their duties effectively.
Safety and emergency procedures – Cabin crew training emphasizes safety and emergency procedures, ensuring that all team members are prepared to respond to a variety of in-flight situations. This includes training on evacuation procedures, firefighting, first aid, and security measures.
Customer service and communication skills – RIA places a strong emphasis on delivering exceptional customer service. Cabin crew training programs include modules on effective communication, conflict resolution, and cultural sensitivity, ensuring that team members can provide outstanding service to passengers from diverse backgrounds.
Ongoing professional development opportunities – RIA is committed to the ongoing development of its cabin crew team, offering opportunities for professional growth and advancement. This may include additional training, workshops, or seminars, as well as access to resources and support for career progression within the airline.
Video: Riyadh Air Hiring Vacancy
This video discusses what an aspiring Riyadh Air cabin crew can expect during the application process and once hired. It is a tutorial on applying online, including the qualifications and other requirements to pass the assessment. This video shows the parts of the application, including basic information, physical attributes, background information, and where you should upload your CV.
Tips for Success in the Cabin Crew Hiring Process
Crafting a compelling resume and cover letter
A well-crafted resume and cover letter can make a strong first impression on potential employers. Highlight relevant skills, experience, and qualifications that demonstrate your suitability for the cabin crew role.
Preparing for interviews and assessments
Thorough preparation is key to success in the cabin crew hiring process. Research the airline, review common interview questions, and practice your responses to ensure you are confident and articulate during interviews and assessments.
Demonstrating professionalism and enthusiasm
Displaying professionalism and enthusiasm throughout the hiring process can help you stand out from other candidates. Show genuine interest in the cabin crew role and the airline, and be prepared to discuss how your skills and experiences align with the position.
Networking and staying informed about job opportunities
Networking with industry professionals and staying informed about job opportunities can improve your chances of securing a cabin crew position with RIA. Attend industry events, join online forums, and follow RIA's social media channels to stay up-to-date on the latest news and job openings.
Frequently Asked Questions
1. Where can I research the job openings at Riyadh Air?
To apply for a cabin crew position at Riyadh Air, visit their official website or the designated career portal at https://www.riyadhair.com/pages/careers/. Look for any available job postings and follow the instructions to submit your application online.
2. What kind of training will I receive if selected as a cabin crew member at Riyadh Air?
Riyadh Air provides thorough training in the field of aviation. During the training, participants will learn about aircraft systems, emergency procedures, customer service, cultural sensitivity, and more. To become a qualified cabin crew member, one must complete the training program and pass all required exams.
3. Are there any specific height or weight requirements to become a cabin crew member at Riyadh Air?
Yes. Due to safety considerations, cabin crew members should be able to reach overhead compartments and emergency equipment comfortably.
4. Is previous cabin crew experience required to apply for a position at Riyadh Air?
Yes, but not necessarily cabin crew experience. Applicants with years of experience in retail, hospitality, and customer service may also apply for the position.
5. What benefits and perks can I expect as a cabin crew member at Riyadh Air?
Benefits and perks may include competitive salaries, flight allowances, health insurance coverage, retirement funds, discounted or complimentary air travel for yourself and eligible family members, and opportunities for career development within the airline.
6. Is there an on-site application for Riyadh Air cabin crew?
As of the moment, Riyadh Air only accepts online applications. However, there are instances that they may schedule an on-site assessment where aspiring cabin crew members may apply.
7. Can I apply for a cabin crew position at Riyadh Air if I'm not a Saudi Arabian citizen?
According to the career page of Riyadh Air, there is no specific citizenship required, but a successful applicant should be able to comply with KSA visa requirements. All cabin crew members will also be based in Riyadh, so relocating is possible.
8. What language should I be proficient in when I apply as a Riyadh Air cabin crew?
All cabin crew members are required to be proficient in verbal and written English. But proficiency in other languages is an advantage to cater to diverse nationalities that may fly with Riyadh Air.
Summary
The cabin crew of Riyadh Air is responsible for ensuring passengers' well-being and safety, providing superior assistance to customers, and keeping the cabin pleasant and comfortable during the flight.
As a newly established airline, Riyadh Air has been looking for aspiring flight attendants that can show off Saudi Arabian hospitality. Successful cabin crew applicants can experience a vast network of local and international flights, connecting Riyadh to important cities worldwide. As cabin crew members go anywhere in the world, they can experience different cultures, improve their communication skills, and broaden their horizons.
Joining Riyadh Air's cabin crew team offers an exciting and rewarding career path, enabling you to explore the world while contributing to the airline's success and growth. With dedication, professionalism, and a commitment to excellence, you can play a vital role in shaping the future of Riyadh International Airlines and the broader aviation industry.
Contact Information 
Riyadh International Airline
Address: Riyadh, Kingdom of Saudi Arabia
Website: https://www.riyadhair.com/
Facebook: https://www.facebook.com/RiyadhAir/
Instagram: https://www.instagram.com/riyadhair/
Twitter: https://twitter.com/RiyadhAir