Have you been eyeing an International Airline cabin crew hiring in Saudi Arabia? Embarking on a career as a cabin crew member with Saudia Airlines offers an exciting opportunity. Saudia is one of the leading airlines in the Middle East, providing a thrilling opportunity to contribute to the ever-evolving aviation industry while exploring different cultures and experiences.
The role of a cabin crew member is both challenging and rewarding, requiring dedication, resilience, and a strong sense of teamwork. From ensuring passenger safety and comfort to dealing with unforeseen situations mid-flight, every day brings something new. This guide will provide a clear pathway on how to apply to Saudia Airlines' cabin crew, setting you up for a potential career filled with endless possibilities and unforgettable experiences.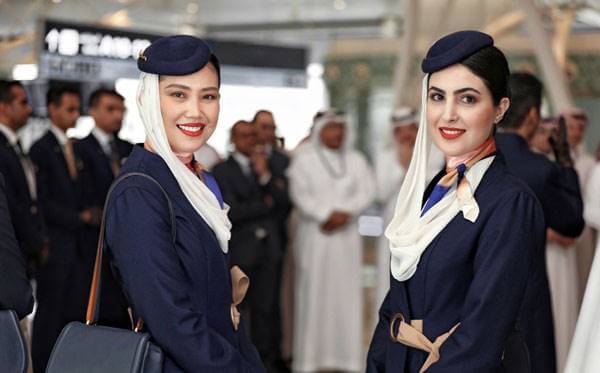 Overview
In case you didn't know, Saudia was the very first airline to be founded last 1945 in the Arabian Peninsula. It has walked towards greatness by consistently topping for safety, customer satisfaction, and efficiency, awarded by multiple regulatory bodies such as International Organizations.
For Saudia, a caring flight attendant is a crucial element in maintaining the airline's mission — to provide passengers the ultimate experience on flight. They also all hope to make human resources the most important factor in their assets. If you want to be a part of this genuine Airlines whose mission and vision are centered in service, you are halfway through the application!
Responsibilities
As you are interested in becoming Saudia's flight attendant, you must ensure that you know the responsibilities before applying. First and foremost, the ultimate role of a cabin crew is to secure the comfortability for every passenger by attending to every need. It is therefore divided into different responsibilities that are listed below.
Cabin staff will learn about the emergency tools and equipment making them qualified to teach passengers on how to use it.
Constantly testing and checking equipment and tools to be sure that they are in good shape.
Assisting passengers on lifting luggage, finding their seat, giving directions as well as attending for meal preferences and sleeping aid.
Writing, recording and getting a checklist of reports throughout the flight.
To be presentable and professional at all times no matter what to ensure that passengers can rely on them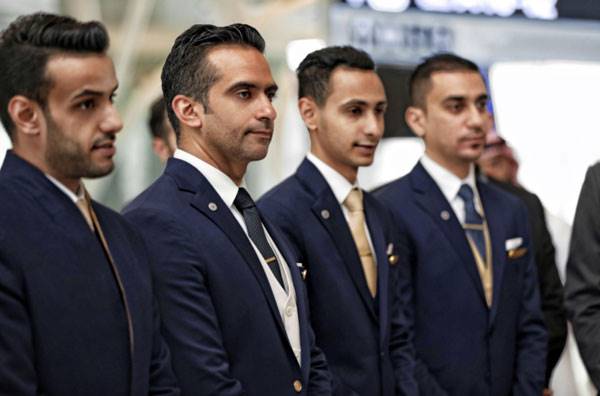 Qualifications
On top of the responsibilities, you also need to be aware of the qualifications needed to become one of the Saudia airline's cabin crew members:
Be of at least 20-30 years old specifically during the application period.
Have a minimum of 155 cm height without footwear
Graduate of high school with diploma
As standard applies, no piercings and tattoos are allowed on duty.
Can write, read and speak in fluent English.
Have at least 212 cm arm span on tiptoes.
Normal BMI, healthy body with balanced height to weight
Clear skin especially in face and hands area
Must have ho issues in teeth to speak effectively
Documents To Prepare
Meanwhile, here are the documents you to prepare alongside your application form:
Passing the QIYAS Standard Examination for Proficiency in English with at least 72 results within 3 years.
Proof if passing medical verification in Saudia
Valid Saudi Arabian ID
Valid Passport
If you are not from Saudi Arabia, you must add these requirements in your application:
Accreditation Letter from Saudi Ministry of Education
VISA
Proof of eligibility to travel across Saudia's flight span.
Where to Apply for a Job for Saudia Airlines Online?
If you're looking for the most convenient way to apply as a Cabin Crew for Saudia Airlines, you can check out its website at https://saudia.taleo.net/careersection/ and go to their Careers Page.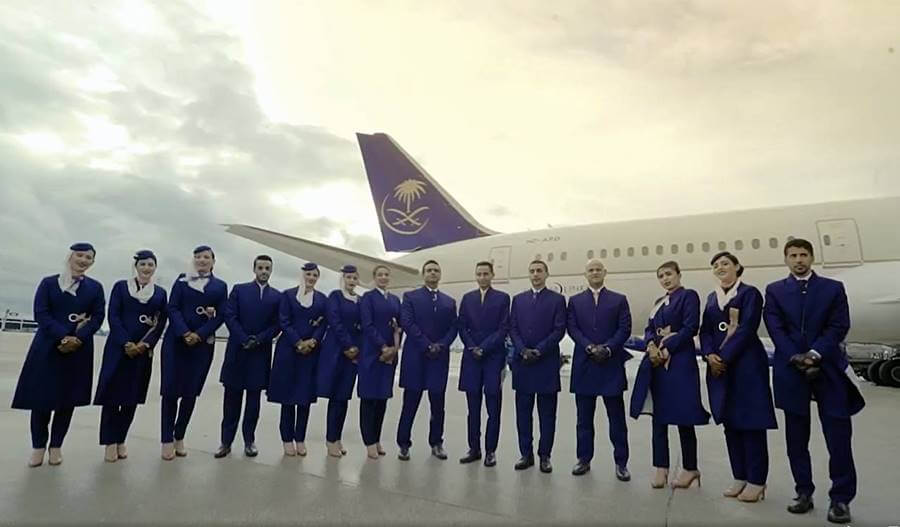 Step-by-Step Process Application to Become a Cabin Crew For Saudia Airlines
Now that you're ready to take a step on your career, here are some steps to apply in Saudia the most effective way possible.
Step 1: Complete the necessary requirements and documents needed in the application
Your 2023 CV or resume
Valid Saudi National ID and passport
Official transcript
Certification of complying in the responsibilities, requirements and qualifications mentioned above.
Step 2: Go to Saudia's website to submit your documents.
This link will bring you to the login page where you can sign up for new applicant account through National ID or passport: Saudia website link
Step 3: Get ready for a virtual of face-to-face assessment
The hiring manager will conduct a number of interview sessions with the applicants in order to assess them and determine whether or not they meet the requirements. Before you have your interview questions timetabled, you should complete your studies on your history and background. You should get yourself ready to respond to questions such as "What are your advantages and disadvantages?" and "What are the characteristics of a good flight crew?"
Step 4: Have a complete training program and orientation accommodated by Saudia
This will be the last test and refresher course to know fundamentals of air transport, first aid, customer care, and the ability to react appropriately in an emergency situation. Because there is still some time before the training program begins, it is in your best interest to get some exercise in and start studying in advance.
Monthly Salary of a Saudia Airlines Flight Attendant
Saudia is aware of the financial obligations and responsibilities of each member of the staff, which allows them to maintain high salaries and award bonuses. When you are hired by an airline to work as a flight attendant, you can anticipate a monthly salary of 10,700 SAR. In addition to that, the following are some advantages that are available to you:
Medical Insurance
Productivity allowance
Travel vouchers with other packages
Annual accommodations allowance which is equal to 3-month worth of salary
SAR 400 Monthly transportation allowance
Video: Saudia Day in the Life of a Flight Attendant
In this video, you can observe Ms. Angel Montenegro, who is not a Saudi Arabian national but managed to be hired as one of Saudia's flight attendants. In the vlog, she shared how the process went and tipped her viewers on how to pass. Angel Montenegro clearly has her passion in being a flight stewardess by inspiring those who want to join the team. If you are curious in the work of Saudia's flight crew, this is the perfect video for you.
Photos: Saudia Airlines Flight Attendant Photos
Check out these photos of Saudia Flight Attendants in uniform:
Frequently Asked Questions
1. Does Saudia accept flight attendant candidates who are not Saudi Arabian?
Yes, whether you're a Saudi Arabian or you live in another nation, you can be one of Saudia's cabin crew team.
2. Does Saudia offer free training and orientation to complete the hiring process?
Yes, Saudia offers free training to flight attendant candidates. The training will be the last test and refresher course that will teach you the fundamentals of air transport, first aid, customer care, and the ability to react appropriately in an emergency situation.
3. What are some sample questions in the interview and assessment that I should prepare?
You should get yourself ready to respond to questions such as "What are your advantages and disadvantages?" and "What are the characteristics of a good flight crew?"
4. Why do I need to be tall to be qualified?
Since flight attendants are expected to help the passengers in lifting baggage and giving directions, it is ideal for them to be tall enough, specifically at least 155 cm without footwear. It is also the standard height of a flight stewardess so that their presence will always be acknowledged in a crowded flight.
5. Do I need to learn swimming and rescuing to qualify?
Ideally, since flight attendants are expected to perform emergency rescues, you must know how to swim and maneuver without any help in water. You must also learn how to provide first aid and CPR.
6. Can I still pass if I have tattoos and piercings?
While piercings can be easily worn off, tattoos— depending on the size and where it is located is sensitive to flight attendants. If you can still cover it with concealer at least during duty, you'll be okay with the application.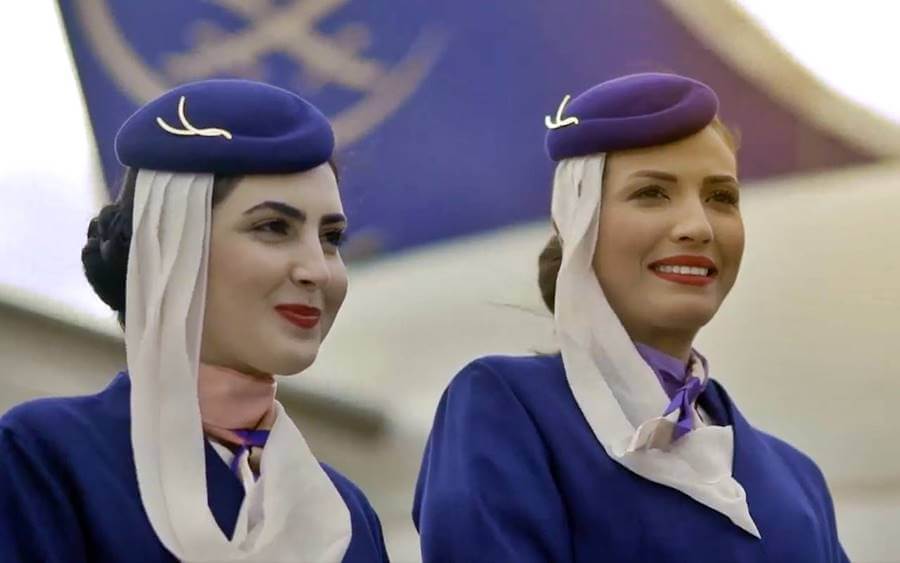 Summary
Saudia Airlines is among the major airlines in the Middle East and the aviation industry of Saudi Arabia. The airline's airline staff are specially trained in emergency situations and have a powerful dedication to safety. In relation, the airline offers outstanding customer service, and its personnel are recognized for their professionalism and courtesy. Contemporary and well-maintained airplanes comprise the airline's carrier group, and its road network connects urban centers in the Mideast, Africa, Asia, and Europe.
If you wish to work as a flight attendant for Saudia, you should indeed bear in mind that the company's highest priority is to transport people with the highest level of safety and world-class service. In addition to their customer and technical service skills, applicants must also pass the STEP and speak English fluently. We believe that this article has provided you with useful information as you consider a career as a flight attendant.
Contact Information
Saudia Airlines
Address: Jeddah, KSA
Website: https://www.saudia.com
Telephone: +966 920022222
Facebook: https://www.facebook.com/SaudiarabianAirlines/
Twitter: https://twitter.com/SaudiairlinesEn
Instagram: https://instagram.com/saudi_airlines