Founded in 1945, Saudia (Saudi Arabian) Airlines is one of the earliest and largest aviation service providers in the Middle East. New developmental plans and goals are designated as they approach their 8th-decade milestone. One of these is their women-empowering move of enabling females to work as flight attendants and grow over their careers.
Also Read: Athens Layover Guide: Best Things to Do in 24 Hours
Their flight attendant batches were handed over the responsibility of contributing to the delivery of top-notch service and customer experience. They are conducting hiring events and training programs to add more crew members to their team.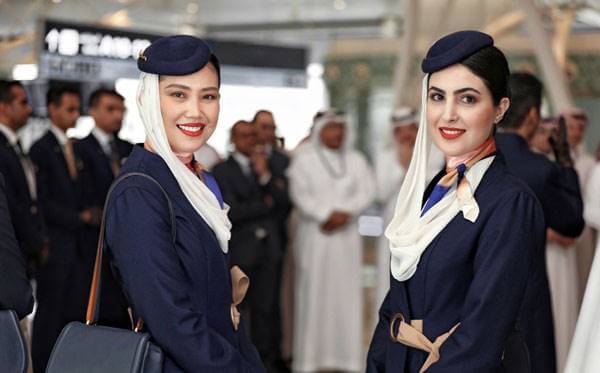 List of Requirements and Qualifications to become a Saudi Arabian Airlines Cabin Crew
Flight attendants are anticipated to provide excellent customer service that will not only help the company but also the tourism of the country. In return, Saudi Arabian Airlines promises its employees a corporate mission statement focusing on a more compassionate and understanding human resource system. Provided below are the qualifications Saudia is looking for in their flight attendants:
At least 20 and at most 30 years of age during the application period
At least 155 cm without shoes on
At least a high school graduate
No visible tattoos or piercings while wearing the cabin crew uniform
Ability to write and communicate proficiently and effectively in English
Has a minimum arm span of 212 cm or 83.5 inches while on tiptoes
Proportional height to weight
Normal BMI
Valid Passport
Valid Saudi Arabian National ID
Eligibility to travel on all routes and destinations served by Saudi Arabian Airlines
Ability to pass the screening assessment organized by Saudia
Professional demeanor and impeccable grooming
Clear skin in the hands and face area
No teeth problems
Physically fit and mentally capable of handling all duties and responsibilities assigned by Saudi Ara
Ability to pass the medical verification of Saudia
Minimum result of 72 in the QIYAS Standardized Test for English Proficiency (STEP), not exceeding 3 years upon the application date (mandatory to all applicants;
other English tests are not accepted
Average GPA
Ability to acquire the accreditation letter issued by the Saudi Ministry of Education if an applicant is from outside of the Kingdom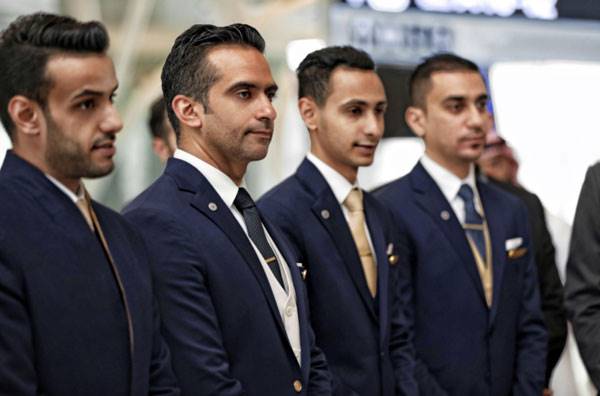 Application Process
Step 1: Prepare all the necessary documents
Saudi Arabian Airlines implements a particularly stringent assessment of the application documents provided by the applicants. This means that no one should attempt to fabricate or falsify the following requirements:
Most updated CV or resume
Passport and Saudi National ID with a validity of at least 6 months
Official Transcript
Certification of Completion of the STEP
At least an average GPA
Letter of Accreditation for applicants from outside the Kingdom
Step 2: Submit your application online
You can submit these documents on the link provided below: https://saudia.taleo.net/careersection/iam/accessmanagement/login.jsf?lang=en&redirectionURI=https%3A%2F%2Fsaudia.taleo.net%2Fcareersection%2Fsv_externalcareersection%2Fmysubmissions.ftl%3Flang%3Den&TARGET=https%3A%2F%2Fsaudia.taleo.net%2Fcareersection%2Fsv_externalcareersection%2Fmysubmissions.ftl%3Flang%3Den
This will redirect you to a page where you can log in or sign up for an account using your passport or National ID.
Step 3: Prepare for an online and face-to-face interview
The recruitment team will organize a series of interviews that will evaluate the applicants if they meet their qualifications. Conduct your background and history research before your scheduled interviews. Prepare to answer questions like "What are your strengths and weaknesses?" and "What are the qualities of a good flight attendant?".
Step 4: Participate in and Complete the flight attendant training program
This will be the final assessment and training that will inculcate the basics of aviation, first aid, customer service and how to respond to emergency situations. Since it will still take time before the training program starts, it is best to already practice and study beforehand.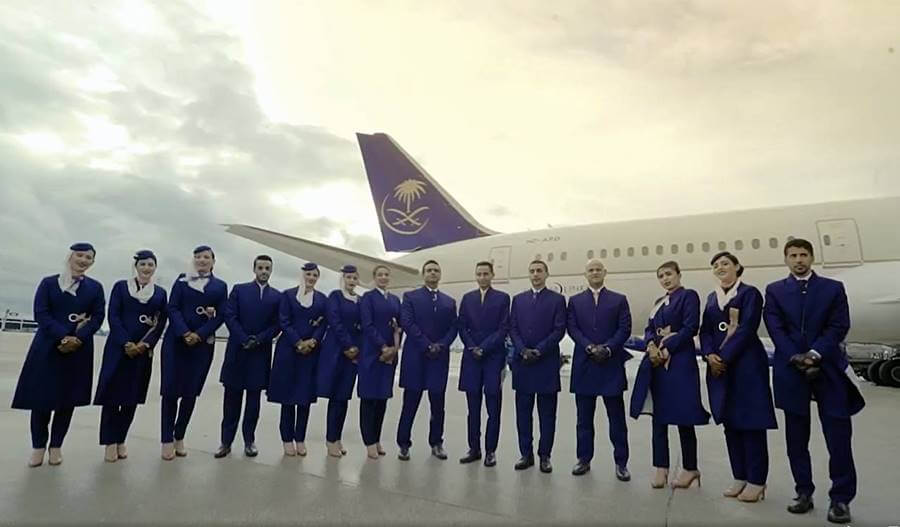 Salary & Benefits
Average monthly salary of 10,700 SAR
A monthly transportation allowance of SAR 400
Medical Insurance
Travel vouchers and packages
Productivity allowance
Annual housing allowance equivalent to 3 monthly salaries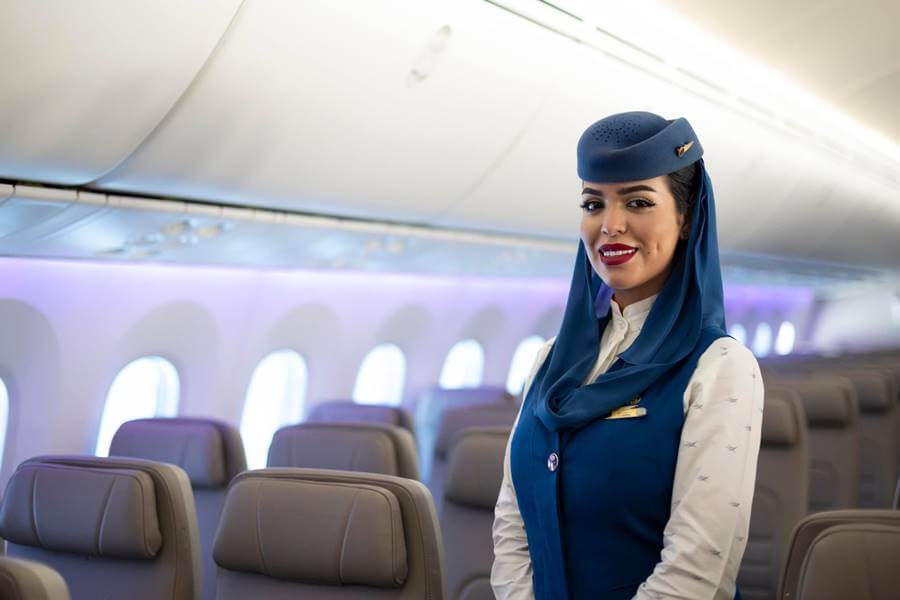 Video: In-Flight Changes in Saudi Arabian Airlines After The Pandemic
Watch this informative yet entertaining vlog of Sam Chui featuring his recent in-flight experience and casual interview with the airline:
As announced by their CEO, a lot of positive changes are about to happen along with their objective of bringing 100 million tourists to Saudi Arabia. As narrated by Sam, it was his first-time time experience seeing ladies work and drive in Saudi Arabia.
Recently, they've been hiring females for the flight-attendant position. Sam was also able to visit the cabin crew training for the female Saudi Nationals in their early batches. Mia, one of the flight attendants, answered that the reason she wants to work for Saudi Arabian Airlines is to showcase the world of Saudi's hospitality and generosity. In addition, the flight attendant's basic salary and other benefits were not cut off during the pandemic.
Aside from the empowering changes that have happened, the turning point of Saudi Arabian Airlines is anticipated in their 5 to 10-year plan of developing it into a more globally competitive aviation service provider.

Photos: Saudia Cabin Crew Uniforms
Check out these pictures of Saudi Arabian Airlines crew so you can see what they look like in uniforms:
Frequently Asked Questions
The following are some of the common questions asked about Saudi Arabian Airlines flight attendants.
1. What is the minimum height required for flight attendants?
Aspiring flight attendants should be at least 155 cm without shoes on. Additionally, they should have an arm pan of at least 212 cm.
2. What is the minimum and maximum age for flight attendant applicants in Saudi Arabian Airlines?
They only accept applicants within the age range of 20-30 during the application period.
3. Does Saudi Arabian Airlines accept applicants from outside of the Kingdom?
Yes. However, they must obtain a valid passport, Saudi National ID, and other documents that will authorize them to work and travel in Saudi Arabia and other routes where the airline company operates.
4. What should I do if I have not taken the STEP yet?
If you have already submitted an application and have not taken the STEP yet, you can update your STEP score once the test has been taken. Be reminded that the minimum score should be 72 and that this standardized test is also a major factor in your likelihood of being hired. Not taking the STEP will lead to disqualification.
5. How do I contact Saudi Arabian Airlines if I have more concerns with my application?
If you have other concerns that are not available on their official career website or this blog, you can contact Saudi Arabian Airlines through their email address: Careersinfo@saudia.com
6. Does Saudi Arabian Airlines accept applicants with tattoos and piercings?
Yes, as long as these tattoos and piercings are not noticeable when not wearing the flight attendant uniform.
7. What is the maximum age for a flight attendant applicant in Saudi Arabian Airlines?
The maximum age is 30 years old.
8. What languages should I learn when applying as a flight attendant in Saudi Arabian Airlines?
The airline company requires all applicants to be fluent in  English and Arabic when both discoursing or writing.  Moreover, applicants who are also proficient in multiple languages have an advantage during the application period.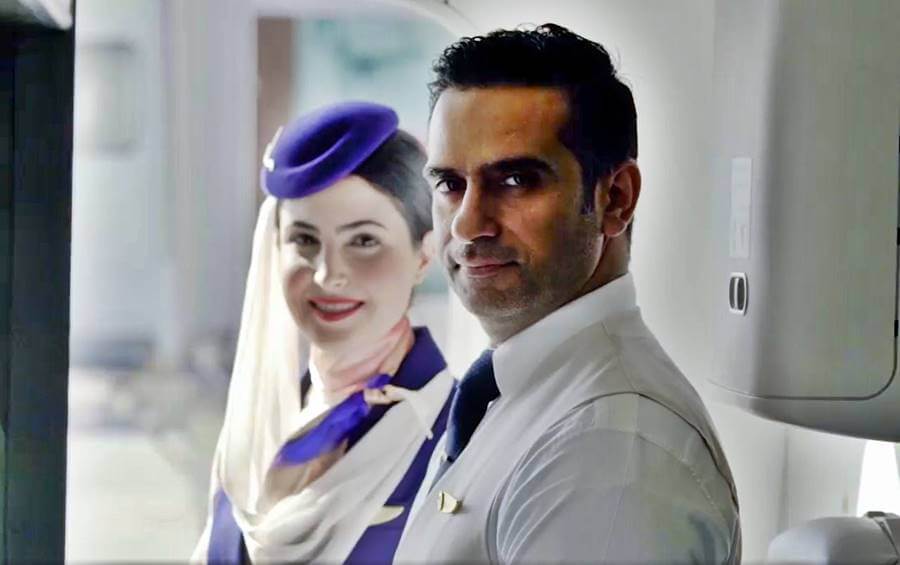 Summary
Saudi Arabian Airlines is the national carrier of Saudi Arabia, and it is one of the largest airlines in the Middle East. The airline has a strong commitment to safety, and its flight attendants are highly trained in emergency procedures. In addition, the airline provides a high level of customer service, and its flight attendants are known for their courteous and professional manner. The airline's fleet of aircraft is modern and well-maintained, and its route network covers major cities in the Middle East, Africa, Asia, and Europe. Saudi Arabian Airlines is a member of the Oneworld alliance, and it has codeshare agreements with several major airlines.
If you want to become a flight attendant in Saudia, you must take in mind that the priority of all its employees is to fly the passengers with the highest safety alongside a world-class service. Aside from the technical and customer service skills, it is of equivalent importance that candidates should pass the STEP  and be able to communicate fluently in English. I hope this article has helped you gain insights so you can decide on your flight attendant journey.