If you are looking for a great airline to work as a cabin crew, consider checking out Switzerland's national airline, Swiss International Air Lines. This very famous airline that has been serving hundreds and thousands of guests every day has opening spots, and we think you might have what it takes.
In an earlier post, we have shared with you some of the good reasons why SWISS International Airlines is a great airline company to work for. Furthermore, we have included the list of requirements for SWISS International Airlines that you can use as a guide when applying for the said company.
Also Read: Do I Really Need to Know How to Swim to become a Cabin Crew?
But before that, let us first know what Swiss International Air Lines is. If you are interested in applying here, then we wish you luck as you go through the qualification requirements that we have laid out to help you.
Ready to find out more? Click the link below to read our comprehensive guide on how to apply!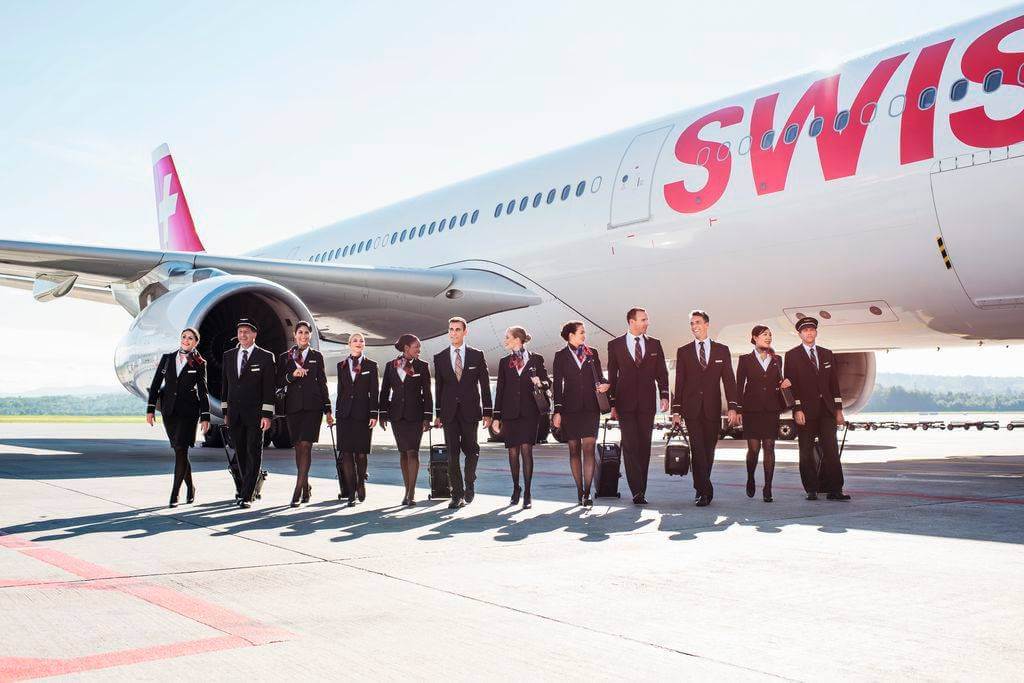 Overview of Swiss International Air Lines
Swiss International Air Lines AG, which is short for Aktiengesellschaft, also known as Swiss or Swiss Air Lines, is Switzerland's flag carrier. Its primary hub is Zurich Airport, with Geneva Airport serving as a focus city. They provide transportation flights across Europe as well as to North And South America, Africa, and Asia.
The headquarters of Swiss International Air Lines was once the headquarters of Crossair. The Basel area offices employed approximately 1,000 people, while the Zurich area offices employed around 850 people. In the year 2004. The "Crossair" sign was removed from the building starting the year 2002 and replaced with a "Swiss International Air Lines" sign. The Basel offices employed approximately 1,400-1,500 people when Swiss was founded.
Swiss serves refreshments on European flights, something helpful to keep in mind if you aspire to be a flight attendant here. Swiss may serve refreshments based on the period of the day and the flight time. On shorter flights, cold snacks are served; on longer trips, heated snacks are served. Meals from a Swiss bakery are included in the economy class dining. Passengers on all flights are given a little bar of Swiss confectionery imprinted with the name "SWISS" and the unmistakable tail fin prior to landing. Swiss Saveurs is offered a buy-on-board system for its Geneva services on Bombardier CSeries Airbus A220 aircraft.
Responsibilities
Now that you have gotten a glimpse of the airline you would potentially be working for, it is time to see if you have what it takes to be a flight attendant in their business. Moreover, to know if you have the skills and are willing to develop the skills you might lack. Responsibilities are a need in every job you would be applying for. This is the same for flight attendants. It is important to take note that the ability to travel is not the only thing you are looking at here.
It would be best if you had to get through to the airline by showing them what exactly you can bring to their company. Possessing as well as understanding the responsibilities would be one of the ways to catch their attention. With that said, here are some qualities and attitudes, and responsibilities that you should possess before working in Swiss International Air Lines to stand out and catch their attention.
Delightful and lively
Has a pleasant demeanor
Traditional Swiss hospitality is something they are well-versed in
They must be well-groomed
With excellent etiquette
Is able to work on a flexible schedule
Be enthusiastic, resourceful, resilient, and upbeat
Cabin crews operate together as a unit, and effective communication is essential for a happy workforce. As a result of this strategy, passengers will be happier
Clients that are happy and satisfied with your Cabin Crew personnel may become frequent and loyal airline travelers
Showing how to use safety and emergency equipment
In charge of serving beverages, meals, and snacks
Passengers with special needs will receive additional help
Providing reassurance to passengers during turbulence on the plane
In the event of an emergency, administering first aid and medical attention as needed
Passengers are given instructions, including emergency evacuation methods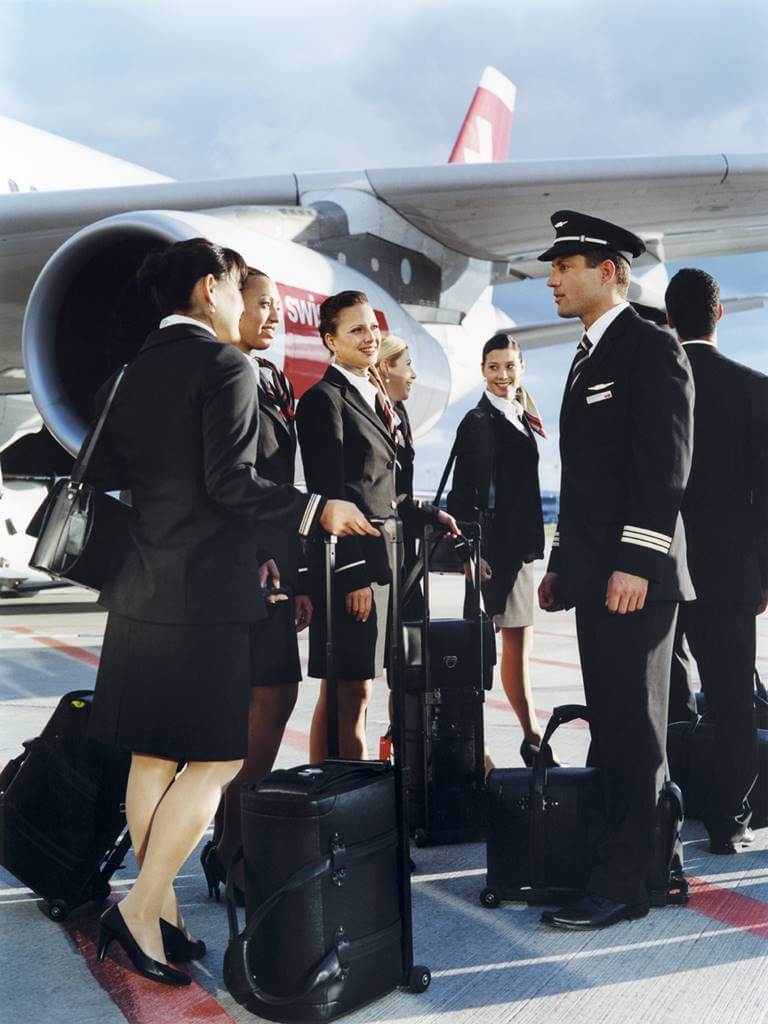 Qualifications
Now that you have understood what qualifies you to be one of the best flight attendants in Swiss International Air, you have to check now if you are qualified enough to apply. This means checking if you have the correct files you need to submit, have valid proof of accomplishments, skills, and a lot more.
The company prides itself on making its passengers feel as if they are at the height of luxury. With that said, this can be done by thoroughly making sure that the staff is capable of doing this. So, they tend to have multiple proofs of qualifications such as:
Has Swiss citizenship or a European Union passport
You must be at least 18 years old
Has a minimum height of 158 cm
The weight of a person must be proportioned to their height
Has great health
Has earned a high school diploma or completed an apprenticeship
German and English are two languages in which you should be fluent both in writing and speaking (Italian, Spanish, or French is a helpful plus)
BMI is in a good range
Have an A-level or comparable education
Excellent physical and mental health, as well as the ability to operate under duress
Outstanding customer service abilities
Have a strong work ethic and the ability to work in a team
There are no visible tattoos
Be skilled in swimming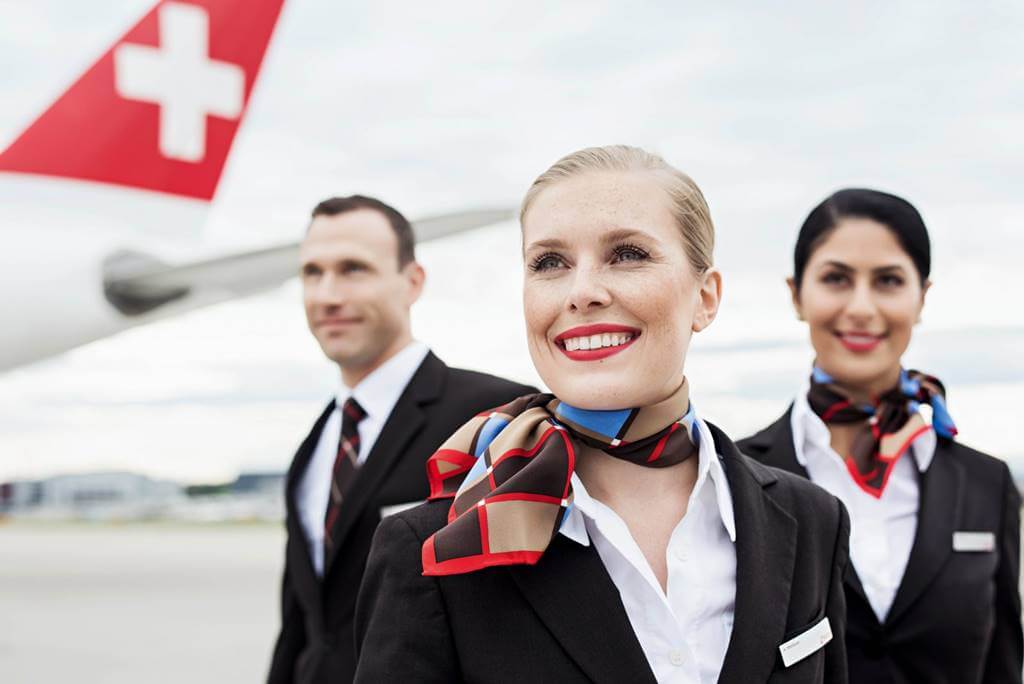 Document Requirements to Prepare
Aside from qualifications and responsibilities, you also need to be aware of the documents you would need to submit to show them that you are qualified. Furthermore, document requirements are a must as the company gets to know you more on a detailed level. Documents also ensure companies that the person they are hiring can be trusted and have credibility. Now that has been explained, here are some document requirements you have to prepare.
Proof of Swiss citizenship or European Union passport
Your certified birth certificate
Social Security card (original)
a driver's license or a state identification card
Address history dating back ten years
Ten years of work experience
History of education for ten years
Employers, teachers, and coworkers must provide at least three professional references (no relatives).
Criminal activity records
Application form
Updated medical and dental data
To help you cast a better light on yourself when submitting your application to the company, be sure to follow some of these extra suggested guidelines:
You should have a white background in your photos
Make sure that you are wearing professional attire in the photo
It would be best if you stood straight, facing the camera with your hands nowhere but your sides
It would also be best if you were smiling naturally in the picture
Where to Apply for a Job for Swiss International Air Lines Online?
If you are interested in taking a peek at the company's career page well, you can click on the link below and view more about the specific requirements. You can also check this to stay updated on any further reminders, requirements, and news regarding job vacancies and the like.
https://www.swiss.com/content/lxc/en/careers
https://ch.linkedin.com/company/swiss-international-air-lines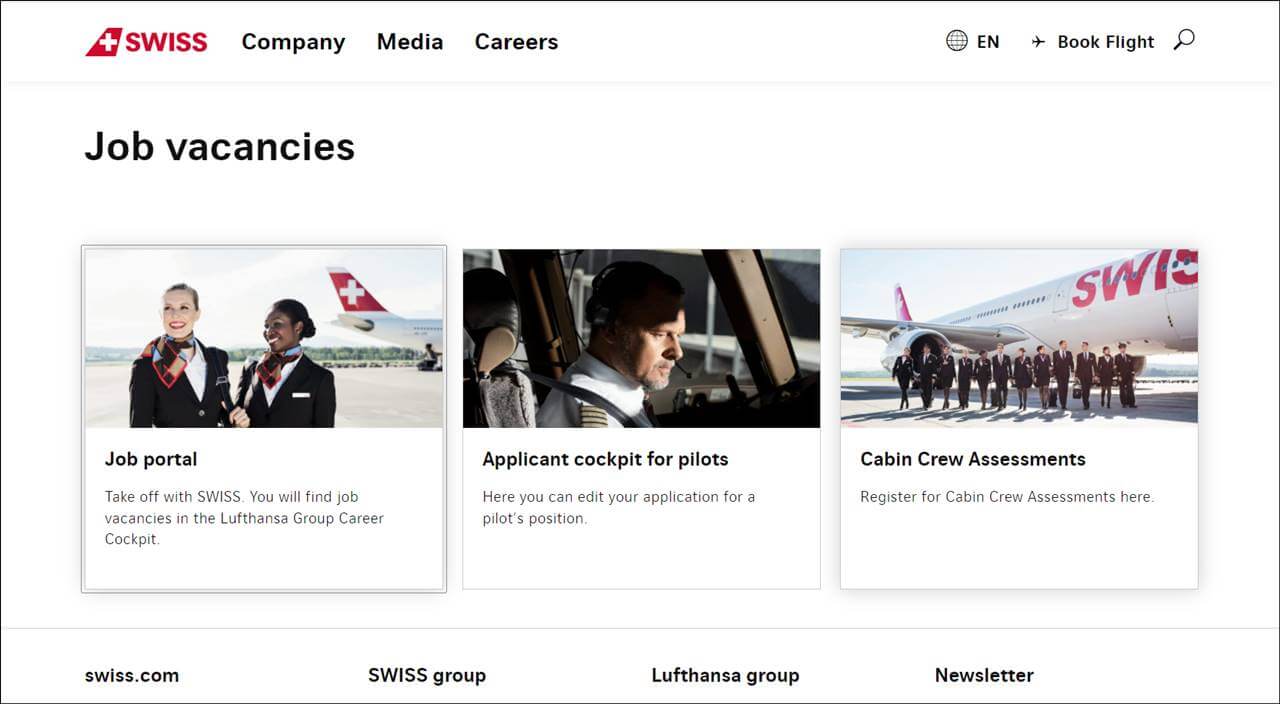 How to Become a Cabin Crew for Swiss International Air Lines
To become a cabin crew member for Swiss International, there is an application process you must follow. Please check out the below steps:
Step 1: Fill out and answer the online application
SWISS International Air Lines solely accepts online job application forms through their Jobgate portal at the moment. When you hit the Apply Now option, you'll be prompted to make an account on the company's website in order to continue with the application. Following that, you will be requested to complete an online application form that includes your personal information, credentials, resume, references, certifications (if there are any), and your CV.
Step 2: Preliminary selection
Following the completion of the application period, the organization will carefully assess how many applications it will consider. If you are one of the applicants who has been shortlisted, the recruiting team will get in touch with you to set up an interview. It is critical that you do not contact them because they are the only ones who are meant to contact you once you have been chosen.
Step 3: The interviewing stage
Before the interview begins, the employer will provide you with a brief overview of their company and operations. Following that, you would be asked to give a few words about yourself before being invited to engage in certain language activities as part of the hiring process.
The critical group face-to-face interview will take place on the same day. You must perform well in this section because there are times when a team is asked to leave during the interview. If you completed the entire event, you should hear from them the next day to find out if you were chosen or not.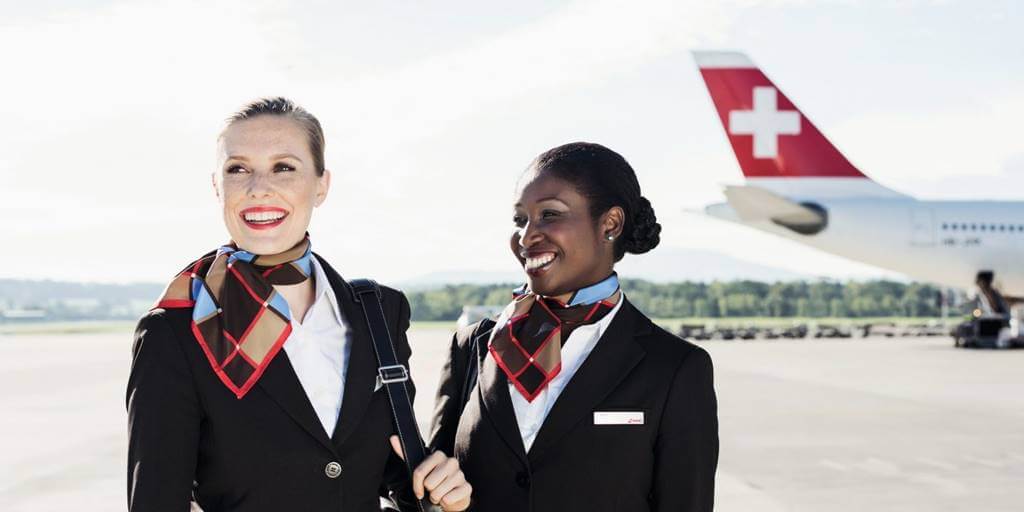 Recruitment Process
We will discuss the company's recruitment process and how they select the candidates that would move on to the next phase. We know how worrying an application can be, and we'd like to help you get an idea on what particular stage is your application on. That way, you'll know when and what to prepare beforehand.
One good tip is to send in your application as soon as possible. We aren't telling you to send your resume in an instant, but instead, do it on the same day when the job was posted online. Next tip is to create a specially-curated cover letter – which will definitely help you to stand out. If you'll only use one cover letter for all the applications that you send, you will sound insincere.
Sending Your Application
As of the moment, SWISS International Airlines only accept online applications through their Jobgate portal. When you click the Apply Now button, you'll be asked to create an account on the website to further proceed with the application. After successfully doing so, you'll be asked to fill out an online application form which includes your personal data, credentials, resume, references, certificates (if any), and your CV.
When you have completed and clicked the submit button, you'll receive an e-mail confirming that the company has received your application.
Preliminary Selection
After the application period comes to an end, the company will then carefully determine how many applications they will consider. If you are one of those shortlisted applicants, the recruitment team will reach out to you to arrange an interview.
Interview Stage
Before the interview proper starts, the company will give you a bit of briefing about their company and their operations as well. Next, you'll be asked to say something about yourself before they ask you and the other applicants to participate in some language exercises as part of the recruitment process.
On the same day, you'll have the crucial face-to-face interview as a group. You need to do well on this particular part because there are cases when a group is asked during the interview to go home. If you were able to finish the whole event, you can expect their answer the next day and onwards whether you have been selected or not.

Monthly Salary of a Swiss International Airlines Flight Attendant
Now that we have understood what we have to offer, it is time to make sure we like what their company is offering to us. This means reviewing the salary that you would get monthly, as well any other additional benefits you will get from working in their company.
A flight attendant working for Swiss international Airlines normally earns around CHF 41,439 per year or 3,453 CHF a month.
As a flight attendant working in their company, they are sure to offer you multiple benefits. So, it is not all hard work on your side. Aside from the possibility of traveling and getting paid for it, they are also prepared to offer you plenty more perks.
You will have Traveling discounts. SWISS cabin crews earn significant discounts on the same carriers as well as other airlines. Discounts on hotels and car rentals are also included.
The second would be transportation benefits. Tickets for public transportation are available at a discounted rate.
The third would be insurance. Personal liability, health, autos, travel, and the home, to name a few things, are all covered. Members of the crew will be given a credit card. American Express provides each employee with an official SWISS credit card as well as a MasterCard that is guaranteed to be free.
The fourth would be regarding fitness. Gyms and other fitness centers, as well as business teams for sports lovers, offer discounts.
And lastly, you will also have car benefits. SWISS could only provide you with a fleet discount on a choice of car brands as well as a parking area for your vehicle.
Videos: A Day in the Life of a Swiss International Airline Job
In those videos, Swiss International Airlines tackle a day in a cabin crew's life. This would give you more information on how they work while on duty, how you should act, and the like. Moreover, these videos provide you with plenty of insights that can shape you into becoming the company's dream member. Check them out below:
Photos: Swiss International Cabin Crew in Uniform
Check out these cool pictures of Swiss International airlines flight attendants in uniform. If you wish to imagine yourself being part of this company, check out these photos to give you an idea about working for this airline:
Frequently Asked Questions
Here are some common questions and answers about the hiring process in Swiss International airways:
1. What is the minimum height?
You must be at least 158 cm tall to apply.
2. Would your weight matter?
You just have to make sure that you look healthy and fit and that your weight is proportionate to your height.
3. Do you have to submit a CV?
Yes, it is part of the required documents to submit when applying.
4. Who will I contact regarding my application?
You are not allowed to contact anyone regarding your application. You just have to wait for them to reach out to you regarding your application.
5. What is the minimum age allowed to apply?
You must be at least 18 years old to apply.
6. Are tattoos allowed?
They are allowed as long as they are not visible when you are wearing your cabin crew uniform.
7. Can I submit my application even if it is incomplete?
No, it is important you submit everything that they are asking for as incomplete may get you automatically disqualified or even lengthen the processing of your application.
8. Do they allow candidates with different nationalities?
Yes, as long as you have a valid passport and or citizenship.
9. Do they provide cabin crew members with benefits?
Yes, they provide their workers with multiple benefits.
10. How long would it take before they contact me regarding my application?
They have no definite date and will just reach out to you once you have passed that particular stage.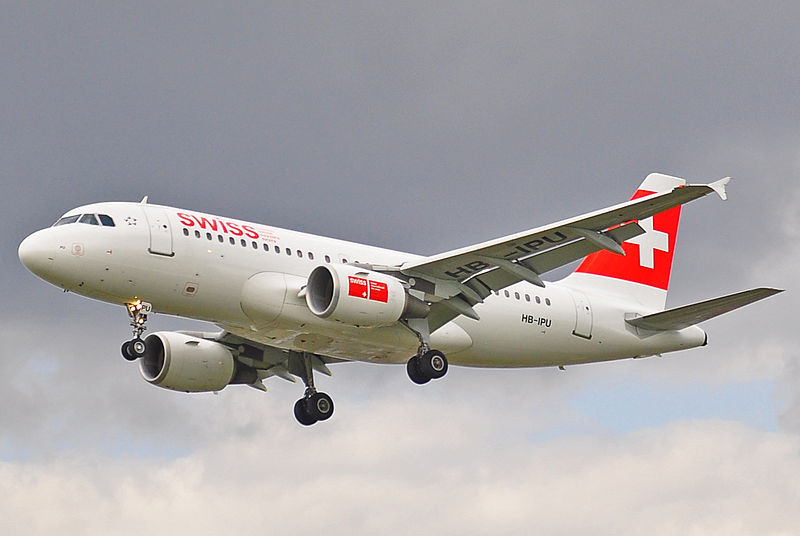 Summary
All of us are aware of the fact that airlines usually receive tons of applications for every hiring event, given the fact that the number of aspiring flight attendants increases every now and then. Competition gets tougher; therefore, you'll need to make extra efforts to up your game.
Now, if you do think that you possess the skills that this company needs, then you should not be afraid to take that risk and go apply. You can never know what will happen unless you try it out. But before doing this, you should also make sure that you are ready for what you are signing up for.
This means that you make sure you have the right documents, practice how you are going to present yourself, and a lot more. This can help a lot with your interview process and make it go more smoothly.
If you have some concerns regarding the company, worry not for this company is extremely reliable. Moreover, they also keep their employees' health and experience in their best interest.
It is important to know that they do not just focus on the clients as well, but they would also watch and care for the workers. With that said, we hope you do try out this opportunity as we look forward to seeing you on our next plane ride around the world.
Contact Information
SWISS INTERNATIONAL AIR LINES
Address: EuroAirport Basel Mulhouse Freiburg near Basel, Switzerland
Telephone Number: +41 43 547 9919
Website: https://www.swiss.com/ch/en/homepage
Facebook: https://www.facebook.com/flyswiss/
Instagram: https://www.instagram.com/flyswiss/?hl=en
Twitter: https://twitter.com/FlySWISS