If you want to work as a flight attendant for Turkish Airlines, there are a few requirements you must meet. First, you must have a high school diploma or equivalent. You will also need to be at least 20 years of age and have a valid passport. In addition, you must be able to speak English fluently/ If you meet all of these requirements, you will then need to complete an online application and pass a series of interviews. If you are successful, you will be asked to attend training. Upon completion of training, you will be able to begin your career with Turkish Airlines.
Also Read: Athens Layover Guide: Best Things to Do in 24 Hours
Turkish Airlines was established in 1933. Turkish Airlines, almost 89 years after its inception, is now regarded as one of the top airlines in the world, with flights to 120 countries and a fleet of 373 aircraft. The airline is one of Turkey's largest corporations.
If you're seeking a company that emphasizes professionalism in the workplace, Turkish Airlines is a good place to start. Every employee respects their coworkers and offers assistance when needed. Turkish Airlines is Turkey's national flag carrier, with headquarters at Istanbul Ataturk Airport. The airline serves over 315 locations in Europe, Asia, Africa, and the Americas. As a result, it is the largest airline in the world in terms of passenger destinations.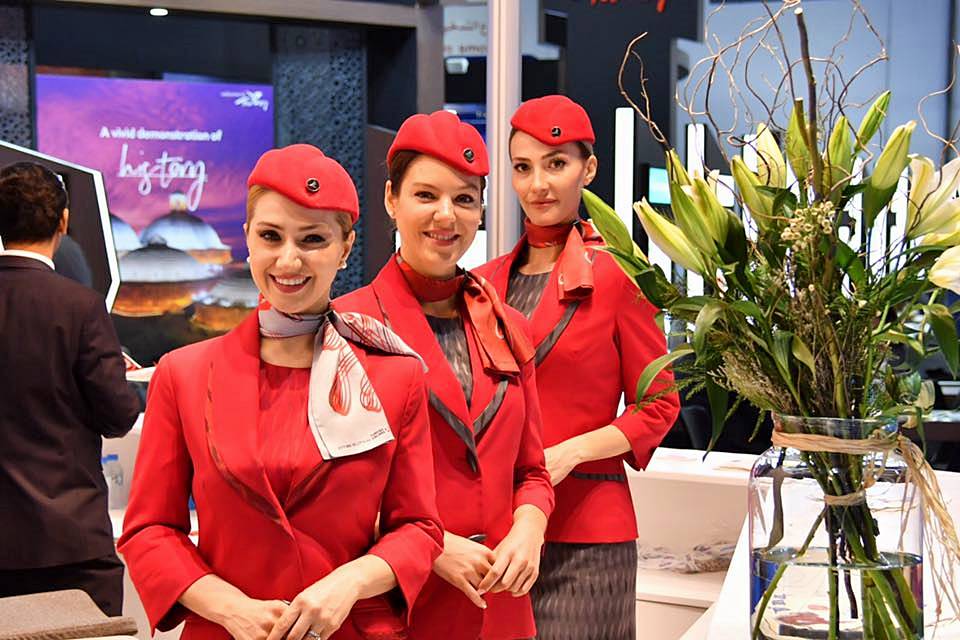 List of Requirements and Qualifications to Become a Turkish Airlines Flight Attendant
You must be at least 20 years old, but this may alter according to the airline.
A High School Diploma
English language fluency (writing, speaking, and reading) is required.
You must be at least 155cm in height or a maximum of between 160cm and 180cm.
Applicants must be able to pass medical examinations.
Tattoos, piercings, and other visible body embellishments are not permitted.
International applicants must be able to secure legal permission as well as a work permit.
Candidates must have strong communication and interpersonal abilities.
A warm, charming, and upbeat demeanor is necessary.
Applicants must be willing to work according to the airline's guidelines.
Responsibilities:
Flight attendants are supposed to welcome passengers, greet passengers enthusiastically, and establish a welcoming environment. And, as a three-star airline, Turkish Airlines flight attendants are taught to go above and beyond the norm.
In between flights, FAs handle passenger requests and orders and serve meals from the airline kitchen.
Turkish Airlines' flight attendants deliver unrivaled service to its passengers. FAs must be eager to make the trip a joyful and comfortable experience, from assisting passengers with their luggage to directing them to their right seats. Flight attendants ensure that passengers are adequately taken care of, especially during meals.
As a flight attendant, you must walk passengers through a step-by-step demonstration of safety rules and measures, which is perhaps one of the profession's trademarks.
Also Read: Turkish Airlines Unveils New Cabin Crew Uniforms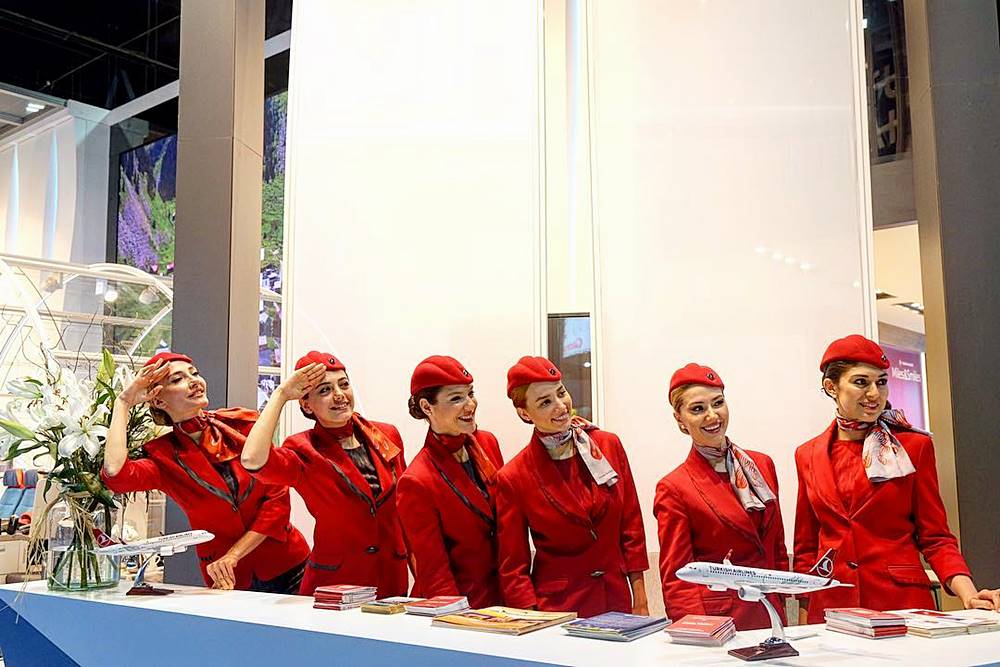 Application Process
Step 1: Visit the Turkish Airlines Careers website and then look for cabin crew vacancies. You can go here: https://careers.turkishairlines.com/en-US/vacant-positions
You must submit an online application by filling out a form and attaching appropriate papers such as a CV, photograph, educational record, and other information.
Step 2: Submit your application on Turkish Airlines' career page. official web page The airline will notify you via email or SMS which confirms your application and will notify you if you passed the preliminary in order to move on to the next round of the application.
Step 3: Turkish Airlines will conduct tests, including Exams in English and Competency tests. As previously said, fluency in English is required.  There are also physical exams to see if you qualify. They need to know if you are physically fit to perform cabin crew jobs. If you meet the physical requirements such as height requirement, you will be notified to proceed with the interview
Step 4: The airline's HR department will ask you for a personal interview.
During the interview, you will be asked a series of questions about your commitment to getting the job. There is no correct answer and no predetermined questions in interviews. You can, however, examine popular interview questions for FAs share prospective flight attendants to help you understand what should be prepared to attend the actual interview
Step 5: If you passed all of the processes above, Congratulations! Wait for your schedule to confirm your Introductory Cabin Crew training.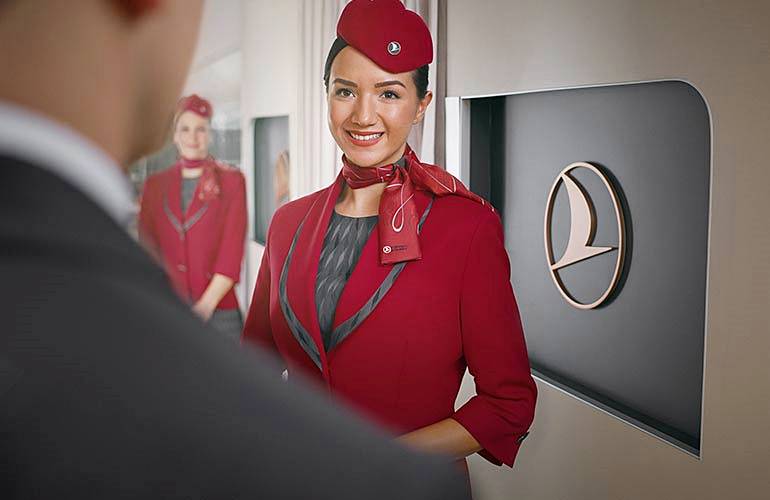 Salary and Benefits
Turkish Airlines' average cabin crew wage is TRY 33,240 to TRY 105,960 per year depending on experience and seniority level.
Personal Health Insurance
Discounted Flights
Bonus
Allowance for Language
Paid Time Off
Hotel Partners
Shuttle System
Marriage Financial Assistance
Maternity and Nursery Allowance
Personal and Professional Development
Financial and Retirement Strategy
Health and Wellness Insurance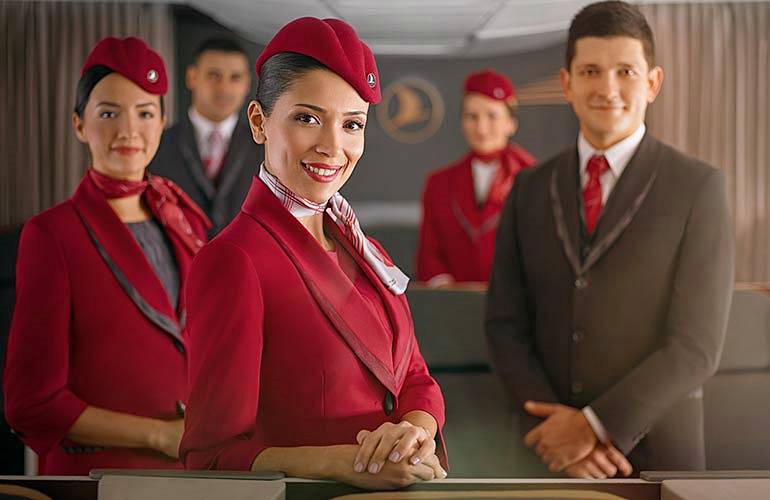 Video: Turkish Airlines Flight Training – Turkish Airlines
Turkish Airlines has its own huge Training Center. This video will walk you through the training facilities inside the Turkish Flight Training Center.
This is one of the best flight training centers in the world. Some of their high-end equipment are Full Flight Simulators, Advanced Cabin Crew and First-Air Training Facilities, Specially Designed Areas for Real Fire Fighting, and more.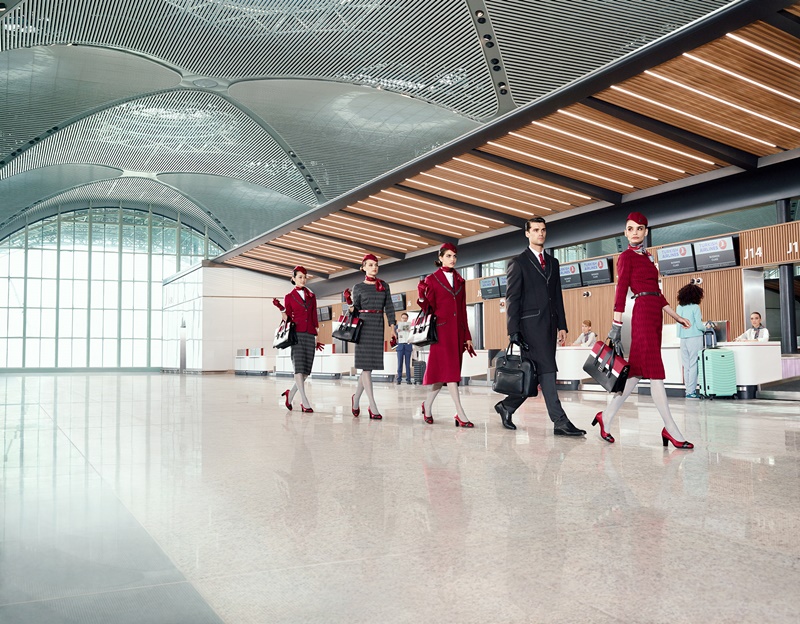 Photos: Turkish Airlines Cabin Crew Uniforms
Check out these pictures of Turkish Airlines crew so you can see what they look like in uniforms:
Frequently Asked Questions
The following are some of the common questions asked about Turkish Air:
1. What to expect during the training?
The actual training will focus on Safety Training, Personality Development, Aircraft Familiarization, Airline Work Environment, Emergency Handling, Aircraft Equipment Training, Standard Operating Procedures (SOPs), Airline Rules & Aviation Regulations, and much more.
2. Is the training paid for?
Turkish Airlines provides food and shuttle services during the basic cabin crew training program. But you will be the one to arrange your accommodation during the training, compensation will not be provided for the said training.
3. Do Turkish Airlines employ foreign workers?
Yes, Turkish Airlines employs foreigners as well. You must receive legal authorization and a work permit as an international applicant.
4. What is it like to work for Turkish Airlines?
Turkish Airlines is a well-known airline company in the world. The Skytrax World Airline Awards have also named it one of the top 20 airlines in the world for 2021. The airline provides excellent service to its valued customers. So, you should feel proud as a cabin crew serving this kind of fleet.
5. What is the age requirement?
You must be at least 20 years of age to apply. But the Airline can consider your application if you have all the other qualities they need.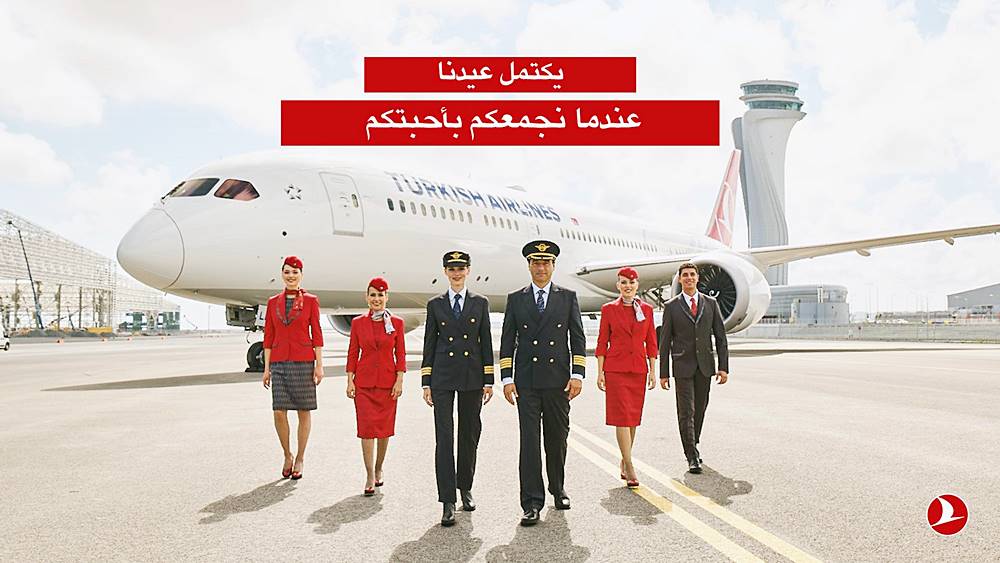 Summary
So this is the process how to join a prestigious aviation company like Turkish Airlines. As a flight attendant, you will be responsible for the safety and comfort of passengers during flights. In addition to providing excellent customer service, you will also need to be able to think quickly in emergency situations.
If you meet all of the standards and have the necessary competencies, you can apply for the job whenever there is a vacant position on their official career website.
Turkish Airlines consider its cabin crew members as brand ambassadors. The cabin crew is a strong team that works hard to guarantee that all passengers' needs are satisfied and that they have a good journey. So if you're ready to take this challenge, go to their website careers page now.