If you are thinking of becoming a flight attendant for Air Creebec, there are a few things you should know. First, the job requires a lot of customer service skills. You will be responsible for handling customer complaints, answering questions, and generally keeping passengers happy. Second, you will need to be able to handle a wide range of personalities. Some passengers will be friendly, while others may be difficult or even rude. Third, you must be able to remain calm under pressure. Flight delays, turbulence, and other problems can occur, and you will need to be able to handle them without losing your cool.
Also Read: 5 Common Answers to Why Do You Want to Be a Cabin Crew?
Air Creebec is a Canadian regional airline based in Quebec. It operates flights to and from the provinces of Quebec and Ontario. They have bases in the cities of Montreal, Timmins and Val-d'Or, and hubs in Chisasibi, Moonsonee and Waskaganish. The airline has regularly scheduled flights as well as charter flights.
If you want to start a career as a flight attendant, regional carriers such as Air Creebec are a good place to start. While they also have very strict requirements, it may be easier to secure a spot than any of the larger airlines. Here are the requirements you need to meet in order to become one of their flight attendants: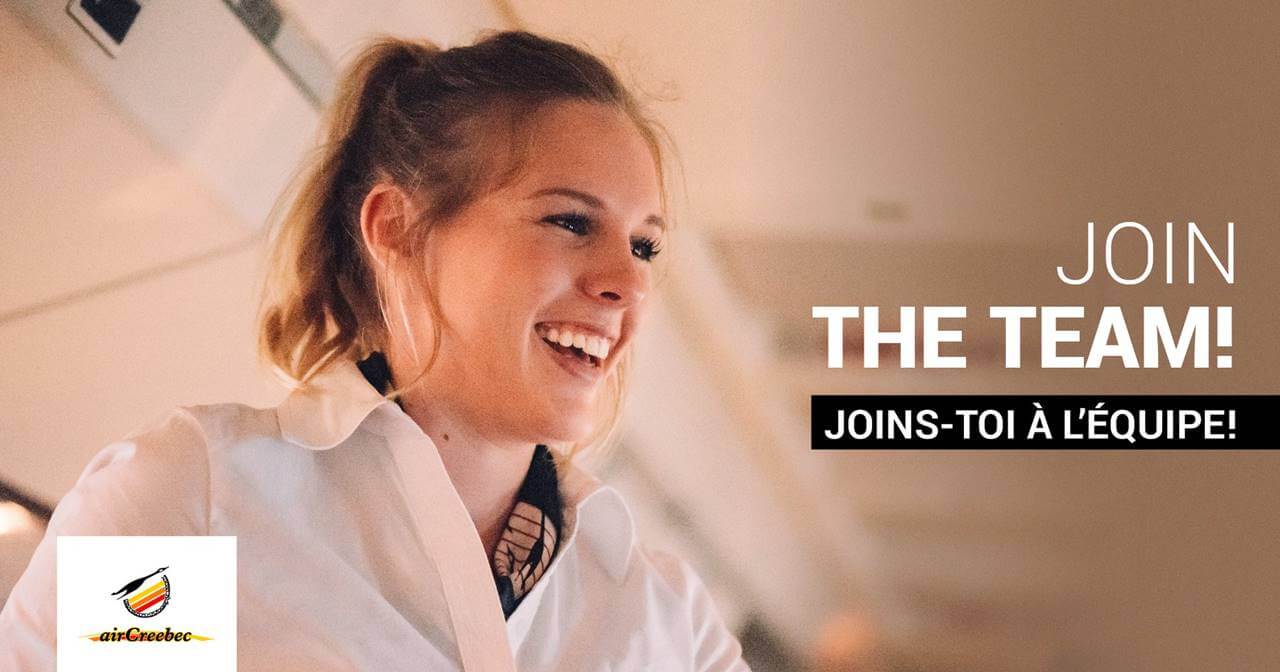 List of Requirements and Qualifications to become an Air Creebec Cabin Crew
The responsibilities of an Air Creebec flight attendant are similar to other airlines. You must ensure the safety of passengers by checking emergency equipment during pre-flight checks. You conduct pre-boarding and pre-take-off safety checks. You also provide in-flight services. You are going to report directly to the Chief Flight Attendant.
In order to become a flight attendant for the airline you have to meet these requirements:
You must have a High School Diploma
You must be knowledgeable of the airline industry
Height requirement is 157.5 centimeters
You must be able to understand, speak and write in French and English.
Knowledge in the Cree language is preferred.
You must have excellent communication skills.
You must possess great customer service and interpersonal skills.
You must enjoy flying.
You are able to work overnight or within unusual hours of the day.
You must be available anytime the flight requires you to fly.
You must submit to a criminal background check.
There will be a 3-week training program at the ground school in Air Creebec in either the TImmins or Montreal hub. Applicants will go through rigorous in-flight training flights with an existing Air Creebec flight attendant. After that, there will be an indoctrination flight with the Chief Flight Attendant, Flight Attendant Instructor and/or Base flight attendant. Once you complete these, you will be certified as a new Air Creebec flight attendant!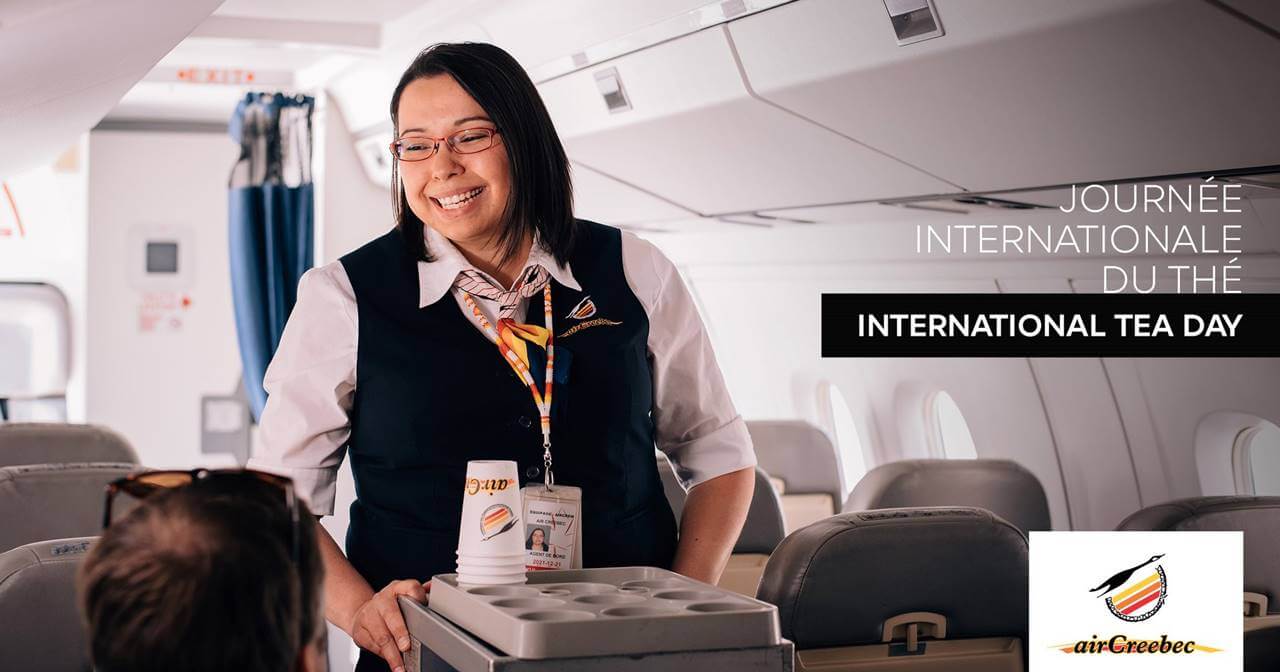 Application Process
Here is an overview of the application process to become a cabin crew member of Air Creebec:
Step 1: Visit the official website at https://www.aircreebec.ca/career/.
Step 2: Look for the latest flight attendant job openings and click the link.
Step 3: Fill out the form by submitting your First Name, Last name, Email address, Position field and add a short message.
Step 4: Upload and submit your cover letter and resume or CV.
Step 5: Wait for confirmation. Someone from Air Creebec will contact you with the details of the next step.
Air Creebec will post the date of the next Initial Ground School training date on their website. Make sure you submit your application before that date.
Alternatively, you may also submit your resume or CV to hr@aircreebec.ca. Attaching a cover letter is highly recommended.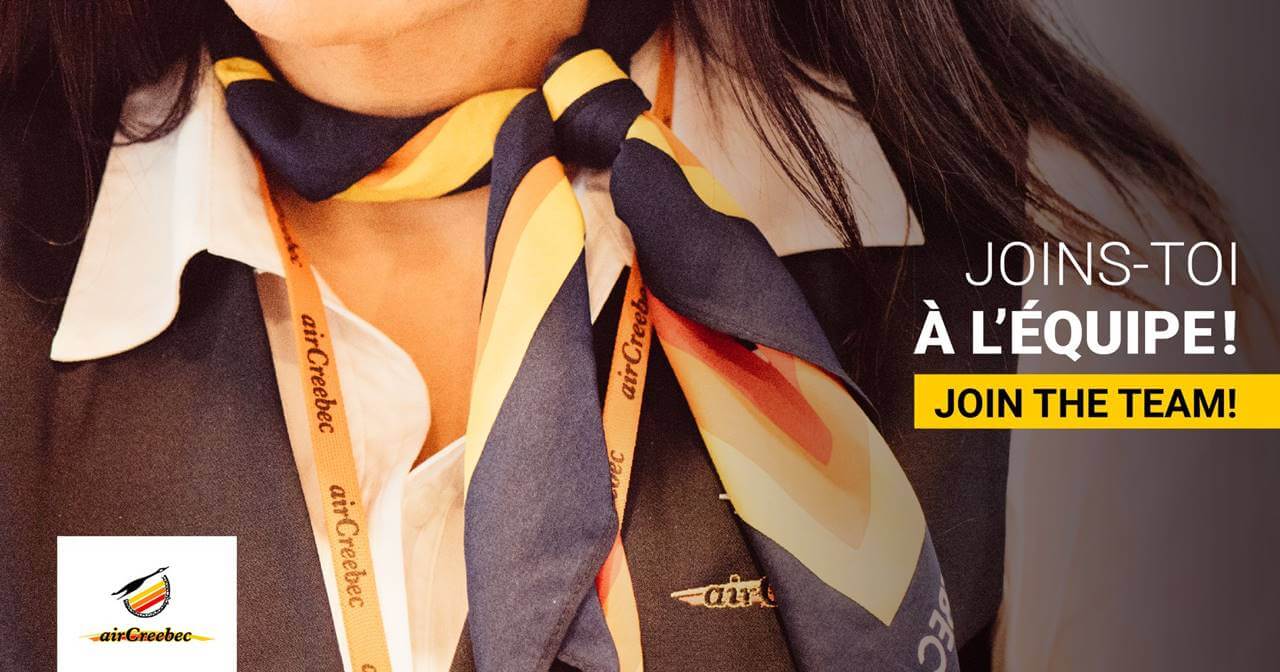 Salary and Benefits
The starting salary per hour of a flight attendant in Air Creebec is around 15 CAD. The salary increases with experience and dedication. So if there is an average 80 hours of flight duty per month, 80 x 15 CAD/hour = 1200 CAD as monthly salary
On top of this, they receive a Per Diem allowance of about 80 CAD (subject to certain conditions) if meals are not provided. So this is the per diem layover allowance.
Take note that the above is just a sample computation.
This salary depends on your flight experience and the number of years with the airline. As with any other airline, your salary increases as you get more experience. Other benefits include:
Paid group insurance
Pension plan
Travel perks (extended to Air Canada)
Free meals
Annual Paid Vacation
Uniform allowance
Paid Canadian Holidays
We have found a reference online which seems like an Air Creebec contract. We don't know when this link will stay active but you can refer to this to get an idea of the actual contract (presumably) of an Air Creebec employee – https://www.hrreporter.com/dynamicdata/OriginalCollectiveAgreement/Air_Creebec_Teamsters.pdf
Video: Air Creebec Dash 8 Q-100 Review from Montreal to Chapais
This video is from a blogger who boarded a flight from Montreal to Chapais. His Air Creebec experience starts around the 7:50 mark. You will see that the aircraft is small just like any other regional airlines.
The airlines travel to most cities in the French-speaking cities of Canada. This is why the Air Creebec flight attendants are required to speak and write in French. You earn bonus points if you know the Cree language too.
Most flights are short. Therefore, you may be working alone in the cabin for the most part. This is why the flight attendants need to adapt to a very flexible working environment.
Photos: Air Creebec Airlines Cabin Crew Uniforms
Check out these pictures of Air Creebec Airlines crew so you can see what they look like in uniforms:
Frequently Asked Questions
Here are some common questions about the requirements for Air Creebec airlines flight attendants.
1. What is the minimum age requirement to apply as a flight attendant?
Applicants must be at least 18 years old to qualify. You must have a high school diploma.
2. Are there height and weight requirements?
As mentioned before, the height requirement is 157.5 centimeters. Your weight should be proportionate to your height.
3. Do you accept all nationalities?
Applicants must have a valid passport from any country. However, you need to obtain a work permit or work visa that allows you to work in Canada. You can also opt to apply for other immigration programs such as the Canadian Express Entry or a Working Holiday Visa. Please check the Canadian Embassy at your location to get more information.
4. Do they sponsor work visas?
At this time, applicants must already have a work visa prior to submitting their application online.
5. What is the airline policy on tattoos?
Flight attendants are allowed to have tattoos as long as they are not visible while wearing the Air Creebec uniform.
6. How long does the training period last?
There will be a three-week training program at one or more Air Creebec training facilities. There will also be several in-flight training and a final indoctrination flight before you get certified as a new Air Creebec flight attendant.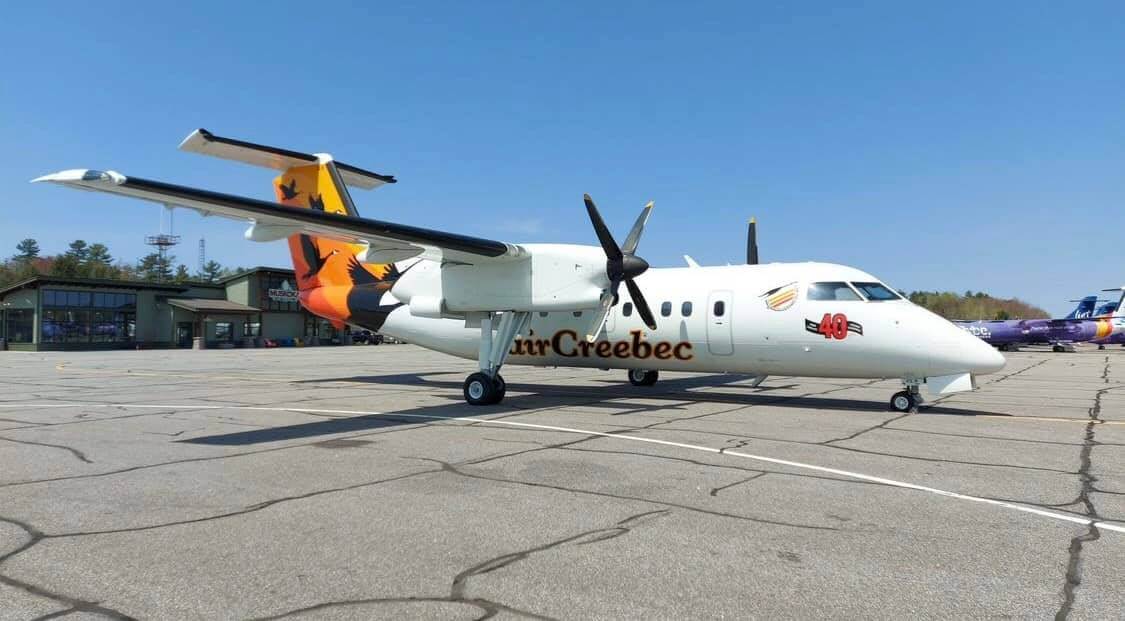 Summary
Air Creebec is one of the regional airlines in Canada that is also a trusted partner of their flag carrier, Air Canada. If you are dreaming of becoming a flight attendant, it is best to gain experience in local flights.
Air Creebec offers a competitive compensation package for those who are either starting out or just want to stay local. Best of all, you get to travel to some of the best places in North America and other locations. Make sure you check the requirements and take note of the deadline for the next training class before submitting your application.
Air Creebec is looking for Flight Attendants to join their team! As a Flight Attendant with the airline, you will be responsible for the safety and well-being of passengers. You will also be responsible for serving food and drinks, and providing excellent customer service. If you are interested in joining the team, make sure to have the qualities and then you can submit your application.