Dubai, known as the City of Gold, is a true gem in the United Arab Emirates. With its iconic skyline, world-class shopping, and rich cultural experiences, there's no shortage of things to do in this incredible city. If you find yourself with a layover in Dubai, here's your guide to making the most of your 24 hours.
Dubai has become a hub and a top tourist destination in recent times. This was the first city that bravely opened its doors to tourism during the pandemic. That is because of the efficient way that the government has built and managed its infrastructure in terms of the health and safety of its citizens and residents.
The city offers a myriad of attractions including world-class shopping malls, luxurious hotels, stunning beaches, and many more. As a flight attendant, you'll surely appreciate the convenience of having a layover in Dubai.
Trivia: Dubai is home to Emirates, one of the premier airline companies in the world.
First and foremost, make sure to schedule your layover wisely. Consider the climate when booking your flights as summer temperatures can be very hot and humid here. It's best to plan your activities around cooler times, such as early mornings or evenings.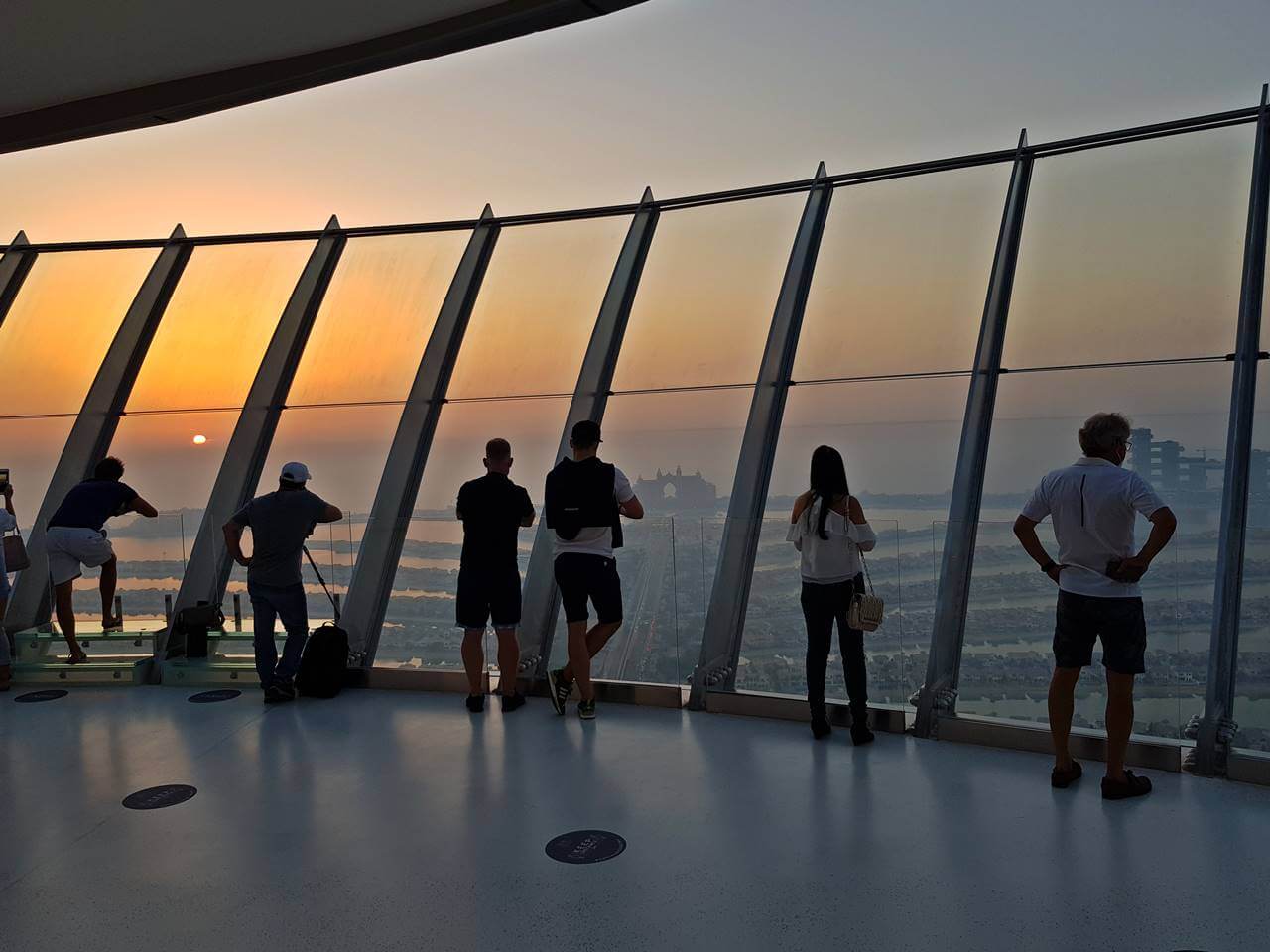 DXB Layover Guide: 24 Hours in Dubai Itinerary: What to See and Do
Here are some of the must-see attractions in Dubai if you are wondering where to go or what to do during your visit.
Note: Please set your expectations accordingly. Summer season can be extremely hot in Dubai so you can't go outside as much during the day. Most of the time you will be indoors as the heat is quite unbearable at times. Don't worry though because Dubai has many indoor attractions and you can still have a great experience even if you can't stay outside most of the time.
1. Burj Khalifa
The Burj Khalifa is not only the world's tallest building but also an architectural marvel and a symbol of Dubai's rapid development. Standing at a staggering 828 meters, this iconic structure offers breathtaking views of the city from its observation deck, At The Top, located on the 124th floor. Visitors can also explore the luxurious Armani Hotel, dine in one of its upscale restaurants, or enjoy the mesmerizing light show displayed on the building's facade during special events. Don't miss the opportunity to visit this remarkable landmark when in Dubai.
2. The Dubai Mall
The Dubai Mall is much more than just a shopping destination; it's an entertainment paradise. As one of the world's largest malls, it features over 1,200 stores, including high-end designer boutiques, popular high-street brands, and local shops. In addition to shopping, visitors can enjoy a wide range of attractions, such as the Dubai Aquarium and Underwater Zoo, which houses thousands of aquatic animals, an Olympic-sized ice rink for skating enthusiasts, and the VR Park, a virtual reality theme park that transports guests to different worlds and experiences. With so much to see and do, the Dubai Mall promises a full day of excitement.
3. Palm Jumeirah
Palm Jumeirah, a man-made island shaped like a palm tree, is a feat of engineering and a testament to Dubai's ambition and creativity. This luxurious destination is home to some of the city's most opulent hotels, such as Atlantis, The Palm, and the Waldorf Astoria. Visitors can indulge in fine dining at numerous upscale restaurants, relax on pristine private beaches, or take part in thrilling water sports activities. Don't forget to take a monorail ride along the island to appreciate its sheer size and grandeur fully.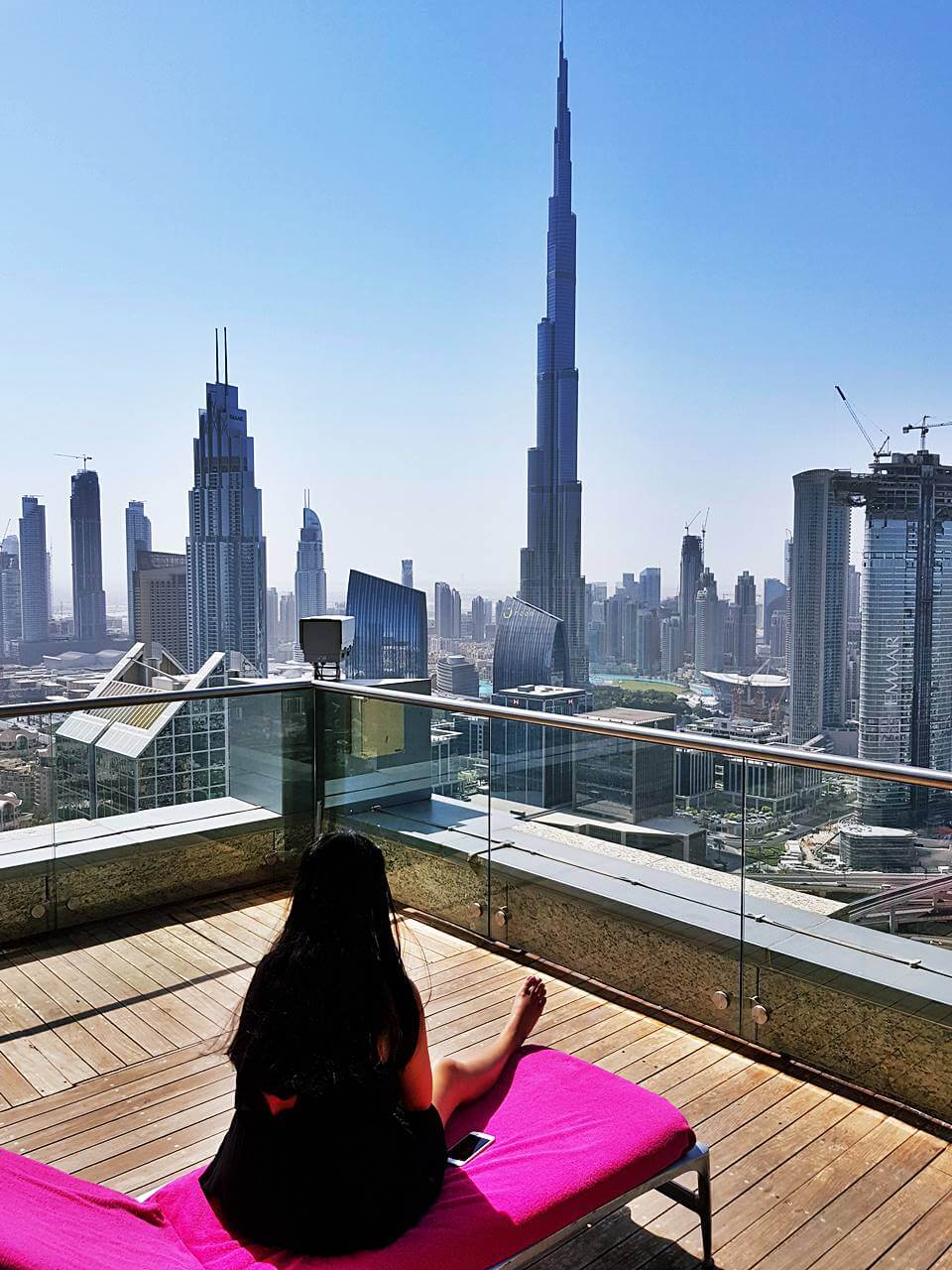 4. The Dubai Fountain
Situated just outside the Dubai Mall, the Dubai Fountain is the world's largest choreographed fountain system, spanning an area equivalent to two football fields. This impressive attraction features powerful jets that shoot water up to 150 meters into the air, all synchronized to a diverse range of music and illuminated by over 6,000 lights. With shows every 30 minutes in the evening, the Dubai Fountain offers a captivating spectacle that draws visitors from around the world.
5. Jumeirah Mosque
The Jumeirah Mosque is one of the most beautiful and iconic mosques in Dubai. It is also one of the few mosques open to non-Muslim visitors, offering a unique opportunity to learn about Islam and Emirati culture. Guided tours are available through the Sheikh Mohammed Centre for Cultural Understanding, which aims to foster cultural exchange and understanding between different religions and nationalities. Make sure to dress modestly when visiting the mosque, as both men and women are required to cover their arms, legs, and head.
6. Al Fahidi Historical Neighborhood
Step back in time as you explore the narrow streets and traditional architecture of the Al Fahidi Historical Neighborhood. This well-preserved district offers a glimpse into Dubai's past, with its wind-tower houses, art galleries, and museums, such as the Dubai Museum and the Coffee Museum. Participate in heritage walking tours, attend cultural events, or simply wander through the area to soak up its unique atmosphere and charm. Al Fahidi is a must-visit for history buffs and those looking to experience a different side of Dubai.
7. Global Village
Global Village is a seasonal attraction (open from November to April) that celebrates the world's diverse cultures, food, and entertainment. With over 75 countries represented in themed pavilions, visitors can explore a variety of culinary delights, traditional handicrafts, and cultural performances. The park also features thrilling rides, live concerts, and street performances, making it an ideal destination for families and friends looking for a day of fun and exploration. Don't miss this unique opportunity to experience the world in one place during your visit to Dubai.
8. Ski Dubai
Located within the Mall of the Emirates, Ski Dubai is the Middle East's first indoor ski resort, offering a winter wonderland experience in the heart of the desert. The resort features five ski slopes of varying difficulty, a snow park with tobogganing hills and snowball fights, and even a colony of Gentoo and King penguins that guests can interact with during daily encounters. Whether you're an experienced skier or a first-timer, Ski Dubai promises an unforgettable snowy adventure for all ages.
9. Wild Wadi Water Park
Situated near the iconic Burj Al Arab hotel, Wild Wadi Water Park offers over 30 exhilarating rides and attractions, including water slides, wave pools, and a lazy river. The park is themed around the tale of Juha, a popular character from Arabian folklore, which adds a unique cultural touch to the experience. With attractions suitable for all ages, Wild Wadi guarantees a day of splashing fun for the entire family under the Dubai sun.
10. Dubai Miracle Garden
Dubai Miracle Garden is the world's largest natural flower garden, boasting over 50 million flowers arranged in various shapes, designs, and structures. From massive floral sculptures to intricate displays, the garden is a feast for the senses and a paradise for nature lovers and photographers. Open from November to May, the Dubai Miracle Garden is a must-visit attraction to witness the city's dedication to beauty and creativity.
11. Dubai Frame
The Dubai Frame is an architectural landmark that stands at 150 meters tall and offers panoramic views of both old and new Dubai. This unique structure is designed to represent a metaphorical bridge between the city's past and future, with one side offering views of historical neighborhoods like Al Fahidi and the other showcasing modern marvels like the Burj Khalifa. Inside the frame, visitors can learn about Dubai's history and development through interactive exhibits and multimedia presentations.
12. Dubai Opera
Located in the heart of Downtown Dubai, the Dubai Opera is a stunning architectural masterpiece that serves as a vibrant cultural hub for the city. With a seating capacity of 2,000, the venue hosts a diverse range of performances, including opera, ballet, theater, concerts, and even fashion shows. The building's unique design allows it to transform into three different configurations – a theater, a concert hall, or a flat floor – making it a versatile space for various events. Check the schedule and book tickets in advance for an unforgettable night of world-class entertainment.
13. IMG Worlds of Adventure
IMG Worlds of Adventure is the world's largest indoor theme park, spanning over 1.5 million square feet and featuring thrilling rides, roller coasters, and attractions based on popular characters from Marvel, Cartoon Network, and more. Divided into four adventure zones – Marvel, Cartoon Network, Lost Valley – Dinosaur Adventure, and IMG Boulevard – the park offers something for everyone, from adrenaline-pumping roller coasters to interactive play areas for younger guests. Spend a day at IMG Worlds of Adventure for a fun-filled experience that caters to all ages and interests.
14. Kite Beach
Kite Beach is a popular public beach in Dubai, known for its pristine white sands, crystal-clear waters, and vibrant atmosphere. As its name suggests, the beach is famous for kite surfing, but visitors can also enjoy a variety of other water sports activities, such as paddleboarding, kayaking, and beach volleyball. With numerous food trucks, cafés, and sun loungers available, Kite Beach is an ideal destination for a relaxing day by the sea or an action-packed adventure on the water.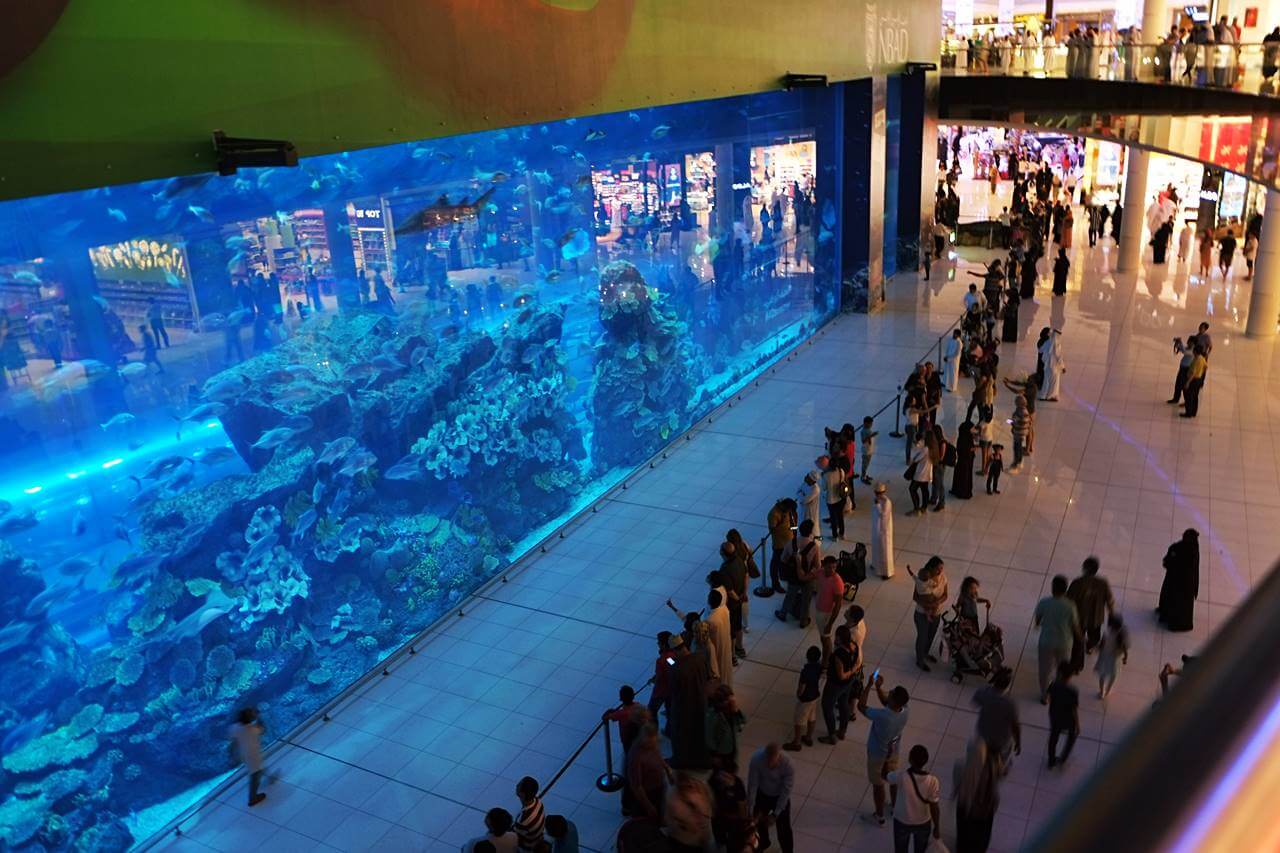 15. La Mer
La Mer is a trendy beachfront destination that combines stylish dining, shopping, and entertainment options with stunning views of the Arabian Gulf. This vibrant area boasts colorful street art, playgrounds, and water play areas for kids, as well as a wide selection of cafés, restaurants, and boutiques for visitors to explore. Whether you're looking to unwind on the beach, indulge in some retail therapy, or savor delicious cuisine, La Mer has something for everyone.
16. Aquaventure Waterpark
Aquaventure Waterpark, located at Atlantis, The Palm, is one of the largest and most exciting water parks in Dubai. With thrilling slides like the Leap of Faith, which plunges riders through a shark-filled lagoon, and the Poseidon's Revenge, a near-vertical drop slide, the park promises adrenaline-pumping fun for all ages. In addition to the rides, visitors can relax on the private beach, explore the Lost Chambers Aquarium or interact with dolphins and sea lions at Dolphin Bay and Sea Lion Point.
17. Dubai Aquarium & Underwater Zoo
The Dubai Aquarium & Underwater Zoo, situated within the Dubai Mall, is one of the largest suspended aquariums in the world, featuring a 10-million-liter tank that houses over 33,000 aquatic animals, including sharks, rays, and colorful fish. Visitors can walk through a 48-meter-long tunnel that offers 270-degree views of the tank, take a glass-bottom boat ride, or even dive with sharks for a truly unforgettable experience. The Underwater Zoo, located on the floor above the aquarium, showcases various ecosystems and their inhabitants, such as penguins, crocodiles, and sea jellies.
18. Gold and Spice Souks
The Gold and Spice Souks are traditional markets located in the Deira district, offering a sensory overload of sights, sounds, and smells. The Gold Souk is home to hundreds of shops selling gold jewelry, diamonds, and precious stones, while the Spice Souk features colorful displays of aromatic spices, herbs, and teas. Take your time to explore these bustling markets, haggle for the best deals, and immerse yourself in the vibrant atmosphere of old Dubai. Don't forget to pick up some unique souvenirs and gifts to take back home.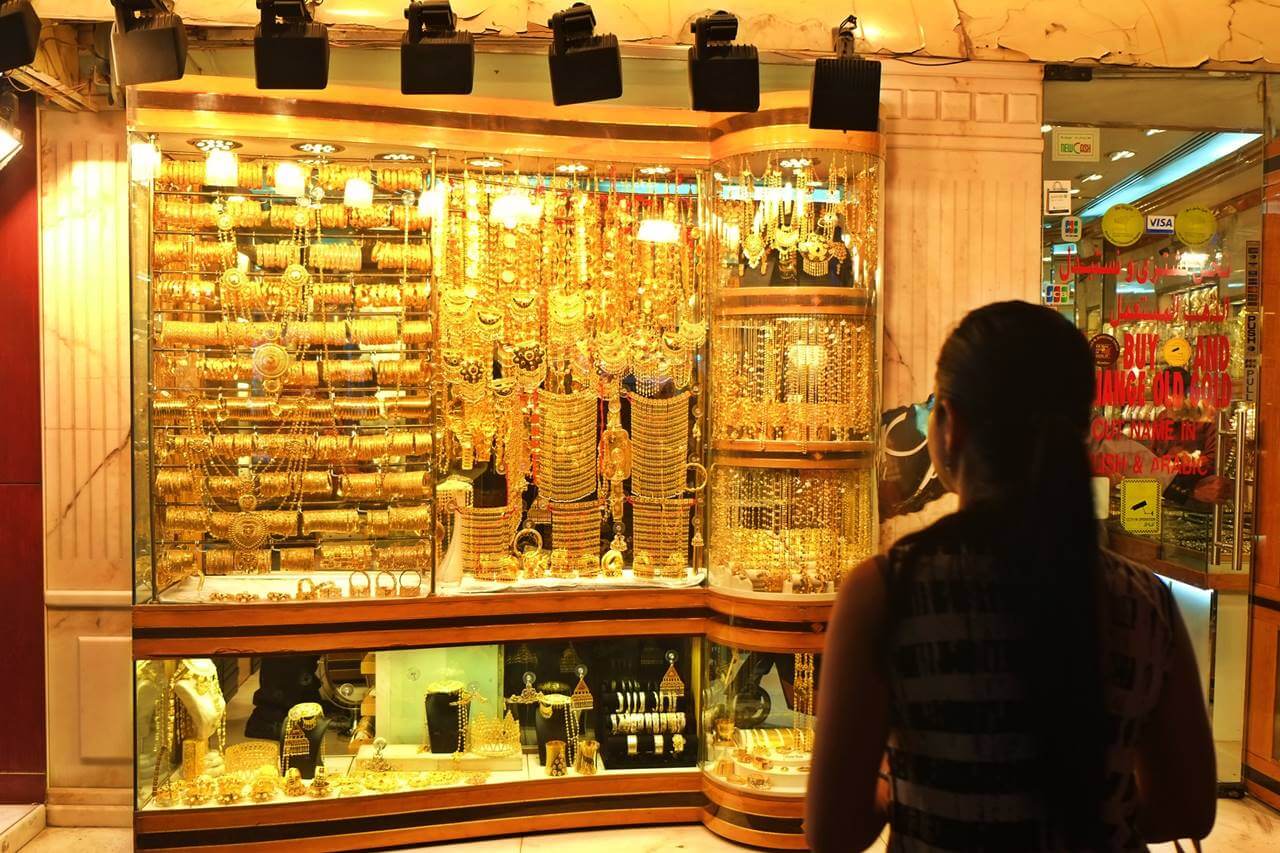 19. Dubai Creek
Dubai Creek is the historic heart of the city, where traditional abras (wooden boats) ferry passengers across the water between the Deira and Bur Dubai districts. The creek played a vital role in the city's development as a trading hub and continues to be a bustling center of activity today. Enjoy a relaxing dhow dinner cruise along the creek, or simply take an abra ride to appreciate the juxtaposition of old and new architecture that lines its banks. The Al Seef area, located along the creek, offers a modern twist on traditional Emirati design, with numerous shops, restaurants, and cafés to explore.
20. Alserkal Avenue
Alserkal Avenue is a thriving arts district located in the industrial area of Al Quoz. The district features contemporary galleries, creative spaces, and unique events that showcase the works of both local and international artists. Wander through the numerous galleries, attend workshops and talks, or simply enjoy the vibrant atmosphere of this artistic hub. Alserkal Avenue is a must-visit destination for art enthusiasts and those looking to discover Dubai's flourishing creative scene.
21. Jumeirah Beach Residence (JBR) Walk
The Jumeirah Beach Residence (JBR) Walk is a lively beachfront promenade that stretches for 1.7 kilometers along the coast. With a wide array of shops, restaurants, and entertainment options, the JBR Walk is a popular destination for both tourists and residents alike. Relax on the sandy beach, take a leisurely stroll along the promenade, or try your hand at various water sports activities, such as jet skiing or flyboarding. In the evening, the area comes alive with street performers, outdoor movie screenings, and bustling nightlife.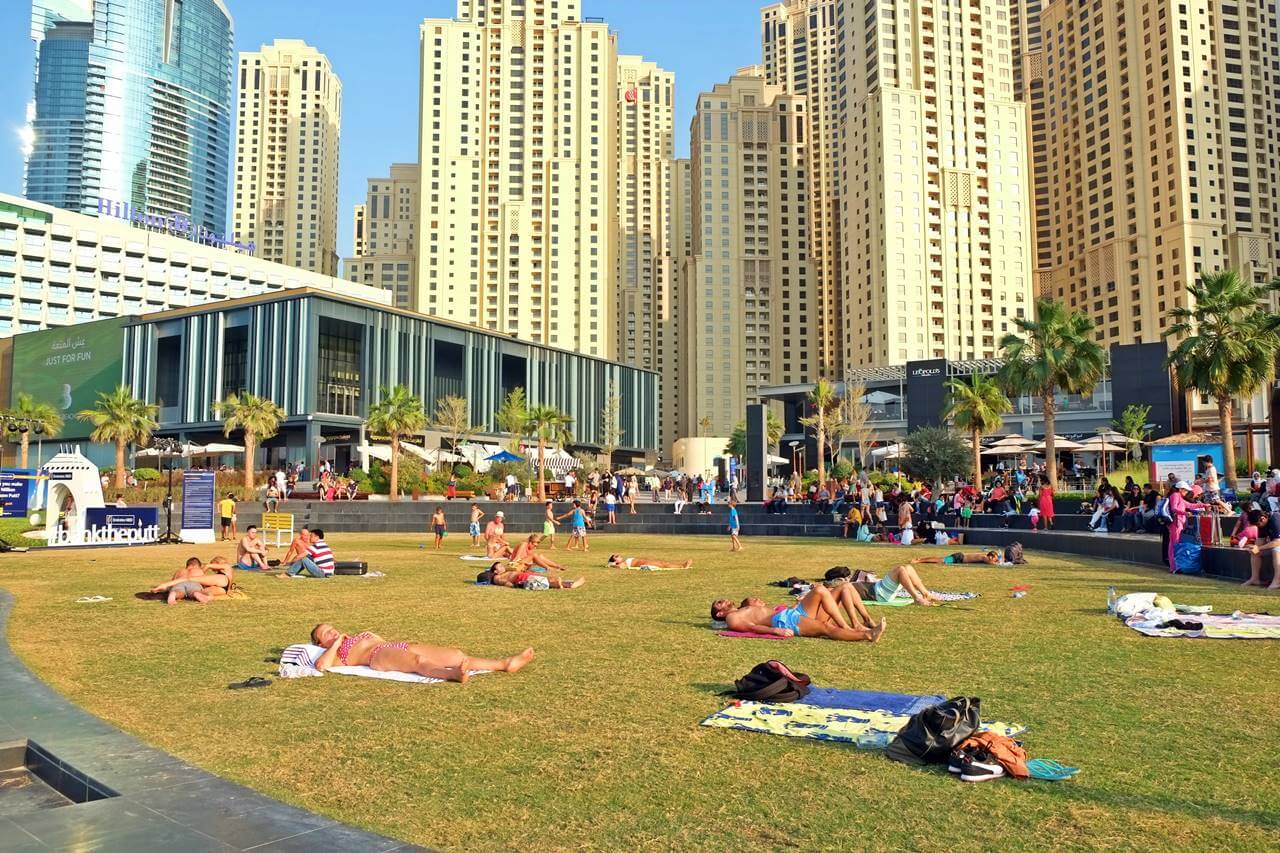 22. Dubai Garden Glow
Dubai Garden Glow is a unique theme park that features illuminated sculptures, installations, and attractions, creating a magical world of light and color. The park has several themed zones, including the Glow Park, which showcases stunning light displays inspired by nature, the Dinosaur Park, featuring life-sized animatronic dinosaurs, and the Ice Park, where visitors can explore ice sculptures in a chilled environment. Open from October to June, Dubai Garden Glow promises a mesmerizing experience for visitors of all ages.
23. Hatta
Hatta is a mountainous region located about 130 km from Dubai, offering a welcome escape from the city's hustle and bustle. Surrounded by the rugged Hajar Mountains, Hatta is an ideal destination for outdoor enthusiasts, with activities such as hiking, mountain biking, and kayaking available. Visit the Hatta Heritage Village to learn about the area's history and traditional Emirati culture or relax at the Hatta Dam, which offers stunning views of the turquoise reservoir. Hatta provides a refreshing change of scenery and a chance to reconnect with nature during your visit to Dubai.
24. The Green Planet
The Green Planet is an indoor tropical rainforest located in the City Walk district, housing over 3,000 plants and animals in a biodome that replicates their natural habitat. Visitors can explore the various levels of the rainforest, from the forest floor to the canopy, and encounter a diverse range of creatures, including birds, reptiles, and insects. The Green Planet also offers educational programs and interactive experiences, such as feeding the resident sloths or getting up close and personal with the Australian Walkabout animals. A visit to The Green Planet is both entertaining and educational, making it an ideal destination for families and nature lovers.
25. Dubai Marina
Dubai Marina is a picturesque waterfront destination that features luxury yachts, high-rise buildings, and a range of dining and entertainment options. The area is centered around a man-made canal and offers stunning views of the Dubai skyline, especially at night when the buildings are illuminated. Take a leisurely stroll along the Marina Walk, a 7-kilometer promenade lined with restaurants, cafés, and shops, or embark on a dhow cruise for a romantic evening on the water. With its vibrant atmosphere and spectacular views, Dubai Marina is a must-visit destination during your trip to the city.
Skip-The-Line Tickets
There are some attractions in Dubai where it's worth purchasing a skip-the-line ticket. This can help you avoid the often long lines and save time. Here are some places you can visit and purchase online tickets in advance:
With skip-the-line tickets, you can save time and energy during your visit to these attractions and enjoy a hassle-free experience.
Making the Most of Your Layover: Tips and Ideas
1. Indulge in Local Cuisine
Your culinary journey through Dubai should include sampling traditional Emirati dishes, such as Al Harees (a slow-cooked mixture of wheat and meat), Shawarma (grilled meat served in a pita), and Umm Ali (a bread pudding dessert). Head to popular local restaurants like Al Fanar or Al Bait Al Qadeem for an authentic taste of Emirati cuisine.
2. Explore Iconic Neighborhoods
Beyond the glitz and glamour of its modern attractions, Dubai has several neighborhoods that showcase the city's history and culture. Wander through the Al Fahidi Historical Neighborhood, visit the bustling Gold and Spice Souks in Deira, or take an abra (traditional wooden boat) ride along the Dubai Creek to get a feel for the city's roots.
3. Enjoy the architecture
Dubai is home to some of the world's most impressive architecture. Take a stroll along Sheikh Zayed Road and admire its iconic skyline, featuring iconic buildings like Burj Khalifa and Dubai Frame. Or visit the awe-inspiring Jumeirah Mosque for a glimpse of traditional Islamic architecture.
4. Go Shopping
Dubai is known as one of the world's best shopping destinations, with everything from luxury boutiques to traditional souks available throughout the city. Head to The Dubai Mall or Souk Madinat Jumeirah for an array of retail options, or take a stroll through Global Village for souvenirs and unique local finds. Don't forget to watch out for sale events which are aplenty!
5. Relax on the Beach
With its year-round sunshine and pristine beaches, Dubai is a perfect destination for sun-seekers. Head to popular public beaches like Jumeirah Beach or Kite Beach to soak up some rays and enjoy the crystal-clear waters of the Arabian Gulf.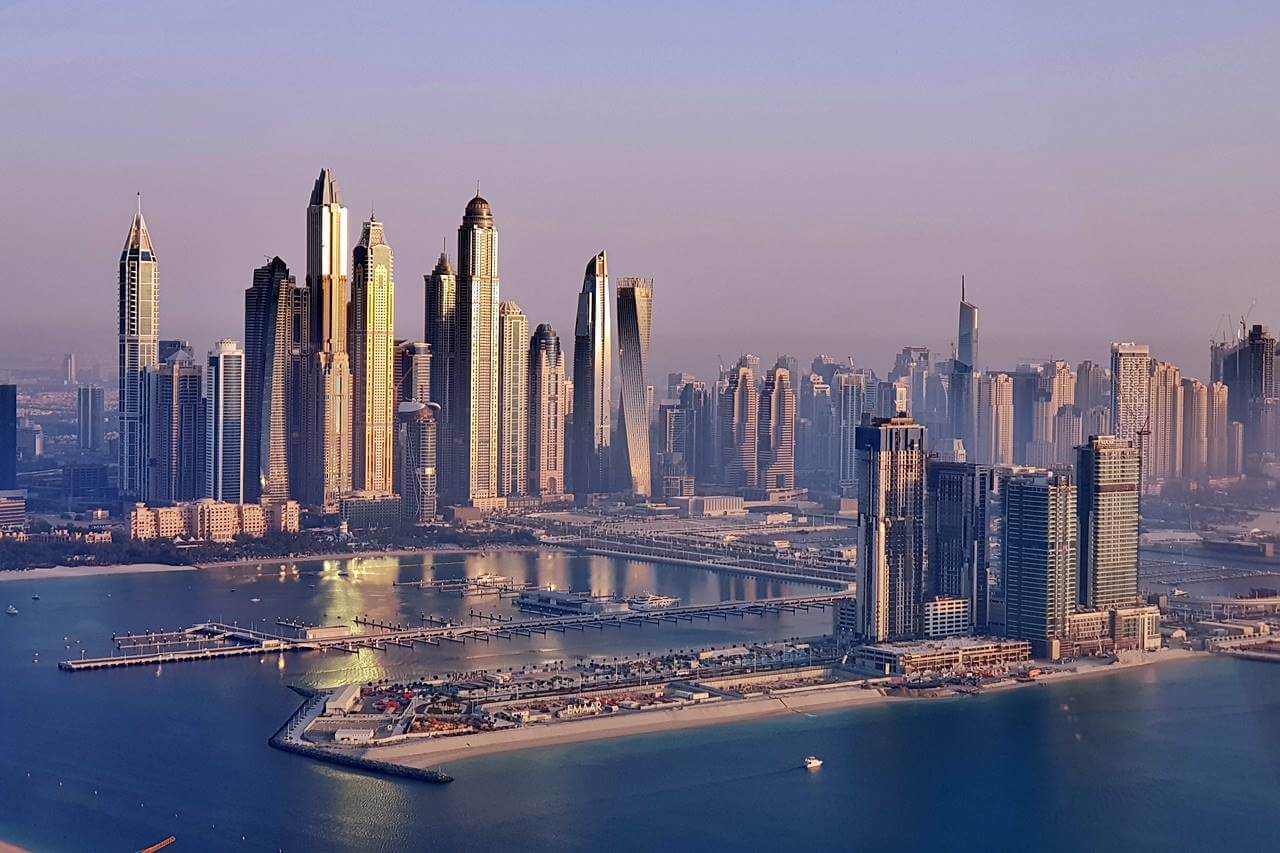 Essential Reminders for Your Dubai Layover
Stay Hydrated: With temperatures often reaching over 40°C (104°F) during the summer months, it's crucial to drink plenty of water and stay hydrated during your time in Dubai.
Use Public Transportation or Rideshare Services: Dubai has an efficient public transportation system, including the Dubai Metro, buses, and water taxis. Alternatively, rideshare services like Uber and Careem are widely available and often more affordable than traditional taxis.
Respect Local Customs and Laws: Dubai is a cosmopolitan city but remains rooted in Islamic traditions. Be mindful of local customs, such as dressing modestly in public spaces and refraining from public displays of affection. Additionally, be aware of local laws, which can differ significantly from Western countries. Dubai, while an open city, it is still part of a conservative country. So respect the laws!
Carry Identification: It's always a good idea to carry a copy of your passport or other identification while exploring the city in case you're asked for it by local authorities.
Video: Cabin Crew Layover in Dubai
Check out this vlog experience by cabin crew, Sanghmitra mishra, on YouTube where she takes you through her layover in Dubai. She visits some of the city's most iconic attractions, shares tips on where to stay and dine, and offers helpful advice for making the most of your time in this vibrant destination. From shopping at the malls to exploring classic souks and feasting on local dishes, this is an informative and entertaining video that will give you a unique perspective on spending your layover in Dubai.
Video: Flight Attendant 23 Hours Layover in Dubai
Here's another video from a former flight attendant of Cebu Pacific, Aira Lopez, where she shares her experience spending 23 hours in Dubai. She takes you on a tour of some of the city's hotspots and shares her recommendations for the best places to stay, eat, and explore during your layover in this incredible destination.
We hope this guide has given you some helpful information about making the most out of your layover in Dubai! Have fun and enjoy your time exploring this exciting destination.
Frequently Asked Questions About Dubai
1. How do I get around Dubai?
The Dubai Metro, buses, and water taxis are efficient ways to navigate the city. Rideshare services like Uber and Careem are also readily available.
2. What is the tipping culture in Dubai?
While tipping is not mandatory, it's appreciated for good service. A 10% tip is standard in restaurants, while rounding up the fare for taxi drivers is common practice.
3. Is Dubai safe for tourists?
Dubai is considered a very safe city for tourists, with low crime rates and strict laws in place to maintain order. However, it's essential to be aware of local customs and laws to avoid any issues.
4. Can I access the beach for free in Dubai?
Yes, there are several public beaches in Dubai, such as Jumeirah Beach and Kite Beach, that offer free access for visitors.
5. Are there any free attractions in Dubai?
Many of Dubai's attractions come with an entrance fee, but there are still plenty of free experiences to enjoy, such as visiting the Gold and Spice Souks, watching the Dubai Fountain show, or exploring the Al Fahidi Historical Neighborhood.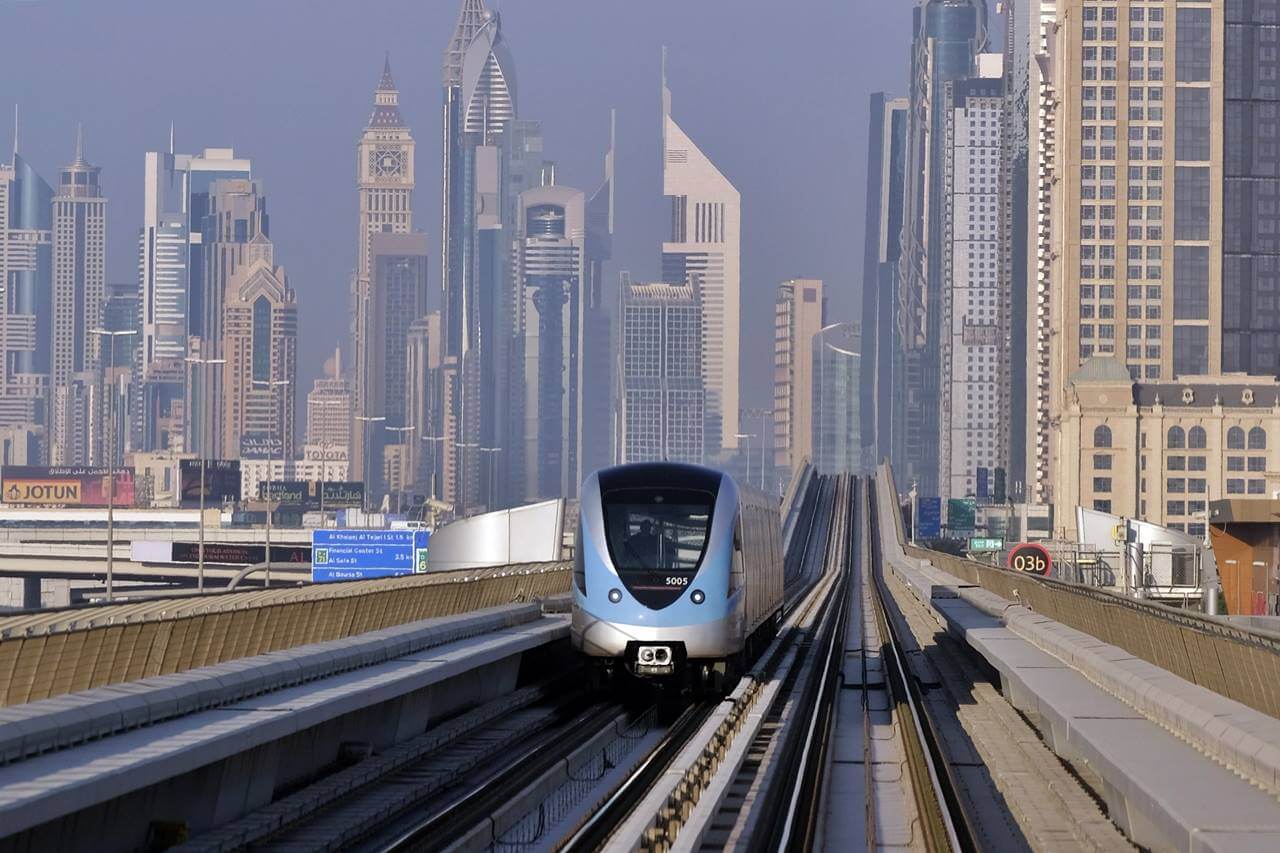 Summary
As a flight attendant in the Middle East, you can enjoy your time in Dubai during your layover. With its year-round sunshine and a variety of attractions, this vibrant destination is sure to make for an enjoyable experience.
With so much to see and do, your 24-hour layover in Dubai will undoubtedly be an unforgettable one. Follow this guide to make the most of your time in the City of Gold, and you'll leave with memories to last a lifetime.