Etihad Airways is not like any other aviation company. For some, Etihad might be an ordinary airline company, but for the employees – they are definitely more than that. Aside from the financial rewards and other benefits that Etihad Airways give, the company also provides the employees with sufficient knowledge and world-class training to prepare them as they become professionals in the industry.
Also Read: Etihad Airways Open Days 2022 | Assessment Day Schedule
This airline company is one of the best ones to settle with or to kick-start your flight attendant career with. One of the highlights of the work environment of the company is the friendliness among every employee that enables one another to collaborate well and further enhance the service they provide to the passengers.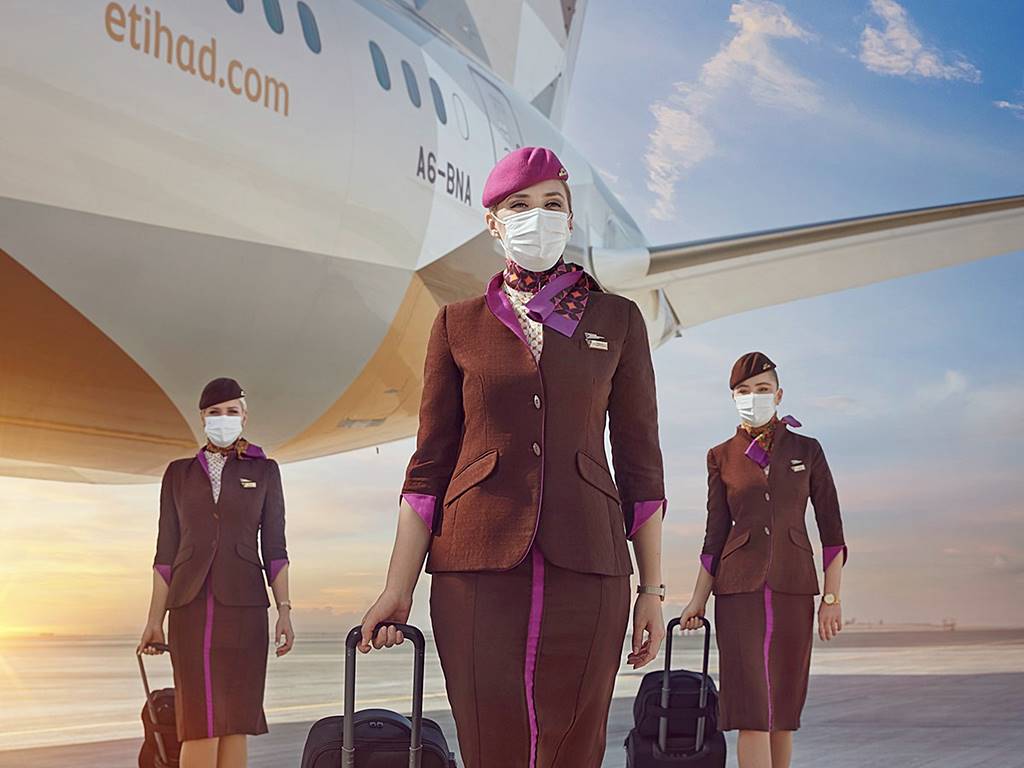 A job that you love won't feel like a job at all, and a goal you have prepared for is always bound to reap good results. No matter what dream you have, the journey towards achieving it will always require hard work and preparation for your application process. If you're someone who has long aspired to become a flight attendant or a cabin crew member, then you probably know that it's not easy to land a position immediately.
Aside from the application process, consider many things before pushing through with your dream job. Do you see yourself serving others? Do you have a spirit for traveling and getting to know other cultures? If the answer is yes, then this read is for you.
In this article, we're going to talk about the hiring process in Etihad Airways. As a world-class airway dedicated to providing excellent customer service and safe travel to its passengers, it is only natural that their standards are high. But that doesn't mean you don't stand a chance. Fear of being rejected is normal, but you can always avoid and lessen it by being one step ahead and knowing what qualities they require. So, are you willing to do what it takes to reach your dreams? If the answer is yes, then read on, and good luck!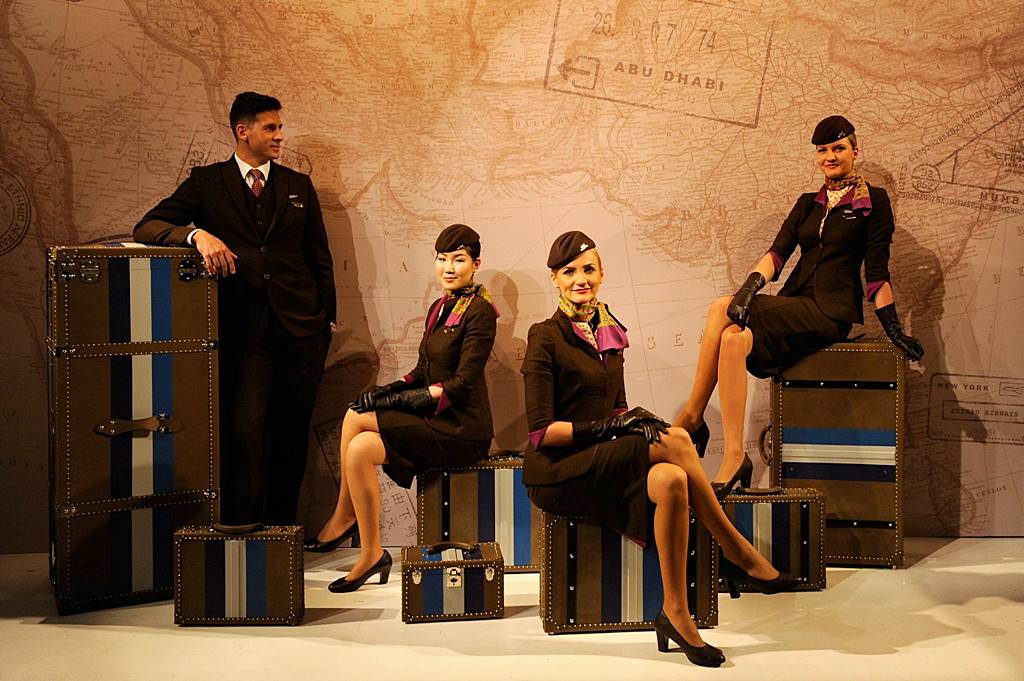 Overview
Founded in 2003, Etihad Airways only took eight years to make itself the second-largest airline in the UAE next to Emirates. Its headquarters is located in Abu Dhabi and boasts a total of 125 aircrafts offering flights to more than 120 destinations across six continents. Because Etihad's values are centered around Arabian hospitality, it has garnered various awards such as "World's Leading Airline" at the World Travel Awards. This award is only one among many more that Etihad received, proof of it being a leading premium airline.
When it comes to flight statistics, Etihad Airways operates more than 1,000 flights weekly. From current reports, Etihad served 14.8 million passengers in 2015 and delivered revenues of $9.02 billion and net profits of $103 million. One of its goals is to be the best airline globally, offering quality service and flights across the globe. With a total workforce of 13 500 employees, Etihad Airways always strives to provide the best while pursuing innovation simultaneously. It had already introduced several world-class products and other services such as the Inflight Chef, Food & Beverage Managers, and Flying Nannies.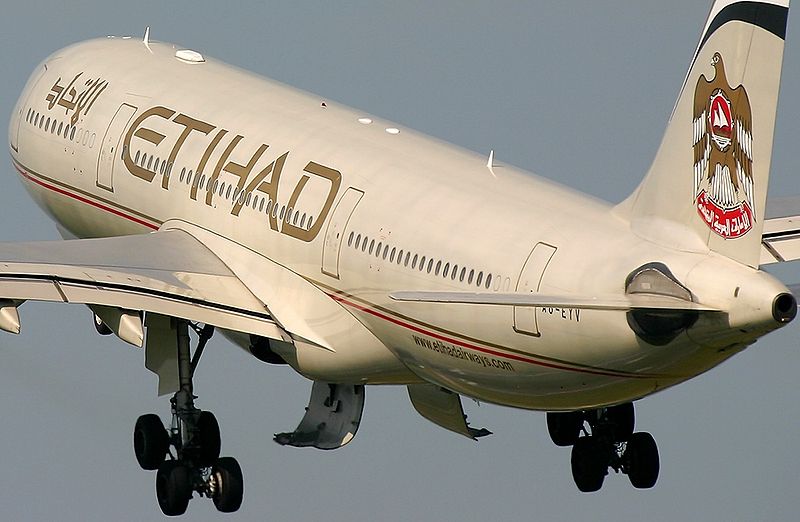 With a slogan of "The World Is Our Home, You Are Our Guest", Etihad always aims to be known across the globe. So, if you're eyeing a spot in being part of this fast-paced airline, there are many things you should prepare for and remember. But first, are you willing to be part of its journey towards success and growth? Every goal requires hard work, and on top of that, you have to do what it takes to stand out. This article is one of the keys to making that happen.
Responsibilities
Becoming part of a company means you're carrying its image, reputation, and everything that has to do with your company. While you are just one person among thousands of employees, you are still the face of Etihad. So to help strengthen Etihad Airways' image, one of the best things you can do is perform your duties and responsibilities satisfactorily.
You must be aware of these and uphold the airline's values while doing it for that to happen. As a flight attendant, these are your responsibilities:
Conduct safety checks before each flight
Greet your passengers warmly
Escort and assist your passengers with their luggage
Help them find and settle into their seats
Prepare and serve drinks and food to your passengers according to what is requested.
Take note of any medical needs, likes, and dislikes of passengers
Present emergency equipment and brief passengers on how to use the equipment
Monitor, manage and secure the cabin
Adhere to all aviation rules and regulations
Assist passengers and cabin crew during emergencies
Assist passengers with special needs (children, disabled persons, elders, etc.)
Attend briefings before each flight
Submit and prepare reports concerning flight incidents
Qualifications
Before landing a job as an Etihad Airways Cabin Crew member, you must first possess the qualities that will contribute to the objectives of Etihad Air. Of course, you will always have competition no matter what position you dream of or how much you want it.
But it's nothing you should worry about, as long as you are knowledgeable about what to focus on about yourself. Here are the qualifications to become an Air Cabin Crew:
You must be a minimum of 21 years of age at the time of your application
Your minimum height must be 165cm (you will also need to past an arm reach test which requires a reach of 212 cm while standing on tiptoes)
Able to serve passengers with hospitality
Must be fluent in English (written and spoken)
High school graduate (Grade 12, but higher attainments are more than welcome too)
No visible tattoos while you're in your Etihad cabin crew uniform (cosmetic and bandage coverings aren't allowed)
Comfortable to work irregular hours
Weight must be proportional to the height
Must not have bad acne (should be coverable or unnoticeable with makeup)
Can adapt to new people, new places and new situations
Thrives in a fast-paced and changing environment
Excellent personal presentation, style and image
Willing to become culturally aware
Ensure onboard safety and follow all procedures
Document Requirements to Prepare
Here are the documents which are commonly asked from you during your application process:
Updated CV/Resume
Head and full-body photographs
Good Conduct Certificate or Criminal Record
Medical and Dental Records
Note: You should take note that your pictures must be professional. Those taken during birthdays, weddings, or any other events are not encouraged. Ideally, you should be wearing professional business attire for these pictures, while standing straight towards the camera as you keep your hands down by your side. Take this opportunity to show your natural smile and show your good set of teeth. Also, remember to keep your background white.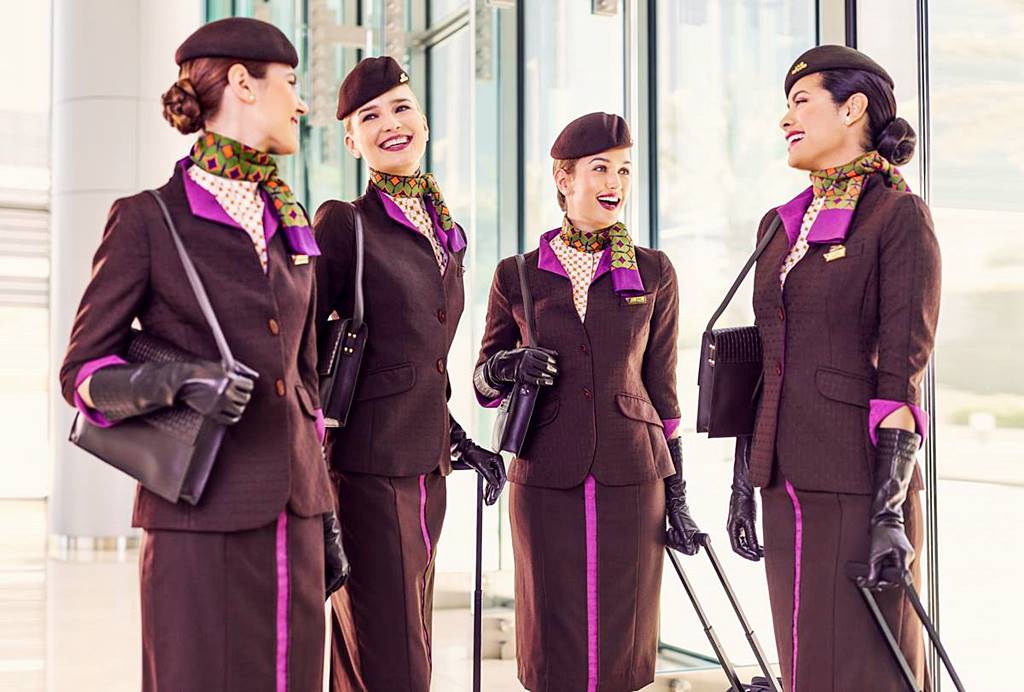 Where to Apply for a Job for Etihad Airways Online?
To check for job vacancies and details, you can visit and view their website here.
For submitting and preparing for your online application, visit this link – https://careers.etihad.com/go/Cabin-Crew-Jobs/716001/
During your online application, you may be required to attend a video interview. Usually, this involves introducing yourself, answering a few questions such as your background, height, as well as if you have any extra piercings or tattoos.
You might also be asked why you decided to apply in this company and what you know about Etihad Airways.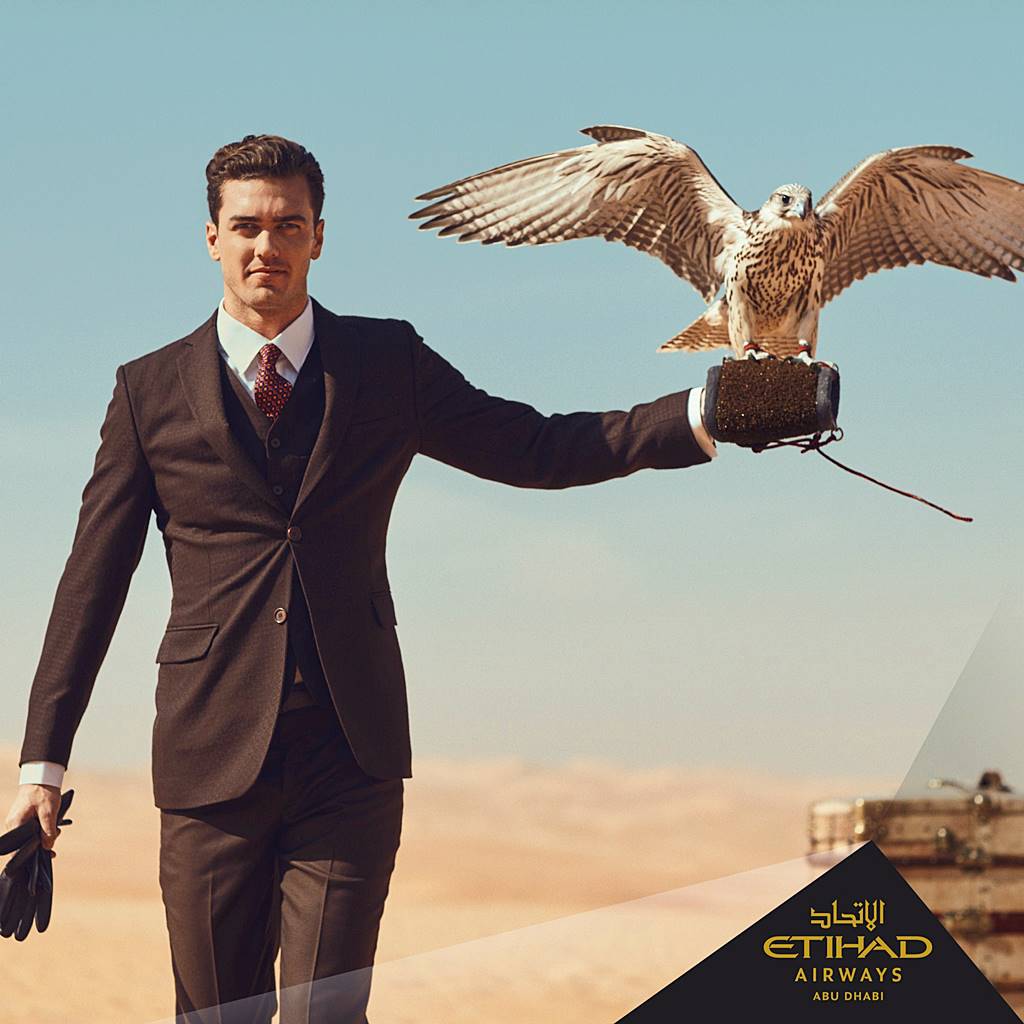 How to Become a Cabin Crew for Etihad Airways
Please follow the steps below which outlines the process of how you can become a flight attendant for Etihad:
Step 1: Submitting your Resume or CV
A powerful resume is the first step to standing out. Once you hook your recruiters' attention, you'll have a greater chance of being contacted by the company. Before submitting your resume or CV, you must make sure it is updated without grammatical errors.
Since fluency in English is one of the qualities that Etihad is looking for, you should start showing it as early as your resume submission. If you make it through the first step, then you'll be invited to participate in the assessment day.
All applications are coursed through their official website, in which you are required to submit the following:
An updated resume
A personalized cover letter
One (1) full body picture
One (1) passport-sized picture
A short essay about your dream holiday destination
Step 2: Assessment Day
In a nutshell, assessment day requires evaluating your skills as well as your appearance from head to toe. During the assessment day, make sure to bring your invitation, registration form with applicant ID, resume, as well as your passport photos. If you're wondering what to wear, make sure that you arrive wearing business attire.
During the assessment day, you can expect presentations, short interviews, height and reach tests, English tests, as well as self- presentations. Remember that how you carry yourself matters during this, as assessment day is a way for recruiters to gauge whether or not you are fit to work at Etihad Airways. So be confident and dress to impress!
After you submit your application, the computer will determine if you are really a good fit for the job. If you've passed the first stage, the recruiter will review and further evaluate your application, and then will invite you to their Assessment Day.
One of the best parts of this event is that you'll be the one to select the date and location from their list, so you'll have ample amount of time to prepare yourself beforehand. But of course, it would be better if you can pick an early date so you can advance to the next stage as early as possible. Who knows? It might even give them a good impression of you!
Extra note: Etihad Airways assessment days are invite-only.
Step 3: Review of Application and Results from Assessment Day
The last step is to wait for the results after the assessment day, because the company will run through your application and performance once again. So keep the faith, and wait for them to be in touch with you. Good luck!
If you were able to leave a good impression on the recruiter and the company, you'd be invited again for the final interview. You should take note that not all candidates are given the chance to make it on the third stage. Given that the competition is tough, Etihad Airways carefully select the potential candidates that will receive an amazing opportunity.
Usually, the final interview happens on the same day as the Assessment Day, but there are also instances where they are held the next day or a later date.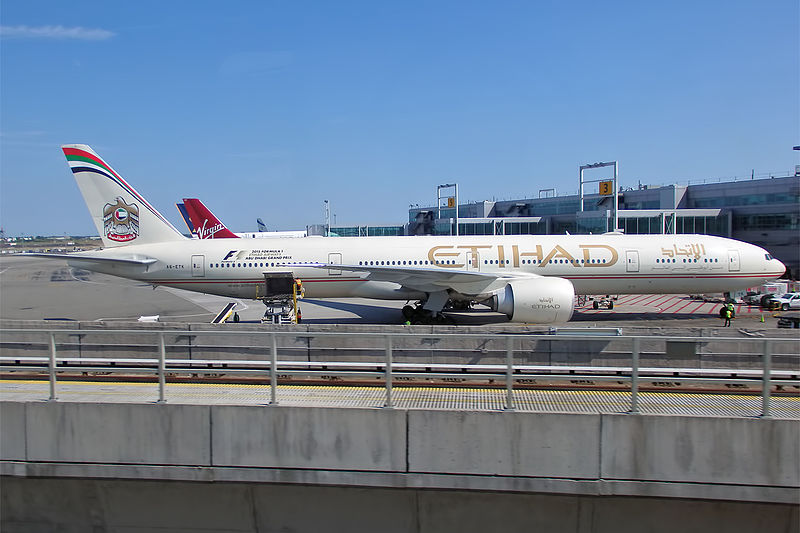 Monthly Salary of an Etihad Airways Flight Attendant
Many factors play a role in an Etihad Airways' Flight Attendant salary. One of these is rank or seniority. For first-timers, the salary starts at 8,000 AED – 10,000 AED ($2,100 – $2,700) a month. The amount eventually increases the longer they are in service and the higher their ranks go. Applying for promotions are based on the availability of positions, as well as individual performance. It is important to know that in Etihad Airways, your salary is tax-free!
Other Benefits:
Unlimited Single-Status Contract
Housing allowance for the married crew to live outside the company's accommodation
Own bedroom in a fully-furnished accommodation on a shared basis (utilities are paid by the company!)
Free laundry of uniform
247 transportation via shuttle buses to and from work
Tax-free salary and Travel Expenses
Training for Hospitality and Customer Service
Training for Safety and Emergency Procedures
Worldwide insurance coverage while on duty
Medical insurance in the UAE and at your home country,
Aviation Security knowledge
30 days leave per year
Annual leave ticket to your home destination
Extra note: Out of the leading airlines in the Middle East, Etihad Airways is the only airline that lets you and your family fly in business class.
Video: Etihad Airways Flight Attendants
Check out these videos featuring Etihad Airways a day in the life of cabin crew:
In these two videos, flight attendants show you how flying and serving at Etihad Airways goes. You will have a glimpse of how they start their mornings, the facilities at Etihad, and how they accommodate their passengers. Additionally, you will have a sneak peek at how cabin crew members and flight attendants organise themselves and carry themselves, especially during their duty.
Disclaimer: These videos were uploaded by flight attendant vloggers who shared her experience being a cabin crew member of Etihad. Take note that every crew has a different experience, but this will help give you an idea what to expect when you work for Etihad.
Photos: Etihad Cabin Crew in Uniform
Check out these beautiful pictures of Etihad flight attendants in uniform. If you wish to imagine yourself to be part of this company, check out these photos to give you a glimpse of working for this airline:
Frequently Asked Questions
Here are some common questions and answers about the recruitment process for Etihad Airways:
1. Will my height affect my chances of being hired?
No, it won't. While Etihad Airways has its standards regarding height requirements, it is not the sole quality that will determine whether you'll be hired or not. You can always stand out and do well in the other tests that will be administered to you.
2. Will my salary increase?
Yes, it will. Depending on how long you've been serving in Etihad Airways, your salary is highly likely to increase the higher your rank is.
3. Does passing assessment day guarantee that I become hired?
No, it doesn't. There is still a last step of evaluation before you are contacted by the company.
4. Will I get adequate training?
Yes, you will. Before officially serving as a cabin crew member or a flight attendant, you must have training that is in-line with the standards of Etihad Airways.
5. Once I pass my resume, is it guaranteed that I attend the assessment day?
No, it isn't. A lot of applicants are vying for a position at Etihad Airways. That means that you're not the only one who wants to land an interview. The technique is to impress them during the online application.
6. How else can I stand out?
Aside from noting your work experience needed for you're applying for, you can also stand out by making a good impression on your appearance.
7. Can I apply even if I'm not fluent in other languages?
Yes, you can! As long as you are fluent in English, you have a high chance of being hired.
8. Can I reapply in the event of my application being rejected?
Yes, you can. As many times as you want! Just make sure you work on your strengths and weaknesses.
9. Is it okay to wear makeup and jewelry to the interview?
Yes, it is. As long as you look neat and professional.
10. Does age matter when it comes to applying for a job?
No it doesn't. As long as you meet the requirements and prove that you can offer the best services to your future customers and passengers, you stand a chance, just like everyone else.
11. What happens after I get hired?
Aside from undergoing training, you'll be able to start working as a cabin crew member at Etihad Airways.
Summary
Just like what we've mentioned in one of our posts, the company doesn't have a lot of requirements for the cabin crew position. Aside from the common educational and physical qualifications, you will only be required to comply with the UAE and GCAA visa, including their medical and health screening requirements.
Etihad Airways simply wants a crew member who can provide efficient service and show genuine concern for the passengers on behalf of the company, while ensuring the safety of each and everyone at the same time. If you have applied as a cabin crew for Etihad Airways, we understand if you'd feel somewhat worried about the status of your application given that you really wanted to be a part of their family. Therefore, in connection with that, we have provided you with a guide regarding the recruitment process of Etihad.
Contact Information
Etihad Airways
Address: UAE P.O.Box 35566, Head Office, Khalifa City A, ABU DHABI, United Arab Emirates
Telephone Number: +971 2 511 0000
Website: https://www.etihad.com
Facebook: https://www.facebook.com/etihad/
Instagram: https://www.instagram.com/etihad/
Twitter: https://twitter.com/etihad