Eurowings is the market leader in Düsseldorf, Hamburg, Stuttgart, and Cologne/Bonn airports, with a fleet of over 100 aircrafts. It specializes on low-cost products and services, as well as nonstop flights throughout Europe. The airline's current flight schedule includes more than 100 destinations, so there are plenty of trips to fullfil by Flight Attendants . According to Glassdoor, Eurowings Flight Attendants earn an estimated monthly pay of EUR1,711 ($1,866). While the base pay per month is projected to be EUR1,236 ($1,348). But this is not the total computation for the monthly salary of a flight attendant in this airline, there are still extra means that can increase the rate.
Eurowings is a wholly owned subsidiary of the Lufthansa Group and a German low-cost carrier based in Düsseldorf. It was founded in 1996 and serves a network of domestic and European destinations, as well as certain long-haul flights. It has bases in Germany and Austria, as well as Palma de Mallorca and Pristina. This airlineis one of the trusted airlines not Europe, and the airline is continuously giving unending opportunities to aspiring flight attendants. Here's what you can have after finally getting a cabin crew job at Eurowings.
Cash Salary Breakdown
Basic Salary – According to Glassdoor, a Flight Attendant at Eurowings can expect to earn an estimated basic pay of NOK30,000 per month ($2,940). FAs in Eurowings can also earn an extra salary through special flights, bonuses, commissions, profit sharing, stock options, and tips are all possible forms of additional compensation.
Flying Pay – Currently, there are no provided rates for the FA's flying pay at Eurowings. This flying pay is also known as per hourly rate. As an FA you will be paid for every hour you fly on air at a specific rate.
Layover Allowance – Currently, there is no publicized per diem pay or layover allowance for Eurowings Flight Attendants. The per diem pay is intended to cover the expenses of all your meals and some other expenses during a stopover.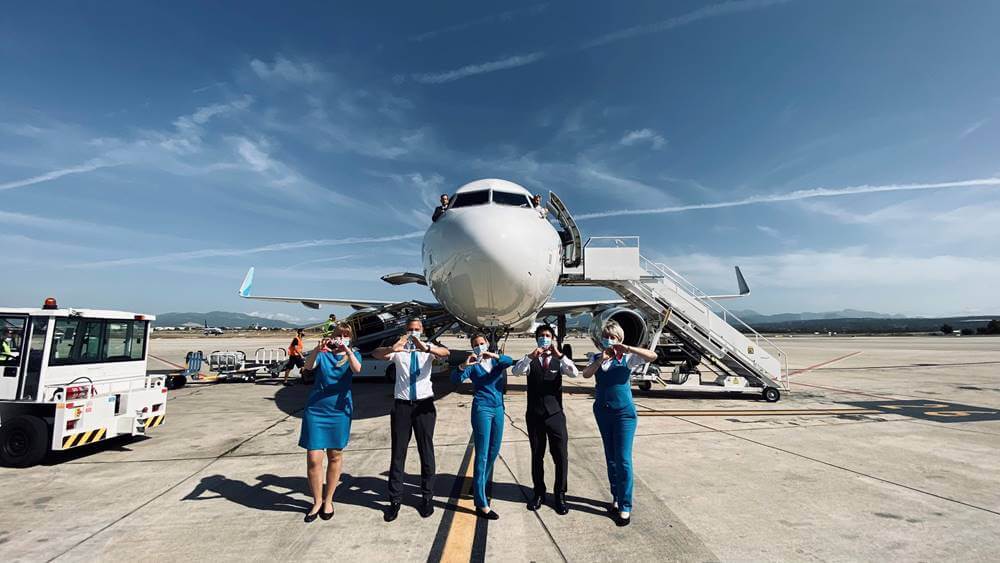 Benefits
Working at Eurowings can give you the following benefits and advantages:
Health Coverage – Airlines provide excellent health benefits to their personnel. Medical, vision, dental, and life insurance policies for flight attendants and their dependents are just some of the basic coverage. Health savings accounts and other medical benefits may also be included in these programs, but must be confirmed by in the contract or agreement signing.
Flexible Schedule – Airlines want their crew members to be well-rested in order to ensure safe flight, thus they may limit the number of hours crew members can work. In fact, the majority of flight attendants work three days per week. This advantage can give you more time to spend on travel, family, or personal interests. Many can get a high-paying job but not a flexible working set up, so you're lucky enough if you get employed in this industry.
Reimbursement for food expenses – Free food or food reimbursement is an exciting benefit of being a flight attendant. In addition to in-flight snacks and meals, most airlines reimburse crew members for outside food expenses while traveling.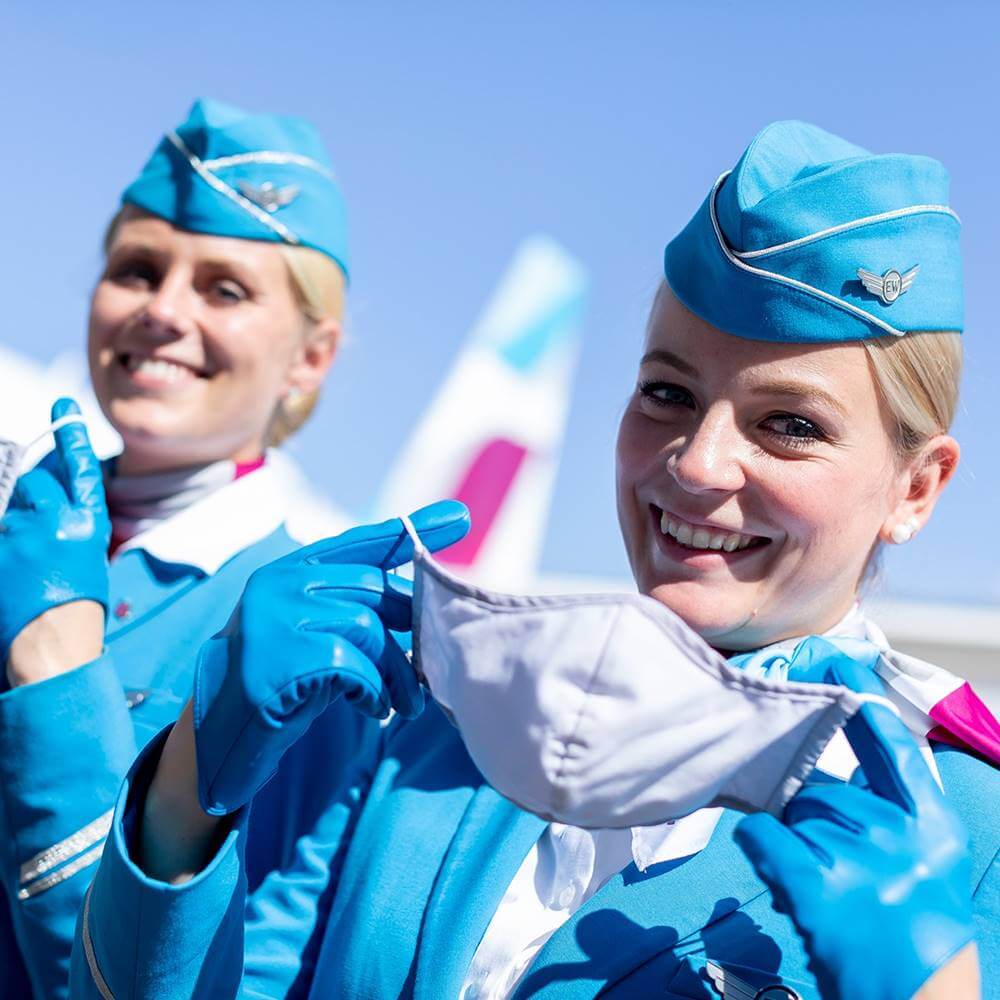 Here are other benefits:
Compensation begins on the first day of training.
Salary progression on a yearly basis
Flight duties on Eurowings' European flight network
Free uniform and equipment..
Discounts on private flights, various hotels and car rental businesses, and other appealing travel bonuses are available.
Video: Join our cabin crew! // Eurowings
Want to see more about a life of a Cabin Crew at Eurowings? Here is a video presentation of its flight attendants while on board. The airline is encouraging people who are responsible, spontaneous, and open-minded to work with their team. Eurowings provides benefits and perks that other well-established airline offer. Check out if this lifestyle and career fits you!
Frequently Asked Questions
1. Is Eurowings and Luftansa the same?
Eurowings has undergone a significant shift in recent years. It was a subsidiary of Lufthansa Regional in 2014. It began operating on behalf of Germanwings within their network at the time. Eurowings has been reiorganized as a low-cost airline for both short- and long-haul flights since the spring of 2015. As part of the two brands' merger, it has also begun to adopt Germanwings' route network by October 2015.
2. Is working on a low-cost airline means low salary?
Eurowings, named the best airline in Germany in 2017, not only because it has the largest and most appealing route network from Germany to Europe, but also the greatest seat pitch among all European carriers. So this airline will not give you a "low" compensation. In fact, the airline now serves over 100 destinations in over 50 countries globally.
3. Does Eurowings provide Insurance to its flight attendants?
To cut this short, every airline provides insurance to its cabin crews, regardless if you are a newbie or senior FA. The coverage and percentage range may differ depending on the airline you are employed with.
4. Are medical conditions covered by the health insurance?
First of all, if you have a medical condition that is serious, airlines won't accept you. Health insurance coverage will depend on the policy provided by the airline. Further details will be discussed during the orientation.
5. Does all Flight Attendants get per hour pay?
Flight Attendants are entitled with per hour pay, regardless if you are a newbie or senior FA. Experienced cabin crews will definitely get better per hour pay rates, but this is a basic and general compensation package for all FAs.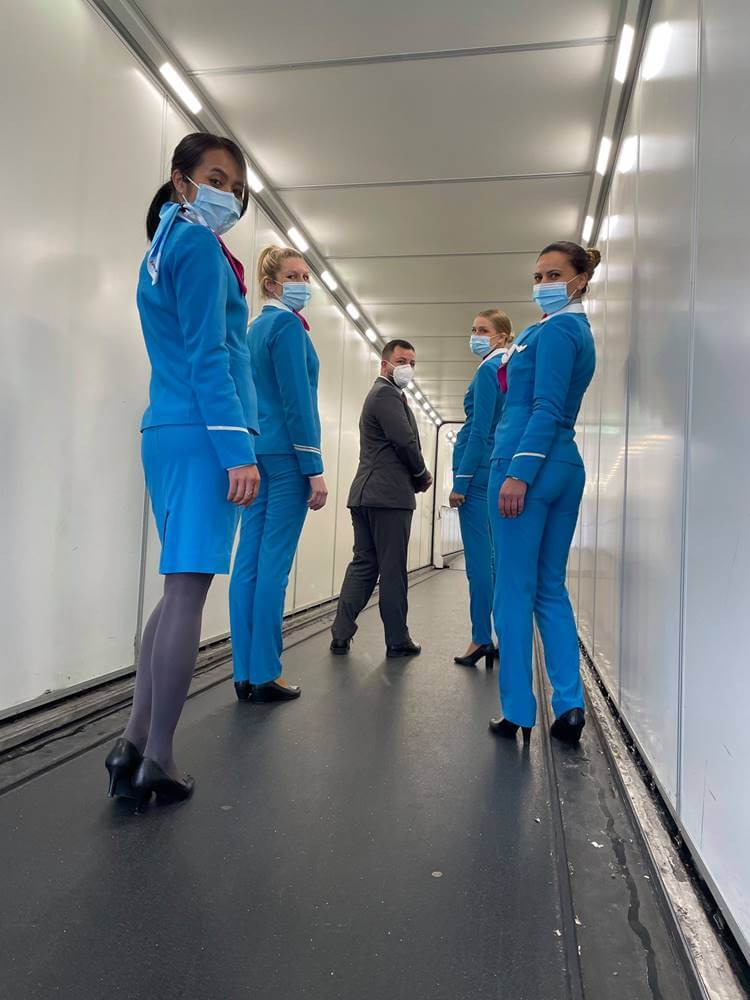 Summary
According to Glassdoor, Eurowings Flight Attendants earn a base pay per month that is projected to be EUR1,236 ($1,348). This is not the final computation yet of your monthly salary, so there are still bunch of factors that adds up. Eurowings is the value airline of the Lufthansa Group, making it part of the world's largest aviation group.
It is Germany's leading holiday airline, with an extensive route network and 11 international hubs, including Europe's number one holiday destination, Palma de Mallorca. Eurowings now employs around 4,000 employees throughout Europe, and you could be the next to get all the benefits and perks above.