Hawaiian Airlines flight attendant uniform, designed by Zig Zane, features a bamboo stamp and lehua blossom, with a purple and blue color combination, symbolizing unity and standing together, reminiscent of the breathtaking landscapes of Hawaii. The uniform is also carefully tailored to provide a comfortable fit while maintaining a qualified appearance, showcasing the airline's commitment to both style and functionality.
Also Read: HawaiianAirWifi: Hawaiian Airlines Inflight WiFi Entertainment System
The design of their uniform is a perfect blend of tradition and contemporary fashion. Traditional Hawaiian patterns such as hibiscus flowers and palm leaves are incorporated into the uniform, giving it a distinct cultural touch. These patterns are combined with modern elements like sleek lines and tailored silhouettes, resulting in a uniform that is both timeless and fashionable.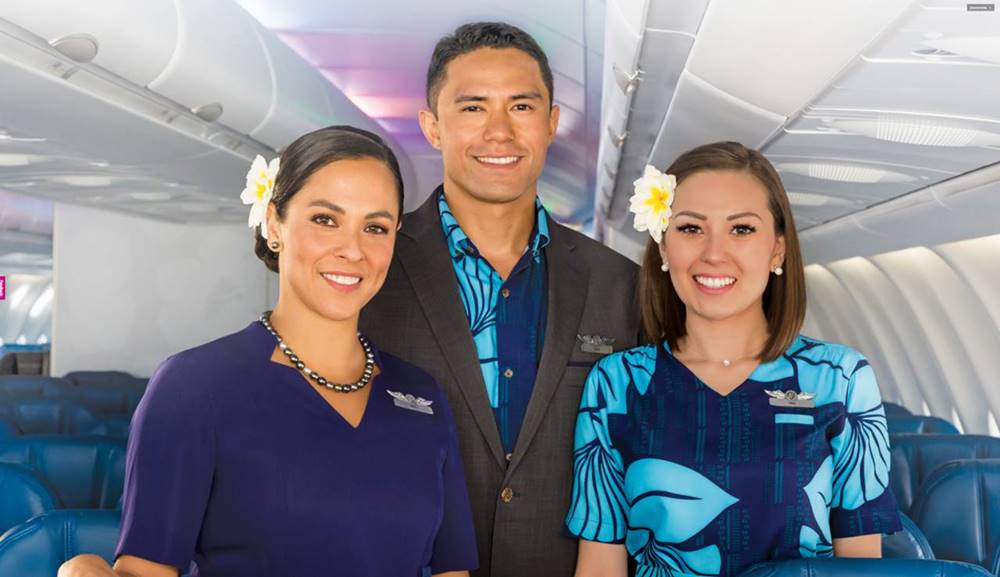 Features of Hawaiian Airlines Flight Attendant Uniform
A button-down v-neckline with coconut-like buttons
A slit on both sides of the blouse and both sleeves
A small pocket on the front area of the blouse at the right corner of the chest
Insignia or wing badge at the upper portion of the small pocket
Hawaiian Airlines' upper uniform features distinctive purple and Pacific blue colors, with intricate designs featuring bamboo stamps and lehua blossoms.
The upper uniform is paired with formal skirts or pants for females and trousers or trousers for males.
Heel shoes for females and black formal business shoes for males
Female Hawaiian Airlines Cabin Crew Uniform
The female Hawaiian Airlines cabin crew uniform is a vibrant and elegant piece that reflects the spirit of Hawaii. It features a beautiful floral print dress with traditional Polynesian motifs, showcasing the rich cultural heritage of the islands. The dress is made from high-quality materials that are breathable and lightweight, perfect for the warm climate of Hawaii. The vibrant colors and intricate patterns of the dress not only make the cabin crew easily identifiable but also create a welcoming and friendly atmosphere on board.
Below is the complete list of the female Hawaiian Airlines uniforms.
Blazer
Dress
Hawaiian print shirt
Blouse
Pants
Skirts
Skort
Belt
Weather Garment
Tote bag
Suitcase
Sweater
Lunch tote
Heel shoes (black)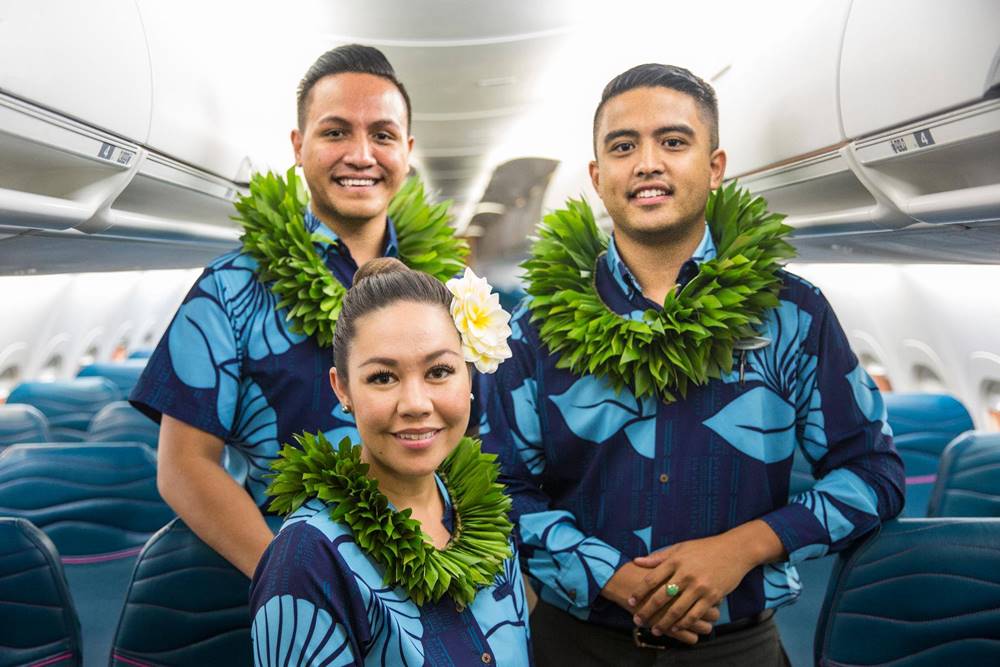 Male Hawaiian Airlines Cabin Crew Uniform
Male Hawaiian cabin crew members are expected to wear the following items according to their uniform schedule and guidelines: It is also important for them to follow the standards when wearing them. This includes the following:
Sweater
Hawaiian print shirt
Pants
Belt
Tote Bag
Lunch tote
Suitcase
Weather coat
Black formal shoes
Black Socks
Uniform Accessories (Male/Female)
Wing badge or insignia
Name Tag
Aprons
Wristwatch
Necklace
Earrings (for girls)
Bracelet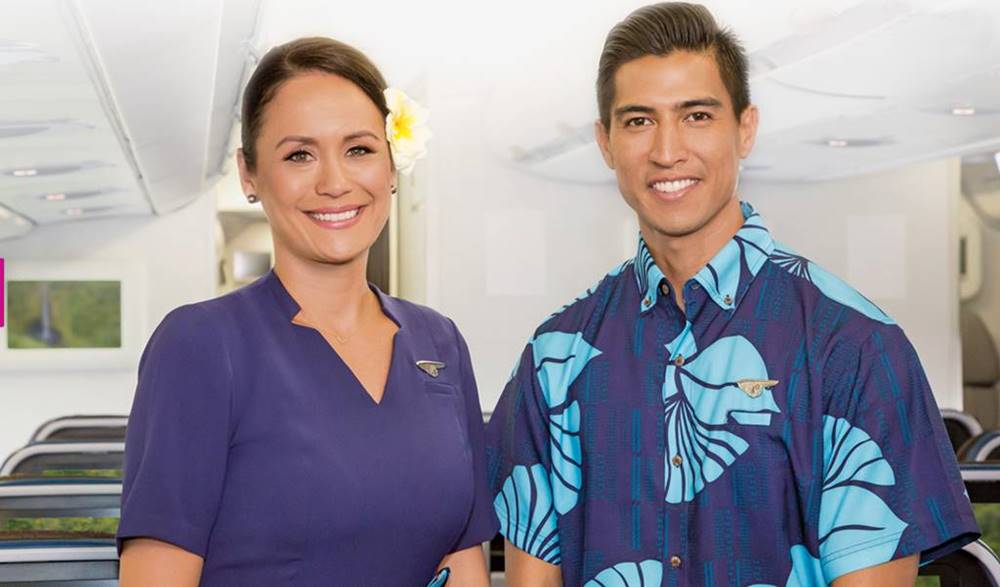 Presentation and Grooming Policy
Personal Appearance
Maintaining high appearance and performance standards is crucial in the airline industry, as it not only provides services but also reflects the company's image. A proficient demeanor and excellent service, coupled with a well-groomed and friendly crew, contribute to the airline's success and competitiveness.
Uniform
Flight attendants are expected to have a clean, neat, and well-pressed uniform. It should also be important that its fitness is appropriate to the body structure of the FAs so that it will acquire a visually appealing body structure for flight representatives.
Personal Hygiene
Maintaining good personal hygiene is highly encouraged for the flight attendants of the said airline company. Doing their daily routines like regular bathing, brushing their teeth properly, washing their faces or hands after several activities, and others. This is to ensure that they are comfortable enough while they are on duty, especially if they are dealing with hundreds of passengers on their flight.
Hairstyle
It is also important for the job of the flight attendant that they have neat hair while on duty. It is encouraged for both male and female FAs to have a proper hairstyle that is well-combed, clean, or even has the exact amount of hair wax applied so that it is neat and not dull-looking. Female flight representatives must tie their hair if possible, and male representatives must have a proper haircut that is formal and nice-looking.
Fingernails
Flight attendants' hands must be clean; they can often wash their hands with hand soap or apply hand sanitizer if needed. They also need to make sure that their fingernails are well-trimmed and manicured properly. Nail polish is allowed, but avoid contrasting colors that will not complement the uniform color.
Accessories
Other personal accessories must be anchored to the standards set by the airline company for them. Sizes must be followed, especially the size of the earrings, necklace (a single strand is possible), bracelet, rings, and wristwatch.
Cosmetics and Makeup
Female flight attendants should choose makeup that complements their skin tone, ensuring a natural look. This is crucial, as flight attendants represent the airline and project a polished, professional appearance. This confidence boosts their appearance while maintaining a natural, approachable appearance.
Important Notes to Remember
Pregnant flight attendant needs to notify their situation to the airline company. In terms of their uniform, there are maternity uniforms available that are available in some uniform vendors.
There are insignia given to the flight attendants upon their first day of employment.
The airline's uniform must be worn according to its prescribed standard.
The company uniform was not made for personal use except for a recognized company, even though it is recommended for FAs to wear.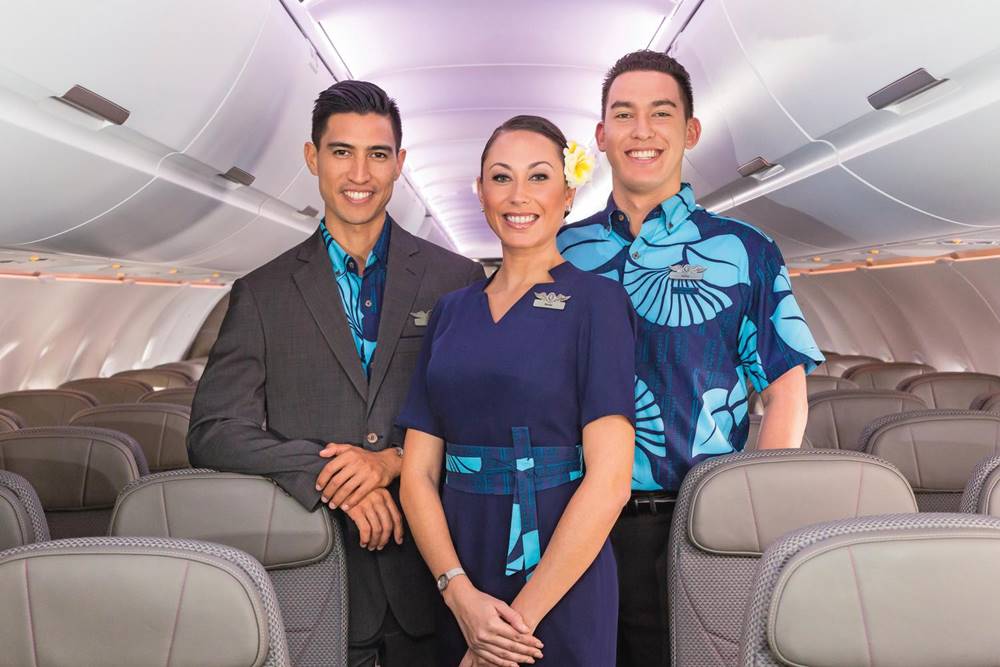 Video: Hawaiian Airlines "Ohana Flight" Features Three Generations of Flight Attendants
The video showcases three generations of flight attendants wearing their uniforms, showcasing their pride and confidence in representing their uniforms during an exciting trip with relatives and co-workers. Whether it is the vintage uniform from decades ago or the modern, sleek design of today, these flight attendants wear their uniforms with pride, knowing that they are part of a long-standing tradition of exceptional service in the aviation industry.
Summary
In a nutshell, Hawaiian Airlines' flight attendant uniform, designed by Zig Zane, sets it apart from other airline companies. It features a bamboo stamp and lehua blossoms in purple and blue colors, symbolizing unity and Hawaii's landscapes. The uniform is tailored for comfort and practicality, blending traditional Hawaiian patterns with modern elements for a timeless and fashionable look.