Avelo Airlines flight attendant uniforms consist of purple and gray blazers, paired with white collared shirts and black skirts or slacks. Their signature purple-colored uniforms also make the airline stand out among other airlines in the US.
Also Read: Avelo Airlines Flight Attendant Requirements
The blazers are tailored with a modern and chic design. The white collared shirts underneath provide a crisp and professional look, while the black slacks and skirts offer a sleek and sophisticated touch. The color combination of purple, gray, white, and black creates a striking and elegant uniform that perfectly represents the Avelo Airlines brand.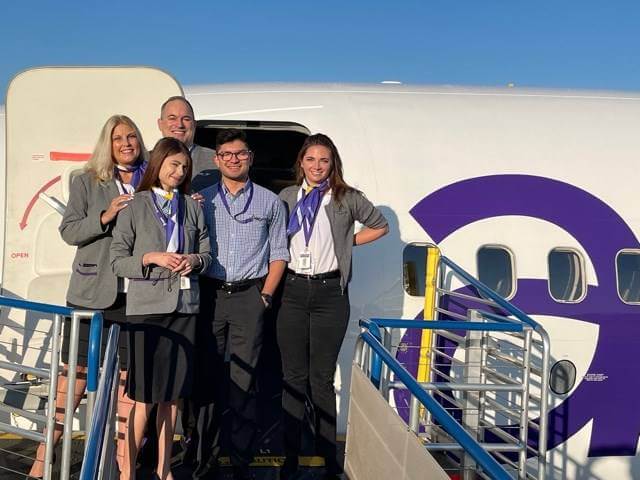 Features of Its Uniform
Purple, gray, and white upper uniform combined with black slacks or skirts.
A purple tie and scarf imprinted with the airline's name
A milky white polo shirt as an inner garment, paired with a gray blazer jacket
An ID with a purple lanyard imprinted with the airline's name
A heel shoe, 2 inches in height, for female flight attendants
A purple and light blue stripe long-sleeve polo shirt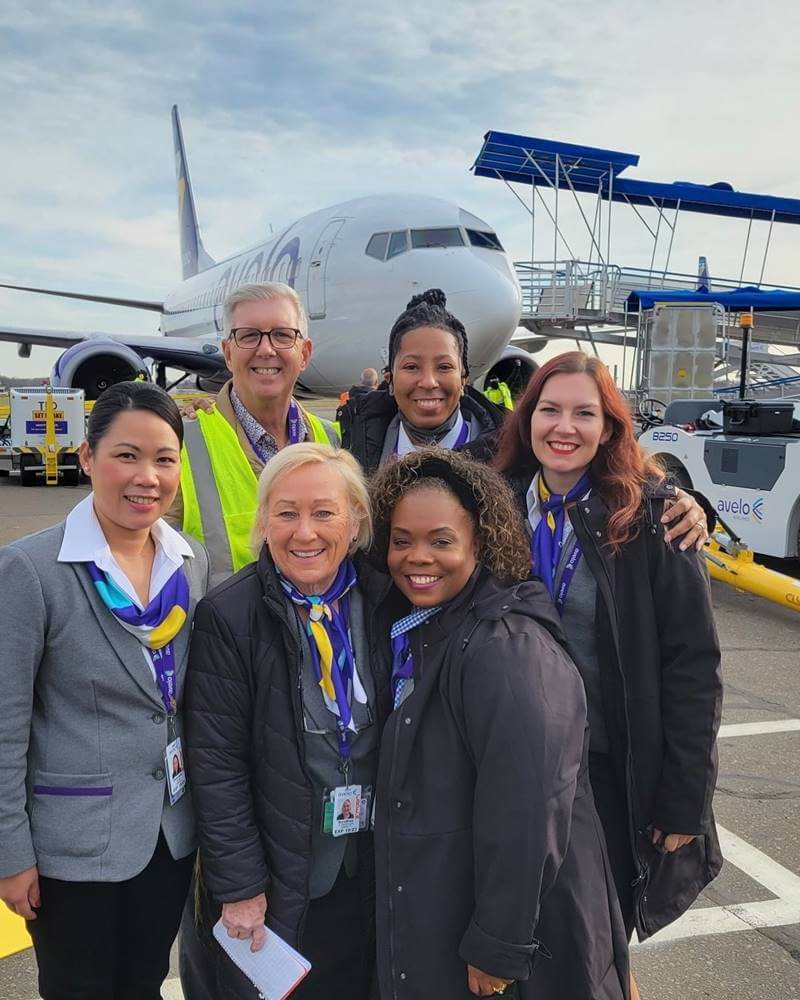 Female Avelo Airlines Flight Attendant Uniform
The uniform is carefully crafted to reflect the brand's values and create a sense of trust and competence among passengers. It includes a tailored blazer, a white shirt, and a necktie or scarf with the company's logo. Aside from that, grooming standards for female flight attendants include neat hairstyles and minimal makeup. By adhering to these appearance standards, Avelo Airline ensures that its flight attendants exude a sense of pride and represent the company's commitment to excellence in every interaction with passengers.
The following is the complete list of the female flight attendant uniform.
Skirt
Slacks
Blazer jacket
White shirt/ blouse (collared)
Long sleeve (collared)
Heel shoes
Scarf
Wristwatch
Wing Badge
Earrings
Necklace
Luggage
Tote
ID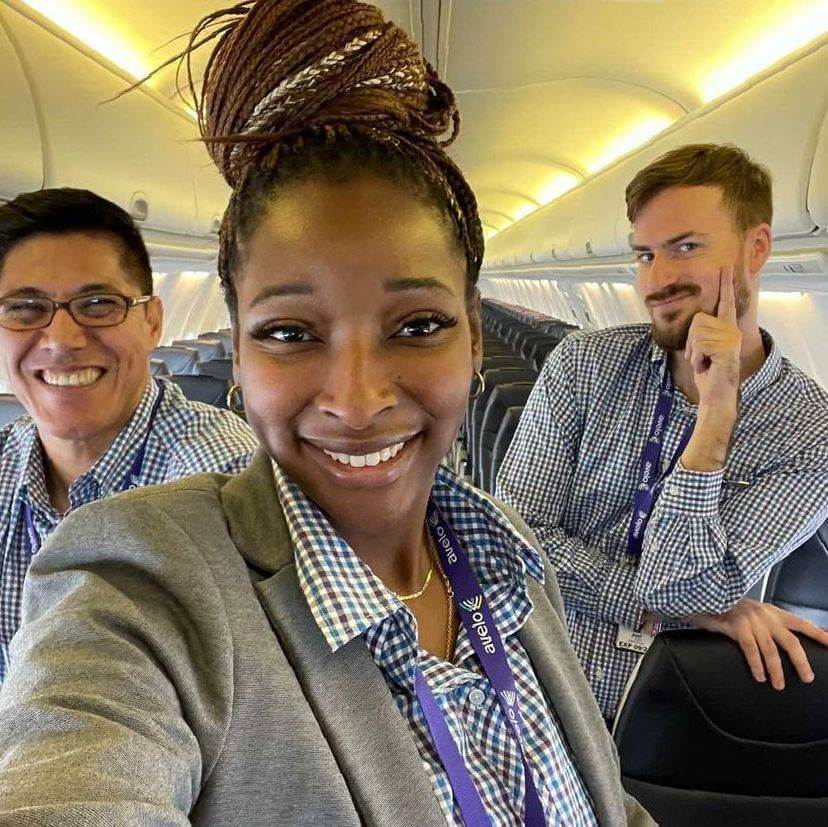 Male Avelo Airlines Cabin Crew Uniform
The uniform of male flight attendants at Avelo Airlines consists of a white button-down shirt, tailored pants, and a blazer with the airline's logo embroidered on the pocket. They are also required to wear a tie that matches the color scheme of the uniform. Below is the complete list of the uniforms that they wear based on their schedule.
Slacks or formal pants
Blazer jacket
White shirt/ blouse (collared)
Long sleeve (collared)
Formal close shoes
Scarf
Wristwatch
Luggage
Wing Badge
ID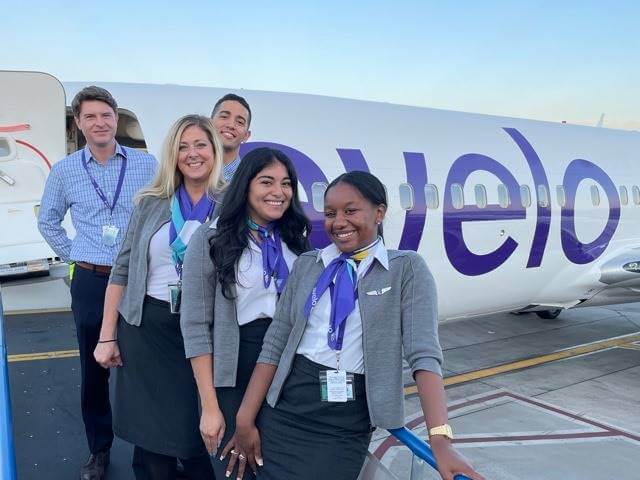 Presentation and Grooming Policy
Flight attendants are often the first point of contact for passengers, and their demeanor and expertise can greatly influence a passenger's overall perception of the airline. As representatives of the company, flight attendants are expected to maintain a high standard of customer service, ensuring that passengers feel valued and well-cared for throughout their journey. From greeting passengers with warm smiles to addressing their needs and concerns, flight attendants play a crucial role in shaping the reputation and brand image of the airline they work for.
Appearance Standard
FA's presence matters the most to the passenger. The consistency of passenger's impressions towards the appearance standard may always have an impact on the company's name that is the reason why regulations on how the FAs look while they are standing or walking around the aircraft aisle matters. Both male and female flight attendants need to be proficient especially if they are on duty. They need to follow the standard procedure set for them and be the best of their best in every flight.
Cosmetic and Makeup
The airline emphasizes the importance of enhancing the appearance of female flight attendants through makeup application. They suggest using contrasting shades, blending colors seamlessly, and using lighter shades on eyelids and cheeks and darker shades on brows and lips to create a natural, well-defined look. This balance ensures a polished appearance without overpowering features.
Hairstyle
Proper hairstyles for both male and female FAs must be properly observed. It must be well-composed, and hair wax or hair gel application could be possible as long as it is neat and clean-looking.
A male flight attendant should have a formal haircut. It should always be neatly trimmed. They can also apply hair wax, but it should always be in its exact amount, especially when it comes to its application.
Female flight attendants should be clean and, if possible, wear a proper hair tie to avoid destructive incidents, especially when delivering food and beverages to passengers.
Personal Hygiene
Proper hygiene is considered one of the basic personal requirements that every FA needs to fulfill every day. By practicing good personal hygiene, cabin crew members can prevent the spread of germs and maintain cleanliness. This includes regular showers, brushing teeth, and wearing clean and neatly pressed uniforms. Maintaining fresh breath and clean hands is essential for interacting with passengers and ensuring their comfort throughout the flight.
Fingernails/ Hands
FAs must maintain proper handwashing. This is to maintain the cleanliness of the hands. Fingernails should always be trimmed accordingly and must be well-polished but be considerate with the length of the fingernails and the polish color.
Flight attendants should also avoid wearing excessive jewelry or accessories on their hands to prevent any potential hazards or contamination during their duties. It is crucial for them to regularly sanitize their hands throughout the flight, especially after handling any items or interacting with passengers.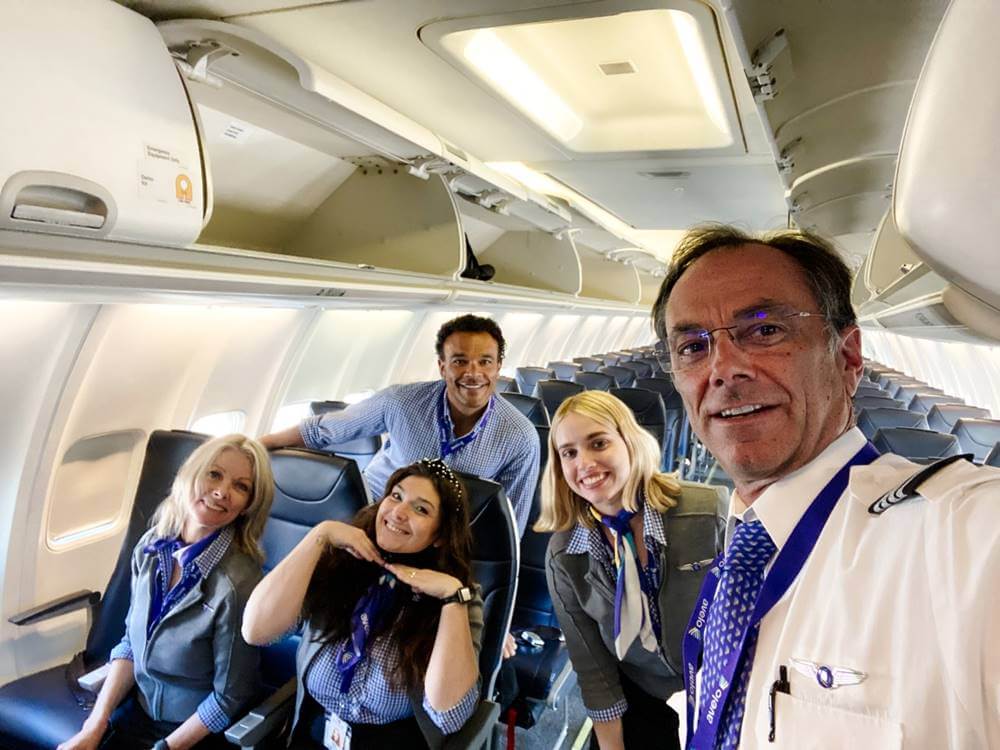 Important Notes to Remember
FAs must always consider wearing the currently issued company uniform.
Cabin crew members are expected to follow all the standard procedures.
Extreme uniform design must not be acknowledged.
Minimal tattoos that are not too offensive are allowed as long as they are not visible while in a complete uniform.
The luggage must be according to its size, color, and design. It should be appropriate and coherent with the approved standard luggage.
Failure to follow the standard procedures may lead to disciplinary action.
Video: We are One Crew – Avelo Airlines
In the video, flight attendants are shown supporting and caring for each other both on and off duty, creating a strong bond that goes beyond their work responsibilities. Consequently, the emphasis on its appearance is not just about adhering to standards but also about showcasing its unity and commitment to providing exceptional service to its passengers.
Summary
In brief, Avelo Airlines' flight attendant uniforms feature purple and gray blazers, white collared shirts, and black skirts or slacks. These modern, chic designs and their signature purple branding make them stand out in the US. Hence, passengers can easily spot their flight attendants in a sea of uniforms with their unique color combinations.