Avelo Airlines
Avelo Airlines is an American low-cost airline that operates domestic flights within the United States. Founded in 2021, Avelo Airlines has quickly become one of the most popular airlines for travellers looking for budget-friendly airfares. With over 150 daily flights connecting more than 25 destinations across the US, the airline offers convenient and affordable travel options for everyone.
Exploring the sky and traveling has been the dream profession of many. If you are one of them, then you are in luck. Today, we will be sharing everything you need to have what it takes to be one. Our article would contain the document requirements you need, qualifications, and frequently asked questions as an Avelo Airline cabin crew member.
Also Read: Customer Service Jobs You can Use as a Stepping Stone to become a Cabin Crew
Please follow the guidelines, steps, and requirements in order to become a flight attendant for Avelo Airlines.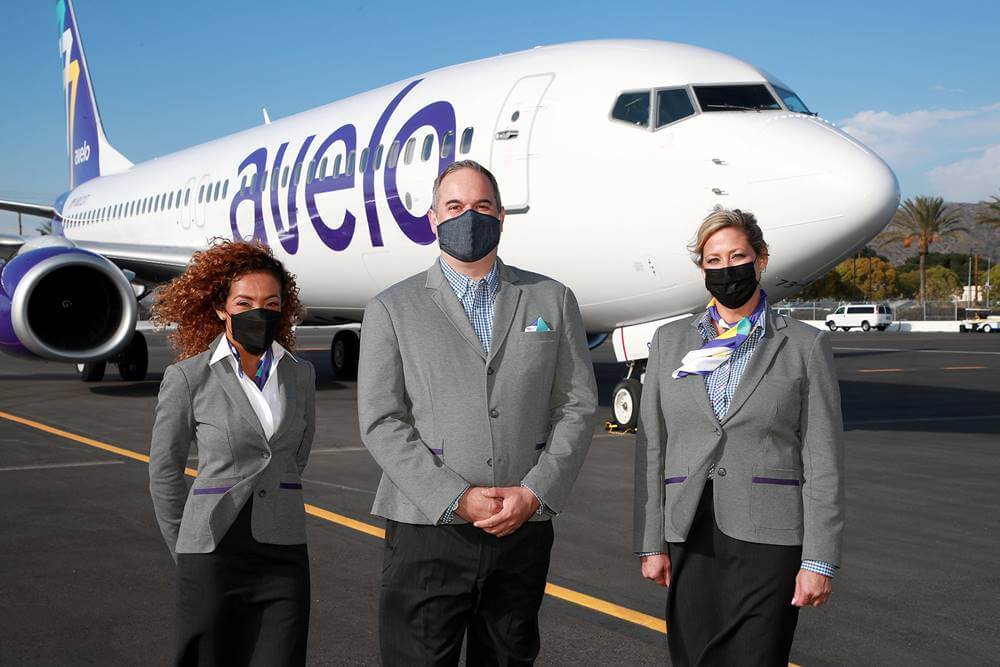 Overview of Avelo Airlines
The air carrier, which was founded in 1987 as Casino Express Airlines, began operating solely for the Red Lion Hotel and Casino in Elko, Nevada, in 1989, using Boeing 737-200 jetliners. From Elko Regional Airport, Casino Express operated a nonstop 737 jet service to several cities around the United States.
Intending to convert the charter air carrier into a planned ultra-low-cost airline, Andrew Levy, a retired chief financial officer (C.F.O.) for United Continental Holdings and a former C.F.O., Chief Operations Officer of Allegiant Air, had an idea. He purchased Xtra in August 2018, intending to retain its F.A.A. Part 121 Fairly frequently Scheduled Air Carrier certification.
The new airline, Avelo Airlines, launched on April 8, 2021, and began producing flights to and from Hollywood Burbank Airport located in California. Throughout April 28 and May 20, 2021, it launched with an original aircraft of three Boeing 737-800s, which would grow to six by the completion of the year, with eleven unexplored destinations from Burbank.
Responsibilities
Starting off our list, we first have to understand your responsibilities as an Avelo Airlines flight attendant. This means getting an idea of what you would be doing while on shift. It is essential to be knowledgeable before going into anything, and applying to be a flight attendant is the same.
With this in mind, here are some of the responsibilities you would be having. Be sure this is something you can do before drafting your application form.
Avelo Airlines' brand value and customer loyalty must be demonstrated through flight attendants.
Although Avelo is a low-cost carrier, it does not sacrifice a superior customer experience. All flight attendants must maintain this identity.
Avelo Airlines places a high priority on flight safety, and flight attendants must collaborate with other airline personnel to ensure that flights are safe.
From boarding to take-off and landing, Avelo clients must feel comfortable.
Every consumer must be handled with respect and care on an equal footing.
Flight attendants must concentrate on providing excellent customer service.
Communication, constant awareness, and attention to all aspects and dimensions must be maintained to ensure security on deck and all around the aircraft.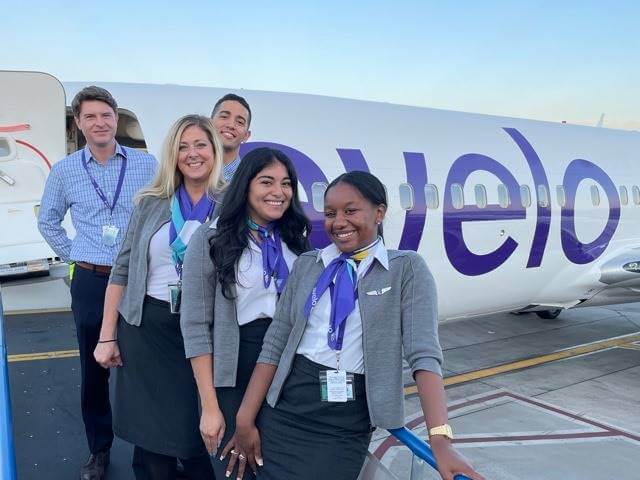 Qualifications
Responsibilities aside, the first thing that the hiring committee would look for in their applicants would be if they fit the company's requirements or not. You must show what they are looking for in terms of physical appearance and mental and physical health, as the lack of this would lead to disqualification as early as the first stage.
Make sure that you are qualified enough to be applying before you hand in your application. If not, there are higher chances you would get denied, and all the time you have invested in this would go to waste.
The minimum age requirement is 21 years old.
It is essential to have a high school diploma, a college degree, or a similar level of education.
Without shoes, the applicant must be at least 5 feet tall.
Without shoes, the maximum height is 6 feet 3 inches.
Candidates must present themselves in a professional, neat, and well-groomed manner.
With glasses or contact lenses, you must have a vision of at least 20/40.
As part of the physical requirement, applicants have to lift 50 pounds from the ground to the waist.
Tattoos that are visible to the naked eye are not allowed.
Onboard and in airports, you must be capable of standing and strolling for extended amounts of time.
According to the airline's requirements, applicants must be ready to work at any base.
Applicants must have a track record of punctuality and reliability.
A current U.S.A. passport is required.
This means that you must speak English well.
Must be able to work legally in the United States and travel internationally without limitation.
Any previous experience with customer service is a plus.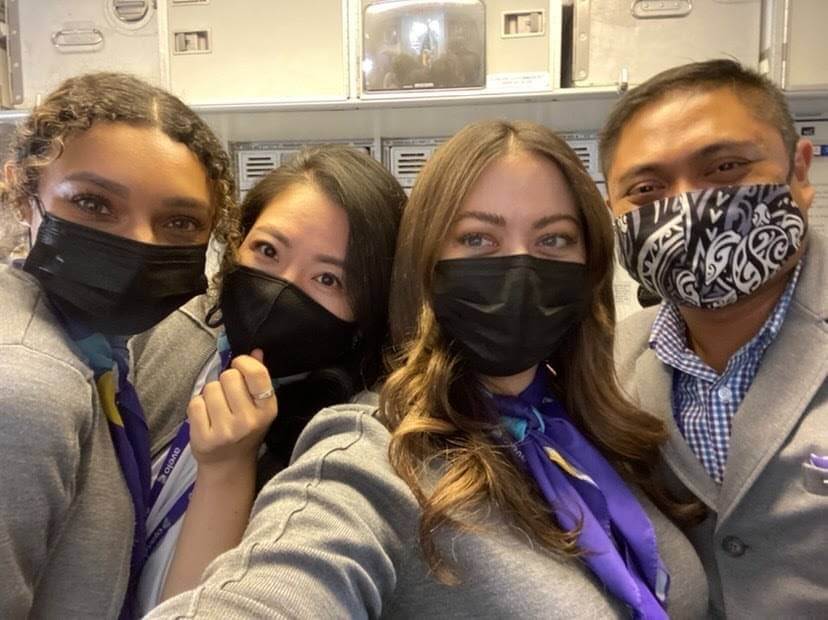 Document Requirements to Prepare
With all the cabin crew responsibilities and qualifications set aside, of course, you would need to show some physical proof that you reach their standards. This would include a set of documents. If you are unsure about what you would be submitting, well, you are in luck, for we have typed up the list of documents you would have to prepare and give to the company's recruiters.
Here are some of the papers that you should make sure to prepare:
A valid passport
Birth certificate
Updated resume
Dental and criminal records that are updated
Your updated photo
Proof that you can stay in the U.S.A.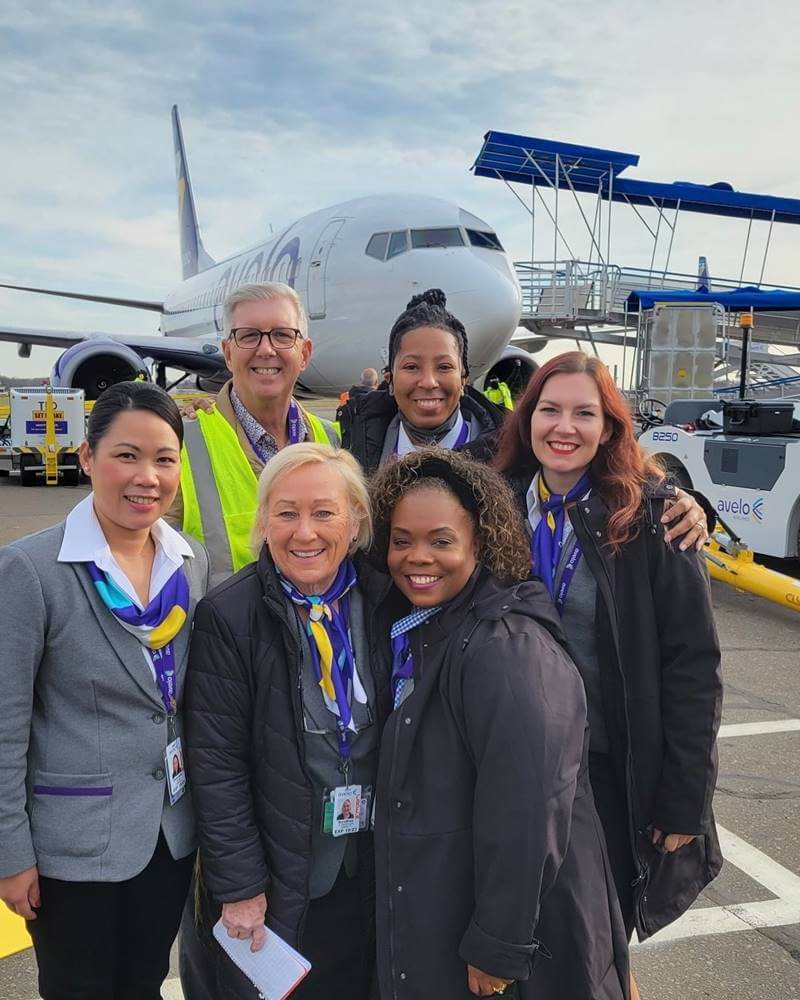 Where to Apply for a Job for Avelo Airlines Online
Once everything is in place, you may be wondering where to submit this? We have placed their careers link below for you to stay informed and updated on their updates revolving around open spots, salaries, requirements, rules, and the like. Click here to visit Avelo Airlines Careers Page.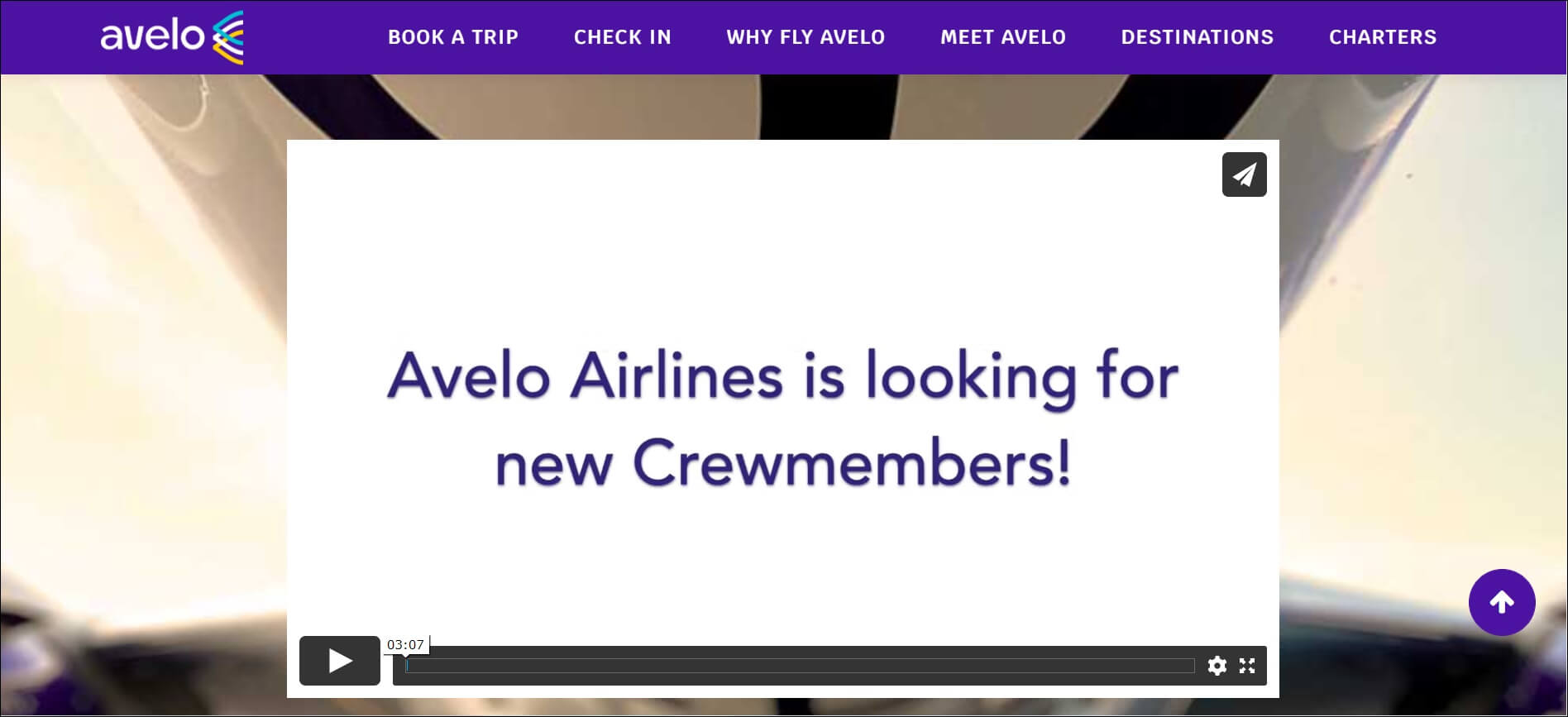 How to Become a Cabin Crew for Avelo Airlines
If you think you're qualified for the cabin crew position at Avelo Airlines, here are the detailed steps of the hiring process, especially where to start sending your application.
Step 1: Look for job vacancies on their website
On the airline's official website, you'll need to look for open positions. You must apply with a resume, updated photo, and other necessary documentation, if any are available.
Step 2: Wait for their call back
After a thorough assessment and analysis, the airline recruitment department will select candidates and contact them for live interviews, phone interviews, online interviews, group interviews, and one-on-one interviews. If you pass all their evaluations, they will contact you to start your cabin crew training.
Monthly Salary of an Avelo Airlines Flight Attendant
Before anything, it is still essential to look out for the salary Avelo Airlines would be offering you in case you pass their hiring process. Since the airline is one of the best ones, they also never fail to reward their employees with good salaries and various benefits. If you are starting as an Avelo Airlines flight attendant, your salary could be as high as $5,544.00 every month.
Aside from the great wage that would eventually increase with promotions and such, they also give out employee benefits such as:
Travel benefits
Health insurance
Flight attendant training
Profit-sharing
Free flights
Meet new people
Explore new places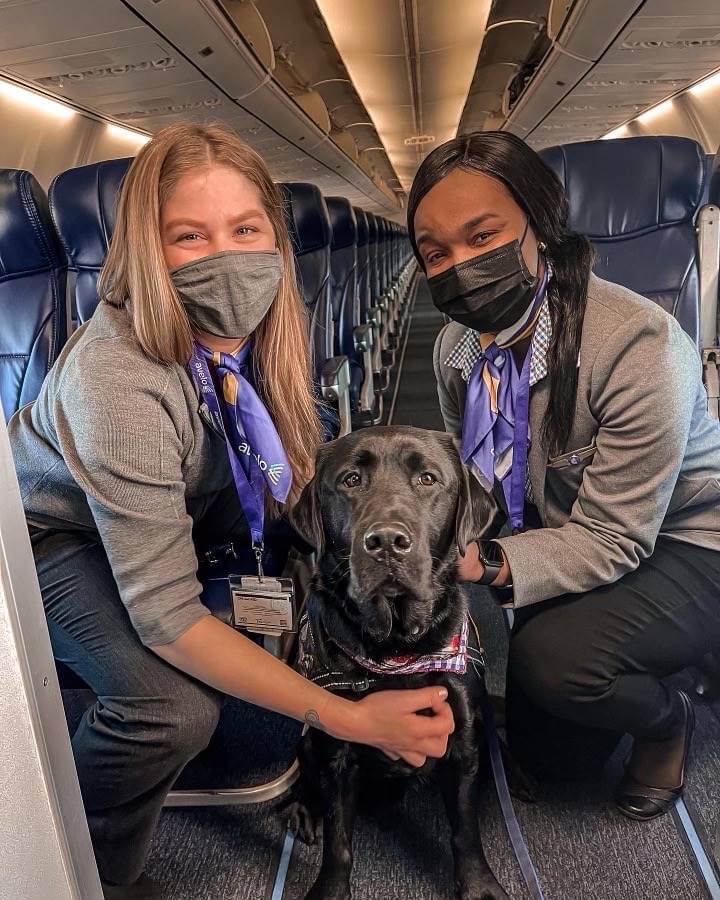 Video: Avelo Airlines Inaugural Flight
Do you want to get a glimpse of Avelo Airlines? If you do, then take a look at this video. Here, they would be giving an idea about the company such as:
A tour around the company's airport
Check-in
Avelo Airlines' boarding tickets
A tour of their plane
Speech about the company from the C.E.O. themselves
Photos: Avelo Airlines Flight Attendants
Check out these beautiful pictures of Avelo Airlines Flight Attendants in uniform. If you wish to imagine yourself being part of this company, check out these photos to give you an idea about working for this airline:
Frequently Asked Questions
Here are some common questions and answers about the hiring process in Avelo Airlines:
1. What is the minimum height allowed to apply in Avelo Airlines?
You should be at least 5 feet without shoes to be able to apply.
2. What is the maximum height allowed to apply in Avelo Airlines?
You shouldn't be taller than 6 foot 3 inches with shoes to be qualified.
3. Can my salary increase?
Your salary can increase as you continue to show loyalty to the company and exemplary service.
4. Are tattoos and piercings allowed?
They are allowed as long as the cabin crew uniform can cover them.
5. Does Avelo Airlines give out employee benefits?
Yes, they give out multiple benefits. Health insurance, free flights, and profit-sharing are some of the benefits they offer to their employees.
6. What is the minimum age requirement allowed to apply in Avelo Airlines?
You must be at least 21 years old to be allowed to apply to Avelo Airlines.
7. What is the minimum educational attainment allowed in Avelo Airlines?
You must have a high school diploma and a college degree or a similar level of education to be able to apply.
8. What languages should I know before applying to Avelo Airlines?
You have to be proficient in writing and speaking in the English language. Knowing other languages is considered a plus.
9. Do I need to have past experience in customer service to apply?
You don't need past experience, but having one would be considered as a plus that the hiring committee would notice.
10. Can I be accepted even with a criminal record?
Unfortunately, Avelo Airlines does not accept those who have committed felonies or any violent crime.
Summary
Landing the job of your dreams isn't always easy. Sometimes it would take hard work and time. But as long as you continue to persist, you are bound to get the perfect job for you. With that said, if you are eyeing a position in Avelo Airlines, we do hope that you have found this article informational, and we wish you good luck as you apply for the job.
Contact Information
AVELO AIRLINES
Address: 12 Greenway Plaza, Suite 400. Houston, TX 77046
Telephone Number: (346) 616-9500
Website: https://www.aveloair.com/
Facebook: https://www.facebook.com/AveloAir/
Instagram: https://www.instagram.com/aveloair/?hl=en
Twitter: https://twitter.com/AveloAir
LinkedIn: https://www.linkedin.com/company/avelo-airlines