Seychelles is a great beach holiday destination for those who love the sun and the sea. With its 115 islands, the country offers stunningly beautiful landscapes, crystal clear waters, white-sand beaches, and lush vegetation. The perfect place to relax and soak up the sun! If you're lucky enough to have a layover in Seychelles, you're in for a treat. This Indian Ocean paradise is home to some of the most beautiful beaches and coral reefs in the world.
Also Read: How to Become a Flight Attendant in UAE (Dubai, Abu Dhabi)
For many flight attendants in the Middle East who have crew duties and have a hotel layover on this stunning island, you will have less than 24 hours to spend as your rest time. So it's great if you get to maximize your time by doing fun things and exploring the place a little bit.
We personally have been to Seychelles before during a wedding/honeymoon trip. Coming from Dubai, it's only about 4 hours plane via Emirates airlines. We booked a wedding package and stayed in a 5-star hotel resort. It was one of the best holidays we've had cause aside from it being our wedding, we also got to enjoy the beauty of this island. Its greenery is really different and the sky is so blue!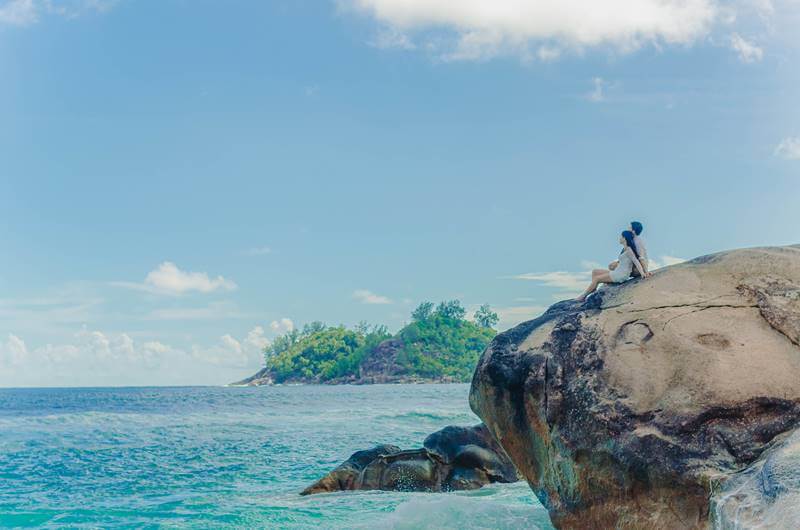 Where is Seychelles?
Seychelles is an archipelago of 115 islands in the Indian Ocean, off the coast of East Africa. The country consists of two main island groups: the Inner Islands, including Mahé, Praslin and La Digue; and the Outer Islands, made up of more than 90 uninhabited islands.
13 Top Things to Do in Seychelles
With its unspoiled natural beauty, Seychelles is a haven for nature lovers and outdoor enthusiasts. The islands offer a wide range of activities, from hiking and bird watching to scuba diving and snorkeling. There are also plenty of opportunities for relaxation, with plenty of beaches to choose from.
1. Go on a Hike
One of the best ways to explore the islands is on foot. There are several hiking trails to choose from, ranging from easy walks to more challenging hikes. The most popular hike is the Morne Seychellois National Park, which covers more than 20% of Mahé Island. The park offers stunning views of the island's mountains, forests and coastline.
2. Visit its Many Beaches
Seychelles is home to some of the most beautiful beaches in the world. Anse Source d'Argent on La Digue Island is one of the most popular beaches, with its turquoise waters and white sand. Other popular beaches include Anse Intendance on Mahé Island and Anse Lazio on Praslin Island.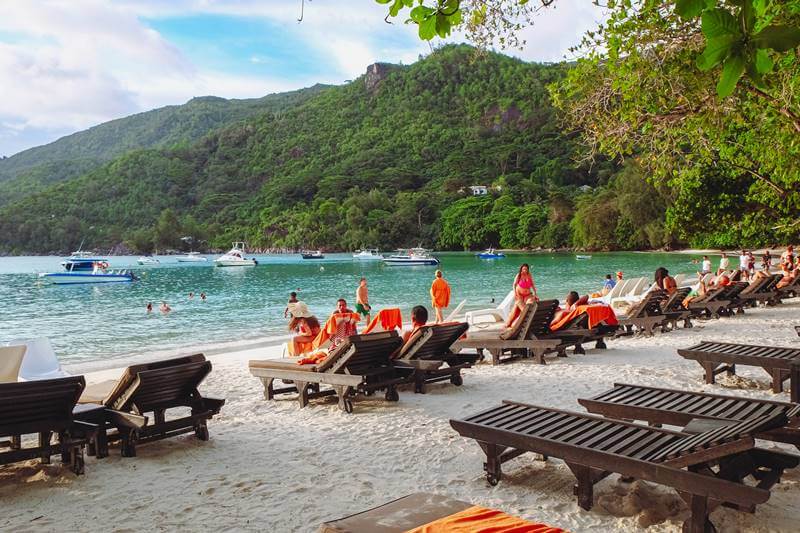 3. Go Snorkeling or Diving
With its clear waters and abundant marine life, Seychelles is a paradise for snorkelers and divers. There are several dive sites to choose from, including Sainte Anne Marine National Park, which is home to more than 1,000 species of fish. Other popular dive sites include the Cousin Island Special Reserve and the Aldabra Atoll.
4. Explore the Capital, Victoria
Victoria is the capital of Seychelles and the largest city on Mahé Island. The city is home to a number of attractions, including the Seychelles National Museum, which chronicles the country's history, and the Sir Selwyn Selkirk Garages, where you can see vintage cars.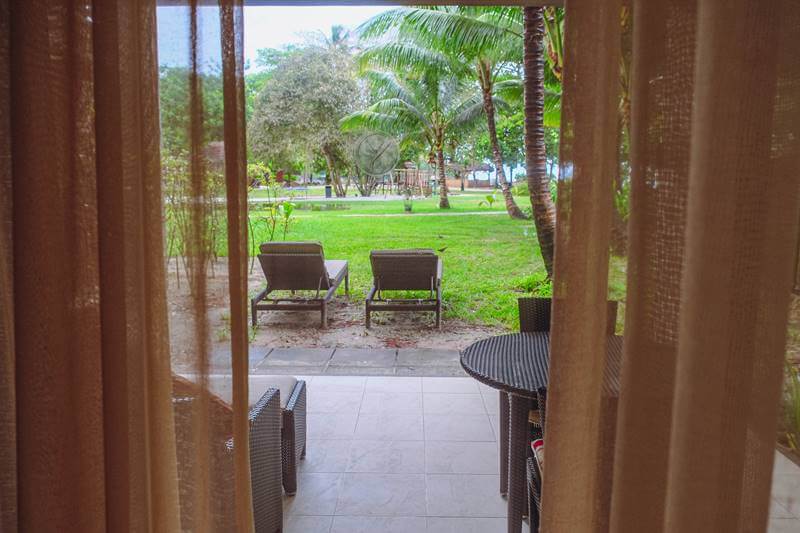 5. Go Birdwatching
Seychelles is home to a number of rare and endemic bird species, making it a haven for birdwatchers. The most popular birdwatching spots are the Vallee de Mai Nature Reserve on Praslin Island and the Cousin Island Special Reserve.
6. Take a Boat Trip
One of the best ways to explore the islands is by boat. There are a number of boat tours to choose from, ranging from day trips to multi-day excursions. Popular boat trips include cruises to the inner islands of Seychelles and trips to see the giant tortoises on Aldabra Atoll.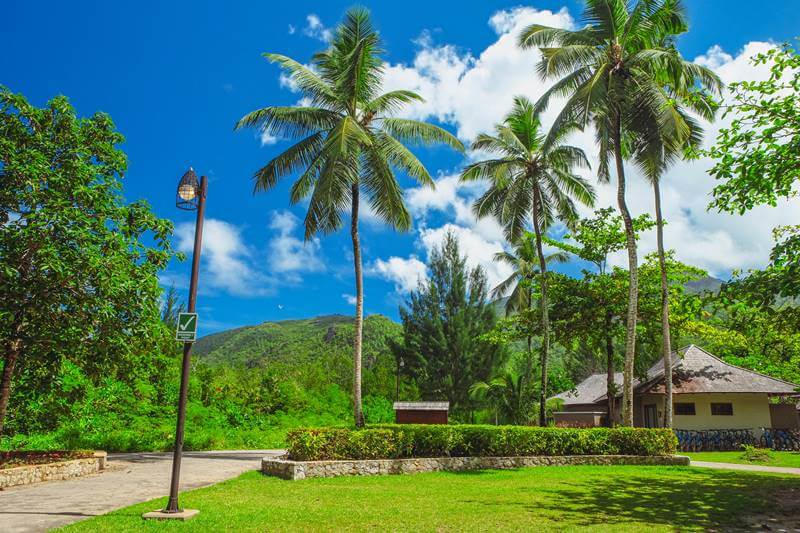 7. Visit the Plantations
Seychelles is home to a number of plantations, including cocoa, tea, and coconut. You can learn about the history of these industries at the Plantation House Museum on Mahé Island or take a tour of one of the working plantations.
8. Go Kayaking or Canoeing
Kayaking and canoeing are popular activities in Seychelles. There are a number of kayaking and canoeing trails to choose from, ranging from easy routes to more challenging paddles. The most popular kayaking and canoeing spots are the Baie Ternay Marine National Park and the Anse Royal Marine National Park.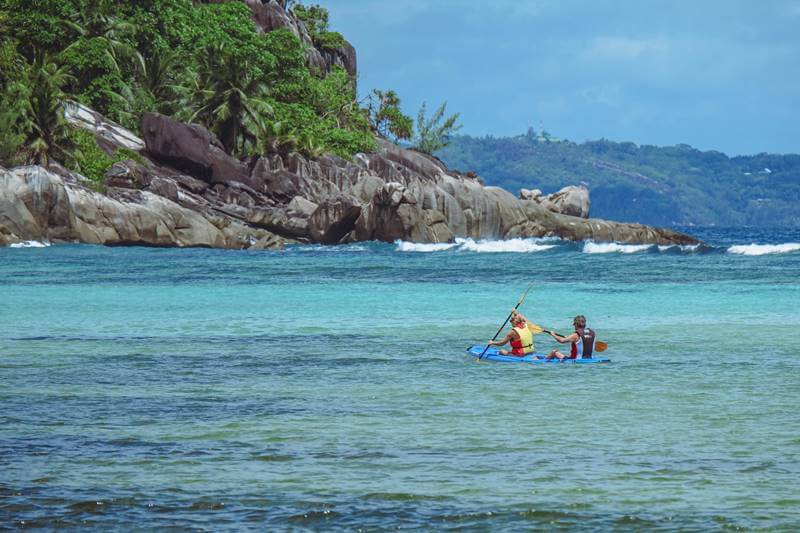 9. Relax on the Beach
With its pristine beaches and clear waters, Seychelles is the perfect place to relax and soak up the sun. You can find a spot to yourself or join one of the many beach parties that take place on the islands.
10. Resort Staycation
If you're looking for a place to relax and rejuvenate, consider a staycation at one of Seychelles' luxury resorts. The islands are home to a number of world-class resorts, including the Banyan Tree Seychelles, the Constance Ephelia Resort, and the Four Seasons Resort Seychelles. We personally spent our 3 days in the hotel resort which had brilliant amenities and facilities such as spa , infinity pool, great restaurants and a private beach. I can still recall the moments when we were in a huge waterfalls spa pool and felt extremely pampered.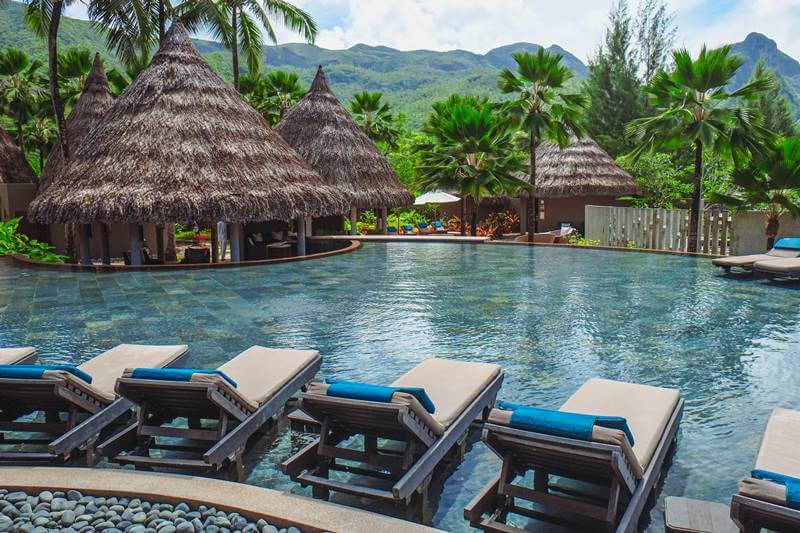 11. Rent a Private Yacht
For a truly luxurious experience, you can rent a private yacht for your stay in Seychelles. There are a number of companies that offer yacht rentals, and you can choose from a variety of vessels, ranging from small catamarans to luxury motor yachts.
12. Helicopter Tour
For a bird's eye view of the islands, you can take a helicopter tour. There are a number of companies that offer tours, and you can choose from a variety of routes, depending on your interests. Popular helicopter tour routes include Mahé Island, Praslin Island, and the Aldabra Atoll.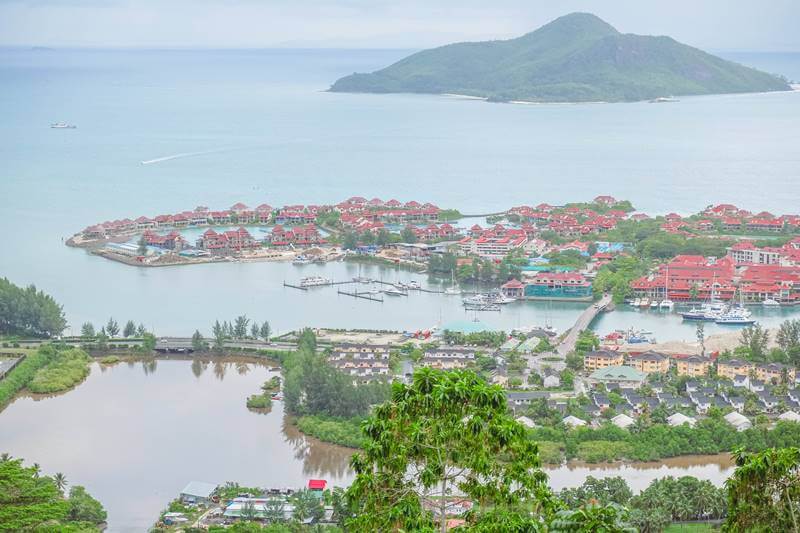 13. Get Married in this Wedding Destination!
Seychelles is a popular destination for weddings and honeymoons. With its stunning beaches and natural scenery, it's no wonder that couples from all over the world choose to tie the knot in Seychelles. We personally have tied the knot in this beautiful spot and it's great that our marriage certificate license was accredited for our use in the UAE.
10 Best Places to Visit in Seychelles
Here are some of the best places you should visit if you plan to visit Seychelles for travel:
1. Praslin
The Seychelles islands are a true paradise, and Praslin is one of the most beautiful. With its white-sand beaches, lush jungle vegetation and crystal clear waters, it's no wonder that this island is a popular tourist destination. However, Praslin is also home to some of the rarest and most endangered animals in the world, including the Seychelles black parrot and the giant tortoise. This makes it a haven for nature lovers as well as beach lovers. If you're looking for a place to truly get away from it all, then Praslin is the perfect destination.
2. La Digue
La Digue is one of the Seychelles islands, and it is well worth a visit. The landscape is stunning, with mountains, forests, and beaches all competing for attention. The island is home to a variety of wildlife, including giant tortoises and rare birds. And of course, the clear blue waters offer excellent opportunities for snorkelling and diving. La Digue may be small, but it packs a big punch.
3. Mahé
Visitors to Mahé can enjoy its stunning beaches, mountains, rainforests, and waterfalls. There are also plenty of opportunities for hiking, biking, and birdwatching. In addition, Mahé is home to a number of historical sites, including the Vallee de Mai Nature Reserve, which is said to be the site of the Garden of Eden. Mahé is the location where we spent our honeymoon and wedding. Our priority was this our special event so we only stayed in our hotel at Constance Ephelia Resorts, which was more than enough we could ask for given we had around 3 days in this beautiful island.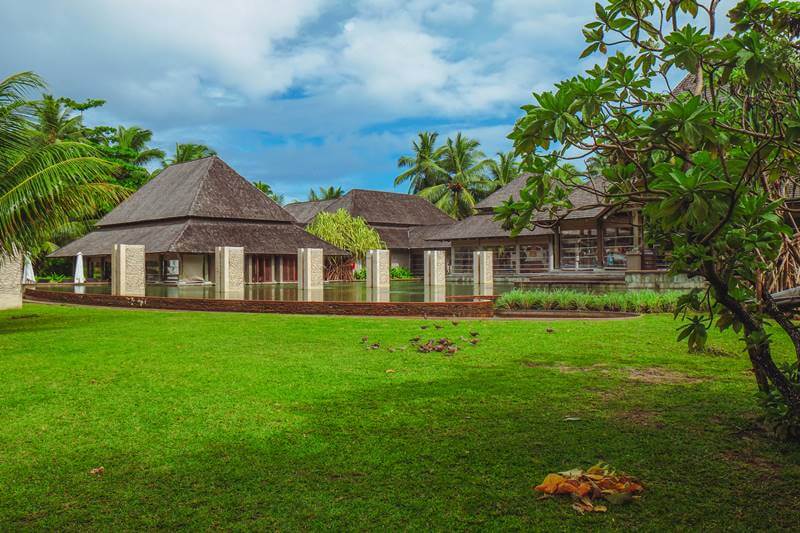 4. Silhouette Island
A small, uninhabited island located off the coast of Mahé in the Seychelles, Silhouette Island is one of the most beautiful and unspoiled places on Earth. Covered in lush rainforest and surrounded by pristine beaches, the island is a haven for wildlife. Among the many highlights of a visit to Silhouette Island are its hiking trails, which wind through the forest and offer stunning views of the surrounding Indian Ocean.
5. La Vallée de Mai Nature Reserve
La Vallée de Mai Nature Reserve is a protected area on the island of Praslin in the Seychelles. The reserve is home to a variety of endemic species, including the Seychelles black parrot, the paradise flycatcher, and the coco de mer palm. Visitors to the reserve can take guided tours through the forest, which offers opportunities to see rare plant and animal life up close.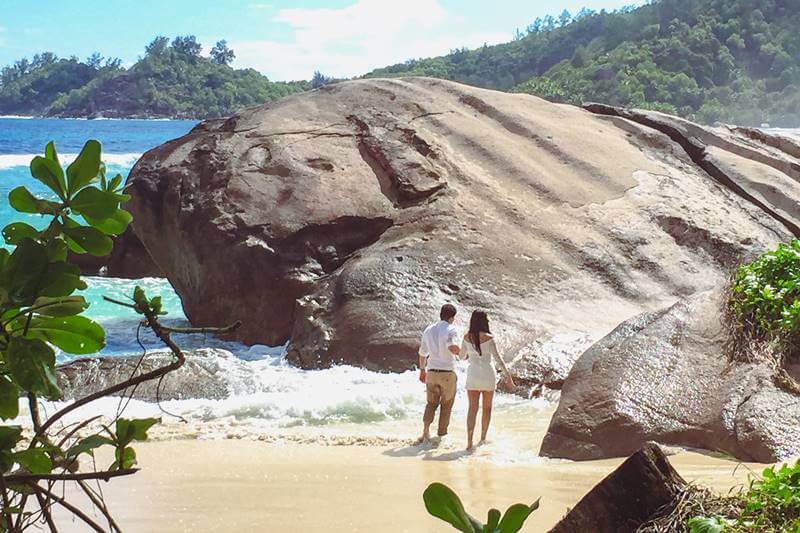 7. Anse Lazio Beach
With its gentle waves, soft sand, and lush foliagAnse Lazio Beach consistently ranks among the world's best. Visitors can find plenty of activities to keep them busy, from swimming and sunbathing to snorkeling and exploring the nearby reefs. Or they can simply relax in a hammock and enjoy the mesmerizing views. No matter how you spend your time, a visit to Anse Lazio Beach is sure to be a highlight of your trip to Seychelles.
8. Beau Vallon Beach
Beau Vallon is situated on the northwest coast of the island and is known for its sheltered bay and clear turquoise waters. Visitors can find a variety of hotels and restaurants along the beach, as well as a number of small shops selling souvenirs and beach supplies. There are also several boat operators offering excursions to nearby islands. Beau Vallon is a great spot for swimming, sunbathing, and enjoying the stunning views of the Indian Ocean.
9. Cousin Island Special Reserve
Cousin Island is a small granitic island located off the coast of Seychelles. It is just one kilometer in length and two hundred meters wide. Despite its small size, Cousin Island is home to an incredible diversity of plant and animal life. The island is covered in tropical forests, and its shores are lined with mangroves and coral reefs. Cousin Island was once home to giant tortoises, but they were wiped out by introduced predators such as rats and pigs. Today, the island is an important refuge for endangered birds, including the Seychelles warbler and the sooty tern. In 1975, Cousin Island was declared a nature reserve, and it continues to be managed by conservationists who are working to protect its unique ecosystem.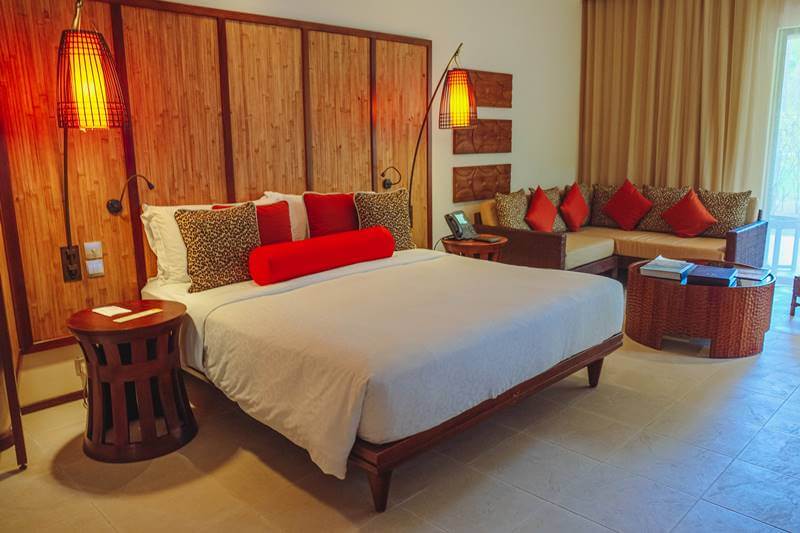 10. Bird Island
Seychelles is also home to a variety of unique wildlife, including giant tortoises, rare birds, and endangered plants. Bird Island is one of the most popular tourist destinations in Seychelles, thanks to its large population of birds. Visitors can see everything from tiny warblers to massive frigatebirds, and the island is also home to giant land crabs. In addition to its birdwatching opportunities, Bird Island offers visitors a chance to relax on beautiful beaches, go snorkeling or diving, and hike through the island's dense jungle.
Skip-the-Line Tickets to Seychelles Attractions
If you're looking to save some time and avoid the long queues at Seychelles' most popular tourist attractions, then skip-the-line tickets are a must. Here's a list of activities you can book online:
Itinerary Guide Sample
If you have 24 hours in Seychelles, here's a rough guide on how you can enjoy your time:
Wake up early and go for a run or walk along the beach. Make sure to take in the fresh air and stunning views.
Grab breakfast at your hotel or one of the many cafes overlooking the ocean. We recommend trying some of the local fruits like mangoes, papayas, pineapples, and coconuts.
Spend a few hours lounging by the pool or beach. Seychelles is known for its powdery white sand beaches and clear turquoise waters – perfect for swimming, snorkeling, or just relaxing.
Head out on a boat tour to see some of the incredible marine life that Seychelles is home to. If you're lucky, you might even spot a whale or dolphin!
In the evening, enjoy a sunset cocktail while watching the colours change over the ocean.
For dinner, try some of the delicious creole cuisine on offer. Fresh seafood is always a good option, and don't forget to try a glass of local rum.
If you have more time in Seychelles, we also recommend taking a day trip to one of the many uninhabited islands. These paradises are perfect for picnicking, swimming, and simply taking in its natural beauty.
Packing for Your Layover Trip in Seychelles
Now that you know all the best places to visit and things to do in Seychelles, it's time to start packing for your trip! Here are a few essential items you'll need to pack for your trip to Seychelles.
Swimsuit
Sunscreen
Hat
Sunglasses
Lightweight clothing
Walking shoes
Beach towel
Camera
Check out this video below of an Emirates Cabin Crew named Maria "SkyFlyGirl" who used to be a cabin crew for more than 7 years. She shares her Seychelles hotel and her experience having a layover on this tropical island:
Video: Etihad Airways Crew in Seychelles Layover
Here's another video of a flight attendant in Seychelles. Boss Girl Priya, and Etihad crew, shares a YouTube vlog about this island as one of her bucket list. She's very happy with her hotel and then she gives a tour of her room and the hotel. Despite being very sleepy in the beginning, she completely lost her drowsiness. Well, after seeing her room and the beautiful surroundings, who wouldn't get perky, right? Check out the clip below:
Frequently Asked Questions
Here are some common questions and answers for cabin crew and even travel enthusiasts who plan to visit this paradise:
1. What are the best places to eat in Seychelles?
There are a lot of great restaurants in Seychelles that offer fresh seafood, Creole cuisine, and international dishes. Some of the best places to eat are Les Rochers, Bravo, and La Plaine St Andre. As a flight attendant on a layover here, it would be good to take advantage of the hotel buffet and restaurant offerings. These are 5-star hotels where you will be staying and you will most likely have really good and quality food served to you.
2. What is the currency in Seychelles?
The official currency in Seychelles is the Seychellois rupee (SCR). However, US dollars are also widely accepted.
3. What is the weather like in Seychelles?
The weather in Seychelles is tropical with an average temperature of 28 degrees Celsius. The rainy season is from November to February.
4. How do I get around Seychelles?
There are a few options for getting around Seychelles. You can take a bus, taxi, or rent a car.
5. What is the best time of year to visit Seychelles?
The best time to visit Seychelles is from May to September when the weather is dry and sunny.
6. Are there any dangerous animals in Seychelles?
There are no dangerous animals in Seychelles. However, there are some snakes and spiders on the islands. so it's always best to be cautious.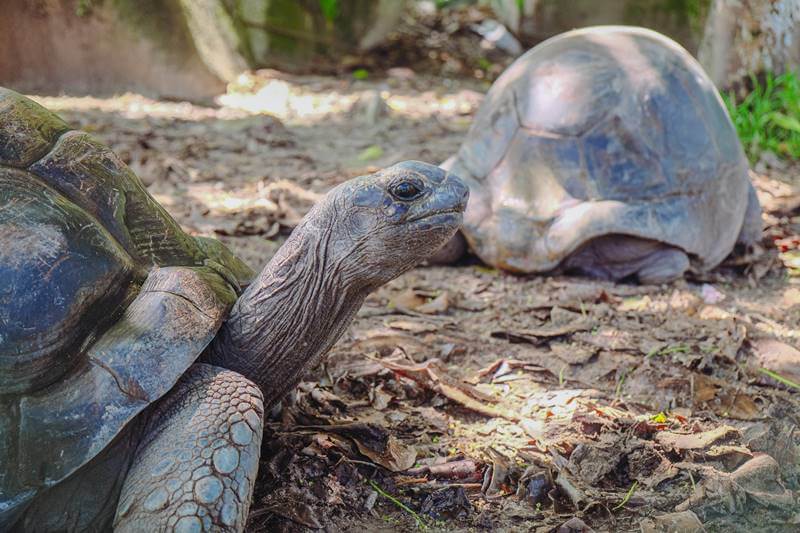 7. How many hours do you get as a layover in Seychelles for cabin crew?
It really depends. But lately, the layover is a bit short especially for Middle Eastern-based airline companies. You can get a layover of 16 hours here. So make sure to spare time for your rest and sleep! The most you can probably do is spend a few hours on the beach or the hotel pool, or just go to one destination that's nearby. But enjoy the surroundings as this beach location is worth it! For other airline companies, it may depend if the airline flies over to this location.
8. Is it better to go on a holiday in Seychelles compared to just a hotel crew layover?
Of course! If you have the chance to go on a holiday here in Seychelles, then take it! It's a beautiful place and there's so much to see and do. The beaches are stunning, the food is great, and the people are friendly. You won't regret it!
9. What should I pack for my Seychelles layover?
For your Seychelles layover, make sure to pack light and comfortable clothes as the weather is warm and humid. Also, don't forget your sunscreen, sunglasses, hat, and swimsuit! And if you're planning to go on any excursions or tours, make sure to bring your camera to capture all the amazing views.
10. Do I need a visa to visit Seychelles?
For most nationalities, you do not need a visa to enter Seychelles. However, it's always best to check with your airline or travel agent to be sure.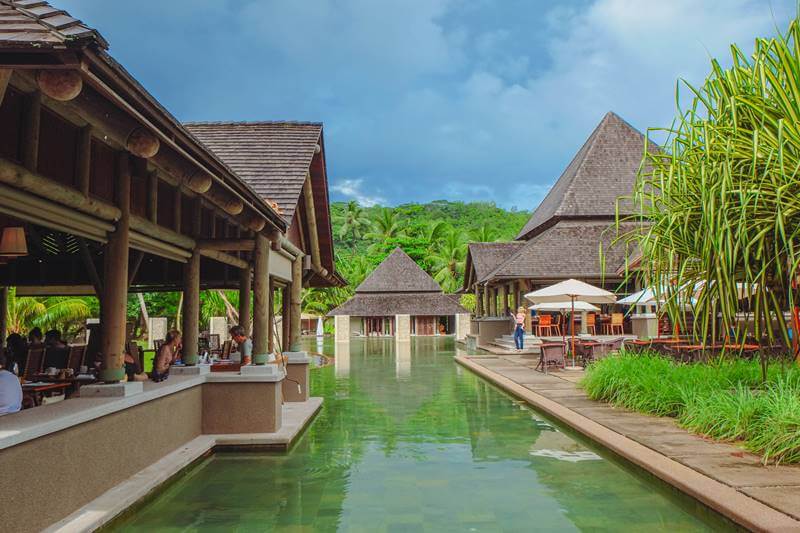 11. What are some things to do on a layover in Seychelles?
There are plenty of things to do on a layover in Seychelles! You can go to the beach, go swimming, sunbathing, snorkeling, or scuba diving. There are also many excursions and tours that you can take such as island hopping, bird watching, visits to nature reserves and parks, boat trips, and more. Or you can just relax at your hotel and enjoy the amenities and services.
12. What are the best hotels in Seychelles for crew layovers?
Some of the best hotels in Seychelles for crew layovers are the Banyan Tree Resort, Constance Ephelia Resort, Four Seasons Resort, Hilton Seychelles Northolme Resort & Spa, and Kempinski Seychelles Resort. These are all 5-star resorts that offer luxurious accommodations and top-notch service.
Summary
If you're looking for a beautiful and relaxing destination to spend your next layover, look no further than Seychelles. With its warm weather and stunning beaches, you'll be able to enjoy some much-needed R&R while on your break.
There are plenty of things to do and see in this tropical paradise, so make sure to pack accordingly and enjoy your time here!