JSX is a trailblazing airline in the regional travel landscape that reimagines the way passengers experience short-haul flights. It offers a one-of-a-kind blend of commercial airline accessibility and private jet comfort, showcasing its unwavering commitment to convenience, luxury, and efficiency. 
Also Read: JSX Airlines Flight Attendant Requirements
As a pioneer in innovation, it is renowned for bringing fresh perspectives to air travel, making it an appealing choice for those who seek hassle-free and seamless journeys without compromising quality or style.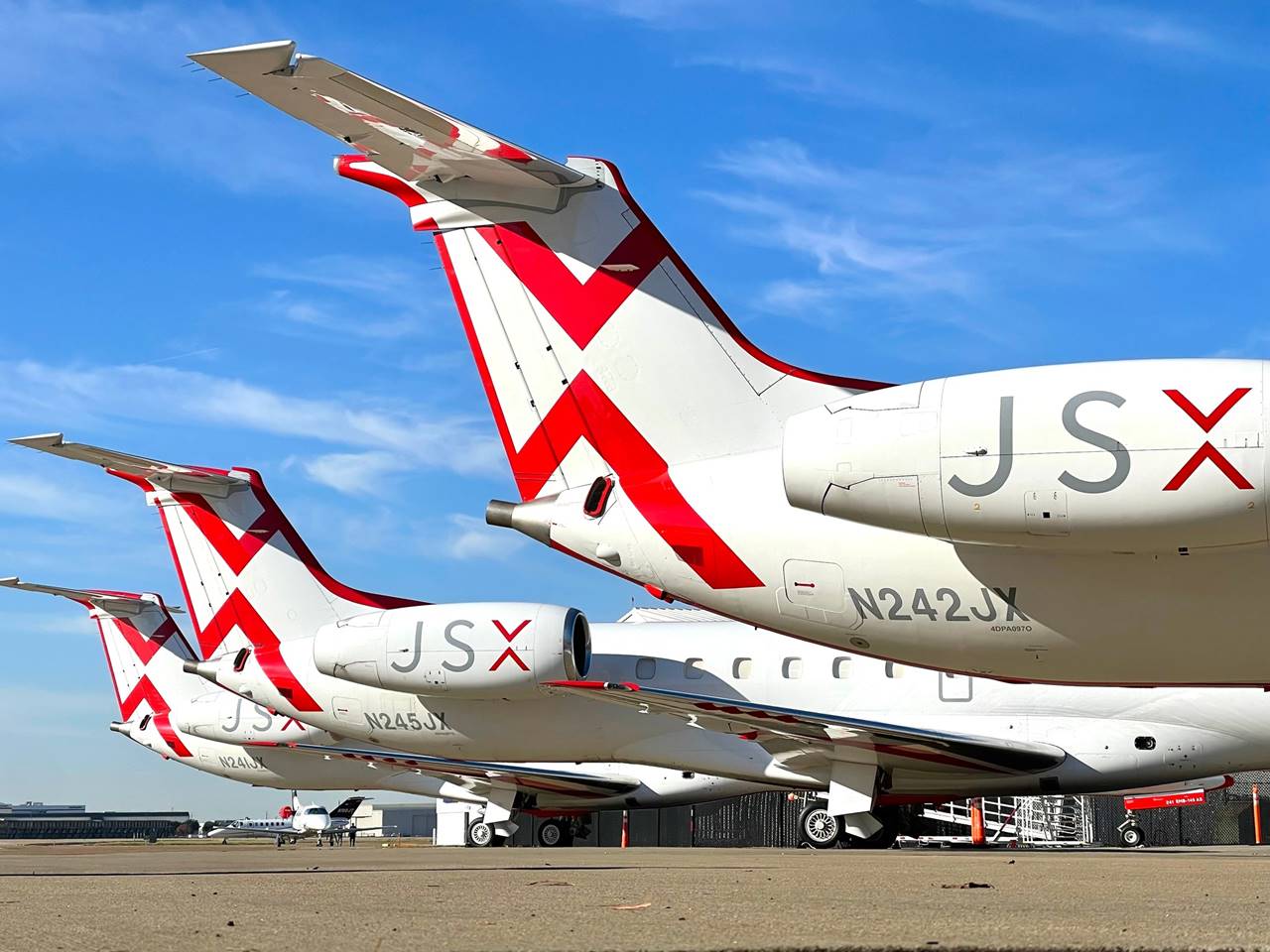 Quick Facts
Airline Name: JSX
Airline IATA Code: XE 
Headquarters: Dallas, Texas, United States
Founded: April 19, 2016
Number of Destinations: 19
Fleet Size: 33
Fleet Types: Embraer ERJ-135, Embraer ERJ-145
Location Hubs/Bases: Hollywood Burbank Airport (Burbank), Dallas Love Field (Dallas-Love, Texas), Harry Reid International Airport (Las Vegas, Nevada), Oakland International Airport (Oakland, California), Phoenix Sky Harbor International Airport (Phoenix-Sky Harbor)
Brief History Overview
Formerly known as JetSuitex, JSX emerged in 2016 with a revolutionary vision for short-haul air travel. The airline was created by the same team behind the private jet company JetSuite, but JSX sought to bridge the existing gap between private jets and commercial airlines. This has allowed the airline to offer a unique travel experience that perfectly combines the convenience of private aviation and the accessibility of commercial flights. 
Its operations first commenced in 2016, connecting Burbank and Concord in California. This marked the start of a transformative journey that would reshape regional air travel. Over the years, the airline has expanded its routes, providing travelers with convenient connections between underserved cities or those with congested airports. Its commitment to offering a premium experience has made it a sought-after choice for travelers seeking a more expedited and refined flying experience for routes that often have long airport wait times. 
Products & Services
Diverse destinations.

JSX connects travelers to a variety of destinations within its operation range, providing a convenient alternative to enduring longer commutes or long drives.

Exclusive Routes

. Route networks of the airline cater to passenger-specific needs, which offer direct connections between cities that might not have efficient travel options otherwise. 

Short-haul flights.

The airline's core offering is short-haul flights. This connects passengers between city pairs that are often inconvenient through traditional airlines or underserved. 

Quick Boarding.

Its streamlined procedures ensure efficient and swift boarding so passengers spend less time waiting and more time enjoying their flight. 

Spacious Seating

. Passengers enjoy the luxury of spacious seating on flights, guaranteeing comfort throughout their travels. 

Private Terminal.

JSX offers a private terminal experience which helps minimize waiting times and security lines typically associated with big airports. 

Complimentary food and drinks

. The company offers free complimentary gourmet snacks, beer, wine, and spirits throughout the entire flight to keep passengers entertained and satiated. 

Business Class Legroom

. The airline also provides the added comfort of business-class legroom, offering ample space for passengers to stretch out and relax.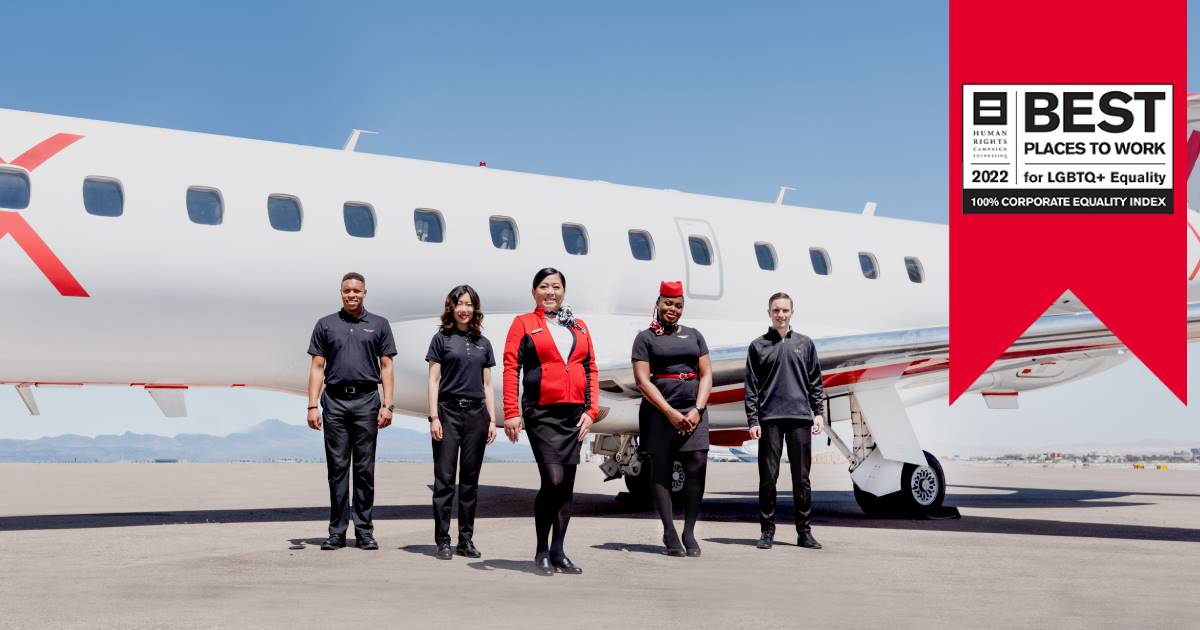 Work Culture
The work culture at JSX thrives on innovation and a shared passion for transforming travel. Employees across different roles work together in unity, driven by the common goal of revolutionizing short-haul air travel. This collaborative spirit creates an environment where teamwork is not only encouraged but essential to providing passengers with a quality flying experience. 
Innovation is also a defining trait of the company. Its dedication to reshaping the travel industry fosters a culture where fresh ideas are welcomed and sought after. Employees are empowered to think creatively, from enhancing customer service to improving operation efficiency. This mindset reflects a dynamic workplace where adaptability and creativity are part of daily life. 
More importantly, JSX champions inclusion and diversity. The airline values and welcomes individuals from all backgrounds to be part of its team. Its commitment to promoting inclusion has earned it recognition as a "Top Workplace in the US" by Energage and is listed among the "Best Places to Work" for LGBTQ+ equality by the Human Rights Campaign (HRC). This highlights JSX's efforts to create a safe, supportive environment that empowers every employee. 
Benefits for Employees
Inclusive Work Environment

. The company values diversity and inclusion, creating a workplace where every employee's voice is respected and heard. It promotes an environment where individuals from different backgrounds can thrive and contribute their unique opinions. 

Health and Wellness benefits

. Health and wellness is a priority at JSX. The company offers health insurance plans, including medical, dental, and vision coverage, so that employees can access quality healthcare services. 

Innovative Culture

. As an airline that champions innovation, it encourages employees to be creative and rewards employees for their innovative contributions. 

Travel Benefits

. Employees enjoy travel privileges, allowing them and eligible family members to experience the airline's offerings at a discounted rate. 

Career development

. JSX provides employees with plenty of opportunities for career growth and advancement within the company. Employees are supported in their professional journey through workshops, training programs, and opportunities to assume new responsibilities. 

Flexible Work Options

. The airline provides flexible work arrangements whenever feasible, recognizing that employees have varying preferences and needs. 

Exclusive Terminal Access.

Employees have access to the company's private terminal, improving work conditions while minimizing the wait times associated with larger airports. 

Community Engagement.

JSX encourages employees to give back to the community through various initiatives and volunteer opportunities, fostering connection and a sense of purpose in their work. 
Video: Innovating Air Travel – California By Design
The video encapsulates the airline's pioneering approach to revolutionizing the travel experience. It showcases the airline's commitment to transforming short-haul air travel by seamlessly integrating convenience, innovation, and luxury. It also highlights the airline's unique features, including spacious seating, a private terminal experience, and the convenience of short-haul routes.

Summary
JSX stands at the forefront of the aviation industry, leading the way in reshaping short-haul air travel through continuous evolution and innovation. With its distinctive approach, the airline has not only redefined the passenger experience but has also established an entirely new benchmark for regional flights. 
Contact Information
Company Name: JSX
Address: Dallas, Texas, United States
Telephone Number: (800) 435-9579
Website: www.jsx.com
Facebook: https://www.facebook.com/flyjsx/
Instagram: https://www.instagram.com/flyjsx/
Twitter: https://twitter.com/flyjsx