Loganair is a Scottish airline that offers scheduled services to destinations across the UK and Europe. The company is currently looking for flight attendants to join its cabin crew. There are certain requirements that candidates must meet in order to be considered for the role, including being at least 18 years of age and holding a valid passport. Furthermore, candidates must have the ability to swim and be comfortable working in a fast-paced environment. Those who are successful in meeting all of the requirements will be offered an exciting and rewarding career opportunity with them.
Also Read: How to Answer: Tell Me About Yourself
Loganair Airlines is a regional airline based in Scotland. It has a fleet of over 30 aircraft and flies to over 60 destinations across the UK, Ireland, and Europe. Loganair has been in operation for over 50 years and is part of the British Airways group. The airline employs around 1,000 staff, including flight attendants. The airline has a strong reputation for safety and customer service, and its flight attendants are a big part of that. They are known for their professionalism and attentiveness, and they work hard to make sure that every passenger has a comfortable and safe flight. The company is a great choice for those looking for a reliable and enjoyable flying experience.
Flight attendants at Loganair are said to be some of the most friendly and professional in the industry. They are known for their helpfulness and willingness to go above and beyond for passengers. This is evident in the airline's high levels of customer satisfaction. They are responsible for the safety and comfort of passengers on board their flights. They provide a high level of customer service and ensure that all passengers have an enjoyable journey. The airline's flight attendants are highly trained and experienced in dealing with all types of situations that may arise during a flight.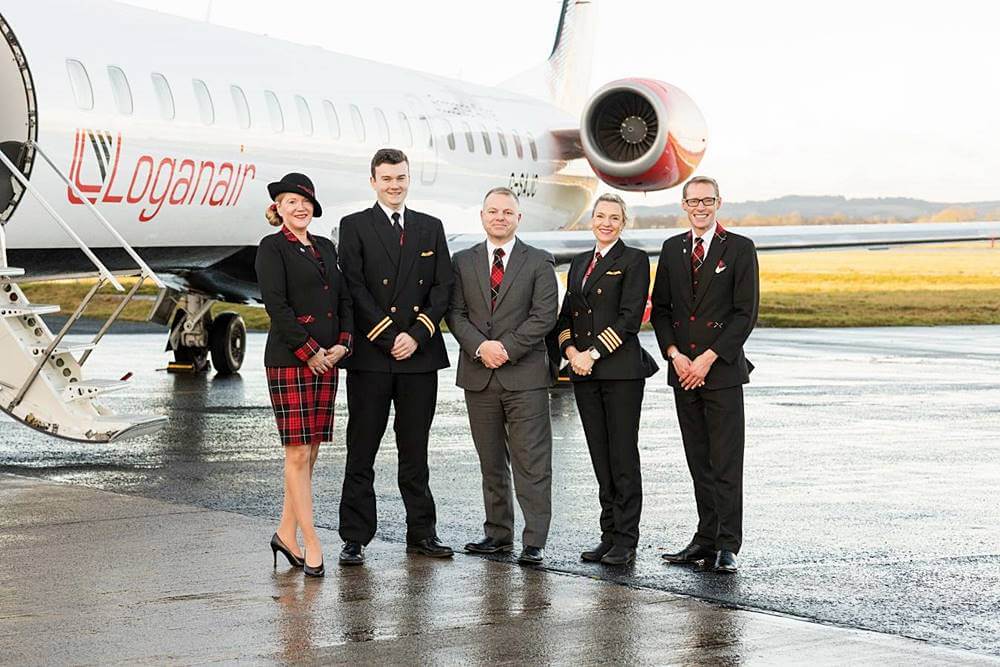 List of Requirements and Qualifications to Become a Loganair Cabin Crew
To become a flight attendant for Loganair Airlines, certain requirements must be met. These requirements and qualifications are as follows:
Applicants must be at least 18 years old at the time of employment.
Applicants must have a high school diploma or equivalent.
They must meet the minimum height requirement of 5'2" or higher.
They must also be legally allowed to live and stay in the UK.
Applicants must have the ability to swim 50m.
Applicants must also be mentally and physically healthy.
They must also have excellent customer service skills.
They must also have a pleasing personality and a good sense of hygiene.
Applicants must be willing to relocate once accepted.
Visible tattoos and piercings are not allowed while wearing a cabin crew uniform.
They must also have 10 years' worth of employment history.
They must have no criminal record history.
Being fluent in English is also required, as you will need to be able to understand and communicate with passengers from all over the world.
You must also be able to pass a background check.
You must also be able to work well under pressure.
Prior experience in customer service is preferred but not required.
They must also be able to pass full medical, including sight and hearing tests.
Weight should be proportionate to their height.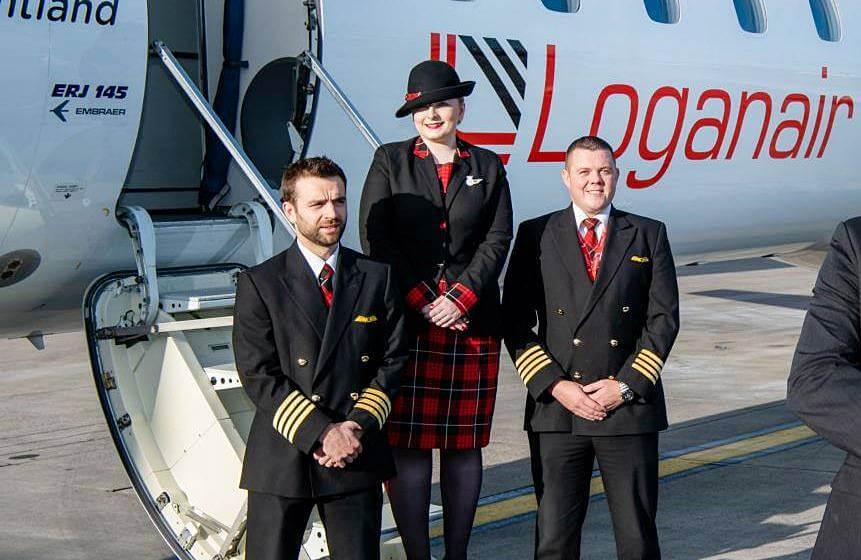 Application Process
Here is a guide overview when you apply for a cabin crew position at Loganair.
Step 1: Visit the Careers page of Loganair here.
Step 2: Browse and select the Loganair flight attendant jobs profile.
Step 3: Fill up the application form.
Step 4: Submit your application and print it for future use.
Step 5: Wait for their response.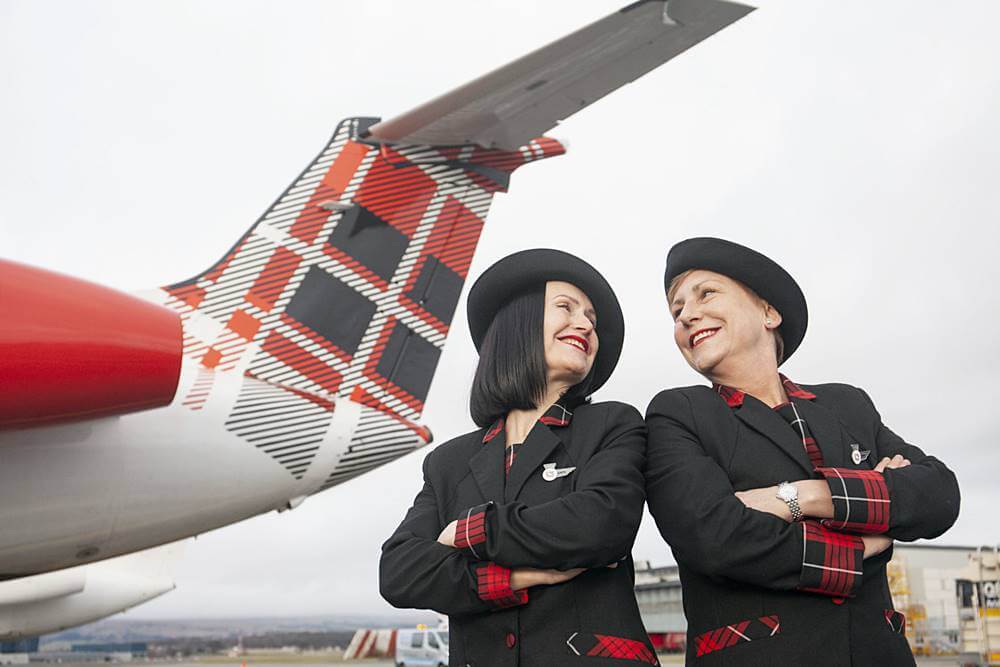 Salary & Benefits
Loganair Airlines offers a generous benefits package for its flight attendants, which includes medical, dental, and vision insurance. Their flight attendants also receive an average salary of £18,000 which increases depending on position and experience.
They are also entitled to receive some benefits and perks such as paid annual leaves, travel opportunities and discounts, post-employment training, an opportunity for securing a full-time and permanent contract, and retirement benefits. Other benefits for Loganair flight attendants also include a pension scheme and private healthcare.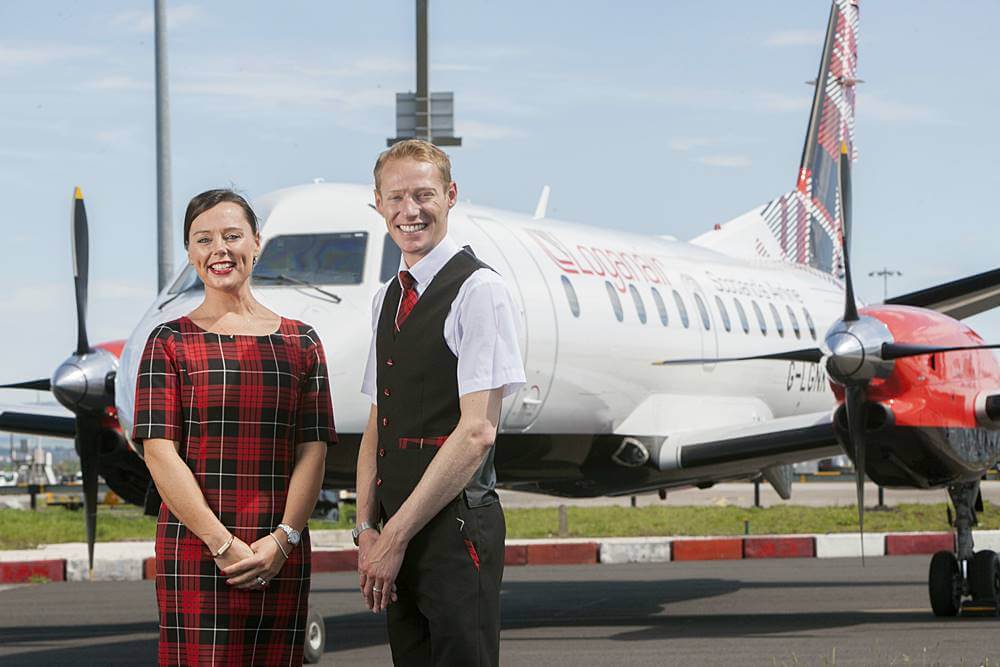 Video: Scotland's National Airline | Loganair ERJ-145 Review | Southampton to Edinburgh
This video was uploaded by a vlogger on YouTube and made a review about Loganair.
Here, he described the features of the airport as well as the aircraft. This video is helpful not only to travelers but also to aspiring flight attendants to have background knowledge about the airline. Here, he gave bits of information about the airline, its destination, and its fleet.
To know more about the company, just visit their website here or watch this video to have a brief background about them.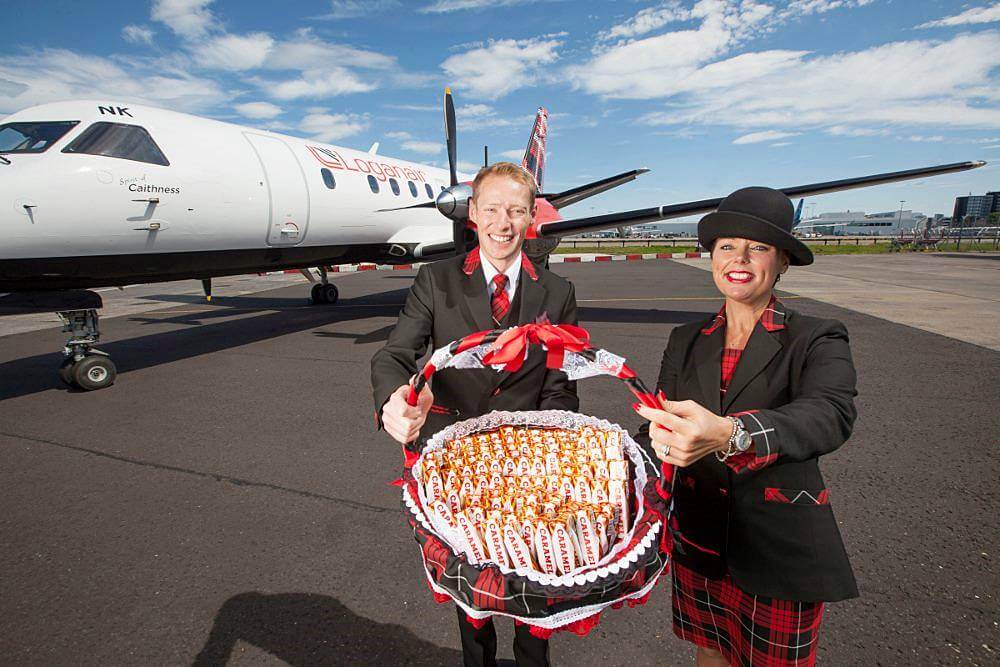 Photos: Loganair Airlines Cabin Crew Uniforms
Check out these pictures of Loganair Airlines crew so you can see what they look like in uniforms:
Frequently Asked Questions
Here are some FAQs about the airline:
1. What is the height requirement?
You must be at least 5'2" tall or higher to qualify and apply.
2. How old do you have to be to become a Loganair flight attendant?
You must be at least 18 years old at the time of employment.
3. How much experience do Loganair flight attendants have?
Previous customer service experience or any experience related to it is not required but having experience is considered an advantage.
4. Can I have visible tattoos?
Visible tattoos are not allowed while wearing the cabin crew uniform.
5. Do I need to be able to swim?
Yes, it is one of the requirements to qualify. You must have the ability to swim 50m.
6. Is there any specific weight requirement to become a Loganair flight attendant?
There was no specific weight requirement but your weight must be proportionate to your height.
7. What kind of personality traits does Loganair look for in their flight attendants?
You must have a pleasing personality and excellent communication skills. You must also have the ability to handle different situations calmly and professionally.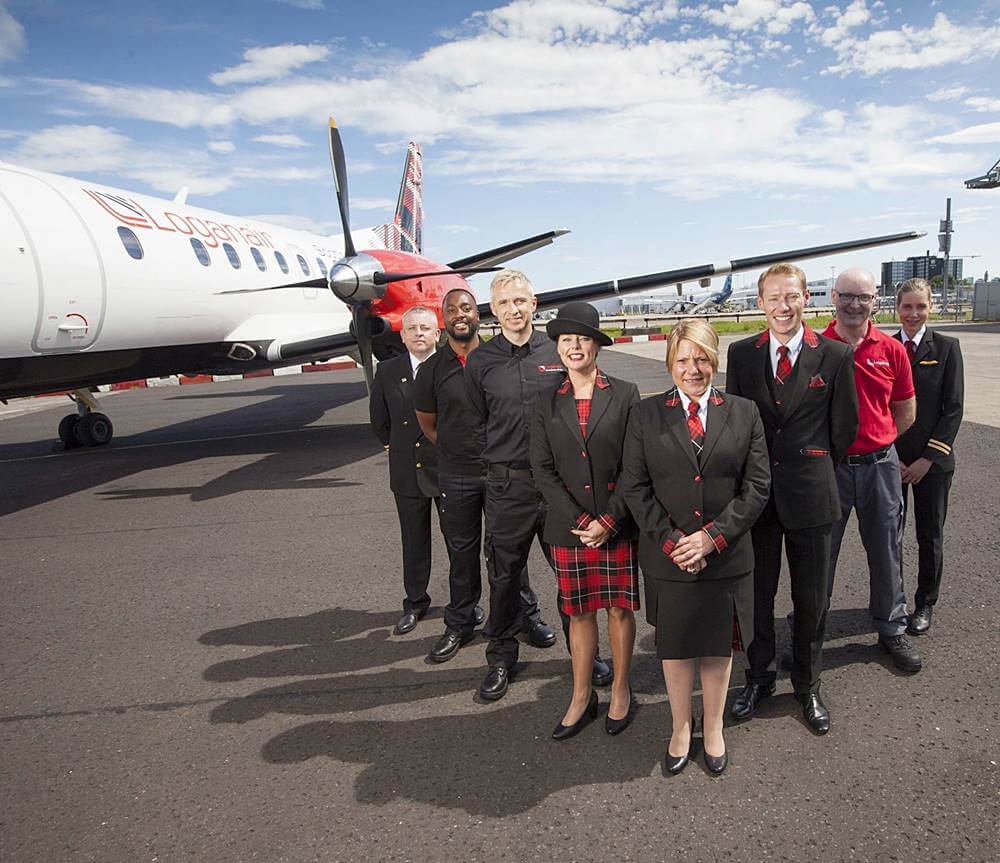 Summary
This is a great opportunity to see the world while working for a reputable airline. As a flight attendant, you will be responsible for the safety and comfort of passengers during flights. You will need to be able to work long hours and handle occasional overnight shifts. However, the job comes with many perks, including free or discounted travel. If you have a passion for customer service and are interested in pursuing a career in the airline industry, this could be the perfect job for you!
In conclusion, the Loganair flight attendant requirements are not too difficult to meet. As long as you have a high school diploma or equivalent, can pass a criminal background check, and are at least 18 years old, you should be eligible to apply for a position as a flight attendant. There may be other requirements depending on the country in which you are applying, but meeting these basic qualifications should give you a good chance of being hired by the company.
Additionally, while not required, it is preferred that applicants have prior customer service experience. If you meet all of these requirements, then you may be eligible for a job as a flight attendant.
Loganair is a great airline to work for and the experience will be unforgettable as you work while you travel to different destinations. If you have the qualities to be a flight attendant, then we encourage you to apply today. Good luck!