For those of you aiming for a position in the airline and transportation industry, this might be the article you're looking for. In this post, we'll be talking all about Air Canada Rouge. We'll tackle the responsibilities, qualifications, documents, and everything you're required to be and have as a flight attendant.
Air Canada Rouge cabin crew are responsible for the safety and comfort of passengers on the flights. They are also expected to provide excellent customer service, assisting passengers with any questions or concerns they may have.
Also Read: London Layover Guide: Best Things to Do in 24 Hours
This airline is accepting applications for their pool of flight attendants for future recruitment events. To all aspiring cabin crew applicants, this is your time to send in your application letters and have the opportunity to be considered to become a part of this company's dynamic family.
In order to ensure that all cabin crew members are able to meet these high standards, Air Canada Rouge provides extensive training for all new hires. This training covers everything from emergency procedures to customer service, and it is regularly updated to reflect any changes in the airline's policy or procedure. As a result, their flight attendants are some of the most highly trained and experienced in the industry.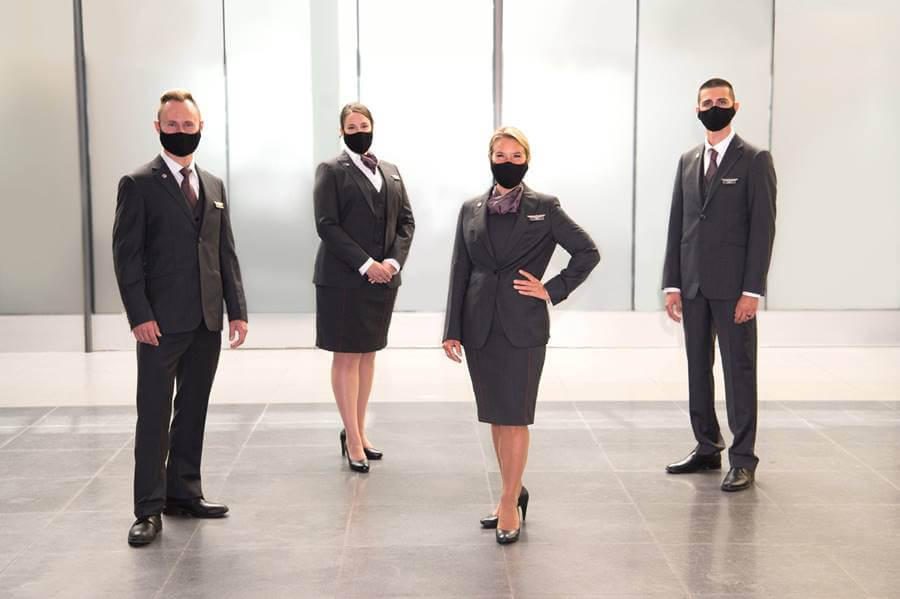 Overview of Air Canada Rouge
Air Canada is considered to be Canada's largest airline company serving over 175 destinations to both domestic and international routes on 5 continents. Air Canada provides scheduled passenger service directly to 59 Canadian cities, 53 destinations in the US, 67 cities in Europe, Middle East, Asia, Australia, the Caribbean, Mexico and South America.
Skytrax has awarded Air Canada with a 4-Star ranking. In 2014 Skytrax also ranked Air Canada for 5 consecutive years as the "Best Airline in North America". The readers of Global Traveler magazine also voted Air Canada as the "Best Airline in North America" in 2014. Likewise, the readers of Business Traveler voted the airline company as the "Best North American Airline for International Travel" and "Best North America Airline Inflight Experience." The readers of Premier Traveler voted Air Canada "Best Flight Attendants in North America."
With the growing demand for leisure travel, Air Canada has boldly transformed the country's flag carrier to compete and accommodate the demand for the leisure travel sector, thus launching Air Canada Rouge. Air Canada rouge serves popular destinations in Europe, Mexico, the U.S., the Caribbean, Japan, South America and Canada. The airline company will also expand to other popular destinations and will increase their fly routes to places like Barcelona, Dublin and Athens.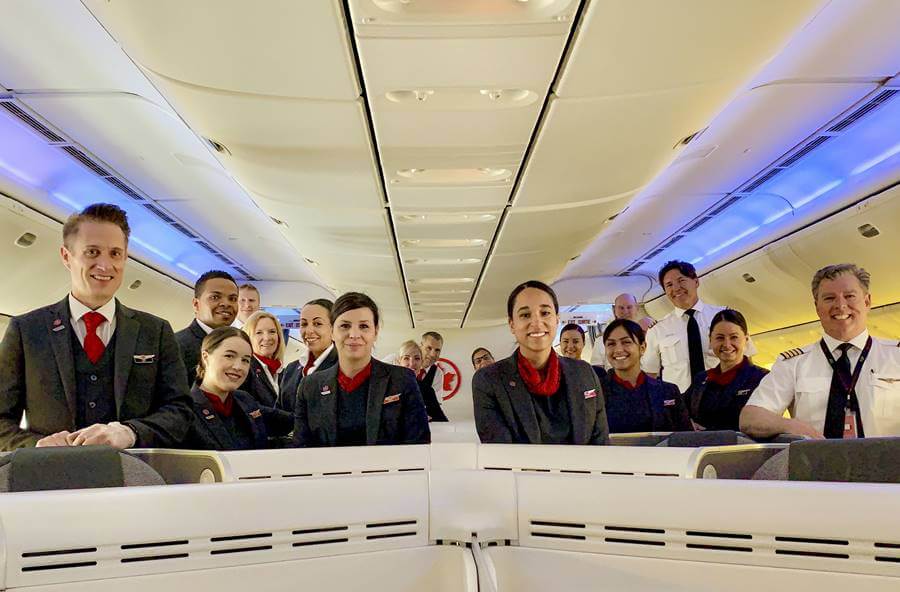 The low-cost carrier Air Canada Rouge, whose name means "red" in French, is a division of Air Canada. Trips are offered with Air Canada flight information. Still, they are labeled as "run by Air Canada Rouge," It is completely integrated into the Air Canada main and Air Canada Express networks.
These networks are like the regional trips controlled under the Air Canada Express banner. The company was established in December 2012, and on July 1, 2013, it started its operations.
To effectively and efficiently contend with Sunwing, WestJet, and Air Transat in the recreation and holiday travel industry, the Air Canada Leisure Group launched its first path, Athens, Greece, from Montreal and Toronto. The group primarily operates travel to the Caribbean, United States, and Europe.
Amid the COVID-19 epidemic, Air Canada stated in May 2020 that 79 aircraft from its primary and Regional planes would be retiring. They included aircraft such as the Embraer 190, Airbus A319, and Boeing 767.
The loss of all 2 A319s and 25 767s, having left Air Canada Rouge with just 20 Airbus A319s and 18 A320/A321 as its aircraft, had a huge negative impact. As a result, the airline won't be capable of reaching many of its European destinations, such as Zagreb or Budapest.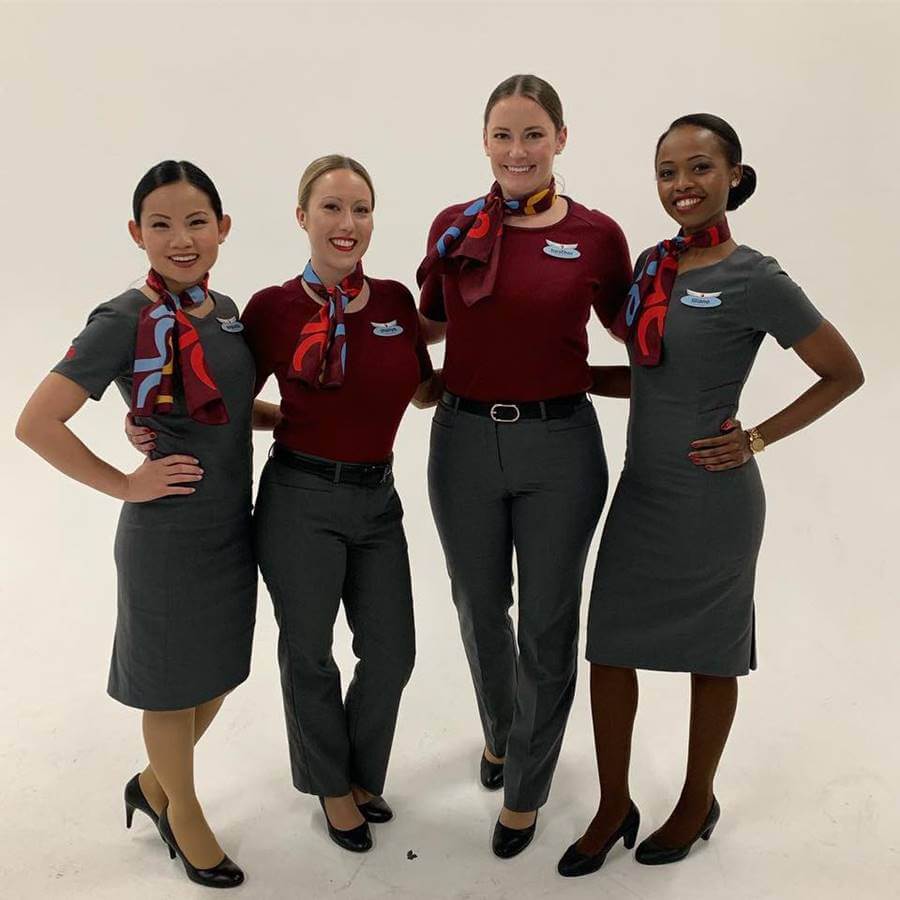 Responsibilities
While any job can be challenging, loving it makes all the difference. But of course, before you apply for a job that you have an eye on, you have to fully understand and assess whether you think you're capable of doing this. No matter how much you love the job, if it's something you can't see yourself doing almost every day, it's possible it won't work out.
This being said, before becoming an Air Canada Rouge flight attendant, make sure that you're more than willing to be doing the following:
Prioritizing safety as a crucial component of excellent customer service
Exceptionally sympathetic
Have a friendly, compassionate disposition.
Greet passengers well
Enthusiastic about providing superior service
Represent Canada with pride at home and abroad
Treat everyone with respect.
You're in charge of making reports on every flight
Accommodating each of the passengers' needs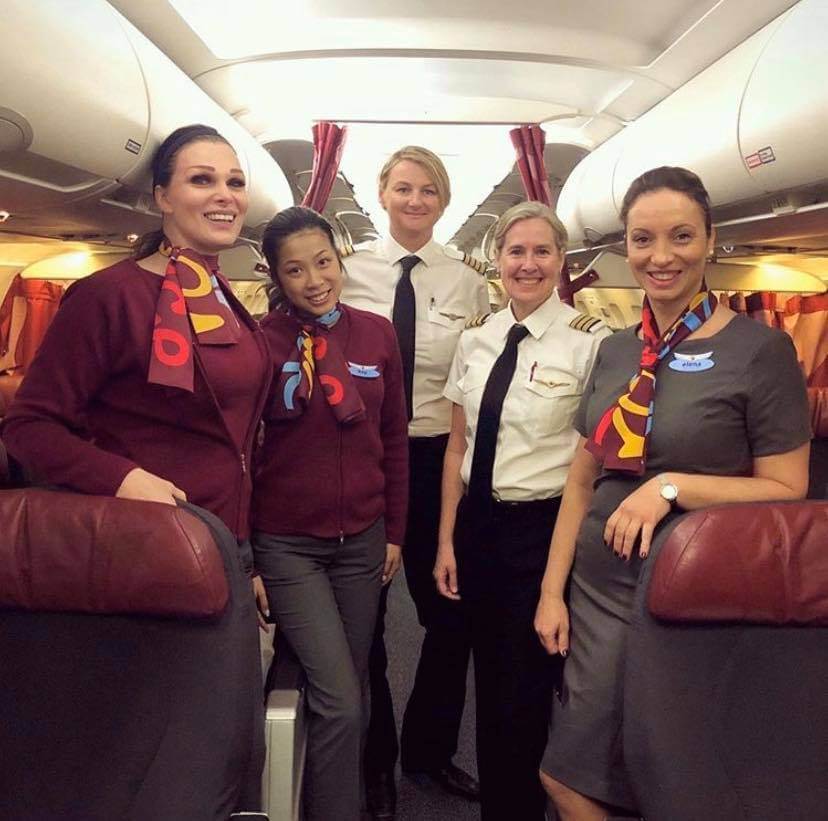 Qualifications
We all know that responsibilities are essential. And while they are, you also have to consider another aspect: qualifications. No matter how much you think you can do the job, the company cannot hire you if you don't reach their qualifications. So to ensure you don't waste any time, make sure that you reach their qualifications. If you don't, it might be better to look for other airlines that fit you better.
Here's a list of things Air Canada Rouge looks for in their applicants.
You must be at least 18 years old
You should at least be a high school graduate
You're required to be fluent in both English and French
Complete the flight attendant training
You should at least be 5 feet 2 inches
Also Read: Air Canada Rouge Flight Attendant Requirements and Qualifications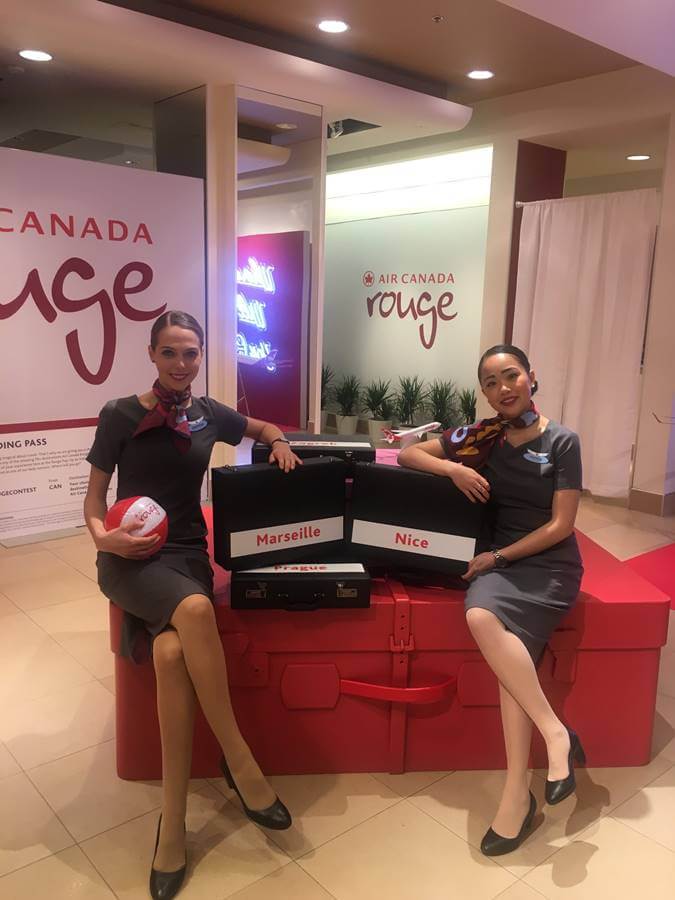 Document Requirements to Prepare
If you've successfully reached this part, then we congratulate you! You're one step closer to reaching your dream job. You can start drafting your application if you know that you meet both the qualifications and responsibilities.
That being said, in your application, the company will require you to submit certain documents. If you feel overwhelmed and confused about what you need to submit, you don't have to worry, for you can look at the list we created below to guide you.
Updated resume
Birth certificate
Valid passport
Application form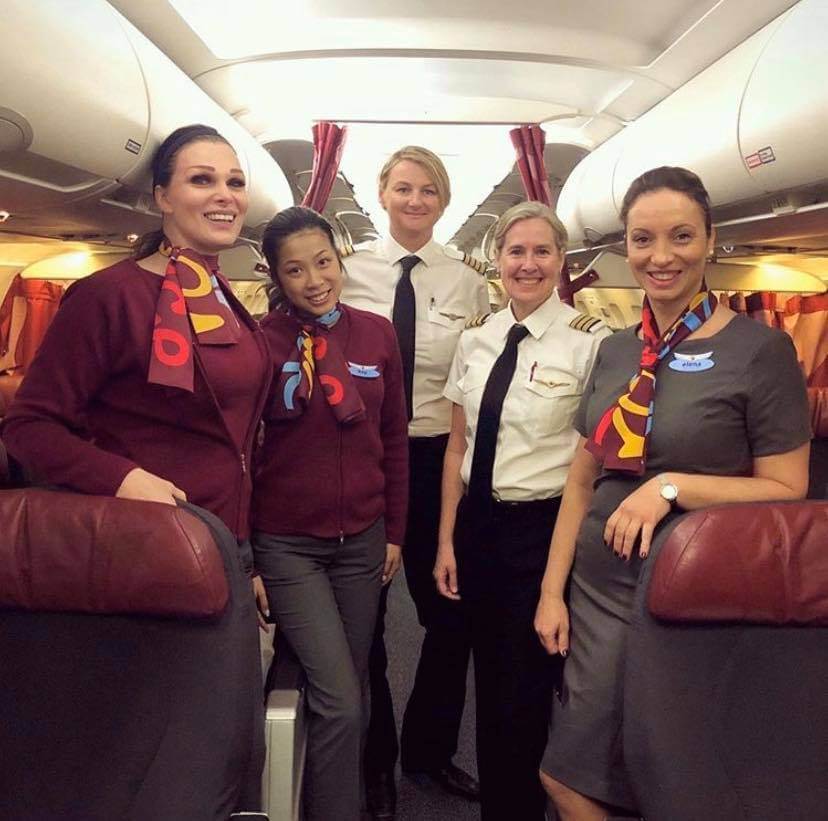 Where to Apply for a Job for Air Canada Rouge Online
It can be a little challenging to apply when you're behind on any updates. We suggest you visit their careers page frequently to ensure that you stay updated with any changes in applications or vacancies.
Click HERE to access their Careers Page.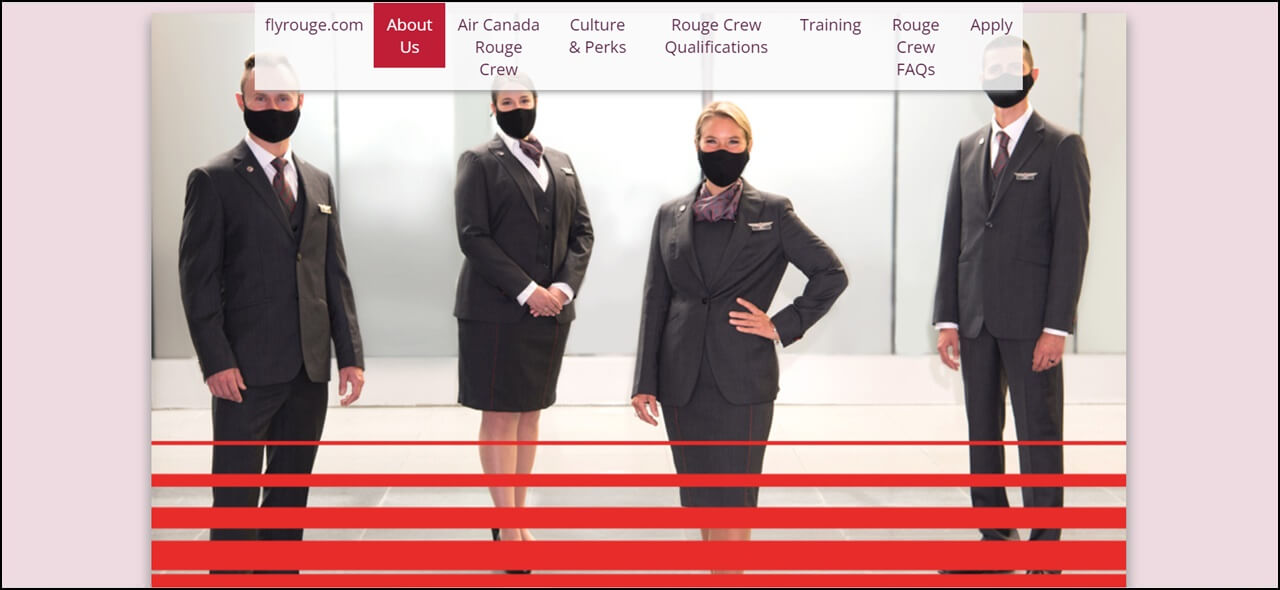 How to Become a Cabin Crew for Air Canada Rouge
In order to become a part of this growing company, follow the simple instructions below in order to successfully apply for the role of flight attendant for Air Canada Rouge.
Step 1: Visit their website
The online applications for Air Canada Rouge would all take place on their website. Once you're there, make sure that the position you're applying for is available. You can view their job openings to see which jobs are open for application.
Step 2: Submit your application
After choosing the job you'd like to apply for, you can submit your application. The airline will be asking you to submit the application form, your updated resume, and an explanation as to why you'd like to work for their company.
Step 3: Wait for any updates.
You'll know if you have successfully submitted your application if the company sends you an automated email. After submitting your application, Air Canada Rouge will contact you if you have successfully passed the first stage. Note that those who did not pass the first stage won't be contacted.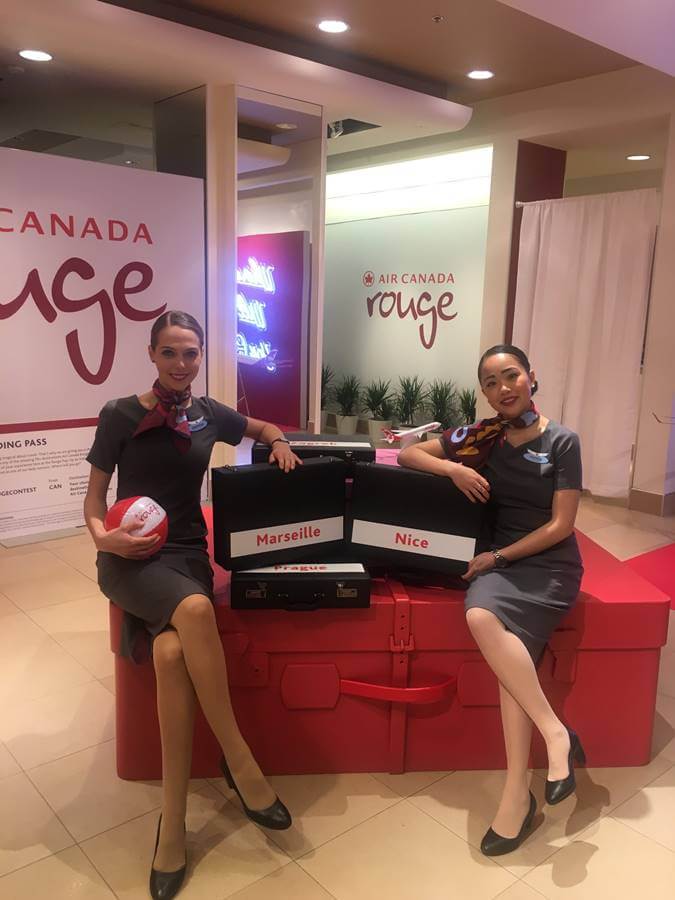 Monthly Salary of an Air Canada Rouge Flight Attendant
For many applicants, the monthly salary is one of the most critical aspects that need to be considered when getting a job. This is reasonable because we have to make sure that the company is capable of giving us a steady flow of income as well as being able to cover our monthly expenses. That being said, as an Air Canada Rouge flight attendant, you can earn a base pay of about $2331.
Aside from this, the company also supplies the employees with seemingly endless benefits that can make your work worth it. These benefits include a free flight attendant program, travel rewards, meeting new people, learning new cultures, medical and dental insurance, and much more.
Video: Air Canada Rouge Promotional Video
If you want to learn more about Air Canada Rouge and how they treat their customers, you can do so by clicking the link below. In the video, the airline explains what the flight attendants and other cabin crew members can offer should interested people become passengers on one of their flights.
Photos: Air Canada Rouge Flight Attendants Photos
Below are some photos of Air Canada Rouge flight attendants in their uniform. As you can see, the uniform is designed to be stylish and functional at the same time. The flight attendants have to look professional while being comfortable performing their safety and service related tasks.
Frequently Asked Questions
To know if you meet the basic requirements for the flight attendant role for Air Canada Rouge, go through article below.
1. What is the minimum age allowed to apply in Air Canada Rouge cabin crew?
You must be at least 18 years old to be eligible to apply.
2. What is the required minimum educational attainment for an Air Canada Rouge applicant?
You should have a high school diploma or something equivalent to this.
3. Are you required to have professional experience before applying to Air Canada Rouge?
No, the company does not require you to have experience, but having so will set you apart.
4. What languages does Air Canada Rouge require you to be fluent in?
The airline requires you to speak and write English or French fluently. While knowing other languages such as Spanish isn't required, it is deemed a plus.
5. Does Air Canada Rouge give training to its employees?
Yes. Before being given the title of a flight attendant, the company requires you to complete a 6-week training program in Montreal, QC or in Toronto, ON.
6. Will you finally be considered as an employee after the 6-week training program?
Following the 6-week program, you will be required to undergo a one-week training session on customer service. This is located in Orlando, FL.
7. Will the company cover all the travel and training costs for the flight attendants?
Yes, the company will shoulder all the fees required for your training.
8. Does Air Canada Rouge undergo a criminal background check on its applicants?
Yes, the company will let you undergo a criminal background check with a 5-year traceable history like other airlines.
9. Regarding work hours, what does Air Canada Rouge look for in applicants?
The airline requires employees to be available for shift work and irregular work hours.
10. Are you allowed to work with other airlines while working in Air Canada Rouge?
Unfortunately, the company does not allow its employees to work in other airlines while working in their company.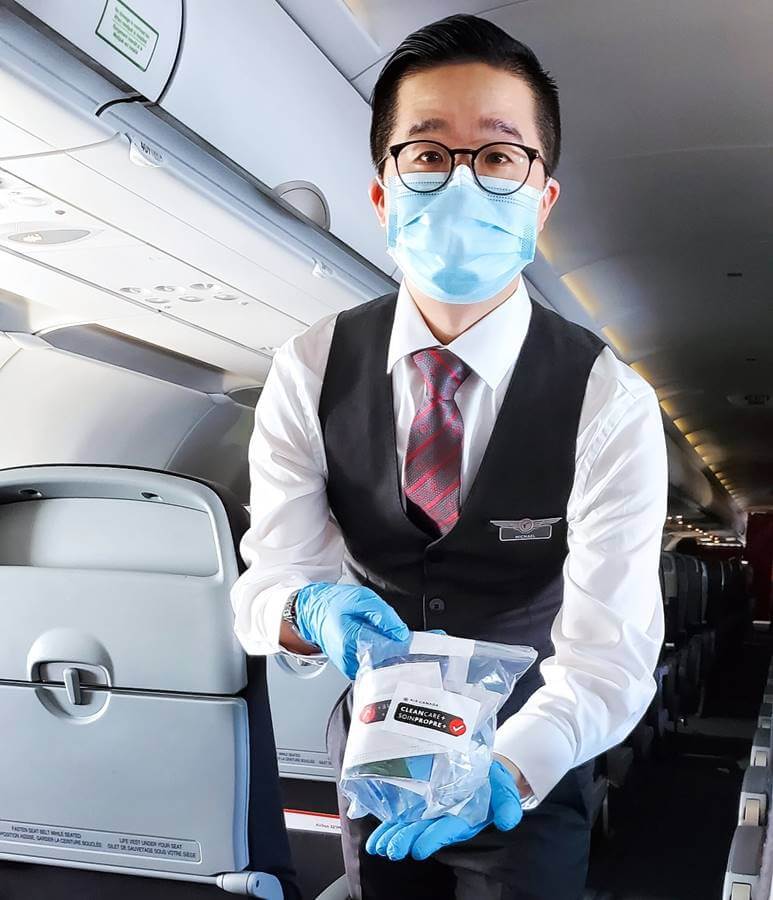 Summary
Feeling overwhelmed and scared is expected when applying for a new job. Nevertheless, it's important always to be prepared. If you've been aiming for a job like this for a while, then we hope that we were able to answer all the concerns that you may have had.
With all the vital information addressed, we hope you continue to pursue your dream and find your true calling in the airline and transportation industry. We wish you all the best and hope to see you next time!
Contact Information
AIR CANADA ROUGE
Address: 7373 Boulevard de la Côte-Vertu Ouest, Montreal, QC H4S 1Z3
Telephone Number: 1-888-689-2247
Website: https://flyrouge.com/ca/en/index.html 
Facebook: https://www.facebook.com/aircanadarouge/ 
Instagram: https://www.instagram.com/aircanadarouge/?hl=en 
Twitter: https://twitter.com/aircanadarouge?lang=en 
LinkedIn: https://ca.linkedin.com/company/air-canada-rouge