If you're someone who has long aspired to become a flight attendant or a cabin crew member, then you should know by now that it's not an easy way in. But, it will always be worth it. In this article, we're going to talk about the hiring process in Air France for those of you who wish to apply.
Also Read: 15 Must-Have Qualities of Cabin Crews
As the flag carrier of France, it is not a surprise that the standards they uphold and look for in their employees are high. However, that doesn't mean all hope is lost! As long as you're one step ahead of your competition and you are constantly working on yourself, nothing is impossible. Are you ready to know more about Air France? If the answer is yes, then read on, and good luck!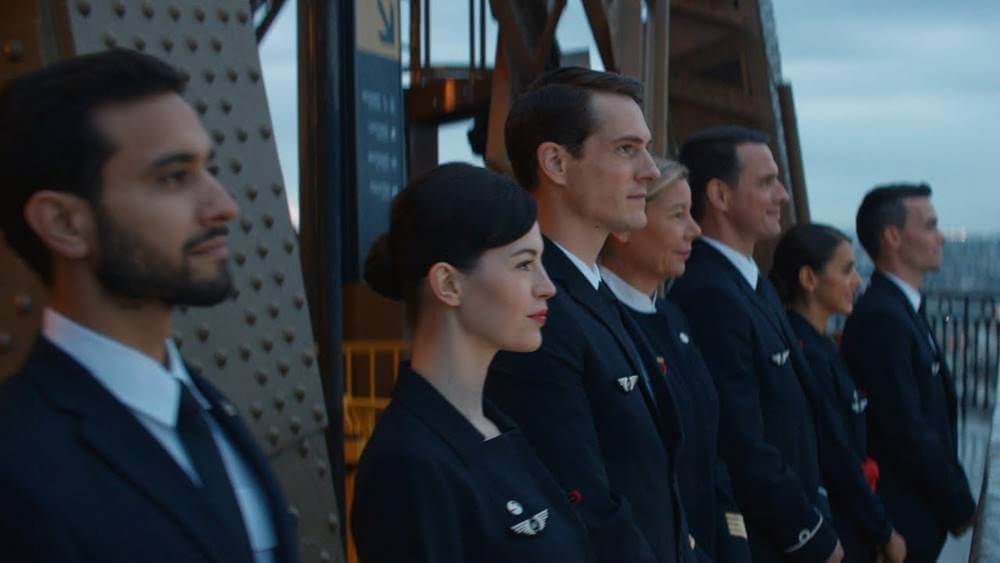 Overview of Air France
Established in 1933, Air France or Société Air France has long been the flag carrier of France. It is witness to various historical events such as the Cold War, wherein it was one of the three operational aircraft in Germany. At present, it offers flights to 36 destinations in France and 175 destinations in 78 countries.
As one of the most efficient and fast-paced airlines in the world, it has given service to more than forty million passengers. In 2018, it had served 51.4 million passengers and in 2019, Air France carried 46, 803, 000 passengers.
Carrying the slogan "France is in the Air", it prioritizes the safety and comfort of passengers throughout their journey. Additionally, Air France also aims to bring French values globally through flights and journeys across the world. From proper grooming to politeness and formality, every second of a passenger's journey is surely an unforgettable one.
With a fleet size of 210 aircraft, they are truly determined to continue offering the best journey possible for more decades to come. Now that you've gained insights about Air France, you probably know what to expect when it comes to the preparation of your job application.
Responsibilities
Becoming part of Air France's workforce means that you now carry its image, reputation, and the responsibility to uphold its standard and values. You may think that you are only one person compared to the totality of Air France, anything that you do will create a ripple of effects that will reflect the company that you work for.
For you to become an asset and a pillar of strength if the company you work in, knowing your duties and responsibilities is the first step. Once you are aware of these, you will be able to perform well and uphold the virtues of Air France. As a flight attendant, these are your responsibilities. Remember them well!
Conduct safety checks before each flight
Greet your passengers warmly
Escort and assist your passengers with their luggage
Help them find and settle into their seats
Prepare and serve drinks and food to your passengers according to what is requested.
Take note of any medical needs, likes, and dislikes of passengers
Present emergency equipment and brief passengers on how to use the equipment
Monitor, manage and secure the cabin
Adhere to all aviation rules and regulations
Assist passengers and cabin crew during emergencies
Assist passengers with special needs (children, disabled persons, elders, etc.)
Attend briefings before each flight
Submit and prepare reports concerning flight incidents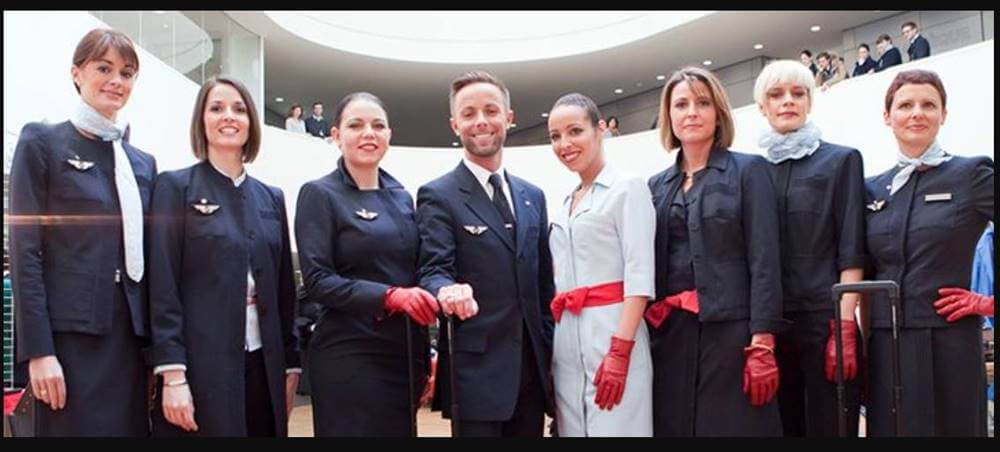 Qualifications
Before landing a job as a cabin crew member at Air France, you must first possess the qualities that will contribute towards the development and success of the airline. As a company that wants the best for its passengers, ensuring an excellent workforce is a must. Here are the qualifications to become an Air France Cabin Crew:
Must be a minimum of 18 years old
Height must be between 152 cm and 182 cm
Should be physically fit
No visible tattoos and body piercings
Must be physically, mentally, and emotionally fit
Weight should be proportionate to height
Must be fluent in English and French, both spoken and written (fluency in other languages is an advantage)
Equipped with the right character to deal with passengers professionally
Must not have bad acne (should be coverable or unnoticeable with makeup)
Can adapt to new people, new places, and new situations
Thrives in a fast-paced and changing environment
Excellent personal presentation, style, and image
Willing to become culturally aware
Must have good communication skills
Must have the knowledge when it comes to wearing a flotation aid/life jacket. (Plus, you will need to climb into a survival raft from the water)
Must have a warm personality
Must be an EEA (European Economic Area) national
Should have a minimum level of qualification to reach the same standard as the French 'Baccalaureate' school leavers certification.
Must be able to swim 25 meters
Must hold a valid Cabin Crew Attestation (CCA)
Education and Experience
Having a high school diploma is essential
1-year experience in customer service or sales is an advantage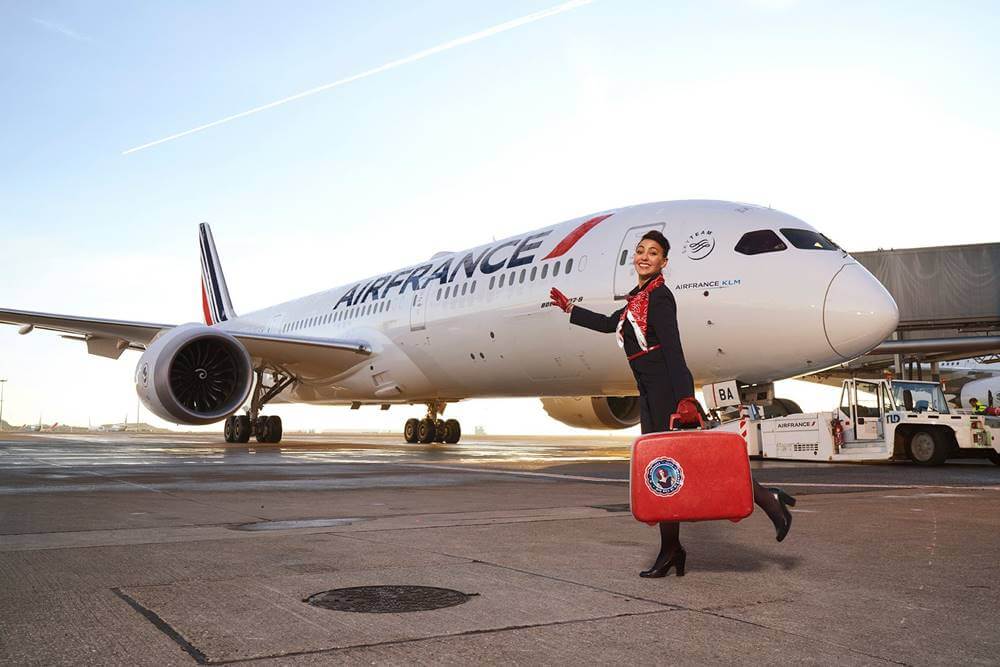 Document Requirements to Prepare
In preparation for your application process, here are the document requirements you need to prepare:
Updated CV/Resume
Head and full-body photographs
Valid Passport
Updated Medical and Dental Records
Criminal Records
For your photographs, here are the common standards you may want to keep in mind:
Should be wearing professional business attire (including a jacket and tie for men).
Should be standing facing straight towards the camera, with your hands down by your side.
Should be smiling with a large but natural smile (ideally showing teeth).
A white background is highly advisable.
The full-length photographs should measure 6×4 inches (15×10 cm), while the passport-sized photos should measure 45×35 mm (1.77×1.37 inches).
Where to Apply for a Job for Air France Online?
To check for job vacancies and details, you can visit and view their website here. Other important announcements and information are also available.
https://recrutement.airfrance.com/
https://corporate.airfrance.com/fr/faq
Additionally, you can also check their LinkedIn profile for other announcements.
https://www.linkedin.com/company/air-france/
Below is a screenshot of the Careers page from the Air France website: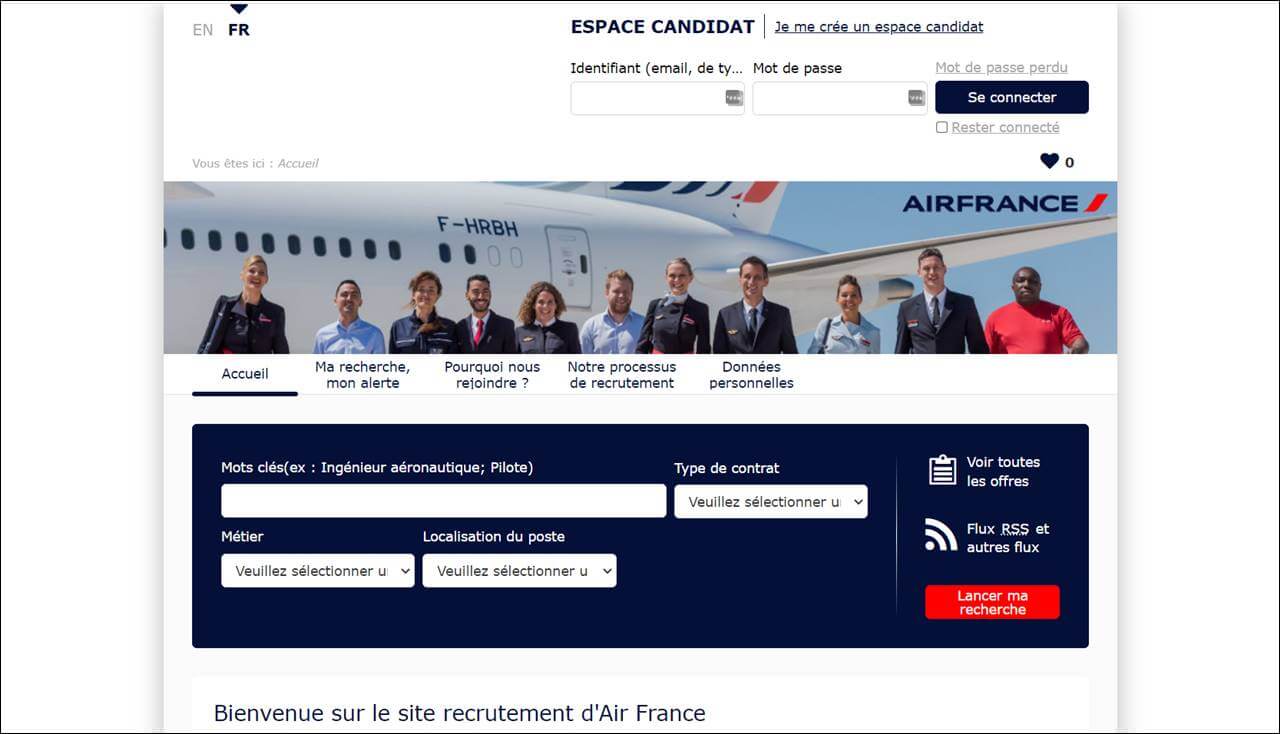 How to Become a Cabin Crew for Air France
To help lessen your confusion, here is a detailed step-by-step process on the job application for Air France.
Step 1: Accomplish Application Form
The first step is to access the Air France website on your browser and create an account there. Once you have accomplished that, the website will lead you to a window where you can upload your resume or CV as well as your cover letter (optional).
Before submitting your resume, make sure to double-check the details and information indicated in your CV. After this, remember to make it a habit to check your email from time to time. An email confirming your application will be sent, along with a notification on how to proceed to the next step.
Step 2 – Assessment Day
The assessment day is known as the hardest part of your job application. This step is where you will be assessed and evaluated based on your skills, eyed from head to toe, as well as asked a few questions to gauge whether or not you are fit to work at Air France. Here are a few things you can expect during your assessment day.
Registration and checking of resume
Orientation about Airline (includes Q and A portion)
Activities
Group and individual assessments and discussions
Height and reach tests
Interviews
One of the most important things to remember is to make an excellent first impression. Dress smartly, groom yourself properly, and practice punctuality and gracefulness in your every word and move.
Step 3 – Interview
The last part of your job application process is the interview. Just like the assessment day, this is also a crucial part of your job application process. The interview involves asking questions about what you know about the company, what you know about your role, as well as details about yourself. Here are a few tips to ace your interview.
Behave the way you would when you're already a cabin crew member and is already serving other people
Present yourself properly and neatly
Don't stumble on your words; speak clearly and coherently
Practice maintaining eye contact with the interviewers
Step 4 – Final Steps
Before you are officially hired as an Air France cabin crew member, a few steps and checks are required. This involves conducting medical and dental examinations, criminal record checks, as well as verification from your various employers. Once done, then you're off to your pre-flight training!
Monthly Salary of an Air France Flight Attendant
The salary of an Air France flight attendant is about €34,000 which includes bonuses. There are also various benefits and perks such as:
Travel Opportunities and Perks
Permanent Contracts
Freedom to choose your schedule
Flexible working hours
Gym Memberships
Employee Discounts
Vision Insurance.
Medical and Dental plans
Productivity bonuses
Post-employment training
Other development opportunities and seminars
Video: Working as a Cabin Crew for Air France
In this video, Stephanie, Air France's flight attendant shares what it's like to serve during a flight in Air France.
From assisting passengers as they board the plane to serving them throughout the flight, she shares with you how to cater to the different needs of the passengers. Additionally, other cabin crew members and their duties are also shown.
Disclaimer: This is a video uploaded by a flight attendant vlogger who shared her experience being a cabin crew member. Take note that every crew has a different experience, but this will help give you an idea what to expect when you work for Air France.
Photos: Air France Cabin Crew in Uniform
Check out these beautiful pictures of Air France airlines flight attendants in uniform. If you wish to imagine yourself being part of this company, check out these photos to give you an idea about working for this airline:
Frequently Asked Questions
Here are some common questions and answers about the hiring process in Air France airways:
1. Will my height affect my chances of being hired?
No, it won't. As long as you are within the given height requirements, you stand a chance as much as other candidates.
2. Will my salary increase?
Yes, it will. Depending on how long you've been working at Air France, your salary is highly likely to increase the higher your rank is and the longer you've been in service.
3. Does passing assessment day guarantee that I become hired?
No, it doesn't. There are still final checks and tests before you are hired by the company.
4. Will I get adequate training? Is it free?
Yes, you will. Before officially serving as a cabin crew member or a flight attendant, you must have training that is according to the values and standards of Air France.
5. Once I pass my resume, is it guaranteed that I attend the assessment day?
No, it isn't. Your resume or CV will still be carefully evaluated before sending you an email of confirmation towards the next step.
6. How else can I stand out?
Aside from noting your work experience needed for you're applying for, you can also stand out by making a good impression on your appearance. Take this chance during the assessment day.
7. Can I apply even if I'm not fluent in other languages?
Yes, you can! As long as you are fluent in English and French, you have a high chance of being hired.
8. Can I reapply in the event of my application being rejected?
Yes, you can. As many times as you want! Just make sure you work on your strengths and weaknesses.
9. Is it okay to wear makeup and jewelry to the interview?
Yes, it is. As long as you look neat and professional.
10. Does age matter when it comes to applying for a job?
No, it doesn't. As long as you meet the requirements and prove that you can offer the best services to your future customers and passengers, you stand a chance, just like everyone else.
11. What happens after I get hired?
First, you have to undergo training. Only then will you be qualified to serve in-flight.
Contact Information
Air France
Address: 45, rue de Paris, 95 747 Roissy CDG Cedex, Tremblay-en-France, France
Telephone Number: +33 (0)1 41 56 78 00 (9 AM- 5 PM)
Email Address: mail.meda@airfrance.fr
Website: https://www.airfrance.com/
Facebook: https://www.facebook.com/airfrance/?ref=ts
Instagram: https://www.instagram.com/airfrance/
Twitter: https://twitter.com/AirFrance
LinkedIn: https://www.linkedin.com/company/air-france/
YouTube: https://www.youtube.com/airfrance