Southwest Airlines is a US-based airline that has been in operation since 1967 and flies to many domestic destinations as well as some international ones. If you plan to work as a flight attendant for Southwest Air, please follow the tips, requirements, qualifications, and guidelines outlined below.
Being a cabin crew is a must-have career for many. Aside from the fact that the salary and benefits are better than other positions in the tourism industry, you also get the chance to travel around the world if you fly with airline companies. But, what does it take to become a flight attendant? What do you need to possess? What are the requirements?
Well, if you are applying for Southwest Airlines, you're probably here to check the essential requirements to pass the application. Continue reading this article to learn more about what you can do when applying as a cabin crew for Southwest Airlines.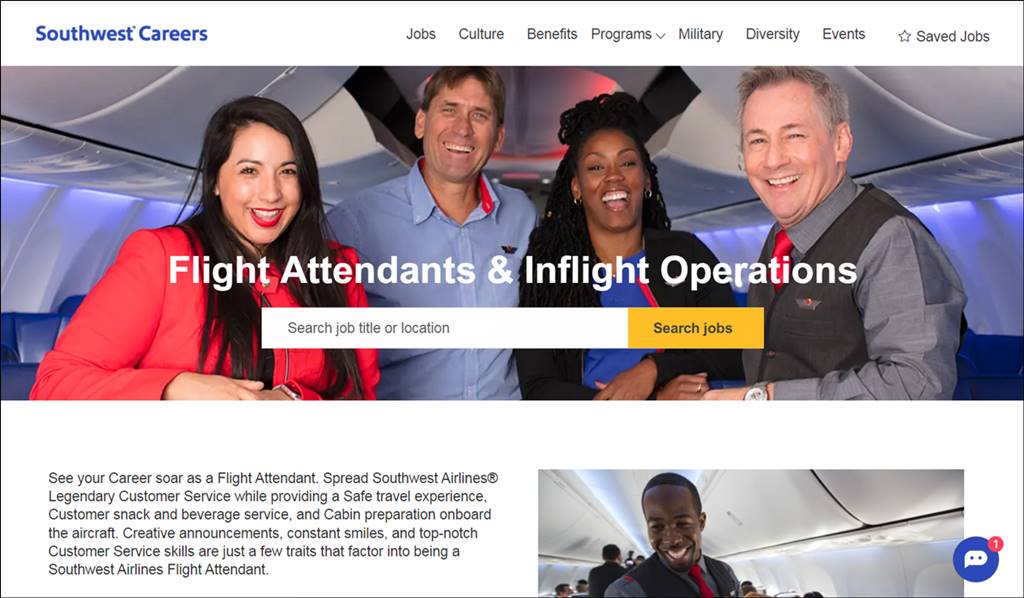 Overview
Southwest Airlines Co. was conceptualized in 1967 by Rollin King and Herb Kelleher in Texas. However, the airline did not start operations until the second quarter of 1971, when they changed their name from Air Southwest Co. to the current name. Currently, they have over 700 aircraft circling the world.
They also have over 54,000 employees. When the pandemic happened, the airline announced that they would be providing extended time-off programs and voluntary separation to their employees. Still, they were also able to provide financial assistance because of the Consolidated Appropriations Act of 2021. They are still currently in service, providing several hundred flights a day worldwide.
Responsibilities
Southwest Airlines flight attendants currently have a variety of uniforms to choose from. Female flight attendants can choose from a charcoal gray skirt with a red stripe and a black one with a red and blue swoosh similar to the plane's design. They can also choose from two types of dresses. In addition, their blouses come in different colors. Male flight attendants can choose among slacks or gray shorts, button-down shirts and polos, and ties and gray dress vests.
Flight attendants should always be accommodating to guests and passengers, whether in-flight or on the ground. Here are the responsibilities of a Southwest Airlines flight attendant:
Should be able to provide top-notch customer service to all guests.
Assist passengers during the boarding process.
Be able to offer a great flight experience.
Assist passengers with departing the plane.
Be able to demonstrate all safety procedures.
Serve drinks and food to all passengers.
Communicate with all cabin crew and pilots about delays.
Assist passengers with their luggage.
Be able to create in-flight incident reports.
Qualifications to Become a Southwest Airlines Cabin Crew
There are a few qualifications for both men and women to be a part of the Southwest Airlines cabin crew. These are all the qualifications in no particular order:
Must at least be 20 or older during the hiring period.
Must be fluent in written and spoken English.
Must be able to lift 50 pounds or heavier and kneel, reach, squat, bend, and stand frequently.
Must be a high school graduate or have a GED.
Must be able to work in the United States legally, according to the Immigration Reform Act of 1986.
Must be able to fly international and domestic routes.
Must be able to have a flexible schedule since flights are 24/7 all year round.
Must pass a drug test and a background check, as well as a medical exam.
Must have perfect vision (20/20) or correctable vision (20/40).
Must be able to meet all of the job's physical requirements, such as reaching overhead bins, standing for an extended period, and such.
Must have a valid and unexpired passport.
Must always have a well-groomed appearance according to appearance standards by Southwest Airlines.
Must have no visible tattoos and facial and body piercings.
Must be fully vaccinated against Covid.
Must have proportional height and weight.
Must have enough physical ability so that performing job functions are not hindered.
Must have the ability to walk the length of the aircraft's aisle comfortably while facing forward.
Must fit through the window exit by the overwing.
Must fit into a jumpseat harness comfortably without the need for modification, including a comfortable closure without an extension for the seatbelt.
Southwest Airlines will also give higher consideration to applicants with the following:
Previous experience in the aviation industry
Has an education beyond high school, such as a college degree.
Has a year or more experience working in the guest care and customer service industry.
Document Requirements to Prepare
Southwest Airlines have document requirements for all applicants, and they must be submitted during the application process for cabin crew positions. Here are all document requirements in no particular order:
A digital copy and a hard copy of your resume
A copy of the (accomplished) application form from the website
A photocopy of the valid and unexpired passport
A passport picture
A photocopy of the highest level of education
Where to Apply for a Job at Southwest Airlines Online
A person interested in becoming part of the Southwest Airlines cabin crew and flight attendant team can visit the Careers page on the Southwest Airlines official website. They must apply only via the website as well. Here's the Link – https://careers.southwestair.com/c/flight-attendants-inflight-operations-jobs
They will see all open positions, the detailed requirements, and how and where to submit the application. They will see countries with openings to check whether there is a location in their country they can go to. Then, they must apply online and wait for an invitation for the physical interview.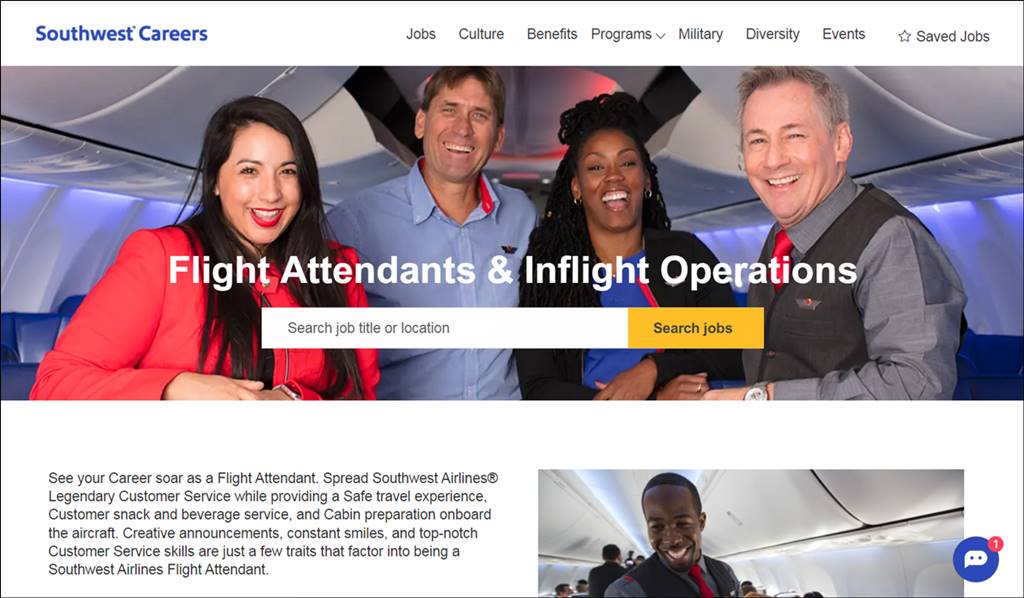 Step-by-step Process Application to Become A Cabin Crew For Southwest Airlines
There is only one way to submit your application for a cabin crew or flight attendant position for Southwest Airlines. Here are the detailed steps on how to apply for a job for the airline:
Check out the Careers page on the official website if there are vacancies here – https://careers.southwestair.com/c/flight-attendants-inflight-operations-jobs
Fill out the application form and submit it with your resume.
Wait for the HR department's email, which you will receive during the first week of your application submission.
If you are shortlisted for the position, you will undergo an online assessment conducted by the airline, where you will be answering several questions regarding your qualifications.
If you pass the online assessment, you will become eligible for a phone screen.
Once you pass the phone screen, you will be invited to a virtual panel interview attended by a recruiter and a current flight attendant.
You will be required to attend several personal interviews at the Southwest Airlines headquarters in Dallas, Texas.
Once you pass all interviews, you will now undergo the Physical Performance Standards Proficiency Assessment.
You will also have to undergo a background check, a drug test, and a medical exam.
Once you have submitted all required documents and passed all exams and interviews, you will have to attend initial training for a month in Dallas, Texas.
If you have difficulty accessing the website due to a disability, you may email Southwest Airlines' Accommodations Team at accommodations@wnco.com. Alternatively, you can give them a call at 877-792-4792.
Here's a photo as shared on the official Instagram account of Southwest Air featuring a family of flight attendants working together and during this instance, they were all in the same flight:
Monthly Salary Of A Southwest Airlines Flight Attendant
Flight attendants at Southwest Airlines typically earn about $29 per hour. Senior flight attendants can earn up to $78 per hour, depending on their tenure.
Here's a video below that gives you an idea of how much a flight attendant can make in a year and per month.
Based on the statement shared by the flight attendant in the video, you can earn about USD 27,000 per year in a US-based airline or USD 2,250 per month. Take note that this is the basic salary with minimum flying hours. She mentions that this was the lowest she earned during her career because she was still starting as a cabin crew and she flies only Regional Flights plus she had a few months off.
She also mentions that she knows of other cabin crew in the same position where they would earn as much as USD 100,000 per year or USD 8,333 per month.
After all, the salary would depend on the number of hours you get in a month as your flight duty plus your tenure as a cabin crew.
Benefits as a Southwest Airlines Crew
Several benefits come with being a Southwest Airlines flight attendant and cabin crew, and here are those benefits:
Health insurance, including dental, vision, and mental health care
Life Insurance, including accidental death or dismemberment
Supplemental life insurance
Disability insurance
Pet insurance
A flexible spending account and a health savings account
Occupational accident insurance
Health and medical for retirees
A 401K plan
Retirement plan
Employee stock purchase plan
Stock options
Performance bonuses
Equity incentive plan
Maternity and paternity leaves
Family medical emergency leaves
Military leaves
Flexible or reduced working hours
Assistance with adoption
Paid adoption leaves
Parental leaves
Committed partner benefits
Dependent care
Fertility assistance
Vacations and PTOs
Paid holidays
Wellness rewards
Free flights for the employee and their family
Hotel, amusement parks, and rental car discounts
Home and auto insurance
Concierge program
Sick leaves
Bereavement leaves
VTOs
Employee Assistance Program
Mobile phone discounts
Free lunch and/or snacks
Legal assistance
Job training
Diversity programs
Apprenticeships and professional development programs
Tuition assistance
Video: Pros and Cons of Being a Flight Attendant
In this video, a former flight attendant vlogs about her experiences as a cabin crew member, and she discusses the pros and cons of being one. She also talks about how it is a tiring but positive experience with her former profession and about a few things not outlined in this article. We hope that this video helps you in your quest to become a Southwest Airlines flight attendant.
The PROS of being a flight attendant
You get paid to travel.
You get to stay in nice hotels.
You get to experience different cultures.
The spontaneous lifestyle is exciting. You do not know where you will be going next, and it is an exciting experience to find out where your next flight will be.
You get special treatment at airports. You get to pack more than 100mL of any liquid, including your perfumes and toiletries.
You get a lot of discounts at different locations by just showing your identification card as a flight attendant.
You get to work with different people. Each flight will have a different set of cabin crew members, and you will not know who you will be flying with until you board the airplane.
The CONS of being a flight attendant
The pay is not so good, although the airline will be paying you a per diem allowance.
Not knowing where you will be going can also be stressful. Some locations can be downright boring, and most of your time will be spent on the plane.
Being on call. You might be woken up at odd hours by a phone call saying that you have to be at the airport in two hours. You would have to be living out of a suitcase so that you can get to the airport immediately.
There are times you won't be able to attend family occasions since your days off might not be granted.
Training can be pretty rigorous. If you fail for the first two times for any exam, you might not be able to pass, even if you are almost at the end of your training.
She also talks about having a different goal in life that made her want to stop being a flight attendant. However, she acknowledges that there are people out there who would like to be flight attendants for the rest of their life until their retirement, but she did not want to be part of the lifestyle that came with the profession.
She also talks about the drama that goes on with the cabin crew and the pilots, including a lot of gossiping. She also says that despite the drama, it was an enjoyable experience becoming a flight attendant. She encourages flight attendant aspirants to brush up on their research to know what they will be getting into.
Ultimately, she says that being a flight attendant is a serious commitment, and it can change your life in so many ways, both negatively and positively. If you genuinely want to be a flight attendant, make sure that you can commit to the profession and the lifestyle that goes along with it.
Video: A Day in the Life of a Flight Attendant of Southwest Airlines
Here is a video uploaded on the official YouTube channel of the airline company to give you a better idea what to expect if you become one of their team. Learn what it's like to work as a flight attendant for Southwest Airlines. Follow one of the crews, Chris, through a typical day in the life of a flight attendant. Here's the video below:
Frequently Asked Questions
Below are some common questions and answers about the job and applying to become a flight steward/stewardesses for Southwest Airlines:
1. If I do not pass my first application, can I reapply immediately?
If you were not selected for a cabin crew position, you must wait 12 months from your last interview.
2. How long will I wait to hear back from the HR department upon submitting my resume?
An email will be sent to you in the first week of application submission confirmation.
3. How long will the probation period be for new hires?
The probation period will be six months from your graduation from the Initial Flight Attendant training. Your supervisors and base leadership will support you, and you must pass your probation period.
4. If I live in Dallas, am I required to stay at the assigned hotel?
All trainees are required to stay at the designated hotel for the training course duration, including the weekends.
5. Do I get a salary for training?
No, but you will receive an Initial Training Pay worth $1200 within five working days from your graduation. You will also receive a pre-paid Visa card for your meal stipend, amounting to $425.
6. What grade do I need to have to pass training?
A: You must reach 90% or higher on each exam. You would also have to perform well on all skill and proficiency checks.
7. Do I need to pay for my uniforms?
Yes, but it will be deducted from your payroll twice a month, in increments of $25. The uniform costs about $500, and each year, you will receive $220 to purchase uniform pieces to add to your current closet.
8. Once I am done with training, where will I be based?
There are flight attendant bases in several states, including Atlanta, Baltimore, Chicago, Dallas, Denver, Houston, Las Vegas, Los Angeles, Orlando, Oakland, and Phoenix. You will be assigned to a base during your initial training.
9. What challenges will I encounter being a Southwest Airlines flight attendant?
You will have to undergo a lifestyle change since your work schedule can be pretty hectic during your first few months. You may not be able to have your preferred day off. You will be spending an average of 100 nights per year in various parts of the world, especially during layovers. You have to have a flexible schedule and a positive attitude to be a successful Southwest Airlines flight attendant.
10. What are the perks of being a Southwest Airlines flight attendant?
You are considered an Ambassador for the airline. You will have all the benefits of being an employee of Southwest Airlines, and you will get to travel the world. Additionally, you will get to travel for free along with your registered family members to any location in the world. Along with flying free, you will receive massive discounts on hotels and car rentals, as well as amusement parks. Furthermore, you get to have special treatment at any airport in the world, as long as you show your flight attendant badge. Lastly, you get to have several insurances, even after you retire. Southwest Airlines takes care of all its employees, and you will receive the same care if you become part of the family.
Summary
Southwest Airlines has prided itself on providing quality service to all its employees and guests. The airline maintains a fun-loving attitude and a great environment to be enjoyed by all. Flight attendants and cabin crew members are highly encouraged to have a positive attitude and a smile on their faces so that passengers will feel at ease while traveling. It is a great company to work for because of the competitive pay and all the benefits.
Being a flight attendant at Southwest Airlines will have you traveling the world, flying to locations you have never been to before, and living the suitcase lifestyle. If you love traveling and being a nomad, the flight attendant profession is for you by all means. So look for an opening on the Southwest Airlines official website, put in your application, and wait for the email that will change your life.
Contact Information
Address: Southwest Airlines Corporate Office, 2702 Love Field Dr, Dallas, TX, 75235, USA
Telephone Number: 1-800-I-FLY-SWA (1-800-4-359-792)
Website: https://www.southwest.com/
Facebook: https://www.facebook.com/SouthwestAir
Instagram: @southwestair
Twitter: @southwestair