United Airlines is looking for highly motivated individuals to join its flight attendant team. Flight attendants are responsible for ensuring the safety and comfort of passengers while in the air. These duties include greeting passengers, boarding passes, assisting with seat assignments, serving meals and beverages, providing safety briefings, monitoring the cabin environment, and assisting with deplaning. Aside from these responsibilities, flight attendants must also be able to handle emergency situations in a calm and professional manner.
Also read: United Flight Attendant Requirements and Qualifications
United Airlines offers competitive wages, benefits packages, and opportunities for advancement within our organization. Flight attendant training programs are offered on-site with a comprehensive education in safety and customer service, as well as training that focuses on specific areas such as international regulations and cultural sensitivity.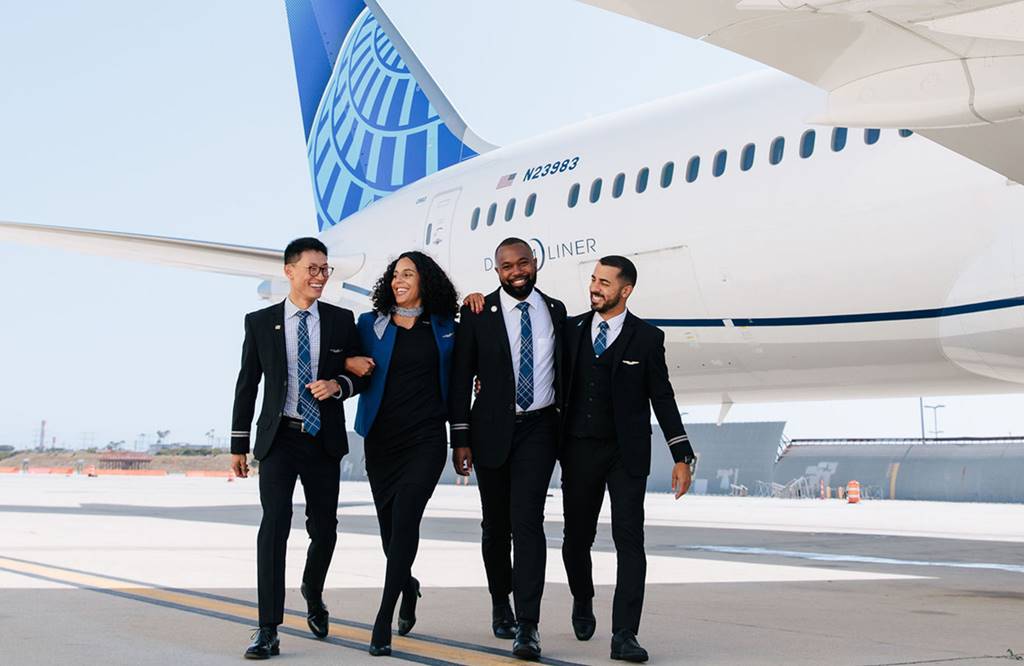 Overview
United Airlines, Inc., or United, is an airline founded in 1931 by Walter Varney. Since then, the airline has been in operation, and it has been routing domestic and international flights to over 350 destinations worldwide.
They have a little less than 900 aircraft making flights to six continents, and most of these aircraft are Boeings and Airbuses. As of 2019, United has over 93,000 employees, and the number continues to grow.
However, to reduce costs for the following years, the airline has decided to offer its employees voluntary leave options. They also announced that they would be employing pilots that are people of color and/or female.
Responsibilities
United Airlines flight attendants and cabin crew members are distinguished by their clean and distinct uniforms. Female flight attendants can choose from a dark blue dress with black lines or a black skirt with white stripes and a blue scarf around the neck. Male flight attendants can wear a white long-sleeved shirt with a black vest over it and black slacks.
United Airlines has one of the most flexible policies when it comes to uniforms, but there are a few things that all flight attendants and cabin crew members must have: a pleasant smile and a sunny disposition.
They have a set of in-flight and on-ground responsibilities, which are the following:
Must provide top-notch quality customer service to all passengers and guests, whether in-flight or on the ground.
Must be able to assist passengers who are experiencing delays or cancellations.
Must be able to read, interpret, demonstrate, and provide required safety procedures to passengers.
Must communicate and employ compliance with the safety and security procedures and rules designated by the company and the government.
Must manage the crew and the guests during any event in-flight, including security threats, medical emergencies, and several situations that may endanger any person on the flight.
Must be able to oversee the cabin and ensure that cockpit access is prevented to any unauthorized personnel.
Must provide direction, assistance, and leadership to all guests and cabin crew members in emergency or evacuation situations.
Must serve food and beverage as requested.
Must assist passengers with carry-on baggage stowing.
Must maintain the cleanliness of the cabin, including picking up trash and keeping the lavatories tidy at all times.
Must be able to provide medical assistance, including CPR, to any passenger who might need it.
Must operate safety equipment and other mechanical equipment such as aircraft doors, fire extinguishers, galley equipment, oxygen systems, life rafts, evacuation slides, communication equipment, audio-visual equipment, and lighting systems.
Must be able to handle credit transactions for audio equipment, liquor, and other financial matters.
Must know how to use computers, especially navigating Windows, data retrieval, and data entry.
Must interact professionally with everyone.
Must work with a team to provide services that meet the airline's standards.
Must take the initiative for responsibility and has accountability.
Must have interpersonal skills, good judgment, and the ability to resolve conflicts calmly.
Must present a professional image and a well-groomed appearance at all times.
Must be punctual and has reliable attendance.
Must be able to speak in a clear manner, with a voice that can be heard clearly in an emergency
Must have good hearing.
Must carry out strenuous physical activities such as standing for an extended period, walking, kneeling, reaching, stretching, stooping, lifting, and bending.
Qualifications
United Airlines has a few qualifications for aspiring male and female flight attendants. Here are the qualifications in no particular order:
All applicants must be at least 21 years of age during the recruitment period.
Height must be 5'2″ to 6″.
Weight should be proportional to height.
Must have perfect vision (20/20) or correctable vision (20/30) by glasses or contacts.
Must be a US citizen or an alien that can legally work in the US.
Must be at least a high school graduate or have a GED. Applicants with higher education and experience in customer service are highly considered.
Has the capability to do highly physical tasks.
Having a ten-year work history is a plus.
Must pass background checks and drug tests.
Must have a valid passport that is valid 30 months prior to its expiration.
Must be fluent in spoken and written English.
Applicants must be able to fly domestic and international flights.
Must have a flexible schedule since there are flights 24 hours a day, seven days a week, all year round.
Must meet all physical requirements such as reaching overhead bins, standing for an extended period, and carrying bags that are more than 50 lbs.
Must pass a medical exam with hearing and vision tests.
Must be physically fit.
Must have the ability to swim 50 meters.
Must have a pleasant personality.
Must have no visible piercings other than on the ears and no visible tattoos.
If an applicant has any of these, they are automatically given a preferred status:
College degree or higher educational attainment.
Experience in customer service and hospitality for more than two years.
Knows how to speak a second language (bi-lingual).
Document Requirements to Prepare
Before an applicant submits their application to become a flight attendant or a cabin crew member, they must possess these documents. They must be able to submit them within the recruitment period. When the recruiter asks for a copy, the applicant must be able to submit these documents immediately:
An accomplished application form.
Most recent resume in English.
An unexpired and valid passport.
A passport photo.
Copy of the highest educational attainment.
Where to Apply for a Job At United Airlines Online
There are two ways that a person can apply to become a flight attendant or cabin crew member for United Airlines: They can either submit their application online or go to a Cabin Crew Recruitment Day.
On the Careers page on the United Airlines official website, applicants will see all vacant positions and the requirements. The link to the careers page is located here – https://careers.united.com/job-search-results/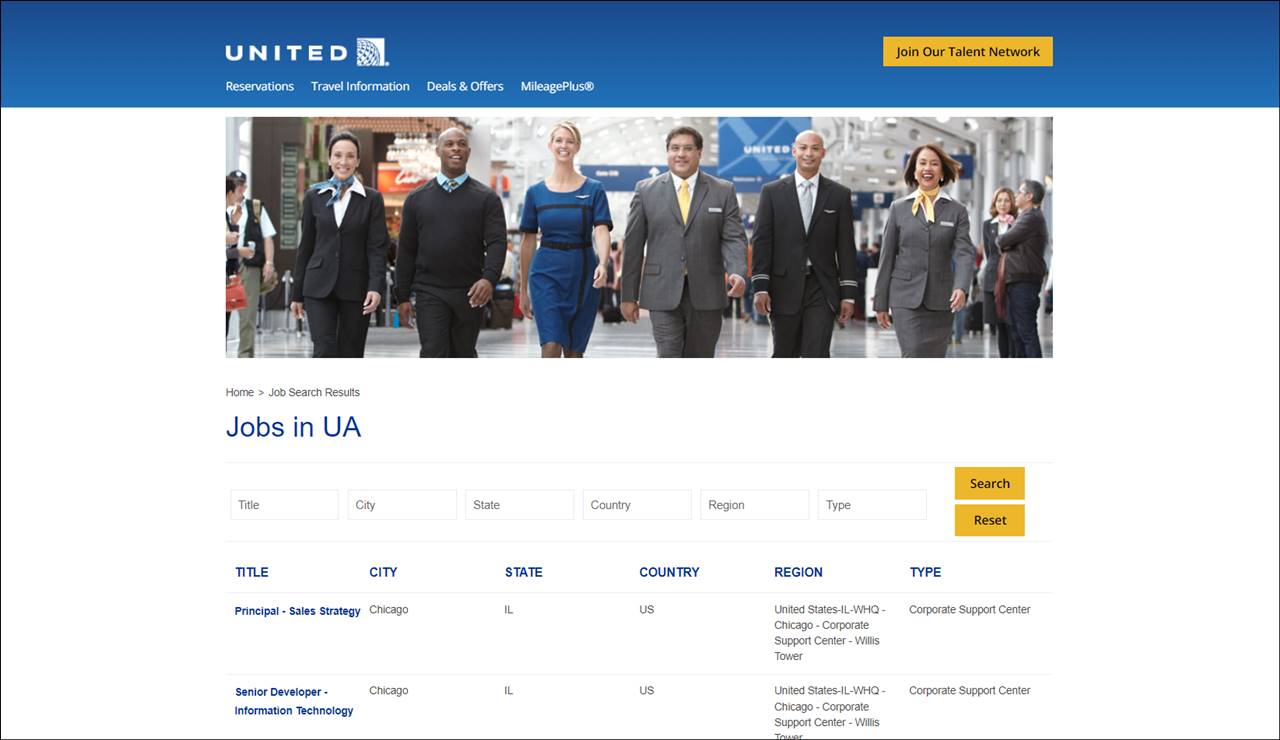 Then, they will need to fill out an application form and submit their resume. A Recruitment Day is a mass hiring event where anyone can submit their application and resume. There is also an Assessment Day, which is similar to a Recruitment Day. However, it is like a preliminary screening of all applicants.
If you impress the recruiters, you might be allowed to move on to the next stage of your application. If you fail, you would have to wait for several months to re-apply.
Step-by-step Process Application to Become A Cabin Crew For United Airlines
YYou can apply through the following processes for United Airlines:
Online Application
Step 1: Visit the official website of United Airlines.
Step 2: Go to the Careers page.
Step 3: Look for an opening for a cabin crew member or flight attendant.
Step 4: Fill out the application form and submit your resume.
Step 5: Wait for the email confirmation.
Step 6: Wait for someone to invite you to an interview.
Step 7: If you pass the initial interview, you will be invited to undergo a series of skill tests, personality tests, and presentations to demonstrate your ability to do the job.
Step 8: Once you pass all the assessments, you will undergo a background check, a medical exam, and a drug test.
Step 9: Once you pass the preliminary tests, you will be invited for an 8-week training.
Step 10: Once you pass training, you will now be onboarded as a probationary employee, which will last for six months.
Assessment Day
Step 1: Dress smart.
Step 2: Bring all necessary documents, such as your resume, passport, and cover letter.
Step 3: Proceed to the assessment location early.
Step 4: Communicate with other applicants and with the staff present.
Step 5: Conduct yourself as if the recruiters are always watching you.
Step 6: Run through potential interview questions and formulate your answers.
Step 7: Answer all questions clearly and concisely.
Step 8: Wait for you to be addressed by a recruiter.
Step 9: Ask when you will be hearing from them again regarding your application.
Recruitment Day/CV Drop/Open Day
Step 1: Prepare your resume and application form.
Step 2: Dress in casual business attire.
Step 3: You will be engaging in activities with the other applicants to gauge your capacity to act as a flight attendant or cabin crew member.
Step 4: There will be discussions and group assessments in which you have to participate in.
Step 5: There will also be a reach test conducted at the Recruitment Day sit.
Step 6: There will be one-on-one interviews as well.
Step 7: There will be a panel interview attended by a current flight attendant of United Airlines and a recruiter.
Monthly Salary of a United Airlines Flight Attendant
A United Airlines flight attendant typically earns around $23 to $28 an hour, depending on their tenure. After the first six months, the pay is usually increased. Senior flight attendants who have been with the airline for over five years are reported to receive around $40 an hour. Flight attendants in the top 10% receive over $60 an hour. However, several benefits go along with the pay, which more than makes up for the stressful work and the long hours. Here are some of the benefits that United Airlines offer to their employees:
A 401K retirement plan
Medical insurance, including vision, disability, and dental (The plan encompasses the employee and their dependents, such as their spouse and children. For unmarried employees, they could enrol their parents and siblings as dependents)
Pension plan
Employee stock purchase plan
Paid time off
Life insurance
A lot of travel opportunities
Discounts for employees and their families
Flexible work hours
Bonuses for productivity and attendance
Permanent contracts
Credit unions
Post-employment training
Development opportunities
Video: Flight Attendant Training at United
A United Airlines flight attendant trainee vlogs about her experience during the first week of training. She talks about how nervous she was for the first few hours upon boarding the plane bound to the designated training site in Texas, but being around people with sunny personalities allowed her to relax and enjoy the environment that she will be experiencing for the next eight weeks. Check out the video below:
She gives us a peek at how the training goes, such as her tasks, what she wore, and who she worked with during training. Here are some things that we learned about what happens during the first week of flight attendant training conducted by United Airlines.
There will be a lot of meetings with directors, current flight attendants, and several other employees of United Airlines.
They got assigned to their preferred bases, which means that you can tell the trainers where you prefer to be assigned.
New training classes come in every week, but not everyone passes the training.
They give several presentations individually and in a group so that trainers can gauge their communication skills and ability to present themselves in front of a group of people.
Some training days are spent inside a classroom, and it can be a bit dull to listen to and retain information from a Powerpoint for an entire day.
Video: A Day in the Life at United
Here's a cool video shared in the official YouTube channel of United where you can get a glimpse of a day in the life of an employee for this airlines:
Photos: United Air Cabin Crew in Uniform
Check out these pictures of United Air flight attendants in uniform so you can get an idea what it's like to work for this company if you apply for a position here:
Frequently Asked Questions
Now, here are the frequently asked questions about United Airlines and the application process for the company's flight attendants:
1. Am I going to be paid during training?
You will be given $140 per week to cover your other expenses, along with complimentary hotel accommodations, breakfast, and lunch. When you complete your training, you will be given a one-time bonus of $1000.
2. What does a reserve flight attendant do?
A reserve flight attendant is a newbie, and you will be given less than 72 hours of flight time per month, and you will have to cover irregular shifts, such as flights on holidays, evenings, and weekends.
3. I heard that United Airlines has a more relaxed policy on tattoos, piercings, and nail polish. What are my limitations?
Your tattoos must not exceed the size of your badge. Tattoos that a sleeve or your clothes can cover are allowed. However, tattoos that cover a large and visible part of your skin might be a cause for disqualification, especially if you are applying for a customer-facing position such as a flight attendant or cabin crew member.
Two pairs of ear piercings are allowed, but no other facial piercings. You can wear nail polish, but you must not use bold and bright colors such as neon colors. It would help if you also refrained from having too long nails or a manicure with many designs.
4. How long is the application process at United Airlines?
From the moment you submit your application to the moment you graduate from training, it would take around five to eight months, sometimes even longer.
5. I speak three languages fluently. Is that an asset?
United Airlines tags multi-lingual applicants with a "preferred" status. It is a leg up if you know two or more languages since the airline travels worldwide, and you can be an asset if you can communicate in several languages.
6. Do I need to be fully vaccinated to work for United Airlines?
Yes. You would need to be fully vaccinated against Covid-19 to start working since it means that you are taking care of yourself and are concerned about the general welfare of those around you, including guests and your co-workers.
7. I am gay. Can I work as a flight attendant or cabin crew member for United Airlines?
Definitely. The airline has a pretty inclusive policy for members of the LGBTQ community, and they do not discriminate based on gender identity. So you would even be allowed to wear your hair and uniform the way you prefer it, as long as it complies with company standards.
8. Will I have to pay anything during my application for a flight attendant or cabin crew member position?
No. The airline does not ask you to pay for anything to apply. If someone tells you that they are from United Airlines and can help process your application for a small fee, report them to the airline. They will be scamming you out of your money.
9. I have more questions regarding recruitment, and the website does not have the information I need. Where can I get the information, and who do I have to contact?
You can send an email to recruiting@united.com. We will do our best to accommodate your inquiries and provide assistance for your application should you need it.
10. Do I get to pick my flight schedules as a reserve flight attendant?
Unfortunately, for the first few years of employment as a flight attendant, you won't be able to pick your schedule. You would be flying at odd hours, sometimes even on your day off or on the weekend. However, you will be given less than 72 hours worth of flying per month, giving you enough time to adjust to the hectic lifestyle of being a flight attendant for United Airlines.
Summary
When looking for a cabin crew opening, it's best to check the official website of the company where you want to apply. For United Airlines, there are several ways to apply for the position. You can always look on the company's career website and attend the open day or recruitment day. Just remember to bring all the requirements to make sure your application is processed.
Contact Information
United Airlines
Address: Willis Tower, 233 South Wacker Drive, Chicago, Illinois, USA, 60601
Telephone Number: 1-800-864-8331
Website: https://www.united.com
Facebook: https://www.facebook.com/United/
Instagram: https://www.instagram.com/united/
Twitter: https://twitter.com/united