Saudia, also known as Saudi Arabian Airlines, is the national carrier of Saudi Arabia. Established in 1945, it has grown steadily over the decades to become a recognizable name in the aviation industry. The airline operates both domestically and internationally, which helps connect Saudi Arabia to numerous countries and offers services that cater to a variety of travelers. 
Also Read: How to Apply Saudia Airlines Flight Attendant Jobs
It is also known for adopting modern technologies and keeping up-to-date with the latest trends in aviation, providing passengers with good amenities and a comfortable flying experience. In this article, we will delve into various aspects of this airline, including its history, the services it offers, and its work culture. Read on.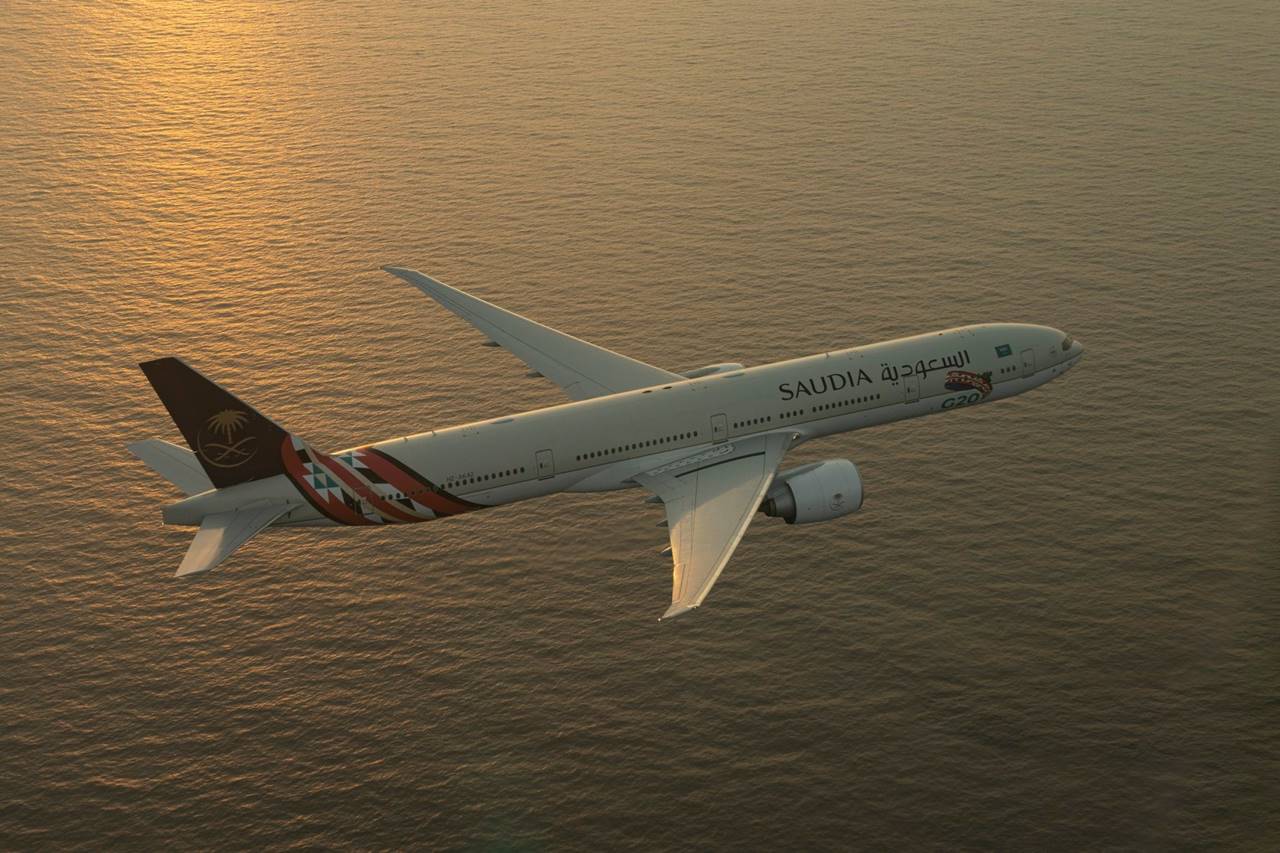 Quick Facts
Airline Name:

Saudia

Airline IATA Code:

SV

Headquarters:

Jeddah

Founded:

September 1945

Number of Destinations:

121

Fleet Size:

156

Fleet Types:

Airbus A320-200, Airbus A321-200, Airbus A321neo, Airbus A321XLR, Airbus A330-300, Boeing 747-400, Boeing 777-300ER, Boeing 787-9, Boeing 787-10, Boeing 747-400BDSF, Boeing 747-400F

Location Hubs/Bases:

King Abdulaziz International Airport (Jeddah), King Fahd International Airport (Dammam, Saudi Arabia), King Khalid International Airport (Riyadh)
Brief History Overview
In 1945, Saudi Arabia's journey into civil aviation began when U.S. President Franklin D. Roosevelt gifted a Douglas DC-3 to King Abdul Aziz Ibn Saud. This paved the way for the establishment of the national airline, Saudia, originally named Saudi Arabian Airlines. The airline started as a government entity managed by TWA (Trans World Airlines) and overseen by the Ministry of Defense.
Fast forward to its current operation, Saudia embarked on a path of technological adaptation, launching a digital solution through a mobile app created by the International Air Transport Association (IATA) in April 2021. This tool was designed to simplify the travel process for passengers. The following year was marked by extensive service expansions to numerous international destinations including Seoul, Beijing, and Barcelona, although the Kyiv route experienced delays due to political unrest. The airline also initiated talks for fleet expansion, considering various state-of-the-art aircraft for acquisition, with plans to own 250 planes by 2030. In March 2023, a significant order for 39 Boeing 787s was placed, indicating Saudia's commitment to growth and modernization.
Products and Services
Flights

– The airline offers flight services to various destinations around the world, including both domestic and international routes. Passengers can expect a comfortable and safe journey, with modern amenities available on board. 

Loyalty Programs

– To reward regular passengers, the airline has established loyalty programs. These programs allow passengers to earn points with every flight booked, which can be redeemed for discounts, upgrades, or even free tickets in the future.

Hotels

– Apart from flight services, the airline facilitates hotel bookings in various locations globally. Passengers can book their preferred accommodation through the airline's official website, getting access to a range of hotels from budget-friendly to luxurious options. 

Cars

– The airline also offers car rental services, assisting passengers in finding and booking rental cars for their trips. This service is available in many cities worldwide, providing convenience in transportation upon reaching the destination. 

Holidays

– To cater to the holidaymakers, the airline has curated holiday packages that include flight and hotel bookings, along with additional amenities to ensure a hassle-free vacation experience.

Umrah Pack

– Specifically designed for individuals planning to undertake the Umrah pilgrimage, this package includes flights, accommodation, and transportation services to facilitate a smooth and spiritual journey. This specialized package aims to cater to the needs and preferences of pilgrims.

Saudia Holidays

– This is a comprehensive service that encompasses all aspects of holiday planning, offering packages that include flights, hotels, and car rentals. It is designed to offer a one-stop solution for holidaymakers.
Work Culture
Working at Saudia offers a chance to enjoy great flight benefits and fun travel experiences. Employees find camaraderie with their fellow crew members and generally feel that the management is approachable and listens to the crew's input. There is room for both professional and personal growth as the company nurtures a supportive work environment. Despite the challenging times, especially during the summer, efforts are made to keep the crew comfortable with amenities like cold drinks and water.
The work environment is very diverse due to a multinational team, which means that no two days are the same, bringing a dynamic and vibrant work culture. However, there is room for improvement in managerial support to further enhance the working conditions. 
Benefits for Employees
Paid sick leave

– Employees can take days off when they are ill without losing their pay. This ensures that everyone can recover properly at home without stressing about a smaller paycheck.

Flight discounts

– Employees have the chance to buy flight tickets at a reduced rate. This benefit can sometimes extend to family members, making travel for personal or leisure reasons more affordable.

Education/training

– The company supports the ongoing education and training of its staff. This benefit helps individuals to build on their current skills and potentially advance in their roles within the company, promoting a culture of growth and development.

Life insurance

– The airline provides life insurance, giving employees peace of mind that their families will have financial support in unforeseen circumstances. This provision is a cornerstone in the support structure provided to the employees, ensuring a safety net in critical times.

Company pension plan

– Employees are enrolled in a pension plan that ensures they are saving for their retirement. This long-term benefit aids in securing a financially stable future, safeguarding employees' retirement period.

Paid housing

– The company takes care of the housing needs of its employees, providing them with accommodations at no cost. This not only aids in saving money but also ensures a comfortable living situation, enhancing the overall well-being of the employees.
Video: FLYING SAUDIA AIRLINES – ARE THEY A GOOD AIRLINE?
In this video, you can see a review of Saudia Airlines. The vlogger made a past and present review as he embarked on a journey with the company's business class service. He showcases how the airline made a lot of improvements to be able to serve its passengers with better services. 
Summary
Saudia has established itself as a notable player in the Middle East aviation industry, with a rich history and a variety of services catering to different customer needs. The work culture at the airline promotes personal and professional growth, complemented by an array of benefits for its employees. We hope this overview offers a clear insight and aids you in finding the information you are seeking.
Contact Information
Company Name: Saudia
Address: Al-Rawdah Street Al-Khaldiah Dist, Saudia City Jeddah, 23421 Saudi Arabia
Telephone No.: +966 920022222
Website: https://www.saudia.com/
Facebook: https://www.facebook.com/SaudiArabianAirlines
Instagram: https://www.instagram.com/saudi_airlines/
Twitter: https://twitter.com/saudi_airlines