Those who are planning to work as a flight attendant for Vueling must meet certain requirements. First, they must be at least 18 years of age. Second, they must have a high school diploma or equivalent. Third, they must be able to speak, read, and write another European language is an advantage. Fourth, they must have a valid passport. Fifth, they must be able to pass a background check. Finally, they must be able to attend training in Spain. Those who meet all of these requirements will be well-prepared to begin their career as a Vueling flight attendant.
Vueling is based in Barcelona, Spain. The airline started its operations in 2004, with two Airbus A320 aircraft, four routes, and a commitment to provide exceptional service. Vueling connects El Prat airport to approximately 160 destinations. It is the principal first carrier at many Spanish airports, including those in Asturias, Bilbao, Menorca, and Galicia.
Also Read: 9-Day Trip to Greece: Athens, Santorini, and Milos
Vueling Airlines, the largest low-cost airline in Spain is looking for young, talented, and dynamic people to join their expanding cabin crew team. If you have what it takes to work with Vueling Airlines, you should apply for the position and see what they are looking for below.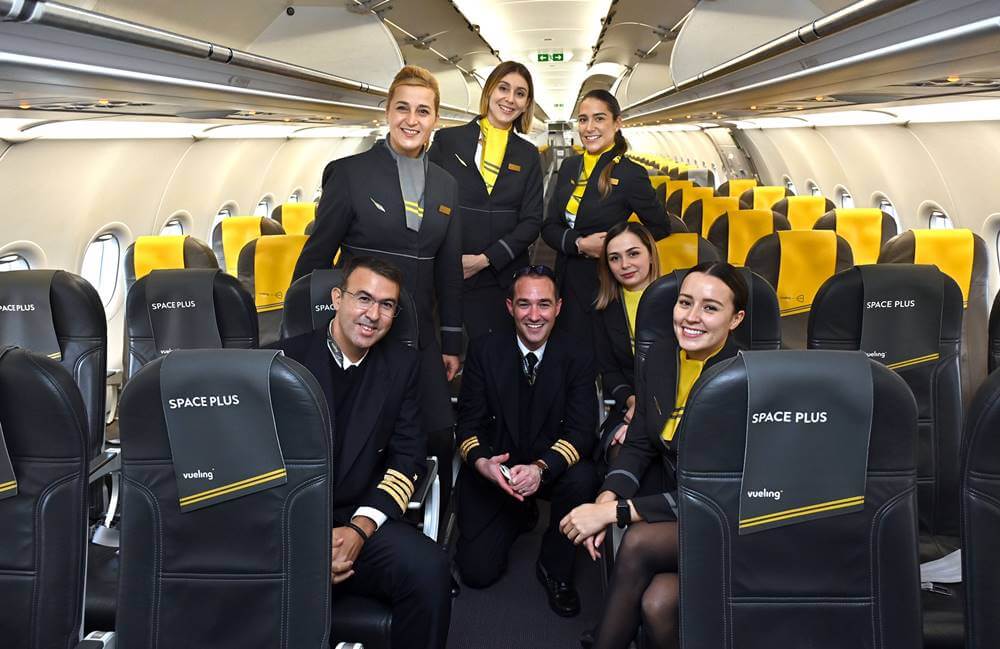 List of Requirements and Qualifications to Become a Vueling Airline Cabin Crew
Must be at least 18 years old.
Must be at least 5'2 in height.
A high school level of education is required (or equivalent)
You must be permitted to work in Europe legally.
Working Permit in Europe
Fluency in English is required, and other European languages are preferred (French, German, Italian, Spanish)
A valid EASA Class 2 Cabin Crew medical certificate is required.
Well-groomed
Outstanding Customer Service
No criminal record.
Availability to work at any Spanish base.
Flexible
Note: Candidates participating in the Vueling selection process within the last 6 months are not eligible to apply.
Responsibilities
Understand and apply standard operating procedures, safety regulations, and teamwork.
You must be able to think critically. This can be shown in problem-solving attitudes and decision-making.
You must ensure passenger safety and maintain control during the journey.
You must be a team player, a self-manager, and a learner.
You must have a good attitude.
When things go wrong, you should be able to stay cheerful and calm.
You must be an outstanding communicator.
Documents
Prepare all these documents and make copies if possible. You may be asked to submit a hard copy of these requirements. Avoid supplying incomplete requirements as it can reject your application.
Valid Passport
Birth certificate
High school diploma
Medical Certificate
Updated dental and medical records
Updated criminal record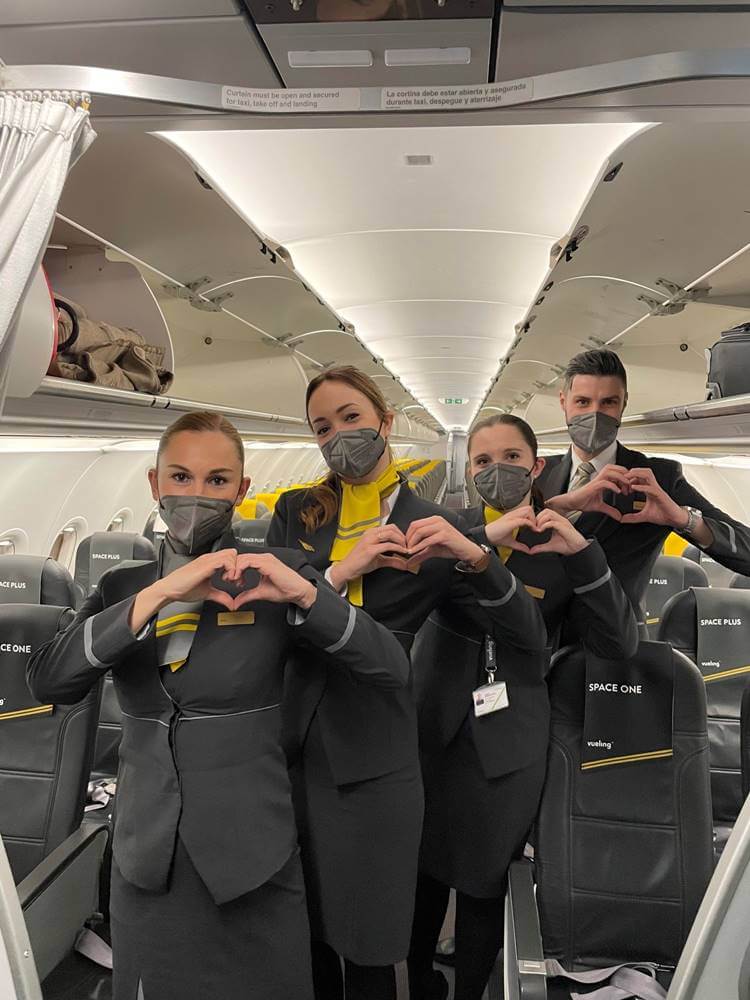 Application Process
Step 1: Visit their careers page. You can go here: https://careers.vueling.com/
Click on the "Connect" button, and you'll be taken to a new page where you can find questions about your desired position inside their fleet. Provide your email so they can send your notifications in the future.
Step 2: You will be redirected to your own dashboard. Look for an open position that interests you. They'll provide you with a selection of jobs to choose from once you've been routed.
Step 3: Apply for the position. Fill out an online application form to apply for a Cabin Crew position with Vueling Airlines. After you submit your form, a member of the recruitment team will go through it and contact you if you're chosen to be shortlisted for an interview. The interview procedure will determine whether you have the necessary abilities and personality to succeed as Cabin Crew.
Step 4: If you are successful in your interview, they will invite you to a training session to prepare you for your new job.
Step 5: You need to pass the training in order to officially become a Vueling Flight Attendant.
Salary and Benefits
Vueling Airlines can provide enough money for its employees to live well. New flight attendants can earn $1500 per month. This can increase based on the length of your service, so continue to provide exceptional service to your clients while climbing the ranks.
Travel discounts.
Flexible meals
Daycare
Transportation
Training
Medical Insurance.
Sports
Lifestyle
Technology Discounts
Cafeteria for employees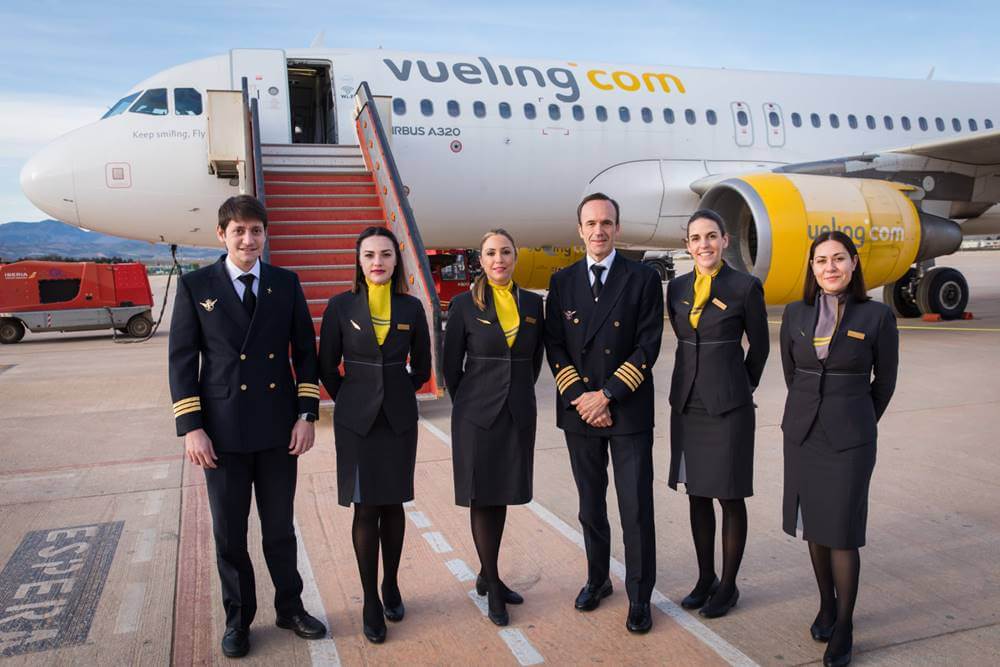 Video: Vueling Airlines A320 | Economy Class Review
This 9-minute vlog review talks about how it feels to be in Spain's largest low-cost airline – Vueling. This guy took the A320 flight from Rome to Paris.
He stated that Vueling tends to be a very simple airline, but it can provide a very comfortable experience. He added that the priority check-in and boarding made her trip really great.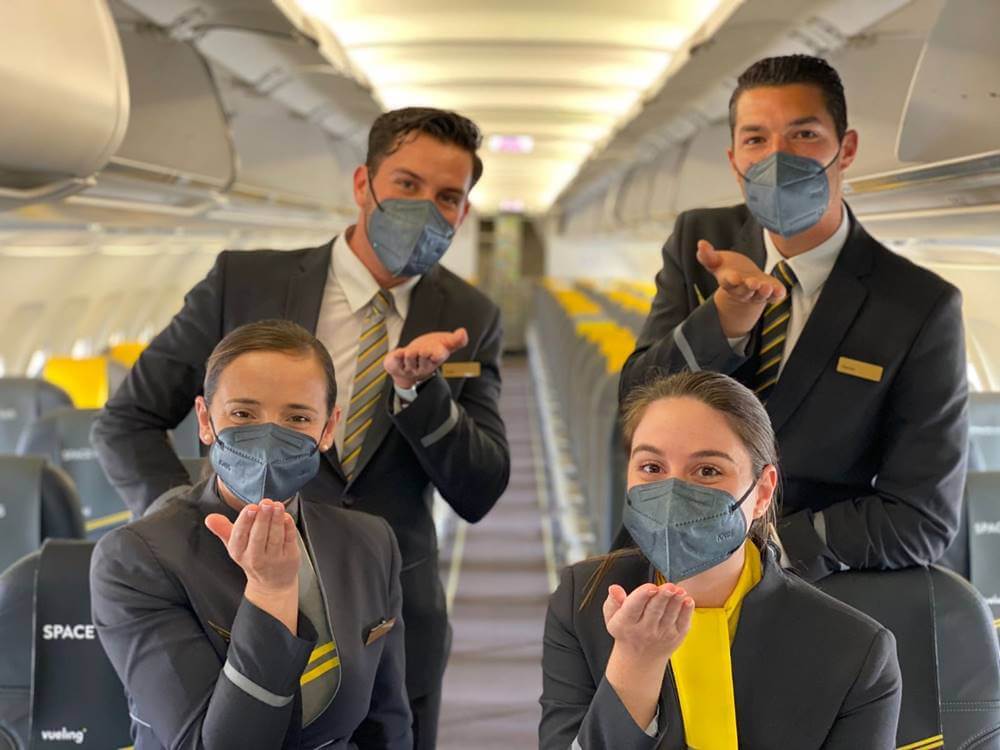 Photos: Vueling Aviation Airlines Cabin Crew Uniforms
Check out these pictures of Vueling crew so you can see what they look like in uniforms:
Frequently Asked Questions
The following are some of the common questions asked about Vueling:
1. How much does a Vueling Airlines flight attendant earn?
Flight attendants at Vueling are paid a base salary of $1500 per month. This is just a starting rate, if you have a good performance and will go a long way in service, you'll definitely get an increase. You don't have to wait for long years.
2. Does Vueling gives a salary increase for tenure cabin crews?
Yes, for sure! Your length of service will be the basis. Some airlines immediately give salary increases after a year of service.
3. I'm fluent in English, but I'm not good at Italian and Spanish, can I still apply as a cabin crew?
For Vueling's aspiring flight attendants, fluency in English is one of the basic requirements required. But if you know how to speak other languages such as French, German, Italian, and of course Spanish, you will be preferred by the airline.
4. Does Vueling conduct a background check?
Yes, and even other airlines include this in their basic requirements.
5. What is the the height requirement for Vueling's FA?
You must be at least 5'2 in height.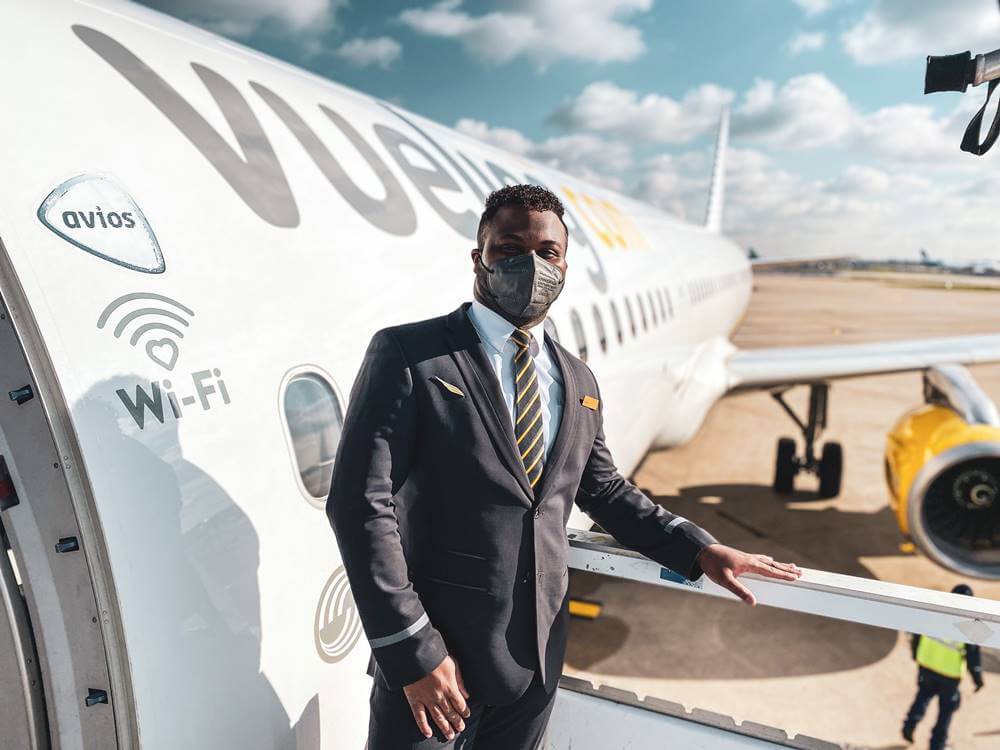 Summary
Good customer service at a low cost and the largest airline in Spain – this is how people describe Vueling Airlines. The said airline is also a member of International Airlines Group (IAG) which also includes British Airways, Level, Iberia, and Aer Lingus.
IAG carried nearly 100 million passengers last year, making it one of the world's largest airline groups. No wonder why Vueling is one of the successful airlines, to think of that it just started in 2004. By number of destinations and fleet size, it is Spain's largest airline. So if you want to be one of their proud FAs, make sure you have all the qualities and requirements to get the job. Work on it, follow the right procedure for a successful application.