If you plan to apply as a flight attendant for Wamos Air, there are a few requirements you will need to meet. First, you must be at least 18 years of age and have a high school diploma or equivalent. You will also need to have a valid passport and be able to pass a background check. In addition, you must be fluent in English and Spanish. If you meet all of these requirements, then you can begin the application process. The first step is to submit an online application, which will include a resume and cover letter. Once your application has been reviewed, you will be contacted for an interview. If you are successful at the interview, then you will be asked to complete a training program. upon completion of the training program, you will be ready to begin your career as a Wamos flight attendant.
Also Read: How to Answer: Tell Me About Yourself
Wamos Air is Spain's 3rd leading airline for long travel, providing aviation services to 87 countries in 217 airports worldwide. Moreover, they operate on customized flights such as charter and wet lease, benefiting not only leisure travels but also military and humanitarian-related works. Wamos Air is also known for its dedication and commitment to reducing carbon footprints through its strategic participation in OBSA.
As Wamos Air has already stated, all these company's progress will not be feasible without the help of their flight attendants and other cabin crews. On the other hand, since Wamos deals with various clients from different backgrounds, their flight attendants are obliged to exceed the customer service expectations. This means that during the recruitment process, they meticulously select candidates who are truly fit for this job position.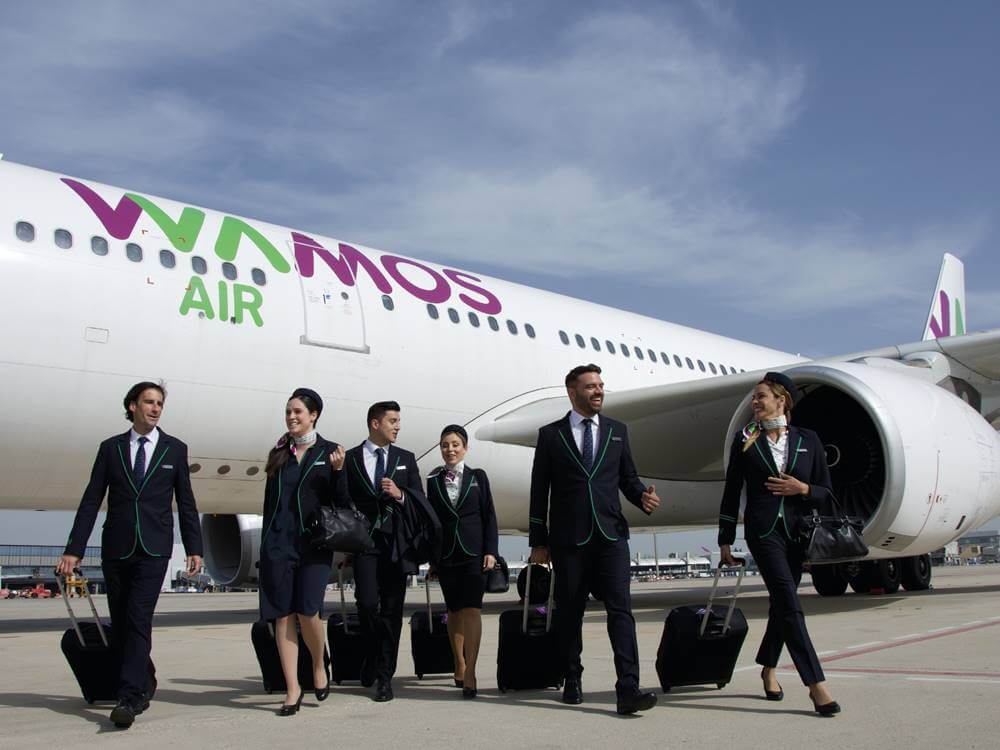 List of Requirements and Qualifications to Become a Wamos Air Flight Attendant
Wamos Air is looking for zestful individuals who have a genuine character to serve other people. Most importantly, aspiring flight attendants must also have the passion to travel and seek new possibilities which will also enrich their personal and career life. Furthermore, they accept applicants who do not have an in-flight job experience as long as they are qualified, especially on the ones listed below:
At least 18 years of age
At least a high school graduate
Excellent swimming skills and ability to pass the swimming test
Ability to submit an Aeronautical medical certificate with a class CC
Proficiency in English and Spanish for both verbal and written forms
Has a permanent residency or is a national of any country that is a member of the European Union
No visible tattoos or multiple piercings
Ability to pass a clean criminal record
Authorization to reside and work in Europe and all routes and destinations served by Wamos Air without restrictions
Professional demeanour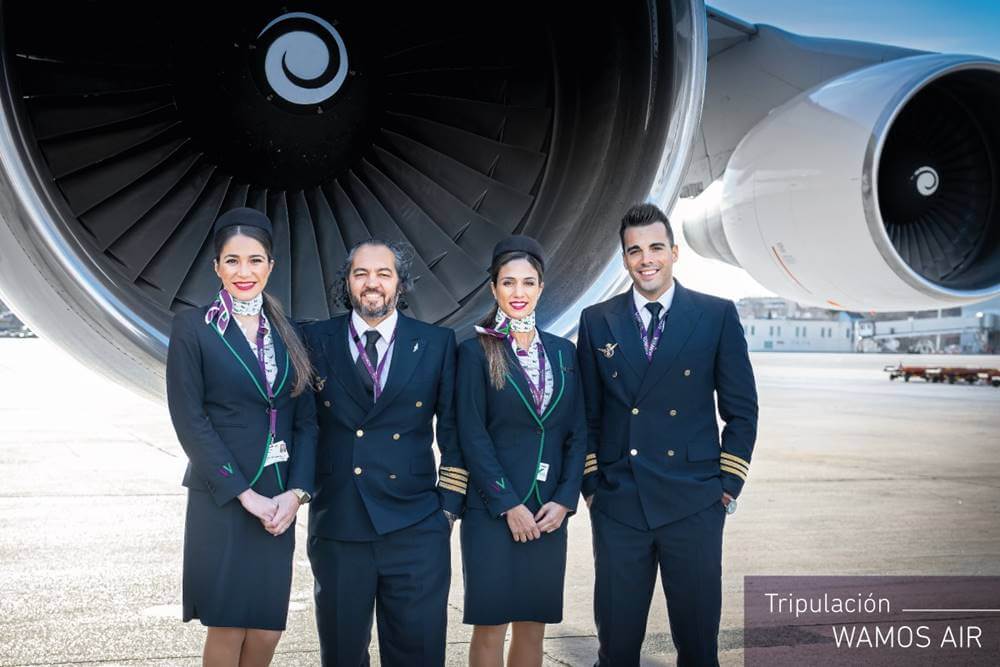 Application Process
Here is an overview of the application process in this airline:
Step 1: Prepare all the necessary documents
Prior to the application, you must prepare all the documents such as the diploma, certifications, passport, and resume. It is also better if you first assess yourself if you qualify in all of their other requirements aside from the skills such as visible tattoos, piercings, or your availability to work on flexible schedules
Step 2: Submit your application
Visit their official website here to receive updates – https://www.wamosairfleet.com/
You can also contact them directly at their landline number: +34914188760
Once the job position is already available, you can submit the documents you have prepared such as your CV or resume.
Step 3: Prepare for a series of interview
Selected individuals who passed the initial assessment will have to be evaluated by the recruiting team in various interviews. They will assess your skills and qualifications to determine if you are truly fit for the job offer.
Step 4: Pass the Medical Assessments
Wamos Air requires applicants to pass all medical assessments including the submission of an Aeronautical medical certificate. This will ensure that flight attendants are physically and mentally fit to manage all the duties and responsibilities to be assigned on board.
Step 5: Complete the Wamos Air flight attendant training program
Most importantly, before officially becoming a flight attendant, you must participate in and complete the 4 to 5 weeks of the training program. This will equip you with the knowledge and skills such as survival practices, first, aid, and communication skills.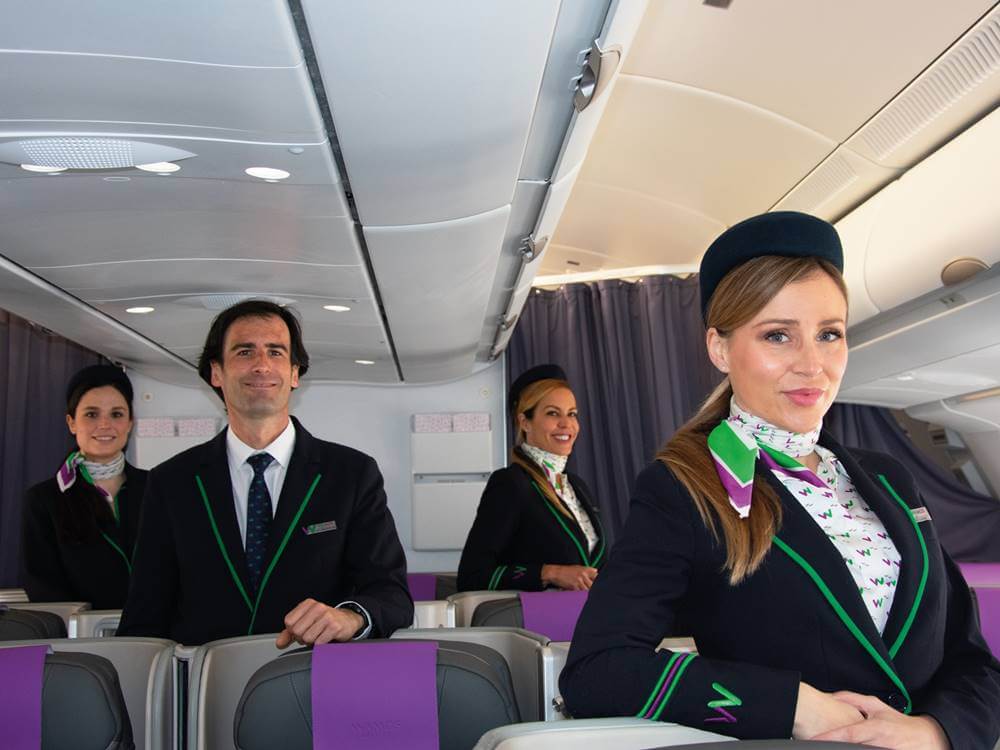 Salary & Benefits
 €1,354 per month
Salary increases depending on experience and seniority in Finnair
Overtime pay
Medical Insurance
Also Read: 15 Cabin Crew Career Progression Paths for Flight Attendants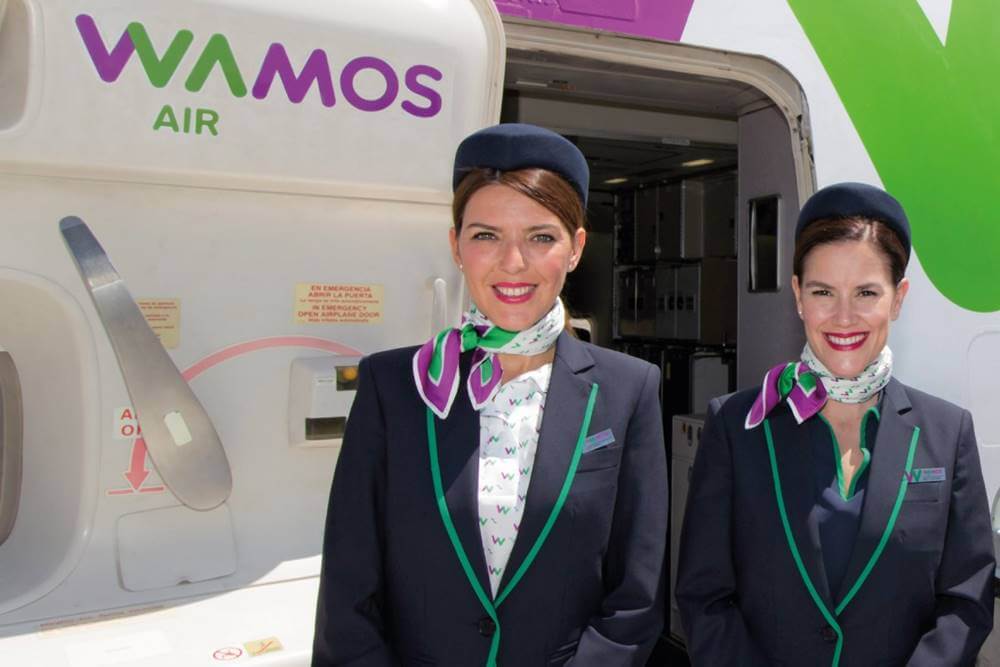 Video: Services Provided by Wamos Air During Their 15 Years of In-Flight Experience
Humans can't fly but planes can take you to wherever you want to be. Watch this short clip of how Wamos Air has provided excellent aviation service around the globe all throughout its 15 years.
They accommodated sports events just like the 500 participants from Beijing flown by Wamos to the 2008 Olympics. Also, they helped thousands of football fans to attend the league finals. Aside from leisure events, they took part in several humanitarian works, evacuating diasporic individuals and refugees.
Aviation does not only literally mean flying from one destination to the other. It also metaphorically represents how dreams, opportunities, and life-changing events can be achieved and how Wamos Air can assist customers with that accomplishment.
Photos: Wamos Air Cabin Crew Uniforms
Check out these pictures of Wamos Airline crew so you can see what they look like in uniforms:
Frequently Asked Questions
The following are some of the common questions asked about Wamos Air:
1. What languages should I learn when applying as a flight attendant in Wamos Air?
Since Wamos Air is based in Madrid Spain, they require all flight attendant applicants to speak fluently in both English and Spanish. Moreover, Multilingual candidates have an advantage.
2. What kinds of aviation services does Wamos Air offer?
Wamos Air focuses on providing specialized services to passengers. This includes wet lease and damp lease, where Wamos provides the necessary crew from the aircraft to pilots and other crew members, in accordance with the customer's preference. Also, they provide ad hoc and charter flights to accommodate humanitarian works, sports events, business trips, and other necessary travels that will need to transport many passengers. Lastly, they offer cargo operations such as bulk-only cargo, only cabin cargo, and combined cargo. With these being said, crew members, especially flight attendants must have cultural awareness and competence to handle diverse customers and attend to their needs.
3. Do I pay for the training program in Wamos Air?
Yes, you will have to pay and complete the training program before being eligible for a flight attendant job position. The cost will already cover all the necessary materials and equipment to be used as well as other things that will be utilized during each course. However, the accommodation, water training materials and medical certification will not be included. Furthermore, I have provided the link for the complete details here – https://www.cae.com/civil-aviation/aviation-training/become-cabin-crew/our-cabin-crew-programmes/wamos-air-cabin-crew-programme/
4. Do they accept applicants with tattoos and piercings?
One of the qualifications of Wamos Air when accepting applicants is that they do not have any visible tattoos and multiple piercings while wearing the flight attendant uniform. Moreover, they require all employees to maintain appropriate make-up and hairstyle to demonstrate a professional demeanor.
5. How long is the flight attendant training program?
The duration of the training program will last up to 4 to 5 weeks.
6. What will be included in my flight attendant training program?
The mandatory training program will include rigorous activities and roleplays for emergency procedures, handling of safety equipment, survival practices, first aid practice, and security demonstrations. Moreover, it will also involve comprehensive courses for customer service and effective communication
7. Do they accept applicants with criminal records?
No, they only accept applicants with a clean criminal record.
8. Can I apply without background work experience in the aviation industry?
Since they require all candidates to undergo a flight attendant training program, it is not necessary for them to have in-flight work experience.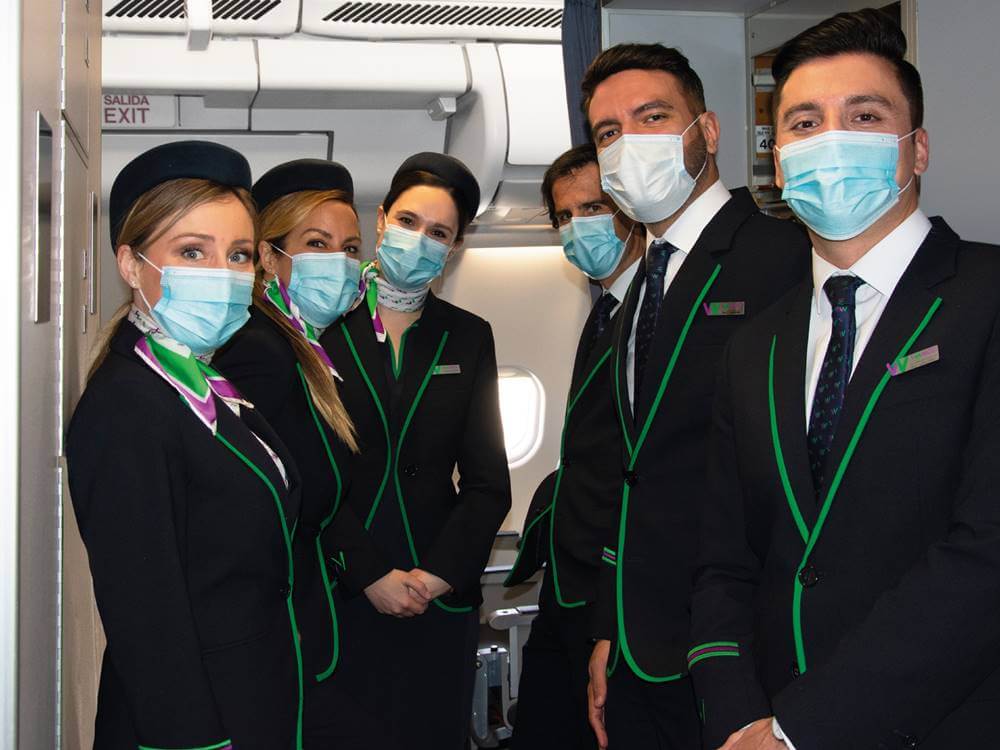 Summary
Applicants must patiently wait until there is availability in the flight attendant job position in Wamos Air. As they progress through their recruitment process, they will eventually undergo rigorous training where they will be taught how to respond to emergencies, first aid, and how uphold excellent customer service.
Moreover, flight attendants in Wamos Air are obliged to effectively communicate in both Spanish and English. Also, they only accept applicants who reside or have a permanent residency in countries included in the European Union.